October, 24, 2013
10/24/13
7:00
AM ET
ATHENS, Ga. --
Brendan Douglas
has been the hurdler and the hurdlee, so he has firsthand knowledge of the embarrassment that accompanies an opponent leaping directly over you. The thing is, the Georgia tailback still isn't sure what he should have done when teammate
Jordan Jenkins
hurdled his attempted block during the Bulldogs' second preseason scrimmage.
It wasn't like he dove at Jenkins' ankles on the play. The 5-foot-11 back was nearly standing straight up when he lunged to block Jenkins, and the linebacker simply jumped straight over him.
"You're just like, 'What am I supposed to do?' He just cleared me," chuckled Douglas, who also hurdled cornerback
Shaq Wiggins
in the same scrimmage. "I didn't dive on the ground or anything. I just kind of lunged at him a little bit and then he was over me. I didn't know if I should like grab his foot or what. It's kind of like you've just got to let him go at that point."
[+] Enlarge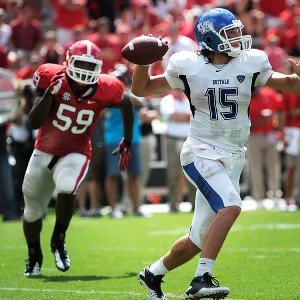 John Amis/AP PhotoGeorgia linebacker Jordan Jenkins says the art of hurdling a blocker is a matter of desire and swagger.
After clearing Douglas' block, Jenkins landed on his feet just a few steps from quarterback
Christian LeMay
and so spooked LeMay that he threw a pass directly to linebacker
Amarlo Herrera
.
"I was shocked I got over him," Jenkins said. "Actually I stopped and thought, 'Oh God, I got over him,' and I just tried to get LeMay."
Two months later, teammates still marvel at the athleticism required for Jenkins to pull off such a move.
"That was crazy," tailback
J.J. Green
said. "I've never seen something like that where somebody was standing straight up and you just jump right over them."
Most Georgia fans were first introduced to the in-game hurdle when All-America tailback Knowshon Moreno famously jumped over a Central Michigan defender in a 2008 victory. However, Moreno's legend began to grow two years earlier when as a redshirting freshman on the scout team, he jumped over teammate Donavon Baldwin in practice.
"That was probably most impressive one I've seen," offensive coordinator Mike Bobo said. "He did it down on the turf [practice] fields and I think he kept his feet and went on and scored."
Hurdle sightings have become much more prevalent over the last few years as the sport's increasingly big and athletic players have demonstrated the ability to avoid blocks or tackle attempts at their ankles by simply jumping over their opponent.
Bulldogs tight end
Arthur Lynch
has attempted it a number of times, most recently when he successfully cleared Missouri defensive back
Randy Ponder
's diving tackle attempt along the UGA sideline, bringing some electricity back into Sanford Stadium after the Bulldogs had fallen behind 28-10 in the second quarter.
"I thought it really did bring the crowd back into it [against Missouri] and also just kind of gets into the mind of your opponent, as well," Lynch said. "I know like in a boxing match, if you go for the body shot, body shot, body shot, go up top, you've got a guy thinking. I think it's the same concept. If you run somebody over, the next play he's going to lower his shoulder and not be able to see anything, and [you can] go over the top."
But Lynch's successful hurdle still surprised his teammates -- even his buddy
Aaron Murray
.
"I didn't think he could get that high," said Murray, Georgia's quarterback. "I don't think anyone did, but that was pretty sweet."
On the final defensive play of Georgia's 44-41 win against LSU, Jenkins attempted his pass-rush hurdle again, but it didn't go quite as smoothly. Rushing from the right side, he tried to soar over a block from LSU's
Travis Dickson
– and he was nearly successful again.
He cleared Dickson with his right leg, but the LSU tight end caught Jenkins' left leg and flipped him into the air. Tigers quarterback
Zach Mettenberger
stepped backward with Jenkins flying toward him and
Leonard Floyd
rushing into his face and threw incomplete for a turnover on downs that sealed Georgia's win.
"I didn't pick up my leg like I was supposed to," Jenkins said. "It's like when you try to jump a hurdle in track, if you don't pick up that back leg, you'll fall down."
Nonetheless, the hurdle is proving to be an effective-enough technique that Georgia tight ends coach John Lilly instructs his players to look for chances to leap over smaller defenders who will try to take out their legs instead of attempting a traditional tackle.
But even when a player sees his opponent lowering his head and preparing to hit him low, Jenkins said it takes a little something extra to attempt the hurdle instead of a different method of getting away.
"You've got to have that swagger to do it," Jenkins said. "As long as you have it in your mind, if you know you can do it, if you have it in your head thinking, 'I know I can get this guy' and just commit to that, you can do it. But if you're half-guessing yourself, it ain't going to work out."
August, 9, 2013
8/09/13
8:00
AM ET
ATHENS, Ga. -- John Lilly is reluctant to divulge the steps he has occasionally taken to determine which football programs were interested in recruits he was pursuing.
The instinct creating that hesitance is not self-preservation, however.
"I've got to save all those stories for the book someday," Lilly joked.
And a book he could write. One of the ace recruiters on Mark Richt's coaching staff -- Lilly played a key role in Georgia landing signatures from top prospects
Tramel Terry
,
Shaq Wiggins
and
Tray Matthews
in the most recent recruiting class alone -- Georgia's tight ends coach came to Athens after spending a decade as Bobby Bowden's recruiting coordinator at Florida State.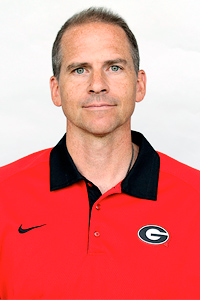 Courtesy of UGA Sports CommunicationsPrior to his job as Georgias tight ends coach, John Lilly was Florida State's recruiting coordinator.
There are surely dozens of stories, featuring some of the sport's biggest names over the past decade, which would keep the average reader enthralled. And yet the long hours spent on the road to accumulate those stories come with a cost.
Like many of his fellow assistants, Lilly is a husband and a father to young children. When coaches are on the recruiting trail throughout the spring evaluation period -- on top of the already-demanding schedules they keep during the season -- they're away from those they love most.
"You don't want to miss anything," Lilly said. "Obviously when you're out of town, you don't see your wife, you don't see your children, they don't see you. Right now, speaking for me, my children are almost 4 and 2. They don't necessarily keep track of time and time doesn't mean as much to them, but they realize after a couple days, 'Hey, where's dad?' It does make it a little bit harder."
But coaches understand that situation when they accept the job. The wins and losses from the fall are the true measuring sticks that determine whether they hold onto their positions, but it's their behind-the-scenes work as recruiters that stocks the depth chart with talent that makes wins easier to achieve.
"It is what you make of it," Georgia inside linebackers coach Kirk Olivadotti said, specifically referring to the travel-heavy evaluation period between mid-April and the end of May. "Everybody talks about it being a grind, but it's just part of the job. You can enjoy it or you can complain about it and I choose to enjoy it."
NCAA rules help somewhat, since the entire staff is not allowed to be on the road recruiting at once during the spring, and the group is allowed only so many evaluations during that time period.
But the breaks are short-lived if the coaches are doing an adequate job in determining who to chase for their next recruiting class.
"Really the second week after the spring game, we've been on the road recruiting and evaluating players, crosschecking -- meaning I may see one guy and someone else may go see him -- and just trying to do a diligent job of recruiting players that can help us be successful at Georgia and win the SEC," Bulldogs defensive coordinator Todd Grantham said at a UGA Alumni Association meeting in Atlanta in mid-May.
Olivadotti and Lilly said it is not unheard of for them to hit 10 to 12 schools in a day in May, provided that they are within close proximity. Such days are not ideal in most cases, however. Recruiting is about building relationships with players, coaches and families -- and that's a time-consuming process if done correctly.
That's why coaches typically make only a handful of daily stops in the final weeks leading up to national signing day while trying to solidify their recruiting classes -- a big change from when their off-campus contact with players is restricted in the spring.
"Most of us really enjoy the relationships you form with people because at the end of the day, it's just fun to get to know a lot of people in a lot of places and all that," Lilly said. "But if you're really going to spend time with people and get to know them and them get to know you, you're probably maxing yourself out if you go to any more than [10 or 11 in May]. If you're in the January mode, you may only hit a couple in a day at that point."
By the time signing day arrives, the coaching staff has already started laying the groundwork for the next class -- and often the one that's two years away. It's a process that never truly ends for coaches at the country's elite programs.
"You'd better know everybody that's walking the halls for two or three years down the road if you can," Lilly said.
August, 20, 2012
8/20/12
4:32
PM ET
By
DawgNation staff
| ESPN.com
David Ching writes:
Georgia Bulldogs TE walk-on Jack Loonam is the very embodiment of dedication as he remains on point with both expectations on the football field and his duties in UGA's Army ROTC cadet corps.
Kipp Adams writes

:
Five from Friday.
DawgNation looks at five take-aways from the premiere of high school football Friday at the Butler vs. Mallard Creek matchup in Charlotte, N.C.
Adams

: Georgia signees John Atkins and Leonard Floyd will enroll today at Hargrave Military Academy, where each hopes to gain more valuable experience before eventually joining the Bulldogs.
Radi Nabulsi
: Georgia fall camp photo gallery.
February, 12, 2012
2/12/12
5:10
PM ET
By
ESPN.com staff
| ESPN.com
Kipp Adams writes:

Four Grayson high school prospects, including top in-state (and maybe top national) recruit Robert Nkemdiche, spent Saturday taking in their own personalized junior day of sorts at UGA.
David Ching writes:

A kid with a soccer background and little knowledge of the intricacies of football impressed Georgia coach Mark Richt so much with his punts that Collin Barber was offered a scholarship by Richt on the spot -- and he took it on the spot.