August, 26, 2014
Aug 26
9:00
AM ET
BATON ROUGE, La. -- The blueprint for an LSU victory on Saturday might seem awfully familiar to what the Tigers pulled off the last time we saw them in action.
Sure, offensive coordinator Cam Cameron will add a few extra wrinkles for Saturday's meeting with No. 14 Wisconsin, but the basics might closely resemble what we saw from the Tigers when they defeated Iowa 21-14 in the Outback Bowl:
Pound the run
It wasn't a pretty game, but LSU hammered an Iowa defense that came in allowing 120.8 rushing yards per game for 220 yards and three touchdowns on the ground. The Tigers rode a tough offensive line -- and only one of those starters has since left the team -- and a career-best rushing effort from
Jeremy Hill
(28 carries, 216 yards) to what could have been a comfortable win.
So what should we expect against a Wisconsin defense that must replace its entire front seven? With
Leonard Fournette
,
Terrence Magee
and
Kenny Hilliard
running behind that experienced offensive line? It might not be as conservative as the start of the Outback Bowl, when LSU ran the ball on its first 12 plays from scrimmage, but until Wisconsin proves it can stop the run, the Badgers should expect heavy doses of Fournette and the boys barreling toward them.
Don't put young quarterback in bad situations
Anthony Jennings
made his first career start against Iowa, taking over for injured quarterback
Zach Mettenberger
. Although awful weather conditions certainly played a role in Cameron's conservatism, it was apparent that he didn't want to put too much on Jennings' shoulders.
That turned out to be a good idea since Jennings often held onto the ball for too long -- Iowa sacked him four times -- and passed poorly (7-for-19 for 82 yards and one interception that Iowa's
John Lowdermilk
returned to the LSU goal line).
Both Jennings and
Brandon Harris
will play quarterback on Saturday, but Cameron's job will not be to ask them to win the game. It will be to prevent them from losing it. Their competition can continue against Sam Houston State and Louisiana-Monroe without the pressure they will face against Wisconsin. For now, Cameron probably wants to put the ball in the air only as much as will be necessary to win.
Play tough against the run
Wisconsin's ground game also figures to be its go-to weapon. The Badgers return one of the nation's top running backs in
Melvin Gordon
(1,609 yards, 12 TDs, 7.8 yards per carry in 2013) and four starters along the offensive line.
It's a group that moves the ball on the ground as effectively as SEC rivals like Auburn or Alabama. While the Tigers suffocated Iowa's ground attack in the bowl win (37 carries, 76 yards), Wisconsin's is more explosive than the typical plodding Big Ten offense.
LSU lost its two starting defensive tackles from last season and has reshuffled its linebackers. The Tigers think the restructured lineup has the potential to be outstanding -- and it will have to be on Saturday.
Playing it close to the vest earned LSU a win to close out the 2013 season, and that might be a winning formula against Wisconsin, as well. Cameron no doubt wants to open the playbook -- and he probably will do so once a quarterback establishes himself and the Tigers' young skill players get comfortable -- but it would make sense if the Tigers' coaches do their best to minimize their risks on Saturday.
January, 1, 2014
Jan 1
7:10
PM ET
TAMPA, Fla. -- How did
Jeremy Hill
get so good at closing out wins? Years of practice.
The junior tailback hasn't just been an effective clock-eater at the end of a victory since he arrived at LSU. He's been doing this since his days at Redemptorist High School in Baton Rouge, La.
"It's just something that I took way back in high school. Our coaches just put it in my hands and just told me to go win the football game," Hill said after putting away Iowa in the Tigers'
21-14 victory
in Wednesday's Outback Bowl. "You just have to have that mentality. Great players have that mentality. When everyone's looking for someone to make a play, just being in a tight game the whole time ... I just took it on my shoulders that I needed to make plays to win this football game, and that's exactly what happened."
If Wednesday's performance -- 28 carries, 216 yards, two touchdowns -- was Hill's last as a college player, he made it one to remember. Hill is among a host of draft-eligible players on the Tigers' roster who could leave for the NFL. LSU coach Les Miles said afterward that "there's a chance" star receivers
Jarvis Landry
and
Odell Beckham
could declare for the draft, but Hill said while accepting bowl MVP honors that he still must weigh his decision.
[+] Enlarge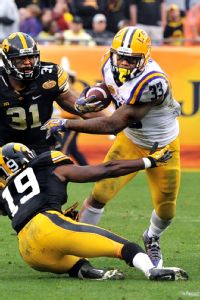 Al Messerschmidt/Getty ImagesLSU's Jeremy Hill earned Outback Bowl MVP honors, rushing for 216 yards and two touchdowns.
Among the factors he said he will consider: the NFL draft advisory board's feedback on where he might be drafted, his family's input and his role within the LSU offense, should he opt to return.
"There's a lot that goes into it. It's a big decision, but like I said, I'm not thinking about it right now," Hill said. "I'm just enjoying this win, and when we get back to Baton Rouge, we'll figure all that out."
His role on Wednesday was as a battering ram. By becoming the first LSU back since Alley Broussard in 2004 to crack the 200-yard mark in a game, Hill finished the season with 1,401 rushing yards and 16 touchdowns, totals that rank second and fourth, respectively, on LSU's single-season lists.
And it was his tackle-breaking, 37-yard touchdown run in the fourth quarter, putting LSU ahead 21-7, that all but sealed the victory.
"Given the opportunity to close out a game, he knows what to do," Miles said. "He made some nice cuts, and you get him that spot, that opportunity to extend the play, he can score. And he did."
LSU's offensive production mirrored the soggy, dreary weather in Tampa on Wednesday, with first-time starting quarterback
Anthony Jennings
struggling to generate much in the passing game. But Hill and a dominant defense were the sledgehammers that put away pesky Iowa, particularly on LSU's first and final full possessions.
The Tigers pounded the run early, keeping it on the ground for the first 12 plays before an incomplete pass. Jennings capped the game-opening 77-yard drive, which started with a 42-yard Hill run, with a 2-yard touchdown dive.
Hill capped a 39-yard touchdown drive in the second quarter, capitalizing on a lost fumble by Iowa punt returner
Kevonte Martin-Manley
, with a 14-yard scoring run that put the Tigers ahead 14-0.
The Hawkeyes rallied to make it 14-7 when
Mark Weisman
pounded in a 2-yard touchdown after
John Lowdermilk
returned a Jennings interception to the LSU 1. And they nearly tied it before LSU's
Craig Loston
intercepted a
C.J. Beathard
pass at the LSU 8 with 5:04 remaining.
Hill and the Tigers made Iowa pay for its miscue. The Tigers kept it on the ground for all six plays on a touchdown drive that nearly iced the win -- including Hill runs of 28 yards, 20 yards and the scoring run of 37 yards -- with its backfield closer playing the leading role.
"They started adjusting and it just became a chess match," Hill said. "I think we won when on that last drive we got a checkmate and we made the right calls, made the right checks and we won the game."