November, 21, 2011
11/21/11
8:53
AM ET
His gravely voice was perhaps the most recognizable in the SEC. His style was like none other.
In my book, Larry Munson was as much an institution in this league as Bear Bryant, Steve Spurrier, Herschel Walker and Archie Manning.
[+] Enlarge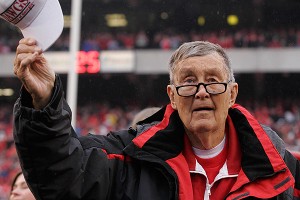 Brett Davis/US Presswire Legendary Georgia broadcaster Larry Munson died Sunday night in Athens. He was 89.
The only difference was that Munson didn't play the game or coach it. He described the game on the radio for more than 40 years with the kind of raw emotion that Georgia fans came to revere.
There will never be another like Munson, not even close. Nobody else could pull it off no matter how hard he tried.
The legendary Georgia broadcaster died Sunday night in Athens. He was 89.
I still remember the first time I heard Munson on the radio. It was sometime in the mid 1970s, and he sounded like the guy sitting at the bar with his friends agonizing his way through a game.
He wasn't talking to you. He was talking with you.
The joy in his voice when the Bulldogs scored was dripping with emotion. So was the pain when they fumbled the ball away.
Munson's passion was what made him so special. You hung on his every word, and even if you weren't a Georgia fan, you came to appreciate the way he truly made you feel that you were there with him at the game.
Keep in mind that there were very few college football games on television in the 1970s or the early 1980s.
It was a treat to be able to turn on the radio in those days and hear Munson paint the picture as only he could.
The Bulldogs were "We," and when a Georgia player picked off a pass or scooped up a fumble, it was "Our guy has the ball and is running down the field."
He has too many memorable calls to recount them all here.
I still laugh out loud any time I think about his "Run Lindsay!" call on Lindsay Scott's 93-yard touchdown catch and run to beat Florida in 1980. An ecstatic Munson exclaimed, "I broke my chair. I came right through my chair, a metal steel chair …"
Of course, there were so many memorable Walker calls.
"He's running over people! Oh you Herschel Walker!"
Mark Richt's first signature win, a last-minute 26-21 victory at Tennessee in 2001 featured the famed, "We just stepped on their face with a hobnail boot and broke their nose. We crushed their face."
In those days, I was covering Tennessee for The Tennessean newspaper in Nashville and can still hear Munson groaning, "There's that song again," any time the Tennessee band would crank up "Rocky Top."
I've told my favorite Munson story many times, but it's fitting to tell it again.
Not long before his retirement in 2008, Munson -- wearing one of his customary warm-up suits at that time -- came bopping into a crowded men's room at halftime of a Georgia game at Sanford Stadium.
Looking at the long line to the only stall in the place, he huffed a few times and then proceeded to work his way to the front of the line and knocked on the door.
"Are you getting close in there?" Munson repeated a couple of times.
He might as well have been calling a key goal-line stand for the Dawgs.
It was absolutely priceless, and to this day, I've wondered what the guy in the stall thought when he heard that voice – of all voices -- knocking on his door.
I've missed Munson dearly since he retired. It's just not the same going to a Georgia game without Munson calling the action.
I'll miss him even more now that he's gone.
He had a profound impact on my life and my career. He was one of two legendary SEC broadcasters that inspired me at a young age, the other being longtime Tennessee play-by-play man John Ward.
As a kid growing up in the Carolinas, both were larger than life. I knew early on that covering the SEC in some capacity was what I wanted to do.
From the time I was 12, it was my goal.
I will forever be indebted to both men for giving me something to shoot for and helping me get to where I am today.
And to Munson, hunker down, my friend.
You've touched more lives than you'll ever know.
February, 24, 2011
2/24/11
11:14
AM ET
By
ESPN.com staff
| ESPN.com
Growing up in an era when radio was often times my only link to SEC football and basketball, the voices in this league were bigger than life.
And in a lot of cases, at least to me, they were even bigger than the coaches and players themselves.
Mississippi State's Jack Cristil, 85, is one of the last of the truly legendary broadcasters in this league. He announced on Wednesday night that
he's stepping down
after nearly six decades of calling Mississippi State football and basketball.
Cristil's final broadcast will be Saturday's basketball game at Tennessee. He needs kidney dialysis that requires immediate attention.
Certainly, our thoughts and prayers go out to Cristil, who's been an institution at Mississippi State.
Generations of Mississippi State fans have hung on Cristil's every word, celebrating with him over the Bulldogs' memorable wins and agonizing over their bitter defeats.
And before so many of the games were on television, which doesn't seem that long ago for a lot of us, the Jack Cristils of the world were the ones so wonderfully painting the pictures in the SEC.
Their works would have made even Pablo Picasso envious.
Think about the run of broadcasters we've had in this league and how blessed we've truly been.
I could recite, "It's a high, spiraling kick" in the booming voice of the late Bob Fulton at South Carolina before I'd even heard of algebra.
To this day, I get chills when I hear replays of Larry Munson at Georgia and the raw emotion pouring from his every word.
"Oh look at the Sugar falling out of the sky!"
"Run Lindsay, 25, 20, 15, 10 … Lindsay Scott! Lindsay Scott! Lindsay Scott!"
"Herschel Walker went 16 yards. He drove right over those orange shirts, just driving and running with those big thighs. My God, a freshman!"
And then there was the incomparable John Ward, whose voice continues to captivate Tennessee fans even though he's been retired for more than a decade.
At nights over in the Carolinas, you could make out just enough of the Vols' broadcasts through the static on my parents' old stereo radio in the living room to hear Ward bellow as only he could, "Give him six! Touchdown Tennessee!"
Eli Gold, one of the most recognizable voices in sports broadcasting, is still going strong at Alabama after more than 20 years of calling Crimson Tide football.
There were so many other radio icons in this league, too, and sadly, most of them are now dead -- Kentucky's Cawood Ledford, LSU's John Ferguson, Auburn's Jim Fyffe, Alabama's John Forney and Arkansas' Paul Eells.
It was truly the golden age for radio play-by-play in the SEC, and with the ageless Cristil now putting up his microphone for good, those of us who had the pleasure of hearing these men paint their "Picassos" every fall and winter know how lucky we really were.
February, 19, 2009
2/19/09
2:00
PM ET
By
ESPN.com staff
| ESPN.com
Posted by ESPN.com's Chris Low
One final thought on the Mount Rushmore project.
You, the fans, have spoken. And, yes, I did miss a few people. I knew I would.
The SEC is so rich in football tradition that it's impossible to include everybody that played a key role in each school's tradition and success when you're keeping it to five to 10 names.
Thanks again for all your input. It was a big help, and it's always neat to see where fans differ on who meant more to each school.
That said, some of the more prominent names that deserved Mount Rushmore mention in some fashion and weren't included: Roy Kramer at Vanderbilt, Condredge Holloway at Tennessee, John Ward at Tennessee, Bowden Wyatt at Tennessee, Herman "Eagle" Day at Ole Miss, Deuce McAllister at Ole Miss, Bill Stanfill at Georgia, Terry Hoage at Georgia, Eric Zeier at Georgia, Quinn Grovey at Arkansas, Bernie Moore at LSU, Mike the Tiger at LSU, Zeke Smith at Auburn and Rex Enright at South Carolina.
As for Alabama, where do you start?
Shaun Alexander, Harry Gilmer, Bobby Humphrey, Woodrow Lowe, Johnny Musso, Gene Stallings, Bart Starr, Dwight Stephenson, Wallace Wade.
Notice I didn't even mention Nick Saban. He'll be there soon enough.
But the list at Alabama goes on and on.
Before we put this topic in our rear-view mirror for good, who would be the four you would chisel into stone if you were during a current SEC football Mount Rushmore?
In other words, the four most prominent/successful individuals associated with SEC football right now.
Mine would be, in alphabetical order, Eric Berry, Urban Meyer, Nick Saban and Tim Tebow.