June, 20, 2014
6/20/14
9:00
AM ET
Today, our SEC position-by-position rankings move to an area that will see plenty of turnover throughout the league: special teams.
There are a ton of SEC heavyweights who lost key special teamers, like league champ Auburn -- which lost punter Steven Clark, kicker
Cody Parkey
, now-legendary return man
Chris Davis
and kickoff returner/tailback
Tre Mason
-- LSU (All-American
Odell Beckham
) and Alabama (punter
Cody Mandell
and kicker Cade Foster). That's just a start.
The league is full of dynamic playmakers who can become stars in the return game, but as of right now, many SEC teams have questions to answer on special teams. That's why teams that have returning veterans at those positions sit high in our rankings.
Special teams position rankings

1. Texas A&M:
There aren't many SEC teams that can make this claim, but the Aggies have a clean sweep of returning specialists. Leading the way is an All-American and Ruy Guy Award finalist at punter,
Drew Kaser
, who broke the school record with a 47.4-yard average last season. Texas A&M also has kicker
Josh Lambo
(8-for-10 on field goals in 2013), kickoff returner
Trey Williams
(25.2 yards per return, fifth in the SEC) and punt returner
De'Vante Harris
(6.7 yards per return, sixth in the SEC) back this fall. That's a solid collection of talent that should help an Aggies team that certainly has some questions to answer on offense and defense.

2. Missouri:
This is another squad that returns the key figures from a season ago, led by versatile return man
Marcus Murphy
. Murphy was fifth in the SEC in punt returns (7.0) and 11th in kickoff returns (22.2) while also contributing to the Tigers' solid running game.
Andrew Baggett
(18-for-25 on field goals, 8.6 points per game) was the SEC's second-leading scorer among kickers, and he returns along with punter
Christian Brinser
(41.0 yards per punt).

3. Georgia:
Truth be told, Georgia was frequently terrible on special teams last season. The Bulldogs struggled to generate much of anything in the return game and experienced some issues with blocked punts. Coach Mark Richt changed the way the coaching staff will address special teams during the offseason, and perhaps that will make a difference. The individual specialists are actually pretty good -- particularly kicker
Marshall Morgan
, who should generate some All-America attention himself. Morgan was 22-for-24 (91.7 percent) and led all SEC kickers with an average of 10.3 points per game, truly one of the best seasons by a kicker in school history. Punters
Collin Barber
and
Adam Erickson
were mostly average, which is more than can be said for the Bulldogs' return men. Keep an eye on freshman
Isaiah McKenzie
in August to see if he has a chance to contribute in the return game.

4. LSU:
The return game will certainly suffer a blow without electric All-American Beckham -- the winner of last season's Paul Hornung Award as the nation's most versatile player -- but LSU has no shortage of athletic players (running back
Terrence Magee
is one option) whom the coaches can plug into Beckham's old spots. The Tigers are solid at kicker with
Colby Delahoussaye
, who led the SEC by making 92.9 percent of his field goals (13 of 14). They held a competition for the punting job during the spring between hot-and-cold
Jamie Keehn
(41.0 ypp) and walk-on
Trent Domingue
.

5. South Carolina:
Here's another one where experience helps, although the Gamecocks have much to improve upon this season. Punter
Tyler Hull
(37.8 ypp) is back, but South Carolina ranked last in the SEC with an average of 34.1 net yards per punt. They were mediocre both returning and covering kickoffs and at returning punts, although
Pharoh Cooper
(22.4 ypr on kickoffs and 4.4 ypr on punts) might be a breakout candidate for the Gamecocks this fall.
Elliott Fry
was a solid performer (15-for-18 on field goals, fourth in the SEC with 7.6 ppg) at place-kicker in 2013.

6. Alabama:
The Crimson Tide should rank higher on this list by season's end. After all, they have arguably the SEC's top return man in
Christion Jones
(second in the league with 28.7 ypr on kickoffs and second with 14.0 ypr on punts). But they also lost a dynamic punter in Mandell and a place-kicker, Foster, who was solid last season before melting down in the Iron Bowl. Perhaps
Adam Griffith
(1-for-3 on field goals) will take over the kicking job, but Alabama also has high hopes for signee
J.K. Scott
, who is capable of kicking or punting in college.

7. Arkansas:
The rankings start getting murky around the middle of the pack. Arkansas has a phenomenal punter back in ambidextrous Australian
Sam Irwin-Hill
(44.3 ypp, fifth in the SEC), but the Razorbacks also lost kicker Zach Hocker (13-for-15 on field goals) and punt returner Javontee Herndon. Kickoff returner
Korliss Marshall
(22.2 ypr, 10th in the SEC) is back. It would be huge for Arkansas if signee
Cole Hedlund
, USA Today's first-team All-USA kicker for the Class of 2014, can come in and take over Hocker's job.

8. Florida:
We're speculating here that
Andre Debose
comes back healthy and reclaims his job as the Gators' kickoff return man. That would be a big deal since Debose is tied for the SEC's career lead with four kickoff returns for touchdowns. Now-departed Solomon Patton did a great job in his place last season, averaging 29.2 ypr. The Gators also lost punt returner Marcus Roberson (9.2 ypr). The big issue, though, is at kicker, where former top kicking prospect
Austin Hardin
(4-for-12 on field goals) was awful last season and eventually gave way to
Francisco Velez
(6-for-8). Likewise,
Johnny Townsend
(42.0 ypp) took over at punter for former Groza finalist
Kyle Christy
(39.6) because of a slump, although both are back.

9. Kentucky:
Although the Wildcats lost a solid kicker in
Joe Mansour
(12-for-14 on field goals), they still have several solid players returning. They include punt returner
Demarco Robinson
(10.4 ypr), kickoff returner
Javess Blue
(20.4 ypr) and punter
Landon Foster
(41.3 ypp).
Austin MacGinnis
, one of the nation's better kicking prospects in 2013, claimed the place-kicking job during spring practice.

10. Auburn:
As with Alabama, we expect Auburn to move up this list during the season. They have the No. 1 kicking prospect from 2013, redshirt freshman
Daniel Carlson
, taking over for Parkey at place-kicker. They have speedster
Corey Grant
as an option at kickoff return. And they have another talented redshirt freshman,
Jimmy Hutchinson
, inheriting the reliable Clark's spot at punter.
Quan Bray
might be the man who takes over at punt returner for Davis, who averaged 18.7 ypr (which doesn't include his 109-yard field goal return to beat Alabama), but he could face a challenge from candidates like
Trovon Reed
,
Marcus Davis
or
Johnathan Ford
.

11. Tennessee:
Considering how the Volunteers lost punter/kicker Michael Palardy (third in SEC with 44.5 yards per punt and 14-for-17 on field goals), it's a good thing that they signed top kicking prospect and Under Armour All-American
Aaron Medley
. Tennessee has return man
Devrin Young
(25.9 ypr on kickoffs and 7.9 on punts) and backup punt return man
Jacob Carter
(9.3 ypr) back, as well.

12. Mississippi State:
The Bulldogs return most everyone from last season (minus punter
Baker Swedenburg
, who averaged 42.5 ypp), but it remains to be determined whether that's a good thing. They were mediocre or worse in most special teams departments in 2013 – especially at place-kicker, where
Devon Bell
(6-for-14 on field goals) and
Evan Sobiesk
(3-for-6) were hardly reliable. Bell (41.2 ypp) was a decent punter, but could face a challenge from signee Logan Cooke on kickoffs and punts. Return man
Jameon Lewis
(23.5 ypr on kickoffs and 2.3 on punts) is back, as is speedster
Brandon Holloway
(37.7 ypr on three kickoffs and 18.0 ypr on two punts), who is trying to crack the starting lineup at running back, but could become a dynamic return man if given the opportunity.

13. Ole Miss:
By losing punter
Tyler Campbell
(44.4 ypp, fourth in the SEC), kicker
Andrew Ritter
(16-for-24 on field goals) and punt returner Jeff Scott (12.7 ypr), Ole Miss has plenty of holes to fill. They have kickoff returner
Jaylen Walton
(20.6 ypr) back and also signed the No. 2 kicking prospect for 2014,
Gary Wunderlich
, who is capable of becoming a standout performer as both a kicker and punter.

14. Vanderbilt:
New coach Derek Mason didn't seem particularly enthused about his special teams units after spring practice. The Commodores lost kicker Carey Spear (15-for-19 on field goals) and potential replacement
Tommy Openshaw
struggled during spring scrimmages, potentially opening the door for a walk-on. Punter
Taylor Hudson
(42.9 ypp, seventh in the SEC) is back, but he and competitor
Colby Cooke
were apparently not very consistent this spring, either. Vandy lost punt returner Jonathan Krause (3.6 ypr) and returns leading kickoff return man
Darrius Sims
(22.8 ypr, eighth in the SEC).
April, 7, 2014
4/07/14
12:00
PM ET
March, 31, 2014
3/31/14
11:00
AM ET
GAINESVILLE, Fla. -- The Gators have completed seven of their 14 practices, and the spring game is less than two weeks away.
Before Florida opens another practice to its fans today, let's go over a few developments.
Fast-moving offense:
It's all anyone wants to talk about. The Gators are installing a new offense, and so far the key word is speed. The players have learned and adapted quickly. The tempo is much faster than at any time in the last three years. Players look fast again.
Give much of the credit to new coordinator Kurt Roper, who simplified everything and really made the most of his meeting time before practice began.
"You spend the time you're allowed in the meeting room trying to create that understanding and showing it to them on tape," he said. "You're trying to put your install together that makes sense for them to understand it. The biggest thing for us is we try to create lining up simpler than most people. I think because of that, that's part of what you see. We're able to get lined up in a hurry."
[+] Enlarge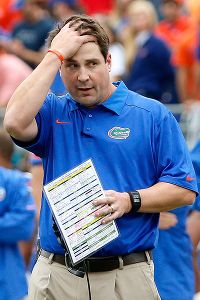 Sam Greenwood/Getty ImagesWill Muschamp's future probably rides on Florida's offensive improvement.
Head coach Will Muschamp, whose future probably rides on Florida's offensive improvement, has noticed the difference and says he's very pleased.
"[They're] really play fast, physical," he said. "We've really limited negative plays to this point. … Our guys have got a lot of confidence, playing real good tempo and having a lot of fun."
Driskel separates himself:
All three of Florida's top QBs -- junior
Jeff Driskel
, sophomore
Skyler Mornhinweg
and true freshman
Will Grier
-- have had their moments. They've shown a solid grasp of the offense in its early stages of installation, made solid decisions and delivered the ball to receivers in stride.
Muschamp has not yet named Driskel the starter but did say he has "distanced himself at this point" while the other two have split second-team reps.
Driskel, however, has a lot of work yet to do. While his arm strength has been on full display and he appears recovered from the broken leg that ended his 2013 season, Driskel is getting a crash course in quarterback fundamentals from Roper.
"Sometimes he's overstepping a little bit which causes him to sail the ball," Muschamp said. "That's been something that Kurt is really working on. Kurt is a really good fundamental quarterback coach."
D-line shuffle:
One of the players who has been singled out most often for praise is sophomore defensive end
Bryan Cox Jr
., son of the former Miami Dolphins Pro Bowl linebacker.
Muschamp said Cox has gotten stronger, put on a few pounds and has "made really remarkable improvement" in his technique. That has allowed the Gators to slide junior
Jonathan Bullard
inside to defensive tackle, where the coaching staff believes he can thrive as a pass rusher on obvious throwing downs.
Because senior defensive tackle
Leon Orr
is sidelined this spring with a broken wrist, it bears watching whether these plans stick in the fall.
Florida has a number of talented young linemen starting to make an impact. But it remains to be seen if redshirt freshmen
Caleb Brantley
,
Jay-nard Bostwick
,
Antonio Riles
and sophomore
Joey Ivie
are ready to do more than just provide quality backup minutes.
"I feel like the depth is there," Muschamp said. "We've got some good players."
Veteran line with one exception:
The makeup of Florida's first-team offensive line has been fairly consistent with junior
D.J. Humphries
at left tackle, junior
Trip Thurman
at left guard, senior
Max Garcia
at center, junior
Tyler Moore
at right guard, and senior
Chaz Green
at right tackle.
Thurman is the newcomer, the only player on that first unit who has never made a start.
"He hasn't played as much," Roper said, "but he's out there working hard to be a good player."
Starting would be quite a step forward for Thurman, who stands 6-foot-5 and 315 pounds. The fourth-year player has seen very limited playing time in just 15 career games as a reserve.
Overall, Muschamp and Roper have been pleased with the play of their O-line. There have been some issues with Garcia and backup center
Cameron Dillard
handling shotgun snaps, but the coaches expected some bumps in the road.
This is a unit that struggled mightily in pass protection last season but could benefit greatly from Roper's uptempo spread scheme.
Kickers still need work:
Before practice started, Muschamp identified the kicking game as one of his top two priorities of the spring. Florida's place-kickers were abysmal last season and likely cost the team a couple of wins, while starting punter
Kyle Christy
slumped badly enough to force the Gators to burn freshman
Johnny Townsend
's redshirt.
So far this spring, the two punters have been locked in a battle that has featured some colossal moonshots and no clear starter.
"We've got two guys that have Sunday legs," Muschamp said of their potential as pro prospects. "They both kick very well."
The Gators are still struggling with field goals, however, and it seems unlikely that sophomore
Austin Hardin
or senior walk-on
Francisco Velez
will do enough to win the job outright. Their competition could continue throughout the fall with other walk-ons getting chances as well.
"The kicking situation is still not what it needs to be," Muschamp said, "but Austin is hitting the ball more consistently the same way."
December, 12, 2013
12/12/13
5:31
PM ET
Every SEC team has representation on
the SEC All-Freshman team
, which was released on Thursday.
The team was selected by the league's coaches, and coaches could not vote for players on their own team. Arkansas, Ole Miss and South Carolina led the way with four players each on the squad. Here it is in its entirety:
Offense:
TE:
Hunter Henry, Arkansas
OL:
Laremy Tunsil, Ole Miss
OL:
Andrew Jelks, Vanderbilt
OL:
Alex Kozan, Auburn
OL:
Denver Kirkland, Arkansas
C:
Jon Toth, Kentucky
WR:
Laquon Treadwell, Ole Miss
WR:
Marquez North, Tennessee
QB:
Maty Mauk, Missouri
RB:
Alex Collins, Arkansas
RB:
Kelvin Taylor, Florida
AP:
Pharoh Cooper, South Carolina
Defense:
DL:
Chris Jones, Mississippi State
DL:
A'Shawn Robinson, Alabama
DL:
Robert Nkemdiche, Ole Miss
DL:
Darius Philon, Arkansas
LB:
Darian Claiborne, Texas A&M
LB:
Leonard Floyd, Georgia
LB:
Skai Moore, South Carolina
DB:
Vernon Hargreaves, Florida
DB:
Tony Conner, Ole Miss
DB:
Tre'Davious White, LSU
DB:
Cameron Sutton, Tennessee
Special teams:
PK:
Elliott Fry, South Carolina
P:
Johnny Townsend, Florida
RS:
Pharoh Cooper, South Carolina