December, 23, 2013
12/23/13
7:00
AM ET
This season's similarities are striking for the combatants in this season's TaxSlayer.com Gator Bowl, Georgia and Nebraska. Perhaps the most notable similarity between the Bulldogs (8-4) and Cornhuskers (8-4), though, is the numerous injuries that helped prevent them from playing up to their potential.
ESPN.com's David Ching and Mitch Sherman discussed how injuries affected the teams' seasons and what might have been if not for all the physical ailments.


1. Out of all of the injuries they sustained this season, which one was the costliest and why?
Ching:
There are a lot of directions you could go here, but
Todd Gurley
's ankle injury and ensuing three-and-a-half-game absence probably hurt the most. Gurley is one of the biggest difference-makers in the country, and Georgia's potent offense simply wasn't as good without him in the lineup -- particularly when fellow tailback
Keith Marshall
suffered a season-ending knee injury the week after Gurley went down against LSU. It's not a coincidence that Georgia bounced back from a two-game losing streak upon Gurley's return, nor that the Bulldogs went 4-1 down the stretch once he was back. He totaled 755 yards and 10 touchdowns in those five games.
Sherman:
Taylor Martinez
began this season as most indispensable Husker -- and by November, we saw why. Without the fifth-year senior, who started a school-record 43 games at quarterback, including four this season, the Nebraska offense shifted from the strength of this team to a liability. The Huskers failed to gain 400 yards in each of their final four games.
Tommy Armstrong Jr
. and
Ron Kellogg III
performed admirably, but their numbers paled in comparison to the production expected from a healthy Martinez. In good position to become the second QB in FBS history to surpass 9,000 career passing yards and 3,000 rushing yards, he suffered the fateful foot injury in Nebraska's season opener. By mid-September, his limitations were painfully apparent, stamped into the record books with losses to UCLA and Minnesota in Martinez's final two starts.
2. Which position group dealt with the most injury issues?
Sherman:
Problems on the offensive line began on the opening series of the sixth game against Purdue as All-Big Ten right guard
Spencer Long
went down with a season-ending knee injury. Long was the leader of the line and a motivating force for the entire team as a senior captain and former walk-on turned solid NFL prospect. As soon as his linemates began to wear Long's jersey No. 61 as a tribute, the injury bug spread. First, it was left guard
Jake Cotton
. Tackles
Jeremiah Sirles
and
Brent Qvale
, despite staying in the lineup, dealt with injuries, too, as did center-turned-guard
Cole Pensick
. Long's replacement,
Mike Moudy
, missed the final four games. The injuries hurt most in practice, and Long's injury got the snowball rolling. Before the Purdue game, Nebraska rushed for 285 yards or more in four of five games. After Purdue, it never topped 195 on the ground.
Ching:
Georgia's safeties could make a reasonable argument here, but let's go with the receivers.
Malcolm Mitchell
suffered perhaps the most bizarre injury of the season when he tore an ACL while leaping into the air to celebrate Gurley's 75-yard touchdown run against Clemson on the Bulldogs' second offensive possession of the fall.
Justin Scott-Wesley
, who essentially caught the game-winning touchdown passes in the fourth quarter against South Carolina and LSU, tore an ACL while covering a punt against Tennessee.
Michael Bennett
and
Chris Conley
also missed multiple games with midseason injuries, and junior college transfer
Jonathon Rumph
didn't play until Game 8 against Florida after injuring his hamstring in August. Because of the regular lineup shuffling, six Bulldogs have at least 20 catches this season.
[+] Enlarge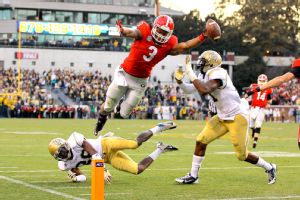 Todd Kirkland/Icon SMIGeorgia went 4-1 after sophomore RB Todd Gurley returned to the lineup, and the only loss was the 'Miracle at Jordan-Hare.'
3. What do you think this team might have accomplished if health hadn't become such a factor?
Ching:
I hesitate to say Georgia would have been a BCS title contender because its defense was probably not championship caliber. But it's hard to predict what might have been with any certainty since the Bulldogs started losing key contributors in the first quarter of the first game. I'll go so far as to say the Bulldogs at least would have won a third straight SEC East title and been in the running for an at-large BCS bowl spot. With
Aaron Murray
, who suffered a season-ending knee injury of his own against Kentucky, at the trigger and an impressive array of skill talent, this had the potential to be the scariest offense Georgia has ever put on the field, but we never saw the full complement for even one full game.
Sherman:
It's difficult to quantify in wins and losses, considering the other problems that plagued these Huskers, notably with turnovers and on special teams. Nebraska could have outscored Minnesota with a healthy Martinez and Long. And it's likely that the second-half meltdown against UCLA never would have happened if Martinez was operating at full strength. The Huskers moved the ball well in a 41-28 loss to Michigan State. Injuries weren't the issue against the Spartans; turnovers were, but freshmen committed all five. And Martinez, while turnover-prone since his freshman season, torched the Spartans a year ago. But even at 10-2, Nebraska would have missed a repeat trip to the Big Ten title game.
November, 19, 2013
11/19/13
7:00
AM ET
ATHENS, Ga. -- Georgia's win on Nov. 9 against Appalachian State wasn't just one of the last times we'll see this senior-laden version of the Bulldogs offense, it also served as a sneak preview of what lies ahead.
Following Saturday's date with Kentucky -- the final game at Sanford Stadium this season -- the Bulldogs will look entirely different on offense the next time they take the field before a home crowd. And many of the players who will take over for the likes of
Aaron Murray
and his fellow seniors next fall also filled their spots in the fourth quarter of
Georgia's 45-6 win
over the Mountaineers two weekends ago.
[+] Enlarge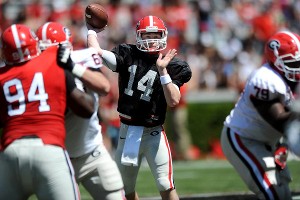 Radi Nabulsi/ESPNBackup quarterback Hutson Mason is the frontrunner to start for the Bulldogs in 2014.
"I think the thing you can't get in practice is just that 95,000 [fans] with the atmosphere," said junior
Hutson Mason
, Georgia's presumptive starting quarterback next season, who went 11-for-16 for 160 yards and a touchdown in the fourth quarter against Appalachian State. "Really you can get everything [else] in practice. Our coaches, they believe in putting a lot of pressure on you so when it comes to the game, you're used to that feeling. But it's definitely a different atmosphere, different jitters."
Assuming he wins the quarterback job, Mason will be in a convenient position next season. Georgia loses seven seniors -- Murray, tight end
Arthur Lynch
, receivers
Rantavious Wooten
and
Rhett McGowan
and offensive linemen
Chris Burnette
,
Kenarious Gates
and
Dallas Lee
-- who started on offense against Auburn. And yet the returning skill-position talent surrounding the Bulldogs' next quarterback will be as impressive as that of nearly any offense in the country.
Not only will tailback
Todd Gurley
return for his junior season, the Bulldogs expect to get receivers
Malcolm Mitchell
and
Justin Scott-Wesley
and tailback
Keith Marshall
back from season-ending knee injuries that crippled the offense at points this fall. That's in addition to other returning weapons like receivers
Chris Conley
,
Michael Bennett
and
Jonathon Rumph
, tight end
Jay Rome
and tailbacks
J.J. Green
and
Brendan Douglas
and 2014 commitments
Sony Michel and Nick Chubb
, both of whom rank among ESPN's top eight prospects at running back.
Not a bad situation for a first-time starting quarterback who must replace the most distinguished passer in SEC history.
"We've got a lot of weapons," redshirt freshman receiver
Blake Tibbs
said. "And Hutson, he don't care who's open. If they put a dog in a helmet and some equipment out there, if he was open, Hutson would throw it to him. That's one thing about Hutson: He don't care. If you're open, he's going to trust you to make the play and he's going to keep throwing to you."
Mason certainly proved that in his lone opportunity for significant playing time this season. He hit his first eight pass attempts, connecting with the likes of Rumph, Green, freshman
Reggie Davis
and walk-on
Kenneth Towns
on his first drive. Then came further completions to Tibbs,
Michael Erdman
, Douglas and Rumph again before his first incomplete pass.
The common bond there? Those are mostly the players with whom Mason has regularly worked on the Bulldogs' second-team offense, so chemistry was not an issue when they hit the field.
"That group's kind of been playing together -- besides Rumph -- for a long time and a lot of when our twos go against the ones, they always seem to do well and I think there's a chemistry between those guys kind of like Aaron and Bennett and other guys," offensive coordinator Mike Bobo said.
There's a long time between now and the reserves' time to shine. Heck, there are three games remaining this season.
That means there is plenty of time for the stars in waiting to continue to develop before the Bulldogs open the 2014 season against Clemson on Aug. 30 -- which is exactly the mentality Rumph says he's developing.
"That's what young players have got to understand," said Rumph, who has six catches in the last three games after missing the first half of the season with a hamstring ailment. "This is your job, so every time you go to school or go to practice, you've got to work to get better. That's all I'm trying to do is keep adding stuff to my game. I've got the feel for the game, I know what I'm capable of. I'm just trying to keep adding stuff to my game."
Mason echoed those thoughts, pointing out that while even coach Mark Richt has declared Mason as the frontrunner to win the job next season, he still must make good use of this opportunity and not just assume the job is his from the get-go.
He has the opportunity to work with what could be an extremely productive offense next season -- if he stakes a claim on the job.
"I'm not going to be na´ve. I hear about that stuff and I read some of it and stuff like that. I've always been the first to say that I believe they're just being nice," Mason said. "I believe that I've done a good job of performing when my opportunity comes, but I've never stepped on the field in front of 90,000 and like I was saying earlier, that's different from playing in practice.
"So I enjoy the comments and I enjoy the people that have faith in me, but really myself, I just take it day-by-day and say, 'You know what, what have I proven?' because in reality I haven't proven a lot. So when that opportunity comes, hopefully I'll show up."
November, 15, 2013
11/15/13
11:00
AM ET
ATHENS, Ga. -- Georgia isn't back to full strength on offense -- and it won't be this season -- but all of a sudden the Bulldogs look a bit more like their offensive juggernaut from the start of the season.
Entering Saturday's visit to No. 7 Auburn (9-1, 5-1 SEC), No. 25 Georgia (6-3, 4-2) is the healthiest it has been on offense since a disastrous visit to Tennessee when tailback
Keith Marshall
and receiver
Justin Scott-Wesley
went down with season-ending knee injuries and wideout
Michael Bennett
suffered a knee injury that knocked him out of the lineup temporarily.
[+] Enlarge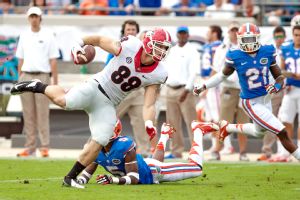 Rob Foldy/USA TODAY SportsWith Arthur Lynch back in the lineup, Georgia has one of its best pass-catcher back at tight end.
The Bulldogs will face Auburn without tight end
Jay Rome
, who injured his right foot in last week's win against Appalachian State, but should have starting tight end
Arthur Lynch
(ribs) and receiver
Chris Conley
(ankle) back Saturday.
"We're getting guys back, which is good, but they've also missed a lot of practice time, which on the flip side is a negative," Georgia offensive coordinator Mike Bobo said. "So we're having to work a little harder than we may have in the past in November. But I think it's good. I think it's a confidence boost to the offense."
Conley leads the team with 30 catches for 418 yards and four touchdowns, while Lynch's 15 catches for 243 yards rank fifth. But while their receiving production is obviously important, their simple presences in the lineup -- alongside players with whom they've shared so many practice and game reps -- are just as valuable.
"It definitely helps the chemistry because we went through camp all together and you kind of get that chemistry with those guys together," said Bennett, who posted a team-high five catches in each of the two games since he returned to the lineup. "You can lose it when you've got new guys coming in. But those other guys have done a heck of a job coming in and filling in for us. But when you have those veterans come back like Artie and Conley, it definitely brings a new confidence."
Lynch's return is well-timed, as Rome was the only other scholarship tight end who has played this season. Freshman
Jordan Davis
is on track to redshirt and walk-on
Hugh Williams
has played as a blocker, but has yet to catch a pass.
Meanwhile, Conley brings some punch back to a receiving corps that struggled during Georgia's midseason lull, when at one point they were without tailbacks
Todd Gurley
and Marshall and wideouts Mitchell, Scott-Wesley and Bennett. It's no coincidence that the Bulldogs lost to both Missouri and Vanderbilt during that period, or that they posted a paltry 221 yards of total offense -- including just 114 passing -- in the Vandy loss.
Conley seemed questionable at best for the Auburn game early in the week, but he was able to practice in non-contact drills on Wednesday which encouraged Bulldogs coach Mark Richt.
"I was telling the quarterback, 'He's going half-speed' or whatever, and Conley kind of ran a little faster than half-speed and snatched the ball," Richt said. "And Bobo was looking around like, 'We ought to let him practice a little bit.' … He didn't practice the whole time, but he got some work in and he looked good. I don't think he had any setbacks."
Richt insisted that Conley's role might still be limited should he play on Saturday, but he comes back to a group of receivers that had to look elsewhere for production during his two-game absence -- and might have found another spark in
Jonathon Rumph
.
The junior college transfer was sidelined by a hamstring injury throughout the first half of the season and played sparingly for the first time two weeks ago against Florida. He caught his first passes -- four of them, in fact, for 98 yards -- in the fourth quarter against Appalachian State, causing Bobo to remark that he's "actually getting excited about him" earlier this week.
"I had a feeling that I knew what I was going to do, but I really didn't want to mess up," Rumph said of his performance last week. "I focused a lot on the game plan, I knew everything I had to do and everybody on the sideline kept me lifted. The starters told me, 'All right, when you're opportunity comes, take advantage.' That's all it was, just making plays for my team."
For the first time in more than a month, Georgia's offense has a wide array of players who seem ready to do that. The main one to watch is likely Gurley, who is still not back to 100 percent and has not been able to handle a full workload in the two games since returning from an ankle injury. But quarterback
Aaron Murray
clearly has more established weapons at his disposal than he has had in weeks, and that can only be a positive sign for the Bulldogs.
"The more guys you get out there that Murray feels comfortable with, I think, the better," Bobo said.
November, 12, 2013
11/12/13
7:00
AM ET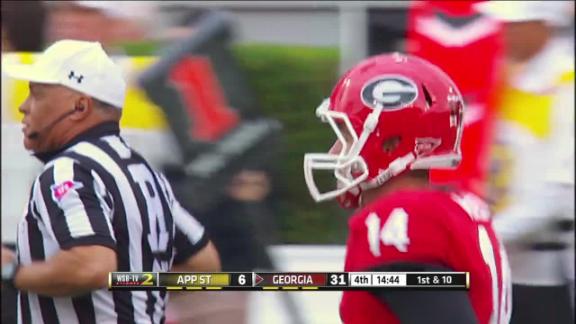 ATHENS, Ga. -- While discussing
Jonathon Rumph
's long-awaited debut after Saturday's win against Appalachian State, quarterback
Hutson Mason
immediately flashed forward to next season, when Mason should become Georgia's starter and have the 6-foot-5 receiver as one of his top weapons.
"You imagine we've got Rumph coming on and what we could have next year -- just another big tool in the toolbox, another big weapon," said Mason, who completed four passes to Rumph for 98 yards in the fourth quarter of the Bulldogs' 45-6 win. "So it's going to be something special."
[+] Enlarge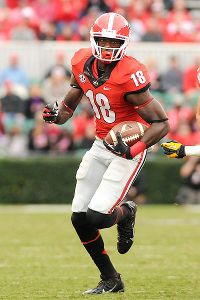 Jeffrey Vest/Icon SMIJonathon Rumph flashed his potential late in the Appalachian State game and showed why he could be a big weapon in the future -- or even sooner -- for the Dawgs.
At this point, many Georgia fans are probably asking, "Why wait until next season?" And Mason would agree with their point.
"I hope [that] boosts him and I hope the coaches see something in him and I hope he gets some more playing time because we can definitely use him," Mason said.
Injuries have ravaged Georgia's receiving corps, knocking
Malcolm Mitchell
and
Justin Scott-Wesley
out for the season and
Michael Bennett
and
Chris Conley
out for several games at a time. Rumph -- the nation's No. 1 receiver in ESPN's 2013 Junior College 100 -- has not been immune to injury issues, either, missing the first six games of the season with recurring hamstring problems before finally playing approximately 10 downs in Georgia's Nov. 2 win against Florida.
Rumph broke through with his first career catch against Appalachian State, taking a tunnel screen for a 24-yard gain early in the fourth quarter, and then breaking free for a 37-yard catch on the Bulldogs' final drive.
Bennett is back in the lineup, and coach Mark Richt said Monday that Conley might return for Saturday's visit to No. 7 Auburn, as well. But Rumph hopes that his impact this season won't be limited to four garbage-time receptions in a blowout win over an FCS opponent.
"I learned from going to juco you've always got to be patient, and when your opportunity comes and you see your crack, you've got to hit it," he said.
Rumph knows this might be his crack.
"Everybody gets their opportunity and you've got to take advantage. That's what I'm trying to do," Rumph said. "This probably is my situation for me to take advantage of my opportunity, so yeah, I'm looking at it as a chance that I can come every day to get better, better my position playing receiver and show the world my talent."
The opportunity likely would have arrived earlier in the season, but the hamstring issue that first cropped up during preseason practice -- the first time he'd ever dealt with a hamstring ailment -- knocked him out for the first two games. Then just as Rumph was preparing to return for the North Texas game, he tweaked the hamstring again.
"That's one thing I had to realize because the first time I hurt it and I came back, it was feeling real good. But it's just like a car, you've got to keep your maintenance up," Rumph said. "That's really what it was, you've got to keep getting treatment. I'm still getting treatment twice a day."
Although Rumph was a January enrollee who participated in spring practice, the lingering injury prevented him from gaining valuable practice experience in the first half of the season. He returned to practice the week of the Vanderbilt game, but didn't take the field. Then he played sparingly against Florida before finally getting some balls thrown his way against Appalachian State.
As Mason said, perhaps that performance proved to receivers coach Tony Ball that Rumph can be an asset in the passing game over the final few games. Injuries robbed Rumph -- and Georgia -- of what might have been an impressive full season, but he still has time to make a bigger impression down the stretch.
"That guy is very talented," Richt said. "The more he learns and the more reps he gets, the more chances he'll get and the better off he's going to be. It's like any other position, you've got to show coaches what you can do in practice to give them confidence to give you more opportunities and you've got to be fortunate enough to be healthy.
"I think if Jonathon was healthy since the beginning of camp, he'd be very heavy in our rotation and who knows how many catches he might have had to this point."
November, 7, 2013
11/07/13
12:00
PM ET
We've got football tonight. In fact, there are a couple of pretty big games. That means we're almost to what could be an important weekend in the SEC.
Here are some links from around the league:
November, 5, 2013
11/05/13
7:00
AM ET
ATHENS, Ga. -- October has been a cruel month for
Michael Bennett
, as knee injuries suffered early in the month in each of the last two seasons knocked the receiver out of Georgia's lineup.
[+] Enlarge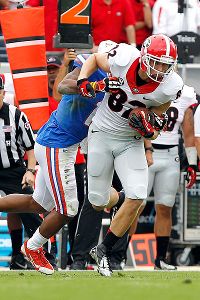 Kim Klement/USA TODAY SportsMichael Bennett looks for more yardage against Florida.
Luckily for the Bulldogs, Bennett was able to return for this month after a meniscus injury suffered in the Tennessee game cost him only two games. A year ago, an ACL tear suffered in practice the week of the South Carolina game forced Bennett to miss the remainder of the fall just as he emerged as the Bulldogs' leading receiver.
"I was kind of bummed because I feel like every time in early October, I'm out," Bennett said after making five catches for 59 yards in Saturday's 23-20 win against Florida. "But it was good to come back in this November game. Freshman year when I was here, it was awesome to get a win, to come back and beat them. There's no better feeling than beating the Gators."
For his injury-depleted position group, it was awesome to get one of its most important players back on the field. The Bulldogs passed for a season-low 114 yards in their previous game, a loss to Vanderbilt, with Bennett sidelined temporarily and
Justin Scott-Wesley
and
Malcolm Mitchell
out for the season with ACL tears.
Things weren't completely back to normal against Florida.
Chris Conley
was still out with an ankle sprain suffered in the Vandy game and Scott-Wesley and Mitchell obviously won't be back until 2014, but Bennett and returning tailback
Todd Gurley
both contributed heavily in the passing game and junior college transfer
Jonathon Rumph
played for the first time after a hamstring ailment forced him to miss the first half of the season.
Regaining some of their weapons, with Conley still expected to return this season, has the Bulldogs thinking that things are looking up.
"We're going to improve every week, improve every day, really," said senior receiver
Rantavious Wooten
. "We're going to exceed everybody's expectations, because some people have said whatever about us because we lost some guys, but in this locker room, we know what we're capable of."
Conley's return won't occur this Saturday against Appalachian State, according to Bulldogs coach Mark Richt. The following week's game against Auburn might be a long shot.
"I would say it's very doubtful for him to be playing this week," Richt said on his Monday call-in show. "I would hope that he'll be able to play against Auburn, but even that's kind of hard to say right now. He's still on crutches and has got a long ways to go. … Certainly he won't be ready this week."
Regardless, the Bulldogs moved the ball much more effectively through the air against the Gators – even though Richt said Florida's secondary features "the best cover corners in the league and maybe in the country."
Bennett played a major role in that improvement, as did senior
Rhett McGowan
, who made a 23-yard catch in the final seconds of the second quarter to set up a
Marshall Morgan
field goal at the end of the first half.
McGowan made just as big a play in the waning minutes of the fourth quarter, when he caught a third-and-7 pass from
Aaron Murray
and squirted between a group of Florida defenders for a 7-yard gain that extended the Bulldogs' game-ending drive.
"That last play where he threw it to me, it was just my number was called and it's a play that we'd been practicing all week and we were able to execute it," said McGowan, who had three catches for 43 yards. "I'm so thankful we got the first down and we were able to get one more first down and finish the game out."
With Conley still out and Rumph finally able to play, Richt said the Bulldogs hope he can make a long-awaited impact. Rumph was the top receiver and No. 7 overall prospect on ESPN's Junior College 100 when he enrolled in January, but is still waiting to make his first career catch.
If he can establish himself before Conley returns, Georgia's receiving corps can still finish the season as a productive group despite the injuries that created some extremely lean times for a couple weeks in October.
"Hopefully we can get some balls thrown his direction just so he can get excited about catching some balls again," Richt said of Rumph. "It's been a while for him and you catch a bunch in practice and you hope to have a shot to catch a few in the games.
"He was here in the spring and had a really good spring game and I'm sure he's anxious to get a chance to catch a ball. So we've still got to keep working on assignments and blocking and all that kind of thing, but hopefully there'll be an opportunity to get a ball thrown his way, or two or three or whatever. Hopefully he'll have a big day."
October, 22, 2013
10/22/13
7:00
AM ET
ATHENS, Ga. -- Even when his unit lost player after player to injury, Mike Bobo insisted Georgia would keep running its offense as it always had.
There was one problem: over time, that became an impossible proposition.
[+] Enlarge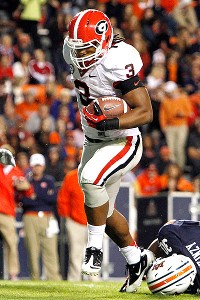 AP Photo/Butch DillGeorgia tailback Todd Gurley is expected to return from injury against Florida on Nov. 2.
Here were the Georgia offensive coordinator's top personnel options when the season started:
Tailback:
Todd Gurley
(1,385 rushing yards, 17 TDs in 2012),
Keith Marshall
(759-8).
Receiver:
Malcolm Mitchell
(40 catches for 572 yards last season),
Michael Bennett
(24-345 in five games last fall),
Chris Conley
(20-342),
Justin Scott-Wesley
(made win-clinching touchdown catches against South Carolina and LSU early this season).
After season-ending injuries to Mitchell, Marshall and Scott-Wesley and ailments that kept Gurley and Bennett out for three and two games, respectively, here's the travel roster Bobo was working with on Saturday against Vanderbilt, when he called an ultra-conservative game in hopes of slipping out of Nashville with a win:
Tailback:
Freshmen
J.J. Green
(313 rushing yards, 6.7 yards per carry this season) and
Brendan Douglas
(218, 4.2), walk-ons
Brandon Harton
and
Kyle Karempelis
(no carries between them), Gurley (who is still injured and watched from the sideline).
Receiver:
Conley (team-high 30-418 this season),
Rantavious Wooten
(14-174), true freshman
Reggie Davis
(7-189),
Rhett McGowan
(7-70),
Jonathon Rumph
(who just returned from a hamstring injury that has sidelined him for nearly the entire season, but did not play against Vandy), walk-ons Kenneth Towns (no catches) and
Michael Erdman
(1-6).
That's everybody.
With a full complement of skill players, Bobo has certainly never been afraid to call for the deep ball, and quarterback
Aaron Murray
hasn't been afraid to throw it. Georgia was actually one of the nation's most successful teams at generating big plays last season when Gurley and Marshall were breaking long runs and the Bulldogs' assortment of wideouts was getting behind the secondary for long completions.
According to ESPN Stats & Info, Georgia led the nation last season with 31 touchdowns that covered 20 yards or more and ranked fifth with 63 completions of at least 20-plus yards. And this season initially looked to be more of the same, with 37 plays of 20-plus, six touchdowns of 20-plus and 27 completions of 20-plus through the first five games.
It has been a completely different story over the last two weeks, however. The explosive play did not exist in the 31-27 loss to Vandy -- Georgia's longest play of the game was a 17-yard completion to Green -- and the offense mustered only a paltry 221 yards against a Commodores defense that gave up 51 points to Missouri its last time out.
Murray completed 16 passes for 114 yards, just five more completions than his career low, and attempted only two throws that covered at least 15 yards. Both were incompletions.
The previous week's loss against Missouri was not as underwhelming. The Bulldogs finished with 454 total yards and Murray was 25-for-45 for 290 yards, but nearly half of his completions (11) came on dump-off passes to Green and Douglas, as Bobo and his quarterback elected to dink and dunk to their checkdown receiving options against Missouri's zone defense.
Green broke a 57-yard run and Wooten made a 48-yard reception, but explosive play and aggression was largely lacking in that loss, as well.
The long ball was a key element in the offense in the first five games, with Murray going 21 for 37 on throws of 15 yards or more, averaging 17.8 yards per attempt and connecting for five touchdowns versus no interceptions. He was 4-for-11 on such throws against Vandy (0-2) and Missouri (4-9), but averaged just 8.7 yards per attempt with no touchdowns and two picks.
Georgia still has only six touchdowns that covered 20 yards or more, leaving the Bulldogs in a tie for 74
th
nationally after leading in that category last fall.
The good news for Georgia is that Gurley and Bennett are expected back for the Bulldogs' next game, Nov. 2 against Florida. Perhaps more than any other player on the roster, even Murray, Gurley is the linchpin in Georgia's offensive explosiveness -- and his presence allows Bobo to call a completely different game than what we just witnessed in Nashville.
The sophomore back's ability to run physically between the tackles forces opponents to funnel defenders into the box to slow him down. And his formidable speed makes Gurley a threat to break a run for a big gain at any time.
The sophomore already has seven touchdowns of 20 yards or more in 18 career games.
Aside from their occasional case of fumble-itis, Green and Douglas have done a fine job in Gurley and Marshall's absence, but they can't replace what Gurley brings to the lineup. If another running back anywhere in the country is capable of that, he's on a mighty short list.
Now will Gurley make a big enough difference against Florida? We shall see. He has been on the shelf since Sept. 28 and hasn't been able to practice for three weeks. But if he returns with fresh legs and his injured ankle has healed to the point that the Gurley of old takes the field in Jacksonville, Georgia's chances of victory -- and its chances of generating big plays on offense -- will increase exponentially.
October, 14, 2013
10/14/13
7:00
AM ET
ATHENS, Ga. – If Georgia's situation doesn't seem familiar, it certainly should. After losing its first SEC game of the season on Saturday, Georgia no longer controls its fate in its pursuit of a league title.
No Bulldogs team has gone unbeaten in SEC play – or even in divisional play – since the conference split into divisions in 1992, and yet Georgia has claimed five SEC East titles in Mark Richt's 12-plus seasons as coach, including each of the last two years.
As they prepare for their often-treacherous visit to Nashville to face Vanderbilt (3-3, 0-3 SEC), the injury-riddled Bulldogs understand that their BCS championship hopes are all but dead, but they remain among the top contenders in the East -- particularly since they've beaten South Carolina and both Florida and Missouri have injury concerns of their own.
[+] Enlarge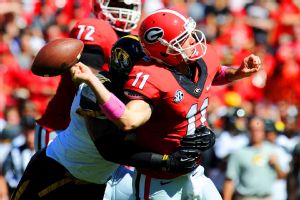 Dale Zanine/USA TODAY SportsAaron Murray and the Bulldogs had a rough outing against Missouri and now will need help in the SEC East.
"The past two seasons, we've dug ourselves out of a hole and hopefully we'll try to do it again," senior tight end
Arthur Lynch
said. "It's not ideal or what you hope for, but I think for us as a team, we know we can control what's in front of us in terms of the games we play. We have Vanderbilt next week in Nashville. That's going to be a tough game."
Georgia was in an extremely similar position two years ago when it visited Vanderbilt.
The Bulldogs suffered a pair of early losses and arrived in Nashville needing a win that would make the ensuing open date tolerable with a huge game against Florida on the horizon. Georgia's 33-28 win is best remembered for the postgame shouting match between Bulldogs defensive coordinator Todd Grantham and Commodores head coach James Franklin, but it was Georgia punter Drew Butler who made the play of the game when he tackled
Kenny Ladler
deep in Georgia territory in the game's closing seconds after Udom Umoh blocked a Butler punt.
Georgia claimed a 24-20 win over Florida after the open date and rolled through the rest of the conference schedule, earning the first of two consecutive berths in the SEC championship game and setting up the blueprint for what the Bulldogs now must accomplish in order to return to Atlanta.
"The best thing we can do right now obviously is to get ready to play Vanderbilt and try to get a victory there," Georgia coach Mark Richt said. "It's been tough to be able to do that, especially last time we were there. It was quite a game if you remember, and we were very fortunate to get out of there with a win.
"So we've got to just try to take care of that business and then the open date we can probably see how the dust is settling then prior to the Florida game. But the biggest thing we can do to help ourselves is to get ready this week."
No. 14 Missouri (6-0, 2-0) is in the driver's seat in the East after handing No. 15 Georgia (4-2, 3-1) a 41-26 loss on Saturday, but the win was costly for the Tigers. Quarterback
James Franklin
took a hard hit from Bulldogs outside linebacker
Jordan Jenkins
and suffered a separated shoulder that could force him to miss the rest of the season.
Freshman quarterback
Maty Mauk
performed well after replacing Franklin against Georgia, but he now must face No. 22 Florida (4-2, 3-1) and No. 11 South Carolina (5-1, 3-1) over the next two weeks. Florida dropped its first league game on Saturday at LSU, meaning the Gators' next two games -- at Mizzou and against Georgia in Jacksonville -- will have a major say in their fate. And South Carolina still must beat Mizzou and Florida and hope Georgia loses again somewhere along the line.
"It's the SEC. You never know. Missouri could lose, too," Georgia running back
Brendan Douglas
said. "You never know what could happen. But Missouri's a great team. I'm not going to say anything about them, but you never know what could happen."
[+] Enlarge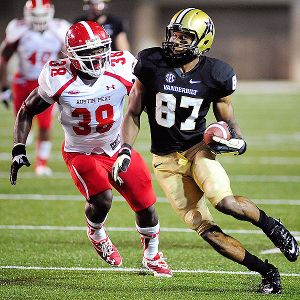 Frederick Breedon/Getty ImagesJordan Matthews and Vanderbilt enter Saturday's game against Georgia also off a loss to Missouri after a bye.
Richt agreed with that sentiment, noting on his Sunday teleconference that, "It might be who can handle the adversity the best – who can find a way to win, who can fight and scratch and figure out a way. That's probably what it's going to come down to."
Georgia learned that much over the last few weeks when injuries to tailbacks
Todd Gurley
and
Keith Marshall
, receivers
Malcolm Mitchell
,
Justin Scott-Wesley
,
Jonathon Rumph
and
Michael Bennett
and safety
Tray Matthews
caused the Bulldogs to play most of the last two games without some of their top playmakers.
Although Mitchell, Marshall and Scott-Wesley are out for the year and Bennett is out until at least the Florida game, Richt said Rumph should return to practice on Monday. Gurley and Matthews, he said, also might return for the Vandy game.
Regardless of whether they play, the main goal for Georgia this week is to get out of Nashville with a win that lets the Bulldogs reach their off week, heal from some of the injuries that have been so costly lately, and prepare for the showdown in Jacksonville. The back end of the Bulldogs' conference schedule -- after facing four top-15 teams in the first six games -- is more manageable, but they have to get past Vanderbilt for those games to matter the way they have in the last two seasons.
"We really need to just focus on the task at hand, which right now is Vanderbilt, and take it one game at a time," Lynch said. "To be 4-2 after the kind of gauntlet we've been through, with four or five ranked teams in six games, is not easy.
"I think that even if from a national standpoint, people have kind of lost hope for us, which is fine in my eyes, no team will have a better resume in terms of strength of schedule than we have through this season, so I think there's some merit in that."
October, 8, 2013
10/08/13
7:00
AM ET
ATHENS, Ga. -- Mark Richt delivered the bad news on Sunday when he confirmed that tailback
Keith Marshall
and receiver
Justin Scott-Wesley
would join wideout
Malcolm Mitchell
on the season-ending injury list.
With receiver
Michael Bennett
(knee) out and All-SEC tailback
Todd Gurley
(ankle) questionable for Saturday's game against No. 25 Missouri (5-0, 1-0 SEC), No. 7 Georgia (4-1, 3-0) has little time to identify the personnel who must play larger roles in order to hang with a Tigers offense that ranks among the nation's most productive units.
Here are four groups/trends to watch as the Bulldogs move forward:
Freshman tailbacks:
With Georgia's two star backs both possibly out Saturday, it's certainly possible we will see another heavy dose of true freshmen
J.J. Green
-- who rushed for 129 yards last Saturday against Tennessee -- and
Brendan Douglas
at tailback.
[+] Enlarge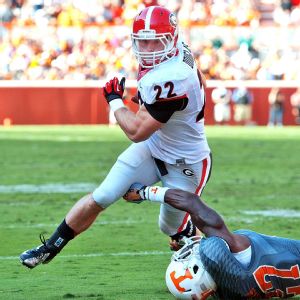 Jim Brown/USA TODAY SportsBrendan Douglas and fellow freshman J.J. Green likely will be asked to shoulder more of the load.
That isn't necessarily a scary proposition for the Bulldogs, who have seen the young duo perform well in practice and in spot duty up until last Saturday's overtime win.
"We see those guys in practice, and they do a great job of breaking tackles or shaking guys or breaking loose for touchdowns against a great defense," offensive guard
Chris Burnette
said. "Seeing them do that in practice, we know they're capable of doing that in a game."
The larger question is what happens if Gurley is unable to play Saturday. If one of the top running backs in the nation remains unable to go as the week progresses -- and he once again did not practice on Monday -- Georgia's coaches might have to take a longer look this week at freshman
A.J. Turman
.
He seemed like a certain redshirt candidate a week ago, but Richt's staff must determine whether the two freshmen who already have played and walk-ons
Kyle Karempelis
and
Brandon Harton
would be enough to carry the load without Gurley and Marshall.
"A lot may depend on how Gurley's doing," Richt said. "If Gurley comes back and you've got the other two, you don't normally have to go three backs. But if Gurley can't go, then we've got to try to figure out what we're going to do. We've got Harton and Karempelis that have played for us before, so those are possibilities. We've just got to kind of try to figure that out.
Wild cards:
Speaking of Turman, he's not the only newcomer who has not played yet and still might or might not make an impact this fall.
Receivers
Tramel Terry
and
Jonathon Rumph
-- Georgia's second- and sixth-highest-rated 2013 signees in ESPN's player rankings -- have not played to date but still could factor into offensive coordinator Mike Bobo's plans ... eventually.
Richt said "it's very doubtful that [Rumph would] be ready" for the Missouri game while still dealing with a left hamstring strain, but "after that, we're going to definitely try to get him ready."
Meanwhile, Terry struggled during preseason practice while still recovering from offseason ACL surgery and seemed set to redshirt this season. But because of the receiver attrition, the freshman might be someone the coaches eventually consider.
"I just think the longer he practices coming back from his injury, the better he'll be," Richt said. "Is he really ready for this type of competition? I don't know.
"And the fact that he hasn't had a lot of reps with our offensive unit, he's been working mainly scout team reps, and he's a freshman, so it's hard to really be ready in all the ways that you have to be ready -- not only physically, but knowing the game plan and just having experience running the routes and playing in games like that. So I'm not counting him out, but I really don't know the answer right now."
More tight ends:
Considering the level of in-game attrition that occurred at Tennessee, perhaps the most surprising statistic from that game was that neither
Arthur Lynch
nor
Jay Rome
made a reception.
Expect that to rank as a statistical anomaly moving forward.
When Georgia's receivers encountered a number of injury issues last season, Lynch and Rome were two of the top pass-catching beneficiaries. The two tight ends combined for 25 catches for 367 yards -- 251 by Lynch and 116 by Rome – over the final six games last season. In the first eight games of 2012, they combined for 10 catches and 216 yards.
Lynch and Rome have 212 yards -- 169 by Lynch and 43 by Rome -- this season.
[+] Enlarge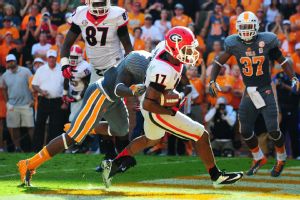 Scott Cunningham/Getty ImagesWith injuries mounting, senior Rantavious Wooten might be counted on to play a much larger role.
Replacement receivers:
Junior
Chris Conley
-- who led Georgia with 64 receiving yards and made a tremendous one-handed touchdown catch against Tennessee -- is nearly the only known quantity in the Bulldogs' receiving corps for the time being.
Yes, they have fifth-year seniors
Rhett McGowan
and
Rantavious Wooten
available, but both players have been role players throughout their careers. Beyond that, Georgia might need reserves like
Reggie Davis
,
Blake Tibbs
,
Michael Erdman
,
Kenny Townes
to pick up their production.
"We're deep in the receiver room," McGowan said. "A lot of people don't know that, because they haven't played, but they're at Georgia for a reason."
Bennett will undergo arthroscopic surgery today to determine the extent of his knee injury. Even if he receives positive news, the junior will certainly miss the Missouri game and possibly more time after that.
Since they have dealt with regular injuries over the last two seasons, the receivers believe they are well-prepared for their current situation and now must take advantage of this opportunity.
"[Receivers coach Tony] Ball always tells me, 'Prepare like you are the starter, and you never know, because you're one play away from [being] a starter,' " said Wooten, who caught two touchdowns against Tennessee. "So all the guys know that in the room, and I know that myself, and I always had that in the back of my head. Any guy could be the next man up. The coaches have the final decision on that, but at the end of the day, that's what we do, we practice, and we get ready for those types of situations."
September, 16, 2013
9/16/13
7:00
AM ET
ATHENS, Ga. -- Georgia opened as a 36.5-point favorite for Saturday's game against North Texas, which should be enough to light a fire this week under the Hutson Masons, Reggie Carters and Jonathon Rumphs on the ninth-ranked Bulldogs' roster.


But before Georgia's coaching staff can help its reserves gain some on-field seasoning, the starters must first take control against a resilient Mean Green (2-1) club that outscored Ball State 31-7 after the first quarter on Saturday to win, 34-27.
"Just this past weekend, you saw Michigan playing Akron, and I don't know what their mindset was going into the game, but I know what it was, I'm sure, when the game was over," Georgia coach Mark Richt said, referring to Saturday's game in Ann Arbor, where the Wolverines needed a last-minute goal-line stand to defeat Akron, 28-24. "I think everybody's just got to understand that we must focus very, very hard on improving, but we need to focus very hard on our game plan."
Nonetheless, as long as Georgia's starters take care of business against the Mean Green, there should be more than enough playing time to go around for backups and those returning from injury to get some work in a game.
Repeat -- as long as they take care of business.
"We'll play the game as it happens," offensive coordinator Mike Bobo said of the prospect of playing Mason, the backup quarterback and potential 2014 starter. "Coach has never been one and I've never been one to say, 'Hey, you're playing this series, that series.' We're going to go out there with all our bullets, so to speak, and play the game and take it from there."
Against North Texas -- a team that ranks 94th nationally in total defense, allowing 435.7 yards per game -- the opportunity should arise to filter in some of the players who rarely saw the field in the first two games against Clemson and South Carolina.
That might include freshman tight end
Jordan Davis
or offensive lineman
Brandon Kublanow
, neither of whom has played to this point. Or more of fellow freshmen like Carter,
Tim Kimbrough
,
Ryne Rankin
,
Quincy Mauger
and
Shaq Wiggins
, who have contributed mostly on special teams.
"I would think anybody that's going to play has been on special teams and you've kind of seen them in there doing something," defensive coordinator Todd Grantham said. "Guys that maybe haven't done anything, I think right now the plan would be not to play those guys. Now obviously injuries or something could change that, but if I was looking to give you a barometer on the guys to expect moving forward, it would be guys that are playing on special teams right now."
Grantham's prediction doesn't include someone like Rumph, the junior college transfer who missed the first two games and a chunk of preseason practice with a hamstring injury. Richt said last week that the wide receiver was healthy again and should be available against North Texas if he sufficiently knocks off the rust this week in practice.
"I don't know if he'll get in as a rotation from the very beginning or it will be contingent on how the game goes," Richt said. "I'm not sure exactly where he's at, but he'll be available to play. He was getting a lot of work on special teams. Coaches are trying to incorporate him back into that. If he wasn't injured, I think he'd have been playing by now, scrimmage snaps and special teams snaps."
Preseason injuries also affected defensive lineman
Chris Mayes
and defensive backs
Shaquille Fluker
and
Kennar Johnson
– all junior college transfers, as well – so some combination of that trio could also figure into the coaches' plans at some point.
Otherwise, it could be the freshmen and reserves who take over in the second half so long as Georgia's starters build a big early lead. And that could be valuable at positions like receiver, tailback and inside linebacker where the Bulldogs could stand to develop some of the younger players who aren't at the top of the depth chart.
"Like I said at the beginning of the year, it was a concern of mine, the depth at tailback," Bobo said, although such a comment could apply at several positions. "It was good to get
Brendan Douglas
in [against South Carolina] and
J.J. Green
got a carry. He got a carry, got in last week.
"So we've got to continue to develop that depth if injuries do happen. It's a rough and tough league. We played two very good opponents in the first two weeks and guys played a lot of snaps and hopefully we'll get healed up and be ready to go."
September, 1, 2013
9/01/13
8:01
PM ET
With another top-10 opponent on deck, Georgia will be down a weapon after getting bad news on Sunday.
An MRI confirmed that receiver
Malcolm Mitchell
injured the anterior cruciate ligament in his right knee in the first quarter of the Bulldogs' 38-35 loss to Clemson on Saturday.
The junior from Valdosta, Ga., was the team's leading returning receiver from last season, catching 40 passes for 572 yards. Mitchell, who suffered the injury while celebrating with running back
Todd Gurley
after Gurley's 75-yard first-quarter touchdown run, is out for the remainder of the season.
[+] Enlarge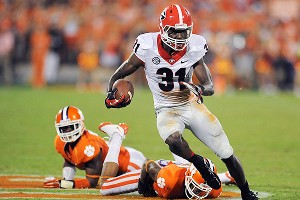 AP Photo/ Richard ShiroWith Malcolm Mitchell gone for the season, it's up to receiver such as Chris Conley to step up for Georgia.
It's a big blow for the Bulldogs, as Mitchell is one of the better big-play receivers in the conference. This means the Bulldogs need other receivers to emerge, with a couple showing signs of that potential last night. Sophomore
Justin Scott-Wesley
produced four catches for 55 yards in place of Mitchell and junior
Chris Conley
added three receptions for a team-high 67 yards.
Junior
Michael Bennett
, who missed the final nine games of last season with an ACL injury, was on his way to a strong 2012 season before it was cut short by injury. He had a team-high five catches for 60 yards in the loss to Clemson and will also be a key option as the Bulldogs attempt to adjust in Mitchell's absence.
The timing is tough because Georgia must host No. 6 South Carolina on Saturday. The Bulldogs dealt with similar circumstances a year ago, when Mitchell was injured the week before they played the Gamecocks, who proceeded to blast Georgia 35-7.
Really, you can't attribute this to anything but simple bad luck. Mitchell went airborne to do a chest bump with Gurley, something you see dozens -- if not hundreds -- of players across the country in college football do every week when they score a touchdown or force a turnover. You even see players do it in practices at different schools. He landed awkwardly, and it's a simply unfortunate result.
Georgia will miss Mitchell's presence, but it does have solid depth at receiver and players capable of helping pick up the slack. In addition to Bennett, Conley and Scott-Wesley, look for others such as
Rantavious Wooten
,
Rhett McGowan
and perhaps junior college transfer
Jonathon Rumph
-- who missed the Clemson game with a hamstring injury but is expected back soon -- to help in that capacity. Rumph was the No. 1 receiver in the 2013 ESPN JC 100 rankings.
Should Mitchell be awarded a medical redshirt (he does have a redshirt year available anyways), he could return next season with his final two seasons of eligibility intact. But for now, the Bulldogs will have to come up with a plan for the Gamecocks next week and for the season moving forward.
May, 6, 2013
5/06/13
9:30
AM ET
GEORGIA BULLDOGS
2012 record:
12-2
2012 conference record:
7-1 (first, SEC East)

Returning starters:
Offense: 10; defense: 4; kicker/punter: 2
Top returners:
QB
Aaron Murray
, RB
Todd Gurley
, CB
Damian Swann
, WR
Malcolm Mitchell
, OLB
Jordan Jenkins
, OL
Kenarious Gates
, OG
Chris Burnette
, ILB
Amarlo Herrera
Key losses:
OLB
Jarvis Jones
, LB
Alec Ogletree
, S
Shawn Williams
, S
Bacarri Rambo
, NG
John Jenkins
, CB
Sanders Commings
, WR
Tavarres King
2012 statistical leaders (* - returner)
Rushing: Gurley * (1,385 yards)
Passing: Murray * (3,893 yards)
Receiving: King (950 yards)
Tackles: Ogletree (111)
Sacks: Jones (14.5)
Interceptions: Swann * (4)
Spring answers
1. Safety starters:
With 2011 All-Americans Rambo and Williams completing their college careers, the Bulldogs entered the spring with two big holes at safety. It appears sophomore
Josh Harvey-Clemons
and January enrollee
Tray Matthews
have all but claimed the starting positions, however. Harvey-Clemons was named the Bulldogs' defensive MVP of spring practice, and Matthews generated the most buzz of anyone this spring with his ability to deliver crushing hits. Georgia's inexperience along the back end of the defense is not ideal, but the two youngsters could become a pleasant surprise.
2. Newcomers contribute:
Matthews wasn't the only early enrollee who made his mark during the spring -- and many of those 13 newcomers will play big roles in the fall. Others like defensive lineman
Chris Mayes
, linebacker
Reggie Carter
, cornerback
Reggie Wilkerson
and running back/receiver
J.J. Green
all but ensured that they will contribute this fall by acquitting themselves nicely while learning how to function as college players. Keep an eye on another early enrollee, receiver
Tramel Terry
, once the Bulldogs open preseason practice. Terry did not practice this spring while recovering from a torn ACL suffered late last fall, but he could be healthy by August and could become yet another valuable freshman.
3. Returning weapons:
With almost everyone returning on offense -- only King and receiver
Marlon Brown
are gone among the key contributors -- the Bulldogs should be able to score with as much efficiency as last season's group that set a school record with 529 points. Offensive coordinator Mike Bobo already knows what players including Murray, Gurley, tailback
Keith Marshall
and Mitchell can do. This spring, players like offensive MVP
Chris Conley
, G-Day standout
Jonathon Rumph
and Green also flashed the potential to make the offense even more potent.
Fall questions
1. Starting quickly:
A defense that must replace 12 key performers was a pleasant surprise this spring. But can Todd Grantham's rebuilt defense reload quickly enough to hold its own against the likes of Clemson, South Carolina and LSU? Georgia faces all of those teams before the end of September. Grantham's defense underperformed a season ago despite a wealth of NFL-ready talent. The talent is still there, but the defensive coaches have their work cut out with so many inexperienced players needing to be ready for the season-defining early schedule.
2. Offensive line rotation:
With Burnette out for the entire spring and offensive tackle
John Theus
out for the first half of the practices, offensive line coach Will Friend had plenty of reason to shuffle his lineup -- and that's exactly what he did. Friend's group returns everyone from last season, including four players who started all 14 games, but he did not seem prepared to guarantee any starting jobs at the end of the spring. It's possible that the shuffling could continue in August, and he might allow a greater number of linemen to play once the season begins.
3. Sack specialists:
Jones led the nation with 24.5 tackles for a loss, 14.5 sacks and seven forced fumbles last season while serving as the Bulldogs' top pass-rusher. Sophomore Jordan Jenkins appears to be first in line to replace him -- and he has already informed his predecessor that he intends to eventually break his school sack record -- but Jones set an awfully high bar for Jenkins to attempt to clear. In order to make Grantham's 3-4 defense function correctly, the Bulldogs need Jenkins and some of the defensive linemen who will be stepping into larger roles to keep applying pressure to opposing quarterbacks.