July, 15, 2014
Jul 15
8:00
AM ET
BATON ROUGE, La. -- LSU officially added another name to its list of summer departures on Monday when a school spokesman confirmed that senior
Rob Bolden
intends to transfer.
In addition to the seven Tigers who sacrificed their remaining eligibility in order to enter the 2014 NFL draft, four others have announced plans to transfer, including defensive end
Jordan Allen
(Arizona) and quarterbacks
Stephen Rivers
(Vanderbilt) and Hayden Rettig (Rutgers). Now Bolden becomes the third player capable of lining up under center who has opted to continue his career elsewhere.
[+] Enlarge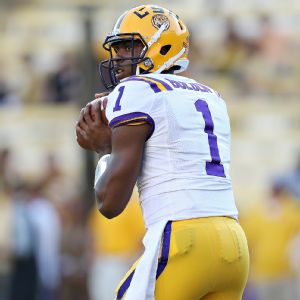 Ronald Martinez/Getty ImagesRob Bolden is the third player capable of playing quarterback to transfer from LSU this offseason.
Bolden played receiver this spring after spending the past two seasons as a backup quarterback at LSU -- he never appeared in an actual game -- and the two seasons before that as a part-time starting quarterback at Penn State. He transferred to LSU in 2012 in the wake of the Jerry Sandusky investigation.
Had he remained at LSU, he would have been one of the most veteran players at whichever position he played. Of the nine wideouts listed on the preseason depth chart LSU released Monday,
Quantavius Leslie
is the only senior, there are no juniors and
Travin Dural
is the only sophomore.
Bolden
attempted to put a positive spin on his shift to receiver
during the spring, but obviously something changed since then. A report on Monday by SpartanNation.com had the Michigan native transferring to Eastern Michigan in order to play quarterback.
LSU's more pressing issue now is at quarterback, where the trio's departure leaves sophomore
Anthony Jennings
and
Brandon Harris
as the only scholarship players and walk-ons
Brad Kragthorpe
,
Jake Clise
and
Brandon Bergeron
as reserves.
That isn't necessarily a nightmare scenario so long as Jennings and Harris stay healthy this fall. LSU used only two quarterbacks -- senior Zach Mettenberger and Jennings -- all of last season, even though Mettenberger dealt with minor injuries for a portion of the fall before suffering a season-ending knee injury in the regular-season finale against Arkansas.
It obviously helped from a continuity standpoint that Mettenberger was a fifth-year senior who possessed extensive college experience and an NFL-level skillset. Jennings and Harris are both early in their developmental cycle, which already leaves LSU with little breathing room at the position even before potential injuries enter the equation.
LSU's coaches made it clear during the spring that Jennings and Harris are their top two options -- hence the departures of the three backup quarterbacks -- so Bolden would have been nothing more than an emergency option as long as the youngsters stayed upright. But he would have been an awfully useful emergency option.
In 2010, Bolden became the first true freshman quarterback to start a game at Penn State in 100 years and he went on to start 17 games between that season and the next before transferring to LSU. Backup quarterbacks with that kind of major-conference experience aren't particularly plentiful, and now LSU has decided to spend his last season of eligibility elsewhere.
January, 14, 2014
Jan 14
6:58
PM ET
BATON ROUGE, La. -- La'El Collins would have been an NFL draft pick this year. He might have even been an early-round pick this year. But unlike seven teammates, Collins announced on Tuesday that he will return for the 2014 season at LSU in order to complete his degree and improve his pro stock.
[+] Enlarge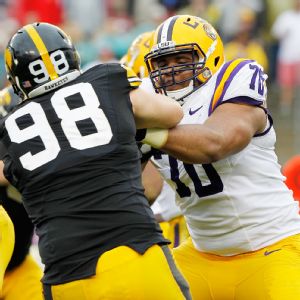 Kim Klement/USA TODAY SportsWith La'El Collins returning for his senior season, LSU will have four of five returning starters back on its offensive line.
"Going to the draft early and maybe going late first, early second -- who knows? -- I know for a fact that if I came back to school, I could earn my degree and have a better chance and a better opportunity to go higher in the draft next year," Collins said. "It all kind of came together and it all made sense."
Collins announced his decision at an on-campus press conference alongside coach Les Miles and fellow rising seniors
Jordan Allen
,
Kenny Hilliard
,
Elliott Porter
and
Jermauria Rasco
-- all of whom also plan to return in 2014.
Miles credited the returning players for making decisions that will allow them to further develop before making the leap for the pros -- often a risky proposition, as several of the 11 Tigers who left school early after last season can attest. Only nine of those 11 got drafted and six were taken in the third round or later.
"I'm absolutely sure," Miles said when asked if the departed Tigers' fates this season might have impacted the decisions of the players who chose to stay. "There were some unusual decisions made last year in my mind."
Collins, Miles said, was a safe bet to become an NFL draft pick, but he emphasized that players need to strongly consider the possibilities should their pro stock sits on shakier ground.
"What we try to tell them is this: let's not give the NFL a deal. There's no reason for it," Miles said. "The guaranteed money, the best position to go into the draft is the first round. What we want to encourage is to really view your decision in relationship to where you can be and where you are. These guys, they made great decisions."
Collins was a second-team All-SEC selection this season after taking over as the Tigers' left tackle. He started all 13 games in 2012 at left guard, leading to some question about where he might eventually land in the pros.
He said NFL teams have offered mixed feedback as to which position he will play, but Miles said another college season at tackle will provide an opportunity to convince scouts that he can be a tackle.
"If I was sitting in an NFL room right now, I'd be sitting there questioning that. That would be a real question," Miles said. "I think this year his piece is to improve and to make his last year his best year. And then I see tackle (in the NFL)."
The Tigers' offense lost five productive underclassmen with eligibility remaining -- receivers
Jarvis Landry
and
Odell Beckham
Jr., running backs
Jeremy Hill
and
Alfred Blue
and offensive guard
Trai Turner
-- as well as senior quarterback
Zach Mettenberger
, so LSU's 2014 offense will feature an entirely new set of skill-position players. The offensive line should return four starters, however, in Collins and center Porter, right tackle
Jerald Hawkins
and left guard
Vadal Alexander
.
Miles said he expects the group to be dominant next season and Porter and Collins both predicted that it will be the strength of the rebuilding offense.
"Last year was our first year really playing together as a whole and I think that with another year under our belt, it's going to be a great season," Collins said. "For me the game is won in the trenches, so if we come out and do the things that we're capable of doing, I think we'll have a great season."
Getting Collins back makes that a much more likely proposition. He didn't give the NFL a deal, to use Miles' expression, giving LSU another season with arguably its top offensive lineman and providing Collins with another season to prove where he belongs on 2015 draft boards.
"I don't think there's any question that he has the potential to be a very early draft pick at left tackle," Miles predicted.
September, 24, 2013
9/24/13
7:00
AM ET
ATHENS, Ga. -- For all the ink spilled over the numerous defensive holes that Georgia had to fill before this season, perhaps no defense in the country suffered greater losses than LSU.
Just as Georgia had 12 key defensive players to replace this fall, LSU actually set an NFL draft record with six defensive players selected in the 2013 draft's first two days. And just as the Bulldogs have discovered, it has been difficult for LSU to pick up exactly where it left off without players like Barkevious Mingo, Kevin Minter, Eric Reid, Sam Montgomery, Tharold Simon and Bennie Logan.
So as No. 9 Georgia (2-1) and No. 6 LSU (4-0) prepare to meet on Saturday, they do so with young in places defenses that have delivered uneven results. Neither group lack potential, but they both have dealt with the understandable lapses that typically arise when new players take over for established stars.
"I think our players are as talented as we've ever had and I think there's a maturity that needs to take place so they can play with their cleats headed north and south and ready to make a tackle and show the style of confidence, if you will, that other defenses that have played in this uniform have shown," LSU coach Les Miles said. "I think that's coming. I see it, in last week, better in certain spots and certainly that's got to continue."
In Saturday's win against Auburn, Miles' Tigers could not have been more impressive early. They limited Auburn to just 41 yards of offense in the first quarter in jumping out to a quick 21-0 lead. However, Auburn made it a more competitive game -- LSU still won 35-21 -- by generating 333 yards in the second half and running a whopping 85 plays against a suddenly reeling LSU defense that was facing its first legitimate test.
"Everybody probably mentally may have gotten a little bit down. We had a couple of calls that were questionable, but we've got to be able to shrug that off," LSU defensive end
Jordan Allen
said. "We have a couple things happening and not sure what's going on and we're not communicating on some things and we'll get it straight."
LSU's early schedule was much more generous toward its defensive rebuilding effort than was Georgia's. The Tigers played TCU, UAB, Kent State and Auburn in the first four games, with only the TCU game -- it was held at the Dallas Cowboys' stadium in Arlington, Texas -- being played away from Tiger Stadium.
Their defensive statistics reflect that advantage, as LSU is tied for third in the SEC in total defense (310 yards per game), is second against the pass (173.8 ypg), seventh against the run (136.2) and fifth in scoring (19.5 points per game).
Because its first two opponents were top-10 teams with impressive skill talent, Georgia's defense looks much worse on paper. The Bulldogs are 13
th
in the league in scoring defense (29.7 ppg), 11
th
in total defense (388.7 ypg), eighth against the run (143.3) and ninth against the pass (245.3 ypg).
However, they actually enter the LSU game after their best performance yet. In Saturday's 45-21 win against North Texas, Georgia surrendered just 7 rushing yards and 245 total yards -- nearly 400 fewer than the Bulldogs' offense generated that afternoon. Further, the Mean Green scored just one offensive touchdown -- the other two came on special-teams plays -- and otherwise sputtered on offense .
"I feel like we really stepped up this game," Georgia sophomore safety
Josh Harvey-Clemons
said. "We had the off week to kind of get everybody in the right spot or whatever, and I feel like we're really jelling together and really getting that chemistry that we're going to need next week against LSU."
It was still far from a perfect effort, but Georgia has now allowed opponents to score just 13 points in their last 18 drives, dating back to halftime of the South Carolina game when the score was tied at 24-24 before the Bulldogs pulled away for a 41-30 win.
"You want to have confidence," Georgia coach Mark Richt said of his defense after the North Texas win. "I don't think this bunch is going to be overconfident after this game. I think they did begin to play well together and I think they can be proud of what happened. It was a very good performance. But LSU's a good team, and we want them as confident as possible, but we don't want them to think they've arrived, that's for sure, because we've got a long way to go."
Miles' coaching staff can certainly empathize with that sentiment, particularly as it prepares to face a Georgia team that ranks sixth nationally in total offense at 574 ypg -- in the Tigers' first true road game of the season, no less.
Inconsistency has characterized both defenses over the first month of the season, but they realize that excuses over inexperience have nearly lost their shelf life. The defense that is better at minimizing its mistakes on Saturday will almost certainly win what should be one of the most impactful games either team will play this fall.
June, 13, 2013
6/13/13
2:30
PM ET
Everyone who knows anything about college football knows that one major thing that separates the SEC from all the other conferences is the play -- and talent -- along the defensive lines.
Ask any coach out there to describe the biggest difference and "defensive line" is bound to be one of the first things that slip out of his mouth. It truly is all about the trenches in the SEC, both defensively and offensively. The offensive lines deserve some love for just putting up with their burly counterparts, but the defensive lines really do get all the attention.
So it should come as no surprise that when Phil Steele
ranked his top 15 defensive lines
in college football that the SEC was represented by five teams -- the most of any conference.
[+] Enlarge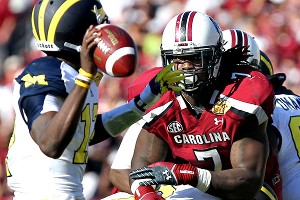 Kim Klement/USA TODAY SportsJadeveon Clowney headlines a deep crop of SEC defensive linemen.
While none ranked first or second -- that was reserved for Notre Dame (No. 1) and USC (No. 2) -- South Carolina topped the SEC lines at No. 3 on Steele's list. Florida ranked sixth, Ole Miss was 12th, Alabama was 13th and LSU was 14th.
That's pretty good when you consider that Florida lost first-rounder Sharrif Floyd and Mr. Solid Omar Hunter in the middle, while LSU pretty much lost its entire starting defensive line from a year ago.
The SEC truly does just reload up front.
South Carolina's ranking isn't surprising because there's more than just
Jadeveon Clowney
to work with. Sure, Clowney might be the best player in the country, but he has help from
Kelcy Quarles
and
J.T. Surratt
inside and
Chaz Sutton
on the other side of him. Quarles was pretty consistent for the Gamecocks last year, while Sutton grabbed five sacks as a backup. The departure of starters Devin Taylor and Byron Jerideau shouldn't shake this lineup too much.
Getting
Ronald Powell
back should help the Gators with Lerentee McCray gone on the outside. Powell will play that hybrid linebacker/defensive end "Buck" position, where he'll get help from freshman All-SEC player
Dante Fowler Jr
.
Dominique Easley
is moving back to defensive tackle, where he was very disruptive during his first two years on campus. He can still move outside if needed. End
Jonathan Bullard
is coming off of a solid freshman season, while more is expected out of tackle
Damien Jacobs
, who came from the junior college ranks last year.
Ole Miss still has depth issues at defensive tackle, but has plenty to work with at end.
C.J. Johnson
should be healed from the leg injury he suffered this spring, while
Cameron Whigham
is coming off of a season in which he started 11 games. Rising sophomore
Channing Ward
should be fun to watch, and top recruit Robert Nkemdiche is expected to see the field very early. Tackle
Issac Gross
should be back from his groin injury this fall and he'll get help from juco transfer Lavon Hooks, who had a very good spring.
Alabama might not have the elite players it's had in the past up front, but defensive ends
Jeoffrey Pagan
and
Ed Stinson
could have big years. Pagan has a lot of potential, while Stinson recorded 30 tackles last season, including 8.5 for loss and three sacks. Stinson is versatile enough to play both inside and out. Then there's
Brandon Ivory
at noseguard, who has to replace the talented Jesse Williams. Alabama still needs players to step up more as starters and reserves because the line as a whole has a ways to go before the season starts.
You can tell how well Les Miles has recruited along the defensive line when the Tigers can lose so much but still have a line that's considered one of the nation's best. Tackle
Anthony Johnson
has so much potential and it sounds like he's ready to unleash his talents on the rest of the league. Miles raved about end
Jermauria Rasco
this spring and doesn't think the Tigers will miss much of a beat with him outside. True freshman Christian LeCouture played his way into the two-deep at defensive tackle this spring, while Miles expects to get more from tackle
Ego Ferguson
and ends
Danielle Hunter
and
Jordan Allen
.
April, 24, 2013
4/24/13
4:00
PM ET
There's no question that this year's NFL draft really hit LSU's defense hard -- especially up front.
Gone is projected first-round draft pick
Barkevious Mingo
at defensive end, along with very productive leader
Sam Montgomery
. The Tigers also said good-bye to their plug in the middle,
Bennie Logan
.
That trio combined for 27 tackles for loss, 14.5 sacks and 17 quarterback hurries in 2012. It's a lot production to replace, but coach Les Miles said during Wednesday's SEC coaches teleconference that he was pleased with the way his new defensive line looked this spring.
And it's not hard to believe him when you think about the talent and the numbers he and his staff have to work with.
The Tigers welcomed true freshman Christian LeCouture this spring and watched him play his way into the two-deep at defensive tackle. Miles also said he was pleased with the play of veteran tackles
Anthony Johnson
and
Ego Ferguson
.
People know about the skill these two possess, especially Johnson, but it's all about being more consistent for these two. Miles seemed pleased with that this spring, and he's also hoping junior
Jordan Allen
finally comes into his own at defensive end after suffering a season-ending knee injury last year.
He was also very happy with the improvements made by rising junior
Jermauria Rasco
, who played in 13 games last season and recorded 10 tackles (two for loss). He'll have the responsibility of replacing one of LSU's talented ends, but Miles feels very confident in his ability to get the job done.
"Jermauria Rasco, in my opinion, is going to be a guy that can step right in there and play just as well as any of the guys we'll lose to the NFL draft," Miles said.
That's a lot to ask of someone who has had to wait in the wings for a while, but Miles and his coaches have no choice but to push players like him.
Sophomore
Danielle Hunter
is also expected to make a strong impact this fall, too, after he played in 12 games as a true freshman. Miles said Hunter, who stands 6-foot-5 and weighs 235 pounds, "has all of the ability that we would be comfortable with at the defensive end spot."
And once fall rolls around, the Tigers will have even more bodies to work with up front. LSU signed seven defensive linemen in its 2013 class, meaning six more, including ESPN 150 members Tashawn Bower (DE), Maquedius Bain (DT) and Greg Gilmore (DT).
"We're going to have a number of guys who will come in behind them as true freshman," Miles said.
September, 12, 2012
9/12/12
11:45
AM ET
LSU coach Les Miles confirmed on Wednesday that five players have been ruled out for the 2012 season.
The
New Orleans Times-Picayune reported
on Tuesday that linebackers
Tahj Jones
and
D.J. Welter
, tight end
Tyler Edwards
and offensive lineman
Evan Washington
have all been ruled academically ineligible, according to a source close to the program.
Miles wouldn't comment on if the players were ruled academically ineligible.
"I don't know that it's fair for me to confirm that, to be honest with you," Miles said during Wednesday's SEC coaches call. "There's a privacy responsibility that I have. Those guys will not play this year. I don't know that I can tell you the specifics as to why and why not."
Miles also said that sophomore defensive end
Jordan Allen
will miss the rest of the season due to injury.
This just gives LSU more depth issues to deal with. The Tigers lost freshman signees Avery Johnson (wide receiver) and Jeremy Liggins (quarterback), and junior college transfer offensive lineman Fehoko Fanaika because they couldn't qualify academically.
LSU also dismissed All-American and Heisman finalist Tyrann Mathieu before the season started. Junior offensive tackle
Chris Faulk
and freshman wide receiver
Travin Dural
are also out for the year because of injuries.
Jones, a junior, was expected to compete for the Sam linebacker position, but had yet to see any game action this year. He played in all 14 games last season, making one start, and registered 33 tackles, 3.5 tackles for loss, one interception and one fumble recovery. He has played in 27 career games.
Edwards, a senior, has played in 39 career games with one start as more of a blocker and has one catch for 10 yards.