November, 15, 2013
11/15/13
11:00
AM ET
ATHENS, Ga. -- Georgia isn't back to full strength on offense -- and it won't be this season -- but all of a sudden the Bulldogs look a bit more like their offensive juggernaut from the start of the season.
Entering Saturday's visit to No. 7 Auburn (9-1, 5-1 SEC), No. 25 Georgia (6-3, 4-2) is the healthiest it has been on offense since a disastrous visit to Tennessee when tailback
Keith Marshall
and receiver
Justin Scott-Wesley
went down with season-ending knee injuries and wideout
Michael Bennett
suffered a knee injury that knocked him out of the lineup temporarily.
[+] Enlarge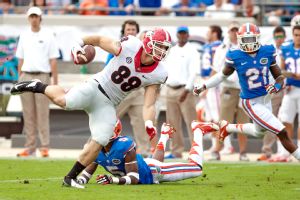 Rob Foldy/USA TODAY SportsWith Arthur Lynch back in the lineup, Georgia has one of its best pass-catcher back at tight end.
The Bulldogs will face Auburn without tight end
Jay Rome
, who injured his right foot in last week's win against Appalachian State, but should have starting tight end
Arthur Lynch
(ribs) and receiver
Chris Conley
(ankle) back Saturday.
"We're getting guys back, which is good, but they've also missed a lot of practice time, which on the flip side is a negative," Georgia offensive coordinator Mike Bobo said. "So we're having to work a little harder than we may have in the past in November. But I think it's good. I think it's a confidence boost to the offense."
Conley leads the team with 30 catches for 418 yards and four touchdowns, while Lynch's 15 catches for 243 yards rank fifth. But while their receiving production is obviously important, their simple presences in the lineup -- alongside players with whom they've shared so many practice and game reps -- are just as valuable.
"It definitely helps the chemistry because we went through camp all together and you kind of get that chemistry with those guys together," said Bennett, who posted a team-high five catches in each of the two games since he returned to the lineup. "You can lose it when you've got new guys coming in. But those other guys have done a heck of a job coming in and filling in for us. But when you have those veterans come back like Artie and Conley, it definitely brings a new confidence."
Lynch's return is well-timed, as Rome was the only other scholarship tight end who has played this season. Freshman
Jordan Davis
is on track to redshirt and walk-on
Hugh Williams
has played as a blocker, but has yet to catch a pass.
Meanwhile, Conley brings some punch back to a receiving corps that struggled during Georgia's midseason lull, when at one point they were without tailbacks
Todd Gurley
and Marshall and wideouts Mitchell, Scott-Wesley and Bennett. It's no coincidence that the Bulldogs lost to both Missouri and Vanderbilt during that period, or that they posted a paltry 221 yards of total offense -- including just 114 passing -- in the Vandy loss.
Conley seemed questionable at best for the Auburn game early in the week, but he was able to practice in non-contact drills on Wednesday which encouraged Bulldogs coach Mark Richt.
"I was telling the quarterback, 'He's going half-speed' or whatever, and Conley kind of ran a little faster than half-speed and snatched the ball," Richt said. "And Bobo was looking around like, 'We ought to let him practice a little bit.' … He didn't practice the whole time, but he got some work in and he looked good. I don't think he had any setbacks."
Richt insisted that Conley's role might still be limited should he play on Saturday, but he comes back to a group of receivers that had to look elsewhere for production during his two-game absence -- and might have found another spark in
Jonathon Rumph
.
The junior college transfer was sidelined by a hamstring injury throughout the first half of the season and played sparingly for the first time two weeks ago against Florida. He caught his first passes -- four of them, in fact, for 98 yards -- in the fourth quarter against Appalachian State, causing Bobo to remark that he's "actually getting excited about him" earlier this week.
"I had a feeling that I knew what I was going to do, but I really didn't want to mess up," Rumph said of his performance last week. "I focused a lot on the game plan, I knew everything I had to do and everybody on the sideline kept me lifted. The starters told me, 'All right, when you're opportunity comes, take advantage.' That's all it was, just making plays for my team."
For the first time in more than a month, Georgia's offense has a wide array of players who seem ready to do that. The main one to watch is likely Gurley, who is still not back to 100 percent and has not been able to handle a full workload in the two games since returning from an ankle injury. But quarterback
Aaron Murray
clearly has more established weapons at his disposal than he has had in weeks, and that can only be a positive sign for the Bulldogs.
"The more guys you get out there that Murray feels comfortable with, I think, the better," Bobo said.
September, 16, 2013
9/16/13
7:00
AM ET
ATHENS, Ga. -- Georgia opened as a 36.5-point favorite for Saturday's game against North Texas, which should be enough to light a fire this week under the Hutson Masons, Reggie Carters and Jonathon Rumphs on the ninth-ranked Bulldogs' roster.


But before Georgia's coaching staff can help its reserves gain some on-field seasoning, the starters must first take control against a resilient Mean Green (2-1) club that outscored Ball State 31-7 after the first quarter on Saturday to win, 34-27.
"Just this past weekend, you saw Michigan playing Akron, and I don't know what their mindset was going into the game, but I know what it was, I'm sure, when the game was over," Georgia coach Mark Richt said, referring to Saturday's game in Ann Arbor, where the Wolverines needed a last-minute goal-line stand to defeat Akron, 28-24. "I think everybody's just got to understand that we must focus very, very hard on improving, but we need to focus very hard on our game plan."
Nonetheless, as long as Georgia's starters take care of business against the Mean Green, there should be more than enough playing time to go around for backups and those returning from injury to get some work in a game.
Repeat -- as long as they take care of business.
"We'll play the game as it happens," offensive coordinator Mike Bobo said of the prospect of playing Mason, the backup quarterback and potential 2014 starter. "Coach has never been one and I've never been one to say, 'Hey, you're playing this series, that series.' We're going to go out there with all our bullets, so to speak, and play the game and take it from there."
Against North Texas -- a team that ranks 94th nationally in total defense, allowing 435.7 yards per game -- the opportunity should arise to filter in some of the players who rarely saw the field in the first two games against Clemson and South Carolina.
That might include freshman tight end
Jordan Davis
or offensive lineman
Brandon Kublanow
, neither of whom has played to this point. Or more of fellow freshmen like Carter,
Tim Kimbrough
,
Ryne Rankin
,
Quincy Mauger
and
Shaq Wiggins
, who have contributed mostly on special teams.
"I would think anybody that's going to play has been on special teams and you've kind of seen them in there doing something," defensive coordinator Todd Grantham said. "Guys that maybe haven't done anything, I think right now the plan would be not to play those guys. Now obviously injuries or something could change that, but if I was looking to give you a barometer on the guys to expect moving forward, it would be guys that are playing on special teams right now."
Grantham's prediction doesn't include someone like Rumph, the junior college transfer who missed the first two games and a chunk of preseason practice with a hamstring injury. Richt said last week that the wide receiver was healthy again and should be available against North Texas if he sufficiently knocks off the rust this week in practice.
"I don't know if he'll get in as a rotation from the very beginning or it will be contingent on how the game goes," Richt said. "I'm not sure exactly where he's at, but he'll be available to play. He was getting a lot of work on special teams. Coaches are trying to incorporate him back into that. If he wasn't injured, I think he'd have been playing by now, scrimmage snaps and special teams snaps."
Preseason injuries also affected defensive lineman
Chris Mayes
and defensive backs
Shaquille Fluker
and
Kennar Johnson
– all junior college transfers, as well – so some combination of that trio could also figure into the coaches' plans at some point.
Otherwise, it could be the freshmen and reserves who take over in the second half so long as Georgia's starters build a big early lead. And that could be valuable at positions like receiver, tailback and inside linebacker where the Bulldogs could stand to develop some of the younger players who aren't at the top of the depth chart.
"Like I said at the beginning of the year, it was a concern of mine, the depth at tailback," Bobo said, although such a comment could apply at several positions. "It was good to get
Brendan Douglas
in [against South Carolina] and
J.J. Green
got a carry. He got a carry, got in last week.
"So we've got to continue to develop that depth if injuries do happen. It's a rough and tough league. We played two very good opponents in the first two weeks and guys played a lot of snaps and hopefully we'll get healed up and be ready to go."
September, 26, 2012
9/26/12
10:31
AM ET
By
Recruiting Nation staff
| ESPN.com
David Ching writes

: Michael Bennett knows one week he could be the star wide receiver, while another week a teammate will shine -- and says it's a strength for UGA's offense with QB Aaron Murray and offensive coordinator Mike Bobo.
Ching

: Freshman RB Todd Gurley is making an impact in part because of his ability to shake off tacklers.
Radi Nabulsi writes

: Bulldogs TE commit Jordan Davis plays bigger than the 225 pounds he registers on the scale.
June, 26, 2012
6/26/12
12:26
PM ET
By
ESPN.com staff
| ESPN.com
Radi Nabulsi writes

: While he doesn't feel that his legendary uncle, Herschel Walker, is much of an influence on his budding football career, 2014 RB and potential UGA target Milan Richard is shaping up to be as much of a head-turner in the backfield.
David Ching writes

: Around the Hedges in 80 Days -- Receiver Chris Conley should be fully recovered from offseason wrist surgery when preseason camp begins, and he'll face plenty of stiff competition.
DawgNation on the Radio:
Listen
June, 17, 2012
6/17/12
2:16
PM ET
By
ESPN.com staff
| ESPN.com
Kipp Adams writes

: An impressive performance at Georgia's Mark Richt Camp earned WR Rico Johnson a scholarship offer. He wasted little time accepting.
Radi Nabulsi writes

: It was a very busy weekend at the Mark Richt Camp in Athens, Ga., and several standouts -- including Herschel Walker's nephew -- grabbed the coaches' attention.
David Ching writes

: Around the Hedges in 80 Days -- He could redshirt. He has the build and athleticism to play other positions. Then again, incoming freshman QB Faton Bauta could be valuable in backing up redshirt junior Aaron Murray while second-string QB Hutson Mason takes his own redshirt season in 2012.
Adams

: Five-star LB Reuben Foster talks about his "fab five."
Nabulsi

: Five-star offensive tackle Laremy Tunsil takes in Athens.
Adams

: Dawgs offer DB Quincy Mauger.
Nabulsi

: Georgia delivers to Jordan Davis his third SEC East offer.
Ching

: Around the Hedges in 80 Days -- Nothing is guaranteed yet, but Georgia's coaching staff recruited Collin Barber to be the Bulldogs' starting punter for the next four years.