April, 2, 2014
4/02/14
1:00
PM ET
GAINESVILLE, Fla. -- Ever the perfectionist, Florida coach Will Muschamp was not happy with his run defense last season.
Sure, the Gators had a top-five defense overall. But the run defense, which gave up 94.9 yards per game to rank fourth in the nation in 2012, slipped to No. 33 in the country last fall and gave up 142.4 yards per game.
Those concerns carried over to spring practice, as the run defense had some struggles last weekend in scrimmaging against the team's new uptempo spread offense.
[+] Enlarge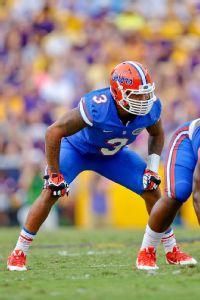 Derick E. Hingle/USA TODAY SportsAntonio Morrison is trying to mature in his role as the QB of Will Muschamp's defense.
"Our defense needs to handle and respond better to the tempo, especially our young defensive linemen understanding getting aligned, getting the call," Muschamp said on Tuesday. "All those things that a hurry-up offense creates angst with, we did not handle very well defensively.
"Atrocious tackling for leveraging the ball, being in the right spots. So those are all things we need to improve on."
Florida has lost plenty of reliable veteran starters from the middle of its defense in the last two offseasons. Last year, the Gators had to cope with the departures of defensive tackle Sharrif Floyd, linebackers Jon Bostic and Jelani Jenkins, and safeties Matt Elam and Josh Evans. All were drafted in the first six rounds of the NFL draft.
The defense started strong last fall but slumped noticeably after star defensive tackle
Dominique Easley
was lost for the season to injury, which had a cascading effect on the rest of the unit.
"Some other guys' production went down a little bit when Dominique wasn't in there anymore," Muschamp said. "It affects you tremendously. ...
"You get blocked a lot more when you lose a guy like that."
As a result, Muschamp said, the linebackers weren't as productive as he expects.
"It was tough," junior middle linebacker
Antonio Morrison
said. "We lost some of our best players to injury, not to use that as an excuse. It was a tough year, but that's behind us. We learned from it and we're ready to get on with it.
"We just know that's unacceptable. We're not trying to put that on the field anymore."
This spring the Gators are counting on experienced linebackers such as Morrison and
Michael Taylor
to turn things around.
"They need to be able to calm the defense down at times," said Muschamp, calling his middle linebacker the quarterback of the defense. "I think Jon Bostic was as good as I've been around as far as handling and managing our front and back end with communication. Just did an outstanding job of that, and Jelani did a great job as well.
"We need to do a better job from a communication standpoint at that position, and I think we've made some strides."
Muschamp acknowledges that his defense puts a lot of pressure on its linebackers. Leadership and communication are not optional.
Perhaps no player has been under more scrutiny than Morrison, who was impressive as a freshman outside linebacker but struggled at times last fall in the middle. It didn't help that two arrests last summer undermined Morrison's ability to be a vocal leader, but Muschamp sees signs of progress.
"I think each year you mature a little bit, and sometimes you have to learn from your mistakes publicly to take steps forward, and I think he's done that," Muschamp said. "I've been pleased with his production as a player on the field; I've been pleased with how he's handled himself off the field.
"We all mature at different levels and different times, and certainly he is a guy that needed to mature, take that next step. I think he's done that."
Florida is looking to its interior defensive linemen to grow up as well. Muschamp has cited the talent level of redshirt freshman defensive tackles
Caleb Brantley
,
Antonio Riles
and
Jay-nard Bostwick
. But he has also repeatedly expressed how much work they still need.
"The hardest thing for a young defensive lineman is disengaging from blocks," he said, "because they've been so much better than the other guys in high school, they haven't had to disengage from blocks. A lot of the time, the guy blocking them wasn't good enough to get a hat on them.
"Well now you've got to take on the block, understand how to defeat the block and then go to the ball carrier and do it over and over again, which sometimes is a little bit of a challenge for some of our guys."
With senior defensive tackle
Leon Orr
out this spring with a broken wrist, the onus has fallen on senior
Darious Cummings
and junior
Jonathan Bullard
, whom Muschamp praised for his work in moving inside from defensive end.
"I've seen some positive things, just very inconsistent once we get past that first group," he said. "The drop down is way too big. Way too much of a separation between the groups."
Taylor, who prefers to lead by actions instead of words, is confident the run defense will improve after identifying the problems.
"[We] saw what we needed to work on," Taylor said, "saw how we were getting blocked, saw how teams were trying to run on us and simplified some things, cleared some stuff up, and we worked on what we needed to get better on. And that's what we've been doing."
March, 26, 2014
3/26/14
2:30
PM ET
GAINESVILLE, Fla. -- When asked for his early concerns in spring practice, Florida head coach Will Muschamp didn't have a long list. But the safety position,
his
position as a college football player and the one he personally coaches, was on it.
[+] Enlarge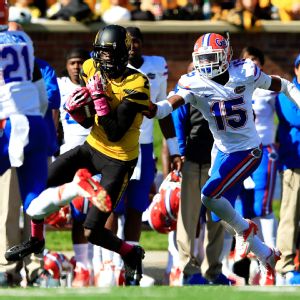 Jamie Squire/Getty ImagesAfter registering 48 tackles a year ago, senior safety Jabari Gorman is primed for big things in the Gators' secondary.
"We need to continue to improve there," Muschamp said on Tuesday. "I think the ability is there. We need to continue to be more productive."
One player, however, was spared his coach's ire --
Jabari Gorman
-- and it's no coincidence he's the only senior in Florida's secondary.
"He has done a nice job," Muschamp said. "The others, I can't say that. But he has done a nice job. He understands the importance of communication on the back end. We've just got to do a better job at understanding that a mistake there is normally not good for the Gators. That's where we've got to tie some things up."
Understandably, Muschamp can be tough on his safeties. He holds them to a high standard, one that has been achieved in recent years.
Florida's starters two seasons ago,
Matt Elam
and
Josh Evans
, are playing in the NFL.
Jaylen Watkins
, one of UF's starling safeties last season, expects to follow their footsteps in the NFL draft this May.
The Gators lost their other starting safety from 2013,
Cody Riggs
, who is transferring to Notre Dame after he graduates this spring. That's a clean sweep of starting safeties from Florida's secondary in back-to-back season.
To Gorman, it's an opportunity. His time has come.
"Especially at the safety position, you've got to grow up," Gorman said. "You've got to be able to be vocal. In that position you have to develop into a leader because so much is needed from you. You're the quarterback of the defense.
"What I do, I try to let these kids know that it's never personal with Coach. It's always for the better, to make you a better player, make you faster and more instinctive."
Getting better is what Gorman has done in three years at UF. He had a breakout season last year with 48 tackles (sixth most on the team), seven pass breakups, an interception and a forced fumble.
"Jabari's very smart, he's a guy that gets it," Muschamp said. "He understands and learns well. He's seen the game. It's slowed down tremendously for him over the years. He's played a lot of football for us, played well for us last year. I've been very pleased with his spring to his point through four days and the offseason program."
After playing right away on special teams and as a reserve in 2011, Gorman's time at Florida has grown short.
"Yeah man, I say it's the blink of an eye," he said. "I still remember the first day I came to campus. What I want to do is help my team to go out with a bang, be the best we can be."
Gorman easily lists the names of his classmates, fellow seniors who want badly to erase the blemish of last year's 4-8 record.
"We've got a lot of seniors that have been here, gone through a process," he said. "We went through struggles at times, went through the good times, and we just want to leave on a good note. I think it's more important to us than anybody to go out and win."
June, 20, 2013
6/20/13
12:00
PM ET
Uh oh, there they go, talking 'bout how your boy clothes extra tight/ I just remember that my limelight extra bright.
-- #Yeezusweek
December, 27, 2012
12/27/12
2:30
PM ET
Two more players are transferring from Florida.
After freshman defensive back
Willie Bailey
decided to leave Florida this month, coach Will Muschamp announced Thursday that sophomore safety
De'Ante Saunders
and redshirt junior offensive tackle
Matt Patchan
have
also decided to transfer
.

"Really appreciate their time at Florida. We wish them the best," Muschamp said Thursday. "I think they just needed a fresh start, both guys and both situations. That's all I've got to say about it."
Neither were expected to play against Louisville in next week's Allstate Sugar Bowl in New Orleans. Saunders, who started seven of the eight games he played in this season, sat out the final two games of the season with what Muschamp said was a knee injury, but was ruled out of the bowl game before the bowl preparation even began. Patchan hadn't seen any playing time all season because of a strained pectoral muscle.
Saunders was actually pretty productive during his time on the field this season. He played at both nickel and safety, and finished the season with 18 tackles, one interception, one fumble recovery and four pass breakups. He also got some time as the Gators' punt returner, returning five kicks for 39 yards.
He
told the Gainesville Sun
that his release from UF was "a long time coming." While Muschamp said Saunders missed time this season because of injuries, the 5-foot-8 sophomore had his issues away from the field. He was suspended for a violation of team rules in November, and reportedly missed the first two games of the season because for disciplinary reasons.
According to the Sun's report, Saunders is already considering Louisville as his top choice for his next school. If he does decide to transfer to Louisville, he would reunite with former Gators teammates
Robert Clark
and
Gerald Christian
.
It seems like Saunders' transfer really didn't come as much of a surprise. If he thought it was a long time coming, then so did the coaches. It's probably best for both parties to move on at this point. But losing another experienced body at the safety position will hurt the Gators, as
Josh Evans
will graduate and junior
Matt Elam
is seriously considering leaving early for the NFL draft.
For Patchan, a change of scenery is probably what he needs after enduring an injury-riddled career at Florida. He probably would have been the odd man out in terms of playing time in 2013 on the Gators' offensive line. There are a lot of healthier bodies in front of him when it comes to the tackle spot.
December, 2, 2012
12/02/12
9:02
PM ET
Louisville Cardinals (10-2) vs. Florida Gators (11-1)
Jan. 2, 8:30 p.m. ET, New Orleans (ESPN)

Louisville take from Big East blogger Andrea Adelson
: The Cardinals were the overwhelming preseason choice to win the Big East because they returned just about everybody off a team that won a share of the league title last season. The star among the bunch lived up to his top billing, as quarterback
Teddy Bridgewater
knocked just about everybody's socks off with his performance in 2012. He is the biggest reason why Louisville is headed to the BCS and not a second-tier bowl game.
But this team had major adversity to overcome. Louisville survived one close call after another en route to a school-record 9-0 start. Then came loss No. 1 on the season, a stunning 45-26 blowout on the road to Syracuse in which the Orange outplayed the Cardinals in every single phase of the game. Then came loss No. 2, an inexplicable triple-overtime home defeat to UConn -- a team with one of the worst offenses in the nation. In that game, Bridgewater broke his wrist and sprained his ankle, yet nearly led a comeback win.
Louisville went into its regular-season finale at Rutgers without many people giving the Cards much of a shot to win. Rutgers jumped out to a 14-3 lead. But Bridgewater refused to be denied. Playing through his injuries, he led Louisville to a 20-17 comeback win to clinch the BCS spot. Bridgewater ended up throwing for 3,452 yards, 25 touchdowns and seven interceptions on the season and was one of the most efficient quarterbacks in the entire nation. He may have been an unknown outside the Big East before the season began; that is no longer the case.
Bridgewater allowed his team to survive the loss of leading rusher
Senorise Perry
, who tore his ACL against Syracuse and is out for the season. He allowed his team to win games it struggled in for a large chunk of time. And he allowed his team to survive some pretty shaky play on defense. It's safe to say that many expected Louisville to be better than it was defensively this season, particularly up front. But for a majority of the season, the Cardinals had a hard time consistently stopping the run or consistently getting a pass rush going.
And yet, Louisville found a way to win 10 games and get back to a BCS game. In Teddy, Louisville trusts.
---

Florida take from GatorNation's Michael DiRocco
: The Gators were one of the nation's biggest surprises this season.
They followed up a 7-6 mark in coach Will Muschamp's debut season with an 11-1 record in 2012, highlighted by victories over Texas A&M, South Carolina, LSU and Florida State. And if USC had upset Notre Dame, Florida could possibly be playing for the national title.
Florida's turnaround was led by a smothering defense, which isn't surprising considering Muschamp's background. The Gators rank in the top six nationally in total defense, rush defense and scoring defense and have allowed opponents to throw just five touchdown passes. Safeties
Matt Elam
and
Josh Evans
, defensive tackle
Sharrif Floyd
and linebacker
Jon Bostic
have had career years.
But the biggest change is how good the Gators have been at forcing turnovers this season. UF forced just 14 in 2011, which was the lowest single-season total in school history since the school began compiling fumble stats in 1950. This year, UF has forced 29, which includes 19 interceptions (four by Elam), and the Gators have a plus-17 turnover margin.
UF's offense hasn't been pretty, but coordinator Brent Pease did a good job of compensating for a lack of playmakers at receiver and injuries along the offensive line. Running back
Mike Gillislee
finally got his chance to be the feature back, and he responded with 1,104 yards and 10 touchdowns to become the first UF player to surpass 1,000 yards since Ciatrick Fason in 2004.
After finally settling on
Jeff Driskel
as the starter, Pease put together game plans that took advantage of Driskel's mobility and didn't ask the sophomore to do too much. Manage the game and stay away from mistakes were the goals, and Driskel did that this season with one exception (Georgia). He ended up throwing for 1,471 yards and 11 TDs -- many of those yards to tight end
Jordan Reed
(44 catches for 552 yards) -- with only three interceptions while running for 409 yards and four touchdowns.
The Gators could play conservatively on offense because of their outstanding defense, but also because of punter
Kyle Christy
and kicker
Caleb Sturgis
. Christy, a Ray Guy Award finalist, was a field-position weapon with a 46.1-yard average (fifth nationally) and 25 punts of 50 or more yards. Sturgis, a Lou Groza Award finalist, made 23 of 27 field goal attempts and is the school's all-time leader in field goals (69) and field goals of 50 or more yards (eight).
August, 3, 2012
8/03/12
9:00
AM ET
Schedule:
The Gators' first practice is on Friday, and their first day in pads is on Aug. 8. They open the season at home against Bowling Green on Sept. 1. The game will air on ESPN at 3:30 p.m. ET.

Returning starters:
Seven on offense, 10 on defense, and the place-kicker and punter on special teams.
Star power:
Junior safety
Matt Elam
was one of Florida's most heralded recruits in the 2010 recruiting class, and now could compete to be one of the top safeties in the SEC. He's the heart of the Gators' defense and can make plays all over the field, as he led Florida with 11 tackles for loss and totaled 78 tackles last fall.
New faces:
Will Muschamp isn't afraid to play freshmen, and he has a handful who could see time early. Defensive end Dante Fowler Jr. is on campus and could get looks at the hybrid linebacker/defensive end Buck position. Fellow end
Jonathan Bullard
could also compete for time outside. Also, keep an eye on tight ends
Colin Thompson
and
Kent Taylor
, who should get more reps this fall with
A.C. Leonard
's departure this summer. And cornerback
Brian Poole
could get quality reps on defense during camp.
Don't forget about:
Defensive lineman
Dominique Easley
tore his ACL in the regular-season finale against Florida State, but Muschamp has said he expects the junior to be ready to go come Game 1. Easley will rotate between defensive end and tackle this fall, and his teammates expect him to be even more disruptive this season. Easley was arguably Florida's most consistent lineman when it came to generating pressure last season, and could be primed for a breakout season. Even though he didn't have monster numbers last season, pro scouts love his potential, and a big season could put him on a lot of NFL teams' radars.
Big shoes to fill:
The Gators will surely miss the energy and production Jaye Howard gave them at defensive tackle last season. He was second on the team in tackles for loss (10) and sacks (5.5). His 5.5 sacks actually led all defensive tackles in the SEC last season. Look for Easley,
Sharrif Floyd
,
Omar Hunter
and
Leon Orr
to share reps in the middle. Also, keep an eye on junior college tackle
Damien Jacobs
, who had a solid spring.
Key battles:
There are a few battles in Gainesville this fall, but the biggest one is at quarterback, where sophomores
Jacoby Brissett
and
Jeff Driskel
will vie for the starting spot. With how even this one has been, chances are this battle will bleed into the regular season. Every wide receiver spot is up for grabs this fall, so the coaches will be keeping two eyes on every player there. Also, free safety and one cornerback spot are wide open.
Josh Evans
and
De'Ante Saunders
will compete at safety, while Poole,
Loucheiz Purifoy
,
Cody Riggs
and Jeremy Brown will compete at corner.
Rising star:
There were a lot of growing pains for
Marcus Roberson
in his freshman season last fall, but he showed at times that he has what it takes to be a top cover corner in this league. He has great speed and awareness, and has that
real
cover corner ability, but has to work on his physicality while the ball is in the air. An injury cut his first season short, but he's healthy, and the staff thinks he'll truly make a name for himself.
Bottom line:
Florida returns a lot of talent on the defensive side of the ball, but the offense has plenty of questions to answer this fall. The Gators are still looking for their quarterback, and have a lot of unproven talent at receiver and running back. The coaches insist the offensive line is better, and new offensive coordinator Brent Pease has been a welcome addition. Muschamp's first year didn't go so smoothly, and this season's schedule is a bear. But fans are beginning to get restless, and anything less than eight wins could land Muschamp on the hot seat.
July, 17, 2012
7/17/12
9:00
AM ET
We continue to rank all the positions in the SEC and turn our attention to groups of defensive backs the conference has to offer.
Past rankings:
On to the league's secondaries:
[+] Enlarge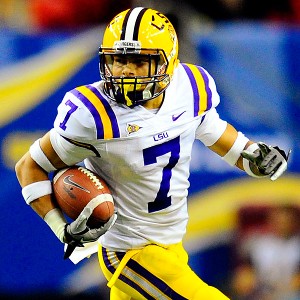 Dale Zanine/US PresswireTyrann Mathieu is a force to be reckoned with in the LSU secondary.
1. LSU:
The Tigers bring back a load of talent here.
Tyrann Mathieu
and his Honey Badger persona return, but he might not be LSU's best pure corner. While Mathieu has a true knack for finding the ball, no matter where he is, junior
Tharold Simon
, who replaces Thorpe Award winner Morris Claiborne, might have the best cover ability on the team. Junior safety
Eric Reid
takes the back end of the field away and will challenge to be one of the nation's top safeties this fall. The coaches are still waiting for safety
Craig Loston
to break out, and his solid spring was an encouragement. Keep an eye on safety
Micah Eugene
, who turned heads this spring.
2. Georgia:
The Bulldogs have some depth concerns and some players will face early-season suspensions, but the Bulldogs are loaded at the top.
Bacarri Rambo
is one of the nation's best safeties and he has a very solid partner in
Shawn Williams
, who led the Dawgs in tackles last year. Seniors
Sanders Commings
and
Branden Smith
are back, but will likely sit out the start of the year because of suspension. That leaves
Malcolm Mitchell
, who moved from receiver, to fill in and he's no stranger to defense. The coaches are also excited about youngster
Damian Swann
, who will play early.
3. Alabama:
With three starters gone, this group is drawing a lot of comparisons to the 2010 unit that struggled at times. However, this batch of DBs insists it'll be more prepared this fall and shakes off the comparisons. Veteran
Robert Lester
is back at safety and is an All-SEC-type player. Junior cornerback
Dee Milliner
has 16 career starts under his belt and is an underrated talent, and the coaches are expecting to get a lot out of junior college transfers Travell Dixon and Deion Belue. Keep an eye on safety
HaHa Clinton-Dix
, who has the talent to be a star in this league.
4. Mississippi State:
The Bulldogs own one of the league's best corner duos in seniors
Johnthan Banks
and
Corey Broomfield
. Banks might hold the title as the league's best returning cover corner.
Darius Slay
is also another corner to watch, as he has some legit playmaking ability. Junior safety
Nickoe Whitley
is back as well and he would have had better numbers if not for a ruptured Achilles tendon that cut his 2011 season short. He grabbed four interceptions in nine games and should be 100 percent this fall.
5. Florida:
This group was pretty young last year, but now has some quality experience under its belt. Safety
Matt Elam
is the best of the bunch and should challenge to be the league's top safety this year. Sophomore
Marcus Roberson
had a solid freshman season and has the makings to be a top cover corner in this league. The other corner spot is up for grabs, but keep an eye on sophomore
Loucheiz Purifoy
, who the staff is very excited about.
Josh Evans
had a good spring at free safety, but he'll have his hands full fighting off sophomore
De'Ante Saunders
, who started nine games last year.
6. Missouri:
The star of this group is junior corner
E.J. Gaines
, who recorded only two interceptions, but he broke up 16 passes in 2011 and is bonafide All-SEC candidate. Across from Gaines is senior
Kip Edwards
, who returns for his second year as a starter and has 37 games to his credit. Edwards turned into a solid cover man toward the end of last season. Seven players return with starting experience, including safeties
Kenronte Walker
(four starts), who was named the team's most improved safety this spring, and
Braylon Webb
(four), who had a strong freshman year.
7. South Carolina:
The Gamecocks are down three starters, but they aren't without talent. Senior safety
D.J. Swearinger
, the lone returning starter, is one of the league's top safeties and is solid against the pass and the run. Vet
Akeem Auguste
returns after missing all of last year with a foot injury, and he's back at corner after moving to safety in 2010. The questions begin with sophomores
Victor Hampton
(corner) and
Brison Williams
(safety). Hampton has the talent to succeed, but has some maturing to do. Williams struggled in his only start last year, but the staff really likes his upside.
8. Vanderbilt:
Casey Hayward and Sean Richardson are gone, but the Commodores still possess some pretty good talent in the secondary, starting with corner
Trey Wilson
, who had a solid 2011 in Hayward's shadow. The coaches like what they've seen from junior corner
Andre Hal
, and safety
Kenny Ladler
could be a real player at free safety. Expect
Eric Samuels
and
Javon Marshall
, who have both see plenty of field time in their careers, to get into the safety rotation this fall.
9. Auburn:
The Tigers' secondary took some lumps last year, but certainly has experience back there. Three veteran starters are back with 33 combined starts from a year ago. Fifth-year senior cornerback
T'Sharvan Bell
didn't go through spring while he recovered from knee surgery, but has the talent to be a top corner in this league. Juniors
Chris Davis
(corner) and
Demetruce McNeal
are both back and sophomore
Jermaine Whitehead
, who had a solid freshman campaign, will get time at safety.
10. Tennessee:
Tennessee gave up 7 yards per attempt last year, but things could turnaround this fall. Tennessee has a lot of game experience at corner, including senior
Prentiss Waggner
, who is the leader of the group. Sophomore
Brian Randolph
had a solid freshman campaign and junior
Brent Brewer
is returning to the other safety spot after suffering an ACL injury in late October.
Izauea Lanier
was ruled ineligible this summer, meaning
Marsalis Teague
and
Eric Gordon
will compete with
Justin Coleman
for a corner spot.
11. Arkansas:
Sophomore
Tevin Mitchel
had a solid first year in Fayetteville and is on course to have a true breakout year this fall. Junior
Eric Bennett
is holding down one of the safety sports and started 13 games in 2011 after moving from cornerback last spring. The staff is still waiting on senior corner
Darius Winston
to live up to the hype that followed him from high school. Freshmen
Kelvin Fisher
Jr. and
Davyon McKinney
will get their chances to play this fall and help with depth.
12. Ole Miss:
The Rebels should be better against the pass this year and things start with veteran safety
Charles Sawyer
, who has All-SEC quality and should have had at least three more than the four interceptions he recorded last year. Former JUCO transfer corner
Wesley Pendleton
had an impressive year last season, but looked even better this spring. Nickolas Brassell is gone, but the coaches hope to get more out of former freshman standout
Senquez Golson
, and junior
Brishen Mathews
returns from back injury to take the hybrid Husky position.
13. Kentucky:
The Wildcats must replace two starting corners, but the coaches feel good about senior
Cartier Rice
and redshirt freshman
Marcus Caffey
. Caffey, who moved from running back, might have the most upside and was one of Kentucky's top players this spring. Senior starting safeties
Martavius Neloms
and
Mikie Benton
are back. Neloms had a solid spring and racked up 71 tackles last year. Behind them, the Wildcats are full of unproven youngsters.
14. Texas A&M:
This is where the Aggies could really struggle. Texas A&M ranked 109th nationally in pass defense last year and could start three sophomores in its secondary this fall. Senior safety
Steven Campbell
can be a real playmaker for this group, but he's struggled to stay healthy during his career. Senior
Dustin Harris
has shown flashes on defense, but left spring as a backup to sophomore
Deshazor Everett
. Sophomore
Floyd Raven
, who was impressive this spring, has the edge over JUCO transfer Tremaine Jacobs at the other corner spot. The coaches are hoping this is a more athletic group in 2012.
March, 9, 2012
3/09/12
1:19
PM ET
By
GatorNation staff
| ESPN.com
Michael DiRocco writes

: While Matt Elam is uncontested as the starter at strong safety, one of the best battles this spring will be between Josh Evans and De'Ante Saunders at free safety.
Derek Tyson writes

: With two early safety commits from Watch List players Nick Washington and Keanu Neal, Florida could realistically be done recruiting the position. But there are still two more elite safeties on their board.
Video
: Gerald Willis, a 2014 defensive end, lists the Gators among his early top three with LSU and Alabama.
December, 28, 2011
12/28/11
3:40
PM ET
Publicly, the Gators aren't sweating the Urban Meyer drama surrounding the Taxslayer.com Gator Bowl.
Sure, the man who led Florida to two national championships and three SEC title games in six years will soon be manning the Ohio State team the Gators are pitted against at Everbank Field in Jacksonville, Fla., but Florida players aren't concerning themselves with the iconic figure that left the program a year ago.
[+] Enlarge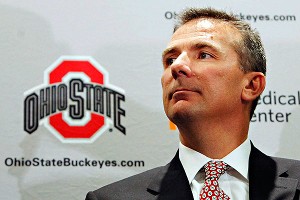 AP Photo/Terry GilliamFlorida Gator players aren't saying much about Urban Meyer.
"We talk about it a little bit, but it's just the same old game," Florida safety Josh Evans said. "We're just getting ready for them, nothing's changed. I'm pretty sure there are some people that probably feel some type of way about it, but we don't really discuss it as much."
It probably helps that Meyer won't be in town for the game.
There's no doubt some Florida players are steaming over Meyer's decision to head back into coaching a year after leaving Florida. When Meyer said he was stepping down to be closer with his family and tend to his health, players surely supported him.
A year later, you'd have to be na´ve to think that some of those same players don't have some ill will toward Meyer.
And that's natural. It's a part of a sport where coaches create very close bonds with young athletes. Some players, like wide receiver
Andre Debose
, head to a university just because of the head coach.
"Coach Meyer was the reason I came to Florida," Debose said. "Point blank. He was the reason."
Debose said he wasn't upset with Meyer's decision and could understand reasons why he would take a job so soon after stepping down.
"I've learned over the years since I've been in college that it's a business, and it's all about money," he said. "So I mean, I wouldn't turn down whatever he was offered. So I'm happy for him. He went to the money. It's a business. I'm happy for him."
There were a handful of "no comments" spouted by Gator players when they were first asked about Meyer taking the Ohio State job, and sophomore safety Matt Elam, whose relationship with Meyer stems back to when his older brother was recruited by Meyer to Notre Dame, tweeted about how he couldn't wait to play Ohio State shortly after the Meyer news broke.
Defensive tackle Sharrif Floyd didn't hesitate to say that he's pretty motivated to play the Buckeyes -- but it has nothing to do with Meyer.
Floyd is pumped to play Ohio State because the Buckeyes were second to Florida on his recruiting list.
"I think that's what I'm more excited about getting to play my second choice," Floyd said. "I'm not really looking at it like playing coach Meyer's school, I'm just looking at it as playing my second choice. I can't wait."
The pre-bowl drama everyone wanted from the Florida side of this thing just isn't there. Maybe you'll see a little more trash talk during the actual game. Maybe some hits will be delivered a little harder, and maybe some runs will administered a little tougher.
Whether the Gators are being sincere about Meyer is up for debate, but what is clear is that players are killing this distraction with kindness.
"He's going to do what's best for him and his family -- no hard feelings over here," Floyd said. "If I seen the guy today, I would still shake his hand and talk to him with a normal conversation. That's the name of the game, it can happen anywhere. So I say congrats and good luck to him."
September, 17, 2011
9/17/11
6:00
PM ET
GAINESVILLE, Fla. -- Florida has struggled all day with scoring touchdowns in the red zone, so with fourth-and-1 basically at the goal line, Will Muschamp left his offense on the field on its first drive of the third quarter.
I probably would have gone with the three points that Caleb Sturgis would have gotten, but that's why they pay Muschamp the big bucks. His decision to run
Trey Burton
up the middle worked as he barreled his way into the end zone to put Florida up
23-7
.
It was a gutsy call for the first-year coach, but I guess they don't call him Coach Boom for nothing. Tennessee has a pretty big hole to dig out of at this point and Florida's defense is juiced up after Josh Evans' interception that set up the scoring drive.