November, 28, 2014
Nov 28
10:00
AM ET
What more could you want to finish the regular season?
There are games with playoff implications, division implications and bowl implications to choose from. There's even a Friday afternoon game to get you through to the weekend.
The SEC's regular season has been crazy so far. Now it's time to see whether it ends with a flourish.
Friday, Nov. 28
2:30 p.m.
Arkansas at No. 17 Missouri, CBS:
All right, Missouri, you've been doubted all season. You've been knocked as soft on defense and woefully inconsistent on offense. You were laughed out of the room when you lost to Indiana. But here you are a win away from claiming the Eastern Division crown for a second straight season. The only thing standing in your way is Arkansas, which has won back-to-back SEC games in convincing fashion.
Saturday, Nov. 29
[+] Enlarge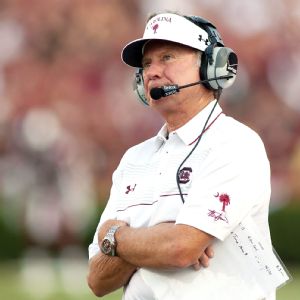 Jeremy Brevard/USA TODAY SportsCan South Carolina coach Steve Spurrier notch his sixth straight win over Clemson?
Noon
Kentucky at No. 22 Louisville, ESPN2:
If Mark Stoops'
Kentucky Wildcats
are going to reach a bowl game ahead of schedule, it's not going to be easy. It would mean breaking a five-game losing streak on the road at Louisville, which would easily be their most impressive win of the season. The problem is the Cardinals boast one of the best defenses in the country.
South Carolina at No. 21 Clemson, ESPN:
There's not a lot on the line for either team other than pride, which is good because there's plenty of it in this rivalry. The back-and-forth between Steve Spurrier and Dabo Swinney the past few years has been worth the price of admission, and on Saturday we'll find out whether the Head Ball Coach can extend his winning streak over Clemson and Swinney to six games.
No. 16 Georgia Tech at No. 9 Georgia, SEC Network:
If Missouri somehow loses to Arkansas and gives Georgia the Eastern Division title, that's not the end of the story. Because if the Bulldogs want to somehow sneak back into the playoff conversation, it will take more than backing into Atlanta. It will take beating Georgia Tech convincingly, and that won't be easy seeing as the Yellow Jackets average 327.9 yards per game rushing and have won four games in a row.
3:30 p.m.
No. 4 Mississippi State at No. 19 Ole Miss, CBS:
Talk about two teams going in opposite directions. On the one hand, there's Ole Miss, which fell deeper into the dumps last week by losing at Arkansas 30-0. On the other hand, there's Mississippi State, which redeemed itself after a tough loss at Alabama by beating Vanderbilt 51-0. With the Bulldogs playing for a spot in the playoff and the Rebs playing for pride, it's clear which team has the greater inspiration to win the Egg Bowl.
Florida at No. 3 Florida State, ESPN:
Speaking of inspiration, it will be interesting to see how Florida comes out for coach Will Muschamp's final time leading the Gators. Will his end be Ron Zookian? Or will it be one final, unceremonious note? While that's unclear, one thing is certain: Florida State likes to make things interesting. The Seminoles have struggled against teams they were supposed to blow out before. Could we be looking at a repeat?
4 p.m.
Tennessee at Vanderbilt, SEC Network:
Not a lot of people thought Tennessee would make a bowl game this year. Not with a schedule that included tough nonconference games against Utah State, Arkansas State and Oklahoma. But lo and behold, the Vols are one game away from bowl eligibility, and the only opponent left is Vanderbilt. Easy, right? It should be, seeing as the Commodores haven't won an SEC game all season.
7:45 p.m.
No. 15 Auburn at No. 1 Alabama, ESPN:
The best Auburn can hope for is to play the role of spoiler, to crush Alabama's dreams of an SEC title and a playoff berth with one final regular-season swing. And in a rivalry as intense as the Iron Bowl, that might be enough. But the fact of the matter is Auburn just isn't playing good football these days. Alabama has won huge games against LSU and Mississippi State in recent weeks, while Auburn has fallen woefully flat with losses to Texas A&M and Georgia.
December, 8, 2011
12/08/11
1:59
PM ET
By
ESPN.com staff
| ESPN.com
On Thursday, we'll be chatting up some college football award finalists in advance of The Home Depot College Football Awards show, which airs Thursday night (ESPN, 9 p.m. ET).
We'll be setting up shop, mingling with the finalists.
So, check in to see who stops by to chat
. We'll be grabbing some of the best players from the 2011 college football season, like Stanford quarterback Andrew Luck, Oklahoma State's Justin Blackmon, USC's Robert Woods and Boise State's Kellen Moore.
December, 6, 2011
12/06/11
2:00
PM ET
I'll preface this by saying that I think the BCS got it right.
LSU and Alabama are the
two best teams in the country
and they deserve to play each other in the BCS Allstate National Championship Game. It should be a great game and I guarantee that each team will get at least one touchdown this time.
You know you'll be watching. Don't act like you won't.
But there is part of me that's curious … very curious.
I can't help but wonder what the national title would be like with LSU's ferocious defense pitted against Oklahoma State's high-powered, Playstation offense. For all the talk about how good SEC defenses are and how high-flying Big 12 offenses are, there's part of me that wants to see it this season.
Besides, if the SEC truly wants to show its dominance, doesn't it make sense to do it against someone
outside
of the conference?
Again, I believe the BCS actually got this one right, but it wouldn't have bothered me if the Cowboys took the Crimson Tide's place.
We'd actually get to see if Mike Gundy's Pokes could muster up a way to score the 30-plus points he thinks they'd put up against the Tigers' vaunted defense. You know, the same defense that ranks second nationally, allowing just 252 yards per game and has forced 30 turnovers. And the same defense that has waves of speed, athleticism and depth, and has dismantled just about everyone.
I don't know if Oklahoma State would look like, well Oklahoma State, against the Tigers, and I don't think the Cowboys would even touch 30 points against LSU, but I think we'd have a pretty exciting game on our hands.
LSU might have the most aggressive defense out there, but it has a tendency to play too fast and too aggressive. We saw it at times against talented offenses. West Virginia racked up 533 yards, including 463 passing, on LSU. Both Arkansas and Georgia both made a some first-half plays against LSU, as well.
For as great as this defense has been all year, it hasn't been perfect, and good passing games have found ways to make plays. Have they found ways to get wins over the Tigers? No, but there's a formula there ... if you can combat LSU's ability to go on hellacious runs and wear down defenses in the second half.
The Cowboys, who had the nation's third-best offense (557 yards a game), have the pieces to give the Tigers headaches. Quarterback
Brandon Weeden
was a legit Heisman Trophy candidate at one point and finished the season third nationally with 4,328 yards and had 34 touchdowns. In that offense, he and the Cowboys could spread teams out and exploit plenty of mismatches. It didn't hurt that All-World receiver
Justin Blackmon
accounted for 111 receiving yards a game and had 15 touchdowns.
Weeden had two other receivers record more than 600 yards as well, so there are weapons in Stillwater, Okla., to keep the Tigers' defense on its toes.
Just imagine Blackmon, who might be the first receiver taken in next year's NFL draft, trying to get space on Morris Claiborne, or Tyrann Mathieu making a mad dash from God knows where on the field to scare the daylights out of Weeden? Could Weeden's receivers match the track speed of LSU's secondary?
And don't forget about LSU coach Les Miles facing his old school. If ahead late, does he kneel early or kick a field goal?
Defensively, the Cowboys would have to tighten up, though. They allowed 180 rushing yards a game, and we all know the pounding LSU's run game puts on opponents.
But the Big 12 offense-SEC defense matchup is what we'd all be salivating over. Winner shuts the other side up for a good year.
Unfortunately, we're left only wondering. We don't have the system in place to make this game possible.
LSU-Bama should be
the
game, but, man, LSU-OSU would have been fun.