September, 30, 2014
Sep 30
9:00
AM ET
ESPN's Paul Finebaum nailed it in 140 characters or less when he tweeted compliments to Tennessee for its moral victories against Oklahoma and Georgia, but added that his alma mater's football team now must justify the hype building in Knoxville.
Two moral victories on road against OU and Georgia nice but Vols need home win against Florida to keep momentum going.

— Paul Finebaum (@finebaum) September 27, 2014
.
That starts with a win Saturday against Florida (2-1, 1-1 SEC) -- a program that has defeated the Volunteers (2-2, 0-1) nine straight years and in 17 out of the past 21 meetings.
Tennessee coach Butch Jones wouldn't categorize those two road losses -- 34-10 at No. 4 Oklahoma and 35-32 this past weekend against No. 13 Georgia -- as moral victories. Not publicly anyway. That is what a loser would do, and he clearly doesn't think that way.
"Every individual in this organization believed that we were going to win," Jones said after the Georgia game. "I am proud of them, but we have to continue to learn from this and then move on. We are going to be a good football team and we are going to win a lot of football games."
As of now, Jones' record at Tennessee might show that he is a loser (the Vols are 7-9 overall and 2-7 in SEC play since he arrived last season), but nobody who has watched Jones' young team play would expect that trend to continue for long. Despite playing 22 true freshmen, the most of any FBS program in 2014, Tennessee hung with Oklahoma for most of that game and very easily could have defeated Georgia on Saturday. Considering how well Jones' staff has recruited lately, the Vols look like a sure bet to rank among the favorites in the SEC East in the near future.
Heck, they might even contend this season, but it has to start with a win against the Gators on Saturday. Will Muschamp's Florida team spent an entire offseason stewing over a humiliating 4-8 record last fall, and things don't seem much more pleasant right now after Alabama dominated the Gators prior to last Saturday's open date.
[+] Enlarge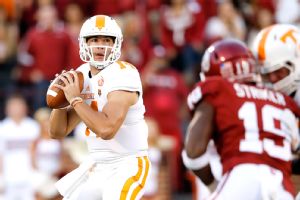 Kevin Jairaj/USA TODAY SportsA victory against rival Florida would be an important step for QB Justin Worley and the young Volunteers.
The Gators are ripe for the picking, and Saturday's game at Neyland Stadium provides a tremendous opportunity for Jones' program to end its losing streak in what once ranked among the SEC's top rivalry games. It is relegated to a noon time slot this season while SEC West showdowns dominate the headlines, which indicates one thing: neither program is winning consistently enough.
Jones used last season's 23-21 upset of South Carolina as evidence that things were moving in the right direction in his first season in Knoxville. That is his only win in nine tries against ranked Tennessee opponents, however. Eventually, showing progress -- but still losing -- against rivals or ranked opponents gets old. That is why Jones' club needs to end its slide against Florida now, just as Finebaum noted.
Justin Worley
has performed well at quarterback and delivered a memorable performance during a comeback effort against Georgia after leaving the game with an elbow injury.
Jalen Hurd
is a future superstar at tailback. The Vols' receiving corps is loaded with size and talent.
The offensive and defensive lines face steep experience gaps against most opponents, but their on-the-job training will eventually pay off. And the Vols actually rank first nationally in third-down defense, allowing opponents to convert just 20.8 percent of the time.
There is a lot to like about what is happening at Tennessee, especially if the Vols reach the postseason for the first time since 2010. However, playing in a bowl game becomes a much greater challenge if the Vols fall to 2-3 on Saturday. They still must play Alabama and Ole Miss from the SEC West, along with remaining division games against South Carolina, Kentucky, Missouri and Vanderbilt. The only non-division gimme left on the schedule is an Oct. 11 date with Chattanooga.
In other words, now is the time, Vols, if you want to show that the "Brick by Brick" stuff that Jones preaches is actually leading toward something meaningful.
This is a beatable Florida team. Tennessee fans could make a reasonable argument that their team is playing better football this season, and this is the Vols' chance to prove it. Another moral victory won't be enough this Saturday.