March, 25, 2014
3/25/14
2:00
PM ET
AUBURN, Ala. -- Who better to cover a wide receiver than a former wide receiver? That's what Auburn was thinking when the coaches moved
Trovon Reed
to cornerback this spring.
The former four-star recruit from Thibodaux, La., has spent his entire Auburn career on offense. He's played in 36 games and made four starts as a wide receiver over the last three seasons, but he's yet to ever break through like many expected when he signed with the Tigers in 2010. As a junior this past season, he finished with just nine catches for 98 yards.
[+] Enlarge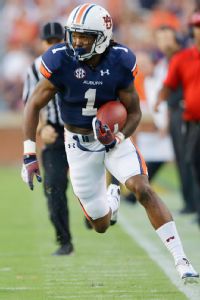 AP Photo/Dave MartinTrovon Reed has fit in well with Auburn's defensive backs after being moved to defense from wide receiver.
Now, as he heads into his fifth and final season at Auburn, Reed is moving into enemy territory. He'll join a secondary that he's competed against for the last four years, and one that knows him well.
"I've always liked Trovon's energy," safety
Jermaine Whitehead
said. "When he played offense, he was the guy who got us pumped to have a good game. Now he's on my side of the ball, so it's going to be a long year for the offense."
The move was hinted at just days after the BCS title game, when Reed posted on his Instagram that he will be "the best cornerback in the nation" in 2014, but coach Gus Malzahn refuted the rumors, calling them premature. It wasn't until the day before the Tigers opened spring practice that Malzahn confirmed the move.
For Reed, it's a new position since coming to Auburn, but it's not one he's unfamiliar with. He played some defensive back in high school. In fact, his RecruitingNation scouting report says "his feet, hips and ability to accelerate could make for a great corner prospect."
The skills were there. All he needed was an opportunity.
Through the first week, the transition has been seamless. Reed is competing with the likes of
Jonathan Jones
and
Kamryn Melton
at the field cornerback spot, and he's providing a unique perspective for his teammates.
"He's an older guy," Jones said. "He adds depth and experience. Coming from receiver, I'm always asking him, 'What do the receivers think?' He has the mindset of a receiver coming from receiver, so he definitely has knowledge that can help us."
Reed isn't the first Auburn player to shift from offense to defense under Malzahn. Former starting quarterback Kiehl Frazier moved to safety last fall, and 2013 signee
Johnathan Ford
started fall camp at running back before he switched to cornerback.
Ford, who is now at safety, played in all 14 games as a freshman and finished with five tackles and one pass break-up.
The Auburn coaches are hoping Reed can make a similar impact and provide depth at a position where the Tigers don't have much experience, but as top cornerback option
Jonathon Mincy
can attest, it's not as easy as it looks.
"Playing wide receiver, it's a lot different than playing corner," Mincy said. "Learning the role of defense, learning what the cornerback is supposed to do and just playing with his eyes ... that's going to be a big adjustment. But he's making a good transition. He's eager to learn and he's a very competitive person."
With Tuesday's practice in the books, Reed has 11 more practices this spring to learn the position and earn his spot before
Kalvaraz Bessent
and
Nicholas Ruffin
, a pair of ESPN 300 cornerbacks, arrive over the summer. The next three weeks will be vital for the former wide receiver.
It's his last shot.
October, 28, 2013
10/28/13
4:30
PM ET
AUBURN, Ala. -- It was late in the first quarter. Auburn had already jumped out to a 21-0 lead over Florida Atlantic and looked well on its way to a rout. The Owls had just taken over at their own 9-yard line when
Jonathan Jones
blew up a screen and tackled the wide receiver behind the line of scrimmage on the first play.
[+] Enlarge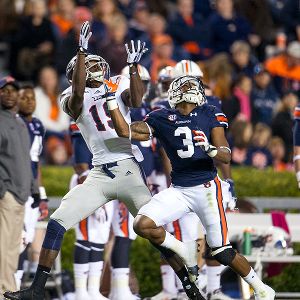 Michael Chang/Getty ImagesGetting sophomore cornerback Jonathan Jones back from injury gives Auburn another man to play in a thin secondary.
Looking back it was just another tackle for loss in Auburn's 45-10 victory, but for Jones, it was much more than that. It his first tackle in what has been a season plagued by injury.
"It felt good to get back in the groove of things, to get the rust off," he said. "Once I made that play, I was in it for the rest of the game and was able to help contribute."
The sophomore cornerback missed the first four games with a broken bone in his ankle, an injury he suffered when he slipped on some wet steps during fall camp. He returned against Ole Miss but played sparingly. He sat out the next game with a separate injury to his leg, and although he made the trip to Texas A&M, he hardly played against the Aggies.
"I was definitely frustrated," Jones said. "But I've got good teammates and good coaches that helped me stay positive, look forward and know that I'll be back soon. I just prayed with my mom, prayed through it and tried to stay positive -- motivate the teammates, try to stay involved as much as I could even though I was hurt."
Now, Jones is back and a major part of this Auburn defense.
"It's exciting," he said. "I've been waiting for the opportunity to get back out there with my teammates, just have fun and contribute."
The excitement spilled over to the field Saturday. After making the tackle for loss, Jones broke up a pass on the very next play. He later energized both his teammates and the crowd with a bone-jarring hit on a kick return.
"He's been getting a lot of reps in practice," fellow defensive back
Jermaine Whitehead
said. "They finally worked him in the rotation in the game, and he do what he always do. I expected that from him -- to be a big-time player, small guy that plays really big."
For Auburn, Jones' return couldn't have come at a better time. The Tigers recently lost starting safety
Joshua Holsey
for the season with a torn ACL. The staff moved cornerback
Ryan White
to safety to make up for the loss, but that left very little depth behind
Chris Davis
and
Jonathon Mincy
at the cornerback position.
"We're very thin back there," defensive coordinator Ellis Johnson said. "Getting [Jones] back was very important. We had to move Ryan White inside with the loss of Holsey. We lost our leading returning tackler at the beginning of the season -- never played a down.
"We keep moving guys inside, so it's very important that Rudy (
Johnathan Ford
) and Jonathan [Jones] come along and give us some quality depth at corner."
In addition to losing Holsey, the Tigers also lost starting safety Demetruce McNeal, who was dismissed from the team during fall camp. They have been without at least four other defensive backs -- Jones, Chris Davis,
T.J. Davis
and
Kamryn Melton
-- at one point or another through the first eight games. Still, the unit is holding it together.
"We're growing on it," Whitehead said. "We lost a couple of key players, but guys stepped in and made remarkable moves. It's been a great turnaround."
October, 11, 2013
10/11/13
2:30
PM ET
AUBURN, Ala. -- Every year it seems more and more freshmen are playing in college football. It's no different in the SEC. Top programs like Alabama, Florida, Georgia and LSU have started or played first-year players in critical games this season.
The same holds true for Auburn, which signed the No. 11 recruiting class this past February. Head coach Gus Malzahn has said he's not afraid to play freshmen right off the bat as long as they're talented enough.
So what's the secret behind the freshmen impact in the college football?
[+] Enlarge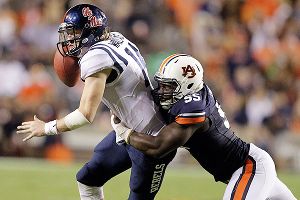 John Reed/USA TODAY SportsFreshman defensive end Carl Lawson had two sacks against Ole Miss.
"Physically, kids are coming out of programs -- they've got better strength programs -- they're bigger, faster and stronger, naturally," AU defensive coordinator Ellis Johnson said. "They're probably coached as good or better than they were, and I just think a lot of them are ready to play at that level, and we're able to find a role for them to play.
"Some of them don't have the competitiveness, some of them don't have the temperament, some of them don't have the fundaments, but heck, the physical talent -- you can look at some in high school and tell, these guys can play with us."
Through the first five games, Auburn has already seen a number of freshmen contributions.
Defensive end
Carl Lawson
earned SEC freshmen of the week honors with his performance against Ole Miss last weekend. The five-star recruit finished with six tackles, including 3.5 for loss and two sacks.
Marcus Davis
emerged as the go-to wide receiver when the Tigers trailed Mississippi State in the final minutes. He caught four passes for 38 yards on the game-winning drive and helped Auburn put an end to their SEC losing streak.
In the season opener, it was defensive tackle
Montravius Adams
who provided a much-needed spark for the defense when he entered the game and sacked the quarterback on his first play.
The Tigers are not yet to the halfway point of the season, but there are still plenty of freshmen waiting for their opportunity. If all goes well Saturday, there's a strong possibility some of them might receive that chance against Western Carolina.
"First and foremost, we've got to go win the football game," offensive coordinator Rhett Lashlee said. "And we've got to play well. But there are some guys like a
Tony Stevens
that you'd like to get more action. Marcus Davis is already playing more. I think a guy like an
Avery Young
, maybe try to get him more meaningful reps, too."
On defense, the freshmen players who are most likely to see more action include the trio up front -- Adams, Lawson and
Elijah Daniel
-- cornerbacks
Johnathan Ford
and
Kamryn Melton
, and possibly
Mackenro Alexander
, a defensive back who recently moved to the Star position and played against Ole Miss.
"Mackenro got about nine reps to sub [
Robenson Therezie
], and I bet those reps, down the line, are going to help him," Johnson said. "That's the first time he's had any true game experience. He did some good things. We hope in the future we can give him some rotation a little bit out there."
But the freshmen who has received the most attention this week is quarterback
Jeremy Johnson
. The ESPN 300 recruit has yet to play a snap this season, but with starter
Nick Marshall
still questionable with a knee injury, there's a chance the staff turns to Johnson on Saturday. He battled for the starting job during fall camp.
"We have not played him yet, and I know obviously it is getting to a point now where you have to do what is best for him and what is best for your team," Malzahn said. "But he is still getting a lot of reps in practice and he is improving, there is no doubt."