December, 8, 2011
12/08/11
1:59
PM ET
By
ESPN.com staff
| ESPN.com
On Thursday, we'll be chatting up some college football award finalists in advance of The Home Depot College Football Awards show, which airs Thursday night (ESPN, 9 p.m. ET).
We'll be setting up shop, mingling with the finalists.
So, check in to see who stops by to chat
. We'll be grabbing some of the best players from the 2011 college football season, like Stanford quarterback Andrew Luck, Oklahoma State's Justin Blackmon, USC's Robert Woods and Boise State's Kellen Moore.
December, 5, 2011
12/05/11
9:10
PM ET
My Heisman Trophy ballot has changed every week for the last couple of months.
I'm not surprised there are more than three players going to the trophy presentation.
Five players were invited to New York for Saturday night's Heisman Trophy presentation -- quarterbacks
Andrew Luck
of Stanford and
Robert Griffin III
of Baylor, tailbacks
Montee Ball
of Wisconsin and
Trent Richardson
of Alabama and cornerback Tyrann Mathieu of LSU.
It's a shame the Heisman Trust didn't have room for three more quarterbacks because Houston's
Case Keenum
, USC's
Matt Barkley
and Boise State's
Kellen Moore
were just as deserving.
With five finalists going to New York, it figures to be one of the closer votes in recent Heisman Trophy history.
The closest vote in Heisman Trophy history came just two years ago, when Alabama tailback Mark Ingram edged Stanford's Toby Gerhart by only 28 points. Ingram received 227 first-place votes, Gerhart got 222 and Texas quarterback Colt McCoy, the second runner-up, received 203.
Given the number of finalists and their geographical regions, we could have another really close finish on Saturday night.
Luck, the runner-up to Auburn's Cam Newton last season, entered the 2011 season as the Heisman Trophy favorite. His performance didn't slip much this season, as he completed 70 percent of his passes for 3,170 yards with 35 touchdowns and nine interceptions.
I still feel Luck might be the most valuable player on any team in the country. Without him, there's no way the Cardinal is ranked No. 4 in the country and playing No. 3 Oklahoma State in the Tostitos Fiesta Bowl. Luck has done more with less, as Stanford lacks the game-changing playmakers that other teams have.
But Luck might still be the second-best quarterback in New York. Griffin, who is widely known as RG3, completed 72.4 percent of his passes for 3,998 yards with 36 touchdowns and six interceptions. He also ran for 644 yards with nine touchdowns.
Without him, the Bears wouldn't have beaten TCU, Oklahoma and Texas. Griffin's one drawback: He had a late interception that sealed the Bears' fate in a 36-35 loss at Kansas State on Oct. 1 and threw two picks in a 59-24 loss at Oklahoma State on Oct. 29. But with everything else RG3 has done this season, it's easy to give him a mulligan for the miscues.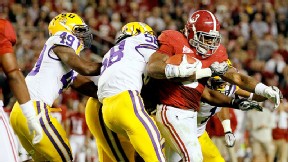 Kevin C. Cox/Getty ImagesRunning back Trent Richardson has been at his best in Alabama's biggest games.
I still believe Richardson is the best player in the country. He looked like the best player on the field in No. 2 Alabama's 9-6 loss in overtime to No. 1 LSU on Nov. 5. He had 89 rushing yards and 80 receiving yards in a game where every yard mattered. He finished the season with 1,583 yards with 20 touchdown runs and three touchdown catches. He's also Mr. Dependable, not losing a fumble in his past 520 touches and only once in 614 career touches.
Ball has been a scoring machine for the No. 10 Badgers this season, running for 1,759 yards with 32 touchdown runs and six touchdown receptions. His 38 total touchdowns are one shy of matching former Oklahoma State running back Barry Sanders' NCAA single-season record of 39 set in 11 games in 1988. Ball's production helped lead the Badgers to a Jan. 2 date against Oregon in the Rose Bowl Game presented by VIZIO.
Mathieu fell off my ballot after he was suspended from playing in the Tigers' 45-10 victory over Auburn on Oct. 22 for smoking synthetic marijuana. But his big plays helped the Tigers overcome deficits in each of their last two victories, over Arkansas and Georgia in the SEC championship game.
Mathieu -- aka the "Honey Badger" -- is the best player on the top-ranked team. He leads the Tigers with 70 tackles and has forced six fumbles and recovered five. He also is the most dynamic punt returner I've seen since Florida State's Deion Sanders. Mathieu has scored four touchdowns -- two on fumble returns and two on punt returns.
To penalize Mathieu for one foolish mistake wouldn't have been right. After all, Newton was briefly ruled ineligible at Auburn last season and 2010 Heisman Trophy finalist
LaMichael James
of Oregon was suspended from playing in last season's opener.
September, 3, 2011
9/03/11
11:50
PM ET
ATLANTA -- Here are some thoughts on the
Georgia Bulldogs
' 35-21
loss
to the
Boise State Broncos
.


What it means:
Prepare for another season full of arguments concerning Boise State's legitimacy as a national championship contender. The Broncos once again held up their end of the bargain against a major-conference opponent after beating Oregon and Virginia Tech in their previous two season openers. Now they won't face another currently ranked opponent until hosting TCU in mid-November.
How the game was won:
Boise State's defense put the clamps on Georgia's offense for a crucial stretch in the second and third quarters, allowing the Broncos' offense to bounce back from a sluggish start and efficiently put away the Bulldogs as their defense began to wear down. After the Broncos scored only once on their first six possessions, they reached the end zone in four of their next five.
Player of the game:
Boise State quarterback
Kellen Moore
. The Heisman Trophy finalist hardly lost confidence when the Broncos started slowly, instead he coolly assaulted Georgia's defense with a series of precise passes. Moore opened the game with two incompletions and then connected on 28 of his next 32 attempts for 261 yards and three touchdowns.
What Boise State learned:
The Broncos learned that they can indeed compete with an SEC opponent, earning their first win against an SEC school in five tries. And not only did they beat Georgia, they took control late in the second quarter and steadily pulled away in the second half, silencing a heavily Georgia-partisan crowd at the Georgia Dome.
What Georgia learned:
Touted freshman running back
Isaiah Crowell
can't do it alone. The Bulldogs discovered that their relatively inexperienced offensive line isn't ready to compete with the best college football has to offer. Boise State's tough defensive front overmatched Georgia's offensive line, limiting the Bulldogs to 31 rushes for 137 yards, 80 of which came on a Brandon Boykin touchdown run. Rarely finding much running room, Crowell finished with 60 yards on 15 carries.
Turning point:
With the score knotted at 7-all early in the second quarter, Georgia seemed on its way to taking the upper hand when it drove 51 yards to the Boise State 26. But the Broncos stuffed Georgia runs on both third-and-1 and fourth-and-1 and the Bulldogs were unable to score again until barely more than a minute remained in the third quarter. By that time, Boise State was ahead by three touchdowns.
September, 3, 2011
9/03/11
9:54
PM ET
ATLANTA -- Notes from halftime as
Boise State leads Georgia
, 14-7.


Best call:
Mark Richt once hinted that Georgia might use cornerback Brandon Boykin on offense for the first time in his career. Boykin, already the only player in SEC history with three 100-yard plays on his resume, created more electricity on his first offensive play by running around right end and zig-zagging through Boise State's defense for an 80-yard touchdown that put Georgia up 7-0 in the first quarter.
Turning point:
Only three plays after Georgia's Branden Smith halted a Boise State drive by intercepting a
Kellen Moore
pass inside the Bulldogs' 10-yard line, Georgia quarterback
Aaron Murray
returned the favor. Jerrell Gavins picked off a Murray pass at the Boise State 49, setting up the Broncos' go-ahead drive just before halftime. Moore drove the Broncos 51 yards in seven plays to put Boise State up 14-7 at the break.
Stat of the half:
Much of the pre-game speculation had Boise State's front lines struggling against the much-larger Bulldogs, but the Broncos proved themselves tougher than many Georgia fans expected. Georgia mustered only 107 yards in the first quarter, 80 of which came on a Brandon Boykin end-around, and 150 offensive yards in the entire first half. Boise State held Georgia to 1-for-7 on third down and also stuffed the Bulldogs on fourth-and-1 at the Boise State 26.
September, 2, 2011
9/02/11
2:00
PM ET
When Jarvis Jones looks at film of Boise State quarterback
Kellen Moore
, he a knot forms in his stomach.
[+] Enlarge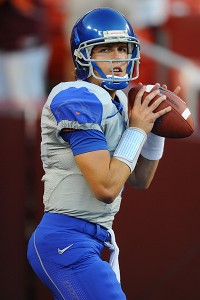 James Lang/US PresswireGeorgia's defense knows it will have its hands full against Boise State QB Kellen Moore.
It's not like the 6-foot-1, 191-pound senior is very intimidating, with his shaggy hair unraveling outside of his helmet. He isn't very fast or mobile, but the thing that makes one of Georgia's most athletic and talented linebackers cringe a little at Moore's tape is his arm.
And what an arm it is.
Moore can accurately throw the ball all over the field, but more importantly, his release is one of the fastest around.
"That's a pass-rusher's nightmare," Jones said.
Come at him too fast, and he's got you on a slant. Take too long, and he'll pick your secondary apart.
And his quick release isn't the only reason why Moore is second on the active career list in completion percentage (68.17), passing yards (10,867), passing touchdowns (99) and completions (831). He's pretty precise with his throws as well.
"This guy right now I would say is deadly accurate," Georgia coach Mark Richt said. "There's a difference between completions and hitting a guy on the dead run and hitting a guy exactly where they need to be hit. He throws it so accurately that he allows his receivers to really get some good yards after the catch."
Georgia's defense has been working the past few weeks on getting its blitz packages down and making sure the secondary is pulling double duty by stalking receivers and keeping an eye on Moore at all times.
The thing Georgia defensive coordinator Todd Grantham said his defenders can't get too occupied in is putting pressure on him. This unit has to be disciplined and smart when playing a quarterback who has won a nation-leading 38 games and is the nation's active career leader in passing efficiency (166.74).
Without giving too much of the defensive game plan away, Grantham said the key to stopping Moore is a balanced attack.
"When a guy can get rid of it quick you can't be one dimensional," he said. "Really, I think it's about being balanced but understanding that guys have to win blocks up front one-on-one and be able to do those kind of things because this guy knows where to go with the ball. He understands what coverage you're in, and when he knows that he's going to throw it to the soft spot."
It's Georgia's job to disguise its coverages and tighten up those soft spots. Eliminating predictability is the objective.
For freshman defensive back Damian Swann, playing against Moore is an honor. He said Moore grabbed his attention back in high school and he never expected Moore to last in college this long.
Making his debut against such a player is something Swann said he'll treasure, and he certainly knows this will be a heck of a first challenge.
"All the throws that you expect him to make, he's going to make, and all the throws you don't expect him to make, he's going to make," Swann said. "That's just the kind of guy he is. You gotta be where he's supposed to be when you're supposed to be there."
Got all that?
Stopping Moore is an enormous first test for Georgia's defense, but the players think their speed and patience will make his night tough.
For the front seven, it's about irritation, and for the secondary, it's about finding the right spots.
"He's a Heisman candidate and the film shows why," junior corner Sanders Commings said. "He doesn't hold onto the ball for long. If we aren't there in three seconds, he gets the ball off."
September, 2, 2011
9/02/11
9:00
AM ET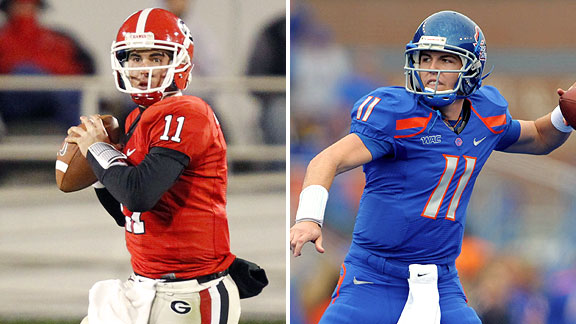 US PresswireKellen Moore, right, and Aaron Murray will lead their respective offenses when Boise State and Georgia meet Saturday in Atlanta.
No. 5 Boise State and No. 19 Georgia square off Saturday night in one of the top nonconference games of the season. So who is going to win and why? How about a little debate between college football nation blogger Andrea Adelson and SEC blogger Edward Aschoff.
Andrea Adelson:
So I hear you want to debate me on Boise State versus Georgia, Edward. I am glad to see you are not too scared to take on a little sister of the poor. Now I know you are new around these parts, but that does not mean little sister here is going to take it easy on you. I am in this debate to win it, just like Boise State has agreed to travel across the country to play in what is hilariously called a "neutral-site game" in Atlanta to play Georgia. The Broncos are in this to win it, and to show -- yet again -- they can beat the so-called big boys. Wait. What? Oh, right. You are going to bring up 2005, and the 48-13 shellacking Georgia delivered to Boise State. Well, if I am not mistaken, this is 2011 and Boise State has a fellow named
Kellen Moore
at quarterback. He just finished fourth in the Heisman Trophy race. Advantage, Boise State. Tell me where Georgia has an advantage.
Edward Aschoff:
No, I won't bring up that 2005 game where the Broncos didn't belong on the same field. I also don't need to bring up that the Broncos are 0-4 all-time against SEC opponents -- all of those losses came in the past decade. But what are Georgia's obvious advantages? Well, besides the fact this game is going to literally be played in Georgia's backyard, the Bulldogs have tremendous speed on defense. Speed that I don't think Boise's offense can match. Georgia has one of the most athletic front sevens in the league. Boise's line is going to have to try to stop the likes of Kwame Geathers and big ol' John Jenkins in the interior. Together, they weigh close to 700 pounds. Plus, DeAngelo Tyson is going to drive tackles crazy on the outside. But even if the Broncos manage to squeeze by that front line, they'll have to meet one of the fastest linebacker corps around. Alec Ogletree dropped down into the box from safety and can absolutely fly around the field to make plays. With Christian Robinson joining him in the middle and the likes of Jarvis Jones and Cornelius Washington in there, the Broncos are going to need jet packs to get through the box. Kellen Moore might be back, but without Titus Young or Austin Pettis (142 catches, 2,166 yards and 19 touchdowns gone) to throw to, Boise is going to have to rely more on its running game and that wreaks of trouble.
AA:
Does it, Edward?
Doug Martin
is one of the most underrated running backs in the nation, running for 1,260 yards and 12 touchdowns last season, averaging 6.3 yards a carry. Forget all that mumbo jumbo about playing against bottom-feeders. Scouts Inc. lists Martin as the top senior running back available in the 2012 NFL draft. He runs the 40-yard dash in 4.48. Same time as Arkansas running back
Knile Davis
, and faster than Alabama running back
Trent Richardson
. Martin also ranks No. 2 in the Scouts Inc. power/balance evaluation and No. 1 in competitiveness. I should also mention he is a terrific pass-catcher, with 28 receptions last year for 338 yards. His offensive line also has a stud in left tackle Nate Potter, who made the ESPN.com preseason All-America team. Mel Kiper lists Potter as one of the top senior offensive tackles in the nation as well. So your argument about the plodding, unathletic Broncos makes little sense. Boise State is way more athletic than UCF, and I do recall the Knights beat Georgia last season.
EA:
While we're discussing future NFL prospects, you might as well look at Georgia's offensive line. The same Scouts Inc. that you referred to ranks senior Cordy Glenn as the top-rated guard in the 2012 draft and senior Ben Jones as the top center. Glenn could have easily left school early for the NFL, but will be lining up at left tackle for the Dawgs on Saturday. Good luck to those Broncos trying to get by deceptively agile 6-foot-5, 348-pound monster. Also, left guard Kenarious Gates isn't well known yet, but he's extremely athletic and can move along the line if needed. Those guys will be blocking for the SEC's best quarterback in
Aaron Murray
, who set all sorts for school and SEC freshman records in passing and total yardage in 2010. He'll have one of the nation's best in tight end
Orson Charles
, an ESPN.com preseason All-American, who is too fast for most linebackers to keep up with and he's too big for most corners to guard. And while
Tavarres King
doesn't have the clout A.J. Green had, he's been tremendously consistent and has been Murray's go-to guy at flanker. Also, two freshmen to keep an eye on are running back
Isaiah Crowell
and receiver
Malcolm Mitchell
. Crowell could have a
Marcus Lattimore
-like impact, and word out of Athens is that Mitchell has been turning heads and breaking ankles in practice. Don't sleep on Georgia's offense.
AA:
Well, I did fall asleep on them watching the bowl game against UCF last season. Murray, Charles and Glenn were on that team, right? Joking aside, I know Georgia will be much better on offense and defense. But I'm not sure the Bulldogs will be good enough against a veteran team with a senior class that has lost twice in their careers.
EA:
The Broncos are in a must-win situation, meaning the pressure is on. For Georgia, the Bulldogs can lose this game and still make a run at the SEC title and maybe even the national championship if a ton of pieces fall into place. With that said, Boise has been in this situation many times before, and it's tough to pick against them in this situation. I think Georgia takes it down to the wire, but comes up just short in its opener against the Broncos.
September, 1, 2011
9/01/11
10:15
AM ET
Can you hear that?
It's the sound of jerseys being carefully hung and neatly placed in lockers. It's the sound of last-minute helmet shines and play card lamination.
More importantly, it's the sound of the return to college football. Maybe, just maybe, these silly shenanigans that have taken our minds off the actually game will cease for a while.
[+] Enlarge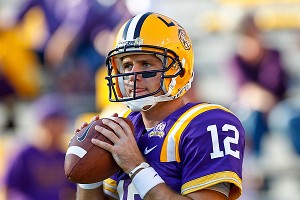 Derick E. Hingle/US PresswireLSU will turn to Jarrett Lee as the starting quarterback in the season opener against Oregon.
That sound is now transforming into the horns blaring and snares chopping. Soon, these sounds will be overwhelmed by that sticky, sweet smell of game day barbecue with a hint of fine fried snacks.
Let's get to what you should watch for in the SEC this week before I drool on my keyboard:
1. LSU's passing game:
Jordan Jefferson's
suspension for his involvement in a bar fight and
Russell Shepard
being ruled ineligible for discussing an NCAA inquiry with a teammate have the Tigers in a bit of an offensive bind to start the season. Veteran
Jarrett Lee
takes over for Jefferson, and while coach Les Miles believes Lee has what it takes to lead the Tigers against No. 3 Oregon, Lee has had a very rocky five years at LSU. Expect junior college transfer
Zach Mettenberger
, who has all the skill to be a special player, to get snaps as well. As far as receivers go,
Rueben Randle
will be the primary target and DeAngelo Peterson is a playmaking tight end. Miles said this week that freshman
Odell Beckham
could start, so expect the Tigers to use plenty of options.
2. McCarron vs. Sims:
This is one of the most exciting quarterback battles to keep an eye on this season.
AJ McCarron
and
Phillip Sims
are young and neither has separated himself from the other. However, teammates have said they wouldn't mind either one starting and trust both to lead the offense. But this isn't just any offense; it's the offense of a team that is a true national championship contender. Taking the reigns of this machine is a big deal, and the winner should be prepared for a load of pressure dumped into his lap. This is the first step toward someone pushing past the other, but this battle could bleed deeper into the season.
3. Fresh new faces:
There are two new head coaches making their SEC debuts this weekend. Will Muschamp takes over at Florida, after leaving Texas as its defensive coordinator, and James Franklin is in charge at Vanderbilt after being Maryland's offensive coordinator. Fortunately for both, their teams are favored this weekend, with Florida taking on Florida Atlantic and Vanderbilt squaring off against Elon. Muschamp has the tough task of replacing two-time national champion Urban Meyer, while Franklin has brought some much-needed excitement and confidence to a slumping program. Both programs are in need of some early excitement and both should provide plenty of that this weekend.
4. Marquee QB battle:
When Georgia and Boise State square off inside the Georgia Dome; they'll do so with two highly touted quarterbacks. Boise's veteran
Kellen Moore
, who has a thirst for big games, will look to keep his team in the national championship picture. Moore enters 2011 as the nation's active career leader in passing efficiency (166.74) and wins (38). He ranks second on the active career list in completion percentage (68.17), passing yards (10,867), passing touchdowns (99) and completions (831). Last season, Murray passed for a Georgia freshman record 3,049 yards (second in SEC history by a freshman) and 24 touchdowns. His 3,216 total offensive yards ranks him first in Georgia freshman history and second in SEC history. He also tied for first in school history for touchdown responsibility in a season with 28. Watching these two compete will be a lot of fun.
5. Wild runners:
The SEC brings back a stable of running back talent as five of the top 10 rushers from the 2010 season return. It would have been six, but Arkansas'
Knile Davis
suffered a season-ending ankle injury before the season. The SEC is loaded at running back, with South Carolina's
Marcus Lattimore
and Alabama's
Trent Richardson
making early Heisman Trophy lists. The scary thing is that Lattimore is only a sophomore and Richardson was a backup for two years. Auburn brings back the best rushing combo in
Mike Dyer
and
Onterio McCalebb
, who both have the potential to reach 1,000 yards. Ole Miss'
Brandon Bolden
is very underrated and should finally eclipse the 1,000-yard mark, while Mississippi State's
Vick Ballard
is one of the toughest runners around and is looking to pass his touchdown mark of 19 a season ago. Tennessee's
Tauren Poole
is another unheralded rusher, but he surpassed 1,000 yards in 2010. Expect others, like LSU's
Spencer Ware
and Kentucky's
Raymond Sanders
, to step up as well.
6. QBs getting their first shot to be the man:
The first week of football will feature a handful of new quarterbacks looking to prove they can lead their respective teams. McCarron and Sims will be battling it out against Kent State, while
Barrett Trotter
is taking over for Heisman winner Cam Newton at Auburn.
Barry Brunetti
makes his SEC debut at Ole Miss. Heck, Lee will have to prove he can be a solid short-term option for LSU, as well. There will be some growing pains and struggles around the league with these players, but they'll all be eager to get out there and show what they can do.
7. Houston Nutt as the underdog:
If history is an indicator, Houston Nutt does well when his team is counted out. Look at the 2006
Arkansas Razorbacks
, who made it to the SEC championship game and in 2008, Nutt's
Ole Miss Rebels
won their last six games, including the Cotton Bowl. Well, Nutt and his Rebels are being overlooked yet again and Ole Miss starts the season against a tough BYU team. Ole Miss isn't favored and it's fielding a slew of youngsters, including a new quarterback in Brunetti. A win would generate some valuable momentum for this team.
8. John Brantley's confidence:
The spread offense is gone in Gainesville and quarterback
John Brantley
couldn't be happier. He never fit in the spread, throwing more interceptions than touchdowns, but Muschamp and offensive coordinator Charlie Weis have rescued Brantley with a pro-style offense. Brantley set all sorts of records in high school -- some even held by former Florida star Tim Tebow -- but he was never able to play with much confidence in 2010. Now, Brantley has a chance to reinvent himself. Word out of Gainesville is that Brantley has more command in the pocket and has won his teammates over again. Saturday won't be a major test for Brantley, but it is a chance for him to play with confidence and maybe even some moxie, which should benefit him the rest of the season.
9. Kentucky's run defense:
Kentucky coach Joker Phillips made it perfectly clear that stopping the run is of the utmost importance when the Wildcats face Western Kentucky. When these two got together last season, the Wildcats' rush defense received what Phillips described as a "slap in the face" from Western Kentucky's
Bobby Rainey
, who ran for 184 yards and two touchdowns. For the rest of the season, Kentucky's rush defense struggled immensely, surrendering 177.1 yards per game and allowing a league-high 30 rushing touchdowns. For the Wildcats to develop some defensive confidence they'll have to shut down the Hilltoppers' running game.
10. Black bear sightings!:
Those of you who live in Oxford, Miss., or are traveling there for the weekend should be on the look out for black bears in the vicinity. Whether they're harmful or not is yet to be seen. Ole Miss is breaking in a new mascot in the "Rebel Black Bear" seven years after the university got rid of "Colonel Reb." The new mascot has received mixed reactions and expect Colonel Reb supporters to be out in full force for the bear's first home game. A loss to BYU could send this cuddly creature back into hibernation.