January, 12, 2010
1/12/10
11:00
AM ET
Having had a few days now to digest the 2009 bowl season, here's a look at the All-SEC bowl team:
OFFENSE
[+] Enlarge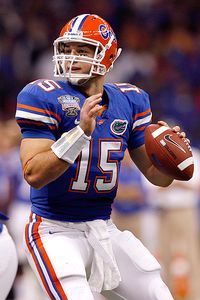 Matthew Stockman/Getty Images Tim Tebow torched Cincinnati for a career-high 482 passing yards and three TDs.
QB Tim Tebow, Florida

Broke Vince Young's record for total offense in a BCS bowl game with 533 yards in the Gators' 51-24 rout of Cincinnati in the Allstate Sugar Bowl. Completed 31 of 35 passes for a career-high 482 yards.
RB Dexter McCluster, Ole Miss

Was there a better player in the SEC the second half of the season? McCluster rushed for 184 yards and two touchdowns in the AT&T Cotton Bowl win.
RB Mark Ingram, Alabama

Despite cramping up in the Citi BCS National Championship Game, the Heisman Trophy winner showed his grit and led the Crimson Tide with 116 rushing yards and two touchdowns.
WR Riley Cooper, Florida

Led the Gators' offensive explosion in the Sugar Bowl with 181 receiving yards, including an 80-yard touchdown. Cooper averaged 25.9 yards on seven catches.
WR Brandon LaFell, LSU

The Tigers didn't put up much offense, but LaFell had five catches for 87 yards, including a 24-yard touchdown. LaFell led all SEC players with 19 touchdown catches over the past two seasons.
TE Aaron Hernandez, Florida

His nine catches led all players in the Sugar Bowl, and he finished with 111 receiving yards. Hernandez opened the Gators' scoring with a 7-yard touchdown catch.
OL John Jerry, Ole Miss

Helped clear the way for Ole Miss' 193 rushing yards against an Oklahoma State defense that finished ranked 11
th
nationally against the run.
OL James Carpenter, Alabama

Combined with
Mike Johnson
to make the key block that helped spring
Trent Richardson
on his 49-yard touchdown run in the second quarter of the Citi BCS National Championship Game.
OL Justin Anderson, Georgia

The Bulldogs were playing without starting right tackle Josh Davis, and Anderson came off the bench in the second half to help give a much-needed lift to the running game.
OL Mike Johnson, Alabama

The anchor of an Alabama offensive line that paved the way for both Mark Ingram and Trent Richardson to each rush for more than 100 yards against Texas' vaunted defense.
C Maurkice Pouncey, Florida

Spent more than five hours at Tulane Hospital with kidney stones and had several IV's, but didn't miss the start and led the way for the Gators up front.
DEFENSE
DE Marcell Dareus, Alabama

Had the hit that knocked Texas quarterback
Colt McCoy
out of the game and also returned an interception 28 yards for a touchdown right before halftime.
DE Carlos Dunlap, Florida

Came back strong from his suspension in the SEC championship game with two sacks in the Gators' Sugar Bowl romp.
DT Geno Atkins, Georgia

Pressured Texas A&M quarterback
Jerrod Johnson
relentlessly. Atkins finished with a sack and also blocked a field goal attempt in the second quarter.
DT Dan Williams, Tennessee

A rock all season long in the middle for the Vols, Williams ended his career with nine tackles, including a half a sack in the 37-14 loss to Virgina Tech in the Chick-fil-A Bowl.
LB Patrick Trahan, Ole Miss

His 34-yard fumble return for a touchdown sealed the game for the Rebels with 3:12 remaining. Trahan also had an interception on Oklahoma State's next possession.
LB Jerry Franklin, Arkansas

Finished with 10 tackles and had a third-quarter interception that turned the game around for the Hogs. East Carolina was leading 10-0, but Franklin intercepted a pass and returned it 31 yards to set up an Arkansas field goal.
LB Eric Norwood, South Carolina

Wrapped up a record-setting career at South Carolina by leading the Gamecocks with 10 tackles in their 20-7 loss to Connecticut in the Papajohns.com Bowl.
DB Walter McFadden, Auburn

Intercepted two passes in Auburn's Outback Bowl win. McFadden's first pick set up a touchdown, and he did the honors himself on the second one – returning it 100 yards for a touchdown.
DB Tramain Thomas, Arkansas

His 37-yard interception return for a touchdown tied the game in the third quarter. Thomas also tipped away a pass at the goal line in the final minutes that might have saved the game.
DB Kendrick Lewis, Ole Miss

Intercepted two passes in Ole Miss' 21-7 Cotton Bowl victory over Oklahoma State. His big hit in the fourth quarter also forced the fumble that Patrick Trahan returned 34 yards for a touchdown to break the game open.
DB Chad Jones, LSU

Did a little bit of everything in his final game at LSU. Led the Tigers with eight tackles, including one for loss, while also forcing a fumble, breaking up a pass and blocking a kick.
SPECIAL TEAMS
K Alex Tejada, Arkansas

His 37-yard field goal in overtime was the difference in Arkansas' 20-17 victory over East Carolina in the AutoZone Liberty Bowl.
P Spencer Lanning, South Carolina

In extremely cold conditions, Lanning punted seven times for a 42.3-yard average and had a long of 48 yards. He also doubles as the Gamecocks' place-kicker.
KR Brandon Boykin, Georgia

Tied an SEC record with his third kickoff return for a touchdown this season, taking one back 81 yards to answer Texas A&M's first touchdown.
July, 20, 2009
7/20/09
11:27
AM ET
Posted by ESPN.com's Chris Low
With Greg Hardy's surgically repaired right foot being re-evaluated this week following his involvement in a car accident two weeks ago, Ole Miss has scratched Hardy from the SEC media days lineup and will instead bring senior safety Kendrick Lewis.
Hardy and Dexter McCluster were in a crash that resulted in Hardy's car catching on fire. He aggravated his foot injury in the accident, and his status for the start of preseason practice won't be known until after he meets with Dr. Bob Anderson, a noted foot specialist who performed the surgery.
Lewis led the Rebels with 85 tackles and four interceptions last season. He's one of eight returning starters on defense for Ole Miss.
May, 7, 2009
5/07/09
4:58
PM ET
Posted by ESPN.com's Chris Low
Neither depth nor talent should be an issue for Ole Miss defensively next season.
But as good a player as defensive tackle Peria Jerry was for the Rebels, the departed All-American was an equally strong leader. Players followed his lead, and in a lot of ways, he set the tone for Ole Miss' defense last season.
Who will step into that role?
Ole Miss defensive coordinator Tyrone Nix thinks there are a number of candidates and expects the leadership to be more spread out on his defense next season.
"Coming out of the spring, the top leader was [safety] Kendrick Lewis," Nix said. "He's a vocal guy and made a lot of plays. He's also improved and become a better tackler."
Lewis wasn't the only one, though.
Nix said defensive ends Kentrell Lockett and Marcus Tillman, along with cornerback Marshay Green, also took on strong leadership roles, while linebacker Patrick Trahan was a different kind of leader.
"He leads more by example by the way he competes on every single play," Nix said. "It's more, 'Do what I do.'"
And don't discount senior defensive end Greg Hardy being more of a leader next season.
"If you ask me, Greg Hardy will definitely be a leader," Nix said. "We've challenged him, and he's up to the challenge."
May, 5, 2009
5/05/09
9:20
AM ET
Posted by ESPN.com's Chris Low
Ole Miss Rebels
2008 overall record: 9-4

2008 conference record: 5-3

Returning starters

Offense: 6, defense: 8, kicker/punter: 1

Top returners

QB Jevan Snead, WR Dexter McCluster, WR Shay Hodge, OT John Jerry, DE Greg Hardy, DE Kentrell Lockett, LB Patrick Trahan, FS Kendrick Lewis, PK Joshua Shene

Key losses

OT Michael Oher, WR Mike Wallace, FB Jason Cook, DT Peria Jerry, SS Jamarca Sanford

2008 statistical leaders (* returners)

Rushing: Dexter McCluster* (655 yards)
Passing: Jevan Snead* (2,762 yards)
Receiving: Shay Hodge* (725 yards)
Tackles: Kendrick Lewis* (85)
Sacks: Greg Hardy* (8.5)
Interceptions: Kendrick Lewis* (4)

Spring answers

2009 Schedule
Sept. 6 at Memphis
Sept. 12 BYE
Sept. 19 Southeastern Louisiana
Sept. 24 at South Carolina
Oct. 3 at Vanderbilt
Oct. 10 Alabama
Oct. 17 UAB
Oct. 24 at Arkansas
Oct. 31 at Auburn
Nov. 7 Northern Arizona
Nov. 14 Tennessee
Nov. 21 LSU
Nov. 28 at Mississippi State

Snead's team: If the Rebels are going to make a run at their first SEC championship in more than 40 years, Jevan Snead's the guy to take them there. He was terrific over the last half of last season and took it to another level this spring. Offensive coordinator Kent Austin will be able to expand the playbook with Snead under center and give him more freedom.

Powe emerges on defense: Jerrell Powe certainly waited long enough to play in a game for Ole Miss, and after learning on the job a year ago and getting his weight down, he showed this spring that he can be a difference-maker up front. He's poised to be a big part next season of one of the deepest defensive lines in the country.

Trahan the man: The Rebels have talented defensive linemen coming out of their ears, which is the strength of this defense. But keep an eye on outside linebacker Patrick Trahan, who had his moments last season and blossomed this spring. He's a big-play linebacker with the speed, strength and desire that it takes to be a star in this league.

Fall questions

Handling the hype: From a talent standpoint, Ole Miss ranks second only to Florida in the SEC. But this is entirely new ground for the Rebels. They're probably going to be a top-10 team entering the season, and the expectations are going to be off the charts. We'll find out a lot about this team's maturity, focus and leadership next fall, because the talent is there to be special.

Solidifying the left side: Michael Oher was Snead's bodyguard from his left tackle position last season, but Oher is now counting his money after being selected in the first round of the draft. Bradley Sowell, who played some at tight end last season, had an up-and-down spring. But he enters the fall as the Rebels' starting left tackle. Top signee Bobbie Massie arrives this summer.

Is Patterson the real deal? If signee Patrick Patterson is as good as he looks on tape, then Snead is really going to have a big time slinging the ball around next season. Patterson has the size and speed everybody's looking for in a receiver. We'll see in the fall if he also has the maturity and focus to play as a freshman in this league.
March, 30, 2009
3/30/09
10:34
AM ET
Posted by ESPN.com's Chris Low
One of the priorities this spring for Ole Miss is finding a strong leader on defense and preferably more than one.
Talent won't be a problem on that side of the ball. The Rebels have plenty of it, guys who've already played key roles and guys hungry to get to that point next season.
But for all of the production All-America tackle Peria Jerry provided on the field for Ole Miss last season, his leadership might have been even more valuable.
Replacing that leadership won't be easy.
"You want one guy that says, 'Hey, look. When things aren't going just right, follow me,'" Ole Miss coach Houston Nutt said. "That's what Peria had, 'Hey, follow me. I'll show you how to get there.' His intensity was very, very high always. He had one speed, full speed. He had a lot of experience and was just a tough, tough guy. Boy, he brought a lot to our football team and in the locker room."
Nutt said it doesn't necessarily have to be somebody at Jerry's position that takes on that roles, but it has to be somebody on defense.
"Somebody's got to step up and always keep that thing together, and even if they don't say it with their words, say it by having everyone follow their actions," Nutt said. "Say it by stepping up and making a play or doing whatever it takes to help your team. That's what Peria did."
The most likely candidates are senior end Marcus Tillman, senior safety Kendrick Lewis, senior cornerback Marshay Green, junior tackle Ted Laurent and junior linebacker Jonathan Cornell. Those are the guys who've sort of set the tone to this point.
It's also going to be important for this defense that senior end Greg Hardy takes on more of a leadership role when he returns from his foot surgery.
He's been a great player in spots. If he's more consistent next season both on and off the field, this is a defense that could take it to a championship-caliber level in 2009.