December, 13, 2013
Dec 13
4:15
PM ET
Thursday delivered a
mass exodus of offensive players
from Gainesville, Fla.
Florida announced that six offensive players -- sophomore tight end
Kent Taylor
, true freshman quarterback
Max Staver
, redshirt freshman fullback
Rhaheim Ledbetter
and offensive linemen
Quinteze Williams
, freshman offensive lineman
Trevon Young
, and junior offensive lineman
Ian Silberman
-- will transfer.
On the surface, that's a lot of players, especially for a team that has struggled so much offensively in the last two seasons. It doesn't help that one of those players, Staver, was a quarterback, which is a position that still has a lot of questions surrounding it entering the 2014 season.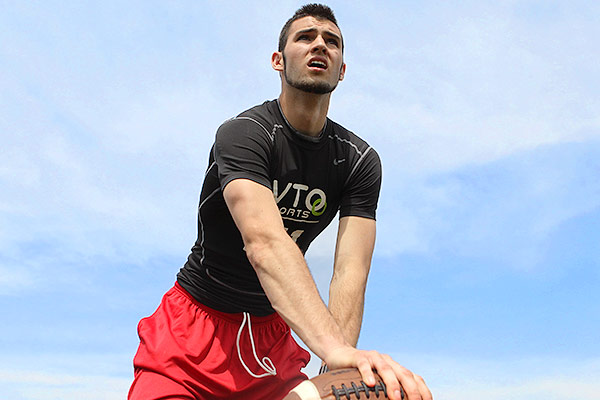 Miller Safrit/ESPNWill Grier is the No. 2 dual-threat quarterback in the ESPN 300, and he's due to arrive on campus at Florida next month.
But before Gators fans start mashing the panic button even more, it's important to point out that only Silberman had any sort of significant role with the Gators in 2013. Silberman made seven career starts, but had spent most of his career at Florida as a reserve guard. He was making strides, but with
Max Garcia
and
Tyler Moore
returning, he likely would have spent his final year in Gainesville as a reserve.
Taylor arrived at Florida with a load of hype surrounding his name, as he was ranked as the nation's No. 1 tight end. But in his two seasons with the Gators, he caught just two passes for 5 yards and a touchdown. Both of those catches came last year, as he struggled to get any real time on the field at all this season. When you talk to people around the program, it sounds like Taylor's heart just wasn't in it in Gainesville, as he spent most of his time on the practice squad.
The loss of Staver might not hurt Florida's depth as much as it seems. As bad as the play became at quarterback this season, Staver, a pro-style passer, remained on the sideline in order to preserve his redshirt. But even with the quarterback position likely up for grabs next spring and fall, Staver probably saw the writing on the wall with the Gators moving to a new offensive scheme that will add more tempo and likely utilize more runs from the quarterback.
Jeff Driskel
, who missed most of the season with a broken fibula, will return and will have two more years of eligibility if he gets a medicial redshirt. Florida also returns
Tyler Murphy
, who replaced Driskel last year, and
Skyler Mornhinweg
, who eventually replaced Murphy.
Not to mention, the Gators will welcome four-star ESPN 300 quarterback
Will Grier
in January. Four quarterbacks on the roster should be enough for Florida.
While losing players can unnerve people, Florida shouldn't hurt too much from the loss of these six players. Florida's offense had myriad issues last season, but chances are these guys weren't going to be the ones to help turn things around. That will come with a new offensive coordinator and an offensive identity.
August, 16, 2013
Aug 16
9:30
AM ET
GAINESVILLE, Fla. -- Florida fans better get a good look at senior wide receiver
Solomon Patton
this season because guys like him are going to be hard to find around here from now on.
Small guys.
The 5-foot-9, 171-pound Patton doesn't really fit into coach Will Muschamp's philosophy that bigger is better. Not just on the line of scrimmage, either. Big receivers. Big defensive backs. Big linebackers.
[+] Enlarge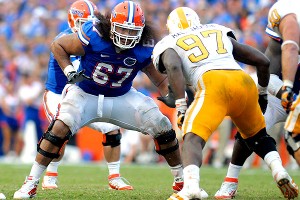 AP Photo/Phelan M. EbenhackGuard Jon Halapio, at 6 feet 3 and 321 pounds, meets Will Muschamp's size criteria to compete in the SEC.
Size does matter at Florida now. Muschamp believes it's the best way to have success in the Southeastern Conference.
"This is a big man's league," he said. "When you go pay to watch a boxing match, you don't go watch the featherweights fight. You go watch heavyweights fight. This is a heavyweight league.
"So we need have a big, physical team. You can still be really fast, but you better be big and physical if you want to win in this league right now."
Muschamp is in his third season and working on his fourth signing class, and he has certainly made the Gators a bigger, more physical team in that short period of time. To see the difference, look at UF's roster from 2009. The Gators had five starters or key contributors who were 5-9 or shorter: Jeff Demps, Chris Rainey, Ahmad Black, Markihe Anderson and Brandon James.
This year's team has only one starter that small: 5-9 safety
Cody Riggs
. Patton is a role player (he's the jet sweep guy) and the shortest player on scholarship is 5-7 freshman running back Adam Lane -- who weighs 222 pounds.
Muschamp's philosophy goes further than just the size of the players. He wants the bulk of his 85-man roster to be comprised of what he calls big-skill positions: offensive and defensive linemen, linebackers and tight ends. He wants 50. Right now he has 42 (see breakdown below).
Muschamp wants 15-17 offensive linemen, and the Gators are close to that number. They have five scholarship tight ends, too. The defensive line is where the problem is. The Gators are short on ends, especially speed rushers. There are eight scholarship defensive tackles, but only three have played in a game (
Dominique Easley
,
Leon Orr
and
Damien Jacobs
), and just two bucks (hybrid defensive end/linebacker).
It'll take at least a couple more signing classes for the Gators to be as stocked along the defensive line as Muschamp would like. Muschamp believes long-term success at Florida -- and therefore the SEC -- depends on beefing up those defensive numbers.
And not just to compete with Alabama and Nick Saban, either.
"When big guys run out of gas, they're done," Muschamp said. "We don't ever want our big guys up front to play more than six or eight snaps in a row and have the intensity you've got to play with to be successful in this league. So you can't ever have enough defensive linemen or pass rushers, especially the way the game's going.
"You look in our league at Missouri and Kentucky and Tennessee, a lot of schools are going to a little bit of a Big 12 model, like Texas A&M, where they're spreading the field, and you can't ever have enough guys that can play in space and rush the passer. The most exerting thing in football is rushing the passer. Those guys are battling against a 315-pound guy and trying to push the pocket, so you can't ever have enough of those guys."
Here's the breakdown of what Muschamp calls the big-skill players:
Offensive line
Ideal number:
15-17
Number on the roster:
14.
Tyler Moore
,
Quinteze Williams
, Rod Johnson, Octavius Jackson, Cameron Dillard,
Trip Thurman
,
Jon Halapio
,
D.J. Humphries
,
Jonotthan Harrison
,
Chaz Green
,
Max Garcia
,
Trenton Brown
,
Ian Silberman
,
Kyle Koehne
.
Comment:
The Gators will lose four players to graduation but have four offensive line commits for 2014, three of whom weigh more than 300 pounds. The line has gotten bigger, stronger and more physical since Muschamp called them soft at the end of his first season.
Defensive tackle
Ideal number:
8-10
Number on the roster:
8. Damien Jacobs,
Joey Ivie
, Leon Orr,
Darious Cummings
, Jay-nard Bostwick, Caleb Brantley, Antonio Riles, Dominique Easley.
Comment:
Not a lot of experience here, but the four freshmen (Ivie, Bostwick, Brantley and Riles) will gain valuable experience as part of the rotation this season.
Defensive ends
Ideal number:
6-8
Number on roster:
4.
Alex McCalister
,
Jonathan Bullard
, Jordan Sherit, Bryan Cox.
Comment:
Easley also can play end. This is perhaps the most flexible position, with several players having the ability to play inside on passing downs to get the best pass rushers on the field.
Bucks
Ideal number:
4-6
Number on roster:
2.
Dante Fowler
,
Ronald Powell
.
Comment:
This position also needs to be beefed up quickly, with Powell likely leaving after this year if he has a good season. Some flexibility here, too, because Cox and McCalister could spend time here.
Linebackers
Ideal number:
9-12
Number on roster:
9.
Michael Taylor
,
Matt Rolin
,
Jeremi Powell
, Jarrad Davis,
Neiron Ball
,
Darrin Kitchens
,
Daniel McMillian
,
Alex Anzalone
,
Antonio Morrison
.
Comment:
UF has one bona fide stud (Morrison) and a mix of veteran role players and freshmen. McMillian is a player to watch. He could become a starter by midseason. This is an important position group because it produces a lot of special teams players.
Tight ends
Ideal number:
3-5
Number on roster:
5.
Clay Burton
,
Tevin Westbrook
,
Kent Taylor
,
Colin Thompson
, Trevon Young.
Comment:
A lot of players, but little production so far. Burton, Westbrook and Thompson are mainly blockers, but there's optimism that Thompson can develop into someone who can work the middle of the field.
July, 31, 2013
Jul 31
4:00
PM ET
Schedule:
The Gators being practice on Friday with a split squad schedule. The first group will go at 6 a.m. ET, while the second group will go at 6 p.m. ET. Florida will hold open practice on Aug. 15, 17, 19 and 20. The first day in full pads will be Tuesday, Aug 6.
On the mend:
Quarterback
Jeff Driskel
is expected to miss two weeks after undergoing appendectomy surgery on Tuesday. Hybrid linebacker/defensive end
Ronald Powell
is returning from two ACL injuries that cost him his entire 2012 season. Linebacker
Matt Rolin
(knee) and
Trip Thurman
(shoulder) could be limited during fall practice. Linebacker
Alex Anzalone
should be healed from his spring shoulder injury.
Key battle:
Florida has to find consistent pass-catchers on offense. Junior wide receiver
Quinton Dunbar
stuck out as the top receiver, but there isn't much experience after him. Someone has to step up to be a consistent receiving threat for Driskel. True freshman
Demarcus Robinson
turned some heads this spring, but he has to get more familiar with the playbook.
Latroy Pittman
has to play with the same attitude he had last spring, too. The Gators will also work with four more true freshman receivers this fall. At tight end, the Gators are hoping
Kent Taylor
or
Clay Burton
develop into a real receiving threats, while
Colin Thompson
expands his role beyond being mostly a blocker.
Of note:
Last year, running back Mike Gillislee became Florida's first 1,000-yard rusher (1,152) since Ciatrick Fason in 2004. Florida has never had back-to-back years with 1,000-yard rushers in school history. Sophomore
Matt Jones
replaces Gillislee at running back this fall.
Predicted order of finish at media days:
Picked third in the SEC East at SEC media days.
They said it:
Driskel on what his wide receivers think about being looked down upon heading into the fall: "It's an insult. It really is. That's what they do -- they're football players -- and anytime people say that you're not good at what you do, you're going to be insulted. They've really taken it upon themselves to really improve this year and really prove everyone wrong."
June, 20, 2013
Jun 20
1:30
PM ET
Every year, players come and go in college football. With that teams can either grow or take steps back because of turnover.
It's time to check out Florida's strongest position and weakest position heading into the 2013 season:
Strongest position: Cornerback

The Gators are stacked at corner. Starters
Loucheiz Purifoy
and
Marcus Roberson
have the potential to be All-SEC players and maybe even All-Americans. Both are already projected to be first-round picks in next year's NFL draft, with Purifoy being considered one of the top overall corners in the country. Purifoy is still a bit raw, but he's extremely athletic and physical, which helps him against bigger receivers. He also plays some receiver and returns kicks, but he should spend the majority of his time at corner this fall. Roberson has lockdown ability (14 defended passes last year) and while he might not be as athletic as Purifoy, he covers a ton of ground and has tremendous technique. Florida should enter the 2013 with the SEC's top corner duo. Sophomore
Brian Poole
will also help out a lot after having a solid first year and he should start at nickel corner. Veteran
Jeremy Brown
has had an injury-plagued career, but he returns for a final season, while many feel incoming freshman Vernon Hargreaves III could step on the field and play right now.
Weakest position: Pass-catchers
This position hasn't been a strength for the Gators in quite some time. With a lot of recruiting misses and not enough development, the Gators are stuck with a group that doesn't have a consistently reliable go-to threat.
Quinton Dunbar
has had his ups and downs, but appears to be more focused now. However, a lot will be on his plate if no one else steps up. Freshman Demarcus Robinson, who enrolled early this spring, has the makings to be a true big-play receiver for the Gators, but he has no college experience.
Andre Debose
might be a dangerous return man, but he's been wildly inconsistent and unfocused at receiver during his career. After that you have speedy, multi-purpose player
Solomon Patton
, who is returning from injury, and sophomores
Latroy Pittman
and
Raphael Andrades
, who combined for four catches for 11 yards last year. Four more freshmen receivers will be on campus this fall to help with depth. As for tight end, Jordan Reed is gone, meaning the relatively inexperienced
Kent Taylor
,
Colin Thompson
and
Clay Burton
will have to grow up even more this fall.
May, 17, 2013
May 17
3:00
PM ET
GatorNation's Rankings Week concludes with a list of the Gators' top needs in recruiting for the class of 2014, as well as a list of the top players the Gators are pursuing at those positions.
Ranking UF's needs for 2014
1. Offensive line
To continue reading this article you must be an Insider
March, 13, 2013
Mar 13
11:35
AM ET
Schedule:
The Gators open spring practice today at 4:30 p.m. ET and will conclude the spring with their annual Orange & Blue Debut on April 6 at 1 p.m. ET inside Ben Hill Griffin Stadium.
What's new:
Defensive coordinator Dan Quinn left to become the defensive coordinator for the Seattle Seahawks. Will Muschamp then promoted D.J. Durkin from linebackers/special teams coach to defensive coordinator. Brad Lawing was hired away from South Carolina to help coach Florida's defensive line and was given the title of assistant head coach. Interim wide receivers coach Bush Hamdan was replaced by former Kentucky head coach Joker Phillips.
On the mend:
Redshirt junior offensive lineman
Chaz Green
will miss all of spring after undergoing ankle surgery following Florida's bowl game. Redshirt junior defensive end/linebacker
Ronald Powell
will also miss the spring while he continues to rehab his ACL injury that he suffered last spring. Redshirt junior offensive lineman
Ian Silberman
is out for the spring, as he recovers from shoulder surgery that he had before the bowl game. Freshman linebacker Matt Rolin is also out, recovering from ACL surgery. Senior offensive lineman
Jon Halapio
(knee scope), senior wide receiver
Solomon Patton
(broken arm), redshirt junior linebacker
Neiron Ball
(ankle) and punter
Kyle Christy
(shoulder) will all be limited this spring.
On the move:
Junior cornerback
Loucheiz Purifoy
will start the first seven practices at the "Z" receiver spot. Redshirt freshman Quinteze Williams moved from defensive tackle to offensive tackle. Sophomore
Antonio Morrison
moved from Will to Mike linebacker, while redshirt junior linebacker
Michael Taylor
has moved from Mike to Will. Redshirt freshman
Rhaheim Ledbetter
moved from safety to fullback. Redshirt junior
Gideon Ajagbe
also moved from linebacker to fullback. Redshirt junior
Cody Riggs
has moved from cornerback to safety, where he's listed as a starter.
Question marks:
Heading into the spring, the biggest questions remain on offense, where the Gators were incredibly inconsistent last year. Workhorse running back
Mike Gillislee
is gone, and while the Gators should feature a stable of running backs this fall, throwing the ball has to improve or this offense will go in reverse. Quarterback
Jeff Driskel
says he's more confident and offensive coordinator Brent Pease expects to open things up more in the passing game, but the Gators also have to get better protection up front and develop some more reliable receivers and replace top target, tight end
Jordan Reed
. Florida's defense has a lot of experienced youngsters, but it won't be easy to replace the production that guys like
Sharrif Floyd
,
Matt Elam
and Jon Bostic had last year. Florida is also looking for someone to replace kicker
Caleb Sturgis
. Redshirt freshman
Austin Hardin
and senior
Brad Phillips
will compete for that spot.
New faces:
Rolin, running back Kelvin Taylor, linebackers Alex Anzalone and Daniel McMillian, defensive lineman Joey Ivie, and wide receiver Demarcus Robinson all enrolled early as true freshmen. Florida also welcomed Nebraska offensive lineman transfer
Tyler Moore
(sophomore) and junior college transfer Darius Cummings (DT). Offensive lineman Max Garica also transferred from Maryland and sat out last season.
Key battle:
Florida has to find a reliable receiving target at either tight end or receiver. The athletic
Kent Taylor
figures to be the favorite at tight end, but he'll have to compete with
Colin Thompson
,
Clay Burton
and
Tevin Westbrook
. At receiver, it's a free-for-all, and there isn't a ton of experience. Purifoy will certainly get his shot, but vets
Quinton Dunbar
and
Andre Debose
have to make significant strides. So does rising sophomore
Latroy Pittman
, who fell off last year after a successful spring. Sophomore
Raphael Andrades
will be back and forth between football and baseball, while Patton will be limited. Keep an eye on Robinson, who was the top receiver in the Gators' 2013 class and is a downfield threat and someone who can be elusive through the middle of the field.
Breaking out:
Florida needs to replace Gillislee, and sophomore
Matt Jones
has already had a solid offseason, according to coaches. He progressed as last season went on and has both speed and strength to work with. The plan is for him to be a 20-plus-carry player this fall. Morrison's role now expands, and after having a very solid freshman year, even more is expected from him now that he's at the Mike. If he improves his coverage ability, he could be a big-time player for the Gators. Also, keep an eye on junior safety
Jabari Gorman
. He covers a lot of ground and isn't afraid to play in the box.
Don't forget about:
Ball and Riggs have dealt with injuries in the past, but as they get healthy, Florida's coaches are excited about what they could do in 2013. Ball will play some Buck and provides Florida with another solid third-down pass-rusher and should help the Gators put more pressure on opposing backfields this fall. Riggs played in just two games last year before fracturing his foot, but he's a very physical defensive back. With his speed, moving to safety should provide him a chance to make more plays in Florida's secondary. He was also the starter at safety when Elam went to nickel last year.
January, 31, 2013
Jan 31
2:15
PM ET
All of the underclassmen from the SEC who declared early for the NFL draft (and there were a lot this year) are officially in training mode. They've kissed their schools goodbye and are looking for riches at the next level.
It's a bittersweet feeling for coaches and fans, but in less than a week, they'll usher in the newbies that will be expected to eventually fill the holes left by those underclassmen.
But there are some big shoes to fill this year with all of those early departures.
Not to rub it in, but we thought we'd take a look at 10 juniors SEC teams will find the hardest time replacing in 2013. We're splitting it up by division, so since "E" comes before "W" in the alphabet, we'll start things off in the SEC East (in alphabetical order):
[+] Enlarge

Dale Zanine/USA TODAY SportsGeorgia will certainly miss the production of Jarvis Jones, No. 29, in 2013.

Jarvis Jones, LB, Georgia: He wasn't just one of the best players on Georgia's roster, he was one of the nation's best players overall. He was a sack artist and knew how to track players down from anywhere on the field with his speed. Jones also was a major leader for this Georgia defense, which will lose a wealth of talent and starters in 2013. Look for rising sophomore Jordan Jenkins' role to expand. Jones' 24.5 tackles for loss and 14.5 sacks will certainly be missed.

Cordarrelle Patterson, WR, Tennessee: Patterson was just beginning to scratch the surface when it came to his potential. He was one of the most dynamic players in the SEC, making noise as a receiver, a return man and a rusher. He led the SEC with 1,858 all-purpose yards (154.8 yards per game) last season and while he was still raw, he was a big play waiting to happen when he got the ball in his hands. Patterson was a real difference-maker and could have made tremendous strides and really helped Butch Jones in his first year in Knoxville.

Jordan Reed, TE, Florida: The Gators really struggled throwing the ball in 2012, but Reed was the best, most consistent receiving option for quarterback Jeff Driskel. He was an All-SEC performer in 2012, leading the Gators -- and all SEC tight ends -- with 45 catches. He also led the team with 559 yards and was second with three touchdowns. While he still showed some rawness at times, he was a mismatch for defenders, as he was too fast for most linebackers and too big for most defensive backs. The Gators didn't have any receiving targets as reliable as Reed last fall, and losing him creates a giant hole in Florida's passing game. Look for the athletic Kent Taylor to take over Reed's spot.

Sheldon Richardson, DT, Missouri: Richardson was easily the Tigers' best player in 2012. He played his way into the first round and might be poised to break into the top 15. Richardson was a major force up front for the Tigers, finishing the year with 75 tackles, including 10.5 for loss and four sacks. He could stop the run and chase quarterbacks around. He will be very hard to replace. Lucas Vincent was Richardson's backup last year, but he has a lot more room to grow. Also, nose guard Matt Hoch had a decent fall. The Tigers are overloaded at defensive end and might have to move someone over to help out at tackle.

Ace Sanders, WR, South Carolina: Marcus Lattimore was South Carolina's best offensive player when he was healthy, but even if he returned in 2013, there was no telling how much he would actually play. Losing Sanders, who surprised everyone with his decision to turn pro, is a major blow to South Carolina. He was the Gamecocks' best big-play receiver and was one of the SEC's top return specialists. Bruce Ellington's role will now expand in order to make up for the loss of Sanders on offense, and he could also get some time in the punt return game. Rising sophomore Shaq Roland will also have to grow and develop more before the fall.
January, 3, 2013
Jan 3
2:30
PM ET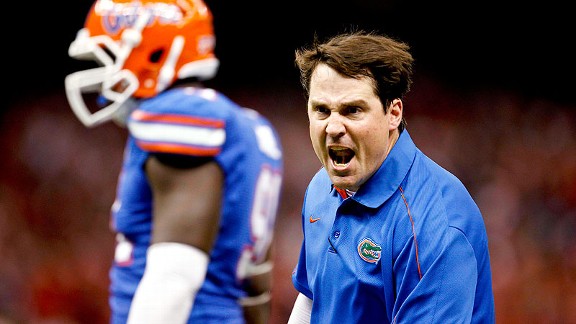 Derick E. Hingle/USA TODAY SportsWill Muschamp must evaluate the Gators' offense this offseason following a rough Sugar Bowl loss.
NEW ORLEANS -- It's funny how the perception of a team can change so quickly.
Most of the time leading up to Florida's bout with Louisville in the Allstate Sugar Bowl involved conversations about how good the Gators could be in 2013. The overwhelming thought from pretty much every side of the college football spectrum was that the Gators would handle a talented, yet, overmatched Louisville team and then wait to see how high they would rise in next year's preseason polls.
With a chunk of talent returning on defense and an offense that just had to get better, Florida was looking at being a legitimate national title contender in 2013.
However, all that talk ceased when Louisville's
Terell Floyd
intercepted
Jeff Driskel
's opening pass and took it 38 yards for a touchdown to give the Cardinals an immediate 7-0 lead. At the time, the play looked harmless in the grand scheme of things, but it proved to totally break the Gators' offensive concentration.
From there, Florida panicked offensively (star running back
Mike Gillislee
ran the ball just nine times), and Driskel's composure and pass attempts became harder and harder to watch.
The offense rarely wowed in 2012, but during its first appearence in 2013, with a month of work, it totally collapsed, leaving the Gators with a load of question marks entering spring practice.
That Gators always found a way to bounce back with its mediocre offensive attack, but had no answers against the Cardinals. Now, it really is back to the drawing board for Will Muschamp and offensive coordinator Brent Pease.
But what does Florida do? Backup quarterback
Jacoby Brissett
is still unsure if he'll return, but if he leaves, players have to have more confidence in Driskel than they had this fall. The rhythm and timing has to improve or this offense isn't going anywhere.
Driskel became a major scapegoat for the offense in the Twitterverse Wednesday night, but as former Florida quarterback Chris Leak told me after the game: It's hard to do much of anything when there isn't much of anything around you. Driskel might have composure issues in the pocket, but he has just one consistent receiving weapon in tight end
Jordan Reed
, who got injured Wednesday night. He also played behind an offensive line that was wildly inconsistent in pass protection.
Pease has said that the offensive line will be better in 2013, but that might not matter much if the Gators don't find a couple of consistent receiving threats. Reed is still on the fence about coming back, and if he doesn't, Florida will enter spring with only one player who caught 30-or-more passes in 2012 -- wide receiver
Quinton Dunbar
(36).
Pease and new receivers coach Joker Phillips have to find someone who can catch the ball on a regular basis, with or without Reed in the lineup. The Gators just can't run their offense effectively next year without it because teams won't respect the pass next year. They were
too
respectful at times this fall.
With freshmen Adam Lane and Kelvin Taylor coming to help
Matt Jones
and
Mack Brown
, the Gators will look to be run-oriented again, but as LSU has taught us, you have to have a threat to pass or you'll get eaten up against tougher defenses. And the use of the "Wildcat" will have to be greatly scaled back because it really has lost its effectiveness.
Teams respected the running game in 2012. They will look to clobber it in 2013 if a receiver doesn't step up. Will it be a freshman? Dunbar? Tight end
Kent Taylor
? Who knows, but everything this offense got away with in 2012 won't fly next season.
Florida has the defensive talent to make another strong run through the SEC, but if the offense doesn't
really
evolve in the next nine months and if Driskel still isn't comfortable for a majority of the time, scenes like Wednesday night's might be a recurring theme.
August, 3, 2012
8/03/12
9:00
AM ET
Schedule:
The Gators' first practice is on Friday, and their first day in pads is on Aug. 8. They open the season at home against Bowling Green on Sept. 1. The game will air on ESPN at 3:30 p.m. ET.

Returning starters:
Seven on offense, 10 on defense, and the place-kicker and punter on special teams.
Star power:
Junior safety
Matt Elam
was one of Florida's most heralded recruits in the 2010 recruiting class, and now could compete to be one of the top safeties in the SEC. He's the heart of the Gators' defense and can make plays all over the field, as he led Florida with 11 tackles for loss and totaled 78 tackles last fall.
New faces:
Will Muschamp isn't afraid to play freshmen, and he has a handful who could see time early. Defensive end Dante Fowler Jr. is on campus and could get looks at the hybrid linebacker/defensive end Buck position. Fellow end
Jonathan Bullard
could also compete for time outside. Also, keep an eye on tight ends
Colin Thompson
and
Kent Taylor
, who should get more reps this fall with
A.C. Leonard
's departure this summer. And cornerback
Brian Poole
could get quality reps on defense during camp.
Don't forget about:
Defensive lineman
Dominique Easley
tore his ACL in the regular-season finale against Florida State, but Muschamp has said he expects the junior to be ready to go come Game 1. Easley will rotate between defensive end and tackle this fall, and his teammates expect him to be even more disruptive this season. Easley was arguably Florida's most consistent lineman when it came to generating pressure last season, and could be primed for a breakout season. Even though he didn't have monster numbers last season, pro scouts love his potential, and a big season could put him on a lot of NFL teams' radars.
Big shoes to fill:
The Gators will surely miss the energy and production Jaye Howard gave them at defensive tackle last season. He was second on the team in tackles for loss (10) and sacks (5.5). His 5.5 sacks actually led all defensive tackles in the SEC last season. Look for Easley,
Sharrif Floyd
,
Omar Hunter
and
Leon Orr
to share reps in the middle. Also, keep an eye on junior college tackle
Damien Jacobs
, who had a solid spring.
Key battles:
There are a few battles in Gainesville this fall, but the biggest one is at quarterback, where sophomores
Jacoby Brissett
and
Jeff Driskel
will vie for the starting spot. With how even this one has been, chances are this battle will bleed into the regular season. Every wide receiver spot is up for grabs this fall, so the coaches will be keeping two eyes on every player there. Also, free safety and one cornerback spot are wide open.
Josh Evans
and
De'Ante Saunders
will compete at safety, while Poole,
Loucheiz Purifoy
,
Cody Riggs
and Jeremy Brown will compete at corner.
Rising star:
There were a lot of growing pains for
Marcus Roberson
in his freshman season last fall, but he showed at times that he has what it takes to be a top cover corner in this league. He has great speed and awareness, and has that
real
cover corner ability, but has to work on his physicality while the ball is in the air. An injury cut his first season short, but he's healthy, and the staff thinks he'll truly make a name for himself.
Bottom line:
Florida returns a lot of talent on the defensive side of the ball, but the offense has plenty of questions to answer this fall. The Gators are still looking for their quarterback, and have a lot of unproven talent at receiver and running back. The coaches insist the offensive line is better, and new offensive coordinator Brent Pease has been a welcome addition. Muschamp's first year didn't go so smoothly, and this season's schedule is a bear. But fans are beginning to get restless, and anything less than eight wins could land Muschamp on the hot seat.
May, 29, 2012
5/29/12
1:37
PM ET
By
ESPN.com staff
| ESPN.com
Derek Tyson writes
: The Gators are having a run of great success recruiting the Tampa Bay area, with signees Dante Fowler and Kent Taylor to show for it. Will it continue?
Tyson writes
: DT Joey Ivie out of Dade City, Fla., has seen his recruiting suddenly heat up.
SEC SCOREBOARD
Saturday, 12/21
Monday, 12/23
Tuesday, 12/24
Thursday, 12/26
Friday, 12/27
Saturday, 12/28
Monday, 12/30
Tuesday, 12/31
Wednesday, 1/1
Thursday, 1/2
Friday, 1/3
Saturday, 1/4
Sunday, 1/5
Monday, 1/6
Tweets from @ESPNCFB/sec