April, 19, 2012
4/19/12
11:15
AM ET
COLUMBIA, Mo. -- On paper, Missouri's group of wide receivers bleeds inexperience.
Outside of veteran
T.J. Moe
, who will be a senior this fall, Missouri's returning receiving targets have combined for 51 catches for 712 yards and five touchdowns in their careers.
But when you talk to players and coaches at Missouri, those numbers tell a much different story. They say that while the returners aren't burning up the stat sheet, it hasn't been because of a lack of talent.
"It's only unproven because guys haven't got the chance to do anything yet," Moe said. "We have a lot of good receivers out here and we have a lot of guys out here who have made plays."
Last year, Moe led the Tigers with 54 receptions and 649 yards. Behind him, Missouri had former All-American tight end
Michael Egnew
(50 receptions) and seniors
Wes Kemp
(29 receptions) and Jerrel Jackson (17 receptions), who combined for 36 starts.
"It's hard to beat those guys out because they do all the right things," offensive coordinator David Yost said.
While most of the talk concerning Missouri's receivers has revolved around inexperience and numbers, Yost and Co. are excited about what this group can do.
[+] Enlarge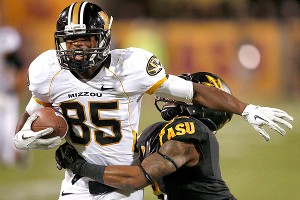 AP Photo/Matt YorkMissouri will be counting on speedy WR Marcus Lucas to make a significant impact in 2012.
Coaches and players think they have bona fide deep threats in rising juniors
Marcus Lucas
and
L'Damian Washington
. Lucas was fourth on the team in receiving last year (23 catches for 414 yards) and tied for first with five touchdowns. Washington was fifth with 20 catches for 364 yards and three scores.
Yost said both received more time as the season went on because of how explosive they were (Lucas has been clocked running a 4.3 in the 40-yard dash). Both ended the year averaging 18 yards per catch.
Washington was banged up this spring, but Lucas said he took full advantage of his time on the field. With more reps, Lucas said he shook the laziness that hurt him last year. His jogging and trudging around the field turned into sprints, his head stopped swimming and he finally learned how to finish plays after getting more comfortable in Missouri's offense.
"It comes with confidence, really," said Lucas, who caught four passes for 81 yards in Missouri's spring game. "When you don't really know exactly [what's going on] and you're guessing on what your exact assignment is it slows you down. Whenever you're out there just playing, you can play at your top-end speed."
Players like
Bud Sasser
, who worked at the Y position/tight end position,
Gahn McGaffie
and
Jimmie Hunt
, who caught an 88-yard touchdown in the spring game, all impressed this spring. So did tight end
Eric Waters
, who will now take over for Egnew, before he went down with an MCL injury that required surgery. Coach Gary Pinkel said Waters, who has two career catches, will be a key cog in the offense and should be back up to speed in three months.
Upperclassmen
Rolandis Woodland
,
Jaleel Clark
and
Kerwin Stricker
should also contribute more this fall and much ballyhooed recruit Dorial Green-Beckham, known around the program as "the big guy," will be on campus this summer.
"We're in pretty good shape," Pinkel said.
Before spring practice, 7-on-7 sessions helped build receiver chemistry, but what really brought this group together was not having quarterback
James Franklin
healthy this spring. After being sidelined with a shoulder injury, the receivers were forced to work with backups
Corbin Berkstresser
, Alex Demczak and
Ashton Glaser
.
Lucas said it was tough building chemistry with the other quarterbacks at first, but it forced the receivers to be more vocal in film sessions and in the huddle with the QBs
It also helped the receivers learn to take on more responsibility in the offense. They felt as though they were the voices this spring, and Lucas said that will be more beneficial for this group than in past seasons.
"We just want to be dominant," he said.
"We're kind of like the motor for [the offense]. We run the pace out there. If the wideouts are having a good day, it feels like the offense is having a good day."
March, 6, 2012
3/06/12
11:30
AM ET
Schedule: Missouri opens practice Tuesday at 4:30 p.m. ET and concludes the spring with its Black & Gold Spring Game on April 14 at 2 p.m. ET. The Tigers will hold scrimmages on March 17 at 10 a.m. ET and April 7 at 10 a.m. ET.

What's new: Well, Missouri will train this spring for its first season in the SEC. The Tigers left the Big 12 last fall and will officially join their new conference at July 1. The Big 12 logo is no longer at Missouri's football facility and there shouldn't be any shortage of SEC gear floating around the Tigers' practice field this spring. There will no doubt be some changes to how the Tigers operate in practice and in the weight room as they get ready for their new conference foes.
On the mend:
The Tigers enter the spring with a handful of names on the injured list. The biggest name, of course, is running back
Henry Josey
, who is still recovering from that devastating knee injury he suffered last season. Josey is supposed to undergo another surgery this spring, so he won't be available to practice and no one is sure if he'll be back this fall, either. Defensive end
Brad Madison
and defensive tackle
Sheldon Richardson
are both rehabbing from shoulder surgery and are expected to miss most of spring practice. Defensive tackle
Marvin Foster
is out for the spring after tearing his ACL during offseason conditioning. The offensive line is also banged up, as
Anthony Gatti
is recovering from ACL surgery, while
Mark Hill
is coming off of a procedure to repair a blood clot. Lineman
Connor McGovern
is also recovering from surgery.
Question marks:
Missouri's offensive and defensive lines both lost three starters from 2011. That's six starting linemen gone on a team making the move to a true line-of-scrimmage league. The offensive line will be banged up this spring, but a positive is that four returning linemen have starting experience. There's a chance that Missouri will have just one first-year starter up front this fall (left guard
Mitch Morse
). Still, replacing three quality starters on a solid line will be tough. Defensively, Missouri is very thin at defensive tackle. Richardson is recovering from surgery, so the Tigers will throw out four tackles with six combined starts -- all coming from senior
Jimmy Burge
, who saw his production dip in 2011. Madison is also recovering from surgery at defensive end, but that position is in better shape, as
Brayden Burnett
,
Kony Ealy
and
Michael Sam
have played in 63 combined games.
Key battle:
The Tigers said goodbye to three starting pass catchers from 2011, meaning this area of the team should be intense to watch this spring. Most notably, tight end
Michael Egnew
is gone.
T.J. Moe
returns as the Tigers' leading receiver, while the coaches are hoping for big things from
Marcus Lucas
, but after that there are a lot of questions. There are bodies to throw out there, but there isn't a ton of past production to go with those bodies. Outside of Moe and Lucas, Missouri's returning receiving threats have combined for 51 catches for 712 yards and five touchdowns in their careers.
L'Damian Washington
should continue to be used as a deep threat with Lucas, while
Eric Waters
should replace Egnew at tight end. Keep an eye on upperclassmen
Jaleel Clark
,
Gahn McGaffie
,
Kerwin Stricker
and
Rolandis Woodland
, who could challenge for time this spring as well. All of these players should be working extra hard before top recruit Dorial Green-Beckham arrives this summer.
Don't forget about:
Missouri might be thin up front defensively, but the linebacker spot is loaded. Starters
Andrew Wilson
, who led the Tigers with 98 tackles in 2011, and Zaviar Gooden, who was third in tackles last year, are both back. The Tigers also return
Will Ebner
, who was granted a fifth year. Those three have combined for 484 career tackles. Redshirt junior
Donovan Bonner
should be Missouri's top reserve with his ability to play all three linebacker positions. Redshirt sophomore
Darvin Ruise
played mostly special teams, but should get more reps at linebacker this spring.
Breaking out:
Lucas didn't haul in a ton of catches last season, but he showed that he can be that big-play wide receiver Missouri is searching for. He caught 23 passes for 414 yards and five touchdowns. That's an average of 18 yards per catch. He should receive more reps this spring and should improve on his 2011 numbers. He will likely play on the outside for the Tigers and will likely be Missouri's top deep threat this spring.
All eyes on:
As Missouri prepares to make the transition to face SEC defenses week in and week out, quarterback
James Franklin
will receive even more attention. He had a true breakout season in 2011, passing for 2,865 yards and 21 touchdowns, while adding 981 rushing yards and 15 more scores. But he and his coaches will have to make some adjustments to the offense in order to combat the SEC speed they'll see this fall. Franklin enters the year as one of the top quarterbacks in the SEC, but in order to build off of his 2011 season, he'll have to improve on some parts of his game, including accuracy and his downfield passing. There's even more pressure on Franklin with Josey out and with questions still surrounding the receiving corps. Franklin has all the talent to succeed in the SEC, but you have to believe that tweaks need to be made to Missouri's offense to help him along the way.