August, 26, 2013
8/26/13
1:00
PM ET
ATHENS, Ga. -- Scour the locker rooms at Georgia and Clemson and it might be difficult to find a player who knows much about their historic rivalry.
"You know me, I don't know much about Georgia's history from before I got here," Georgia quarterback
Aaron Murray
chuckled in one such response about the longtime rivalry between schools separated by only about 70 miles.
Murray is far from alone in that regard. The 22-year-old Floridian was 13 the last time Georgia and Clemson met, in 2003, and was not even alive when the annual 1980s meetings between the Bulldogs and Tigers often carried national-title implications.
Fans of a certain age might harken back to those days on Saturday, however, when the rivalry resumes -- ending the longest gap between games since the series started in 1897 -- and No. 5 Georgia visits No. 8 Clemson in Death Valley.
[+] Enlarge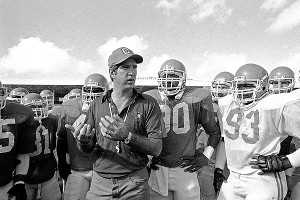 AP Photo/Kathy WillensCoach Danny Ford and Clemson beat Georgia 13-3 in 1981 and went on to win the national championship.
"Georgia was really good every year, so it meant that doggone it, somebody was going to get a lot of publicity and a lot of press, whoever won that football game," said former Tigers coach Danny Ford, who will be enshrined in Clemson's Ring of Honor on Saturday. "You could still be a good football team if you lost that game, but it just put a cramp in everything and it was so early in the year -- the first or second game or third game every year -- and you kind of knew what kind of football team [you had].
"It was kind of like a Wednesday where the kids in school call it Hump Day, you know? You're in the middle of the week, get your classes over with and you're about halfway to the weekend. That was the same kind of a hump game, where if you get off and win that football game, you've got a great chance to have a good year."
Back then, your season could be more than good if you slipped away with a win. Thanks to a 67-yard punt return touchdown by Scott Woerner and a 98-yard Woerner interception return that set up another score, Georgia edged Clemson 20-16 in 1980 despite failing to register a single first down in the opening half.
"At the end, they're back down there and Jeff Hipp makes an interception on about the 1-yard line right at the end of the game," recalled former Georgia coach Vince Dooley, who posted a 15-6-1 record against Clemson in his 25 seasons as the Bulldogs' coach. "But statistic-wise, they just knocked us all over the place."
The 10
th
-ranked Bulldogs went on to win the national title that season after barely surviving the Tigers' upset bid. And Clemson returned the favor the following year, generating nine turnovers to beat Herschel Walker and No. 4 Georgia 13-3 en route to a national title of its own.
Clemson's 1981 win marked the only time that Georgia lost in the regular season during Walker's three seasons on campus.
"They're the only team that he played more than once in his college career and didn't score a touchdown against," said UGA grad Kyle King, whose new book detailing the Georgia-Clemson series history, "Fighting Like Cats and Dogs," was published, oddly enough, by the Clemson University Digital Press. "So they really were the ones who -- to the extent anyone had Herschel's number -- they're the ones who had his number."
[+] Enlarge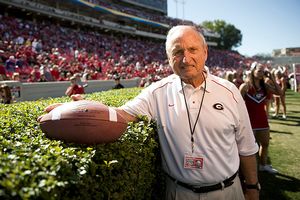 Dale Zanine/US Presswire for ESPN.comIn 25 years as coach at Georgia , Vince Dooley posted a 15-6-1 record against Clemson.
Just how close were the two teams in their respective pursuits of the national title? Georgia scored exactly 316 points during the 1980 regular season before beating Notre Dame in the Sugar Bowl to claim its first national title since 1942. The following year, Clemson matched that scoring total to the number, notching the very same 316 points in the regular season before beating Nebraska in the Orange Bowl to claim the school's first national championship.
The series continued to produce memorable outcomes on an annual basis throughout the 1980s. Take 1982, for example, when No. 7 Georgia hosted No. 11 Clemson in the first night game in decades at Sanford Stadium. Much like Saturday's game at Clemson, the 1982 game aired before a prime-time national TV audience on ABC -- that year on Labor Day evening.
Bulldogs defenders picked off four passes by Clemson quarterback and Athens native Homer Jordan en route to a 13-7 win and another undefeated regular season. Once again, the Georgia-Clemson winner played in the game that would determine the national champion, although the Bulldogs lost this time, 27-23 to Penn State in the Sugar Bowl.
Nonetheless, those first three games set the standard for one of the nastiest rivalries of the 1980s -- one where defense, big special-teams plays and general hard-nosed aggression became trademarks.
"I remember it was always a tough game for Georgia. It was a tough game, period," said Georgia running backs coach Bryan McClendon, who appeared in the series' last two games, in 2002 and 2003, and whose father Willie preceded him as a Georgia player and coach. "It was always one of the biggest games out there in the country and it's a lot like this year, to be honest with you. You never knew who was going to come out on top. Both teams always had high expectations going into each year, let alone that game. It was always a hard-fought war out there on the field."
There was the 1984 game where Georgia beat No. 2 Clemson 26-23 on a 60-yard Kevin Butler field goal -- a play that produced what King called Bulldogs announcer Larry Munson's most memorable call from a home game, when he estimated that Butler would "try to kick one 100,000 miles" and then proclaimed that "the stadium is worse than bonkers" once the kick cleared the uprights.
Clemson enjoyed its own kicking-game heroics in 1986 and 1987, when David Treadwell booted game-winning field goals at the end of the Tigers' respective 31-28 and 21-20 victories.
"We were so evenly matched, and so many came down to a field goal or a touchdown, and we were so evenly matched that all of them kind of run together in my thoughts," Ford recalled. "They'd win one and we'd win one."
That proved true throughout Ford's 11-year tenure at Clemson. A rivalry that Georgia once dominated -- the Bulldogs are 41-17-4 all-time against the Tigers and went 11-1-1 against Frank Howard, the winningest coach in Clemson history -- was extremely even in the 1980s.
Ford went 4-4-1 against Georgia while at Clemson. The scoring differential during that period? Georgia 153, Clemson 152.
"It was more about respectability for us because Georgia had the upper hand for so long back when Coach Howard [was here]," Ford said. "I tell the story all the time that Coach Howard would have to play Georgia and Georgia Tech, who was in the SEC back then, Alabama and Auburn and lose four games to have enough money to make his budget and then win the ACC conference. But back then he had to do that and he couldn't hardly ever get them to come play at our place. It was just a thing of respectability I think, more so for us in the '80s."
Respectability is no longer a problem for either of the programs who will renew their longtime rivalry on Saturday in Death Valley. Georgia's Mark Richt led his team within an eyelash of playing for the BCS title last year, and the Bulldogs enter Saturday's game with their highest preseason ranking since opening the 2008 campaign in the No. 1 spot. Clemson's Dabo Swinney has led the Tigers to a 21-6 record over the last two seasons and, blessed with a Heisman Trophy contender in quarterback
Tajh Boyd
, should boast one of the nation's most explosive offenses.
The programs no longer resemble the Ford- and Dooley-era squads that relied on defense and the kicking game to win low-scoring games, but considering the standing the Georgia-Clemson game once held in the national championship race, it seems fitting that Saturday's reunion occupies a marquee spot in college football's opening weekend.
"I grew up with this game being played pretty much every year, and it was at a time that Georgia beat Florida every year, and Georgia beat Georgia Tech every year, so Clemson and Auburn were really the two games that you went into the year thinking, 'Boy, I hope we can get out of that one with a W,' " King said. "I didn't want to lose that, and that was really what ultimately inspired me to go back and write this book.
"We're going into a season where it looks like you have two top-10 teams, two frontrunners in their conferences, two top-drawer quarterbacks going up against one another," he added. "I think it's important to remind fans that this isn't a new thing. We butted heads with these guys in big games before, and hopefully we'll get the chance to keep doing it in the future."
June, 28, 2010
6/28/10
5:24
PM ET
By
ESPN.com staff
| ESPN.com
In keeping with the spirit of the World Cup, my ESPN.com colleague, Ivan Maisel, has a piece on
famous ties in college football history
.
Hard to believe that it's been 15 years since the tie was replaced by overtime in college football. It's certainly changed strategy at the end of games. Coaches typically play for overtime now and kick the extra point instead of going for the two-point conversion and the win.
Ties involving a pair of SEC teams are featured in Maisel's piece -- Auburn's 16-16 tie with Syracuse in the 1988 Sugar Bowl and Florida's 31-31 tie with Florida State in 1994.
A few more come to mind:
In fact, in that same season Auburn played Syracuse to a 16-16 tie in the bowl game, the Tigers tied Tennessee 20-20 earlier that year in Knoxville.
The only blemish on Ole Miss' 1960 record was a 6-6 tie with LSU in late October in Oxford. The Rebels finished 10-0-1, winning the SEC championship, and were also voted national champions by the Football Writers Association of America.
Auburn tied Georgia Tech 7-7 in 1958, which was the only blemish on the Tigers' record that season. The Tigers went into that game ranked No. 2 nationally and had won 17 straight games.
Alabama and David "Deuce" Palmer rallied to tie Tennessee 17-17 in 1993 in a battle of Top-10 teams. Palmer scored on a two-point conversion in the final seconds to forge the tie, which was later forfeited because of NCAA sanctions against the Crimson Tide.
Alabama went unbeaten in conference play to win the 1981 SEC championship, but lost two games that season and tied one. The tie was to Southern Miss, 13-13, at Legion Field in Birmingham. That next season, Bear Bryant's last at Alabama, Southern Miss beat Alabama 38-29 in Bryant's final game at Bryant-Denny Stadium.
LSU and Alabama played to a 14-14 tie in 1985 in Baton Rouge, which cost the Tigers a share of the SEC championship. LSU had a chance to win the game, but missed a 24-yard field goal with five seconds to play.
Colorado and Tennessee played to a 31-31 tie to open the 1990 season in the Pigskin Classic in Anaheim, Calif. The Buffaloes went on to win the Associated Press national championship that season.
In 1979, Charlie Pell's first season at Florida, the Gators played Georgia Tech to a 7-7 tie in Gainesville. The reason that tie was significant was that it marked the only game all season the Gators didn't lose. They finished 0-10-1.
Georgia and Clemson battled to a 16-16 tie the second game of the season in 1983. The Bulldogs rallied from a 16-6 deficit and tied the game with 38 seconds to play on Kevin Butler's 31-yard field goal. The game ended in bizarre fashion. Clemson's Donald Igwebuike tried a 68-yard field goal in the final seconds that was no good, leaving a second on the clock. Butler then tried one from 66 yards for the Bulldogs that was also short.
June, 18, 2010
6/18/10
9:00
AM ET
By
ESPN.com staff
| ESPN.com
In celebration of Father's Day Sunday (and a shout out to all the fathers out there), here's a look at some of the players in the SEC with famous dads and players who are legacies at their schools:
[+] Enlarge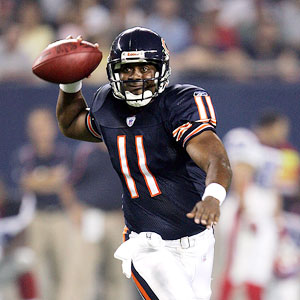 Jonathan Daniel/Getty ImagesJeff Blake, Auburn receiver Emory Blake's father, was a Pro-Bowl quarterback for the Bengals and retired with the Bears.
Jake Bequette, DE, Arkansas:
Jay Bequette played center at Arkansas under Lou Holtz from 1980-82 and is now a well-known attorney in Little Rock. Four members of the Bequette family have played for the Hogs. Jake's uncle, Chris, played in the mid 1980s and his grandfather, George, played in the mid 1950s.
John Brantley, QB, Florida:
John Brantley III played quarterback at Florida in 1977 and 1978 and led the Gators in passing during the 1978 season.
Jabo Burrow, OG, Vanderbilt:
Mike Burrow was an All-SEC offensive lineman at Auburn in 1978 and was drafted in the sixth round by the Buffalo Bills.
Emory Blake, WR, Auburn:
Jeff Blake
was a quarterback for seven different NFL teams. His best season came in 1995 with the Cincinnati Bengals when he was selected for the Pro Bowl. "Shake-N-Blake" retired following the 2005 season with the Chicago Bears.
Drew Butler, P, Georgia:
Kevin Butler is one of the most decorated place-kickers in college football history and a member of the College Football Hall of Fame. He was a two-time All-American at Georgia and played for both the Chicago Bears and Arizona Cardinals professionally, ending his career with 1,208 points -- the sixth most in NFL history among kickers.
Jessel Curry, LB, Auburn:
Buddy Curry was a two-time All-Pro linebacker with the Atlanta Falcons and named the NFL Defensive Rookie of the Year in 1980. Curry played collegiately at North Carolina.
T-Bob Hebert, C, LSU:
Bobby Hebert, nicknamed the Cajun Cannon, was a two-time Pro Bowl quarterback with the Atlanta Falcons in 1994 and 1995 and led the New Orleans Saints to their first playoff appearance prior to that in 1991. Hebert is still as popular as ever in New Orleans and does a radio talk show in New Orleans on WWL, the Big 870.
Brandon Henderson, TE, Mississippi State:
Keith Henderson was a running back at Georgia in the mid 1980s and went on to play four seasons in the NFL with the San Francisco 49ers.
Mark Ingram, RB, Alabama:
Mark Ingram Sr. was an NFL wide receiver who played for 10 seasons in the league and four different teams. He was one of the heroes for the New York Giants in their Super Bowl XXV victory over the Buffalo Bills with his memorable catch and run on a third-and-13 play.
Greg Meisner, FB, Kentucky:
Greg Meisner played 11 seasons in the NFL as a defensive tackle with the Los Angeles Rams, Kansas City Chiefs and New York Giants. Meisner played collegiately at Pittsburgh and was a senior on that talent-laden 1980 team that produced seven first-round draft choices and three Pro Football Hall of Famers.
Jared Mitchell, WR, Ole Miss:
Stump Mitchell played eight seasons in the NFL as a running back for the St. Louis Cardinals. His best season came in 1985 when he rushed for more than 1,000 yards. He's also been an assistant coach in the NFL and takes over in 2010 as the head coach at Southern University.
Morgan Ogilvie, QB, Alabama:
Major Ogilvie was a fixture in Alabama's wishbone offense in the late 1970s. He scored 25 career touchdowns and was a part of two national championship teams while playing under the legendary Bear Bryant.
Nick Reveiz, LB, Tennessee:
Fuad Reveiz was a kicker for 11 seasons in the NFL, playing for the Miami Dolphins and Minnesota Vikings, and kicked a school-record 71 field goals during his career at Tennessee. He kicked a 60-yarder against Georgia Tech during the 1982 season.
Sam Robey, C, Florida:
Rick Robey was a two-time All-American in basketball at Kentucky and one of the stars on the Wildcats' 1978 national championship team. He went on to play professionally for the Boston Celtics and Phoenix Suns.
Corey Simmons, TE/DE, South Carolina:
Clyde Simmons was a two-time Pro Bowl defensive end with the Philadelphia Eagles and led the NFL in sacks in 1992 with 19.
April, 9, 2009
4/09/09
11:58
AM ET
By
ESPN.com staff
| ESPN.com
Posted by ESPN.com's Chris Low
A tour around the SEC to see what's out there: