March, 11, 2014
Mar 11
12:00
PM ET
Half of the SEC teams have started officially-sanctioned football-related activities with Missouri and Vanderbilt opening spring practice on Tuesday. There's a lot going on.
February, 19, 2014
Feb 19
10:00
AM ET
It's not that unusual in the SEC to see former head coaches at the collegiate level (or even the NFL level) show back up in an assistant's role.
For example, Cam Cameron just finished his first season as LSU's offensive coordinator. He was the Miami Dolphins' head coach in 2007 and served as Indiana's head coach from 1997-2001.
[+] Enlarge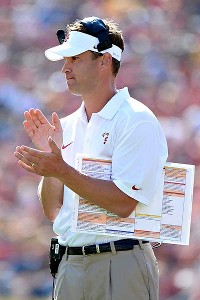 Harry How/Getty ImagesLane Kiffin is among the former head coaches on Nick Saban's Alabama staff.
Former Miami coach Randy Shannon is on Bret Bielema's staff at Arkansas. Former Marshall coach Mark Snyder is Kevin Sumlin's defensive coordinator at Texas A&M. Former UCLA coach Karl Dorrell was recently announced as Vanderbilt's offensive coordinator under first-year coach Derek Mason. Former Kentucky coach Joker Phillips is Florida's receivers coach, and Auburn defensive coordinator Ellis Johnson spent one season as Southern Miss' head coach before joining Gus Malzahn on the Plains.
At Alabama, Nick Saban has five former head coaches working under him, counting director of football operations Joe Pannunzio. Prior to going to Miami, his last stop before joining Alabama, Pannunzio was Murray State's head coach from 2000-05.
The newest former head coach on Saban's on-the-field staff is a familiar face and a valuable one. Kevin Steele, who was the head coach at Baylor from 1999-2002, is moving back on the field as inside linebackers coach and will also be a special assistant to the head coach after serving in a player personnel role at Alabama last season. Steele, one of the top recruiters in the business, also coached linebackers at Alabama in 2007 and 2008 before going to Clemson as defensive coordinator.
Steele is one of three coaches on Alabama's 2014 staff who left to go elsewhere and are now back. Defensive line coach Bo Davis returned after spending the last three seasons at Texas. Outside linebackers coach Lance Thompson is on his third different stint with Saban. They were together at LSU in 2002 and 2003, and Thompson spent the first two seasons with Saban at Alabama in 2007 and 2008 before going to Tennessee for three seasons and then returning to Alabama in 2012.
Ironically enough, Thompson was lured away from Alabama following the 2008 season to join Lane Kiffin at Tennessee. Kiffin is entering his first season on Alabama's staff as the Crimson Tide's quarterbacks coach and offensive coordinator. He's one of the five assistants on this staff with head coaching experience, with the NFL's Oakland Raiders as well as Tennessee and USC in the collegiate ranks.
Offensive line coach Mario Cristobal was the head coach at Florida International from 2007-12, while tight ends coach/special teams coordinator Bobby Williams followed Saban as head coach at Michigan State from 2000-02.
Counting current defensive coordinator Kirby Smart, seven of the nine on-the-field coaches on the Tide's 2014 staff have either been a head coach or offensive/defensive coordinator at the FBS level.
Saban, for all the talk about being so controlling, likes having that kind of experience on his staff and particularly likes having guys on his staff who are going to challenge his thinking. It also speaks to his security that he would have so many former head coaches on his staff, not to mention the fact that he's not hesitant to bring guys back.
He has never been shy about tweaking his staff, either. Every year he has been at Alabama, he's had at least one coaching change.
February, 14, 2013
2/14/13
9:15
PM ET
Kevin Steele is back at Alabama, this time as the Crimson Tide's director of player development.

Alabama's defensive coordinator during the 2007 and 2008 seasons under Nick Saban, Steele will direct the Crimson Tide's recruiting efforts in his new role. Steele was most recently Clemson's defensive coordinator from 2009-11 and was an administrative aide and consultant to his longtime friend, John Chavis, at LSU last season.
What the Tide are getting in Steele is one of the best recruiters in the business and a guy who has a wealth of football experience. He has coached in the NFL. He was the head coach at Baylor, and he's made assistant-coaching stops at such places as Nebraska, Florida State and Tennessee.
With the new NCAA recruiting rules that are slated to go into effect Aug. 1, Steele will be a huge asset for the Tide, who had already assembled one of the most effective recruiting machines in college football.
Saban also announced Thursday that Kerry Stevenson had joined the staff as the team's director of player development. Getting a former high school coach with ties to the Mobile, Ala., area should also come in handy for the Tide, who lost Jeremy Pruitt to Florida State as defensive coordinator. Pruitt had done a bang-up job of recruiting the Mobile area for Alabama.
Saban is also in the process of trying to replace Jeff Stoutland as offensive-line coach. Former Fresno State head coach Pat Hill is somebody to keep an eye on. Hill was the Atlanta Falcons' offensive line coach this past season and coached with Saban on the Cleveland Browns' staff in the early 1990s. Also, South Carolina offensive-line coach and co-offensive coordinator Shawn Elliott was scheduled to interview with Saban on Thursday.
January, 6, 2012
1/06/12
2:51
PM ET
We're taking time out of our Big Easy schedule to check out some links from around the league.
Allstate BCS National Championship Game:
SEC:
January, 20, 2010
1/20/10
4:47
PM ET
Derek Dooley wasn't necessarily Tennessee's first choice as head coach, so it's probably fitting that Dooley isn't going to get his first choice as defensive coordinator, either.

The Vols made an aggressive push for Clemson defensive coordinator Kevin Steele, and Steele was close to taking the job at one point. In fact, he indicated to some that's what he thought he was going to do.

But after a couple of days of mulling it over and talking with Clemson coach Dabo Swinney and his players, Steele called Dooley on Wednesday and gave him his final answer -- that he was staying at Clemson.

"The bottom line is, at the end of the day, I'm excited about the kind of players we have at Clemson, the progress we're making, and the direction things are headed," Steele told ESPN.com's Heather Dinich. "I just felt like the best place for me to do what I do was at Clemson. At the end of the day, it's about the players. And at the end of the day that's why I'm at Clemson."

He turned down a lot of money. The Vols were offering Steele a three-year deal averaging $750,000 annually. Clemson will up the ante for Steele, but the Tigers aren't going to pay $750,000.

Steele would have been a quality hire for Dooley, who made a wise choice in keeping Jim Chaney as his offensive coordinator. Chaney was under-utilized on the previous staff.

The Vols are obviously prepared to spend big money, so they should get a seasoned coach to head up their defense.

And what about the going rate now for defensive coordinators in the SEC?

Monte Kiffin was making $1.5 million (with his bonus) before leaving Tennessee. Georgia just hired Todd Grantham for $750,000 per year. Alabama's Kirby Smart will see his salary go to the $700,000 range annually after being wooed by Georgia, and LSU's John Chavis also got a bump to the $700,000 range after Georgia came after him.

Ole Miss' Tyrone Nix is another one who got a raise (to right around $400,000) after Florida's Urban Meyer tried to hire him.
January, 20, 2009
1/20/09
5:01
PM ET
Posted by ESPN.com's Chris Low
For a guy who's supposedly not too fond of the media, Alabama coach Nick Saban sure churns out his share of interesting quotes.
In talking to reporters at the Senior Bowl on Monday, Saban made it clear that he wasn't fretting about losing assistants Kevin Steele and Lance Thompson.
In other words, the Alabama recruiting machine hasn't slowed down one bit.
"[Recruits] are really buying into the whole program," Saban said. "So the guy that sells you the car is maybe not as important as the car itself. We want to have a Mercedes at our place, and that's the way it is."
Pretty catchy, Nick.
No wonder the guy can recruit.
January, 19, 2009
1/19/09
10:53
PM ET
Posted by ESPN.com's Chris Low
Alabama coach Nick Saban says he has no interest in going back to the NFL to coach, but he has no problem scouring the NFL for assistant coaches to fill out his staff.
As first reported by ESPN The Magazine's Bruce Feldman, Saban has reached an agreement with former Carolina Panthers defensive line coach Sal Sunseri to join Alabama's staff. Sunseri, an All-American linebacker at Pittsburgh, is expected to coach the linebackers for the Crimson Tide.
Sunseri replaces Kevin Steele, who left to take the defensive coordinator job at Clemson. Steele, too, had coached in the NFL previously, as has current Alabama offensive line coach Joe Pendry. Assistants Bobby Williams and Bo Davis have also spent time on NFL staffs.
This isn't the first time Sunseri has worked for Saban. Sunseri was on Saban's staff at LSU in 2000 and also worked under Williams at Michigan State.
January, 1, 2009
1/01/09
11:37
PM ET
Posted by ESPN.com's Chris Low
It's been in the works now for a couple of weeks, but it appears that Kevin Steele's move from Alabama to Clemson is imminent.
New Clemson coach Dabo Swinney is expected to announce on Saturday that Steele will be his defensive coordinator next season. Steele has been with Nick Saban for the last two seasons on the Alabama staff. He was the defensive coordinator in 2007 and had his title changed to defensive head coach this season.
Kirby Smart was named the Crimson Tide's defensive coordinator this season, and Nick Saban is also heavily involved in coordinating the Alabama defense.
At Clemson, it will be Steele's defense. He'll coordinate the defense and make all the calls. He's also expected to receive a raise from the $360,000 he was paid at Alabama this season.
Ironically, Steele will take over at Clemson after his longtime friend, former Tennessee defensive coordinator John Chavis, declined the Tigers' overtures and instead agreed to become the defensive coordinator at LSU. Steele and Chavis go back to their high school days together in Dillon, S.C.
December, 29, 2008
12/29/08
6:30
PM ET
Posted by ESPN.com's Chris Low
With coordinators, associate head coaches and the like coming and going in the SEC, the next one on the move could be Alabama's Kevin Steele.
The Crimson Tide's associate head coach and head defensive coach has emerged as the leading candidate to be Clemson's defensive coordinator. Look for a quick decision from Steele following the Allstate Sugar Bowl on Jan. 2.
Former Tennessee coach John Chavis was one of the first guys new Clemson coach Dabo Swinney targeted, but Chavis has agreed to join the LSU staff and is expected to be named the Tigers' new defensive coordinator later this week.
Steele went to high school in Dillon, S.C., and has coached everywhere from Tennessee, to Nebraska, to Florida State before joining Nick Saban at Alabama in 2007. He also spent four years in the NFL with the Carolina Panthers and was the head coach at Baylor from 1999-2002.
A renowned recruiter, Steele has also developed several standout linebackers, including Ernie Sims and Lawrence Timmons at Florida State and Rolando McClain at Alabama.
Some might wonder why Steele would leave Alabama for Clemson. For one, he would be fully in charge of the defense at Clemson, whereas it's more of a collaborative effort at Alabama among Nick Saban, Kirby Smart and Steele.
October, 23, 2008
10/23/08
1:05
PM ET
Posted by ESPN.com's Chris Low
We take our daily stroll through the SEC to see what else is out there:
October, 23, 2008
10/23/08
10:06
AM ET
Posted by ESPN.com's Chris Low
A handful of assistant coaches in the SEC will likely be in play for head-coaching jobs at the end of season when the coaching dominoes start to fall around the country.
Florida's coordinators, Dan Mullen and Charlie Strong, have head coach written all over them. Down the road, Georgia offensive coordinator Mike Bobo may have a chance, and Ole Miss' Kent Austin is one to watch. Kentucky's Joker Phillips has already been pegged to replace Rich Brooks.
LSU offensive coordinator Gary Crowton deserves another chance, especially with how creative the Tigers have been on offense this season.
Nick Saban has a couple of guys on his staff that also deserve a shot, and I wouldn't be surprised to see Kevin Steele's name connected to a bunch of jobs come December. He's Alabama's associate head coach/head defensive coach and is a terrific recruiter. His resume includes both college and NFL experience, and he has head-coaching experience.
Saban swears by Steele, who's in his second year at Alabama after spending the previous four as the executive head coach to Bobby Bowden at Florida State.
"Kevin's an outstanding coach and outstanding recruiter," Saban said earlier this year. "He has become a right-hand man for me. He's certainly a guy who would make a fantastic head coach. Of all the assistant coaches I've had, Kevin's as fine as any of them."
October, 9, 2008
10/09/08
2:31
PM ET
Posted by ESPN.com's Chris Low
Having taken a look at the best coordinators in the SEC earlier today, we turn our attention to the best position coaches. Keep in mind that some of these guys may have a coordinator title or even an assistant head-coaching title.
The other thing to remember in all this is that some head coaches are more hands-on than others in calling plays on offense and making the calls on defense.
Anyway, here's our list (alphabetically) of the 15 best position coaches and/or assistants in the SEC. I'll be interested to hear your feedback:
Shane Beamer, cornerbacks, South Carolina
Mike Bobo, quarterbacks, Georgia
Jamie Bryant, secondary, Vanderbilt
Robbie Caldwell, offensive line, Vanderbilt
Rodney Garner, defensive line, Georgia
Chuck Heater, safeties, Florida
Hugh Nall, offensive line, Auburn
Joe Pendry, offensive line, Alabama
Paul Petrino, receivers, Arkansas
Tracy Rocker, defensive line, Ole Miss
Randy Sanders, quarterbacks, Kentucky
Stacy Searels, offensive line, Georgia
Kirby Smart, secondary, Alabama
Kevin Steele, linebackers, Alabama
Greg Studrawa, offensive line, LSU
August, 4, 2008
8/04/08
10:48
AM ET
Posted by ESPN.com's Chris Low
ATHENS, Ga. -- Here's something you don't see very often at Alabama under Nick Saban: His two coordinators being interviewed.
Saban generally doesn't allow his assistants to talk to the media in an effort to have one voice speaking for the program. It was the same way when he was at LSU. But with the Tide holding media day on Sunday morning, he let reporters have a few minutes with new offensive coordinator Jim McElwain and head defensive coach Kevin Steele.
Courtesy of The Tuscaloosa News, here's video of McElwain's and Steele's chats with the media. Too bad we don't get to hear much from either guy, because they're both engaging and comfortable speaking publicly.