September, 20, 2013
9/20/13
2:00
PM ET
Arkansas has turned things around in a hurry under the new leadership of coach Bret Bielema. Stability, Razorbacks center
Travis Swanson
explained, has been a huge benefit to a program that had very little of it a year ago.
Now, Arkansas is undefeated (3-0) heading into a pivotal matchup against Rutgers. Will Bielema's ground-and-pound style of offense hold up? Will
AJ Derby
be able to fill in under center with
Brandon Allen
questionable? And just how good does this team feel with momentum finally on its side?
Swanson, an All-SEC selection and one of Bielema's favorites on the team, was kind enough to answer those questions and more in an interview with ESPN.com this week.
How important was it to get off to a good start this season? What's the feeling like having this program undefeated heading into a big game against Rutgers?
Travis Swanson:
I think it's been a great start to us, obviously with the whole new coaching staff, a whole new kind of program that we have here at Arkansas. The whole team feels like it's just monumental for us to go undefeated, especially into this Rutgers game to have some good momentum to work with.
[+] Enlarge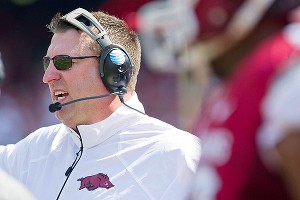 Beth Hall/USA TODAY SportsNew Arkansas coach Bret Bielema has brought stability to the 3-0 Razorbacks.
With Bielema coming in and the early success, can you quantify what the culture change has been like? It felt like it got really difficult toward the end of the year last season. Just how much have things changed?
TS:
A lot has been changed, obviously, with a whole new staff. Any time you have a coaching change, everything changes because each coach is different with their philosophy and everything. I think the biggest change from last year to this year is just that now we know who we have here and there are no questions about what's going to happen at the end of the season.
What have you seen on film on this Rutgers team you'll face Saturday?
TS:
The biggest thing you see on film when you look at them as a defense is they don't really pump out these big, hulking guys. They're just very athletic. They're very good at what they do. The thing that helps us is they run the same defense as Southern Miss did, which we played last week, so there's a lot of carryover. And things that we saw that we didn't do well against this style of defense that we could correct this week.
Are you at a point now where you feel like you have to manage expectations, though? Just how much progress does this team have to make before it can contend in SEC play?
TS:
You've got to make progress this week. If you plateau during the beginning of the season, you're going to have a pretty rough year. But I feel like week in and week out this team has come together and just gotten better and better, especially this week.
Tell me a little about the play of your two young tailbacks, Jonathan Williams and Alex Collins. Has their early success surprised you?
TS:
I wouldn't say surprised. We're obviously a different offense than we were last year, and we kind of knew the identity we wanted for ourselves early in the season and we've had success doing that.
Tell me about their styles: What makes them special? What makes them different?
TS:
Really all three of them, including
Kiero Small
, complements each other so well. They each bring something different to the table that just brings a lot of versatility to the offense. Jonathan is a little bit bigger than a back and a lot more downhill, and Alex is a little bit shiftier kind of guy we like to get out on the edge and whatnot. And when you throw Kiero in that equation lead blocking for them, it's a deadly combo.
I was going to ask about Kiero, but you beat me to it. How important has he been as that lead blocker and have you felt good about what the offensive line has been able to do opening holes in that same respect?
TS:
Kiero is such a huge asset to this offense. He can really do anything that you want to. All you have to do is ask him to do it and he'll line up and execute for you. He's just one of those guys. And as far as offensive line goes, we take, obviously, huge pride in the run game and keeping the quarterback upright and whatnot. So the early success the running backs have had has made us happy. We just want to continue that from here on out.
As an offensive lineman, you've got to love the ground-and-pound offense coach Bret Bielema has brought in, right?
TS:
The best part about it is that it keeps the defenses on their heels because when you can run the ball well it opens things up with play-action pass and whatnot.
Losing Brandon Allen last week was tough, but AJ Derby filled in admirably and helped secure the win over Southern Miss. What have you seen from him this week to feel good going into Saturday's game?
TS:
I feel great about all the quarterbacks that we have. No matter what coach decides and who he decides to put in there, I know that our entire team has the utmost faith with who is in there. The quarterbacks came to work this week because they really don't know the situation heading into the game, but we have all the confidence in who they put out there.
September, 6, 2013
9/06/13
12:15
PM ET
Friday is finally here, which means it's time for Week 2 in college football. Take one last look around the SEC before the teams hit the field Saturday.
August, 30, 2013
8/30/13
9:50
AM ET
Bret Bielema is the epitome of a man's man.
His personality and bravado would be welcomed at any fraternity party, while his barrel-chested frame and grittiness is perfect for a cage fight.
It's the latter persona that Bielema hopes his new team adopts during his first season as Arkansas' head coach while he tries to bring his more physical style from Wisconsin to Fayetteville, Ark.
[+] Enlarge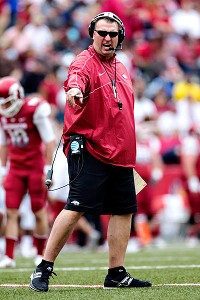 Wesley Hitt/Getty ImagesBret Bielema is hoping his fiery personality carries over to his new team.
His players aren't exactly ready for the Octagon, but Bielema likes how guys have adapted to a more rugged style. For a team used to finesse on both offense and defense, the transition wasn't easy, but with the Razorbacks a day away from their first game under a new regime, Bielema is pleased with the strides made in the toughness department.
"They've embraced everything we've asked them to," Bielema said. "They train a certain way, they eat a certain way, they sleep a certain way and they recover in a way that allows them to be at full strength when they're playing. I couldn't be happier with the results."
To Bielema, everything is very much a work in progress, but the Hogs' baby steps have really impressed him. This team had to prepare for more hitting and contact in practice and harder training sessions. Bielema wanted players to hurt physically and mentally before they could fully appreciate his new brand of ball.
And it wasn't for everyone. Bielema saw -- and expected -- transfers before heading into fall camp and expects other issues as the fall progresses.
"With the style of play that we like to do, you're going to have a little bit of a spike in injuries," Bielema said. "The good fortune is that only one has been season-ending."
But that season-ending injury came at a position already suffering to find an identity: wide receiver.
The relatively inexperienced unit took a major blow when senior
Demetrius Wilson
, who was the team's top receiver this spring and fall, went down with an ACL injury. Linebacker
Otha Peters
(broken arm) and tight end
Austin Tate
(shoulder surgery) could also miss six weeks, while receiver
D'Arthur Cowan
could also miss significant time after breaking a bone in his foot.
Bielema estimated that 10-12 other players went down with nagging injuries during fall camp, but were all able to return. Bielema considers the injuries "a true blessing in disguise" by allowing younger players get more reps, especially at receiver. Guys like
Eric Hawkins
,
Drew Morgan
and
Melvinson Hartfield
have been able to get their feet wetter than expected and will make their Arkansas debuts Saturday against Louisiana-Lafayette.
"It's going to be fun to see the next man in," Bielema said. "That's all that good football teams do. They continue to improve, even though people leave the lineup."
Losing receivers hurts, but in order for Bielema's offense to go, he needs a bruising back to take the reins and he one in sophomore
Jonathan Williams
, who possesses a ferocious downhill running style at 6-foot, 222 pounds.
He'll get help from fullback
Kiero Small
and freshman
Alex Collins
, but Bielema has no problem handing Williams the keys to the offense.
"He definitely has the shoulder pads over his toes," Bielema said. "He goes and gets the 4 yards. He takes advantage of a hole that might turn 4 (yards) into 40. On the flip side, he isn't looking for anybody to give him any freebee or anything. He wants to earn every inch and when you get that combined with a lot of ability, you usually get something good."
Defensively, Bielema has one of the SEC's best defensive lines, but he's had to find depth at linebacker by rotating a lot of bodies, especially in the middle where Bielema said
Austin Jones
and
Martrell Spaight
have really developed. He's also been pleased with
Jarrett Lake
and
Braylon Mitchell
outside.
There are still hiccups here and there, but Bielema likes where his players' heads are. The Hogs have been through so much turmoil in the last year and a half, but they're trying to pave their own way out of the darkness that was 2012. They know their past has everyone counting them out, but Bielema embraces low expectations. He and his team are motivated by being told what they can't do.
"Prognosticators are going to think what they think," he said. "The ones that really matter are the people that are in our room and our kids have worked very, very hard to achieve a certain level of success and they expect to get it. They don't expect anyone to give them anything they didn't earn. They just want to go out there and earn what they can see where that can take them."
August, 9, 2013
8/09/13
12:00
PM ET
Here's a little reading to get your weekend jump-started.
August, 2, 2013
8/02/13
3:00
PM ET
Schedule:
The Hogs will open preseason practice on Monday. Their first day in full pads is scheduled for Friday, Aug. 9.

On the mend:
Sophomore linebackers
A.J. Turner
(wrist) and
Otha Peters
(hip) didn't do much in the spring while recovering from injuries. Senior safety
Eric Bennett
battled through an assortment of injuries last season, but is healthy heading into camp.
Key battle:
Sorting things out at linebacker is at the top of the Hogs' to-do list this preseason. A pair of junior college newcomers will factor in prominently --
Myke Tavarres
and
Martrell Spaight
. Tavarres enrolled in January and went through spring practice. True freshman
Brooks Ellis
could also get an early look. The spring ended with fourth-year junior
Daunte Carr
, a former safety, listed No. 1 at middle linebacker along with fourth-year junior
Braylon Mitchell
at strongside linebacker and senior
Jarrett Lake
at weakside linebacker. Turner and Peters both had their moments as true freshmen and will almost certainly climb back into the rotation as long as they're healthy. Former Miami head coach Randy Shannon is the Hogs' linebackers coach, and he will mix and match to get the right combinations on the field.
Of note:
Bret Bielema won 12 games in his first season as head coach at Wisconsin (2006), but it wasn't until his fifth season that the Badgers won a Big Ten championship, the first of three straight Big Ten titles on Bielema's watch.
Predicted order of finish:
Picked seventh in the West at SEC media days.
They said it:
"It's a spread world right now, so seeing a coach who's going to come in and run the football and play a physical brand of football is something we were all excited about." -- Arkansas fullback
Kiero Small
July, 12, 2013
7/12/13
3:00
PM ET
The
Arkansas Razorbacks
aren't running from anyone in 2013. They want everyone to know who and where they are.
It's been evident in the bravado new coach Bret Bielema has shown since his hire, and it became more obvious when
this year's media
displayed the Twitter handles of Bielema (
@BretBielema
), fullback
Kiero Small
(
@KieroSmall36
), center
Travis Swanson
(
@TSwan64
) and defensive end
Chris Smith
(
@42Arkansas
).
[+] Enlarge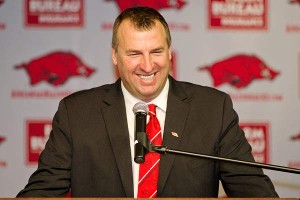 Beth Hall/USA TODAY SportsCoach Bret Bielema already has over 63,000 followers on Twitter.
The idea was concocted by assistant athletic director for media relations Zack Higbee and assistant media relations director Derek Satterfield. The idea was to create more interaction between Arkansas' players and their fans and make players more personable. It will certainly bring a lot more attention to these guys, but Swanson said it's something he and his teammates embrace, especially with how much social media impacts people's lives.
"When I first heard that that's what they were going to do with the media guide, I thought it was a good idea," Swanson said. "It's a good way for the fans to stay connected to players and the program. I like it.
"It says a lot about our administration to put our Twitter names on there because that's a lot more responsibility put on us. It's always a good feeling to know that they trust us with this. I know there are going to be some changes in there as far as Twitter goes, but we're all ready for it."
Swanson, who currently has more than 3,700 followers said he gained around 100 more when Bielema first tweeted out the new media guide cover.
Speaking of Bielema and Twitter, he's certainly been no stranger to it and how it works. He's interacted with fans, in both a good and bad way, and recently sent out a tweet that
resulted in a minor NCAA issue
. His combative back-and-forth with Twitter users, particularly Wisconsin fans still bitter about his surprising departure, has made waves.
You'd think it'd be a distraction, but Swanson says he likes his coach's fire.
"I think Coach B handles himself just fine on Twitter," he said. "There's always going to be people out there who have it out to always try and get to someone. I feel like people tweet at him just to get a response from him. We don't worry about it. We know he knows what he's doing.
"He gives us the sense that he's not really going to take anything from anyone, and that's kind of the mentality and the attitude that he tells us to be like."
Swanson likes Arkansas' new fan-friendly cover, but he's not looking to be the next
Johnny Manziel
or Justin Bieber on Twitter. He's happy with maintaining some anonymity.
"I don't need the whole Twitter celebrity name," he said. "I think it's a good way for Arkansas fans to keep up with exactly what's going on because it's hard and people don't watch the news like they used to anymore. Social media is kind of the mainstream thing to go to now."
June, 18, 2013
6/18/13
3:45
PM ET
Every year, players come and go in college football. With that teams can either grow or take steps back because of turnover.
It's time to check out Arkansas' strongest position and weakest position heading into the 2013 season:

Strongest position: Defensive line
New coach Bret Bielema wants a powerful team and he'll have a pretty good unit to work with along the defensive line. Three starters are back in tackle
Byran Jones
and ends
Chris Smith
and
Trey Flowers
. They are all talented, they are all veterans and they all registered more than 50 tackles last year. Flowers and Smith might actually be one of the most underrated defensive end duos in the SEC, as they combined for 26 tackles for loss and 15.5 sacks in 2012. This was the only duo to rank in the top five of the SEC in tackles for loss per game and in the top eight in sacks per game. Jones added five tackles for loss and 1.5 sacks. You also can't forget about
Robert Thomas
. He played in 12 games last year, registering 18 tackles, five tackles for loss, and 2.5 sacks. The Razorbacks will have a strong starting line and should be able to generate good pressure against opposing passing games, while still being able to clog holes against the run. The biggest thing this line needs is consistency
Weakest position: Running back
Inexperience is a major issue at this position.
Jonathan Williams
returns as the leading rusher for this team after rushing for 231 yards on 45 carries last season. He had a good spring and could be the workhorse back that Bielema needs for his offense, but the sophomore has limited experience. Sophomore
Nate Holmes
will have a chance to contribute, but only carried the ball three times last year, while redshirt sophomore
Kody Walker
has played in five career games, but has missed substantial time because of injuries. You could also see fullbacks
Kiero Small
and
Morgan Linton
get some carries with the style of offense Bielema likes to run. Help is definitely on the way with freshman Alex Collins coming in, but he'll have to grow up in a hurry during fall camp.
April, 3, 2013
4/03/13
2:00
PM ET
We continue
my chat
with Arkansas senior fullback
Kiero Small
.
What did he think about Bret Bielema's joking jab at Nick Saban and Alabama? Does he like Arkansas being a huge underdog this year?
Let's find out:
You've been around this program for a couple of years now and have seen some big highs and bad lows, so what's the feeling like for you and some of your teammates this spring with everything being so new?
Kiero Small:
For me, right now, it's a good feeling. It's steady and I know what's coming next. I know the coaching staff is going to be here. You know, this time last year, we were all in an uproar and we didn't really know what was going to happen. It feels good to know what's coming and to know that Coach "B" (Bret Bielema) and all of the rest of the coaching staff have our backs and they are going to put us in the best situations to be good.
I know your coach caused a little bit of a stir this week when he was joking about Nick Saban, but do you guys like that? Do you like the confidence that he's brought and the fact that he isn't afraid to say stuff like that?
[+] Enlarge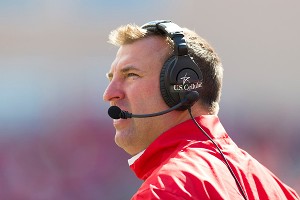 Jeff Hanisch/US PresswireIn Bret Bielema, Arkansas players know they have a coach who isn't lacking confidence.
KS:
I've seen it here and there, but I didn't really see what context it was in and I didn't really get to read it. Coach B is a guy that believes in himself and he believes in us. That helps us know that when we go out on the football field it's going to be us against whoever we play and it's going to be our set of guys against their set of guys and our coaches against theirs. It's a good feeling to know that your coach has confidence.
Does it feel like you guys are flying under the radar right now, and do you like that feeling?
KS:
I like it a lot. Right now, no one is talking about us. Everybody is making their (preseason) picks and everything of that sort and should they (pick Arkansas)? We didn't have a good year last year and lost a lot of guys, but this team has taken on more of a working mentality. We have to go and make our own name. It's a new regime and it's time for us to go pick a name for ourselves, but, you know, last year we were picked to beat everybody. We were picked to win a lot of games and picked to be great and it didn't turn out that way. At the end of the day, those picks really don't mean anything. You have to go out and play football.
You guys have a lot of young parts coming back on offense, but what have you seen so far this spring that excites you about that side of the ball?
KS:
A lot of guys have a working mentality and at every position group you have maybe one or two guys who have been here a long time. On the (offensive) line we got [
Travis] Swanson
, you got me in the running backs room, you've got
Javontee [Herndon
] in the receivers room and you have [
Austin] Tate
in the tight ends room, so you have one guy or two guys who have been here for a long time and the young guys are really preparing themselves behind them. That's a sight to see when you have young guys who are willing to learn and willing to go and attack practice every day.
What have you seen from the quarterbacks so far this spring?
KS:
It's been pretty good. We have some competition there. You like to see competition, especially at that position. Every day they are racking their brains to try and be good and make the plays. It's been a steady competition and good to see. You have two guys (
Brandon Allen
and
Brandon Mitchell
) who can get the job done. Right now they are battling to see who is going to make it happen for this year. There are no set positions. Everybody is having to look over their shoulder and have to be able to go and attack practice.
What do you guys really want to get out of spring practice this year?
KS:
Right now, we're just trying to learn these new systems and new schemes. We're playing fast, but the coaches are doing a good job of simplifying things so we can learn it, which allows us to play faster. I really like that. They're not trying to complicate things because at the end of the day we don't have games on Saturdays. We have the spring game and we have scrimmages, but now we get to learn and that's going to push us through the summer so in (fall) camp we have a basis for what is going on.
April, 3, 2013
4/03/13
11:15
AM ET
Arkansas fullback
Kiero Small
has seen a lot during his two years with the Razorbacks.
He felt the highs of transferring from the junior college ranks to a team that flirted with a BCS berth to watching one of the more talented teams in the SEC crumble after losing its head coach almost exactly a year ago.
During that miserable season in Fayetteville, Small, who will be a redshirt senior this fall, had to sit and watch for 11 games after he broke his foot in practice following the Razorbacks' opener.
A lot has changed for Small and Arkansas since his injury, so he decided to take some time out of his busy schedule to talk to ESPN.com about his injury and the new, physical style Bret Bielema has brought to Arkansas's football team:
Edward Aschoff:
How is spring practice going for you after you had to sit out just about all of last season after breaking your foot?
Kiero Small:
It's going pretty good. I'm 100 percent now and it feels good to be running around at 100 percent and getting back into the swing of things.
EA:
Your injury didn't sound fun at all.
KS:
Not at all. I finished practice, but when I cut the tape it was a pretty bad feeling.
EA:
How did it happen?
[+] Enlarge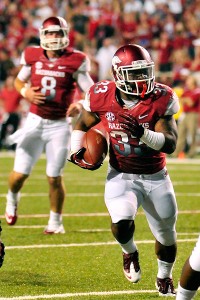 AP Photo/April L. BrownFullback Kiero Small is working his way back from a broken foot he suffered after the first game last season.
KS:
We were down on the goal line and it was just a normal play, and I think I stepped wrong or something. I just know that I felt it and thought it was a sprained ankle or something so I got back into the huddle and finished a couple plays at the end of practice. When I came off the field, I felt something different (in his foot) so I got the trainers and when they cut the tape we found out what it was.
EA:
What did you have to do in order to avoid going crazy because you couldn't really walk?
KS:
Well, when I first got out of surgery and I was going to school for a few weeks it was different because one of my legs got bigger than the other because I was pushing the knee scooter around. I was then in a boot for a little while and then I was finally able to walk on two feet, but it was a little different because I had to remind myself to stop limping and not to favor one side. It was tough in the beginning, but as the process went I just took it in stride.
EA:
When was the first time you were able to run again?
KS:
I can't remember exactly, but I think it was toward the end of the season. I was running, but it wasn't a full-speed run. I was running straight and I couldn't cut or anything like that. Every time I could do something new, I tried to go attack it and it just felt good to be able to run. Coming into spring and being able to do everything was a good feeling.
EA:
What was it like for you to sit and watch everything that happened to you guys on the field?
KS:
It was tough. It was probably one of the toughest things I've had to do because the guys that were out there, we really bonded as a team. It didn't show on the field, but we were a real close team and with all the things that happened it forced us to bond more. It seemed like seeing your brother out there and you can't help him.
EA:
How much does that motivate you and some of the other guys to rebound this season, considering all the shortcomings you had with so much talent last fall?
KS:
One of the things it showed us is that nothing is promised. Everybody had high hopes last year and with everything that happened, we saw that we have to go to work. It's good to work and work, but at the end of the day, you have to put it all on the field. Now, we're taking it one day at a time. That's on thing that coach [Bret Bielema] has stressed. We have a younger team so we all understand that it's going to take one day at a time.
EA:
What was your first reaction when you saw that Bret Bielema was going to be your new head coach?
KS:
I was pretty excited. I had watched them in their bowl game and I knew that Monte Ball was a big-time name the last couple of years, so they were always on prime-time TV. I liked their style of ball and when we finally got around to meeting with us you didn't really know what to expect, but it was a sigh of relief when we met with him.
EA:
How much do you like that physical running style, especially being the fullback in this offense?
KS:
I like it a lot. It allows me to stay on the field a lot more and basically I get to punch people in the mouth and play physical ball. That's the kind of ball you need if you're going to win in this league.
EA:
Is that the kind of ball that this team needs, especially after not having much energy or fire for most of last season?
KS:
Everything fell into place. We have a great strength and conditioning staff and a great coaching staff. Everything fell into place for what this team needs. We have some young running backs that showed that they are pretty good last year and they aren't already seasoned. They can be molded and this system allows you to go out and play tough football and hit people in the mouth and that's the kind of ball that this team needs.
EA:
What do you think your role will be in this kind of offense?
KS:
Whatever they ask me to do. I'm practically the oldest guy on the team and I've seen a lot. Right now, it's just to lead by example because I'm not really a vocal guy. I try to lead by example and attack everything we do and keep the younger guys going. It's spring ball so we don't have a game every Saturday. We just have scrimmages so I have to keep telling them that this is going to help us in the fall.
August, 6, 2012
8/06/12
12:00
PM ET
Some SEC coach should see if Usain Bolt has some eligibility for the fall. He's a baaaaaad man!
January, 5, 2012
1/05/12
1:02
PM ET
Live from the Big Easy, we offer up a few lunch links:
October, 28, 2011
10/28/11
1:13
PM ET
Making the rounds on a Friday:
August, 11, 2011
8/11/11
12:45
PM ET
Checking out some links around the SEC.