January, 15, 2014
Jan 15
11:31
PM ET
It appears as if Jeremy Pruitt will have the opportunity to build Georgia's defense according to his own vision. As of Wednesday night, he is the only defensive coach on the Bulldogs' staff.

Multiple media reports Wednesday night have defensive line coach Chris Wilson (
leaving for USC
) and inside linebackers coach Kirk Olivadotti (
going back to the Washington Redskins
, where he previously spent 11 seasons as an assistant) joining defensive coordinator Todd Grantham and secondary coach Scott Lakatos as departures from Mark Richt's staff within the last week.
Richt said at Pruitt's introductory press conference on Wednesday morning that Wilson and Olivadotti would remain on staff "if they want to, and as of right now I think they want to."
Obviously they decided otherwise, leaving Pruitt with three positions to fill. Pruitt will coach the secondary, but he and Richt must identify candidates to fill Grantham's position coaching outside linebackers as well as Wilson's line and Olivadotti's inside linebackers jobs.
In the short term, that might seem alarming for those around the Georgia program, but it no doubt holds some appeal for the Bulldogs' new defensive coordinator. Richt will allow Pruitt to have a major say in picking the new coaches -- if not allow him to hand select them -- much like he did when Grantham joined the staff in 2010 and brought along Lakatos and Warren Belin.
If Georgia is to take a step forward under the new regime, which shouldn't be difficult with 10 starters returning from a young group that ranked eighth in the SEC in total defense (375.5 ypg), it will be because Pruitt and Richt made the correct hires in the coming days and weeks.
Pruitt's arrival after an enormously successful season at Florida State was widely hailed as a home run for Richt, and that's a great start in rebuilding Georgia's defense. That's only the first step, though, and the Bulldogs need to swing for the fences three more times if the defense is to return to the suffocating form that marked the early seasons of Richt's tenure.
August, 9, 2013
8/09/13
8:00
AM ET
ATHENS, Ga. -- John Lilly is reluctant to divulge the steps he has occasionally taken to determine which football programs were interested in recruits he was pursuing.
The instinct creating that hesitance is not self-preservation, however.
"I've got to save all those stories for the book someday," Lilly joked.
And a book he could write. One of the ace recruiters on Mark Richt's coaching staff -- Lilly played a key role in Georgia landing signatures from top prospects
Tramel Terry
,
Shaq Wiggins
and
Tray Matthews
in the most recent recruiting class alone -- Georgia's tight ends coach came to Athens after spending a decade as Bobby Bowden's recruiting coordinator at Florida State.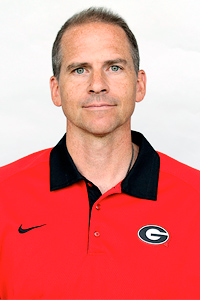 Courtesy of UGA Sports CommunicationsPrior to his job as Georgias tight ends coach, John Lilly was Florida State's recruiting coordinator.
There are surely dozens of stories, featuring some of the sport's biggest names over the past decade, which would keep the average reader enthralled. And yet the long hours spent on the road to accumulate those stories come with a cost.
Like many of his fellow assistants, Lilly is a husband and a father to young children. When coaches are on the recruiting trail throughout the spring evaluation period -- on top of the already-demanding schedules they keep during the season -- they're away from those they love most.
"You don't want to miss anything," Lilly said. "Obviously when you're out of town, you don't see your wife, you don't see your children, they don't see you. Right now, speaking for me, my children are almost 4 and 2. They don't necessarily keep track of time and time doesn't mean as much to them, but they realize after a couple days, 'Hey, where's dad?' It does make it a little bit harder."
But coaches understand that situation when they accept the job. The wins and losses from the fall are the true measuring sticks that determine whether they hold onto their positions, but it's their behind-the-scenes work as recruiters that stocks the depth chart with talent that makes wins easier to achieve.
"It is what you make of it," Georgia inside linebackers coach Kirk Olivadotti said, specifically referring to the travel-heavy evaluation period between mid-April and the end of May. "Everybody talks about it being a grind, but it's just part of the job. You can enjoy it or you can complain about it and I choose to enjoy it."
NCAA rules help somewhat, since the entire staff is not allowed to be on the road recruiting at once during the spring, and the group is allowed only so many evaluations during that time period.
But the breaks are short-lived if the coaches are doing an adequate job in determining who to chase for their next recruiting class.
"Really the second week after the spring game, we've been on the road recruiting and evaluating players, crosschecking -- meaning I may see one guy and someone else may go see him -- and just trying to do a diligent job of recruiting players that can help us be successful at Georgia and win the SEC," Bulldogs defensive coordinator Todd Grantham said at a UGA Alumni Association meeting in Atlanta in mid-May.
Olivadotti and Lilly said it is not unheard of for them to hit 10 to 12 schools in a day in May, provided that they are within close proximity. Such days are not ideal in most cases, however. Recruiting is about building relationships with players, coaches and families -- and that's a time-consuming process if done correctly.
That's why coaches typically make only a handful of daily stops in the final weeks leading up to national signing day while trying to solidify their recruiting classes -- a big change from when their off-campus contact with players is restricted in the spring.
"Most of us really enjoy the relationships you form with people because at the end of the day, it's just fun to get to know a lot of people in a lot of places and all that," Lilly said. "But if you're really going to spend time with people and get to know them and them get to know you, you're probably maxing yourself out if you go to any more than [10 or 11 in May]. If you're in the January mode, you may only hit a couple in a day at that point."
By the time signing day arrives, the coaching staff has already started laying the groundwork for the next class -- and often the one that's two years away. It's a process that never truly ends for coaches at the country's elite programs.
"You'd better know everybody that's walking the halls for two or three years down the road if you can," Lilly said.
March, 19, 2012
3/19/12
6:10
PM ET
By
ESPN.com staff
| ESPN.com
David Ching writes

: Player to watch, Secondary -- Malcolm Mitchell. All-SEC freshman WR Malcolm Mitchell will go old school this coming season as he returns to his former role on defense.
Ching:
Spring look: Secondary analysis.
Video: DawgNation's Radi Nabulsi and David Ching
analyze Georgia's secondary
.
Video:
Mark Richt on Malcolm Mitchell
.
Kipp Adams chat wrap
.
May, 3, 2011
5/03/11
3:45
PM ET
Georgia assistant coaches Tony Ball and Bryan McClendon received significant pay raises,
according to a report
by the Atlanta Journal-Constitution.
Ball, Georgia's wide receivers coach, has been on coach Mark Richt's staff since 2006 and is set to make $200,000, which is up from the $165,480 he made last year.
McClendon, who joined the Bulldogs' staff as the running backs coach in 2009, was previously one of the lowest-paid SEC assistants. His salary was $90,000 a year, but he will now make $200,000 each year.
Georgia athletic director Greg McGarity said the raises were results of other schools reaching out to Ball and McClendon. McGarity declined to get into what schools contacted the coaches, but did say that the raises were approved in February and March.
"All I can say is they were legit offers," McGarity told the AJC. "I think the key is continuity. We had already lost two coaches to other schools. Continuity of staff is important to me and to Mark and we thought it was important to maintain stability, especially.
"They're well-deserved. Both of these men are tremendous coaches who work very hard and were underpaid, in my opinion. We had some momentum going after recruiting and they had a lot to do with that. All signs are pointing up and we needed to be proactive. We will always be proactive."
The news of Ball's raise comes just days after the Bulldogs had two wide receivers drafted in the 2011 NFL draft. Junior
A.J. Green
went fourth overall to the Cincinnati Bengals and senior
Kris Durham
went in the fourth round to the Seattle Seahawks.
Green, who was arguably the best receiver in the draft, caught 57 passes for 848 yards and nine touchdowns in his shortened 2010 season. He finished his career at Georgia with 166 receptions for 2,619 yards and 23 touchdowns.
Durham was second on the team with 32 catches for 659 yards and three scores. He finished his college career with 64 receptions for 1,109 yards and four touchdowns.
McClendon has a chance to really earn his new paycheck this fall. He has the responsibility of coaching up a talented but unproven receiving group. Junior
Tavarres King
returns as the most experienced wideout and moved to Green's flanker position this spring. He and quarterback
Aaron Murray
developed good chemistry this spring and King figures to be the go-to-receiver in Georgia's offense.
Behind him, it's a bit of a mystery.
Marlon Brown
and
Rantavious Wooten
could have the most pure talent of the bunch, but neither has yet to make much of a contribution at Georgia. Brown caught just 11 passes for 133 yards and a touchdown last year, while Wooten snatched seven balls for 41 yards and a score.
The good news for Ball is that both seemed to have their internal light bulbs come on during spring, but the next step is having that carry over to fall.
As for McClendon, he's got a stable of running backs, but inconsistency is an issue. Senior
Caleb King
made vast improvements in practice, but never really broke away from the rest of the running back pack.
Washaun Ealey
is easily the most gifted runner, but off-the-field issues have him crammed in Richt's doghouse. For now, we don't know where Ealey fits in with the running backs.
Next you have
Ken Malcome
,
Carlton Thomas
and incoming freshman Isaiah Crowell. Richt didn't hesitate when Crowell signed to say that he could be the guy this fall. Crowell brings great speed, athleticism and strength to the position, but he's young. Malcome and Thomas battled injuries this spring, but Malcome impressed in Georgia's spring game.
Both coaches have their work cut out for them this fall, but getting strong numbers out of their groups will make them well worth the recent investment.
Of note:
"Salary actions" were also completed for new offensive line coach Will Friend, who will earn $200,000 this year, and new linebackers coach Kirk Olivadotti, who will earn $250,000.
February, 18, 2011
2/18/11
12:46
PM ET
By
ESPN.com staff
| ESPN.com
Nothing like a little SEC linkage on a Friday:
February, 16, 2011
2/16/11
8:44
PM ET
By
ESPN.com staff
| ESPN.com
Georgia coach Mark Richt has filled his linebackers job with the
hiring of Kirk Olivadotti
, who's coached in the Washington Redskins' organization for the past 11 seasons.
The tie is Olivadotti's father, Tom Olivadotti, who coached with Georgia defensive coordinator Todd Grantham on the Houston Texans' staff. The younger Olivadotti was a defensive assistant with the Redskins last season after coaching their linebackers from 2007-09.
The Bulldogs' linebackers job came open when Warren Belin left to take a job on the Carolina Panthers' staff.
SEC SCOREBOARD
Monday, 12/22
Saturday, 12/20
Tuesday, 12/23
Wednesday, 12/24
Friday, 12/26
Saturday, 12/27
Monday, 12/29
Tuesday, 12/30
Wednesday, 12/31
Thursday, 1/1
Friday, 1/2
Saturday, 1/3
Sunday, 1/4
Monday, 1/12
Tweets from https://twitter.com/ESPNCFB/lists/sec