September, 9, 2012
9/09/12
10:00
AM ET
Week 2 is over with and we feel we know teams a little better now.
Here's what we've learned so far in the SEC:
1. Arkansas' defense isn't ready for prime time:
The Razorbacks' defense entered the season surrounded by criticism and uncertainty. In Saturday's stunning
34-31 overtime loss
to Louisiana-Monroe, the defense didn't do anything to lessen the criticism and worry. Arkansas' defense surrendered 550 total yards, including 412 passing yards by quarterback
Kolton Browning
. Browning also threw three touchdown passes and ran for 69 yards, including the 16-yard game-winning touchdown. The Warhawks also converted 6 of 7 fourth downs, including Browning's last scamper. This Arkansas defense was pushed around by Alabama and LSU last year, and was pushed around Saturday by a program that has never beaten a ranked team.
[+] Enlarge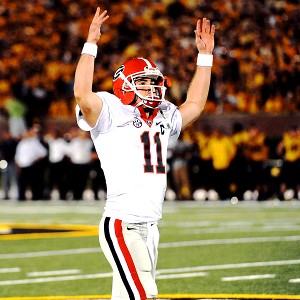 Dak Dillon/US PresswireQB Aaron Murray (242 yards, 3 TDs) and Georgia ended their victory over Missouri on a 24-0 run.
2. Georgia has true resiliency:
The Bulldogs walked into a hostile environment at Missouri and left with a big SEC victory. The Tigers threw everything at Georgia's depleted defense, and the Bulldogs responded with a strong fourth quarter, when the defense totally shut down the Tigers. Georgia outscored Missouri 17-0 in the fourth and finished the game on a 24-0 run after being down 20-17 late in the third quarter. Georgia outscored Mizzou 32-10 in the second half. Mizzou might not have been ranked, but this was a signature win for the Bulldogs. Georgia has struggled recently away from home, but the Bulldogs kept pounding away when their backs were against the wall. We saw the type of fight out of a team with the talent to make an SEC title run.
3. This Auburn team lacks true physicality:
Gene Chizik talked so much about how physical Auburn's game with Mississippi State would be Saturday. His players obviously didn't get the message. Like Week 1, the Tigers struggled mightily on defense, as they missed a handful of tackles yet again. Mississippi State running back
LaDarius Perkins
carried the ball only 14 times, but he did a great job of softening up Auburn's defensive line. That gave quarterback
Tyler Russell
even more time to pass and shred the Tigers' struggling secondary. Offensively, the Tigers just couldn't get anything going. There were too many east-to-west runs that went for nothing, and the offensive line got absolutely no push up front. Quarterback
Kiehl Frazier
has a long way to go in the confidence department on the field. This team has to toughen up or it'll be a very long season on the Plains.
4. Florida is tougher than it was last year:
The Gators'
20-17 win
over Texas A&M wasn't exactly pretty, but last year's team wouldn't have won that game. You saw real resolve from this team after being down at halftime. With the way the Aggies' played in the first half, it looked like they might run away with it. But Florida came out looking like a different team and outscored Texas A&M 10-0 in the second half. The defense, which looked lost in the first half, allowed 65 yards and forced four three-and-outs. Quarterback
Jeff Driskel
stood taller in the pocket, delivered some clutch throws and made some big plays with his legs. The coaches also adjusted on both sides of the ball to wear down the Aggies. This team isn't ready for LSU or Alabama, but it showed that it is turning into more of that blue-collar team that coach Will Muschamp wants in Gainesville.
5. The gap is there at the top:
After another weekend of very impressive football from Alabama and LSU, it's obvious that for the second consecutive season, these are the top dogs ... and then there's everyone else. It's still very early, but these two teams have shown little weakness so far. Alabama routed then-No. 8 Michigan last week and turned around to shut out Western Kentucky
35-0
in a game that could have been a lot worse if Nick Saban hadn't taken his foot off the gas. LSU cleaned up against North Texas last week, then walloped Washington
41-3
and looked much better all around this weekend. Arkansas' loss puts the Hogs further behind, while it still appears that the top East teams just aren't on the same level as these two. The race in the East might be a little more exciting this season, but it looks like the showdown between these two teams in early November will determine the SEC's champ.
September, 8, 2012
9/08/12
11:18
PM ET
Things could not have gone much worse for No. 8 Arkansas on Saturday night. The Razorbacks lost starting quarterback
Tyler Wilson
to an "above-the-shoulders" injury in the first half. They saw starting cornerback
Tevin Mitchel
and starting fullback
Kody Walker
carted off the field during a herky-jerky third quarter. To top it all off, they watched Sun Belt squad Louisiana-Monroe waltz into War Memorial Stadium in Little Rock, Ark., and ruin their top-10 ranking with a
34-31 overtime upset
.


Some quick, breathless reaction:
It was over when:
ULM quarterback
Kolton Browning
looked for a play-action pass while trailing the Razorbacks 31-28 on fourth-and-1 in overtime. With his slot receiver covered in the flat to his left, Browning reversed field and took off through the Arkansas defense. Browning got the yards he needed for a first down and kept going, outrunning two Razorbacks defenders into the end zone for the upset.
Game ball goes to:
Browning deserves more than one game ball for this performance. The junior threw a whopping 68 passes and completed 42 for 412 yards and three touchdowns. Browning didn't just save the Warhawks in overtime, either. His final passing touchdown of the night was a game-tying 23-yard strike delivered to wide receiver
Brent Leonard
on fourth-and-10 with just 47 seconds remaining in regulation. He led the Warhawks in rushing as well, with 15 carries for 76 yards and the winning score.
Hogs hampered by injuries:
Wilson was the first and most notable Razorback to fall out of the affair with an injury. The senior left the game with what was described as an "above-the-shoulders" injury in the second quarter. Not only did he not return to the game, he also did not return to the Arkansas sideline. Mitchel was the next loss when he took a scary helmet-to-helmet hit in the third quarter. Play was stopped for upward of 10 minutes while trainers attended to the cornerback, who had to be carted off the field. Reports from the sideline said that Mitchel was responsive. Walker needed the cart moments later when he left the game with what appeared to be a leg injury.
The players' well-being means much more than any result, but it's discouraging that the suddenly injury-depleted Hogs must host No. 1 Alabama next weekend.
Giant killers:
This is the second time in five years that the Warhawks have laid out an SEC West powerhouse. ULM famously upset Alabama 21-14 in 2007. The Warhawks travel to Auburn next week. Based on the way the Tigers played Saturday against Mississippi State, they should probably be worried.
Stopped cold:
It looked as if Arkansas would survive the evening without Wilson when backup quarterback
Brandon Allen
fired a 13-yard touchdown pass to wide receiver
Mekale McKay
to take a 28-7 lead early in the third quarter. But the Warhawks outscored the Razorbacks 27-3 from the 9:42 mark of the third quarter to the end of overtime. Arkansas converted just three of 12 third downs on the night.