October, 1, 2014
Oct 1
10:30
AM ET
October has arrived and most teams have played a third of their regular-season schedule. One team has fallen off our playoff tracker (South Carolina) but the rest remain from last week. Let's dive in and see where the College Football Playoff contenders from the SEC stand as of today:
Alabama Crimson Tide
Record:
4-0
AP rank:
No. 3
Next big obstacle:
Oct. 4 at Ole Miss
Reason for optimism:
The bye week came at the right time for Alabama. It needed
Blake Sims
,
Jarrick Williams
and
DeAndrew White
healthy for Ole Miss on Saturday. And if it needed any extra motivation, Rebs safety
Cody Prewitt
delivered, telling reporters that, "We don't think Bama has really been as good as they have been."
Cause for concern:
Survive Ole Miss and things don't get any easier. You thought that Oct. 11 trip to Arkansas would be a cake walk? Ha! You thought Texas A&M would be an easier out without
Johnny Manziel
? That's a good one. That schedule you thought was littered with SEC cupcakes like Tennessee now looks more like a minefield.
Who they'll be rooting for this week:
Mississippi State over Texas A&M. If the Bulldogs can upset Texas A&M and Auburn the next two weeks, the West might loosen up some.
--Alex Scarborough
Auburn Tigers
Record:
4-0
AP rank:
No. 5
Next big obstacle:
Oct. 4 vs. LSU
Reason for optimism:
Nick Marshall
continues to look more and more like his old self. On Saturday, he passed for 166 yards and three touchdowns, and he also rushed for 105 yards. His new favorite target? OK, it's still
D'haquille Williams
, but fellow wide receiver
Quan Bray
has emerged as a playmaker on both offense and special teams for the Tigers.
Cause for concern:
There are a lot of question marks as to who's going to play this Saturday against LSU. Linebackers
Cassanova McKinzy
and
Kris Frost
are day-to-day with injuries, and starting right tackle
Patrick Miller
is questionable with an ankle injury. It also looks like Auburn will be without safety
Jermaine Whitehead
for the third straight game.
Who they'll be rooting for this week:
Ole Miss over Alabama
--Greg Ostendorf
Texas A&M Aggies
Record:
5-0
AP rank:
No. 6
Next big obstacle:
Oct. 4 at Mississippi State
Reason for optimism:
The Aggies passed a big test by showing that their run defense -- while still having a lot of room for improvement -- can do just enough to help them win after being tested thoroughly against Arkansas, the best rushing team in the SEC. The offense also showed it can win when it's not at its best and
Kenny Hill
responded to adversity emphatically, showing poise in fourth quarter and overtime. Health-wise, the Aggies are in relatively good shape, which is critical considering what lies ahead.
Cause for concern:
The schedule gets only tougher in the next few weeks. This weekend it's a trip to Starkville to meet undefeated Mississippi State. They return home the following week to host Ole Miss. Then on Oct. 18 they go to Tuscaloosa for a showdown with Alabama. These are all teams and places the Aggies have won before, but now they're doing it with a team that has a lot of young players in key positions, like quarterback, free safety, defensive end and receiver. This three-week stretch is a monumental test for Texas A&M.
Who they'll be rooting for this week:
LSU over Auburn. (This would help the Aggies jump Auburn in the national rankings and gain an advantage in the standings)
--Sam Khan Jr.
Ole Miss Rebels
Record:
4-0
AP rank:
No. 11
Next big obstacle:
Oct. 4 vs. Alabama
Reason for optimism:
The defense ranks first in the SEC and fourth nationally, allowing 248 yards per game and has 11 takeaways on the season. QB
Bo Wallace
is also spreading his passes around very nicely. Even with depth an issue at receiver, the Rebels already have five players with double-digit receptions.
Cause for concern:
The West is easily the toughest division in college football. There really isn't a major weak link when it comes to teams on this side of the division, and Ole Miss still has to go through everyone. We'll find out if Ole Miss has the depth needed to make a real SEC run.
Who they're rooting for this week:
LSU over Auburn
--Edward Aschoff
Mississippi State Bulldogs
Record:
4-0
AP rank:
12
Next big obstacle:
Oct. 4 vs. Texas A&M
Reason for optimism:
With an open date between their dismantling of LSU and this Saturday's showdown with Texas A&M, the Bulldogs have had time to rest and scheme to face perhaps the best opponent they've played to date. It had to help their confidence to see A&M struggle against Arkansas the way it did, too.
Cause for concern:
Mississippi State's secondary has been one of the team's few weaknesses, and that's a bad weakness to have against a high-flying offense like Texas A&M's. It also doesn't help that veteran center
Dillon Day
will miss the A&M game while serving a one-game suspension for unsportsmanlike play against LSU.
Who they'll be rooting for this week:
Alabama over Ole Miss (because why not?) --
David Ching
Georgia Bulldogs
Record:
3-1
AP rank:
No. 13
Next big obstacle:
Oct. 11 vs. Missouri
Reason for optimism:
The SEC East is still a mess, and South Carolina's loss to Missouri means the Bulldogs once again control their own destiny in the division. Just win, baby, and the Dawgs are headed back to Atlanta. Also,
Todd Gurley
seems like he's getting better and better with each week.
Cause for concern:
Passing, whether it's by the Bulldogs or against them.
Hutson Mason
admitted Saturday that the chemistry between himself and his receivers isn't where it should be, especially when it comes to throwing the deep ball. Right now, Georgia's defense can't stop any sort of passing over the middle of the field.
Who they're rooting for this week:
Tennessee over Florida
--Edward Aschoff
LSU Tigers
Record:
4-1
AP rank:
15
Next big obstacle:
Oct. 4 at Auburn
Reason for optimism:
It seems unlikely that anyone in the SEC West will finish undefeated, so the Tigers can stick around in this race if they start winning. A win in Saturday's game at Auburn could potentially jump-start LSU's chances, especially if
Brandon Harris
goes off as the new starting quarterback.
Cause for concern:
Auburn's running game has to scare LSU defensive coordinator John Chavis a bit after Mississippi State had so much success against the Tigers two Saturdays ago. LSU might be able to stick around in the SEC West race with two division losses, but a playoff bid would almost be out of the question if the Tigers fall again.
Who they'll be rooting for this week:
Texas A&M over Mississippi State --
David Ching
April, 22, 2014
Apr 22
4:00
PM ET
AUBURN, Ala. -- What's the adage? Offense wins games, but defense wins championships. Well, after
Nick Marshall
and the first-team offense put up 44 points in the first half of Saturday's spring game, it's clear that Auburn has enough firepower to win games. But do the Tigers have a defense good enough to win a championship?
That answer remains unclear.
The 58-3 final score looks bad, but more than anything, it shows a lack of depth on the defense, which is understandable given the number of injuries that ravaged the Tigers this spring. Last week, defensive coordinator Ellis Johnson said he had about a dozen guys who either missed all of spring practice or a good portion of the spring. Saturday was no different.
[+] Enlarge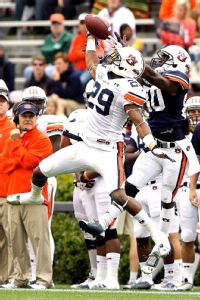 John Reed/USA TODAY SportsAuburn's Brandon King breaks up a pass intended for Marcus Davis during the spring game. The Auburn defense's lack of depth showed on Saturday.
Potential starters
Carl Lawson
,
LaDarius Owens
and
Jermaine Whitehead
did not play, and a handful of other key contributors were limited in action, making it difficult to get a read on how good this unit really is.
"I feel like the defense did good," defensive lineman
Gabe Wright
said after the game. "It's hard to say that when the team has got 50-something points, but the first-team unit, we did better. There wasn't a lot of loafs, according to the coaches. Guys were making plays, so overall I feel like it's a win for us."
Wright, who started at defensive tackle last season, played defensive end in the spring game because of all the injuries. He was one of the many players who moved around this spring, and he's another reason why the grade for the defense is incomplete.
One positive that came from all of the attrition was that it gave several younger players a chance to compete.
With
Joshua Holsey
out this spring, junior college transfer
Derrick Moncrief
stepped up and earned himself some playing time at one of the safety spots, while versatile sophomore
Johnathan Ford
played well at the other spot in place of Whitehead on Saturday.
"They looked pretty well,"
Robenson Therezie
said of the two safeties. "Those are the type of guys we can count on in a big game. They're not rookies anymore, especially Derrick Moncrief. He came in, and he just got it. He caught up with everything. We feel pretty comfortable with the secondary right now."
It was no different at linebacker, where injuries limited both
Kris Frost
and
Cassanova McKinzy
and paved the way for
Kenny Flowers
. The former junior college transfer was named defensive MVP of the spring game after he finished with seven tackles, 2.5 for loss and a sack.
"It felt great," Flowers said. "I wasn't a big factor last year, but I hope to be this year."
Ultimately, the defense that Auburn rolled out Saturday probably isn't capable of winning a conference championship, let alone a national championship, but it's going to look a lot different in the fall, when everybody is back and healthy. That's when the true test will come.
"This defense is going to be really good," Therezie said. "Probably better than last year, because we have some guys coming back. We understand the concept of what Coach Johnson is running and everything, so it's going to be really good. I can't wait to see it."
November, 5, 2013
11/05/13
4:35
PM ET
AUBURN, Ala. -- Outside of special teams, Auburn linebacker
JaViere Mitchell
didn't play until midway through the second quarter of Saturday's game at Arkansas. But when the Razorbacks drove inside the 5-yard line, the coaches called Mitchell's number, and he responded.
With help from the defensive line and fellow linebackers, Mitchell came up with back-to-back tackles at the goal line to prevent the Razorbacks from getting in the end zone. Auburn clinged to its 14-3 lead, and the momentum shifted back in the Tigers' favor.
"Boy, he made two great plays down there, the first one especially," defensive coordinator Ellis Johnson said. "The first one he came over the top, and if he didn't hit that running back, I don't know if he'd then squirt into the end zone.
[+] Enlarge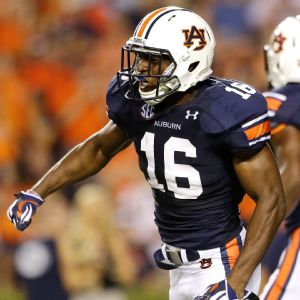 AP Photo/Dave MartinAuburn sophomore linebacker JaViere Mitchell made two big goal-line stops at Arkansas.
"Our front did a really good job creating some penetration.
Kris [Frost]
did a good job of taking on the lead, but Javi made two really good tackles there. That was really the only two plays that he got to play, and both of them were excellent."
It's been a difficult year for Mitchell. He missed a week in the spring with a concussion. He lost weight over the summer because of a stomach issue. During the season, he's moved back and forth between linebacker positions.
Johnson said Mitchell started to catch on and make progress the last three weeks, and the coach said he would feel comfortable putting the sophomore in the game.
Mitchell's emergence is the latest positive move for a group of linebackers that was thought to be a weakness. But the unit has more than held its own, and it continues to improve every week.
"I feel like there are a lot of things we can do better, but I feel like right now they're all playing very solid, making some plays a lot better than we were at the beginning of the year," Johnson said.
On Saturday, starting weakside linebacker
Cassanova McKinzy
had seven tackles, assisted on a tackle for loss and made a key interception. At middle linebacker,
Jake Holland
and Frost combined for nine tackles and a fumble recovery. The trio has played in every game, and all three have more than 30 tackles this season.
It wasn't Auburn's best performance this past weekend as the Razorbacks still rushed for 243 yards, but between the turnovers and the goal-line stand, the linebackers made the plays when it mattered.
"It wasn't a great week of practice [in preparation for Arkansas]," McKinzy said. "The first two quarters, it showed up. We weren't getting our right run fits, and they were busting runs on us because of that. There's just no excuse for it.
"What I take from it: We did decent without a good week of practice. If we have a great week of practice, I feel like it's going to be hard to get those yards that Arkansas got."
Auburn will need to start having better practices the rest of the way with three of the SEC's top rushers -- Tennessee's
Rajion Neal
, Alabama's
T.J. Yeldon
and Georgia's
Todd Gurley
-- still on the schedule. It begins with the linebackers.
October, 21, 2013
10/21/13
3:00
PM ET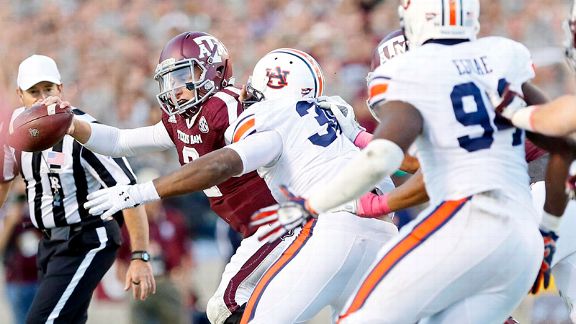 Soobum Im/USA TODAY SportsAuburn defensive end Dee Ford came up with the big play to stop Johnny Manziel at the end of the Tigers' win at Texas A&M.
When running back
Tre Mason
scored to put Auburn ahead 45-41 with 1:19 left on Saturday, most people still didn't think they were going to win. The Tigers gave too much time to
Johnny Manziel
, and despite his shoulder injury, he was going to lead Texas A&M back on yet another game-winning drive, adding to his legacy.
And why not? The reigning Heisman Trophy winner had already thrown for more than 400 yards and four touchdowns. He had just led the Aggies on a 12-play, 75-yard drive capped off by his lone rushing touchdown of the game. The writing was on the wall.
But somebody forgot to tell that to the Auburn defense.
"They were sitting there with 1:19 left, three timeouts and Johnny Manziel, then you've got all day," defensive coordinator Ellis Johnson said.
"We basically had to just play regular defenses. We couldn't get into any of our prevent stuff and just had to play what we had been taking on third down every play. They were still in a situation where they could have run the ball a few times if they wanted to."
It was an Auburn defense that had thrived in the fourth quarter through the first six games. The Tigers had only allowed 13 fourth-quarter points prior to Saturday's game, and they were giving up, on average, 67 yards in the final 15 minutes.
Manziel started that last drive just as everybody expected. He completed a pass to
Mike Evans
for 19 yards. He rushed for six yards. He connected with Evans again for 22 yards, and the Aggies were already down to the Auburn 18-yard line with 43 seconds left.
But after an incomplete pass, the Tigers finally made a play. Senior defensive end
Dee Ford
sacked Manziel for a loss of 8 yards, forcing Texas A&M to burn its first timeout.
"[Manziel] just keeps tremendous pressure on you all the time," Johnson said. "I thought our front guys worked their rear ends off trying to catch him. Occasionally they were successful, but they harassed him a lot."
On the next play, Manziel scrambled around and looked like he had room to run, but linebacker
Kris Frost
chased him down and held the Aggies quarterback to a gain of 5. It brought up a critical fourth-and-13 with 18 seconds left. Johnny Football couldn't possibly deliver again, could he?
The Tigers didn't even give him a chance. A blitz forced Manziel to try and scramble away , but Ford was waiting for him.
"I didn't really have a thought process," Ford said. "I knew they were throwing the ball, and I knew at that point I need to contain Manziel. It's a credit to the defense. It was a blitz, and I knew that I had to contain the blitz. They were going to flush it to me, and I just needed to make a play."
When everybody expected Manziel to make a play, it was Ford and this Auburn defense that came through.
"You have to try to bottle up the guy," head coach Gus Malzahn said. "He's phenomenal when things break down. In the fourth quarter, when he came back I thought we were a little bit fresher there, and we made the two big plays toward the end."
Ford had yet to record a tackle prior to the last drive, but he came up with two of the biggest plays of the game, sacking Manziel twice to preserve the victory.
"Priceless," he said. "It was priceless."
September, 26, 2013
9/26/13
4:00
PM ET
AUBURN, Ala. -- Auburn has played four games under new coach Gus Malzahn, and although the Tigers are coming off a loss to LSU, the results have been fairly positive. They started 3-0, won their first conference game in nearly two years and stayed competitive in Death Valley.
With no game this weekend, the Tigers are planning for the future.
"The open date comes at a very good time for our team," Malzahn said. "We've got four games under our belt for our coaches to evaluate our personnel, see where we're at as a team and plan moving forward for the rest of the year to put our guys in the best place to be successful."
[+] Enlarge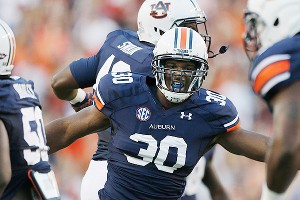 AP Photo/Dave MartinDee Ford is slowly rounding back into form after recovering from an MCL injury.
But more importantly, the week off gives Auburn a chance to get healthy.
"I don't think I've been around a team that had that many (injuries) this early and to main impact players," Malzahn said. "Defensively, we've been playing without a lot of our impact players, and even when we get them back, they're not quite 100 percent yet. But they're getting there."
Both
Dee Ford
and
Justin Garrett
missed the first two games due to injury but returned against Mississippi State. Ford, the team's top pass rusher, sprained his MCL in fall camp but is slowly working his way back. Garrett sprained his foot in camp and has since moved positions from the Star to weakside linebacker.
Against LSU, Auburn was without cornerback
Chris Davis
and defensive end
Craig Sanders
as both players suffered ankle injuries prior to the game. Davis led the Tigers with 10 tackles against Arkansas State in week two and also serves as the team's primary punt returner.
Additionally, running back
Corey Grant
, defensive back
Robenson Therezie
and linebackers
Kris Frost
and
Cassanova McKinzy
all missed time or were limited against LSU.
Needless to say, the bye week couldn't have come at a better time for Auburn.
"That may be the biggest blessing of the off week that we have a chance to get some of our guys healed up," Malzahn said. "We've got guys that weren't 100 percent that played anyway last week, so hopefully this week will help them get back to 100 percent. And the guys that haven't played, we'll have a chance to have two weeks before our next game and have a chance to get one of those guys back on the field."
Defensive tackle
Jeffrey Whitaker
is among those who have yet to play this season, but his status is a little more in question. The two-year starter suffered a knee injury in fall camp that required surgery, and the coaching staff said they plan to make a decision on his future in the coming weeks.
The team also confirmed this week that wide receiver
Jaylon Denson
would miss the remainder of the season with a knee injury.
"To lose a guy like Jaylon Denson is a huge blow, but it creates opportunities for other people," Malzahn said. "The good thing is for the future we're playing a whole bunch of young guys. That will do nothing but helps us for the future."
Next up for Auburn is a home game with Ole Miss on Saturday, Oct. 5.
July, 9, 2013
7/09/13
2:15
PM ET
In order to make a stand in the SEC, you have to have a strong front seven. It starts with a stout defensive line, but don't forget about those cats behind that front line.
Linebackers need love, too:
1. Alabama:
For starters, "Linebacker U" will enter the 2013 season with three linebackers --
C.J. Mosley
,
Adrian Hubbard
and
Trey DePriest
-- who started 10 or more games last season. Then there's
Xzavier Dickson
, who started seven games at the rush-end "Jack" position. All four played in every game last year, making play after play. Mosley was considered one of the nation's best linebackers and could have opted for the NFL early. He'll get even more time with
Nico Johnson
gone. Hubbard is the team's top pass-rusher, DePriest has transformed into a top linebacker prospect in next year's NFL draft and Dickson is versatile enough to play linebacker and on the line. There is also a ton of young talent to watch, starting with sophomore
Denzel Devall
, who could really break out.
[+] Enlarge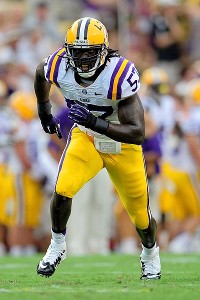 Stacy Revere/Getty ImagesLamin Barrow should replace some of the production the Tigers lost when Kevin Minter moved on to the NFL.
2. LSU:
Kevin Minter might be gone, but the Tigers still have some quality players roaming around the position.
Lamin Barrow
will anchor the group and is coming off a season in which he registered 104 tackles, including 52 solo stops. He's getting a ton of NFL love and will get help from very talented sophomore
Kwon Alexander
, who only played seven games, but would have seen plenty more action if hadn't suffered a broken ankle midseason. Alexander could be primed for a huge season and might be the team's best linebacker. Senior
Tahj Jones
only played in one game last year because of academic issues, but he'll have every chance to start outside. Sophomores
Deion Jones
,
Lamar Louis
and
Ronnie Feist
all saw good time last year and will be in the rotation along with incoming freshman
Kendell Beckwith
, who could immediately push for a starting spot.
3. Ole Miss:
The Rebels work in that 4-2-5 defense, but have a lot of talent at linebacker, starting with big-hitting senior captain
Mike Marry
, who has 22 career starts and finished last season with 78 tackles with 10.5 for loss. The pleasant surprise from this group last year was
Denzel Nkemdiche
, who was a second-team All-SEC member as a freshman after leading Ole Miss in tackles (82), tackles for loss (13) and forced fumbles (four). The thing that makes Nkemdiche so valuable is that he knows all of the linebacker positions and covers a ton of ground with his speed. Long-time Rebel
D.T. Shackelford
is back after two knee surgeries, but had a very good spring and should provide quality depth and excellent leadership. Then you have talented reserve
Serderius Bryant
, who could start at a lot of schools. Don't forget about the hybrid "Husky" position that will feature top recruit Antonio Conner.
4. Tennessee:
The Vols bring back the league's top tackler in
A.J. Johnson
and excellent pass-rusher
Curt Maggitt
, who had his 2012 season shortened because of injury. He should be back to full health this fall, but could move to defensive end. Johnson has a chance to play his way into the first round of next year's NFL draft. Senior
Dontavis Sapp
doesn't have a ton of experience, but was a star this spring and has the ability to play any of the linebacker spots. Four senior backups return and have combined to play in nearly 140 games. The only problem is that they've also combined for just one start. Senior
Brent Brewer
also moved from safety to linebacker to give the Vols a lot of speed on the outside.
5. Florida:
The Gators lost two valuable players in Jon Bostic and Jelani Jenkins, but they still have a ton of young talent to work with, starting with
Antonio Morrison
. He ran into legal trouble this summer, but he has a chance to be an All-SEC player after moving from outside to middle linebacker.
Dante Fowler Jr
. and
Ronald Powell
will rotate at the hybrid defensive end/linebacker "Buck" position, but Powell could see more time at strongside linebacker. If he's healthy after his two ACL injuries, he could be an elite pass-rusher. Hard-hitting and dependable
Michael Taylor
left spring as the starting weakside linebacker, while freshman
Daniel McMillian
had an outstanding spring at the Will position. Fellow freshman
Alex Anzalone
was a top recruit in the 2013 class and should vie for plenty of time, while vets
Darrin Kitchens
and
Neiron Ball
will push for starting spots.
6. Vanderbilt:
This was supposed to be a concern for the Commodores last year, but it ended up being a strength. Do-everything leader
Chase Garnham
is back, along with his 43 solo tackles, seven sacks and 12.5 tackles for loss. He's the heart of the defense. Hybrid linebacker/safety (Star)
Karl Butler
returns and should continue to put a lot of heat on opposing backfields. He registered 11.5 tackles for loss last season. Sophomore
Darreon Herring
has to replace the very reliable Archibald Barnes, but saw plenty of time last year as the Commodores' top reserve at linebacker. Sophomores
Larry Franklin
and
Jake Sealand
provide good depth after seeing significant time last year.
[+] Enlarge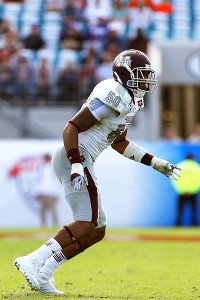 AP Photo/Don Juan MooreBenardrick McKinney was named to the Freshman All-SEC Team following last season.
7. Mississippi State:
Starters
Benardrick McKinney
(102 tackles) and
Deontae Skinner
(62 tackles) return, giving Mississippi State a very sound foundation to work with. McKinney was quietly one of the league's top linebackers last year and could be even better this fall. Veteran
Ferlando Bohanna
, who has tremendous speed, will provide good depth, and the staff is excited about the versatility junior
Matt Wells
has. Losing
Chris Hughes
this summer hurts, but the Bulldogs will be able to cover a lot of ground with this group of rangy, athletic linebackers.
8. Georgia:
Like every defensive position, the Bulldogs lost a lot at linebacker, but there is some promising young talent that should get better as the season goes on. Everything revolves around sophomore
Jordan Jenkins
, who could end up being an elite pass-rusher after learning under
Jarvis Jones
last season. Jenkins was second on the team in sacks last season with five and should be even more disruptive in Jones' old spot. Junior
Amarlo Herrera
started nine games and will be the captain of the unit inside. Junior
Ramik Wilson
had a very good spring and has found his spot inside, while sophomore
Josh Harvey-Clemons
will play some linebacker when he isn't at safety and has a chance to be a star. Sophomore
James DeLoach
also had a very good spring outside. Freshmen
Reggie Carter
and
Ryne Rankin
will also have ample opportunities for good playing time this fall.
9. Kentucky:
Having Alvin "Bud" Dupree moving to defensive end hurts, but the Wildcats still have two solid options returning in
Avery Williamson
and youngster
Khalid Henderson
, who has playmaker written all over him. Williamson enters his senior season with 194 career tackles. Finding someone to take the other linebacker spot is the goal of fall camp.
Miles Simpson
started 11 games and had 70 tackles last year, but has to be more consistent. Junior
Kory Brown
and sophomore
Josh Forrest
will compete for that spot too and might be more athletic, but they lack experience.
Malcolm McDuffen
still hasn't reached his potential and Demarius Rancifer has decided to transfer.
10. Texas A&M:
The Aggies lost starters Jonathan Stewart and Sean Porter and are now surrounded by youth. Veteran
Steven Jenkins
is back, but he missed spring practice due to offseason shoulder surgery. He had time to work with junior college transfer Tommy Sanders, which will help a lot this fall, as he vies for a starting spot outside. The Aggies will have to rely on youngsters at linebacker, but junior
Donnie Baggs
looks like he'll start at middle linebacker. But after that it's all about newcomers, including new linebackers coach Mark Hagen. Freshmen Reggie Chevis and Brett Wade both went through spring practice, which helps, but expect growing pains from this unit.
11. Missouri:
The Tigers are fortunate to have senior
Andrew Wilson
and his 23 career starts back, but there isn't a lot of experience beyond that. Wilson has also led the Tigers in tackles in back-to-back seasons (79 last year).
Donovan Bonner
, a senior, and
Kentrell Brothers
showed flashes this spring, but both have to be more consistent. The same goes for
Darvin Ruise
, who entered the spring as a starter and played primarily on special teams last year. Keep an eye on freshman
Michael Scherer
, who has the talent to be a stud. There is athleticism here, but tackling was a major issue with this unit last year.
12. Arkansas:
The Razorbacks return veterans
A.J. Turner
and
Otha Peters
, but the best overall player at this position might be junior college transfer Martrell Spaight. That could be both good and bad, but the fact of the matter is that Turner and Peters have to improve and get over their injuries from the spring if they want starting jobs this fall. Senior
Jarrett Lake
had a good spring and could be the leader here. Freshman Brooks Ellis could make an immediate impact too. Experience is a bigger issue than talent with this unit. Also, the staff could spend the preseason moving everyone around.
13. Auburn:
This unit really struggled last year with getting lined up right and making tackles. There should be improvement with Ellis Johnson taking over the defense, but players need to get better. Star hybrid
Justin Garrett
had a great spring and could be primed for a breakout year. He can play in the box and cover, so he'll really help this unit. The good news is that Johnson needs just two linebackers for his 4-2-5 scheme. But those players have to perform. Sophomore
Kris Frost
made strides this spring and
Jake Holland
is experienced, while
Cassanova McKinzy
and
JaViere Mitchell
should vie for the other linebacker spot.
14. South Carolina:
The Gamecocks lost their entire two-deep at linebacker and had to move tight end
Kelvin Rainey
to linebacker to help with depth. There are a lot of bodies, but the experience is really lacking. Sophomore
Kaiwan Lewis
made strides this spring at middle linebacker, while junior
Sharrod Golightly
left spring with the edge at the hybrid Spur position. Freshmen
T.J. Holloman
and
Jordan Diggs
will compete for time this spring, but, again, they have no experience. Sophomore
Cedrick Cooper
missed spring while recovering from knee surgery, but should start at weakside linebacker.
March, 28, 2013
3/28/13
12:33
PM ET
Our Thursday stroll around the SEC:
January, 11, 2013
1/11/13
11:30
AM ET
Now that we've looked at five
offensive
and
defensive
players to keep an eye on in 2013 from the SEC Eastern Division and five offensive players from the West, it's time to look at five
defensive players from the West
that could have breakout seasons in 2013:
[+] Enlarge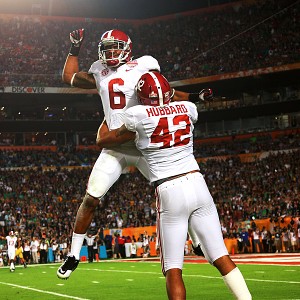 Mike Ehrmann/Getty ImagesHa'Sean Clinton-Dix had an interception in each of his final three games of the season -- including one against Notre Dame in the BCS title game.
Ha'Sean Clinton-Dix, S, Alabama:
We got to know more about Clinton-Dix as the season went on for Alabama, and he only got better as the games came. After starting nine games for the Crimson Tide in 2012, Clinton-Dix is primed to have a real breakout year in 2013. He's extremely athletic and can cover so much ground in Alabama's defensive backfield and isn't afraid to get physical. He notched four interceptions last fall, but with his field instincts, that number should rise in 2013.
Trey Flowers, DE, Arkansas:
Flowers had a solid 2012 campaign, but could have a huge 2013 for the Razorbacks. He had the duty of replacing Jake Bequette and started every game for the Hogs. He finished the year with six sacks, but 3.5 of them came in the win over Auburn. He also registered 13 tackles for loss and 11 quarterback hurries. With
Chris Smith
coming back on the other side, Flowers should have good room to move around even more this fall. Smith's play will help relieve some pressure from Flowers, which isn't a good thing for opponents.
Kris Frost, LB, Auburn:
He was expected to be a major player for the Tigers last fall after a shoulder injury cost him his 2011 season. He spent last year playing backup to
Daren Bates
, but with Bates leaving, Frost has a chance to make a real name for himself this fall. He has very good size and speed at outside linebacker, which should make him a real threat as a pass rusher and a run stopper. Frost could be a big-time player for new defensive coordinator Ellis Johnson.
Anthony Johnson, DT, LSU:
He's called "Freak" for a reason. He's a big, barrel-chested man-child who could turn into a monster in 2013. With
Bennie Logan
leaving for the NFL, Johnson should get even more time in the middle for the Tigers. He started just three games in 2012, but recorded 30 total tackles with 10 going for loss and three sacks. He should be much more disruptive this year with Logan gone and could be one of the league's top defensive tackles this fall.
Channing Ward, DE, Ole Miss:
He was Hugh Freeze's top recruit in his first class. Ward played in 12 games last fall, registering 21 tackles, including 1.5 for loss. He didn't register any starts in 2012, but after having a year under his belt, Ward should be much more comfortable with the college game. He's a tremendous athlete and should push for a starting job heading into the fall. He was one of the top defensive recruits in the 2012 class for a reason, and he'll be able to show more of why he garnered such high praise coming out of high school.
May, 15, 2012
5/15/12
11:30
AM ET
By
ESPN.com staff
| ESPN.com
2011 overall record:
8-5
2011 conference record:
4-4
Returning starters
: Offense: 7; defense: 9; kicker/punter: 2
Top returners

QB
Clint Moseley
, QB
Kiehl Frazier
, RB
Onterio McCalebb
, WR
Emory Blake
, TE
Philip Lutzenkirchen
, DE
Corey Lemonier
, DE
Nosa Eguae
, LB
Daren Bates
, CB
Chris Davis
, P
Steven Clark
Key losses
QB
Barrett Trotter
, RB
Michael Dyer
, OT Brandon Mosley, LB Eltoro Freeman, S Neiko Thorpe
2011 statistical leaders (*returners)
Rushing:
Michael Dyer (1,242 yards)
Passing:
Barrett Trotter (1,184 yards)
Receiving:
Emory Blake* (613 yards)
Tackles:
Daren Bates* (104)
Sacks:
Corey Lemonier* (9.5)
Interceptions:
Neiko Thorpe (3)
Spring answers
1. Fearsome foursome:
The runaway winner as the most impressive unit this spring was Auburn's defensive line, which is encouraging to everybody on the Plains given the way the Tigers struggled up front last season with injuries and a little bit of everything else. Junior defensive end Corey Lemonier is one of the best pass-rushers in the league. But by all accounts, it was another junior defensive end,
Dee Ford
, who wreaked the most havoc this spring. Ford missed most of last season with back problems. The Tigers are deep at both end and tackle, and if some of the injured players come back healthy (
Gabe Wright
,
Kenneth Carter
and Nosa Eguae), this is a defensive line that could be dominant.
2. Whitehead's versatility:
It didn't take first-year defensive coordinator Brian VanGorder long this spring to single out
Jermaine Whitehead
for his football smarts. The versatile sophomore was good enough that he may end up playing three different positions in the fall -- cornerback, safety and nickel back -- and VanGorder said that kind of versatility should open up all sorts of possibilities for the Tigers on defense.
3. New-look offense:
The Tigers weren't giving away a whole lot this spring as to what first-year coordinator Scot Loeffler's offense is going to look like. It will certainly be different than what the Tigers did under Gus Malzahn, and the players all left spring practice saying it was a good fit.
Tre Mason
looks like he's going to be a big-time player, and several receivers seemed to find a new lease on life in Loeffler's system. A lot of it's going to come down to how the Tigers play at quarterback, but there was a quiet confidence on the offensive side coming out of the spring.
Fall questions
1. Thin at linebacker:
The only proven commodity is senior Daren Bates, who made a nice jump last season and became more consistent as a tackler. There's potential in the form of some younger players, but just not a lot of experience or depth. Redshirt freshman
Kris Frost
is an impressive looking athlete who had his moments, but he's still learning on the job. Junior
Jake Holland
may well be the key. He steps in at middle linebacker, and the Tigers need him to develop into a physical run-stuffing presence. Chances are that incoming true freshman Cassanova McKinzy will also have to play some this fall in the middle.
2. Quarterback quandary:
The Tigers ended spring practice without naming a starting quarterback. Junior Clint Moseley, who took over the starting duties from Barrett Trotter late last season, was hampered by shoulder problems this spring and missed some practice time. Sophomore Kiehl Frazier picked up some valuable reps and made the most of them. He still needs to become more consistent as a passer, but his ability to extend the play gives him a leg up heading into the fall. The Tigers will need to identify a starter fairly early in preseason practice to start building some chemistry.
3. Regaining the edge on defense:
It was a forgettable season on defense for the Tigers a year ago. They gave up yards by the chunk and gave up a ton of big plays. More than anything, they lost their confidence, which was obvious by the way it all fell apart for them during that brutal stretch in November. VanGorder's greatest challenge was to get this defense playing with an edge again, be it making key stops, taking the ball away or finishing the game the right way.
November, 29, 2011
11/29/11
12:05
PM ET
Taking a spin around the SEC with some links.