June, 25, 2012
6/25/12
4:01
PM ET
Current non-automatic qualifying conferences might receive better access on the playing field under college football's new playoff system, but it doesn't sound as if they will have better access to the cash. Although there is expected to be more money to go around -- projected at anywhere from two to four times the current television revenue of $155 million per year -- how revenue would be distributed proportionately under the new system might not be all that different.

Under the current system, non-AQ conferences split approximately 18 percent of BCS revenue if one of their teams is selected for a BCS bowl game, and 9 percent if not. The AQs take home the rest.

"I think it'll be adjusted modestly, but the five conferences are still going to get the lion's share, it's just how big of a lion are we talking about," said Gary Ransdell, president of Western Kentucky University and a member of the Presidential Oversight Committee, which meets this week to finalize playoff plans.


April, 11, 2012
4/11/12
8:22
AM ET
Say what you will about how it all ended, but this much is certain about Bobby Petrino's tenure in Arkansas: He meant victories and money during his four years there.
From former coach Houston Nutt's final season in 2007 to the 2010 season under Petrino, the Razorbacks saw donations to the football program rise a whopping 359 percent, with a more than 80 percent growth from 2009-10 to 2010-11, to $15.4 million. No other SEC school saw such growth in that time period: Auburn's donations increased by 15 percent, while Florida saw a 9.7 percent increase. Georgia came in lower at 3.9 percent, and LSU saw donations decrease by more than 13 percent.
The figures come from data each university provides to the NCAA, and while it's important to note that every athletic department handles donations differently -- some schools only take what they need each year from their fund-raising pots -- there's no arguing Arkansas has seen a huge influx of cash during Petrino's tenure.
Football revenue overall rose by 54 percent during Petrino's first three years, to $61.1 million. Auburn, which won a national title during that time period, saw a 30 percent increase. LSU's revenue growth came in at 13 percent to $69.1 million.
Petrino, who was in the middle of a seven-year contract under which his salary averaged $3.53 million, put teams on the field that had fan-friendly high-powered offenses.
"Under Petrino, the team averaged 94 percent capacity for home games. It was only 91 percent under [Houston] Nutt," said Scott Prather, one of the founders of Coaches by the Numbers, a website dedicated to gathering statistical data on football coaches. "If you figure each ticket at an average of $50 per ticket, that's nearly $600,000 per year."
Petrino's last two teams won 81 percent of their games, the best two-year record for any Razorback coach since 1988-89 under Ken Hatfield. In his Tuesday press conference
announcing Petrino's firing
, Arkansas athletic director Jeff Long acknowledged he has a tough road ahead as he searches for a new football coach.
"It's a difficult time of year to be searching for a head football coach, no question," said Long.
Replacing a successful coach is also potentially difficult timing for the athletic department, which
broke ground on a new football complex
last fall as part of a comprehensive athletic facilities master plan for many sports. The master plan, which aims to be funded solely by private donations, is estimated to cost up to $327 million at full completion.
Heather Collart, a former athletics administrator who now works for the Detroit Pistons, said the loss of an administrator or coach can have a definite impact on donations and capital campaigns.
"While talent reigns supreme within athletics, the personality of leadership has a stronger tie than most people realize to donors, alumni and especially former student-athletes," said Collart.
The message from the university will be key in the next weeks several weeks, she said.
"Boosters will always question difficult decisions, especially when it results in the loss of a figurehead who had an enduring personality or winning record -- however if you can point to a long-standing process that holds a mission statement as gospel, boosters will come to accept the decision much more quickly and in most cases will remain loyal to a program."
March, 21, 2012
3/21/12
4:45
PM ET
One of the most frequent sources of debate and disdain when it comes to college football's Bowl Championship Series is the disparity between payouts to automatic-BCS-qualifying conferences and non-automatic qualifiers.

It turns out that gulf is just as big when it comes to NCAA distributions from March Madness.

Last year, the Big East brought home more men's basketball tournament money -- $24.9 million -- than any other conference. The most a non-automatic-qualifier conference brought home was Conference USA, at $6.95 million.

Not much is likely to change this year, as 14 of the Sweet Sixteen teams hail from automatic-qualifying football conferences. Nine are from the Big East and Big Ten conferences.

Since automatic-qualifying conferences were formed in 1998, no school outside of those has won an NCAA men's basketball national title, and every champion since 1967 would fit into today's FBS conference lineup. Just three national championship games since 1998 have featured a team from outside such conferences.

Although March Madness produces revenue of $771.4 million a year, as compared to $162.5 million generated by the BCS's television contracts, the majority of conferences receive more revenue from the BCS than from the NCAA's Basketball Fund, as the table shows.

Schools from the six automatic-qualifier football conferences brought home 47.5 percent of all money distributed by the NCAA based on performance in the tournament, while the five non-automatic-qualifier conferences banked 10.5 percent. The rest went to teams whose conferences play football at a lower level. In football, the disparity is even starker: automatic-qualifier conferences took home 85 percent of all BCS money distributed last year.

March Madness is the primary revenue generator for the NCAA, so not all money is distributed based on performance in the tournament. For 2010-11, the NCAA distributed $452 million of the approximately $771.4 million produced by its television contract.

Just $180.5 million was distributed based on performance in the NCAA tournament through what's called the "Basketball Fund." An almost identical amount was distributed based on how many sports each school sponsors and how many grants-in-aid each supports. The remainder is distributed for academic programs and financial assistance for student-athletes.

The Basketball Fund portion of the NCAA's distribution each year is based on how many units each team in the tournament earns. Each team in each game except the championship game receives a unit for playing. This year each unit is worth $242,000.

Money is distributed based on a six-year rolling period by adding up all of the units earned by each school during the preceding six years. Checks are cut to the conference, not the individual school which participated in the tournament, unless the school is independent. Each conference then chooses whether to divide the money equally or based on tournament performance.

The SEC has historically divided the money it receives into 13 equal shares, with the conference keeping one share, after reimbursing participating teams for travel and rewarding them for performance. In addition, schools receive $50,000 for participating in each round up to the Final Four and $100,000 for appearing in the Final Four.

The Big 12 distributed by an entirely different method in 2010-11. Each member institution was awarded an amount equal to the units the school earned in the current fiscal year. Revenue from units earned by members during the previous five years was divided equally among all members. The conference did not supplement travel or other expenses.
January, 10, 2012
1/10/12
6:19
PM ET
With New Orleans hospitals, schools and basic infrastructure in dire need of rebuilding following Hurricane Katrina, many taxpayers wondered aloud why the Federal Emergency Management Agency would allocate $156 million for a renovation of the Superdome.
Sure, the stadium was eligible for FEMA funding because it was state-owned, open to the public, and it sustained damage during Katrina. Yet questions came, anyway.
But for Louisiana, it marked a "If You Build It, They Will Come" idea. Fast-forward six years, and note that the Mercedes-Benz Superdome -- on the heels of $336 million, multiphase renovation -- is in the midst of playing host to a string of the country's major sporting events.
[+] Enlarge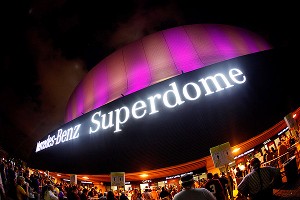 Chris Graythen/Getty ImagesThe Mercedes-Benz Superdome before the All-State BCS National Championship Game.
In addition to the annual Sugar and New Orleans bowls, the city that hosted the Allstate BCS National Championship Game on Monday night also has Saints playoffs games this winter, the SEC men's basketball tournament and men's Final Four this spring, the Super Bowl in February 2013, and the women's Final Four a few months later.
Landing such events was part of the post-Katrina recovery plan, says Mark Romig, chief executive officer of the New Orleans Tourism Marketing Corp., and a member of committees for the Super Bowl and Sugar Bowl. "We knew for us to come back and to lift ourselves up, we had to go through this process."
Romig says New Orleans annually ranks at or near the top of the list in hospitality jobs nationally, with between 70,000 and 80,000 positions. He says that number is "very close" to pre-Katrina levels and that there are more restaurants in New Orleans than before the hurricane, and hotel numbers are comparable.
John Williams, interim dean for University of New Orleans' College of Business Administration, attributes much of the city's jump from $4.3 billion in tourism spending in 2009 to $5.5 billion in 2010 to sports. Business travelers are staying an average of 2.2 days longer than their business plans, he says, often to attend sporting events.
Williams says studies also show fans visiting for sporting events are more likely to patronize local restaurants than other tourist segments, like day visitors or business travelers. It's why he thinks the city has seen a jump in restaurants from 805 pre-Katrina to 1,230 today. "Sports are really key to that," he says.
Williams says the city saw a 6.6 percent growth in tourism-related jobs in the first quarter of 2011 alone. While numbers have not yet been vetted for the remainder of 2011, he says the city has been experiencing a snowball effect since hosting Saints playoff games in 2009.
Romig says hosting events like the BCS game Monday essentially provide the city with immeasurable free advertising to help boost tourism unrelated to sporting events. ESPN logged more than 36 hours of programming on sets around New Orleans in the week leading up to the game, not counting the game itself, pre- or post-game shows or halftime shows.
Asked to estimate the value of the advertising New Orleans received around the BCS National Championship game, Malcolm Turner of Wasserman Media Group says, "There's no question we're talking in the tens of millions of dollars."
The projected economic impact from the recent Sugar Bowl and BCS National Championship games was $400 million. The R&L Carriers New Orleans Bowl played on Dec. 18 and the Saints playoff game last Saturday were expected to contribute another $45 million. But the Super Bowl is the big revenue generator, with estimates at about $900 million.
January, 8, 2012
1/08/12
10:10
AM ET
The retail market for licensed collegiate apparel is, quite simply, a behemoth of a business that brings in about $4.3 billion annually.
Seemingly everyone wants a piece of it, which is why so many people at so many major events hawk items of all shapes, types and sizes -- whether the items are legitimately made and licensed or counterfeit.
[+] Enlarge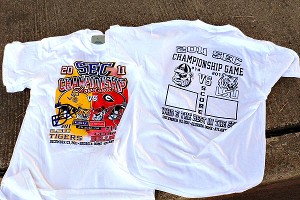 Kristi Dosh/ESPN.comSome counterfeit shirts look more authentic than others.
Vendors selling counterfeit goods mixed right in with legitimate vendors at the SEC Championship game in December in Atlanta. They did it at the Rose Bowl, too. And they'll do it again Monday night at the 2012 Allstate BCS National Championship Game.
Last year, more than 60,000 pieces of counterfeit merchandise valued at more than $1 million overall were seized by Collegiate Licensing Company. While CLC represents nearly 200 colleges, universities, bowl games, athletic conferences, the Heisman Trophy and the NCAA, it's not the only licensing agency around; Learfield Sports, Licensing Resource Group, and Silver Star Merchandising represent collegiate properties in their licensing efforts as well.
At the 2011 SEC championship Game, CLC took possession of 1,012 pieces of unlicensed product with an estimated retail value of more than $15,000. That's up from 2010, when 541 pieces of unlicensed produced were seized or voluntarily surrendered by vendors. More than twice that many products were seized last January at the Rose Bowl by CLC.
CLC officials said that on average, nearly 5,000 counterfeit items, from T-shirts to hats to bracelets, are seized outside the host stadium of the BCS title game each year.
Some of the items are obvious: In December in Atlanta, a roaming vendor on Mangum Street south of the Georgia Dome peddled T-shirts, gold letters emblazoned on purple reading: "BATON [expletive] ROUGE." The back of the shirt warned: "IF YOU DON'T BLEED PURPLE AND GOLD TAKE YOUR [double expletive] HOME!"
Most people wouldn't consider such a shirt an officially licensed product of Louisiana State University because of the vulgar language. But another vendor sold shirts proclaiming a "2011 SEC Championship Showdown" and featured the trademarked logos for LSU and Georgia. Few buyers would be able to determine the shirts were counterfeit.
CLC investigators team with local police at major events and seize such material, give citations to the vendors or arrest them. Companies like CLC conduct such enforcement activities because federal law requires trademark owners to "police" their mark. Trademark law is largely enforced through private lawsuits, although there are also criminal penalties for counterfeiting goods. Failure to police a mark by attempting to prevent infringing uses can result in a loss of protection for a trademark.
[+] Enlarge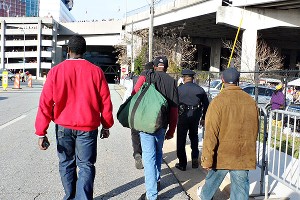 Kristi Dosh/ESPN.comAtlanta police and investigators from Collegiate Licensing Company walk a man accused of selling counterfeit apparel away from the SEC championship game in December.
The most clear-cut violations by vendors are those involving the use of trademarks that are registered at the state or federal level. Trademarks include more than just the university, conference or BCS logo. For example, University of Georgia lists the following trademarks: "Georgia," "University of Georgia," "Georgia Bulldogs," "Bulldogs," "Dawgs," "UGA," "University of Georgia Athletic Association," "Between The Hedges," "How Bout Them Dogs," "Go You Silver Britches," "Hairy Dawg," the oval "G" mark and many others.
In addition to registered trademarks at the state or federal level, universities can also claim common law rights to marks or wording typically associated with the university.
In 2008, the Fifth Circuit Court of Appeals upheld a decision by a Louisiana federal district court against Smack Apparel for intentional trademark infringement based on its use of school colors in combination with other designs and words that made it apparent the references were designed to associate with a particular school. For example, one shirt featured the following: "Got Seven?" "We do! 7 Time National Champs." The shirt included a depiction of the state of Ohio and a marker noting Columbus, Ohio, on the back. The court decided the shirt referred to the seven college football national titles claimed by Ohio State University.
The court ruled that the schools involved in the suit owned trademark rights in their color schemes and that combined with other indicia on the various shirts, such as the reference to Ohio State's location in Columbus and national titles in the example above, trademark infringement had occurred, even without use of the school name or logo.
So, who are these vendors?
One of them cited in Atlanta was the man selling the shirts with the expletives. He said he planned to keep $8 of the $20 shirt cost, with $12 going to his boss. He expected to make $1,500 to $2,000 that day before he was stopped by CLC investigators and Atlanta police for vending without a permit.
The man said he was based out of Cleveland but traveled nearly every weekend for major sporting events. He said he worked for a company named Street Talk Tees, which is registered as a business in Ohio for "novelty tees and apparel." The vendor said his company employs about 30 people who travel to events -- two others also worked the SEC game.
Requests for comment from Street Talk were not answered.
[+] Enlarge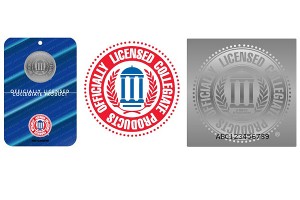 CLCThese tags and holograms can be found on licensed collegiate apparel and items.
CLC says buyers have a few ways to determine the authenticity of their purchases:
• Look for an "Officially Licensed Collegiate Products" hologram on the product or hangtag.
• Consider taste of the product, as distasteful designs are not approved by trademark holders.
• A torn or missing tag usually is evidence of a second-hand garment.
• The name of the manufacturer will be on the product somewhere, either in the form of a hangtag, a neck label, or screen-printed directly.
• All merchandise should have appropriate trademark designations next to a specific name or design.
Why be so conscientious when you buy collegiate merchandise? Each year, universities depend on millions of dollars in royalties to fund athletic programs and other university initiatives. For example, the University of Florida showed more than $6 million in licensing revenue on its audited financial statement for 2010-11, with just $40,000 of that going to CLC in marketing fees.
Ohio State budgeted for $3.5 million in licensing revenue for 2011-12 and projects $1.58 million of that will move from the athletic department to the university, to be used for academic programming and scholarships.
November, 15, 2011
11/15/11
4:53
PM ET
Of all the conference realignment possibilities, debates and related goings-on,
Missouri's move to the SEC
may have gotten the least attention -- in large part because of the ongoing Penn State scandal.
No doubt that's fine for Missouri officials now -- and recent SEC addition Texas A&M -- but not being in the national dialogue won't stand once the teams begin SEC play. Where some fans see both moves as lateral for the teams, university leaders see otherwise: moving to the SEC with play starting in 2012-13 is a chance to grow their brands nationally.
"The top decision factor for A&M going to the SEC was about increasing national visibility and exposure," said Jason Cook, A&M's vice president of marketing and communications. It's no coincidence, he said, that six of the top 10 and nine of the top 25 top-selling brands for IMG College are SEC members.
Cook said looking no further than your TV screen underscores the opportunity: the recent Aggies game against Iowa State was the game selected by Big 12 first-tier rights holder ESPN, which showed the game on ABC regionally. Cook said it wasn't even shown across the entire Big 12 footprint, much less nationwide. But that week's game on CBS, the SEC's first-tier rights holder, appeared in homes from coast to coast.
Referring to the Big 12's new, second-tier television deal with FOX set to begin next season, Cook said: "While some look at the Big 12's contract and see it as good from a financial standpoint, from an exposure standpoint, it doesn't get coast-to-coast coverage." This would put A&M in the same situation it was in for the Iowa State game, when broadcasts are via regional network and not nationwide.
Increased exposure nationally through athletics can help educate prospective students learn about the university, too, he said. A&M is still thought of by many to be an all-male military institution. One other important advantage: "We can set the marketplace in the state of Texas for the SEC," Cook said, as the school will be the conference's lone Texas brand.
From a licensing standpoint, Cook said consultants have projected revenue to increase by up to 60 percent as a result of the move.
Missouri officials have mentioned similar benefits, but Chris Koukola, assistant to the chancellor for university affairs, focused mostly on academic benefits in a recent interview.
Officials from the admissions office will look at extending their out-of-state reach, particularly in Florida, where they have a large number of alumni. Koukola also mentioned the expanded research opportunities available for faculty.
What Koukola said she most looks forward to is the opportunity to participate in a group the SEC has formed of administrators in a similar communications position. She said the Big 8 had such a group, but it was never active once the Big 12 was formed. This cooperative element adds value to their move that often goes without mention, she said.
November, 3, 2011
11/03/11
10:48
AM ET
The price to see
No. 1 LSU vs. No. 2 Alabama
in person is growing alongside the hype for this weekend's matchup.
The average ticket price of $402 prior to the season is starting to look like a bargain, as fans are now looking at an average of $508 -- a 28% increase.
The cost is even more impressive when compared with ticket prices to the SEC Championship Game, annually college football's most financially successful conference championship game. A ticket to last year's game between Auburn and South Carolina went for an average of $460 on StubHub. Games in 2009 and 2008, which pitted Alabama against Florida, went for an average price of $573 and $488.
Glenn Lehrman of StubHub said this week's matchup has become the highest-demand ticket his company has seen for an Alabama home game. It's on pace to be the highest-selling college football game of the season and is only trailing the LSU-Oregon season opener. The highest-priced ticket Thursday morning was selling for about $5,000.
The hotel industry in Tuscaloosa is benefitting as well, although surprisingly there were still rooms available as of last week. A search last Thursday on Hotels.com indicated 22 hotels in Tuscaloosa ranging from $40 to $200 for the night of the game, and a search on Travelocity.com showed 20 hotels ranging from $40 to $215. Didn't buy then? You're out of luck -- the closest you'll get now is Birmingham, about 55 miles away.
Media members aren't faring much better in terms of trying to
cover the game
. Alabama expects approximately 600 credentialed media members. For an average game, roughly 350 credentials are granted.