February, 6, 2012
2/06/12
3:30
PM ET
The first batch of big uglies are on the ranking slab Monday. No offense can operate without offensive linemen and the SEC has its share of talented big men.
Here's a look at our
preseason rankings
when it came to offensive lines. Let's just say we overestimated when it came to a couple of groups.
Here's what we though of after the 2011 season:
1. Alabama:
The Crimson Tide line pushed around its opponents all year long. Alabama was first in the SEC in rushing (and had the Doak Walker winner in Trent Richardson) and averaged 5.5 yards per carry. Alabama was equipped with Outland Trophy winner Barrett Jones, who played just about every position up front and the top SEC in William Vlachos. Alabama got tremendous play out of D.J. Fluker and got a pleasant surprise out of Alfred McCullough. Alabama ranked first in the league by allowing just 17 sacks.
2. LSU:
The Tigers' offense went as its running game went. And for 13 games the running game was great. The offensive line should take a lot of credit for that. With two Associated Press All-SEC members -- Will Blackwell and Chris Faulk -- LSU averaged 200.9 rushing yards against conference foes. Alex Hurst should also become a more familiar name in 2012. LSU allowed just 18 sacks and totaled only 234 negative rushing yards.
3: South Carolina:
South Carolina put only one player on the All-SEC list, in Rokevious Watkins, but the Gamecocks' line had a pretty good season. Even after losing top running back Marcus Lattimore midway through the season, South Carolina finished the season third in the SEC in total rushing and rushing against conference opponents. South Carolina had to deal with Kyle Nunn's absence for most of the year as well, but found a budding star in A.J. Cann. Pass protection dipped, as South Carolina allowed 30 sacks.
4. Georgia:
Before the season, the offensive line seemed to be held together by tape, but this line stayed together nicely through 14 games. The Bulldogs were fifth in the conference in rushing against SEC foes and had two All-SEC performers in Cordy Glenn, who might be a first-round draft pick, and center Ben Jones. Where Georgia's line came up short was in pass protection, as the Bulldogs were 11th in the league allowing 33 sacks.
5. Vanderbilt:
The Commodores didn't put anyone on the All-SEC teams, but there's no question that this was the most improved line in 2011. Wesley Johnson proved to be one of the most underrated linemen in the league and the Commodores' offense was much more explosive than past years. Vandy was sixth in the league in rushing and had the league's No. 3 rusher in Zac Stacy. The Commodores gave up 18 sacks in SEC games.
6. Arkansas:
The Razorbacks were dealing with a young line, but saw improvements as the season went on. Without Knile Davis in the lineup, the running backs were pretty inconsistent individually, but the Hogs averaged 134.3 yards in conference games. In each of Arkansas' two losses, the Razorbacks averaged just 32 rushing yards. Alvin Bailey was a second-team All-SEC member and should be star in 2012. Arkansas allowed 28 sacks, but also allowed quarterback Tyler Wilson take some punishing hits throughout the year.
7. Auburn:
The Tigers could run the ball for most of the year. Auburn was fourth in the league in rushing and averaged 4.1 yards per carry against SEC play. Michael Dyer finished the year second in the league with 1,242 yards. Brandon Mosley was the only returning starter, but the Tigers got solid play out of freshman center Reese Dismukes and saw the reemergence of A.J. Greene after injury cut his 2010 season short. However, Auburn's passing game and pass protection struggled. The Tigers gave up 32 sacks in 2011 and were overwhelmed by more athletic defensive lines.
8. Mississippi State:
The Bulldogs had to deal with a rash of injuries along their offensive line in 2011. Tobias Smith went out early and the Bulldogs watched as Quentin Saulsberry and James Carmon deal with injuries toward the beginning of the season. The Bulldogs were able to deliver a 1,000-yard running back in Vick Ballard, but ranked ninth in the league in rushing against SEC teams. Mississippi State gave up just under two sacks a game.
9. Tennessee:
This was supposed to be a strong point for the Vols last fall, but Tennessee struggled all year to run the ball. The Vols ranked 116th nationally in rushing and averaged just 63.5 yards per game in SEC play. While Tennessee never generated much of a running game last season, its pass protection was one of the best in the league. The Vols gave up just 18 sacks on the season, despite playing three different quarterbacks.
10. Florida:
The Gators experienced another year of sub par line play in 2011. With a relatively young group up front, Florida really struggled to provide much comfort in the pocket for its quarterbacks and rarely outplayed opposing SEC defensive lines. Florida's line was also flagged a bunch last fall. Florida gave up just 23 sacks, but 21 came in SEC play and Florida averaged just 3.8 yards per carry and scored nine rushing touchdowns against SEC defenses.
11. Kentucky:
Before the season, we thought the Wildcats would be much higher on this list, especially considering the fact that they returned four starters. However, injuries ruined Kentucky up front. Larry Warford was Kentucky's best lineman, but for the first part of the season, the Wildcats failed to play its five original starters because of injuries. Kentucky gave up 21 sacks through the first five games and gave up a league-high 35 sacks on the year. The Wildcats also ranked 11th in the league in rushing.

12. Ole Miss:
Here's another line that returned so much but did so little last fall. We look pretty silly now after ranking Ole Miss' line second in our preseason rankings because the Rebels' line didn't do much protecting all year. Ole Miss' line didn't have the injury issues that Kentucky had and was still 10th in the SEC in rushing and scored just four rushing touchdowns in league play. The Rebels also gave up 31 sacks on the season, with a league-high 26 coming against SEC defenses.
January, 13, 2012
1/13/12
11:00
AM ET
We're taking one last look at the SEC's postseason by putting together our All-SEC bowl team:
OFFENSE
QB:
Connor Shaw
, South Carolina: Shaw didn't seem to feel the pressure of a bowl game, completing 11 of 17 passes for 230 yards and two touchdowns and rushing for 42 yards and another score in the Gamecocks' win against Nebraska in the Capital One Bowl. He even gave South Carolina the momentum going into the second half with a touchdown on a Hail Mary to end the first half.
[+] Enlarge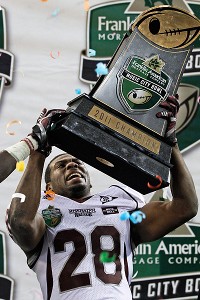 AP Photo/Mark HumphreyMississippi State's Vick Ballard rushed for 180 yards against Wake Forest in the Music City Bowl.
RB:
Vick Ballard
, Mississippi State: Ballard ended his career with the Bulldogs with one of his best performances, as he rushed for 180 yards and two touchdowns on just 14 carries in Mississippi State's win against Wake Forest in the Music City Bowl. His touchdowns went for 72 and 60 yards.
RB:
Onterio McCalebb
, Auburn:
As the Tigers' lead back in the Chick-fil-A Bowl, McCalebb had a game-high 109 rushing yards, including a long of 60. He also recorded a three-yard touchdown run and caught two passes for 53 yards, including a 25-yard touchdown in Auburn's win against Virginia.
WR:
Alshon Jeffery
, South Carolina:
Jeffery's day would have been even better if he hadn't been ejected. However, he still caught four passes for a game-high 148 yards and snagged Shaw's Hail Mary touchdown pass at the end of the first half. He also had a 78-yard reception.
WR:
Tavarres King
, Georgia:
King tried his best to get Georgia a victory in the Outback Bowl against Michigan State. He was
Aaron Murray
's best friend, catching six passes for a career-high 205 yards, including an 80-yard touchdown pass that at one point stood as the longest play in Outback Bowl history.
TE:
Brad Smelley
, Alabama: The Crimson Tide got its passing game going with Smelley in Monday's Allstate BCS National Championship win against LSU. He was
AJ McCarron
's safety net when plays broke down, and the young quarterback also used Smelley on rollouts. Smelley finished the game with seven catches for 39 yards.
OL:
Barrett Jones
, Alabama: Behind one of the most versatile linemen in the entire country, Alabama's line held back LSU's defensive front for most of Monday night's game. Alabama ran for 150 yards against LSU's vaunted defense. He also kept McCarron safe, as the youngster was sacked only twice while throwing for 234 yards.
OL:
Alvin Bailey
, Arkansas:
He just keeps looking better and better for the Razorbacks. In Arkansas' AT&T Cotton Bowl victory against Kansas State, he helped Arkansas churn out 129 rushing yards on 4.3 yards per carry and helped give quarterback
Tyler Wilson
enough time to pass for 216 yards and two touchdowns.
OL:
Kyle Nunn
, South Carolina:
The Gamecocks' offensive line gave up four sacks to Nebraska, but Shaw was still able to throw for 230 yards and two touchdowns. With Nunn's help, the Gamecocks also rushed for 121 yards against the Cornhuskers.
OL:
Gabe Jackson
, Mississippi State:
Ballard's outstanding performance for the Bulldogs wouldn't have been possible if not for some solid line play. Jackson had one of his best outings, as he helped Mississippi State rush for 253 yards and pass for another 129. Mississippi State gave up just one sack to Wake Forest.
C:
William Vlachos
, Alabama:
Vlachos had his hands full with the interior of LSU's defensive line, but he more than held his own. He battled all night with LSU's
Michael Brockers
and allowed him to assist on just one tackle for loss. He provided a ton of protection in the passing game and helped Alabama rush for 150 yards on LSU's defense.
DEFENSE
DE:
Jake Bequette
, Arkansas:
Bequette said before Arkansas' bowl game that the Hogs' defense needed to make a statement. Bequette certainly made a few in his final game with the Razorbacks, registering two sacks, forcing a fumble and totaling three tackles.
DE:
Jadeveon Clowney
, South Carolina:
The freshman put a nice bow on his first season with the Gamecocks. He put a ton of pressure on Nebraska's backfield with two sacks for a loss of 13 yards and finished the game with four tackles.
DT:
Fletcher Cox
, Mississippi State:
Cox wanted to make a lasting impression in his final game with the Bulldogs, and he certainly did by disrupting Wake Forest's offensive line in the Music City Bowl. He finished the game with seven tackles, including two for loss and a sack, and blocked his fifth career kick, which is a Mississippi State record.
DT:
Michael Brockers
, LSU:
Brockers had a tough time with Vlachos in the middle, but that didn't stop him from making plays. He did a tremendous job of clogging holes in the middle for the Tigers and finished the game with seven tackles, assisting on one for loss, and blocked a field goal attempt.
LB:
Courtney Upshaw
, Alabama:
It came as no surprise that Upshaw was named the Defensive Most Valuable Player in the Allstate BCS National Championship Game. He was nearly unblockable for LSU on Monday night. He put immense pressure on LSU's backfield and finished the game with six tackles, including a sack.
LB:
Archibald Barnes
, Vanderbilt:
Barnes was a true rover for Vanderbilt against Cincinnati in the Liberty Bowl. He had a game-high 10 tackles, assisting on one for a loss, and blocked a field goal attempt in the fourth quarter that gave Vandy some life late.
LB:
Alec Ogletree
, Georgia:
Georgia might not have come up with the win in the Outback Bowl, but it wasn't because of how Ogletree played. He was all over the field for the Bulldogs, grabbing a game-high 13 tackles, including two for loss, breaking up two passes and getting a sack.
CB:
Casey Hayward
, Vanderbilt: Yet again, Hayward was tremendous in coverage for the Commodores. He grabbed two interceptions and broke up another pass. He was also second on the team with eight tackles, including one for loss. Cincinnati threw for just 80 yards against the Commodores.
CB:
Stephon Gilmore
, South Carolina: Gilmore ended his South Carolina career on a high note. He recorded five tackles, including one for loss, and an interception. He also returned a blocked extra point for South Carolina's first points of the game. Nebraska threw for just 116 yards on the Gamecocks' secondary.
S:
Mark Barron
, Alabama:
Barron recorded just two tackles, including a sack, but he was outstanding in coverage. He roamed the back part of the field for the Crimson Tide and didn't allow LSU quarterback
Jordan Jefferson
to stretch the field at all because of his positioning. Jefferson threw for just 53 yards on Alabama.
S:
Matt Elam
, Florida:
Elam was Florida's most consistent player during the regular season, and he was all over the field for the Gators in the Taxslayer.com Gator Bowl against Ohio State. He finished the game with six tackles, two for loss and a sack.
SPECIAL TEAMS
PK:
Jeremy Shelley
, Alabama:
Talk about redeeming the position that spoiled Alabama's first game against LSU. Shelley hit five of his seven field goal attempts against the Tigers and even rebounded to hit four of his final five after having his second attempt blocked in the second quarter.
P:
Dylan Breeding
, Arkansas:
He punted four times for an average of 46.8 yards per kick. He had a long of 63 yards and dropped two inside the 20-yard line against Kansas State.
RS:
Joe Adams
, Arkansas:
Surprise, surprise, Adams made another special teams unit look silly. Against Kansas State in the AT&T Cotton Bowl, Adams got things started for the Hogs with a nifty 51-yard punt return for a touchdown. His return sparked a 16-point second quarter for the Hogs.
AP:
Brandon Boykin
, Georgia:
Boykin found a way to put points on the board three different ways in the Outback Bowl. He forced a safety when he stuffed Michigan State's
Keshawn Martin
on the Spartans' first offensive play, returned a punt 92 yards for a touchdown and caught a 13-yard touchdown late. His punt return was the longest play in Outback Bowl history.
December, 29, 2011
12/29/11
3:35
PM ET
South Carolina has welcomed back a familiar face to the offensive line as the Capital One Bowl draws near.

Senior tackle Kyle Nunn is back practicing after suffering a serious back injury and having a blood clot removed from his leg. Nunn started the first four games of the season at left tackle for the Gamecocks, but suffered his back injury in Week 3 against Navy. His final game came against Vanderbilt a week later.
Nunn later underwent surgery to remove the blood clot, putting his chances of returning for any part of the 2011 season in even more doubt.
It appeared as if Nunn was going to apply for a sixth year of eligibility, but now, Nunn could be ending the season
playing
in his South Carolina uniform.
"My first couple days (of practice) were kind of shaky, but I'm back now," Nunn said Thursday. "The back injury caused my leg not to work as it was supposed to because it was pinching on the nerve. It's really scary when you wake up and can't feel your leg. As soon as the surgery was over, all the feeling came back and everything was back. It was good."
Nunn, who has been practicing at left tackle, is trying to play against Nebraska Monday, but if he does, he won't be eligible for a medical hardship waiver that would grant him another year.
"I feel really good about myself right now," he said.
South Carolina's line is much better with Nunn out there, so his return would certainly boost the Gamecocks' offense. If he were able to play left tackle, Rokevious Watkins could move back to right tackle, where he started the first five games of the season.
Having Watkins on the right side would provide the line with a little more stability. Freshmen Cody Gibson and Mike Matulis have switched off at right tackle since Watkins moved to left tackle.
December, 23, 2011
12/23/11
12:34
PM ET
By
ESPN.com staff
| ESPN.com
Here are some SEC links to munch on while you take a break from Christmas shopping:
November, 8, 2011
11/08/11
11:38
AM ET
It looks like South Carolina will have sophomore quarterback
Connor Shaw
this weekend.
Shaw has been cleared medically
after suffering a concussion last week in the Arkansas game and will be back in the lineup Saturday against Florida as long as there are no additional setbacks.

The Gamecocks will be careful with Shaw this week. He won't practice in pads on Tuesday, but should be ready by game time.
He was leveled by Arkansas defensive end Jake Bequette toward the end of the game last week and lay motionless on the field for a few minutes. He eventually walked off the field under his own power, but it's the kind of crushing hit that would put a lot of quarterbacks out for several weeks.
Even with Shaw back, the Gamecocks have to shore up some issues in the offensive line. They moved redshirt freshman guard A.J. Cann out to right tackle during the Arkansas game to replace redshirt freshman Cody Gibson, who was having trouble protecting. But it was Cann who gave up the sack that led to Shaw's concussion.
It really hasn't been the same for South Carolina up front offensively ever since losing senior left tackle
Kyle Nunn
for the season. The Gamecocks were playing well with that first unit, but had to shake things up when Nunn hurt his back and then developed a blood clot in his leg. Senior Rokevious Watkins moved from right tackle to left tackle, and South Carolina has been looking for consistency on that right side ever since.
October, 5, 2011
10/05/11
11:43
AM ET
South Carolina could be without it's top defensive player this weekend when Kentucky comes to town.

Coach Steve Spurrier said during Wednesday's SEC coaches call that defensive end Melvin Ingram is "doubtful" for Saturday with a sprained foot. Ingram has been one of South Carolina's best overall players this season, totaling 26 tackles, including 7.5 for loss and a league-high 5.5 sacks. He's also been all over the field this year for the Gamecocks, grabbing two interceptions, defending three passes and registering three touchdowns.

In South Carolina's 16-13 loss to Auburn, Ingram had 11 tackles, including 4.5 for loss and 3.5 sacks, and an interception.

Ingram's most exciting play of the season came on a 68-yard run for a touchdown on a fake punt against Georgia. He also juked right by Georgia's Brandon Boykin on his way to the end zone.

Ingram has more touchdowns than any of South Carolina's receivers to this point.

South Carolina could also be without left tackle Kyle Nunn, who is dealing with a back injury. Nunn, who has started 20 games in his career, missed the Auburn game because of a bad back, prompting freshman Mike Matulis to start in his place.
October, 1, 2011
10/01/11
3:41
PM ET
COLUMBIA, S.C. -- Kickoff is almost here inside Williams-Brice Stadium and you can tell these teams are really itching to play.


South Carolina is looking to show that its offense can actually do something when
Marcus Lattimore
isn't touching the ball, and Auburn wants to prove that it does have a defense somewhere out there.
These teams picked the best time to play each other and someone will come away from this game feeling much better about one particular side of the ball.
For Auburn, I'm interested to see what kind of pass rush the Tigers generate. Dee Ford, who had been rotating in and out at defensive end, is out for the season after undergoing back surgery earlier this week. That means redshirt freshman LaDarius Owens and sophomore Craig Sanders will get rotated in behind Nosa Eguae and Corey Lemonier. Expect Owens to get most of the snaps.
But the Tigers should benefit from left tackle
Kyle Nunn
being out of the starting lineup for South Carolina. Freshman Mike Matulis will start in his place. This is a great opportunity for Auburn to get its pass rush going by attacking the freshman. Remember, the Tigers have just three sacks on the season.
Auburn will also be without
Trovon Reed
at wide receiver, meaning freshman
Quan Bray
and senior
Quindarius Carr
will get much more action today. Jonathan Mincy will also start over Chris Davis at cornerback for the Tigers.
July, 11, 2011
7/11/11
2:30
PM ET
By
ESPN.com staff
| ESPN.com
Today, we delve deeper into the South Carolina coaching staff.
Coach:
Shawn Elliott
Position:
Running game coordinator and offensive line

Experience:
He's entering his second season on the South Carolina staff. Elliott, 38, had spent his entire coaching career at Appalachian State before coming to South Carolina in 2010. He was the Mountaineers' offensive line coach from 2001-09, and they won three straight national championships from 2005-07. During that same three-year span, Elliott coached three consecutive Southern Conference Jacobs Trophy recipients as the best blocker in the league. After earning his bachelor's degree from Appalachian State in 1996, Elliott worked for two seasons as a defensive assistant and then for two seasons as the Mountaineers' tight ends coach.
Of note:
This will be the first time since 2008 that South Carolina has gone into a season with the same offensive line coach two years in a row. Elliott replaced Eric Wolford, who left following the 2009 season to become the head coach at Youngstown State. Wolford replaced John Hunt, who was let go by Steve Spurrier following the 2008 season. ... Elliott brought with him from Appalachian State his version of the zone-read package to the South Carolina offense, a blocking scheme that paved the way for
Marcus Lattimore
to set a South Carolina freshman rushing record with 1,197 yards. ... The Gamecocks averaged 154.4 rushing yards last season after averaging 112.5 yards over the previous three seasons and never averaging more 121.2 yards on the ground in any of those three seasons. ... Elliott grew up in Camden, S.C., and used to attend games at Williams-Brice Stadium as a kid with his father, Charles, who worked the Gamecocks' home games as a state highway patrolman. ... Elliott played collegiately at Appalachian State and was a co-captain and all-league player as a senior on the Mountaineers' 1995 team that finished 12-1.
His challenge:
South Carolina's offensive line play had been a sore subject with Gamecocks fans ever since Steve Spurrier arrived in 2005, but Elliott stepped in last season and added a degree of toughness and consistency that had been missing up front. Of course, it also helps to add a talent like Lattimore to the backfield. The bottom line is that the Gamecocks were much better at running the ball last season and also did a better job of protecting the quarterback. In addition to coaching the offensive line, Elliott oversees the Gamecocks' running game, which looked like a real-life SEC running game a year ago. Defenses will key on Lattimore more than ever this coming season, and the offensive line will also include some new faces. Redshirt freshman A.J. Cann was impressive in the spring at left guard. Junior college transfer Kaleb Broome will also push for playing time at both guard and tackle, and the Gamecocks need a big senior season out of Kyle Nunn, who returns at left tackle. The same goes for Rokevious Watkins on the right side. He's kept his weight down and will enter fall camp as the starter at right tackle, but could also slide inside to guard. Junior T.J. Johnson is one of the better centers in the league. It's an offensive line that should again be solid when it comes to run blocking. The challenge could be pass protection.
June, 17, 2011
6/17/11
9:30
AM ET
The big uglies up front on the offensive side are our focus today. There are some quality veterans out there, but teams all across the league are looking to replace some quality linemen in the trenches.
Here's how we see the league stacking up:
[+] Enlarge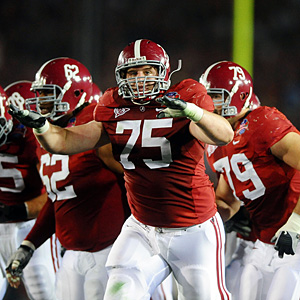 Mark J. Rebilas/US PresswireBarrett Jones has been one of the mainstays of Alabama's offensive line the past two seasons.
1. Alabama:
Four of Alabama's five linemen from a year ago return, making this one of the team's strongest units. The returners have combined for more than 70 starts at Alabama. Barrett Jones is the star of the show. The junior has been the Tide's starting right guard each of the past two seasons, but took reps at left tackle and could be asked to move. William Vlachos is back at center and could be the best at his position in the league. Fellow starters D.J. Fluker and Chance Warmack are back and took reps at left tackle this spring.
2. Ole Miss:
The Rebels' offense isn't getting much respect this offseason, but its offensive line returns All-SEC candidates in tackles Bradley Sowell and Bobby Massie. Seven of Ole Miss' linemen started two or more games each on the offensive line in 2010. Last season, the Rebels were first in the league in sacks allowed, giving up just 14. Alex Washington should stay at left guard after starting eight games there and A.J. Hawkins will likely get the nod at center after playing eight games there as well. Arkansas transfer Matt Hall will compete for time at center.
3. LSU:
Joseph Barksdale might be gone, but the Tigers have a very talented group of linemen returning. Tackle Alex Hurst seems primed to be a star in the league and senior Josh Dworaczky is arguably the Tigers' top lineman with 25 career starts. Patrick Lonergan is solid at center, while T-Bob Hebert is valuable at both center and guard. Sophomore Chris Faulk has the tough assignment of replacing Barksdale, but made quite the impression on his coaches this spring.
4. Kentucky:
The Wildcats return four starters on their line. Right guard Larry Warford headlines the group after gaining second-team All-SEC honors a year ago. Kentucky also returns two-year starter Stuart Hines at left guard and Matt Smith at center, who was solid in his first year there. Left tackle Chandler Burden missed spring practice, but is expected back by fall practice. Finding a suitable right tackle is the next step for Kentucky.
5. Tennessee:
This group could be one of the most impressive units for the Volunteers this season. It's deeper and more experienced in Derek Dooley's second year and he was very pleased with its performance this spring. Junior Dallas Thomas is solid at left tackle, and sophomore Ja'Wuan James really came on strong in his first year and is one of the top linemen in the SEC. James Stone also returns at center. The surprise of the group was true freshman Marcus Jackson, who held down the left guard spot for most of the spring.
6. Mississippi State:
The Bulldogs must replace All-American left tackle Derek Sherrod, but most of the line is somewhat on point. Center Quentin Saulsberry will anchor the line and is versatile enough to play just about every position on the line. Left guard Gabe Jackson and right tackle Addison Lawrence return and the Bulldogs will have junior Tobias Smith lining up at right guard. Blaine Clausell and James Carmon, who moved from defensive tackle, will compete at left tackle.
7. Georgia:
This was supposed to be one of the strongest offensive line units in the league, but the Bulldogs lost tackle Trinton Sturdivant to a season-ending knee injury this spring and fellow tackle A.J. Harmon transferred. Georgia's most-reliable options are Cordy Glenn, who moved from guard to left tackle and Ben Jones at center. Kenarious Gates is at left guard, but he's athletic enough to play tackle if needed. Former defensive lineman Justin Anderson will start off at right tackle. Right guard is the next area of business and the depth all around is a problem.
8. South Carolina:
The Gamecocks have questions here, but there is talent across the line. Rokevious Watkins is one of the most talented guards in the league and he'll be assisted by returning starter at center T.J. Johnson. Senior Kyle Nunn has made strides at left tackle and redshirt freshman A.J. Cann took over duties at left guard this spring. Still, the younger linemen will be counted on to contribute this fall.
9. Arkansas:
The Razorbacks must replace three starters on the offensive line. Center Travis Swanson and left guard Alvin Bailey are the only returning starters. Just a sophomore, Bailey impressed his coaches last season and will be one of the top linemen in the league this fall. After that, the Hogs will have to turn to youth for help. True freshman Brey Cook could be thrust into the starting role at right tackle, while sophomore Anthony Oden could get the job at left tackle.
10. Florida:
Florida's offensive line struggled throughout the 2010 season -- and that was with a senior-laden group. This fall, the Gators will start over with a ton of inexperience. Right guard Jon Halapio and right tackle Xavier Nixon are the only returning starters. Halapio struggled at times last season and Nixon battled injuries. Florida's line spent most of the spring in the infirmary, so little is known about the overall talent. Freshman Chaz Green left spring as the starter at left tackle, Jonotthan Harrison will battle former Notre Dame lineman Dan Wenger at center. He transferred in after spring, but has health concerns.
11. Auburn:
The Tigers will go from having one of the top offensive line groups in the country to having a major work in progress in 2011. Senior Brandon Mosley is the lone returning starter, and while he was solid on Auburn's line last season, he came from junior college as a defensive end/tight end. The good news is that tackle A.J. Greene should be fine this fall after sustaining a season-ending leg injury last year. The rest of Auburn's linemen are very young and inexperienced. Don't expect many redshirts from this group.
12. Vanderbilt:
The Commodores might return all five starters, but this unit had trouble keeping things together last year. The offense needs this group to improve mightily. Wesley Johnson is Vanderbilt's best option, despite only being a sophomore at left tackle. There will be size on the right side, with 300-plus pounders Kyle Fischer and Ryan Seymour over there. Simply put, this unit has the experience, but it requires a lot of improvement.
SEC SCOREBOARD
Saturday, 12/20
Monday, 12/22
Tuesday, 12/23
Wednesday, 12/24
Friday, 12/26
Saturday, 12/27
Monday, 12/29
Tuesday, 12/30
Wednesday, 12/31
Thursday, 1/1
Friday, 1/2
Saturday, 1/3
Sunday, 1/4
Monday, 1/12
Tweets from https://twitter.com/ESPNCFB/lists/sec