December, 5, 2011
12/05/11
9:10
PM ET
My Heisman Trophy ballot has changed every week for the last couple of months.
I'm not surprised there are more than three players going to the trophy presentation.
Five players were invited to New York for Saturday night's Heisman Trophy presentation -- quarterbacks
Andrew Luck
of Stanford and
Robert Griffin III
of Baylor, tailbacks
Montee Ball
of Wisconsin and
Trent Richardson
of Alabama and cornerback Tyrann Mathieu of LSU.
It's a shame the Heisman Trust didn't have room for three more quarterbacks because Houston's
Case Keenum
, USC's
Matt Barkley
and Boise State's
Kellen Moore
were just as deserving.
With five finalists going to New York, it figures to be one of the closer votes in recent Heisman Trophy history.
The closest vote in Heisman Trophy history came just two years ago, when Alabama tailback Mark Ingram edged Stanford's Toby Gerhart by only 28 points. Ingram received 227 first-place votes, Gerhart got 222 and Texas quarterback Colt McCoy, the second runner-up, received 203.
Given the number of finalists and their geographical regions, we could have another really close finish on Saturday night.
Luck, the runner-up to Auburn's Cam Newton last season, entered the 2011 season as the Heisman Trophy favorite. His performance didn't slip much this season, as he completed 70 percent of his passes for 3,170 yards with 35 touchdowns and nine interceptions.
I still feel Luck might be the most valuable player on any team in the country. Without him, there's no way the Cardinal is ranked No. 4 in the country and playing No. 3 Oklahoma State in the Tostitos Fiesta Bowl. Luck has done more with less, as Stanford lacks the game-changing playmakers that other teams have.
But Luck might still be the second-best quarterback in New York. Griffin, who is widely known as RG3, completed 72.4 percent of his passes for 3,998 yards with 36 touchdowns and six interceptions. He also ran for 644 yards with nine touchdowns.
Without him, the Bears wouldn't have beaten TCU, Oklahoma and Texas. Griffin's one drawback: He had a late interception that sealed the Bears' fate in a 36-35 loss at Kansas State on Oct. 1 and threw two picks in a 59-24 loss at Oklahoma State on Oct. 29. But with everything else RG3 has done this season, it's easy to give him a mulligan for the miscues.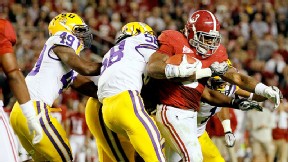 Kevin C. Cox/Getty ImagesRunning back Trent Richardson has been at his best in Alabama's biggest games.
I still believe Richardson is the best player in the country. He looked like the best player on the field in No. 2 Alabama's 9-6 loss in overtime to No. 1 LSU on Nov. 5. He had 89 rushing yards and 80 receiving yards in a game where every yard mattered. He finished the season with 1,583 yards with 20 touchdown runs and three touchdown catches. He's also Mr. Dependable, not losing a fumble in his past 520 touches and only once in 614 career touches.
Ball has been a scoring machine for the No. 10 Badgers this season, running for 1,759 yards with 32 touchdown runs and six touchdown receptions. His 38 total touchdowns are one shy of matching former Oklahoma State running back Barry Sanders' NCAA single-season record of 39 set in 11 games in 1988. Ball's production helped lead the Badgers to a Jan. 2 date against Oregon in the Rose Bowl Game presented by VIZIO.
Mathieu fell off my ballot after he was suspended from playing in the Tigers' 45-10 victory over Auburn on Oct. 22 for smoking synthetic marijuana. But his big plays helped the Tigers overcome deficits in each of their last two victories, over Arkansas and Georgia in the SEC championship game.
Mathieu -- aka the "Honey Badger" -- is the best player on the top-ranked team. He leads the Tigers with 70 tackles and has forced six fumbles and recovered five. He also is the most dynamic punt returner I've seen since Florida State's Deion Sanders. Mathieu has scored four touchdowns -- two on fumble returns and two on punt returns.
To penalize Mathieu for one foolish mistake wouldn't have been right. After all, Newton was briefly ruled ineligible at Auburn last season and 2010 Heisman Trophy finalist
LaMichael James
of Oregon was suspended from playing in last season's opener.
January, 10, 2011
1/10/11
9:00
AM ET
SCOTTSDALE, Ariz. -- Auburn looks to win its first national championship since 1957 and extend the SEC's streak of national championships to five in a row Monday night at 8:30 p.m. ET on ESPN.
Here's a quick preview of the Tostitos BCS National Championship Game:


Who to watch:
Who else?
Cam Newton
's brilliance on the field and all the controversy surrounding him off the field captivated college football this season. The Auburn junior quarterback won the Heisman Trophy by putting up outrageous numbers this season that we might never see again. He accounted for 49 touchdowns (28 passing, 20 rushing and one receiving), and played some of his best football during the month of November when news broke of his father's attempted pay-for-play scheme with Mississippi State boosters. When Newton wasn't beating teams with his legs, he was throwing pinpoint passes to beat them. He heads into Monday night's game with 2,589 passing yards and 1,409 rushing yards. With 91 rushing yards against Oregon, Newton would become the only player in NCAA history to pass for 2,500 yards and rush for 1,500 yards in the same season.
What to watch:
Nobody would characterize Auburn's defense as great this season, but the Tigers were great at making plays when they had to. And they absolutely owned the fourth quarter, much like Oregon did this season. Whether it was creating turnovers or coming up with key stops, Auburn time and time again played championship defense after the half. But will that be enough against an Oregon team that scores points in bunches and led the country this season with 27 offensive touchdowns of 25 yards or longer? The Tigers have been rock-solid defensively in their past six quarters of football, which encompasses the second half of the Alabama game and the entire SEC championship game against South Carolina. The Tigers say they're prepared for Oregon's blistering offensive pace. We'll find out for sure later Monday night.
Why to watch:
We're still waiting for another classic in the BCS National Championship Game that rises to the level of what Texas and USC gave us in 2005. These teams have the offensive firepower to score at will, which means you might want to loosen up the neck before sitting down to watch. The mere pace that this game will be played at makes it compelling enough. Throw in marquee talents like
LaMichael James
, Nick Fairley, Cliff Harris and Newton, and we all could be in for a treat. In a lot of ways, Oregon is playing for all of college football. Auburn can make it five consecutive national championships for the SEC (by four different teams) with a win. It's safe to say that everybody outside of the SEC would love nothing more than to see that streak end.
January, 6, 2011
1/06/11
4:30
PM ET
SCOTTSDALE, Ariz. -- Auburn likes to play fast. Oregon likes to play faster.
The Ducks are eager to see if the Tigers can keep up with their pace on Monday night.
"They've got a great front eight (on defense), but have never played a team like us that plays at the speed we do," Oregon quarterback
Darron Thomas
said.
Oregon running back
LaMichael James
, a Heisman Trophy finalist, said there would only be one way to slow down Auburn defensive tackle Nick Fairley.
"There's no way you can stop him. He's a phenomenal player," James said. "He will make his plays. Every good player will make plays. Hopefully, we can get him really tired."
Asked if he'd seen instances on film where Fairley had tired, James said, "I don't know how many teams he has played with our tempo yet."
December, 6, 2010
12/06/10
1:04
AM ET
Auburn Tigers (13-0) vs. Oregon Ducks (12-0)
Jan. 10, 8:30 p.m. ET (ESPN)

Oregon take by Pac-10 blogger Ted Miller
: Oregon quarterback
Darron Thomas
keeps things mostly close to the vest with reporters. But when a group of them expressed skepticism when running back
LaMichael James
said people doubted the Ducks, Thomas piped in with one word: "Masoli."
That's fair. When quarterback
Jeremiah Masoli
was kicked off the team during the offseason, many thought the Ducks' chances of contending for the national title were no longer an issue. They were still a Pac-10 front-runner, but only by a little. At that point, in fact, most thought senior
Nate Costa
would win the starting job, not Thomas. But Thomas not only won the job, he gave the Ducks an upgrade at the position. And that has been the key this season.
Thomas and Oregon used the Ducks' explosive, high-tempo, spread-option offense to wear down foes. They've outscored opponents by nearly 31 points a game this year. Only one team, California, came within single digits of the Ducks.
The Ducks made their first national statement with a blowout win at Tennessee, but their overwhelming 52-31 victory over Stanford proved to be a signature victory, one that grew in stature as the year went on because it would be the Cardinal's only defeat. The Ducks trailed 21-3, but then exploded and ran away with the game.
Oregon has owned the second half this season, outscoring foes 277-77, and it's yielded just 24 fourth-quarter points. The underrated defense is ranked 14th in the nation in scoring.
---

Auburn take by SEC blogger Chris Low
: Outside of Florida and the junior college ranks, nobody really knew who
Cam Newton
was when Auburn opened preseason practice back in August. Even the Tigers' coaches weren't completely sure what they had.
Everybody knows now.
Newton, who started his career at Florida and then detoured through Blinn College, was the driving force in leading the Tigers (13-0) to their first-ever appearance in the Tostitos BCS National Championship Game. The front-runner to win the Heisman Trophy, Newton passed for 28 touchdowns and ran for 20 touchdowns, taking turns beating teams with his arm and his legs.
He's coming off an MVP performance in the SEC championship game where he threw four touchdown passes and ran for two more in Auburn's 56-17 dismantling of South Carolina. In his last five games, he's thrown 15 touchdown passes and just one interception.
Auburn has been comfortable outscoring teams all season. The Tigers are sixth nationally in scoring offense, averaging 42.7 points per game.
Their defense has been vulnerable against the pass, as evidenced by the fact that they rank 105th nationally in pass defense. But those numbers are deceiving, because the Tigers have made a living out of coming up with key stops and forcing turnovers in the second half. In their last two games against South Carolina and Alabama, they've given up a total of two field goals in the second half.
November, 10, 2010
11/10/10
3:00
PM ET
It's time for a blogger debate! And it doesn't get much better than when we match the SEC and Pac-10.
Our topic: No. 1 Oregon and No. 2 Auburn. Who's better and why?
Both are unbeaten, and if the season ended today, they'd play for the national title.
We've got lots of football left, and probably many more plot twists in the hunt for the national title, but there's no reason we can't engage in a hypothetical, is there?
So the Pac-10 blog -- Ted Miller -- and the SEC blog -- Chris Low -- have decided to meet for some civilized debate on Auburn versus Oregon.
Ted Miller
: Chris, since things are so quiet in the sleepy SEC, I think we should spice things up with a Pac-10-SEC blogger debate! It seems like a long time since we last had a debate between our two conferences. How'd that one go? Let's see I championed Taylor Mays and you celebrated Eric Berry. Wait.
Why did I bring that up
?
Anyway, our topic is Oregon and Auburn: Who's better and why.
[+] Enlarge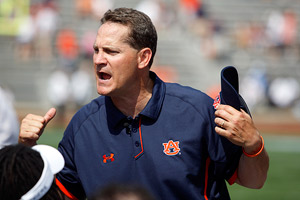 John Reed/US PresswireGene Chizik has silenced those critical of his hiring last year but getting Auburn off to a 10-0 start this season.
This is a potential national title game between the No. 1 Ducks and No. 2 Tigers, who are both unbeaten and feature Heisman Trophy candidates leading high-powered offenses.
You get first blood. Tell me about Auburn. It seems like it wasn't too long ago that Jay Jacobs was getting hounded for hiring Gene Chizik. Guessing that's died down a wee-bit.
Chris Low
: No doubt, Ted. I wonder where that obnoxious guy is now, the one yelling at Jacobs as he was leaving the airport after finalizing the deal with Chizik? Maybe Jacobs knew what he was doing after all. The guy with the 5-19 record at Iowa State has done all right by himself on the Plains. He has a Heisman Trophy-caliber quarterback and the SEC's leading rusher in Cam Newton, a 6-foot-6, 250-pound freak of nature who runs like Bo Jackson and also has an NFL arm. Keep your eyes, too, on freshman running back Mike Dyer, who they haven't had to lean on much this season, but is oozing with talent and has fresh legs for this stretch run. The Tigers' defensive numbers are nothing to write home about, but they do have the kind of dominant interior defensive lineman, Nick Fairley, who can take over games. Georgia coach Mark Richt said Fairley's the closest thing he's seen to Warren Sapp. Auburn's calling card defensively has been making plays at key times in the fourth quarter. The Tigers have been a serviceable defense through three quarters this season, but they've been a championship-caliber defense in the fourth quarter -- which is why they're 10-0.
So tell me about Oregon?
[+] Enlarge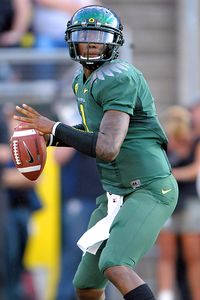 Kirby Lee/Image of Sport/US PresswireSophomore Darron Thomas was thrust into the starting quarterback job and has performed admirably.
Ted Miller
: Speaking of coaches: How about Oregon's Chip Kelly? How could he possibly expect to top winning the Pac-10 and playing in the Rose Bowl his first season? How about contending for a national title in his second? The Ducks, however, expected to be here when the 2009 season ended because just about everybody was coming back from the Pac-10 champions. That is until a guy you are now familiar with -- quarterback
Jeremiah Masoli
-- got caught up in some off-field issues and eventual got himself booted from the team. That seemingly left a void behind center, but sophomore
Darron Thomas
has not only filled Masoli's shoes, he's gone up a few sizes: He's 15th in the nation in passing efficiency and 21st in the nation in total yardage. Meanwhile, speedy running back
LaMichael James
is the top Heisman alternative to your guy, Newton. As for the defense, it's like the offense: Extremely fast. It ranks 13th in the nation in scoring defense and it has forced 28 turnovers, second-most in the nation. Folks often underestimate the Ducks' defense because it gives up some yards -- it ranks 29th in the nation in total defense -- but that's because the offense scores so quickly: The nation's No. 1 offense ranks 115th in the nation in time of possession. But the Ducks only give up 4.45 yards per play. Our factoid of the day is that number would rank No. 1 in ... wait for it ... the SEC!
Obviously, we're talking about two very good teams that have done impressive things on their way to remaining unbeaten. I know we both have Oregon ahead of Auburn in our power rankings, but give me the case for Auburn.
Chris Low
: Ted, I think what separates Auburn is Newton. Nobody has been able to stop him. If you commit to taking away the run, he's proved he can beat people throwing the ball. And if you come after him and/or don't have enough people in the box, he's been magic running the ball. Keep in mind, too, that we're not talking about a 220-pound guy running the ball. We're talking about a 250-pound guy who's physical, tough and doesn't run out of bounds. In the red zone, he's the great equalizer, because he gains 3 yards when he falls forward and has the size and the strength to push the pile. On top of it all, he's always a threat to throw the ball. Similar to Oregon, Auburn doesn't flinch if somebody puts 30-plus points on the board, because the Tigers' mentality is that they're going to score 50. Their offensive coordinator, Gus Malzahn, will make you defend everything -- reverses, throwback passes, passes to the backs, even passes to Newton. He caught a touchdown pass two weeks ago against Ole Miss. The Tigers also play at a tempo on offense that has opposing defenses gasping for air in the fourth quarter. But when they have to, they can put teams away and finish games by running the ball. They're fourth nationally (one spot ahead of Oregon) this week in rushing offense with an average of 307.2 yards per game. Auburn's top four rushers -- Newton, Dyer,
Onterio McCalebb
and
Mario Fannin
-- are all averaging at least 6.4 yards per carry. Do the Ducks have any answers for that running game?
[+] Enlarge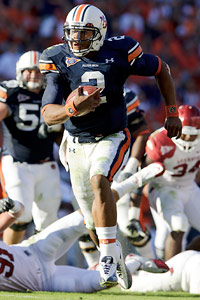 Paul Abell/US PresswireAuburn's Cam Newton is just as dangerous with his arm as he is on his feet.
Ted Miller
: That's what's so interesting about this as a potential national title game match -- there's an odd familiarity that both teams will have with each other despite never crossing paths. My guess is Malzahn and Kelly already have studied each other, just in terms of mutual admiration. And both defenses will be familiar with up-tempo, no-huddle, spread-option offenses that can power you and finesse you and throw downfield. Further, the Ducks have played against a number of big, fast, capable quarterbacks with NFL futures: Washington's
Jake Locker
, Ohio State's
Terrelle Pryor
and Stanford's
Andrew Luck
. The results have been mixed. Last year, Luck and Pryor got them. Luck beat the Ducks with uncanny downfield accuracy, which is why he'll go No. 1 in this spring's NFL draft. Pryor shocked them with the best passing game of his career in the Rose Bowl. Locker missed this year's game, but he's never had much luck against Oregon. In general, Oregon has a good run defense: Opponents are averaging 3.38 yards per rush. But the Ducks are undersized. A physical Stanford team had some success, rushing for 177 yards. But one thing about Oregon on both sides of the ball: It is masterful with halftime adjustments. They shutout Stanford, owners of the nation's No. 5 scoring offense, in the second half, and have given up just 48 points in the second half this year -- just seven in the fourth quarter!
Obviously, two very good teams that have done impressive things on their way to remaining unbeaten. I know we both have Oregon ahead of Auburn in our power rankings, but give me the case for Auburn if it played Oregon in the national title game. How do you see it going?
Chris Low
: Well, if that happens, the first thing we all better make sure we have is a calculator. That and make sure there's no danger of a power surge to the scoreboard. You're right about Oregon. Nobody in the country has been better in the second half. The Ducks' ability to score points in bunches is amazing, but the Tigers are equally adept at going on head-spinning scoring sprees. Just ask Arkansas, which saw Auburn roll up 28 points in the fourth quarter in Xbox-like fashion. I have no doubt that an Auburn-Oregon matchup would be played in the 40s. I think the difference, though, would be Auburn's ability to put the breaks on the track meet and run the football in the fourth quarter, especially with Newton being so good at converting on third down. So I'm going Auburn 45, Oregon 41 in a game that rates up there with the Texas-USC classic to decide the 2005 national title.
Ted Miller
: That's clearly something we can all agree on: This likely would be a highly entertaining, offensively driven national title game if these two teams manage to get themselves there. Further, I think, after never getting a USC-SEC title game, folks on both coasts would enjoy an SEC-Pac-10 matchup. No trash-talking there, right? And I do see a clear advantage for Auburn: It has been tested. It's played five games decided by eight points or fewer, and three decided by a field goal. The Ducks closest game? An 11-point win at Arizona State. But that's also why I'd pick Oregon in this one. Oregon beat the No. 6 team in the nation, Stanford, by 21 points. It shut Andrew Luck out in the second half. And I look at all of Auburn's close games: Mississippi State, Clemson, South Carolina, Kentucky and LSU, and think: None of them would be within 10 points of the Ducks. Maybe LSU, because any game Les Miles touches is surprising. And I think Vegas would agree with me. So if we ended up with an Oregon-Auburn national title game, my guess is the Tigers would go TD for TD with the Ducks in the first half, then the Ducks would pour it on late for a 50-35 win. But I reserve the right to change my mind, particularly because I think the Tigers' toughest test -- Alabama -- is ahead.
Moreover, both teams should be advised: You probably should get to the Jan. 10 date in Glendale before you start trash-talking each other. At least before you use your best stuff.