January, 18, 2010
1/18/10
1:00
PM ET
By
ESPN.com staff
| ESPN.com
The SEC will have 25 players on the South roster in the
Under Armour Senior Bowl
this year. That's more than any other conference in the country.
Of the 25 SEC representatives in this year's game, 10 landed on All-American lists this season and 21 were named to All-SEC squads. It's a group that includes the conference's Offensive Player of the Year (
Tim Tebow
), Scholar-Athlete of the Year (Tebow), Special Teams Player of the Year (Javier Arenas) and Jacobs Blocking Trophy winner (Ciron Black).
This year's game will also feature four of the SEC's five 1,000-yard rushers (
Anthony Dixon
,
Ben Tate
,
Montario Hardesty
and
Dexter McCluster
), its only 1,000-yard receiver (
Shay Hodge
), the league leader in scoring (Leigh Tiffin), the league leader in passing efficiency and points responsible for (Tebow) and the league leader in sacks (Antonio Coleman).
The game will be played Jan. 30 at 4 p.m. ET in Mobile's Ladd-Peebles Stadium.
Here's a team-by-team list of the SEC players in the game:
ALABAMA
CB Javier Arenas
NG Terrence Cody
OG
Mike Johnson
TE
Colin Peek
K Leigh Tiffin
ARKANSAS
OG Mitch Petrus
AUBURN
DE Antonio Coleman
RB Ben Tate
FLORIDA
WR
Riley Cooper
QB Tim Tebow
GEORGIA
DT Geno Atkins
DT Jeff Owens
KENTUCKY
CB Trevard Lindley
LSU
OT Ciron Black
LB Harry Coleman
WR
Brandon LaFell
RB
Charles Scott
MISSISSIPPI STATE
LB Jamar Chaney
RB Anthony Dixon
OLE MISS
WR Shay Hodge
OL John Jerry
RB Dexter McCluster
SOUTH CAROLINA
LB Eric Norwood
TENNESSEE
RB Montario Hardesty
DT Dan Williams
January, 6, 2010
1/06/10
10:12
PM ET
Alabama is coming off its best victory of the season. Texas is coming off its worst.
Mark Ingram
will be battling the Heisman Trophy jinx in national championship games, and Alabama will be trying to claim the fourth-straight BCS national title by an SEC team. The last non-SEC team to win the title: Texas.
Those are just a few of the subplots in Thursday's Citi BCS National Championship Game. Big 12 blogger Tim Griffin and SEC blogger Chris Low take a look at the matchup and other factors that will play into it.
[+] Enlarge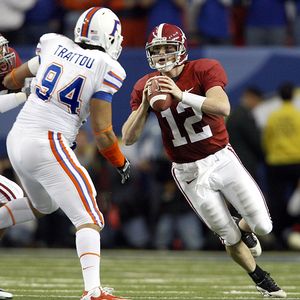 Marvin Gentry/US PresswireIf Alabama quarterback Greg McElroy plays the way he did against Florida, the Texas defense could be in for a long night.
Tim Griffin:
Chris. I saw Alabama in the SEC title game and was very impressed with the way they jumped on Florida quickly and put the Gators behind from early in the game. Do you think
Greg McElroy
can have a mammoth performance against a strong defense in back-to-back games?
Chris Low:
Tim, it's ironic that you would ask about McElroy, because everybody was asking about him back in the spring. Nobody really knew anything about him, whether he could handle the quarterback position or whether he would even finish the season as the starter. I think it's safe to say that he's far surpassed anybody's expectations. He's such a smart player, knows the Alabama offense inside and out and rarely makes the same mistake twice. After all, he's only thrown four interceptions in 13 games. I've seen halves against SEC defenses in which quarterbacks have thrown three or four picks. But McElroy is not just a caretaker of the offense. He'll spread the ball around. He throws a nice deep ball, and is better at moving around and making plays than he's given credit for. In short, if the Alabama offensive line plays the way it did against Florida, I look for McElroy to have another solid game. That's the thing about this Alabama offense. They don't need him to put up mammoth numbers to win. My question to you, Tim, is whether
Colt McCoy
is going to be running for his life against Alabama like he was against Nebraska a month ago?
TG:
If he does, Texas has absolutely no chance. But I think the fact that observers have been questioning Texas' offense for nearly five weeks after the Longhorns allowed nine sacks against Nebraska should serve as a motivational ploy. I look for Texas to try and dictate tempo early. Look for McCoy to try to use the Longhorns' one-minute offense, in which there would be little time between plays as they try to keep them out of their comfort zone. The Longhorns have struggled with their pass blocking all season. Look for freshman Tre Newton to get more time because of his pass-blocking skills. And I would also expect Texas to use tight end
Greg Smith
more than usual to have an extra blocker. In the Big 12, the Longhorns liked to run a lot of three- and four-wide receiver sets. I think they'll need the extra beef tonight. Chris, speaking of beef, how do you think Alabama's big offensive line will play against Texas' fast and quick defense. The Longhorns led the nation in rush defense, but faced four teams with defenses ranked 100th or worst. Does Alabama feel like they can exploit a Texas defense that is good, but hasn't played many good rushing attacks?
CL
: Honestly, I think Alabama thinks it can exploit any defense. This Alabama offensive line isn't as big as the one last year and has relied more on quickness and angles than just lining up and mashing people. Alabama will certainly look to run the football and won't be afraid to use both Mark Ingram and
Trent Richardson
. It seems like the Crimson Tide always have a fresh back in the game. Against Florida, Alabama was able to throw it some and spread the Gators out. But that was just one game. We also saw Alabama struggle to run the ball against Auburn in the last game of the regular season, and McElroy had to bring them from behind throwing the football. Even in that game, after getting down 14-0, the Crimson Tide didn't panic and didn't get out of character offensively. What do you make of McCoy having two of his worst games against the two best defenses he's faced this season -- Nebraska and Oklahoma?
TG:
Chris, interestingly those were also the games where he most faced consistent pressure from blitzes and had more trouble with interceptions. If Alabama can keep him from getting comfortable in the pocket and knock him around some, he could face a similar fate. The Texas offensive front isn't a great line -- by its standards or anybody else's. It's their biggest weakness, but really didn't impact them over the course of the season. The Longhorns had too many weapons and scored touchdowns in other ways to beat all the Big 12 teams they played.
[+] Enlarge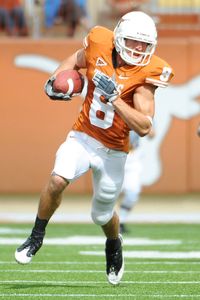 Brendan MaloneyAlabama's special teams will have its hands full with Texas returner Jordan Shipley.
When they played Oklahoma, they were facing a green quarterback in
Landry Jones
after
Sam Bradford
's injury earlier in the game. And against Nebraska, they were able to neutralize the Cornhuskers' big defensive effort because Nebraska's offense played so poorly. Chris, I think that Texas is going to have to get some cheap points -- say from a long kick or punt return or a turnover to have a chance. Is there anything you've seen that shows Alabama has got its special teams under control enough to withstand the pressure that
D.J. Monroe
,
Marquise Goodwin
and
Jordan Shipley
will place on the Tide?
CL:
Alabama has not been very good on kickoff coverage. That's a given. So it wouldn't be a shock to see the Crimson Tide give up some long returns or even a touchdown. Short fields could be critical in this game, because neither defense has allowed teams to consistently put together long drives. The problem with exploiting Alabama on special teams is that the Crimson Tide have one of the best punt returners in the country in Javier Arenas and a field goal kicker in All-American Leigh Tiffin who's made a bunch of big kicks and also has great range. In short, unless Alabama uncharacteristically turns the ball over and/or is forced to play from behind the whole game, I think the Crimson Tide take home the crystal trophy and complete a perfect season.
Alabama 27, Texas 17
TG:
I think Texas is going to have trouble stopping the run defense. But if they can get some early momentum, I like their chances of taking this game into the fourth quarter. But at that point, Alabama will have too much power and gradually wear the Longhorns down, likely with a late drive like the one Florida put Oklahoma away with last season.
Alabama 24, Texas 13
January, 6, 2010
1/06/10
7:24
PM ET
By
ESPN.com staff
| ESPN.com
NEWPORT BEACH, Calif. -- The kickoff coverage has left much to be desired.
Otherwise, it's difficult to find a chink in Alabama's special teams play.
And it's the guy with the defensive tackle's number (99) who's led the way.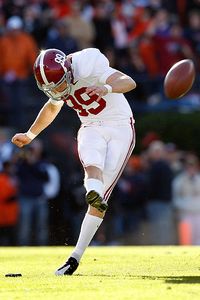 Kevin C. Cox/Getty Images Alabama kicker Leigh Tiffin ranks first in the SEC in scoring.
In a lot of cases, senior kicker Leigh Tiffin has been as big a part of Alabama's offense this season as
Greg McElroy
,
Mark Ingram
and
Julio Jones
.
He leads the nation in field goals made per game (2.23) and is ninth nationally and first in the SEC in scoring (9.62 points per game).
The best thing, though, that Tiffin has going for him in a game of Thursday's magnitude is experience. He's no stranger to big kicks. He's no stranger to having to make a bunch of kicks, and he's no stranger to making long kicks.
The field at the Rose Bowl is immaculate, and the weather should also be ideal, which means both teams could be trying some longer kicks when you take into account the strength of the two defenses in this game.
Of course, in Tiffin's world, every kick is the same.
"Adam Vinatieri said it best when he said people always want to talk about game-winning kicks coming down to the last second, but what about that kick you missed in the first quarter?" said Tiffin, a first-team All-American this season. "They all count for three points, and when you stack them up after the game, they're all just as important."
It's just that kind of approach that's allowed Tiffin to be so reliable this season. He's connected on 29-of-33 field goals and 38-of-41 extra-point attempts.
He enters Thursday's Citi BCS National Championship Game having made 12 of his last 13 field goal attempts.
Tiffin's secret?
"I just like to be to myself, get my thoughts together and go out there and focus on what I need to do," said Tiffin, whose father, Van, was also an All-America kicker for the Crimson Tide in the mid 1980s.
And, yes, Tiffin has noticed some of the shoddy field goal kicking during the bowl season this year. He writes that off to a number of different factors -- none of which have anything to do with him.
"Things like that happen all year," Tiffin said. "A lot of that may be that those guys didn't practice a whole lot. Maybe they were rusty. Maybe it was bad weather.
"I feel as confident as ever, and I fully expect to have my best game Thursday."
And why not? He's been at his best all season when Alabama has needed him most.
December, 24, 2009
12/24/09
10:00
AM ET
By
ESPN.com staff
| ESPN.com
The 2010 Senior Bowl will have a definite SEC flavor.
Already, 10 SEC players have been announced as participants. The latest two were Tennessee teammates
Montario Hardesty
and Dan Williams.
Five Alabama players were selected -- offensive guard
Mike Johnson
, tight end
Colin Peek
, nose guard Terrence Cody, cornerback Javier Arenas and kicker Leigh Tiffin. Also selected were Auburn teammates Antonio Coleman and
Ben Tate
as well as Mississippi State running back
Anthony Dixon
.
It hasn't been announced yet, but look for Ole Miss running back
Dexter McCluster
to also get an invite.
December, 10, 2009
12/10/09
1:42
PM ET
By
ESPN.com staff
| ESPN.com
Tonight is the night that college football's finest get to walk the red carpet.
With the exception of the Heisman Trophy, most of college football's top awards will be handed out at the Home Depot ESPNU College Football Awards show at Disney's BoardWalk near Orlando. The festivities begin at 7 p.m. ET and will be televised by ESPN.
Several SEC players are up for awards.
Here's a rundown:
Alabama's Terrence Cody for the Chuck Bednarik Award (best defensive player).
Alabama's Mark Ingram and Florida's Tim Tebow for the Maxwell Award (best all-around player).
Alabama's Leigh Tiffin and Georgia's Blair Walsh for the Lou Groza Award (best kicker).
Tennessee's Eric Berry and Florida's Joe Haden for the Jim Thorpe Award (best defensive back).
Ingram for the Doak Walker Award (best running back).
Tebow for the Davey O'Brien Award (best quarterback).
Here's a
preview of the entire show
with projected winners.
December, 5, 2009
12/05/09
2:40
PM ET
By
ESPN.com staff
| ESPN.com
ATLANTA -- No more waiting. It's here.

Alabama vs. Florida, for the SEC championship and the right to play in the BCS National Championship Game.

Thank goodness for the Georgia Dome, too. The weather in Atlanta is nasty. It's bitterly cold, and the wind is howling.

But inside, it's heating up as a few of the fans are starting to file in. The first player on the field in uniform to stretch and warm up was Alabama kicker Leigh Tiffin.

That's fitting, too, because I think a long field goal from either Tiffin or Florida's Caleb Sturgis may be the difference in this game.

The Gators are wearing all white and are also sporting their new white helmets with the different looking "F" emblem on the side, the same helmets they wore last week against Florida State.

Even though it's frigid outside the Georgia Dome, the atmosphere was still as festive as ever. Anybody selling propane could have made a fortune.

The Houndstooth patterns were out in force among the Alabama fans. And, yes, there is such a thing as a Houndstooth beer hugger.
November, 10, 2009
11/10/09
1:50
PM ET
By
ESPN.com staff
| ESPN.com
Posted by ESPN.com's Chris Low
Scanning the list of semifinalists for the 2009 Lou Groza Award is pretty telling when you start rating the quality of place-kickers in the SEC.
In short, this league has a few guys who can kick the ball.
Five of the 12 SEC place-kickers made the
semifinal cut for the Lou Groza Award
, which goes annually to the nation's best place-kicker. There are 20 kickers on the list.
Representing the SEC were Auburn's Wes Byrum, South Carolina's Spencer Lanning, Florida's Caleb Sturgis, Alabama's Leigh Tiffin and Georgia's Blair Walsh.
Byrum and Walsh each have missed only one field goal this season. Walsh is 7-for-7 from 40 yards or longer and 3-for-3 from 50-yards or longer.
Tiffin is tied with UCLA's Kai Forbath for the national lead with 20 field goals made, while Sturgis has the SEC's longest field goal this season at 56 yards.
Lanning may be the neatest story of the five. He didn't even have a scholarship prior to this preseason and has handled the Gamecocks' place-kicking and punting duties and has also kicked off some.
October, 26, 2009
10/26/09
10:59
AM ET
By
ESPN.com staff
| ESPN.com
Posted by ESPN.com's Chris Low
The SEC league office has announced its top performers for Week 8:
OFFENSE
Dexter McCluster, RB/WR, Ole Miss:
Tallied 260 all-purpose yards and a touchdown as Ole Miss defeated Arkansas 30-17. He took a middle screen from
Jevan Snead
and turned it into a 64-yard TD reception. McCluster became the first Ole Miss player in the modern era (records dating back to 1965) to top the 100-yard mark in both rushing and receiving in the same game.
DEFENSE
Harry Coleman, LB, LSU:
Recorded nine total tackles, including a pair of sacks and two forced fumbles, in LSU's 31-10 win over Auburn. Both of his fumbles led to points.
SPECIAL TEAMS
Leigh Tiffin, PK, Alabama:
Connected on four field goals -- Alabama's only points of the game -- in the Crimson Tide's 12-10 win against Tennessee. Tiffin's field goals were from 38, 50, 22 and 49 yards.
OFFENSIVE LINEMAN
Jorge Gonzalez, T, Kentucky:
Led an offensive line that accounted for 330 yards and averaged 6.3 yards per play in Kentucky's 36-13 win against Louisiana-Monroe. He graded out at 86 percent and did not allow a sack against the Warhawks.
DEFENSIVE LINEMAN
Terrence Cody, T, Alabama:
Blocked two field goals and had two tackles in Alabama's 12-10 victory over Tennessee. His second blocked field goal of the contest came on the last play of the game on an attempted 44-yard field goal to preserve the Crimson Tide win.
SPECIAL TEAMS
Johnthan Banks, DB, Mississippi State:
Intercepted a pair of Florida passes and ran both back for touchdowns in Mississippi State's 29-19 loss to Florida. He becomes the first MSU player to ever return two interceptions for scores in the same game and only the third player in SEC history with a pair of pick-sixes.
May, 6, 2009
5/06/09
1:04
PM ET
By
ESPN.com staff
| ESPN.com
Posted by ESPN.com's Chris Low
Checking in on the SEC football happenings: