October, 11, 2010
10/11/10
4:57
PM ET
By
ESPN.com staff
| ESPN.com
Mississippi State will be without one of its most explosive offensive/special teams performers for the remainder of the regular season.
Coach Dan Mullen said Monday that senior receiver
Leon Berry
had surgery to repair a dislocated left ankle and that he could possibly return in time for a bowl game. Berry was averaging 26.8 yards on kickoff returns and took one back 97 yards for a touchdown earlier this season. He'd also caught eight passes and was averaging 23.5 yards per catch.
October, 4, 2010
10/04/10
2:36
PM ET
Let's not wait any longer. We take our weekly look at who's hot and who's not in the SEC:
[+] Enlarge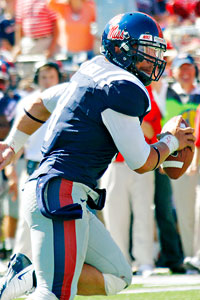 AP Photo/Rogelio V. SolisJeremiah Masoli and the Mississippi offense are on a tear after a big game against Kentucky.
EN FUEGO
Alabama's defense:
For all the talk about Alabama's inexperience in the secondary and losing nine defensive starters from a year ago, this is a defense that's kicking tail and taking names right now. The Crimson Tide have given up a total of three touchdowns all season and still haven't allowed a touchdown in the second half. You want more? They're second in the SEC with 13 forced turnovers, including seven in their past two games, and are just about automatic when it comes to stopping teams on third-and-long. Alabama is fifth nationally in third-down defense. Teams are just 18-of-69 (26.1 percent) against the Crimson Tide on third down. They held Florida last week to 3-of-13 on third down and have now gone 18 straight games dating back to last season without allowing more than 21 points in a game.
HOT
Ole Miss' offense:
The Rebels have scored 97 points in the past two games to go along with 38 first downs and 879 yards of total offense.
NOT
LSU quarterback Jordan Jefferson:
In his past four games, Jefferson has averaged 74.5 passing yards while throwing five interceptions and no touchdown passes.
HOT
Auburn defensive tackle Nick Fairley:
When you started listing the best interior defensive linemen in this league back in August, Fairley's name probably wouldn't have been on the list. It is now … at the top. He leads the league with 11.5 tackles for loss.
NOT
Georgia's ball security:
For the third time this season, the Bulldogs lost a costly fumble while driving for a score. This latest one was by
Caleb King
, who coughed it up in the final minutes with the Bulldogs at the Colorado 27 and well within Blair Walsh's field-goal range.
HOT
Georgia receiver A.J. Green:
Even though his team didn't win, Green was outstanding in his return from suspension with seven catches for 119 yards. His sensational one-handed touchdown catch against the Buffaloes is the reason he'll be the first receiver taken in the NFL draft next year.
NOT
Florida's running game:
The Gators don't have much of one, especially when it comes to getting the tough yards. They're ninth in the SEC in rushing offense after being held to 79 yards on the ground in the loss to Alabama.
HOT
Mississippi State receiver Leon Berry:
He returned three kickoffs for 153 yards, including a 97-yarder for a touchdown, in the Bulldogs' win against Alcorn State. Berry also caught three passes for 97 yards.
NOT
Kentucky's defense:
In the past two weeks, the Wildcats have been torched for 90 points and 767 yards of total offense.
FREEZER BURN
Substitution foolishness:
Raise your hand if you think there's already too much substitution in college football. After watching that debacle unfold at the end of the LSU-Tennessee game, I'm a convert. Just when you thought Les Miles and his offensive staff were going to take the mismanagement of an end-of-game situation to a whole new level, the Tennessee staff stepped in and bailed them out by trying to shuttle in players in the waning seconds and got caught with 13 players on the field. The Vols had it won, and then they lost it. I'm not sure anybody on either sideline really knew what was going on. But what I am sure of is that it was quite possibly the worst management of the final few seconds of a game – especially when you consider that the two sides tried to out-blunder each other – in SEC history.
August, 17, 2010
8/17/10
5:11
PM ET
By
ESPN.com staff
| ESPN.com
It's always a lively debate in the SEC when it comes to who's the most versatile player in the league.
Well, this season in college football, there will be a national award given to the most versatile player -- the inaugural Paul Hornung Award.
The preseason watch list, comprised of 48 players, was compiled by a panel of college football experts based on 2009 statistics and expectations heading into the 2010 season. The list will be updated during the course of the season based on players' performances.
Eight players from the SEC are on the list --
Randall Cobb
and
Derrick Locke
of Kentucky,
Leon Berry
of Mississippi State, Brandon Boykin of Georgia, Stephon Gilmore of South Carolina,
Warren Norman
of Vanderbilt,
Chris Rainey
of Florida and Demond Washington of Auburn.
Here's the
complete Hornung Award watch list
.
May, 20, 2010
5/20/10
9:30
AM ET
By
ESPN.com staff
| ESPN.com
We turn our attention today to where Mississippi State was the strongest and the weakest coming out of the spring:

Strongest position: Defensive line
Key returnees:
Senior end Pernell McPhee (56 tackles, 12 tackles for loss, five sacks, eight quarterback hurries), sophomore tackle Fletcher Cox (29 tackles, 3.5 tackles for loss), sophomore tackle Josh Boyd (17 tackles), junior end Sean Ferguson (25 tackles, 5.5 tackles for loss), sophomore end Nick Bell (15 tackles, 2.5 tackles for loss)
Key departures:
Tackle Kyle Love (35 tackles, two tackles for loss)
The skinny:
The Bulldogs came out of the spring feeling good about their two-deep in the defensive line, and first-year defensive line coach
Chris Wilson
was especially pleased with his young talent. Cox and Boyd have both beefed up to 300 pounds, giving Mississippi State a real presence inside. Throw in 6-7, 345-pound junior college newcomer James Carmon, who plugs the middle by himself, and the Bulldogs ought to be pretty tough to run against in 2010. Carmon might be a situational player initially. But once he develops, he has a chance to be dominant. Speaking of which, McPhee returns as one of the top defensive linemen in the league. He's up to 285 pounds and has the strength to overpower offensive tackles from his end position and the burst to go around them. McPhee had 12.5 tackles for loss last season, and new defensive coordinator Manny Diaz plans to turn him loose every chance he gets.
Weakest position: Receivers
Key returnees:
Sophomore
Chad Bumphis
(32 catches, 375 yards, four touchdowns), senior
Leon Berry
(14 catches, 170 yards), sophomore
Chris Smith
(three catches, 22 yards), sophomore
Brandon Heavens
(seven catches for 36 yards)
Key departures:
O'Neal Wilder (14 catches, 236 yards, one touchdown),
Brandon McRae
(14 catches, 116 yards)
The skinny:
Mississippi State coach Dan Mullen said at the conclusion of spring practice that it may still be another year or two before the Bulldogs build up the receiver position to the level he wants it at in his spread offense. The only wide receiver returning who caught a touchdown pass last season is Bumphis, who led the team with four. He's a terrific talent and a dangerous playmaker once he gets the ball in his hands, but Mullen wants to see him become a better all-around receiver in terms of running routes and getting open. Berry will start opposite Bumphis, but this is only his second year in the program after coming over from junior college a year ago. The Bulldogs will need several younger players to come through, including any of the true freshmen who might be able to help. Mullen was encouraged by what he saw out of Smith in the spring. He's a bigger target (6-2, 210 pounds) who started in two games a year ago. It also helps that junior tight end
Marcus Green
will be back. He was second on the team in receiving last season. Still, Mullen said the Bulldogs have to find four more receivers somewhere between now and the fall.
March, 23, 2010
3/23/10
12:00
PM ET
By
ESPN.com staff
| ESPN.com
Mississippi State has released its
pre-spring depth chart
, and eight of the 22 starters right now are sophomores.
Obviously, a lot can change in the spring as players fight it out for positions. But this will again by a young Mississippi State team.
Even some of the older projected starters will only be in their second year in the program. Receiver
Leon Berry
and defensive end Pernell McPhee were junior college newcomers a year ago.
Over and above the quarterback battle, finding a replacement for
Anthony Dixon
will be a priority this spring. Juniors
Robert Elliott
and Vick Ballard are bracketed as co-No. 1s on the depth chart entering the spring.
On defense, Chris White is sliding inside to middle linebacker to replace the departed Jamar Chaney.
And remember
Cameron Lawrence
? He was an athletic 205-pound quarterback/defensive back when he came to Mississippi State a couple of years ago. Well, he's now a 225-pound sophomore outside linebacker and listed as a starter going into the spring.
October, 1, 2009
10/01/09
12:32
PM ET
By
ESPN.com staff
| ESPN.com

Posted by ESPN.com's Chris Low
A check of what's making news around the SEC:
July, 29, 2009
7/29/09
11:00
AM ET
By
ESPN.com staff
| ESPN.com
Posted by ESPN.com's Chris Low
The opportunity for all those wide receivers Mississippi State coach Dan Mullen signed in his first class just got a little bigger.
Sophomore Delmon Robinson has left the program and asked for his release, The Jackson Clarion-Ledger reported Tuesday. Robinson played last season as a true freshman and was one of the few returning receivers with any experience.
In fact, his departure means only one of Mississippi State's top five wide receivers from a year ago is set to return, senior Brandon McRae, and he's coming back from a broken leg suffered in the season finale against Ole Miss.
Redshirt freshman Terrance Davis has also recently left the team and plans to transfer to Tennessee-Chattanooga.
What all this means is that Mississippi State fans had better have their programs with them those first few games if they want to know who's catching passes.
Junior college newcomer Leon Berry won't be completely new. He was on campus for spring practice and earned a spot somewhere in the rotation. He was the leading receiver in the spring game with eight catches for 125 yards.
Redshirt freshman O'Neal Wilder also showed in the spring that he's more than just a track guy playing football. A knee injury kept the 6-5, 190-pound Wilder from being a factor as a true freshman.
And speaking of true freshmen, Chad Bumphis, Dennis Thames, Chris Smith and Brandon Heavens had all better be ready for a crash course in Mullen's spread offense when practice begins for the Bulldogs on Monday.
"If a guy can make a play, we're going to find ways to get him the ball," Mullen said. "He doesn't have to know the entire offense to be proficient in the spread. That's going to help us get some of these freshman wide receivers on the field."
The Mississippi State defensive coaches would also like to have a crack at Thames at safety. But Mullen is inclined to have him start out on offense.
"We're a little more stable at the safety position than we are at the wide receiver position, so we might let him see what he can on offense," Mullen said.
April, 20, 2009
4/20/09
11:56
AM ET
By
ESPN.com staff
| ESPN.com
Posted by ESPN.com's Chris Low
Dan Mullen's first spring at Mississippi State has come and gone. The spread offense has been installed, as well as the tone Mullen wants to set for the program.
How it all comes together in the fall, especially when you throw in several newcomers expected to play, remains to be seen.

But Mullen couldn't be more pleased with the response from the fans and the way the team responded to him and the new staff this spring. A record crowd of 31,606 showed up Saturday for the Bulldogs' Maroon and White spring game. As a comparison, the Bulldogs had fewer than 10,000 people at Davis Wade Stadium for last season's spring game.
It's going to take some time (and another recruiting class or two) before the Bulldogs will be able to run the spread the way Mullen wants to, but the offense moved the ball pretty well Saturday.
Senior running back Anthony Dixon will undoubtedly be the offensive staple next fall, and he led all rushers with 59 yards and a touchdown on 11 carries.
Quarterback Tyson Lee finished the game strongly, which was a good sign, and his backup, Chris Relf, hooked up with O'Neal Wilder on a 63-yard bomb to set up a touchdown. Wilder will be a key for the Bulldogs next season, and it looks like junior college newcomer Leon Barry heads into the fall as Mississippi State's go-to receiver. He had eight catches for 125 yards, and Lee looked for him often.
Incoming freshman receivers such as Chad Bumphis, Dennis Thames, Chris Smith and Brandon Heavens will get every chance to show what they can do when they arrive this summer.
Here's a link to the Mississippi State Web site, which has a roundup and stats from the Bulldogs' spring game.
Here's another link to an interesting story about Mullen and how he's gone out of his way to make Mississippi State football a family affair.
April, 13, 2009
4/13/09
11:29
AM ET
By
ESPN.com staff
| ESPN.com
Posted by ESPN.com's Chris Low
First-year Mississippi State coach Dan Mullen was glad to see his offense get a few licks in during last Saturday's scrimmage.
It sounds like junior college newcomer Leon Berry is going to be a big help at receiver. The same goes for defensive lineman Pernell McPhee, another junior college newcomer.
Here's Mississippi State's release on the scrimmage:
STARKVILLE, Miss. -- Head football coach Dan Mullen put his team through its second full-scale scrimmage here on Saturday, and the Bulldogs continued to show improvement in offense, defense and special teams.

"We executed some things offensively today," Mullen said as the offense enjoyed Gatorade while the defense ran post-practice sprints as a result of the day's final score. "The offense won today, but both sides played hard."
Here is the rest of the recap, courtesy of the school.