August, 20, 2014
Aug 20
2:00
PM ET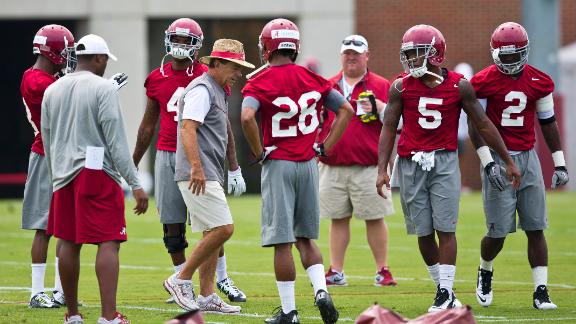 There's a certain pride that comes with playing along the
Alabama Crimson Tide
offensive line. If you sign up to be one of Tuscaloosa's big uglies, you better be prepared for the pressure of living up to the past.
While this year's line, which is replacing two starters from last season, is still slightly covered by the shadows of players such as
Barrett Jones
,
Chance Warmack
,
D.J. Fluker
,
Cyrus Kouandjio
, and William Vlachos, the pressure of living up to what they did is absent.
The pressure for this line is to live up to its own potential.
"We want to be better than those lines," senior right tackle
Austin Shepherd
said. "We try not to live in the past so we'd like to have a million rushing yards if we could. We want to be the most dominant offense in the NCAA."
[+] Enlarge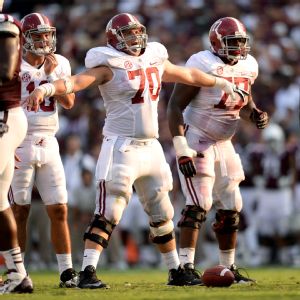 Thomas Campbell/USA TODAY SportsRyan Kelly and Alabama's offensive line are working together to build unity; plans include more speed in practice and more gatherings during the week.
To do that, Alabama's offensive line tried to move faster this spring. Under new offensive coordinator Lane Kiffin, speed has increased for lineman before snaps. Instead of lumbering to the line to make checks and adjust to the defense, redshirt junior center
Ryan Kelly
said offensive linemen have been running to get set and make calls earlier before the snap.
"That way we can at least be set before we want send motions or figure out what the defense is doing," Kelly said. "It's kind of speeding up the offense, but it's also helping us have more time and put us in better situations."
So far, the offensive line, which has the responsibility of protecting a new starting quarterback and arguably the nation's best running back stable, is coming together. There have been some natural hiccups, and coach Nick Saban even called out the line's physicality recently, but this doesn't appear to be a problem area for the Crimson Tide.
The three returning starters -- Kelly, Shepherd and fifth-year senior left guard
Arie Kouandjio
-- have cemented their places up front, while welcoming a few new pieces to the bunch. Most notably, left tackle
Cam Robinson
, the true freshman pegged to replace former All-American Cyrus Kouandjio.
The nation's No. 1 offensive tackle in the 2014 recruiting class, Robinson stepped into the first-team spot at left tackle toward the end of spring, and hasn't moved.
With senior
Leon Brown
and junior college transfer
Dominick Jackson
dealing with injuries during camp, there has been a little shuffling up front, but third-year sophomore
Alphonse Taylor
has impressed at right guard.
The biggest thing the players want to take care of along the line is communication. Kelly said communication broke down at times last year, leading to some glaring errors up front.
One way to enhance that? Develop better chemistry, and to do that, Alabama's linemen are hoping to bring back the Thursday night dinner tradition started by former quarterback
AJ McCarron
.
A chance to unwind and leave Alabama football talk at the facilities, the Thursday night dinners have done wonders for bringing the big boys together, Kelly said.
"It was good," Kelly said of past dinners. "You spend so much time up here [at the football facilities] talking about football and stuff that you can get away. ...It clears your mind going into Friday and getting ready for the game [on Saturday].
"When you get away, your bonds become more than just a football relationship. You have real friends you can do stuff with and that carries over to the football field and makes us a better team."
McCarron played host before, but Shepherd is hoping to take over the reins this season.
"It's time to get away from all the coaches and just be guys around everyone else," Shepherd said. "The only other time we're all together at the same time is when we're in the offensive line meeting room with a coach in there. We can't really talk because he's teaching us. It's time to mingle and do what you want and hang out."
From watching Thursday night football games and playing a variety of sports video games on the house Xbox to dining on the finest red meats and starches, Thursday nights for Alabama's offensive line are special.
Meals have usually involved a combination of steaks, burgers, brats and tight end
Corey McCarron
's famous mac & cheese. Every once in a while, the group gets a surprise, like when former guard
Anthony Steen
's parents brought over venison to make tenderloin.
Just looking for a succulent steak? Talk to Shepherd.
"I cook a mean filet. I like it fresh off the cow," he said.
Need a tidy house to eat in? Well, Shepherd doesn't think he needs to go
that
far.
"It doesn't matter when you have all these nasty guys in there."
April, 1, 2014
Apr 1
10:00
AM ET
TUSCALOOSA, Ala. -- Like a lot of position battles going on during spring practice in Tuscaloosa, Ala., -- hello, quarterbacks -- the starting five up front for the
Crimson Tide
likely won't be decided anytime soon.
[+] Enlarge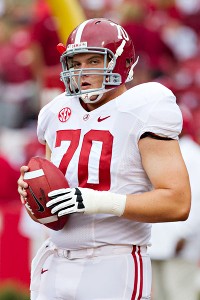 Wesley Hitt/Getty ImagesCenter Ryan Kelly is one of three returning starters for Alabama. The Tide is auditioning several youngsters at left tackle and right guard.
Sure,
Ryan Kelly
returns at center,
Austin Shepherd
is back at right tackle and
Arie Kouandjio
remains at left guard, but that's only slightly more than half the equation. The second half of the Kouandjio Bros., left tackle Cyrus, is off to a carer in the NFL, as is veteran right guard
Anthony Steen
, who racked up more than 35 starts in his career. Replacing those two stalwarts won't be an easy, much less quick, task.
The good news for Alabama is that this isn't the first time coach Nick Saban and his staff have been through this. Just last season offensive line coach Mario Cristobal had the unenviable job of replacing three All-SEC caliber linemen:
Barrett Jones
,
Chance Warmack
and
D.J. Fluker
. And do you remember what happened? The 2013 line actually one-upped the previous season's line in some respects. The line allowed six fewer sacks and also saw its rushes for zero or negative yards -- a good indicator of the push a line generates -- fall from 91 to 79, vaulting the Tide to fourth nationally in that category.
But, of course, there's room to improve. Just ask Kelly.
"Communication is the most important thing," he explained. "All 11 guys have to be on the same page. ... It starts with the offensive line. One of the things we're trying to emphasize is get up to the ball, get down, get set. Last year, look at it, we were running the clock down to five, four seconds every time. The faster that we can get to the line, get set, let the quarterback look at what he's got to look at, the more time we can have and we're not rushing to make calls last-minute."
Does that mean Alabama is turning to a more up-tempo offense under new coordinator Lane Kiffin? It depends whom you ask.
Brian Vogler
, a senior tight end, said that he thought the offense would stay similar to years past, relying on the "mauler" style it was founded on. Kelly, however, asked the question: "Anytime we can run more plays it's good for an offense, right?" He said he anticipates "a lot" of change this season, including new plays and new formations.
"Obviously, we want to practice faster every day," Kelly continued. "As as the spread offense, stuff like that, it's still the same. We've just been wanting to get more reps in practice. Obviously, reps make us better."
More repetitions will be key for the newcomers on the offensive line, not to mention the communication among all five potential starters.
Through the first four practices, the first-team line features Kelly, Shepherd and Kouandjio at their usual positions, with
Alphonse Taylor
added at right guard and
Leon Brown
at left tackle. The two combined for 17 appearances and one start last season, the lone start coming from Brown when Shepherd was lost for the Sugar Bowl against Oklahoma.
Though he can play inside, Brown might be better suited at tackle given his length (6-foot-6, 313 pounds).
Taylor, however, has all the earmarks of a punishing guard. At 6-5, 335 pounds and a low center of gravity, he looks vaguely like Warmack when he shuffles upfield in running situations.
"If you look at how big he is, he's actually really athletic, can bend really well and he's got a lot of power," Kelly said. "Another young guy, doesn't have a whole lot of experience, obviously, playing games. But I think this spring's going to be really big for him."
But the most intriguing prospect of all has to be
Cameron Robinson
, a five-star prospect and the No. 1 offensive lineman in the 2014 class. He has everything you look for in an offensive tackle: size, strength, athleticism. The 6-6, 325-pound freshman from Louisiana has shown some growing pains since enrolling in January, but he has also shown flashes of the talent that made him such a coveted recruit.
With a spring to learn, an offseason to prepare and an open position at left tackle to compete for come fall, don't sleep on Robinson.
"He's got a lot of ability," Kelly said of Robinson. "He's a big guy, can bend really well, long arms. Obviously he came into an offense where we kind of transitioning into a new style or new plays, stuff like that. So he never really learned the old one. Anytime you're coming from high school to college it's going to take a while to kind of get acclimated to it. Older guys have been helping him along the way, kind of showing him the ropes, because it can be eye-opening at times, coming from high school to college."
Saban called Robinson "a young guy that's learning and getting better every day." But along the same line, Saban said of the entire line that he wasn't "satisfied with where they are, but pleased with the progress they're making."
In other words, the line is very much an ongoing process.
"The depth chart means nothing right now," Shepherd said. "The depth chart won't mean anything until we play West Virginia."
January, 9, 2014
Jan 9
6:50
PM ET
TUSCALOOSA, Ala. -- It happens every year now, so don't act surprised. If you're an Alabama fan, deal with it. If you're not, don't weep for the Crimson Tide, either. Coach Nick Saban has lost multiple underclassmen to the NFL before, so
Thursday's news
that safety
Ha Ha Clinton-Dix
, offensive tackle
Cyrus Kouandjio
, linebacker
Adrian Hubbard
and defensive end
Jeoffrey Pagan
will all leave school early is no insurmountable thing. This is just the reason why Saban and his staff recruit so hard.
[+] Enlarge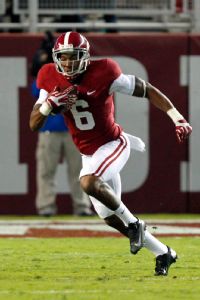 AP Photo/Butch DillSafety Ha Ha Clinton-Dix is one of four Alabama players who are leaving school early to enter the 2014 NFL draft.
Their leadership and experience will be missed -- along with seniors
AJ McCarron
,
C.J. Mosley
and
Anthony Steen
-- but their talent can be replaced. When you're the only school in the country to finish in the top three of ESPN's class rankings every year since 2008, you have that luxury of plug-and-play. Blue-chip prospects overflow from Alabama's football offices, rattling out its pockets every once in a while like loose change.
"Our twos and threes could do what I did out there," Clinton-Dix said of the team moving forward. "I'm not worried about any of those guys stepping up."
Alabama will be fine without Pagan, Hubbard, Kouandjio and Clinton-Dix. Many of their replacements are already on board:
Landon Collins
at safety,
Leon Brown
at tackle,
Dillon Lee
at strongside linebacker,
Jonathan Allen
at defensive end. Those who will challenge them for playing time are either just now arriving or just now finishing their first seasons in Tuscaloosa: defensive backs
ArDarius Stewart
and
Laurence 'Hootie' Jones
, tackles
Grant Hill
and Cam Robinson, linebackers
Tim Williams
and
Da'Shawn Hand
, and defensive ends
Dee Liner
and
D.J. Pettway
-- all excellent prospects.
It's easy to look at the loss of stars and say, "Oh no!" but that's not how it works at Alabama. It wasn't that long ago that safety
Mark Barron
left school and Clinton-Dix entered the fold.
D.J. Fluker
went to the NFL a year early and
Austin Shepherd
had little trouble at right tackle in his absence.
Eddie Lacy
torched Notre Dame in last year's BCS title game, announced he was turning pro and Alabama never missed a beat. Not only is
T.J. Yeldon
back for his junior season, a fella by the name of
Derrick Henry
appears ready to be his new sidekick.
This is the program that Saban has built. This is what his "Process" has borne. And it's embraced around campus. Just look at
this
,
this
and
this
from Alabama's director of player personnel Tyler Siskey. As Saban told reporters, "We've had 13 guys go out early for the NFL draft, 11 of those guys have been first-round draft picks."
Often when other schools lose key players to the NFL, there's a mad scramble to find their replacements. At Alabama, coaches turn to a stocked cupboard. Take the safety position, for instance: Cinton-Dix goes out with off-field drama and Collins enters the fold at free safety, followed by
Vinnie Sunseri
blowing out his knee and Collins then shifting over to strong safety. Collins, a former five-star prospect in his own right, immediately found success. A year after playing primarily on special teams, he finished second on the team in tackles, tied for first in interceptions and tops in passes defended.
Sure, Saban would love to see Pagan, Hubbard, Kouandjio and Clinton-Dix back for another year. Just don't expect him to openly weep about it. He's probably more than thrilled that
Trey DePriest
and
DeAndrew White
should be sticking around for their senior seasons.
You know, two out of six isn't bad. Three championships in five years seems to be going over quite well in Tuscaloosa.
Alabama will survive and new stars will emerge next season. Sometimes you hate to see athletes like Clinton-Dix leave early, but their departure only clears the way for who's next.
January, 3, 2014
Jan 3
1:00
PM ET
Maybe the loss at Auburn was a warning shot. Or was it the narrow victory at Texas A&M? Possibly the lackluster performances against Colorado State and Mississippi State?
Whenever the signs came that Alabama wasn't all it was cracked up to be, very few, if anyone, saw it coming. But looking back, maybe it all makes sense.
Alabama wasn't the best team in the country Wednesday night. It wasn't even the best team in the Superdome.
The narrative that Alabama would come out in the Sugar Bowl and prove again that it was worthy of being thought of as No. 1 ultimately proved misguided and downright untrue. The team's every flaw was exposed. Every one of Alabama's weaknesses was exploited.
This time there was no kicker to blame. This time it couldn't be chalked up to Lady Luck.
The only championship-caliber team in New Orleans was the one that entered the game a 14-point underdog. And if the way you end a season says anything about how you'll start the next, then Oklahoma should begin next season ranked ahead of Alabama by a mile.
The Sooners' future is undeniably promising. But the Tide's future is now best described as a series of question marks.
[+] Enlarge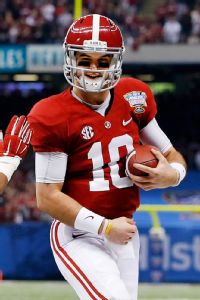 Kevin C. Cox/Getty ImagesAJ McCarron lost in his last two starts for Alabama and didn't look like himself in the Allstate Sugar Bowl.
AJ McCarron
looked nothing like himself Thursday night, throwing multiple interceptions in a game for just the third time in his career. It was a terrible way for him to leave things at Alabama -- one week a Heisman Trophy finalist, the next a scapegoat. But what's worse is that no one knows who will take over for him in the spring. Will it be the mobile quarterback
Blake Sims
? The soon-to-be redshirt sophomore
Alec Morris
? What about the three freshmen:
Cooper Bateman
,
Luke Del Rio
and
Parker McLeod
?
What Alabama wouldn't give to have someone with a future as bright as Oklahoma's
Trevor Knight
. The last quarterback to improve that much in New Orleans was McCarron in early 2012.
But the problems ahead are much deeper than who's under center. It goes even deeper than who will protect him. Left tackle
Cyrus Kouandjio
looks like he needs another year to develop, and even if he returns, Alabama will have to replace veteran right guard
Anthony Steen
.
Leon Brown
played OK in his stead, but the chemistry of the entire line was way off. Simply put, you can't give up seven sacks and expect to win many games.
Alabama's defense has to go back to the drawing board, too. All of it.
It's not just the secondary that was atrocious. The big plays speak for themselves, but two true freshmen were on the field at cornerback at one point against Oklahoma.
Maurice Smith
and
Eddie Jackson
will get better with time. Maybe
Cyrus Jones
or
Bradley Sylve
will emerge.
Vinnie Sunseri
will return at safety to provide some needed leadership and
Landon Collins
will mature alongside him.
The front seven needs to take a long, hard look in the mirror and find a way to help the back end of the defense. There were times where Alabama put pressure on Knight, but rarely did it finish the play. Saban might not think sacks are important, but having just one is pretty glaring. Freshmen defensive linemen
A'Shawn Robinson
and
Jonathan Allen
have shown promise. It's time to let them loose. If
Adrian Hubbard
and
Denzel Devall
aren't bringing the heat at outside linebacker, someone needs to.
Like McCarron,
C.J. Mosley
did everything he could to end his career on a high note. But Alabama's back-to-back All-American linebacker couldn't do it all on his own, even though there were times this season where it looked like he could.
Trey DePriest
, his heir apparent, will now have to shoulder that heavy burden. As Saban attempts to solve the riddle of no-huddle and spread offenses, DePriest will be his centerpiece.
In fact, the entire coaching staff has questions to answer. Yes, even Saban.
Saban and Kirby Smart have seen their defense get exposed one too many times by more developed offenses such as Oklahoma and Auburn. When the pace has picked up, Alabama has been left behind. When quarterbacks have been able to escape the pocket, Alabama has been left holding the bag. Giving up 822 yards in the final two games should be a wake-up call for the entire staff to rethink the way it answers offenses on both fronts.
And don't think that offensive coordinator Doug Nussmeier isn't in the same boat. He can no longer afford to leave weapons such as
Derrick Henry
and
O.J. Howard
hanging on the shelf. He can't abandon the run and expect his quarterback to save him. Balance always has been preached at Alabama, but it's not always been practiced, and that has to change. The Tide needs an offense that can make up a double-digit deficit in a hurry because the one it's trotted out the last few years has never been capable of that.
But even with all that, don't expect Saban to abandon his process. Wholesale changes aren't likely. Multiple times after the game, Saban said how his is a proven formula. He's focusing instead on how the loss was more of a signal to recommit to it. And maybe he's right.
From afar, the Sugar Bowl has the look of an outlier in a mountain of evidence supporting Saban's way of doing things. But this season showed some of the cracks in its foundation, cracks that could grow into more devastating gaps with time and pressure.
Oklahoma wasn't the only one to expose Alabama. Auburn was the first team to beat the Tide, and Texas A&M, Mississippi State and even Colorado State delivered blows of their own, even in defeat. With each flaw they revealed, a blueprint emerged: Pressure the quarterback, try for turnovers, push the tempo.
At the end of it all, the truth was obvious: Alabama not only wasn't the best team in the country this season, it has a lot of work to do moving forward to regain that title.
April, 19, 2013
4/19/13
9:00
AM ET
We are in the final weekend of spring games in the SEC. On Saturday, it all comes to an end so eat it up SEC fans.
Alabama, Arkansas, Auburn, LSU, Mississippi State, Missouri and Tennessee will all close out the spring this weekend.
Here's a look at five things to watch this weekend from the final seven spring games:
[+] Enlarge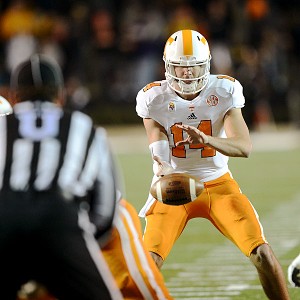 Wade Rackley/Tennessee AthleticsJustin Worley is one of many quarterbacks fighting for a starting job this spring.
1. Quarterback battles continue:
Four of the seven teams playing spring games this weekend have some quarterback controversy to deal with.
Brandon Allen
appears to have the lead over the more athletic
Brandon Mitchell
at Arkansas, but seeing both on the field Saturday should be fun. Auburn is wondering if
Kiehl Frazier
can finally push himself to the top of the depth chart, but he's having to face
Jonathan Wallace
, who ended last season as the Tigers' starter. Both are more comfortable in Gus Malzahn's spread offense. Tennessee will throw
Justin Worley
out against
Nathan Peterman
this weekend. Worley actually has college experience, but this has been a tight race so far this spring. Then, there's Missouri.
James Franklin
entered spring as the seasoned starter, but redshirt freshman
Maty Mauk
has impressed the coaches. Franklin's confidence has increased and he isn't dealing with excruciating shoulder pain anymore, but he's now having to fight off the very talented Mauk, who knows the offense as well as anyone. Gary Pinkel has been mum on who is ahead in this race, so expect this to carry over into fall.
2. Receiving help:
Mississippi State said goodbye to all of its starting wide receivers before spring arrived. The good news is that the Bulldogs return a veteran quarterback in
Tyler Russell
, but he has to make sure his less-experienced receivers grow up in a hurry. Saturday, we'll see what sort of progress this group has made during the first 14 practices of the spring. One guy to keep an eye is rising sophomore Joe Morrow. He has the skill to be a big playmaker, but he's still trying to figure things out and needs to have a big day. Juniors
Robert Johnson
and
Jameon Lewis
had good springs, especially Johnson, who should end up being the go-to target. Watching this group should be interesting Saturday.
3. Henry's health:
Losing
Henry Josey
last year was a big blow to Missouri's offense. When he was healthy in 2011 he was arguably the Big 12's best running back. But a devastating knee injury cut that season short and left him watching for all of 2012. But his knee is healthy and he's been running with pain or a brace all spring. He's loved taking contact so far, but this will be a chance for him to showcase his improvements to the Mizzou faithful. Keep an eye on the confidence he uses with his runs. After talking to him earlier this week, he sounds like a man on a mission. If he gets back to his old ways this fall, he could be a big-time player in this league.
4. Coming along up front:
Alabama might once again be favored to win the national championship this year, but there's still work to be done on an offensive line that lost three starters -- three All-Americans and two projected first round draft picks. While Nick Saban has said that he's happy with the way the line is taking shape, it's going to look a lot different Saturday.
Ryan Kelly
(center) and
Cyrus Kouandjio
(left tackle) pretty much had their spots entering the spring, but Alabama's 14 practices produced some excitement at the other positions. It looks like rising junior Austin Shepard has the edge at right tackle, but he's getting pushed by junior college transfer Leon Brown.
Anthony Steen
is a proven vet, but he's being pushed by fellow senior
Kellen Williams
.
5. Toomer's last rolling:
Following Auburn's spring game, fans will join to roll the live oaks at Toomer's Corner with celebratory toilet paper for one last time. The removal of the historic trees will take place on April 23, so Saturday will serve as a nice farewell for the oaks. Alabama fan Harvey Updyke was sentenced to six months in jail and five years on supervised probation after pleading guilty in the poisoning of the trees following Auburn's 2010 national championship victory over Oregon. The good news is that Auburn's board of trustees approved plans to redevelop the site.
April, 10, 2013
4/10/13
10:15
AM ET
One of the most rewarding parts of spring practice for coaches is finding those pleasant surprises, whether it's players who fly in under the radar and step up at positions of need or players little-used to this point who look like they're going to be key contributors in the fall.
Several of those guys have emerged this spring in the SEC.
Here's a look:

Sterling Bailey, DE, Georgia, RSo.:
Defensive coordinator Todd Grantham cross-trained his defensive linemen at all three positions this spring, and Bailey stood out at both end and nose guard. He's poised to be a valuable run-stopper for the Bulldogs after playing in only three games last season as a redshirt freshman.
Kentrell Brothers, LB, Missouri, RSo.:
Brothers appears to be all the way back from the broken leg he suffered in preseason camp two years ago. He's pushing
Darvin Ruise
hard for the starting weakside linebacker job and has been impressive this spring. Brothers had 14 tackles last season and didn't make any starts.
Justin Garrett, LB/S, Auburn, Jr.:
Stuck behind
Daren Bates
the past two seasons and playing only sparingly, Garrett has gone from an undersized linebacker to the "Star" in Ellis Johnson's 4-2-5 scheme. He'll be part-linebacker and part-safety and has shown the kind of speed and tackling ability this spring that Johnson is looking for at that hybrid position.
Joe Morrow, WR, Mississippi State, RSo.:
Morrow has been a spring sensation for the Bulldogs in the past, but it's yet to translate during the season. He caught just five passes last season as a redshirt freshman and was plagued by a bum knee. But this spring, Morrow has been much more consistent and has given his teammates and coaches confidence that he can be a go-to receiver. He's an inviting target at 6-foot-4 and 210 pounds and a tough matchup for smaller cornerbacks.
Floyd Raven, S, Texas A&M, Jr.:
A backup cornerback a year ago, Raven has moved to free safety and is currently sitting atop the depth chart. His athleticism and playmaking skills make him a natural back there. He's intercepted
Johnny Manziel
a couple of different times in scrimmages. The key will be fully understanding his role at safety and what all that entails. If he gets that down, look out.
Dontavis Sapp, LB, Tennessee, Sr.:
First-year coach Butch Jones said following Saturday's second scrimmage that Sapp has been "amazing" this spring. Some pretty lofty praise for a guy who made just 17 tackles last season. But with a new staff and a new defensive scheme, Sapp has prospered. The former safety can play any of the three linebacker positions and is a fixture on special teams.
Austin Shepherd, OT, Alabama, RJr.:
The Crimson Tide lost three starters from an offensive line that most people considered the best in the country a year ago. Shepherd, entering his fourth year in the program, has waited his turn and has the edge right now over junior-college newcomer
Leon Brown
in the battle for the starting right-tackle job.
Mitch Smothers, OG, Arkansas, RSo.:
Smothers has found a new lease on his football life under first-year offensive-line coach Sam Pittman. After redshirting last season, Smothers has played his way back into the starting lineup at left guard. He was a starter at tackle to open his true freshman season in 2011, but was benched after the first four games and spent the rest of the season watching from the sideline.
Carlos Thompson, DE, Ole Miss, RJr.:
A big get for the Rebels out of high school, Thompson has played in just 11 games during his first three years on campus. He redshirted last season to get stronger, and the Ole Miss coaches have been impressed with the results. He's been more physical and has held up better at the point of attack. With
C.J. Johnson
out for the rest of the spring with a broken fibula, Thompson has made the most of his opportunities. He could be a breakout player in the fall for the Rebels.
D.J. Welter, LB, LSU, RJr.:
Academics derailed Welter last season after he played sparingly as a redshirt freshman in 2011. The feeling coming into the spring was that
Lamin Barrow
would move from weakside linebacker to middle linebacker to replace
Kevin Minter
. But so far, Welter has played well enough in the middle that the Tigers haven't felt like they needed to move anybody.
February, 21, 2013
2/21/13
9:00
AM ET
Enrolling into college has become a growing trend in college football. Missing prom and Senior Skip Day has become a regular for a lot of high schoolers these days.

In the SEC, getting a high number of early enrollees is becoming more and more of a priority for coaches. This year, all 14 SEC teams had players from their 2013 classes enroll in school early. Georgia leads the SEC with 13, Alabama has nine, and Florida and Texas A&M both have eight. In fact, 73 players from this year's recruiting class enrolled early at SEC schools in this year.
ESPN colleague Travis Haney unveiled his
top impact early enrollees

from around the country Wednesday, and of his five players who made the cut, three came from the SEC. Well, four, because he said defensive backs
Tray Matthews
and
Reggie Wilkerson
would make immediate impacts at Georgia.
Florida running back
Kelvin Taylor
, who was the nation's No. 1 running back, and Alabama tight end
O.J. Howard
, who was an ESPN 150 member, also made the list.
Those all make sense. Georgia is basically replacing its entire secondary outside of cornerback
Damian Swann
, so the Bulldogs will need all the help they can get in the secondary. Florida proved that it could survive -- for the most part -- on a very strong running game last fall, but workhorse
Mike Gillislee
is gone, so the Gators will need help for
Matt Jones
and
Mack Brown
. Taylor is an elusive, physical back who could find himself getting a boatload of carries this fall. And Howard is a real difference-maker at tight end. The Alabama coaches are very excited about his big-play ability and his ability to create a lot of mismatches for defenders.
Haney also gave Tennessee wide receiver
Paul Harris
the honorable mention nod. Harris comes in at a position of great need, and it will only benefit, well, everyone, having him on campus early.
But what other players who decided to trade in their prom tuxes for shoulder pads could make immediate impacts in the SEC? Glad you asked, because here are some
other
guys I think you should all keep an eye on:
True freshmen
Christian LaCouture, DL, LSU:
With LSU losing starters at both end spots and one at defensive tackle, LaCouture has a chance to get immediate playing time. He can play inside or outside for the Tigers.
Christian Morgan, TE, Ole Miss:
The Rebels lost three senior tight ends from last season's team, and the returning players lack experience, so Morgan could step right into a starting spot with a successful spring.
Demarcus Robinson, WR, Florida:
The Gators need receiving weapons, and Robinson might be the most versatile of the bunch on campus right now. He's the play-making type this offense desperately needs.
Junior college transfers
Leon Brown, OL, Alabama:
Three starting offensive linemen are gone, which means Brown could find himself playing a lot this fall. He could be in line to take the vacant right tackle spot left by
D.J. Fluker
.
Justin Cox, DB, Mississippi State:
Johnthan Banks
and
Darius Slay
are gone, and Cox is already impressing people around the program. Word is he's already one of the fastest guys on the team, and could come in and start immediately at cornerback.
Za'Darius Smith, DE, Kentucky:
With all the late movement in UK's class, Smith might have been overlooked, but Mark Stoops is very excited about him. He's been a monster in the weight room and could play right away this fall.