December, 18, 2014
Dec 18
12:30
PM ET
Les Miles said his discussions with the players haven't gone beyond the informal stage yet, but he knows that a number of LSU players are weighing the possibility of entering the NFL draft after the season.
That's nothing new for LSU's coach, who has lost 17 underclassmen to the draft in the last two years, but he also knows the potential that will exist for his 2015 team if juniors like offensive lineman
Vadal Alexander
, linebacker
Kwon Alexander
and defensive backs
Jalen Collins
and
Jalen Mills
opt to return.
"I think that this team has the potential to play in championships and should the juniors recognize how close we are to being in the [College Football Playoff] that frankly this could be a great class for quite some time and a great team for quite some time," Miles said this week.
Those upcoming decisions will be a major factor in whether LSU fulfills that potential next season. Miles said he has made and will make that point in further discussions with his underclassmen on whether another year in college would benefit them.
[+] Enlarge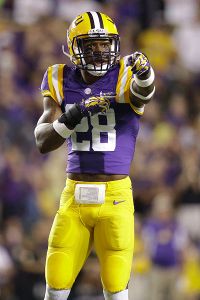 Gerald Herbert/AP PhotoJalen Mills is one of several LSU draft-eligible defenders with a decision to make.
"It's just basically revealing simple statistics about conference opponents and guys that are going to have senior quarterbacks and teams that are going to lose this and lose that, whereas we're really in pretty good shape should we return our junior class," Miles said.
Earlier today, we examined each position on LSU's offensive roster and which players have NFL decions to make. Now we turn to the defense:
DEFENSIVE LINE
Key departing seniors:
Defensive end
Jermauria Rasco
(63 tackles, 4 sacks, 6.5 tackles for loss)
Key draft-eligible player:
Junior defensive end
Danielle Hunter
(64 tackles, 1.5 sacks, 12 TFL)
Key underclassmen/not eligible for draft:
Sophomore defensive tackle
Christian LaCouture
(37 tackles, 2.5 sacks, 4 TFL), freshman defensive tackle
Davon Godchaux
(34 tackles, 1.5 TFL)
Comment:
Hunter refused to discuss his draft situation on Wednesday, but there is good reason to believe that he can and will jump to the pros after the bowl game. If he and Rasco are both gone, the Tigers might lean heavily on
Tashawn Bower
,
Lewis Neal
,
Deondre Clark
and
Sione Teuhema
to provide a pass rush next season. The good news is that the tackle spot will be much better off in 2015 now that LaCouture and Godchaux have established themselves, with junior
Quentin Thomas
and a number of freshmen and redshirt freshmen (look out for
Travonte Valentine
) capable of grabbing some playing time for themselves.
LINEBACKER
Key departing seniors:
D.J. Welter
(35 tackles)
Key draft-eligible players:
Junior Kwon Alexander (79 tackles, 7.5 TFL), junior
Lamar Louis
(29 tackles, 2.5 TFL)
Key underclassmen/not eligible for draft:
Sophomore
Kendell Beckwith
(68 tackles, 2 sacks, 6.5 TFL, INT)
Comment:
This figures to be a strong position even if Alexander jumps to the pros. Asked whether he requested an evaluation from the NFL's advisory committee, Alexander said, "One of the coaches told me to put it in. I just threw it in there, but I'm not worrying about that right now. I'm just trying to focus on this bowl game." He had a strong first season at weakside linebacker, posting a team-high 79 tackles and earning second-team All-SEC honors, but could certainly boost his draft stock by returning. Starting strongside linebacker Louis figures to return, and Beckwith should be a star next year in his first full season as the starter in the middle. Plus, the Tigers will have regulars
Deion Jones
and
Duke Riley
back, and freshman
Clifton Garrett
will be coming off his redshirt season. With so much depth and talent returning, Alexander predicted that his position group next year can be "the best linebackers in the country."
SECONDARY
Key departing seniors:
Safety
Ronald Martin
(66 tackles, 2 INT)
Key draft-eligible players:
Junior cornerback Jalen Collins (33 tackles, INT), junior safety Jalen Mills (54 tackles, 3 TFL, INT), redshift sophomore defensive back
Dwayne Thomas
(24 tackles, 2.5 TFL, INT)
Key underclassmen/not eligible for draft:
(Safety) sophomore
Rickey Jefferson
(23 tackles, 2 INT), freshman
Jamal Adams
(56 tackles, 3 TFL), (cornerback) sophomore
Tre'Davious White
(32 tackles, 3 TFL, 2 INT)
Comment:
Mills and Collins are both expected to explore their draft possibilities. Mills hasn't spoken to reporters since the end of the season, and Collins said Wednesday that "I've thought about it a couple times, but I haven't made any final decisions yet." ESPN's Mel Kiper Jr. rates Collins as the No. 8 draft-eligible cornerback prospect for 2015. Even if they both jump to the pros, the secondary should still be in good shape. Thomas and junior safety
Corey Thompson
will return from injury, while Adams, White and Jefferson have all established themselves as reliable contributors.
Rashard Robinson
is a wild card, as Miles hasn't announced whether the suspended cornerback will be allowed back on the team. "I would hope that he might be here [next season]," Miles said earlier this week. If Robinson is gone permanently, the Tigers might have to rely on a freshman like
Ed Paris
,
John Battle
or
Russell Gage
.
SPECIAL TEAMS
Key departing seniors:
None
Key draft-eligible players:
Junior punter
Jamie Keehn
(45.0 yards per punt), junior snapper
Reid Ferguson
Key underclassmen/not eligible for draft:
Sophomore kicker
Colby Delahoussaye
(11-15 FG, 34-36 PAT, 67 points)
Comment:
Keehn told reporters this week that he plans to return, so LSU's kicking game should remain intact. In fact, there could be added competition next season now that freshman kicker
Cameron Gamble
has had time to settle in and possibly challenge Delahoussaye and sophomore
Trent Domingue
for opportunities on field goal/PAT and kickoffs.
September, 23, 2014
Sep 23
2:00
PM ET
BATON ROUGE, La. -- LSU coach Les Miles and many of his players embraced their roles as good soldiers on Monday, accepting blame for individual failures that allowed
Mississippi State to win 34-29
on Saturday at Tiger Stadium.
[+] Enlarge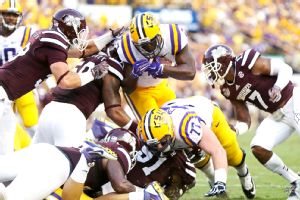 AP Photo/Gerald HerbertLSU's O-line didn't open up much running room for Leonard Fournette against Mississippi State.
There was plenty of blame to go around, from coverage breakdowns to missed tackles to dropped passes to quarterback misfires. But perhaps the most distressing problems the No. 17 Tigers (3-1) experienced came on the interiors of both lines, where they were simply not consistent enough. At times they were even manhandled by the Bulldogs' physical fronts.
"Everybody has their times where they go through stuff," said senior center
Elliott Porter
, whose group paved the way for LSU to rush for just 89 yards in 35 carries. "But we're going through it [and] we're going to get through it. We've just got to get our identity and once we get our identity, it's going to be a good thing for this team."
And what should that identity be?
"Just [like] the LSU offensive line that we had in the past, last year and years before: tough, hard-nosed, physical offensive linemen [who] finish blocks. Including myself," Porter continued. "I believe we all have to improve with that. But I'm definitely putting it more on myself than the other guys. I'm the leader. I have to put it on myself more."
Porter wasn't the only blocker in need of improvement, however.
Miles said
Ethan Pocic
should start again at right guard against New Mexico State (2-2) on Saturday after taking a starting spot away from senior
Fehoko Fanaika
against Mississippi State. Left guard
Vadal Alexander
's starting position might also be in jeopardy.
"We may look at a substitute that will go to the left side or to the right side at that guard spot," Miles said.
Whatever personnel comprises the eventual starting lineup, it must play with far more consistency if LSU's run-first philosophy will have any effectiveness against the better SEC defenses this season. LSU's line struggled to get a consistent push at times even against its nonconference opponents, but talent eventually won out in those games.
The Tigers once again struggled to create running space against Mississippi State, and it was more costly this time -- in part because of poor communication, Porter said.
"The lines that we had in the past, including last year and the year before, we executed because we communicated better," Porter said. "We have to communicate better. It will come. I have a lot of faith that it's coming. It was there sometimes on Saturday night, but it wasn't consistent enough."
On the opposite side of the line, LSU struggled mightily in containing Mississippi State quarterback
Dak Prescott
. That's a tall order for any defense, but Prescott made the Tigers look awful at times, rolling up the highest yardage total -- 570 yards -- surrendered by an LSU defense since 2001.
Much of that production came on runs straight up the middle, with the Bulldogs generating 302 rushing yards and 9.1 yards per attempt on runs between the tackles according to ESPN Stats and Information. In LSU's first three games, opponents averaged 54 rushing yards per game and 3.4 yards per carry on runs between the tackles.
Despite what the numbers say, Miles insisted that defensive tackle is not a weakness for his team, and sophomore
Christian LaCouture
agreed with his coach's assessment.
"I don't see us as a weakness at all," said LaCouture, who has started all four games at tackle. "We've got the talent, we've got the hard-working guys. We've just got to be on the same page as the defense, and we will. Looking at it, I don't think we have any weaknesses on this football team. We've just got to make sure we play as one."
Continuity along the defensive front won't come any easier in the short term. Miles said
Quentin Thomas
, who started three of the first four games is "nicked" and could miss a week or two. Thomas left LSU's football facility with his arm in a sling after Monday's practice.
Meanwhile, redshirt freshmen
Frank Herron
,
Maquedius Bain
and
Greg Gilmore
-- all of whom seemed to be in line for bigger roles prior to the season -- have barely played. Asked about that group on Monday, Miles also mentioned converted end
Lewis Neal
as a player who could see more action.
"I do see some of those guys stepping forward even more in this game," Miles said. "I can tell you that Lewis Neal came in and played late in that game and probably played six or eight snaps, made four tackles. There's a guy that's going to play a lot of football, and he's just making his case. Some of those guys got onto the field in that game and made a case for more playing time, and that's what we needed to have happen."
That is certainly true, as what the Tigers didn't accomplish much along either line against Mississippi State. New Mexico State does not represent a major threat, but the Tigers need to establish more consistent lineups with road trips to Auburn and Florida fast approaching.
"Somebody's got to come up and play more," LaCouture said. "Somebody's got to step up, and I know they will. We've got some great guys back there, and I know they'll step up to the challenge."
September, 4, 2014
Sep 4
9:00
AM ET
BATON ROUGE, La. -- When he and his teammates traveled to Houston last weekend, LSU safety
Jalen Mills
had no idea whether he'd actually play against Wisconsin.
It wasn't until the final moments before his team took the field that Tigers coach Les Miles informed the junior safety of his decision.
"Actually right before we came out the tunnel. Coach Miles told me, 'I hope you're ready to play,' " said Mills, whose offseason arrest led to his banishment from all team activities throughout the summer before Miles reinstated him at the start of preseason practice. "So once he told me that, just a big weight lifted off my shoulders and I was ready."
Mills made the most of his opportunity, starting at safety and intercepting a pass during the Tigers' second-half comeback en route to a 28-24 victory. Several of his teammates weren't as fortunate, with multiple Tigers missing the game because of suspension, injury or simply because they were not quite ready to face a big-time opponent.
That could change soon -- possibly as soon as this Saturday against Sam Houston State in some cases -- as expected contributors like cornerback
Rashard Robinson
, receiver
Malachi Dupre
and defensive linemen
Frank Herron
,
Maquedius Bain
and
Greg Gilmore
start to filter into the lineup.
Like Mills last week, some members of that group -- along with many others who did not play last weekend -- will walk into Tiger Stadium Saturday night not knowing whether this will be their chance to make their season debuts.
Miles said Wednesday evening that "everybody's ready to roll. We didn't lose anybody from the [Wisconsin] game" when asked about the health of the team, although he added that senior center
Elliott Porter
might sit out for a second consecutive game.
Miles would have to improve significantly before anyone would describe his disciplinary practices as transparent, but he responded "Yeah, absolutely" when a reporter on Tuesday asked whether the suspended players would be available this Saturday.
If they are available, and if players like Dupre are able to return from injuries, LSU could have far more firepower at its disposal in the near future -- even if Miles predicted that the starting lineup should mostly remain intact.
"I think it will be very similar," Miles said after Wednesday's practice. "There's some young defensive linemen we'd like to put on the field, but it's one of those things, you have to develop a level of competency in the call. That's the issue. We have very talented guys there. We're just getting them ready to play, hopefully this week. Hopefully they'll play some time. But I think for the most part, you'll recognize the same starting lineups."
Regardless, the youthful Tigers are not the team they will become over the course of this season. Although nine true freshmen and two redshirt freshmen played their first college games, many more -- a group that includes Herron, Bain, Gilmore, receivers
D.J. Chark
and
Avery Peterson
, running back
Darrel Williams
and linebacker
Clifton Garrett
-- still hope to prove to their coaches that they deserve playing time.
"It's definitely your coach trusting you and coming out here in practice every day and working hard," senior middle linebacker
D.J. Welter
said. "Everybody's been doing that, but you've just got to keep grinding every day to close that space and you'll get to see the field."
As Miles mentioned, that is apparently the issue with Herron and the other redshirt freshman defensive tackles. Players complimented Herron throughout the preseason, but Miles said he wasn't ready to go against Wisconsin. Instead it was true freshman
Davon Godchaux
who played alongside veterans
Christian LaCouture
,
Quentin Thomas
and
Lewis Neal
against the Badgers.
"To be honest with you, we'd have loved to have gotten Frank in, and some other guys," Miles said. "But the issue becomes one where when the game's tight and you want to be able to count on the call, you go with that veteran that kind of understands it a little bit more. We're hopeful that we can get Frank coached up a little bit better and get him on the field because he is, in my opinion, a very, very talented guy."
Same with Chark and Williams -- and for that matter the freshmen who did play and didn't exactly dominate. It's part of the learning process, Miles cautioned, and that process sometimes requires some patience.
Regarding freshmen like quarterback
Brandon Harris
and tailback
Leonard Fournette
, Miles said LSU's coaches are "thrilled with their performances" even if they didn't exactly fill up the stat sheet against Wisconsin.
It will come in time, as redshirt freshman
John Diarse
learned a season ago.
"I had the same expectations coming in last year and Coach Cam [Cameron] just told me, 'It's a process. It takes time. It doesn't happen overnight. It takes time and just relax, stay in it, stay focused, keep working hard,' " said Diarse, who caught two passes and scored a 36-yard touchdown in the fourth quarter against Wisconsin.
August, 20, 2014
Aug 20
3:00
PM ET
BATON ROUGE, La. -- LSU has speed and athleticism in spades within its linebacking corps and a secondary that appears ready for a breakout season. The biggest unknown on the Tigers' defense -- a line that has little experience and only marginal productivity -- might be the biggest factor in whether LSU returns to its dominant form on D.
"Going into camp, that's what I was thinking about," senior defensive end
Jermauria Rasco
said. "Our linebackers are the strongest. They're the core of the defense. The secondary, they're real tight. And me personally, I feel like the D-line is the question mark right now."
Rasco's comments came a few days after the Tigers opened preseason camp earlier this month. The ensuing two weeks have reportedly been productive for the group -- as they needed to be.
Teams that win SEC titles usually dominate up front on defense, and even when they don't (see Auburn, 2010), they typically have at least one lineman who creates havoc in opponent backfields. Since 2000, only two SEC championship clubs (Florida in 2008 and Alabama in 2012) failed to have at least one defensive lineman make the coaches' All-SEC team at the end of the season.
Once junior tackles
Anthony Johnson
and
Ego Ferguson
both jumped for the NFL draft after last season, LSU lost its only obvious picks for postseason honors. Now it's up to Rasco and fellow end
Danielle Hunter
-- a combination that totaled just seven sacks a season ago -- and a host of inexperienced players in the middle to pick up the slack.
"We might not be the key, but we're a piece of the puzzle," redshirt freshman defensive tackle
Greg Gilmore
said. "We're all a piece of the puzzle and if we can fit in right, we can make it good for us."
Gilmore and his position mates are probably the most important piece of the puzzle. Hunter seems poised for a breakout season and Rasco is now healthy after struggling with shoulder injuries earlier in his career. But the tackles are largely unknown to those who don't watch the Tigers practice each day.
Those who do continue to project confidence about the group's capabilities despite a lack of on-field experience.
"I think some of those young defensive linemen,
Frank Herron
and some of those guys whose names you don't know, are going to be very, very good players," LSU coach Les Miles said.
Sophomore
Christian LaCouture
played sparingly as a reserve last season, as did
Quentin Thomas
-- still working to return from a biceps injury suffered during camp -- and converted defensive end
Lewis Neal
. Then you have redshirt freshmen Gilmore, Herron and
Maquedius Bain
waiting for the chance to prove that the tackles aren't nearly the cause for concern that their lack of experience would indicate.
"They don't get enough credit, and they will. Their time comes," senior center
Elliott Porter
said. "Just like Ego, his time came [and he became a] second-round draft pick. The time comes. It's going to happen. You've got to open your eyes and see. You've got to open your eyes. We breed D-tackles around here, as you can see the last three or four years."
That is true -- LSU has placed eight defensive linemen in the NFL draft over the past four years -- but that has no impact on the present. When the Tigers open the season against Wisconsin on Aug. 30, they'll rely on multiple interior linemen who have yet to play a college game.
Of course, that's another LSU tradition of late.
"Coach Miles always says we play young guys, we play freshmen," Herron said. "So I'm ready to play and show the world what I've got. Playing next to Christian and Greg and Bain, it's been a blessing. Those guys show me new things each day and they're just telling me to keep pushing myself, keep going."
Herron and LaCouture have reportedly had good camps, but Hunter might be the top breakout candidate on the line. Good luck getting him to admit it, though. The junior defensive end -- who generated lots of attention when practice photos of his ripped physique made the rounds on social media early in preseason camp -- seems completely oblivious to outside attention, even after Miles credited him with nine tackles and four tackles for a loss after last Saturday's scrimmage.
"I didn't really hear all this about what Coach Miles said about me until this morning, when one of my teachers texted me saying I did well in the scrimmage. I didn't realize I did that well," Hunter said, adding, "I actually felt like during the scrimmage, I really didn't feel like I did so good."
If that's the case, LSU fans can't wait until Hunter's offseason focus on pass-rushing results in a sack or three and he actually feels good about a performance.
Nonetheless, the Tigers' defense has emphasized competition since the end of last season, when a strong finish generated some offseason momentum after what had been a sometimes-rocky fall. Things are looking good at linebacker and in the secondary, so if the line can prove Miles correct for being confident, the Tigers will once again become a defensive force within the SEC.
"The ceiling's so high," LaCouture said. "Looking at it, you don't know if you have a ceiling on it. We're full of potential and stuff like that, but potential's just a name. ... You have to know what you're doing."
March, 12, 2014
Mar 12
12:00
PM ET
Hard-working reporters put in some long hours for the NFL's first day of free agency. It was so packed with news, it was almost like a mini national signing day.
September, 25, 2012
9/25/12
2:13
PM ET
By
ESPN.com staff
| ESPN.com
Gary Laney writes

: RB Spencer Ware is looking slimmer, helped lead LSU to a narrow win at Auburn with 90 yards, earned praise for his pass protection and just might be back to his top form that he showed early last season.
David Helman writes

: DE Lewis Neal is making a strong impact in his senior season, even though the LSU commit's minutes have been limited because his team is winning big.
Note: Check in with GeauxTigerNation's forum, The Chute, as Helman will talk recruiting, this football season and perhaps the SEC
in a 2 p.m. CT chat.

SEC SCOREBOARD
Saturday, 12/20
Monday, 12/22
Tuesday, 12/23
Wednesday, 12/24
Friday, 12/26
Saturday, 12/27
Monday, 12/29
Tuesday, 12/30
Wednesday, 12/31
Thursday, 1/1
Friday, 1/2
Saturday, 1/3
Sunday, 1/4
Monday, 1/12
Tweets from https://twitter.com/ESPNCFB/lists/sec