October, 24, 2014
Oct 24
10:00
AM ET
A look ahead to Saturday's games in the Southeastern Conference. All times Eastern:
Noon
UAB at Arkansas, SEC Network:
Bret Bielema will have to wait at least one more week before notching that first SEC victory, but after three straight losses, this Arkansas team needs a win in the worst way. It's not like the Razorbacks are playing poorly. Even Saturday, after falling apart in the first half, they didn't give up. They responded in the second half and outplayed Georgia the final 30 minutes. That first conference win is coming. In the meantime, Arkansas can't afford to overlook UAB. The Blazers put up 34 points on No. 1 Mississippi State earlier in the season, so they're at least capable of getting in the end zone.
[+] Enlarge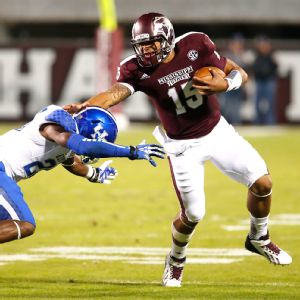 AP Photo/Rogelio V. SolisDak Prescott threw for 268 yards and ran for 33 last season in a 28-22 home victory over Kentucky.
3:30 p.m.
No. 1 Mississippi State at Kentucky, CBS:
What happened to Kentucky? This game was shaping up to be one of the biggest games in program history – a top-25 matchup, a chance to take down the No. 1 team in the country – and then it all fell apart at LSU on Saturday. Losing close is one thing, but the Wildcats were dominated in Death Valley. The good news is that they can still take down No. 1 this weekend as this will be Mississippi State's first game since taking over the top spot. For the Bulldogs, it's a chance to prove they're worthy of No. 1 and it's another opportunity for
Dak Prescott
to shine in front of a national audience.
4 p.m.
Vanderbilt at Missouri, SEC Network:
A week after everybody left Missouri for dead, the Tigers are back in the SEC East race and rolling after a 42-13 win at Florida. The defense feasted on the Gators' offense, forcing six turnovers and taking two back for touchdowns. That's bad news for Vanderbilt quarterback
Johnny McCrary
, who will be making his first start for the Commodores. In his first action since the season opener, McCrary went 10-of-16 for 169 yards with one touchdown and one interception Saturday against Charleston Southern. But that was Charleston Southern. This is Missouri. Good luck Mr. McCrary.
7:15 p.m.
No. 3 Ole Miss at No. 24 LSU, ESPN:
Don't assume that Ole Miss is going to just go to Baton Rouge and handle its business. Yes, the Rebels have arguably the top defense in the SEC. And yes, they're ranked No. 3 for a reason. But winning on the road at LSU is no easy task. Just ask Les Miles, who is 45-4 as LSU coach in night games at Tiger Stadium. There's something special about when the sun sets over Death Valley. So don't be surprised if this game is close in the fourth quarter, and it's up to Ole Miss quarterback
Bo Wallace
to make a play. Wallace did account for more than 350 yards and four touchdowns at LSU two years ago.
7:30 p.m.
No. 4 Alabama at Tennessee, ESPN2:
Thank you, Lane Kiffin, for infusing a little life back into this rivalry. He made it interesting back in 2009 when his Tennessee team nearly knocked off the eventual national champs, and he's doing it again this year with his return to Knoxville as Alabama's offensive coordinator. You can bet the fans will be a little more rowdy in welcoming Kiffin back to Neyland Stadium on Saturday. But despite all the hoopla surrounding Kiffin, there's still a game to be played. Alabama comes in as a heavy favorite, and the Vols could be in trouble if quarterback
Justin Worley
isn't able to play.
South Carolina at No. 5 Auburn, SEC Network:
Gus Malzahn admitted this week that he wears a visor every game because of Steve Spurrier. That's how much respect and admiration he has for the Head Ball Coach. On Saturday, Malzahn will face Spurrier for the first time as a head coach in a game that Auburn has to win for its playoff hopes. The Tigers are coming off a loss to Mississippi State, and this is their first of four SEC games in four weeks. Meanwhile, South Carolina has not delivered on the preseason hype. A top-10 team before the season, the Gamecocks are barely above water at 4-3.
October, 30, 2012
10/30/12
6:04
PM ET
While the cameras were rolling for player interviews in LSU's weight room Tuesday, assistant coaches John Chavis and Brick Haley were in the far corner of the room, sweating on elliptical walkers.
It was a sign that just because ESPN was in town for an all-access day, it didn't mean the work stopped.
Indeed, the mood around the LSU football building was very business-like Tuesday. The biggest game of the year against Alabama was just four days away and while things looked normal around the campus and nearby neighborhoods, one could sense the excitement brewing just below the surface.
There was also a sense of trepidation. One student told me he was a little subdued because the first time since he's been an LSU student, he's not expecting the Tigers to win.
LSU players hear that, too.
Bennie Logan
talked Monday about not listening to what outsiders say.
Zach Mettenberger
spoke of keeping it "on the perimeter."
"All we can do," he said, "is keep going to work."
And that's what they did. Even before the visiting TV cameras loaded up the tour bus and hit the road, the work was well under way. The Tigers know that with an opponent like Alabama, it can never stop.
October, 30, 2012
10/30/12
4:34
PM ET
Barkevious Mingo
is one of the most feared pass-rushers in college football, a defensive end with a basketball forward's length and a sprinter's speed.
In person, however, he's personable and quick with a smile, hardly one who exudes the intensity of a search-and-destroy defensive stalwart.
Even with Alabama coming to town this week, he's been his usual nearly jovial self at media gatherings. But just below the surface, one senses something brewing.
"Not just me, but this whole team, we want it bad," Mingo said Tuesday when he was asked about getting revenge on Alabama, which beat the Tigers 21-0 for last year's BCS National Championship.
It was said with typical Mingo ease. But the sincerity came through.
Mingo, after all, is used to winning. He played his high school ball at Louisiana powerhouse West Monroe, the dominant program in Louisiana's largest enrollment class, reaching the state championship game as a senior.
After redshirting for a year at LSU then playing as a reserve in his redshirt freshman year, Mingo helped the Tigers reach the BCS Championship Game, only to lose again.
For Mingo, getting to a championship game hasn't been a problem. Winning it has. He might only have one more shot at it if he departs for the NFL after this season. And only if the Tigers can win in Tuscaloosa.
October, 30, 2012
10/30/12
3:48
PM ET
Eric Reid
has been hearing the question all week and he'll keep hearing it until Saturday when Alabama rolls into LSU's Tiger Stadium.
"
AJ McCarron
has not thrown an interception this season," the questioner will say. "How do you expect to change that?"
And the LSU free safety does what he's trained to do and what's probably the respectable thing to do. He compliments the Crimson Tide quarterback whose numbers -- 18 touchdowns vs. no interceptions -- have him being mentioned in the Heisman Trophy race.
"He's doing a great job this season," Reid will answer. "He's very efficient. He takes care of the ball for his team. That's what you want from your quarterback."
Reid knows as well as anybody that McCarron, and Alabama in general, can be forced into turnovers. In last year's 9-6 LSU overtime win over the Tide in the regular season, LSU had two interceptions, including Morris Claiborne's interception of McCarron.
But it was Reid's spectacular pick of a Marquis Maze pass on a wide receiver reverse that was the play of the game in the Tigers' 9-6 overtime win over Alabama last season in Tuscaloosa, Ala.
With Alabama driving at the LSU 28-yard-line in the fourth quarter, Maze's deep heave looked like a catch at the goal line when Reid ripped it out of the hands of Alabama receiver
Michael Williams
as both men reached up over their heads for the ball.
It was a momentum-changing play that many saw as the season's signature play until the season unraveled with the 21-0 loss to Alabama in the BCS championship game rematch.
"I was just able to make a play to help my team out in a big part of the game" Reid said. "That play isn't going to affect this game in the game at all. It's in the past."
But he said plays like it will have to be made for LSU to win the rematch Saturday.
"In big games," he said, "big plays have to be made."
Reid, as much as any Tiger, knows the feeling of making them against the Crimson Tide.
October, 30, 2012
10/30/12
1:15
PM ET
LSU quarterback
Zach Mettenberger
was interviewed for ESPN's all-access Tuesday in LSU's players' lounge, an appropriate place considering the approach he's trying to take to this week's pressure-packed game against Alabama.
"As Coach [Les] Miles would say, leave the outside perimeter on the outside," Mettenberger said. "All we can do offensively is show up every day ready to work. For me, I just have to get mentally prepared for every game and with this being such a big game, I have to be ready for anything to happen."
Plenty has happened for Mettenberger this year, not all of it good. He comes into the Alabama game 12th in the SEC in pass efficiency, ahead of just two other SEC starters, Auburn's
Kiehl Frazier
and Missouri's
James Franklin
. It's led to criticism of the LSU junior quarterback as the weakness for an otherwise dominant team. The Tigers are among the SEC leaders in rushing and most defensive categories.
But the one area in which Alabama will have a decided edge Saturday is the passing game -- where
AJ McCarron
has thrown 18 touchdowns and no interceptions.
Mettenberger has thrown seven TDs and four interceptions. He has thrown just one SEC touchdown, a TD pass to
Kadron Boone
in LSU's 24-19 win at Texas A&M that proved crucial. He'll likely need to make more of those throws Saturday against a Crimson Tide defense that will likely be committed to stopping the run.
"Hopefully this week I can make a couple of big plays," he said.
October, 30, 2012
10/30/12
12:29
PM ET
LSU defensive coordinator John Chavis broke down LSU's "Mustang" package with ESPN's Jenn Brown this morning. It's a breakdown of a play that resulted in an interception from Texas A&M's
Johnny Manziel
in LSU's last game.
"It's a pressure package," Chavis explained. "We can bring pressure from a lot of different places."
The question now is how does LSU force Alabama's
AJ McCarron
, who has yet to throw an interception this season, into a similar mistake?
"We intercept the ball when he throws it," Chavis said. "That's the easiest way, but that's going to be difficult because he does a great job. He makes very few mistakes."
If LSU is in the Mustang package -- a dime package with three linemen and two linebackers -- that will be a win in and of itself. The defense is used against spread offenses, something one would not expect from the Crimson Tide, and on obvious passing downs.
So if the Tigers get to use the Mustang much on Saturday, it would mean the Tigers are forcing Alabama into third-and-longs.
October, 30, 2012
10/30/12
10:46
AM ET
By
ESPN.com staff
| ESPN.com

Les Miles talks to Jenn Brown about LSU's preparations for Alabama, why Death Valley is special and the need for Zach Mettenberger to throw the ball effectively.