December, 23, 2013
12/23/13
8:00
AM ET
GAINESVILLE, Fla. -- Florida's search for a new offensive coordinator took a confusing turn on Saturday night.
Gators fans watched the Royal Purple Las Vegas Bowl in earnest as Southern Cal defeated Fresno State. They watched as USC piled up 499 yards of offense and scored 45 points. The object of their attention? Interim coach and offensive coordinator Clay Helton.
Helton, 41, fits all of the presumed criteria to be Florida's next offensive coordinator. He's an up-and-coming coach who's had success running both pro-style and up-tempo spread offenses. As a play-caller he helped USC show clear improvement after Lane Kiffin was fired. And Helton was born and raised in Gainesville, Fla., the son of former Gators player and assistant coach Kim Helton.
But there's just one problem. Is he available?
On Sunday morning, new USC head coach Steve Sarkisian
told ESPN Radio 710 AM
in Los Angeles that Helton would be retained.
[+] Enlarge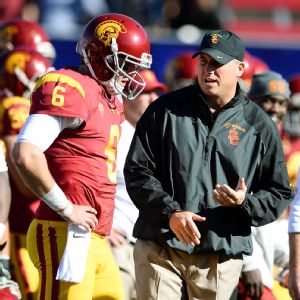 Ethan Miller/Getty ImagesClay Helton has been mentioned as a candidate for Florida's offensive coordinator opening. But is he even available to be hired?
"We haven't announced it officially," he said. "I am excited to know he is going to be part of the staff. It hasn't been official, but I think Clay has done just a tremendous job the second half of the season with that offense, with
Cody [Kessler
] distributing the football to a lot of different players, scoring points, running the football, getting the running backs involved in the passing game.
"And then how he handled the last few weeks being the interim coach in a difficult time where there's a lot of emotion in that team room, in that locker room. I thought Clay just did a masterful job of getting them ready to play and ultimately putting on a great performance yesterday."
Reports in the Los Angeles media were conflicting. The
L.A. Times reported
Helton would stay, but the
L.A. Daily News reported
only that Helton was offered the job to be USC's offensive coordinator and could still leave for another position.
Helton declined to comment after the game. But on Sunday morning he also went on ESPN Radio 710 AM and addressed the as-yet-unresolved issue.
"Well, you know how I am. When Coach Sark makes that official announcement I can't wait to comment on it," he said. "But I've always thought it's the honor of the head coach to be able to make those types of announcements, and that's the way I've just handled it my whole career."
If Helton is indeed weighing offers to be USC's or Florida's offensive coordinator, he might find a more stable atmosphere working under Sarkisian in his first year with the Trojans. The Florida job, on the other hand, would likely offer Helton a better chance to take credit for any improvements the offense might show, as Sarkisian is a highly regarded offensive mind who calls his team's plays.
Since firing Brent Pease on Dec. 1, Florida coach Will Muschamp and the Gators have been tight-lipped in their search. But there are some clues.
The UF coaching staff has told offensive recruits across the board that the new coordinator will bring an up-tempo system with some elements of the spread.
Last Monday a source close to the UF program said Muschamp expected to have an offensive coordinator hired within a week. That ramped up speculation that Helton was the top candidate, considering he would be finished with his interim coaching duties at USC after Saturday's bowl game.
Now it looks a lot more likely that the Gators will not have their new man in place as soon as Muschamp had expected.
Other possible candidates have recently fallen off the list as well. Arizona State offensive coordinator Mike Norvell was given a raise and a promotion to be ASU's deputy head coach. UNC offensive coordinator Blake Anderson was hired to be Arkansas State's head coach. Former Wyoming head coach Dave Christensen was hired to be Utah's offensive coordinator.
Several remaining possibilities -- Duke offensive coordinator Kurt Roper, UCLA offensive coordinator Noel Mazzone, Texas co-offensive coordinator Major Applewhite and Auburn co-offensive coordinator Dameyune Craig -- have solid ties to Muschamp.
Roper and Mazzone led SEC offenses while Muschamp was defensive coordinator for LSU and Auburn, respectively. Muschamp worked at UT with Applewhite, while Craig was Auburn's starting quarterback when Muschamp was beginning his coaching career as a graduate assistant before the two reunited in 2004 on Nick Saban's staff at LSU. They moved together in 2005 to Saban's staff with the Miami Dolphins.
With Florida's base of talent and deep pockets, the OC job remains attractive. After all, before Pease, Florida's three previous offensive coordinators -- Dan Mullen, Steve Addazio and Charlie Weis -- left for head coaching jobs.
September, 20, 2013
9/20/13
9:00
AM ET
TUSCALOOSA, Ala. -- Jim McElwain was searching for the right word to describe it.
"It" being the way the offense is run at the University of Alabama. It was clear in talking with those around the program that the overarching direction of the offense is determined by head coach Nick Saban, whose meticulous, controlling nature has been well documented.
[+] Enlarge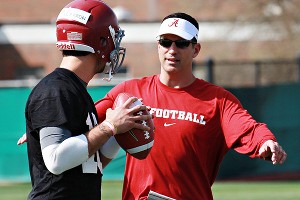 UA Athletic PhotographyOC Doug Nussmeier has continued to build on Alabama's success on offense. The Crimson Tide's offensive style under Nussmeier has changed very little, if at all, from previous seasons.
But calling the offense Saban's alone was too wide of a stretch for McElwain, who served as his offensive coordinator from 2008-11 and winning two national championships before leaving to become the head coach at Colorado State.
"Back when I was fortunate enough to get the opportunity to coach there, we sat down and he kind of gave me kind of a philosophy, if that makes sense, a thought process, or a vision, I guess, maybe," he said on the eve of his team's trip to face the No. 1-ranked Crimson Tide on Saturday in Tuscaloosa.
"The big thing was to figure out what you had and then put it together based upon what team you have," McElwain said.
Unlike many teams in college football that are strictly ground-and-pound or run-and-gun depending upon who is calling the plays, Alabama's offense has been more adaptive, more fluid based upon the strengths of its roster. There's never been an "Air Raid" type of offense under Saban, and there's never been much of a "three yards and a cloud of dust" attack, either, no matter what the national perception has been in the past.
It's been productive, averaging 30 or more points per game in each of the past five seasons. What Saban insists upon is balance and limiting turnovers, according to McElwain.
Though the coaches running the offense have changed multiple times (seven coaching changes to be exact, including three different coordinators), the offense itself has never shifted dramatically. As Saban said upon hiring current offensive coordinator Doug Nussmeier, "this is Alabama's offense" and that means a power running game, controlling the clock and passing enough to keep the defense honest.
"Are we wholesale changing our offense and going to a whole new system, a whole new terminology?" Saban asked shortly after Nussmeier was hired. "Everybody in the building's got to learn a whole new system because one guy's changed? We're not doing that."
Nussmeier was only half-kidding when he said he wouldn't do anything new at all from the year before, just "change the order we ran them." But the truth is that from Major Applewhite to Jim McElwain to Doug Nussmeier, the style of the offense has changed very little, if at all. Saban's been the one holdover, a known commodity as a defensive mastermind but an unknown in his ability to form an offensive identity. He just happens to look at it from a different perspective.
"What he does is he has a great knack of looking at film, which is what he does, looking at film of the opponent's defense, and really helping you kind of understand what they're trying to take away based on what they're doing," McElwain said. "Inevitably the pieces he brings in, saying you may want to look at something in this design or something like that, they work."
Under Saban, Alabama has never thrown the ball more than its passed. Sixty-three percent of plays were runs in 2008, and that number barely changed over the years to where last season the Tide ran 63.5 percent of the time. The only time UA ever broke the 250 passing yards per game mark was in 2010 when the Tide started off the season as title favorites only to lose three games and wind up in the Capital One Bowl.
There's the idea that Alabama's offense has opened up dramatically and become more explosive in recent seasons, but the numbers show that to be untrue. Instead, it's been same old, same old, as the offense actually had fewer plays of at least 20 yards per game last season than it did the year before (5.43 to 5.46). Points per game went up, but only slightly (38.7 from 34.8 the year before).
"They made the transition very smooth," former UA center Barrett Jones recalled, saying later that it was hard to see McElwain leave going into his senior season. "They did a really good job of letting Coach Nuss bring in some new ideas, but not changing too much because, honestly, it wasn't really broken. We kept a lot of our same verbiage, our same calls, same principals, and just added a few new things, a few wrinkles. … You hardly had to learn any new stuff."
Said McElwain: "I can see the plays and probably what they were called within the system. I think the system is sound fundamentally. I think you pick your places to take your shots. The thing I see is maybe more explosive playmakers on the outside from a collective group than there were before.
"Yet you always have that dynamic that if you're going to load the box, you're going to have guys out there that will make it hurt. And then if you cover those guys, you've got those runners in the backfield with a dominant offensive line, which really helps. I mean, pick your poison."
It's the same offense McElwain would like to run at Colorado State, though he admittedly doesn't quite have the parts to do it. He had to laugh at the talent Saban's assembled through back-to-back top-ranked recruiting classes, saying, "If you've got any [running backs] you want to send our way, I'll take them."
McElwain would love to use Saban's blueprint at CSU, but at the same time, he knows that won't be easy, saying, "The one thing I know is that I can't be him -- no one can."
The continuity Saban's been able to establish at Alabama has been second to none, never missing a beat when coaches leave or star players are drafted into the NFL. The production on offense has remained as steady as the tide. McElwain credited that to his unwavering vision, which extends to both sides of the football.
There's a plan in Saban's mind, and it's never changed in seven years at Alabama.
"To me, he's the whole package," McElwain said. "He's hired great coaches who understand what he wants and then go out and execute it."
SEC SCOREBOARD
Saturday, 12/20
Monday, 12/22
Tuesday, 12/23
Wednesday, 12/24
Friday, 12/26
Saturday, 12/27
Monday, 12/29
Tuesday, 12/30
Wednesday, 12/31
Thursday, 1/1
Friday, 1/2
Saturday, 1/3
Sunday, 1/4
Monday, 1/12
Tweets from https://twitter.com/ESPNCFB/lists/sec