August, 14, 2013
8/14/13
11:45
PM ET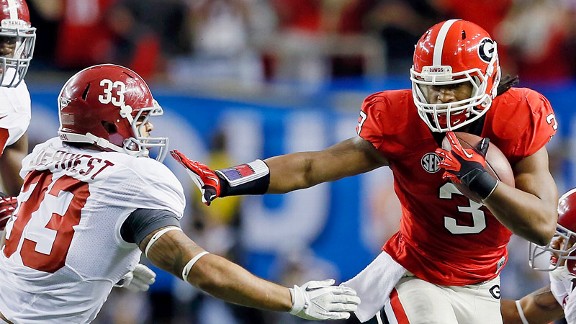 Kevin C. Cox/Getty ImagesTodd Gurley had 105 total yards and two touchdowns in Georgia's scrimmage Wednesday, part of a much more focused effort by the Bulldogs' offense.
ATHENS, Ga. -- Since his team will open the season at night against Clemson, Georgia coach Mark Richt wanted his team's final two scrimmages to be under the lights.
Richt got exactly the conditions and energy level from the team that he was hoping for in Wednesday's second scrimmage of the preseason -- a marked difference from the Bulldogs' listless effort a week ago.
"I thought it would be a good idea to do it this week because I just wanted it to be a nice, cool night, I wanted everybody to be well-rested and I just wanted to see a lot of energy out there," Richt said. "It was like night and day from the first scrimmage as far as just the energy level out there."
Georgia's coaches got what they expected from their starting units, as well, with those groups mostly having their way against the backups in traditional series and situational scenarios.
"When you scrimmage like this and you go ones versus twos, you hope that your number-one offense is going to have a pretty good go against your number-two defense and vice versa. And that's about how it's gone," Richt said. "If your second offense was just thrashing your number-one defense, then you've got a really, really serious problem. But that's not the case. I thought both number-one units played pretty good."
Several of Richt's assistant coaches said recently that they would begin narrowing the field of candidates for playing time after Wednesday's scrimmage so that they would have defined roles when they hold their third and final scrimmage next Wednesday. Richt said the coaches would grade film of the scrimmage within the next 24 hours, but their personnel decisions will likely take at least a few days.
"It'll be maybe a day or two before we start trying to figure out ... and it won't be exact until probably next Wednesday," Richt said. "I would think by next Wednesday when we have that practice game, we'll have a really good idea of our lineup."
As for statistics, there were no particularly eye-catching numbers on Wednesday -- unlike last week's scrimmage, when starting quarterback
Aaron Murray
threw three interceptions. Murray bounced back to go 14-for-18 for 173 yards, one touchdown and one interception on Wednesday, with backup
Hutson Mason
finishing 9-for-19 for 107 yards, one touchdown and one interception.
All-SEC tailback
Todd Gurley
was the offensive star of the evening, rushing five times for 33 yards and two touchdowns and adding three receptions for another 72 yards. Tailback
Keith Marshall
had six carries for 39 yards and freshman
Brendan Douglas
added seven rushes for 50 yards and two catches for another 31 yards.
"[Douglas] was very impressive today," Richt said. "He ran the ball well, he ran with power, he ran with some vision, he continued to pass [block] pretty good. He's not perfect in that area."
Blake Tibbs
and
Michael Bennett
caught the two touchdown passes and
Malcolm Mitchell
led the receivers with four catches for 58 yards.
Josh Harvey-Clemons
, suspended for the opener at Clemson, led the defense with seven tackles and three pass breakups.
Amarlo Herrera
had five tackles and two pass breakups, while
T.J. Stripling
,
Connor Norman
,
Garrison Smith
and
Leonard Floyd
all had four stops. Floyd also made a tackle for a loss and would have recorded a sack, Richt said, if not for being blatantly held by an offensive tackle.
Defensive end
Toby Johnson
recorded the one official sack.
Freshman cornerbacks
Shaq Wiggins
and
Brendan Langley
both made interceptions, with Langley returning his interception 48 yards for a touchdown. Richt said Langley also broke up a pass at the goal line to prevent a touchdown.
The two freshmen are not just competing to be the backups at cornerback, Richt said, they're competing with
Sheldon Dawson
to win a starting job alongside junior
Damian Swann
.
"I'd say they're all still competing, other than Swanny's going to be in there," Richt said. "But who the other starter will be, it's just a matter of watching what happened in this scrimmage and what happens between now and next Wednesday, probably."
Kennar Johnson
and
Lucas Redd
also intercepted passes.
The Bulldogs are still contending with a number of injuries, as 15 players appeared on Wednesday's injury report -- including safeties
Tray Matthews
(shoulder/hamstring),
Corey Moore
(knee sprain),
Shaquille Fluker
(illness),
Marc Deas
(elbow sprain) and
Paris Bostick
(foot surgery).
Nose guard
Chris Mayes
(concussion), linebackers
Tim Kimbrough
(knee sprain) and
Chase Vasser
(ankle sprain), receivers
Reggie Davis
(knee sprain),
Rhett McGowan
(ankle sprain) and
Rantavious Wooten
(hamstring strain), tailback
A.J. Turman
(knee/ankle) and tight end
Jay Rome
(ankle sprain) were also sidelined.
The good injury news, Richt said, was that he did not believe the team suffered any new injuries during the scrimmage.
"It was a good day. No one was banged up today," Richt said. "Sometimes the next day you hear something, but today Ron [Courson, Georgia's director of sports medicine] came to me and said everything looked good, so that's a blessing."
October, 14, 2012
10/14/12
3:10
PM ET
By
DawgNation staff
| ESPN.com
David Ching writes

: Expectations for Georgia's secondary this season -- coming off a terrific 2011 -- were rather enormous, and surprisingly the defensive backs have done anything but live up to the hype.
Ching

: We've said it before: Following a spotty-at-best special-teams effort in 2011, Georgia's unit has delivered a mixed bag so far this season. New kicker Marshall Morgan has been spectacular at times and wobbly at others, and for the whole group there's still a ways to go.
Ching

: Wrapping up Georgia's bye week, DawgNation takes a look at three strengths and three weaknesses among the Bulldogs' upcoming opponents.
July, 1, 2012
7/01/12
4:36
PM ET
By
ESPN.com staff
| ESPN.com
Radi Nabulsi writes

: ESPN 150 four-star running back Alvin Kamara doesn't buy into heady recruiting pitches. For him, playing time and instant impact matter most.
David Ching writes

: With starting safeties Bacarri Rambo and Shawn Williams wrapping up their careers, Marc Deas needs to step up in his sophomore season if he is to outgrow his status as a perpetual backup.
Ching

: Class of 2012 signee Leonard Floyd completes a summer school course to qualify for college, and now he's heading to UGA.
April, 11, 2012
4/11/12
3:20
PM ET
By
ESPN.com staff
| ESPN Insider
DawgNation Roundtable

: This week's discussion, which includes a select response from DawgNation Insider doublejoxe, focuses on the upcoming spring game: "What is the No. 1 thing you will be watching in the G-Day game this Saturday?"
David Ching writes

: Spring practice report, Day 12 -- Ready to transfer just days ago, safety Marc Deas talks about how Mark Richt's support convinced him to stay.
April, 11, 2012
4/11/12
12:42
PM ET
By
ESPN.com staff
| ESPN.com
Making the rounds in the SEC:
April, 10, 2012
4/10/12
1:12
PM ET
By
ESPN.com staff
| ESPN.com
Video:
Introducing UGA's newest commit, Class of 2013 ATH J.J. Green.
Radi Nabulsi:
The O-line's unofficial spokesman of the spring, Chris Burnette talks about the unit's progress, the 'beast' that is John Jenkins, and more.
David Ching writes

: Two weeks after announcing he'd transfer, Georgia redshirt sophomore Marc Deas rejoins the Bulldogs on Tuesday.
Nabulsi

: Offer in hand, J.P. Vonashek ponders UGA.
Nabulsi

: DawgNation on the radio.
March, 19, 2012
3/19/12
6:10
PM ET
By
ESPN.com staff
| ESPN.com
David Ching writes

: Player to watch, Secondary -- Malcolm Mitchell. All-SEC freshman WR Malcolm Mitchell will go old school this coming season as he returns to his former role on defense.
Ching:
Spring look: Secondary analysis.
Video: DawgNation's Radi Nabulsi and David Ching
analyze Georgia's secondary
.
Video:
Mark Richt on Malcolm Mitchell
.
Kipp Adams chat wrap
.
April, 15, 2011
4/15/11
10:00
AM ET
Spring game:
1 p.m. ET on
ESPN3.com
Questions answered:
Aaron Murray's soccer-related ankle injury didn't get to him this spring. He was sharp and pain-free. No worries there. Also, good news came out of the receiving corps where
Tavarres King
made strides to become the go-to-guy for Murray. He's replacing
A.J. Green
at the flanker and held his own there during spring practices. Jarvis Jones also eased minds about Justin Houston's loss. He'll play at strongside and the coaches have praised how complete of a player he is. He's shown that he might have a little bit more athleticism and speed for the position.
Questions unanswered:
The running game still remains a mystery. Senior
Caleb King
stepped up, but didn't really separate himself from the pack.
Washaun Ealey
, who returned from a suspension this spring, suffered a hamstring injury early and hasn't returned to full speed.
Carlton Thomas
and
Ken Malcome
made plays, but due to injuries, neither could ever consistently stand out. It looks like Malcome could get a lot of work in the spring game. The offensive line still appears to be a bit of a trouble spot since losing Trinton Sturdivant, who was working at both right and left tackle. Converted guard Cordy Glenn is expected to take over all duties at left tackle, while Justin Anderson could play right tackle. Sophomores Kenarious Gates and Chris Burnette are working with the first-team at the guard positions. Inconsistency plagued the safety positions last season for the Bulldogs and injuries there this spring didn't do much to clear that up.
Spring stars:
Looks like nose guard Kwame Geathers really did well this spring. The coaches would like to play him and JUCO standout John Jenkins together. That's a force that reaches nearly 700 pounds. Defensive end Derrick Lott received a lot of praise from players and coaches this spring. He will be relied upon to be a major contributor for this defense. While the wide receiver position is still a bit of an unknown,
Marlon Brown
has performed well this spring. He's underachieved since arriving on campus, but drew high praise for his work this spring. Outside linebacker Cornelius Washington also made some strides this spring, especially with his ability to make big hits on defense. Sophomore quarterback Hutson Mason has really made a lot of progress this spring and is the clear No. 2 for the Bulldgos. Freshman quarterback
Christian LeMay
probably won't usurp the two, but he's impressed his coaches so far.
Of note:
Christian Robinson is making the move over to mike linebacker. Safeties Bacarri Rambo (MCL sprain), Jakar Hamilton (concussion) are out. Coach Mark Richt said safety Marc Deas (hamstring) could get some time in tomorrow's game. … Linebackers Dexter Morant (shoulder) and T.J. Stripling (knee) will be held out of spring practice. … Sanders Commings, who played at cornerback last year, experimented some at safety this spring. … Safety
Alec Ogletree
moved to inside linebacker. Cornerback Brandon Boykin, linebacker Christian Robinson, wide receiver
Israel Troupe
and tight end Aron White could be out for Saturday's game with injuries.
SEC SCOREBOARD
Saturday, 12/20
Monday, 12/22
Tuesday, 12/23
Wednesday, 12/24
Friday, 12/26
Saturday, 12/27
Monday, 12/29
Tuesday, 12/30
Wednesday, 12/31
Thursday, 1/1
Friday, 1/2
Saturday, 1/3
Sunday, 1/4
Monday, 1/12
Tweets from https://twitter.com/ESPNCFB/lists/sec