September, 2, 2014
9/02/14
4:00
PM ET
GAINESVILLE, Fla. -- Florida coach Will Muschamp was in an exceptionally good mood for his weekly news conference on Monday. He was working the crowd, cracking jokes.
There wasn't much football to discuss after
an epic storm suspended the season opener
. But on the bright side, it wasn't raining and his Gators still have an unblemished record.
"[We] watched all the plays from
Saturday
night," he joked. "Took a long time."
[+] Enlarge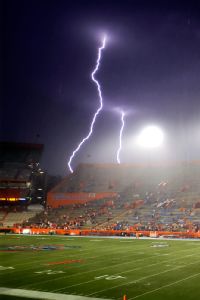 AP Photo/Phil SandlinThe Swamp became just that on Saturday night, canceling Florida's opener.
After enduring a nearly three-hour delay because of lightning, the Gators and Vandals took the field before an appreciative but soaked crowd.
Maybe he had lightning strikes on his mind, but Muschamp used the word "electric" when asked to describe the atmosphere. He used it again, describing the Gator locker room before the players emerged.
"
It was electric," he said. "The guys were jacked."
Unfortunately the storm only let up enough for the teams to run exactly one play.
It was, at least, a satisfying play for Florida and its football-starved fans. The appropriately named Valdez Showers took the opening kickoff 64 yards to the Idaho 14 before another lightning strike sent everyone off the field and into the belly of the stadium.
Safe to say it would be the most analyzed single play from Week 1 by any college football team in America.
"Jarrad Davis got the hard-hat award -- he did," Muschamp said on Monday, trying to convince reporters the team had actually given out an award. "He had a great block on the kickoff return.
"A great job by Marcel Harris sealing the edge, Valdez bouncing it. Andre Debose put a devastating block on their kicker, and we were able to get the ball down the sideline. So, very well executed."
Showers said he might have scored had the field not been so slippery.
"I was definitely looking to cut back," he said. "But I knew there was a chance I would slip, so I was just trying to get as much yardage as I could."
Showers, the fourth-year junior receiver who said he's played in worse conditions growing up in the ice and snow of fall football in Michigan, wasn't on the field when Florida lined up for its first play. When the referees signaled another stoppage, his first thought -- and that of everyone in the stadium -- was "not again."
The Gators spent most of the night in limbo, as NCAA rules stipulate a 30-minute delay for every lightning strike within eight miles of the field.
"To put things in perspective for everything, between the hours of 5
o'clock
that afternoon and 11, we had 1,100 strikes of lightning within a six- to eight mile radius of our stadium," Muschamp said. "We had two-and-a-half inches of rain between 5 and
11 o'clock,
and the last strike of lightning within six miles of the stadium was at
12:38 [a.m.]
.
"It was an issue, not just of the playing conditions of the field -- it was awful -- but we had lightning all over the place. It was going to be very difficult to be able to get the game in."
Muschamp checked the forecast over and over, while the team stayed prepared by going over plays.
"They had a book that thick they were reading through," the coach said of the game and team officials. "And I was just watching the radar."
Outside, the field was being punished by rain, wind and lightning.
The Gators mostly sat around and waited. Late at night, a second team meal was ordered and delivered by a nearby sandwich shop.
The electric atmosphere as well as the rain and lightning eventually died down. Florida is still waiting to start its 2014 season.
"I've never been a part of anything like it," Muschamp said. "We're all disappointed."
June, 5, 2014
6/05/14
2:30
PM ET
Injuries forced Florida to dip into its 2013 class immediately, and a few freshmen stepped into the void to play meaningful snaps and seize starting jobs.
For most players, however, the transition from high school to college takes a little time, and it's not until Year 2 that they truly shine. With that in mind, we're taking a look at the best candidates for second-year stardom in the conference — the players who didn't quite hit the big time as true freshmen, but are poised for a breakthrough in 2014.
The Gators are next up in our
second-year stars series
.
[+] Enlarge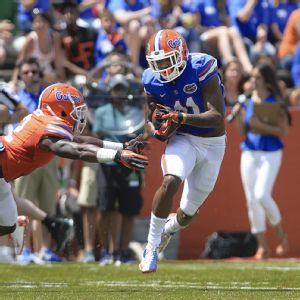 AP Photo/Phil SandlinDemarcus Robinson had a rough freshman season, but emerged as a more mature player this spring.
Class recap:
Will Muschamp reeled in his best recruiting class in 2013, which was
ranked No. 2 in the nation
. The Gators signed 16 ESPN 300 prospects as part of their 30-member class. The group provided an immediate impact from two five-star recruits -- cornerback
Vernon Hargreaves III
and tailback
Kelvin Taylor
, who became starters and have the look of star players. Florida also mined a deep diamond in the rough, as three-star linebacker
Jarrad Davis
emerged as a playmaker despite being ranked the No. 47 outside linebacker prospect in the country.
Second-year star:
WR
Demarcus Robinson
(6-foot-2, 201 pounds)
Recruiting stock:
A four-star prospect, Robinson was the No. 7 wide receiver in the 2013 class. He also ranked No. 53 in the ESPN 300 and was a U.S. Army All-American.
2013 in review:
Robinson had a turbulent first year in college. He was suspended two times for a total of three games. He was called out by coaches for his practice habits and a general lack of maturity. On the field, Florida tried to get Robinson involved early in the season, but the passing offense was in shambles and he finished with just five catches for 23 yards.
2014 potential:
As much as Robinson disappointed in 2013, he bounced back with gusto in the first half of 2014. Off the field, teammates praised his maturity, attitude and confidence. On the field, Robinson stood out as the Gators' most physical receiver, a dynamic weapon with the ball in his hands with an intimidating blend of power, speed and vision. He backed it all up with a strong performance in Florida's spring game, leading all receivers with five catches for 53 yards, including a 31-yard, highlight-reel touchdown.
Also watch out for:
The Florida coaching staff also has very high expectations for Davis, who could emerge as the team's best linebacker. There are also plenty of opportunities for sophomore receivers
Ahmad Fulwood
and
Chris Thompson
, who got their feet wet as freshmen. Another major strength of UF's 2013 class is at safety, where ESPN 300 prospects
Keanu Neal
,
Nick Washington
and
Marcell Harris
will have chances to break through in 2014.
April, 16, 2014
4/16/14
9:00
AM ET
GAINESVILLE, Fla. -- Fresh faces were everywhere at Florida this spring.
A poor season in 2013 brought a clean slate. A new offense brought opportunities at every position. A large group of redshirt freshmen and true freshmen brought a much-needed infusion of talent.
Going into spring practice,
our list of players to watch
consisted of quarterback
Jeff Driskel
, cornerback
Jalen Tabor
, wide receiver
Demarcus Robinson
, tight end
DeAndre Goolsby
, and running back
Adam Lane
.
Now that football is finished for a few months, we'll take a look at the spring results and see who else stood out.
[+] Enlarge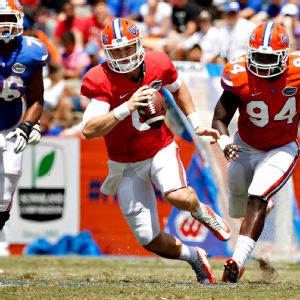 Rob Foldy/USA TODAY SportsFlorida QB Jeff Driskel is healthy again and it showed in the spring game.
Driskel:
The fourth-year junior had a very good spring in terms of health, leadership and command of the offense. He capped it with a solid spring game, going 18-for-32 for 167 yards and a touchdown.
Tabor:
It says a lot when a true freshman is thrown right into the competition for a starting cornerback job. At 6-foot-1, 188 pounds, Tabor used his long arms to make plays in coverage. He still needs to work on his press technique and where to keep his eyes, but it's easy to see that he has great athleticism and natural instincts.
Robinson:
He came in with a lot of hype last season as a true freshman and didn't respond well to the rigors of college life, but this spring Robinson lived up to expectations. He is clearly Florida's most complete receiver and best hope for a star in the passing game.
Goolsby:
The true freshman has the talent to become Florida's top pass-catching tight end. He drew the attention and praise of head coach Will Muschamp and offensive coordinator Kurt Roper. But most young tight ends struggle with inline blocking, and Goolsby was no exception. He still has a lot to learn before he gets regular playing time.
Lane:
Out of 12 redshirt freshmen, Lane made the biggest splash this spring. He proved to be very tough to tackle because, at 5-7, 222 pounds, he's built like a fire plug and never stops moving his feet. The Gators rode the "Lane Train" to a team-leading 12 carries for 67 yards (5.8 yards per carry) in the spring game.
Dante Fowler Jr.:
Not enough can be said about the junior buck linebacker's importance in Florida's defense. The Gators simply need him to become a pass-rushing menace. He showed up in better shape this spring, commanded the respect and attention of his teammates and delivered on the field with consistency.
Trenton Brown:
The mammoth senior began the spring looking like a backup at right tackle, but by the spring game Brown convinced his coaches that he was among Florida's five best offensive lineman and started at right guard. At 6-8, 361, Brown is easy to spot, especially when he's clearing running lanes.
Jarrad Davis:
As a true freshman last year, Davis made a late-season breakthrough and followed that up with a very good spring. He consistently earned first-team reps and the praise of his coaches and teammates. Davis has quickly become a leader and clearly has a very bright future.
Hunter Joyer:
After very limited offensive contributions over his first three seasons, the senior fullback was something of a revelation at the B position. He showed good hands, even on intermediate routes. Joyer sustained a minor knee injury in the spring game but earned praise afterward. "[He] did a great job this spring," Muschamp said.
Bryan Cox Jr.:
It's unclear if the third-year sophomore was just a spring starter or if he can stick with the first unit this fall, but there's no denying that Cox stood out. With a nonstop motor, he forced coaches to experiment with moving junior
Jonathan Bullard
inside to defensive tackle. At the very least, Cox stepped forward to show that he can provide quality depth.
Duke Dawson:
The "other" true freshman cornerback on the roster came in with less acclaim than Tabor but had just as much success this spring. Dawson is solid in coverage and plays with more of a physical edge than Tabor. "We're excited about him, too," said defensive coordinator D.J. Durkin.
Veterans who performed up to their coaches' expectations included sophomore cornerback
Vernon Hargreaves III
, junior left tackle
D.J. Humphries
, sophomore tailback
Kelvin Taylor
, senior safety
Jabari Gorman
, senior running back
Mack Brown
, senior wide receiver
Quinton Dunbar
and senior right tackle
Chaz Green
.
Several other players developed well enough to win consideration for playing time this fall. They were: junior slot receiver
Latroy Pittman
, junior guard/center
Trip Thurman
, sophomore safeties
Keanu Neal
and
Marcus Maye
, sophomore linebacker
Daniel McMillian
, redshirt freshmen defensive backs
Nick Washington
and
Marcell Harris
, and true freshman defensive end
Taven Bryan
.
April, 15, 2014
4/15/14
12:00
PM ET
April, 11, 2014
4/11/14
10:00
AM ET
GAINESVILLE, Fla. -- Progress. It's what
Florida
fans expect to see this fall. It's what they hope to see in Saturday's spring game.
Everyone is under much more scrutiny after the Gators' 4-8 record last season, but mostly the microscope will be on a brand-new offense that has been installed in just 14 spring practices. It's just one of several aspects of the scrimmage that fans and the media will be analyzing.
[+] Enlarge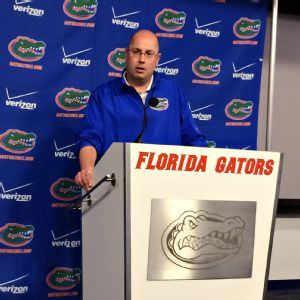 Jeff Barlis/ESPNAll eyes on Saturday at Florida's spring game will be on new coordinator Kurt Roper's offense.
The game, at 1:30 p.m ET at Ben Hill Griffin Stadium, will be divided into four, 12-minute quarters with a running clock. Teams were drafted by honorary alumni captains on Thursday night, but fans will get to see a lot of first-team offense against first-team defense in the mix.
Here's what to watch for:
New and improved quarterback:
All eyes will be on
Jeff Driskel
, the junior who hasn't exactly lived up to his status as the
top QB prospect in 2011
. He's coming off surgery and six months of rehab for a broken bone in his lower right leg. The injury, which cost him most of the 2013 season, ensures that he'll be a non-contact participant (as will all of the QBs). Driskel has had an excellent spring. He's clearly the starter and is a respected leader. His teammates have been raving about how good and comfortable he looks in an offense that is much closer to what made him a star in high school. Driskel said he just
wants to show the fans that he is confident and having fun
. But nothing pleases a crowd like putting points on the board. He can create a lot of goodwill if he finds receivers in stride and generally commands a smooth-looking offense.
Mr. Roper's offense:
Some success by Driskel and backup quarterbacks
Will Grier
and
Skyler Mornhinweg
would go a long way in showing off the new scheme that offensive coordinator Kurt Roper brought from Duke. The No. 1 thing that fans want to see is a very different-looking offense. Roper has the potential to deliver with his no-huddle, shotgun spread attack. At the very least, the tempo will be much faster than in any of Florida's last three seasons of taking a clock-chewing, run-heavy, pro-style approach.
Young secondary:
The Gators have
Vernon Hargreaves III
at cornerback,
Jabari Gorman
at safety and little certainty throughout the rest of the defensive backfield. Yes, there is a ton of talent, but it's young and inexperienced. There are three starting jobs open because UF operates so often in a nickel formation. Early enrollee freshmen
Jalen Tabor
and
Duke Dawson
have had their expected ups and downs in competing with junior
Brian Poole
for the starting spot opposite Hargreaves. Poole is also in the mix at nickel corner, along with
Marcus Maye
.
Keanu Neal
might have the edge for the other starting safety spot, but keep an eye on
Nick Washington
and
Marcell Harris
. Don't be surprised if the DBs struggle on Saturday as Florida's offense looks to win fans and influence coaches.
O-line vs. D-line:
This one is a toss-up. The Gators' offensive line has not been good in pass protection, but the defensive line isn't exactly loaded with pass-rushing demons. The uptempo offense should help Florida's O-line, as there is a new emphasis on getting the ball out of the quarterback's hand in three seconds. The marquee matchup to watch is defensive end
Dante Fowler Jr
. against left tackle
D.J. Humphries
. They're two of the Gators' most talented players, and they've been going at each other throughout spring practice. The rest of Florida's starters are veterans, but fans might want to cover their eyes when the second units come on. Coach Will Muschamp has not been pleased with the development of his young linemen on either side of the ball.
The B-position:
Tight ends and fullbacks have been largely overlooked in recent years, as blocking has been the top priority. That's changed under Roper, who said on Thursday: "It's going to be an important position and it's going to be a playmaking position for us, so we're counting on them." Roper said he's seen growth out of veterans such as
Tevin Westbrook
,
Clay Burton
and
Hunter Joyer
. He also said early enrollee freshman
DeAndre Goolsby
is more comfortable in a pass-catching role based on his experience in high school.
Playmakers at WR:
It bears repeating that this spring has been all about the new offense. Fans were screaming for dramatic changes by the end of last season, and no position needs it more than wide receiver, where the Gators haven't had anyone crack the 600-yard mark in a season since 2009. As the spring wore on, playmakers began to emerge. Senior
Quinton Dunbar
is the unquestioned leader of the group and a certain starter. Sophomores
Demarcus Robinson
,
Ahmad Fulwood
and
Chris Thompson
appear to be developing as reliable targets. Slot receivers
Valdez Showers
and
Latroy Pittman
have had solid spring camps as well. If the offense clicks, it will be a treat for fans to finally see these athletes make catches in space and show what they can do with the ball in their hands.