October, 10, 2012
10/10/12
12:15
PM ET
August, 21, 2012
8/21/12
4:50
PM ET
Martavius Neloms
has bounced around between cornerback and safety seemingly his entire career at Kentucky.
He jokes that even he has a hard time keeping track of what position he's playing. For the record, he's back at cornerback entering his senior season, having moved there earlier this preseason when it was learned that promising redshirt freshman cornerback
Marcus Caffey
was academically ineligible.
[+] Enlarge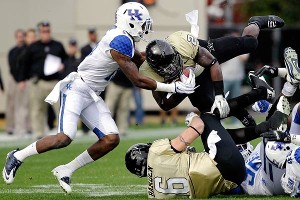 Mark Humphrey/AP PhotoKentucky's Martavius Neloms, left, stops Vanderbilt running back Zac Stacy on Nov. 12, 2011.
"I wasn't sure they were going to come to me. We have a lot of talented young guys," said Neloms, who had moved to safety last season after playing 21 games at cornerback during the 2009 and 2010 seasons.
"But when they did come, I knew it was what was best for the team. Just them having the faith in me that I could make the move back to corner was big for my confidence.
"Besides, if you have the right kind of pride, you feel like you can play any position on the field."
Neloms' pride runs much deeper than where he'll line up this fall. He wants to leave the Kentucky program the way he found it, which was an annual participant in bowl games.
The Wildcats had played in the postseason for five straight years until that streak was broken a year ago.
"A lot of people have us projected at the very bottom," Neloms said. "A lot of people are sleeping on us, but we're preparing every day to come out and play our best ball on Saturdays and prove everybody wrong."
There's a bit of irony in the fact Neloms is switching jersey numbers this season. He's going from No. 15 to No. 1, but he's clearly looking out for a lot more than just No. 1.
Kentucky coach Joker Phillips said Neloms' leadership skills have improved dramatically, which has shown up in his play on the field.
"He's always been a good player," Phillips said. "We think he can be a great player now that he's putting it all together."
The Wildcats will need Neloms to be a rock in a secondary that isn't exactly brimming with experience. Senior
Cartier Rice
is the other starting cornerback, but has just one career start entering the season. Behind Neloms and Rice are true freshmen
Cody Quinn
and
Fred Tiller
.
And taking Neloms' place at safety is sophomore
Ashely Lowery
, who played last season as a true freshman.
"We have a lot of young corners coming in, so I not only have to be ready for myself, but I have to be ready to show them the way," Neloms said. "It's not just you back there. You have to work together, and we all have to be ready."
Even though Neloms is one of the veterans on Kentucky's defense, he's anything but a veteran when it comes to football. He didn't start playing the sport until he was a junior at Fairley High in Memphis.
That makes his transition from cornerback to safety and now back to cornerback all the more impressive. He tied for third on the team last season with 71 tackles despite missing the last two games with a high ankle sprain.
His physical style is tailor-made for playing safety, but he's determined to be just as physical at cornerback.
"I'm still going to be physical and do everything I can to take my man out of the play," Neloms said.
The Wildcats were much more aggressive on defense across the board last season under first-year coordinator Rick Minter. They went from forcing 16 turnovers in 2010 to 25 in 2011, which was fifth in the SEC.
Despite losing top tacklers Danny Trevathan and Winston Guy, Neloms thinks the Wildcats will be even more instinctive in Minter's system the second time around.
"We have a lot of young guys, but they play fast, and because some of these guys have been around now for a year in this defense, I think we'll play even faster," Neloms said. "There's still a lot of room to grow in this defense, and I think we'll be even better this year than we were last year."
August, 3, 2012
8/03/12
4:30
PM ET
Schedule:
The Wildcats' first practice is on Saturday, and their first day in pads is on Aug. 8. They open the season at Louisville on Sept. 2 and the game will be televised on ESPN at 3:30 p.m. ET.
Returning starters:
Four on offense, five on defense and the place-kicker on special teams.

Star power:
Wide receiver
La'Rod King
didn't get a ton of publicity last year, but he was easily Kentucky's most consistent offensive weapon in 2011. He was 11th in the SEC with 598 yards on 40 catches. He also had seven touchdowns.
New faces:
Quarterback
Patrick Towles
was the biggest get of the 2012 class for Kentucky. He was a Parade All-American and has a chance to push both
Maxwell Smith
and
Morgan Newton
for time this fall. He might possess the most skill at the quarterback position. The Wildcats also welcome in five freshmen offensive linemen. Kentucky has to replace three starters from last year and is in need of depth up front. Also, keep an eye on running back
Justin Taylor
, who was originally committed to Alabama.
Don't forget about:
Kentucky's staff has been waiting for defensive tackles
Mister Cobble
and Donte Rumph to step up in the middle of that line. Last year, they combined for 64 tackles, but just six tackles for loss, including two sacks. But the staff feels much more confident in the two big guys up front, after both had very good springs this year. Joker Phillips said this summer that he thinks Cobble could be poised for a big year and should be even better at stopping the run.
Big shoes to fill:
Linebacker Danny Trevathan wasn't just a leader, he was the heart and soul of Kentucky's team. He led the league in tackles the past two years and was easily the team's best player last year, regardless of position, and it will take a lot to replace what he did on and off the field. So far, the Wildcats' staff is still searching for the right player to take over his spot at weakside linebacker.
Malcolm McDuffen
and
Demarius Rancifer
battled there this spring, but neither did enough to earn a lot of confidence from their coaches. Kentucky might have to look at a true freshman here as well.
Key battles:
The Wildcats are replacing two starting cornerbacks and four linebackers. Avery Wilson returns with the most experience at linebacker and sophomore
Alvin Dupree
seems to have wrapped up hybrid linebacker/defensive end, but everything else is up for grabs. McDuffen and Rancifer will continue to battle for the weakside spot, along with incoming freshman
Khalid Henderson
.
Miles Simpson
,
Josh Forrest
and junior college transfer
Kory Brown
will compete for the hybrid linebacker/safety spot. With
Marcus Caffey
being ruled ineligible, the staff will now look to
Eric Simmons
and
Eric Dixon
to help out
Cartier Rice
.
Rising star:
King needs help at the receiver position, and the staff thinks it might have found some in redshirt freshman
Demarco Robinson
. He had a tremendous spring and hauled in nine catches for 146 yards and two touchdowns in the spring game. He's versatile enough to line up all over the field and could be a solid deep threat in the Wildcats' offense.
Bottom line:
This is a crucial year for Phillips. After Kentucky made a bowl game for five straight years, the Wildcats fell a win short in 2011, causing Phillips' seat to get a little warmer. The one saving grace was the fact that Kentucky ended a 20-plus-year losing streak to rival Tennessee. But Kentucky has to show progress this fall or Phillips' job security could come into question. The offense was the SEC's worst last season, but the staff feels it has more playmakers and should be more explosive this time. The defense has a lot of key players to replace and could go through some growing pains with all that youth. If Kentucky wants to get back to a bowl, it has to start the season 3-0. That means beating Louisville in the season opener.
August, 3, 2012
8/03/12
3:00
PM ET
Inexperience was already going to be an issue in Kentucky's secondary this season, but it's only going to be worse now that promising redshirt freshman
Marcus Caffey
has been ruled academically ineligible for the 2012 season.
Kentucky coach Joker Phillips made the announcement Friday, and it's a huge blow to the Wildcats' secondary. Caffey, who came to Kentucky as a running back, made the switch to cornerback this past spring and immediately ascended to the top of the depth chart. The Wildcats loved how physical he was, and defensive coordinator Rick Minter said Caffey had "tremendous upside."
Now, with Caffey not available, the Wildcats will have to move senior
Martavius Neloms
from safety to cornerback. Neloms had moved from cornerback to safety last season. He's the Wildcats' leading returning tackler after recording 71 total stops last season. Sophomore
Ashely Lowery
will replace Neloms as a starting safety.
At least Kentucky has a player the caliber of Neloms who can make the transition from safety to cornerback at this late date, but the Wildcats are now precariously thin at cornerback and can't afford to have any injuries. They gave up 19 touchdown passes last season, which was the second most in the league behind Auburn's 23.
July, 24, 2012
7/24/12
5:00
PM ET
We continue our "One good thing" series looking at the
Kentucky Wildcats
.
Good reasons:
Let's see what the Wildcats can do in 2012:
Kentucky will make a bowl game: Joker Phillips is more confident in the offense.

Last year, finding consistent, reliable playmakers in Kentucky's offense was almost nonexistent. Wide receiver
La'Rod King
was the most reliable offensive weapon for the Wildcats last year, hauling in 40 catches for 598 yards and seven touchdowns. There were some bright spots in the running game here and there, but
Josh Clemons
' season-ending knee injury early in the year was a major blow. But this spring Phillips found more players to rely on offensively. For starters, quarterback
Maxwell Smith
impressed the coaching staff with a solid spring. Clearly, the starting quarterback job is his to lose. The Wildcats also got solid production out of wide receivers
Demarco Robinson
and
Daryl Collins
this spring. Tight ends
Ronnie Shields
and
Tyler Robinson
stepped up as well, giving Smith plenty more options than he had last year. Having more reliable options at receiver will take pressure off of King and will help Smith develop more. It should also help a running game that expects to get Clemons back and will still have
CoShik Williams
, who led the Cats in rushing last year, and
Raymond Sanders
.
The offensive line is still a work in progress, but Phillips said at SEC media days he felt much better about the line coming out of spring than he did going in. The Wildcats were the SEC's worst offense last year because of its lack of playmakers, but if these pieces fall into place like the coaches hope, the Wildcats' offense should be much improved and could be what Kentucky needs to get back to the six-win mark.
Why it won't: There are too many holes on defense.
While the Wildcats ranked near the bottom of the SEC in most defensive categories last season, there were some solid starters that will be tough to replace. Gone is Danny Trevathan, who was the SEC's leading tackler and one of the league's top linebackers. He wasn't just Kentucky's best overall player but he was the team's unquestioned leader. The Wildcats have to replace not just his production on the field but his guidance in the locker room. Hybrid linebacker/safety Winston Guy, who was third in the SEC in tackles last year, is also gone. Overall, the Wildcats are replacing six defensive starters -- four linebackers and two cornerbacks.
Replacing Trevathan might be the toughest job, as youngsters
Malcolm McDuffen
and
Demarius Rancifer
struggled to man the weakside linebacker spot this spring. Sophomore
Miles Simpson
left spring as the projected starter at Guy's hybrid position, but will be pushed for playing time by redshirt freshman
Josh Forrest
. The coaches feel pretty good about
Marcus Caffey
's move from running back to cornerback, but he has no collegiate experience on defense, and he might be the Wildcats' top corner on the roster.
If Kentucky's defense can't fill those holes, this unit won't make the necessary strides it needs to improve upon last year and it certainly won't go bowling.
July, 17, 2012
7/17/12
9:00
AM ET
We continue to rank all the positions in the SEC and turn our attention to groups of defensive backs the conference has to offer.
Past rankings:
On to the league's secondaries:
[+] Enlarge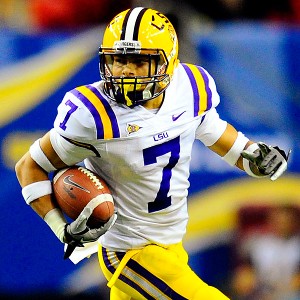 Dale Zanine/US PresswireTyrann Mathieu is a force to be reckoned with in the LSU secondary.
1. LSU:
The Tigers bring back a load of talent here.
Tyrann Mathieu
and his Honey Badger persona return, but he might not be LSU's best pure corner. While Mathieu has a true knack for finding the ball, no matter where he is, junior
Tharold Simon
, who replaces Thorpe Award winner Morris Claiborne, might have the best cover ability on the team. Junior safety
Eric Reid
takes the back end of the field away and will challenge to be one of the nation's top safeties this fall. The coaches are still waiting for safety
Craig Loston
to break out, and his solid spring was an encouragement. Keep an eye on safety
Micah Eugene
, who turned heads this spring.
2. Georgia:
The Bulldogs have some depth concerns and some players will face early-season suspensions, but the Bulldogs are loaded at the top.
Bacarri Rambo
is one of the nation's best safeties and he has a very solid partner in
Shawn Williams
, who led the Dawgs in tackles last year. Seniors
Sanders Commings
and
Branden Smith
are back, but will likely sit out the start of the year because of suspension. That leaves
Malcolm Mitchell
, who moved from receiver, to fill in and he's no stranger to defense. The coaches are also excited about youngster
Damian Swann
, who will play early.
3. Alabama:
With three starters gone, this group is drawing a lot of comparisons to the 2010 unit that struggled at times. However, this batch of DBs insists it'll be more prepared this fall and shakes off the comparisons. Veteran
Robert Lester
is back at safety and is an All-SEC-type player. Junior cornerback
Dee Milliner
has 16 career starts under his belt and is an underrated talent, and the coaches are expecting to get a lot out of junior college transfers Travell Dixon and Deion Belue. Keep an eye on safety
HaHa Clinton-Dix
, who has the talent to be a star in this league.
4. Mississippi State:
The Bulldogs own one of the league's best corner duos in seniors
Johnthan Banks
and
Corey Broomfield
. Banks might hold the title as the league's best returning cover corner.
Darius Slay
is also another corner to watch, as he has some legit playmaking ability. Junior safety
Nickoe Whitley
is back as well and he would have had better numbers if not for a ruptured Achilles tendon that cut his 2011 season short. He grabbed four interceptions in nine games and should be 100 percent this fall.
5. Florida:
This group was pretty young last year, but now has some quality experience under its belt. Safety
Matt Elam
is the best of the bunch and should challenge to be the league's top safety this year. Sophomore
Marcus Roberson
had a solid freshman season and has the makings to be a top cover corner in this league. The other corner spot is up for grabs, but keep an eye on sophomore
Loucheiz Purifoy
, who the staff is very excited about.
Josh Evans
had a good spring at free safety, but he'll have his hands full fighting off sophomore
De'Ante Saunders
, who started nine games last year.
6. Missouri:
The star of this group is junior corner
E.J. Gaines
, who recorded only two interceptions, but he broke up 16 passes in 2011 and is bonafide All-SEC candidate. Across from Gaines is senior
Kip Edwards
, who returns for his second year as a starter and has 37 games to his credit. Edwards turned into a solid cover man toward the end of last season. Seven players return with starting experience, including safeties
Kenronte Walker
(four starts), who was named the team's most improved safety this spring, and
Braylon Webb
(four), who had a strong freshman year.
7. South Carolina:
The Gamecocks are down three starters, but they aren't without talent. Senior safety
D.J. Swearinger
, the lone returning starter, is one of the league's top safeties and is solid against the pass and the run. Vet
Akeem Auguste
returns after missing all of last year with a foot injury, and he's back at corner after moving to safety in 2010. The questions begin with sophomores
Victor Hampton
(corner) and
Brison Williams
(safety). Hampton has the talent to succeed, but has some maturing to do. Williams struggled in his only start last year, but the staff really likes his upside.
8. Vanderbilt:
Casey Hayward and Sean Richardson are gone, but the Commodores still possess some pretty good talent in the secondary, starting with corner
Trey Wilson
, who had a solid 2011 in Hayward's shadow. The coaches like what they've seen from junior corner
Andre Hal
, and safety
Kenny Ladler
could be a real player at free safety. Expect
Eric Samuels
and
Javon Marshall
, who have both see plenty of field time in their careers, to get into the safety rotation this fall.
9. Auburn:
The Tigers' secondary took some lumps last year, but certainly has experience back there. Three veteran starters are back with 33 combined starts from a year ago. Fifth-year senior cornerback
T'Sharvan Bell
didn't go through spring while he recovered from knee surgery, but has the talent to be a top corner in this league. Juniors
Chris Davis
(corner) and
Demetruce McNeal
are both back and sophomore
Jermaine Whitehead
, who had a solid freshman campaign, will get time at safety.
10. Tennessee:
Tennessee gave up 7 yards per attempt last year, but things could turnaround this fall. Tennessee has a lot of game experience at corner, including senior
Prentiss Waggner
, who is the leader of the group. Sophomore
Brian Randolph
had a solid freshman campaign and junior
Brent Brewer
is returning to the other safety spot after suffering an ACL injury in late October.
Izauea Lanier
was ruled ineligible this summer, meaning
Marsalis Teague
and
Eric Gordon
will compete with
Justin Coleman
for a corner spot.
11. Arkansas:
Sophomore
Tevin Mitchel
had a solid first year in Fayetteville and is on course to have a true breakout year this fall. Junior
Eric Bennett
is holding down one of the safety sports and started 13 games in 2011 after moving from cornerback last spring. The staff is still waiting on senior corner
Darius Winston
to live up to the hype that followed him from high school. Freshmen
Kelvin Fisher
Jr. and
Davyon McKinney
will get their chances to play this fall and help with depth.
12. Ole Miss:
The Rebels should be better against the pass this year and things start with veteran safety
Charles Sawyer
, who has All-SEC quality and should have had at least three more than the four interceptions he recorded last year. Former JUCO transfer corner
Wesley Pendleton
had an impressive year last season, but looked even better this spring. Nickolas Brassell is gone, but the coaches hope to get more out of former freshman standout
Senquez Golson
, and junior
Brishen Mathews
returns from back injury to take the hybrid Husky position.
13. Kentucky:
The Wildcats must replace two starting corners, but the coaches feel good about senior
Cartier Rice
and redshirt freshman
Marcus Caffey
. Caffey, who moved from running back, might have the most upside and was one of Kentucky's top players this spring. Senior starting safeties
Martavius Neloms
and
Mikie Benton
are back. Neloms had a solid spring and racked up 71 tackles last year. Behind them, the Wildcats are full of unproven youngsters.
14. Texas A&M:
This is where the Aggies could really struggle. Texas A&M ranked 109th nationally in pass defense last year and could start three sophomores in its secondary this fall. Senior safety
Steven Campbell
can be a real playmaker for this group, but he's struggled to stay healthy during his career. Senior
Dustin Harris
has shown flashes on defense, but left spring as a backup to sophomore
Deshazor Everett
. Sophomore
Floyd Raven
, who was impressive this spring, has the edge over JUCO transfer Tremaine Jacobs at the other corner spot. The coaches are hoping this is a more athletic group in 2012.
May, 17, 2012
5/17/12
10:30
AM ET
We're taking a look at some of the breakout SEC players from this spring:
Marcus Caffey, CB, Kentucky: Caffey spent his first year on Kentucky's campus looking up at the rest of the running backs on the roster. But the coaches didn't want to waste his talent, so he moved to cornerback, a position in desperate need of bodies. The Caffey experiment worked, as he immediately adapted to his new position and left spring with one of the starting corner spots. The youngster is a bigger body at corner, which will help him when taking on some of the league's bigger receivers.
Dee Ford, DE, Auburn: After missing most of last season with back issues, Ford came back very strong this spring. The rising junior caused plenty of issues for Auburn's offense all spring with his play off the edge. The rust that was supposed to come with missing most of the previous season wasn't there, and he left with the starting defensive end spot opposite Corey Lemonier. Ford was named the defensive MVP of Auburn's spring game and registered four tackles, including two for loss and one sack.
Adrian Hubbard, LB, Alabama: Hubbard had a monster spring for the Crimson Tide. He takes over for Courtney Upshaw at the Jack position and the people at Alabama think he might be the Tide's top pass-rusher this fall. The rising sophomore earned the Dwight Stephenson Lineman of the Game Award given to the spring game's most valuable lineman after registering seven tackles, including four tackles for loss and 3.0 sacks.
Steven Jenkins, LB, Texas A&M: Jenkins started six games last year, but was still fifth on the team in tackles. The former juco college transfer was all over the field for the Aggies this spring and made a lot of plays at the Will linebacker position. He's very fast and athletic and should really excel in his second year in Mark Snyder's 4-3 defense.
Joe Morrow, WR, Mississippi State: Morrow showed that he can be that receiver who really stretches the field in Mississippi State's offense. He was a big-play machine in Starkville this spring with some tough catches and the ability to fly by defenders. The redshirt freshman wasn't ready to play last season and still has some maturing to do, but the staff expects him to expand the Bulldogs' passing game this fall. He caught six passes for 97 yards and a touchdown in the spring game.
Latroy Pittman, WR, Florida: Coach Will Muschamp said Pittman was one of the most consistent players this spring and had a knack for making the tough catches. Muschamp also said that he had a tremendous work ethic this spring, but must stay grounded. The early enrollee isn't the fastest player out there, but he's big, physical and will immediately help a very unproven receiving corps. He caught two passes for 51 yards in the spring game.
Antonio Richardson, OT, Tennessee: Richardson spent last year on special teams, but the coaching staff always had an eye on him. The hope was that he'd make a big impact this spring, considering the issues Tennessee had up front last season. The 6-foot-6, 329-pound rising sophomore impressed all spring and left with the starting job at left tackle. He's not only big but he's extremely athletic and tough, making him a solid option at the line's most important position.
Demarco Robinson, WR, Kentucky: On a team that was in desperate need of more offensive firepower, Robinson was one of the most impressive players at Kentucky's camp and if spring is any indication, he'll have a lot of passes thrown his way. Coach Joker Phillips said Robinson made play after play in practice this spring and should help take some pressure off of rising senior La'Rod King in the passing game. He caught nine passes for 146 yards and two touchdowns in Kentucky's spring game.
T.J. Yeldon, RB, Alabama: Yeldon enrolled early at Alabama this spring and did more than just go through the motions. The 6-foot-2, 216-pounder continuously showed off an array of moves and wasn't afraid to take a little contact. Yeldon put everything together in Alabama's spring game, where he totaled 179 yards rushing and receiving and scored on a 50-yard pass. He also earned the Dixie Howell Award, which goes to the game's most valuable player. With Trent Richardson gone, Alabama will look to draw more from its stable of running backs this fall. Eddie Lacy might be listed as the starter, but Yeldon showed this spring that he's capable of getting some carries here and there.
May, 15, 2012
5/15/12
10:00
AM ET
2011 record:
5-7
2011 conference record:
2-6
Returning starters:
: offense: 6; defense: 5, kicker/punter: 1

Top returners:
C
Matt Smith
, OG
Larry Warford
, WR La'Rod King, QB
Maxwell Smith
, RB
CoShik Williams
, DE
Collins Ukwu
, DT
Donte Rumph
, DT
Mister Cobble
, S
Martavius Neloms
, S
Mikie Benton
Key losses:
OT Chandler Burden, OG
Stuart Hines
, OT
Billy Joe Murphy
, WR Matt Roark, LB Ronnie Sneed, LB Danny Trevathan, LB
Ridge Wilson
, CB Anthony Mosley, S Winston Guy, CB
Randall Burden
2011 statistical leaders (*returners)
Rushing:
CoShik Williams* (486 yards)
Passing:
Maxwell Smith* (819 yards)
Receiving:
La'Rod King
* (598 yards)
Tackles:
Danny Trevathan (143)
Sacks:
Trevathan (3)
Interceptions:
Trevathan (4)
Spring answers
1. Finding more playmakers:
Coach Joker Phillips feels like he has more firepower to work with on offense again. After struggling mightily to find consistent playmakers on offense in 2011, Phillips left spring with more confidence about players he felt he could rely on going forward. The biggest standout was receiver
Demarco Robinson
. He became one of the most consistent players at practice and caught nine passes for 146 yards and two touchdowns in the spring game. Also, freshman receiver
Daryl Collins
surprised coaches with his playmaking ability. Tight ends
Ronnie Shields
and
Tyler Robinson
also stepped up and should help take pressure off of Kentucky's running game.
2. Adjusting to Minter's defense:
Strides were definitely made by Kentucky's defense in Year 1 with Rick Minter, but it looks like the defense felt even more comfortable in it this spring. While there is still work to do and bodies to replace, Minter has said he sees more aggression and attitude out of this unit. The defensive line also progressed this spring and could finally be the strength of this unit. The goal is for Kentucky's defense to be a much more physical and tougher group and both Minter and Phillips see it shifting that way.
3. Caffey's move:
Kentucky entered the spring trying to replace two starters at cornerback, so the staff moved running back
Marcus Caffey
there. The experiment appeared to work, as Caffey was one of the more impressive looking players this spring. He caught on quickly at his new position and ended the spring as a starter. He's also a bigger body and the coaches say he's very durable. Both will come in handy against bigger receivers in this league.
Fall questions
1. Offensive line:
Three starters up front had to be replaced this spring and the Wildcats ended practice knowing that the offensive line is still a work in progress. There is leadership and experience in Larry Warford and Matt Smith, but after that there's a lot of inexperience. Behind Warford and Smith, rising sophomore
Darrian Miller
and junior-to-be
Kevin Mitchell
combined for three starts last year. There were bright spots here and there this spring, but the inexperience up front is still a concern for coaches heading into the offseason.
2. Defensive holes:
While the Wildcats got more comfortable in the defense, there are still a lot of missing starters at linebacker and in the secondary. There will be four new starting linebackers, including the Spur, and two new starting corners. The coaches feel good about Caffey at corner, but questions still remain at the other corner spot. Players must also replace the production created by Danny Trevathan, Winston Guy and Ridge Wilson, who was dismissed this spring. They accounted for 310 tackles, including 28.5 for loss.
Alvin Dupree
and
Avery Williamson
turned heads at linebacker, but
Malcolm McDuffen
and
Miles Simpson
struggled to fill in for Trevathan and Guy and could be pushed by incoming freshmen.
3. Smith as the guy:
Outside of the spring game, Maxwell Smith had a pretty impressive spring in Lexington. He seemed to develop his game the way the coaches wanted and needed him too, but his mistakes in the spring game brought some worry. He rushed his play and reverted back to some bad habits. While he'd be the starter if the season started today, the coaches hinted that the race is still open with
Morgan Newton
coming back from shoulder surgery and incoming freshman Patrick Towles arriving this summer. Smith might have improved, but Newton and Towles will get every chance to win the starting job. If Smith regresses again, he might fail to win the job he thinks is his to lose.
April, 24, 2012
4/24/12
12:00
PM ET
March, 21, 2012
3/21/12
3:05
PM ET
Schedule:
Kentucky opened its spring practice Wednesday morning and will conclude with the Blue/White Game on April 21. All practices are closed to the public.
What's new:
Kentucky welcomed two new assistants to Joker Phillips' coaching staff during the offseason. Mike Cassity returned to his alma mater this year and will coach the Wildcats' defensive backs. Cassity coached Kentucky's defensive backs from 1980-81. Pat Washington also joined Kentucky's staff to coach wide receivers and to be the passing game coordinator after Tee Martin left to coach wide receivers at USC.

On the mend:
Quarterback
Morgan Newton
will only do some light tossing and handoffs as he recovers from shoulder surgery. Defensive end
Collins Ukwu
will miss drills after undergoing labrum surgery. Running back
Josh Clemons
will be non-contact throughout the spring because he's rehabbing from the torn meniscus he suffered last season. Defensive tackle
Tristian Johnson
will be limited this spring because of a shoulder injury. Wide receiver
Gene McCaskill
is being evaluated day-to-day because of knee issues that he's dealt with the last couple of years. Offensive lineman
Tyler Davenport
won't go through contact either this spring because of a knee injury and center
Sam Simpson
is out indefinitely with a back injury. Linebacker
Jabari Johnson
won't go through contact either because of shoulder surgery.
On the move:
Marcus Caffey
is making a significant move for the Wildcats as he switches from running back to cornerback, which is a position that needs all the bodies it can get this year.
Eric Dixon
is also moving from safety to cornerback to help the Wildcats with numbers.
Bookie Cobbins
is moving from quarterback to wide receiver.
Questions:
The Wildcats enter spring with a lot of questions on both sides of the ball. Kentucky must replace three starting offensive linemen from last season. The good news is that vets
Larry Warford
and
Matt Smith
are back, but Kentucky will work rising sophomores
Darrian Miller
(left tackle) and
Zach West
(left guard), and junior-to-be
Kevin Mitchell
(right tackle) with the first-team offense. Miller started two games last year and the coaches are high on him, but there won't be a lot of experience behind Warford and Smith. Kentucky is also looking for another wide receiver to step up opposite
La'Rod King
, who proved to be the Wildcats' best receiving option in 2011. Outside of King, Kentucky returns just one receiver --
E.J. Fields
-- who registered 10 more receptions in 2011. Kentucky will likely have to look to its youngsters and is hoping for a couple of redshirt freshmen to stand out, like Cobbins,
Daryl Collins
and
Rashad Cunningham
. Kentucky is also replacing two starting corners and safeties (
Winston Guy
was a Spur) and three linebackers after
Ridge Wilson
was dismissed before spring. Converted corners Caffey and Dixon will come in handy at corner because Kentucky needs the most help there.
Don't forget about:
Kentucky's offense was dead last in the SEC last season, but the Wildcats had some success at times running the ball. Kentucky's offense took a major hit when Clemons went down with that devastating knee injury last fall. The coaches expected big things from him and when he's healthy he's arguably the Wildcats' best offensive weapon. But Kentucky also returns rising senior
CoShik Williams
. He's added 10 pounds of muscle and could help Kentucky develop a solid rushing tandem once Clemons is healthy again.
Raymond Sanders
is another running back to keep an eye on. Injuries wrecked his 2011 season, but if he's healthy he'll help Kentucky's offense as it looks for more consistency.
Waiting in the wings:
Quarterback
Maxwell Smith
won't have to fight off Newton this spring, as Newton recovers from shoulder surgery, but he'll get an up-close glimpse of his summer competition when 2012 signee Patrick Towles visits Lexington during his Spring Break. Towles will be on hand to take in as much of the Wildcats' offense as he can. Towles will arrive this summer with a lot of hype following him from high school and might already be the most athletic of the bunch at quarterback.
Breaking out:
Kentucky is once again searching for playmakers this spring and it hopes to find a few at wide receiver. Cobbins, Collins and Cunningham are all players the coaches are excited about working with in the next month and with receiver so wide open, each will have the opportunity for a big spring. Kentucky also needs players to step up at linebacker, cornerback and the Spur position. All the starters from those positions are gone, including Kentucky's best player in linebacker
Danny Trevathan
. Attempting to replace Trevathan at the Will spot is rising sophomore
Malcolm McDuffen
. Underclassmen
Tim Patterson
and
Demarius Rancifer
are also players the coaches are excited about using at linebacker.
Josh Forrest
and
Miles Simpson
are also battling at the Spur.
All eyes on:
Smith ended up being the best option Kentucky had at quarterback last season, despite some rocky play, but an injury kept him out of the season finale against Tennessee. It worked out that wide receiver
Matt Roark
managed well enough to guide the Wildcats to their first win over the Vols in 26 years. Smith now enters the spring with questions surrounding his game and the pressure of having to hold off Newton and Towles this summer. Coaches and players have more confidence in Smith now, but he'll have to continue to develop as more of a passer and generate more confidence in has abilities this spring. He'll have to start making those around him better, especially the wide receivers, who enter spring as a very unproven group. Smith could either run away with the starting job this spring or make the competition that much more fierce once the others start throwing with him this summer.
SEC SCOREBOARD
Saturday, 12/20
Monday, 12/22
Tuesday, 12/23
Wednesday, 12/24
Friday, 12/26
Saturday, 12/27
Monday, 12/29
Tuesday, 12/30
Wednesday, 12/31
Thursday, 1/1
Friday, 1/2
Saturday, 1/3
Sunday, 1/4
Monday, 1/12
Tweets from https://twitter.com/ESPNCFB/lists/sec