August, 19, 2014
8/19/14
9:30
AM ET
Boston College coach Steve Addazio remembers an era when players wanted to redshirt as true freshmen to better prepare them for the final four years of their college career.
"Now it's 'I want to play,' " Addazio, 55, said. "If you're talking about not playing them early, the majority are like 'What do you mean?'"
So, the ability to play or possibly even start as a true freshman has become a regular sales pitch for coaches from the Power Five to the Group of Five. It's certainly a tool in the belt for Florida State coach Jimbo Fisher. Last week, Fisher alluded to the number of freshmen All-Americans he's coached the last four seasons. Twenty-four hours later, it was on the program's official recruiting Twitter page.
"The last [four] years we've had 14 freshmen All-Americans," said Fisher, condensing multiple outlets' freshmen award teams into one, concise Florida State propaganda poster. "If you come in ready to play, we're willing to put you on the field. It's critical for guys to come in saying 'When I'm the best, I'll play.'"
Fisher has the goods to back up his claims, even if the numbers are obviously skewed to best represent his program. But how does his résumé compare to those coaching some of the country's other top programs?
I tried to come up with a way to accurately discern which schools play the most freshmen and decided true freshmen letterwinners was the simplest and most effective way to crunch the numbers. To earn a letter, a player has to actually play consistently through the season. The disclaimer is each program can use different benchmarks when awarding letters, but there is never going to be a perfect way.
I began with Florida State's, looking back at the 2011-2013 classes. To properly quantify the data from Florida State, I decided I'd look at the five schools ranked highest in the preseason polls that have had its coach in place at least five seasons. Oregon's Mark Helfrich was offered an exemption because he was promoted from within and is in his sixth season with the Ducks. Coaches in place at least five years was the stipulation since an incoming coach might be susceptible to playing the prospects he recruited or having a number of transfers that could open up starting or rotational spots.
The criteria: Each class was looked at and the total number of signees was pared down to just those who enrolled as members of the football team in the fall. Junior college signees were excluded, as were any recruits who were academically or medically disqualified before playing a game. That explains why the total number of freshmen for our purposes might look different than what might be seen on RecruitingNation. Any true freshmen who spent a year at a post-graduate or prep school was also excluded. Redshirt freshmen were disqualified, too.
Bottom line is if the player was not a part of the football team the fall following his high school graduation, he was excluded.
Nearly all of the data was collected after poring through media guides and archives, although the communications departments at some of the schools were also helpful providing numbers and deserve recognition.
So, here is the actual data:
It is hardly a coincidence that Fisher and Alabama's Nick Saban, who mentored Fisher at LSU, have identical percentages of true freshmen earning a letter. Fisher and Saban arguably have been the two best recruiters over the last few cycles, and, the data shows those two are not going to keep young talent off the field simply because of age. Nearly half of the true freshmen at Alabama and Florida State lettered over the last three seasons.
Mark Dantonio has built Michigan State into a national title contender in a different manor, relying on experience. Only 12 percent of true freshmen lettered over the last three seasons. Recruiting to Michigan State is not the easy task it is at some other top-10 programs, and the Spartans are not recruiting as many ESPN 300-level players as the likes of Alabama and Florida State.
It should be noted Michigan State, Oklahoma and Oregon don't have quite the recruiting base Alabama and Florida State do.
Inquiring minds want to see how that 45 percent stacks up to some of the other top programs in the country, so even though they did not fit the criteria I looked at a few other schools with coaches in place at least five seasons and lately in the top half of the rankings. LSU was worth a look considering it's Les Miles' 10th season in Baton Rouge and, like Fisher and Saban, has recruited exceptionally well for a long period of time. Mark Richt is in his 14th season at Georgia and, like Miles, usually has a highly-regarded recruiting class. Steve Spurrier is in his 10th season at South Carolina and has steadily improved the Gamecocks' class to the point that the 2015 class is No. 5 nationally. Dabo Swinney has turned Clemson from a perennial disappointment into a two-time BCS bowl participant. And Ohio State and Texas A&M, mainly because it's worth seeing how third-year Buckeyes coach Urban Meyer fares considering he frequently voices his preference to avoid redshirting. Kevin Sumlin is also in the process of trying to build an SEC power that can compete with Alabama and LSU in the SEC West.
For the Buckeyes, out of the 69 true freshmen to land in Columbus, Ohio, from 2011-2013, 31 lettered -- the same 45 percent. Looking at just Meyer's two seasons, however, he is decimals ahead of Fisher and Saban at 46 percent (21 out of 46), thanks in large part to 14 freshmen letterwinners in his first season.
Georgia's Mark Richt has a percentage of nearly 50 percent, but the Bulldogs' numbers might be the most skewed. Along with South Carolina, the Bulldogs had several recruits that either did not qualify or spent time at a prep school or junior college. Also, Georgia's long list of dismissals and transfers is well documented, and all of the departures has opened up spots for freshmen to earn immediate playing time.
It is Miles, though, who plays a higher percentage of freshmen than all of the others. Twelve true freshmen lettered for LSU in both 2012 and 2013, and another nine earned a letter in 2011. There were a total of 65 applicable freshmen to enter LSU during that span and 33 of them lettered. That's a percentage of 51 percent.
Certainly the numbers will fluctuate year to year, and coaches at every single program are playing freshmen more frequently than ever before. When taking into account the timeline is over three years, LSU averages just one more freshman letterwinner per season than Alabama and Florida State. For our intents and purposes, though, the data shows which top programs consistently play the most freshmen in this new era of freshmen phenoms.
And, uh, FYI, Alabama has 19 ESPN 300 players prepping for their freshmen season this fall. LSU has 16, and Florida State isn't far off with 13 of their own.
December, 23, 2013
12/23/13
3:15
PM ET
Auburn is headed to the VIZIO BCS National Championship, and Gus Malzahn can add another accolade to his resume. On Monday, the Tigers' first-year coach was
named the AP national coach of the year
after orchestrating one of the greatest turnarounds in college football.

"It's very humbling," he told the AP Monday. "Any time you get awards like this, it's a team thing, as far as our staff and our players. It's been fun to be a part of this year."
Malzahn took over an Auburn team that finished 3-9 in 2012 and failed to win a conference game for the first time since 1980. In his first season, the Tigers went 12-1, won the SEC championship and will play Florida State for the national championship. Only Hawaii's 8.5-game turnaround from 1999-2000 matches Auburn's one-year improvement.
Malzahn received 33 of the votes, edging Duke's David Cutcliffe (17 votes) for the honor. Cutcliffe led the Blue Devils to their first-ever 10-win season. Florida State's Jimbo Fisher and Michigan State's Mark Dantonio each received three votes.
Malzahn becomes the second Auburn coach to win the award. Tommy Tuberville was named the AP coach of the year in 2004 after leading the Tigers to an undefeated season. It's the fifth time an SEC coach has won the award, which was created in 1998.
December, 11, 2013
12/11/13
2:30
PM ET
Nick Saban's name is sure to come up in every high-profile coaching job that opens until he decides to retire.
That's just the nature of the business when you've had the kind of success Saban has had with four national championships in the last 11 years.
[+] Enlarge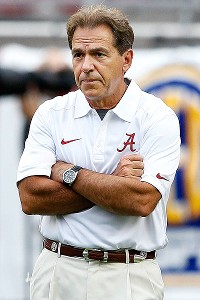 Kevin C. Cox/Getty ImagesAlabama coach Nick Saban has several protégés who are now head coaches, including Florida State's Jimbo Fisher, Florida's Will Muschamp and Michigan State's Mark Dantonio.
He won't be playing for a national title this season, but one of his protégés will -- Florida State's Jimbo Fisher.
In fact, it's been an eventful season all the way around for the Saban coaching tree.
Since we're all into power rankings this time of year, let's roll out the power rankings for the Saban coaching tree coming out of this season. In other words, those guys who have coached under Saban at some point in the college ranks and have gone on to be head coaches either in major college football or the NFL.
1. Jimbo Fisher, Florida State head coach:
We'll go with Fisher at No. 1 on this list since he has the No. 1 Seminoles unbeaten and headed to the VIZIO BCS National Championship game to face Auburn. It's their first trip to the national title game since the 2000 season. Fisher is a finalist for the Eddie Robinson Coach of the Year Award. His Seminoles have been dominant this season. They've won all 13 of their games by 14 or more points and 12 of their 13 games by 27 or more points. Fisher was Saban's offensive coordinator at LSU from 2000-04.
2. Mark Dantonio, Michigan State head coach:
Another finalist for the Eddie Robinson Coach of the Year Award, Dantonio has Michigan State in the Rose Bowl for the first time since the 1988 season and led the Spartans to a school-record 12 wins this season. This will be their seventh straight bowl appearance. Dantonio was Saban's secondary coach at Michigan State from 1995-99.
3. Jim McElwain, Colorado State head coach:
In his second season at Colorado State, McElwain has the Rams in a bowl game for the first time since the 2008 season. They will face Washington State in the New Mexico Bowl. McElwain was a part of two national championship teams at Alabama under Saban as the Crimson Tide's offensive coordinator from 2008-11.
4. Pat Shurmur, Philadelphia Eagles offensive coordinator:
Now in his first season with the Eagles, Shurmur was the Cleveland Browns head coach from 2011-12. He coached under Saban at Michigan State from 1995-97 as the Spartans' tight ends coach.
5. Josh McDaniels, New England Patriots offensive coordinator:
This is McDaniels' second season as the Patriots' offensive coordinator. He was the Denver Broncos' head coach from 2009-10 and was a graduate assistant under Saban at Michigan State in 1999.
6. Will Muschamp, Florida head coach:
After a breakthrough second season at Florida and a trip to the Sugar Bowl, Muschamp's Gators suffered through a dismal 4-8 season this year that was marred by a litany of injuries. It was Florida's first losing season since 1979. The Gators lost their last seven games, including a home loss to Georgia Southern. It goes without saying that Year No. 4 will be a critical one for Muschamp, whose Gators have struggled on offense. Muschamp coached under Saban at LSU as the linebackers coach in 2001 and defensive coordinator from 2002-04. He was also Saban's assistant head coach with the Miami Dolphins in 2005.
7. Derek Dooley, Dallas Cowboys receivers coach:
Now in his first season with the Cowboys, Dooley was the head coach at Tennessee from 2010-12. The Vols suffered through losing seasons all three years and managed just five SEC wins, leading to Dooley's firing. Dooley was the head coach at Louisiana Tech for three years prior to his stint at Tennessee. He coached under Saban at LSU from 2000-04 as tight ends coach and then running backs coach. From there, he went with Saban to the Miami Dolphins and coached tight ends before getting the Louisiana Tech head job in 2007.
January, 2, 2012
1/02/12
5:33
PM ET
Michigan State gave the Big Ten a much-needed bowl win with a thrilling
33-30 triple-overtime win over Georgia
in the Outback Bowl.
Here's an instant analysis:


How the game was won:
Defense was king to start the day, but we saw both offenses catch some fire in the second half. After being outscored 16-0 in the first half, the Spartans outscored Georgia 27-11 in the second. Michigan State survived quarterback Kirk Cousins' third interception of the day to start overtime, then Georgia's Blair Walsh missed a 42-yard field goal attempt. Spartans kicker Dan Conroy won the game in triple overtime with a 28-yard field goal.
Turning point:
Walsh's missed field goal attempt on Georgia's first possession in overtime kept Michigan State alive and allowed it to score in the next two overtime periods.
Stat of the game:
The teams combined for 68 rushes for 124 yards.
Player of the game:
Michigan State wide receiver
Brian Linthicum
had a spectacular day catching the ball. He hauled in seven catches for 115 yards, and his 50-yard reception in the fourth quarter helped set up a touchdown that gave Michigan State its first lead of the day.
Unsung hero of the game:
Fifth-year senior wide receiver/holder
Brad Sonntag
saved the Spartans on two huge kicks. He snagged a low one on the tying extra point to send the game into overtime and grabbed a high one for the winner.
Best call:
With 3:30 left in the fourth quarter, Michigan State coach Mark Dantonio challenged a play ruled a catch by Georgia's
Marlon Brown
. Even with pass interference being called on the play, a completion would have left the game clock at 3:30, but if it was incomplete, the clock would have had 13 seconds added. The play was overturned, 13 seconds were added, and Michigan State eventually scored its tying touchdown with 19 seconds remaining.
Second-guessing:
Georgia coach Mark Richt has often been criticized for being too conservative, and it almost cost him, as he ran just two plays after Bacarri Rambo's interception before sending Walsh out for the 42-yard field goal attempt on Georgia's first overtime possession. Walsh missed, and Michigan State eventually won in triple overtime ... after a Walsh kick that was blocked.
What it means:
Michigan State ends its five-game losing streak in bowl games and gives Dantonio his first bowl win as the Spartans' head coach. With 11 wins and a bowl win, Michigan State should be overflowing with confidence heading into the offseason. This likely will make the Spartans a top-10 team to open the 2012 season. For Georgia, this loss will sting for a while. The conservative play calling late and the missed field goal likely will be brought up a lot with this team. The Bulldogs should return a talented team that will have it near top-10 status, though.
Record performance:
Brandon Boykin's stellar 92-yard punt return is the longest play in Outback Bowl history. Less than two minutes earlier,
Aaron Murray
's 80-yard touchdown pass to
Tavarres King
stood as the longest play in the bowl's 26-year existence. It was also a career-long pass for Murray and a career-long reception for King. Also, King's 205 receiving yards were a Georgia school record.
Record performance 2:
Walsh's eight points on kicks made him the SEC's all-time leading scorer with 411 points.
January, 1, 2012
1/01/12
2:30
PM ET
A look at three keys to the game for Georgia in its Outback Bowl matchup with Michigan State on Monday:


1. No special teams breakdowns:
These are two evenly matched teams, so the last thing Georgia can afford to do is get wasted in the kicking game. It's been a recurring problem for the Bulldogs, who've given up five special teams touchdowns this season. They've also had a punt blocked, and place-kicker Blair Walsh has missed 12 field goals this season. At the very least, they need to play to a draw in special teams.
2. Crank up Crowell:
Freshman tailback
Isaiah Crowell
says the left ankle injury that plagued him at the end of the regular season has healed and that he's ready to go. Michigan State's run defense is nasty. The Spartans are ranked No. 12 nationally against the run and are allowing just 104.3 yards per game. Crowell needs to soften up that run 'D' with some big gainers to open up things for QB
Aaron Murray
and the Georgia passing game.
3. Hit the Spartans early:
Michigan State has had great success under Mark Dantonio, but he's lost four straight bowl games at the school, including last season's 49-7 debacle to Alabama. If Georgia can strike quickly and build an early lead, there could be a "here we go again mentality" that grips the Spartans.
December, 5, 2010
12/05/10
11:11
PM ET
Alabama Crimson Tide (9-3) vs. Michigan State Spartans (11-1)
Jan. 1, 1 p.m. ET (ESPN)

Alabama take by SEC blogger Chris Low
: National championships don't come easily, and back-to-back national championships in college football are practically unheard of.
Alabama (9-3) fell short in its goal to repeat this season, which isn't stunning given how rarely that's happened in this sport. But seeing the Crimson Tide lose two of their last three SEC games was certainly different, especially when you consider that Nick Saban's club had won 16 straight regular-season SEC games coming into this season.
Inconsistency plagued the Crimson Tide, who had trouble putting four quarters together. Never was that more apparent than in the final regular-season game when they built a 24-0 lead on No. 1 Auburn in the first half, only to unravel across the board and drop a bitter 28-27 decision at home.
This is still an extremely talented team with three guys who will probably go in the first round of the NFL draft next April. Nonetheless, the Crimson Tide's inexperience in the secondary caught up with them this season. They will be even more inexperienced in the bowl game. Junior safety Mark Barron underwent surgery for a torn pectoral muscle after being injured in the Auburn game and won't be able to play against Michigan State.
Senior quarterback
Greg McElroy
suffered a concussion against Auburn, but he should be fine for the bowl game. Probably the most surprising thing about this season for the Crimson Tide was that they weren't able to run the ball better, although
Mark Ingram
and
Trent Richardson
battled injuries.
---

Michigan State take by Big Ten blogger Adam Rittenberg
: A BCS bowl appearance would have been huge for Michigan State, but a matchup against Alabama in the Capital One Bowl is the next best thing.
As expected, the Spartans were snubbed from the big bowls despite a BCS-worthy résumé: a team-record 11 wins, a co-Big Ten championship, a victory against Rose Bowl-bound Wisconsin. Instead, they get an opportunity to prove just how worthy they are against the defending national champions, who are led by a man who used to coach in East Lansing.
The Nick Saban-Michigan State connection certainly adds intrigue to arguably the nation's best non-BCS bowl. Saban coached the Spartans from 1995-99, compiling a 34-24-1 record before bolting for LSU before the 2000 Citrus Bowl (now Capital One Bowl). Current Spartans coach Mark Dantonio served as Saban's secondary coach in East Lansing.
The game pairs two of the nation's smartest and classiest quarterbacks in Michigan State's
Kirk Cousins
and Alabama's Greg McElroy as well as two of the nation's most accomplished defenders in Michigan State's Greg Jones and Alabama's Marcell Dareus. Jones and the Spartans' run defense face arguably their biggest test of the season against reigning Heisman Trophy winner Mark Ingram, a native of Flint, Mich., as well as dynamic sophomore Trent Richardson.
After setting so many milestones this fall, Michigan State aims for one more. The Spartans look for their first bowl win since 2001 and their first Jan. 1 bowl win since the Citrus in 2000.