August, 8, 2014
Aug 8
12:00
PM ET
COLLEGE STATION, Texas -- As part of Texas A&M's nightmarish 2013 season on defense, the Aggies linebackers endured more than their fair share of struggles.
Whether it was a position change, someone playing out of position or something as simple as inexperience keeping the Aggies from playing well, the group never quite found its footing in 2013.
The first week -- and even just the first day -- of training camp provided linebackers coach Mark Hagen with reason for optimism in 2014.
One area the Aggies' linebackers -- and the defense as a whole -- struggled with was communication. Sometimes when the ball was snapped, players were out of position or not certain of their assignments.
So far on the practice field there is much less of that, according to Hagen.
"Night and day," Hagen said of the difference in communication. "The biggest thing we lacked last year were guys that had been there and done that ... I don't have to relive the 2014 season for you guys. It was constantly swimming uphill. And even though we got some pieces in the right place, the communication was never where it needed to be.
"We've got a different feel right now. It wasn't perfect. Going back to Friday, the first day of practice, even though it wasn't totally clean out there, there was never a time where you had guys looking left and looking right, [while the offense is] snapping the ball .... We got lined up and we played fast when the ball was snapped. That doesn't mean we played perfect in terms of the fits and the coverages, but we operated as 11 instead of 9 or 10 guys being on one page and a couple guys being on another page. That's a recipe for disaster."
Defensive line depth improving
One of the key tasks for Texas A&M's defense since joining the SEC is building the type of depth needed to compete in the league. The defensive line is especially important in that area.
The Aggies have focused on the defensive line in recruiting and in 2014 were able to bring in five true freshman defensive linemen in the recruiting class plus a junior college transfer.
"It's going to help everybody this season, not just me,"
Julien Obioha
said of the increased depth. "It's going to help
Alonzo Williams
,
Hardreck Walker
,
Daeshon Hall
. There are two or three guys behind all those guys."
Obioha was a true freshman who started in 2012 and is now entering his third season in Aggieland. The improvement in overall talent across the defensive line is evident to him.
"Depth is amazing compared to what it was [in 2012]," Obioha said. "Freshman year, we were playing maybe six guys [on the defensive line]. This year we'll be able to play 12-14 guys."
Defensive line coach Terry Price was able to secure top-flight talent in 2014, including the nation's No. 1 defensive end,
Myles Garrett
, as well as ESPN 300 defensive end
Qualen Cunningham
and three-star defensive end
Jarrett Johnson
. Price seems pleased with what they've shown him thus far.
"Our biggest deficiency last year, to me, was speed on the edge of our defense at the defensive end spot," Price said. "We went out and tried to find the best we could find, which have added speed and depth to our defense which is huge."
Competition at kicker
Walk-on kicker and former FC Dallas goalkeeper
Josh Lambo
emerged as an unlikely hero last season for the Aggies, making a game-winning field goal as time expired at Ole Miss. Midway through the 2013 season, Lambo assumed place-kicking duties from
Taylor Bertolet
, but just because Lambo finished the year as the starter doesn't automatically make him the go-to guy.
Bertolet, a junior, is having a strong training camp according to special-teams coach Jeff Banks, making this year's battle at kicker a close one. Last season Bertolet was 2-for-3 on field goals and 23-of-26 on point-after attempts. Lambo was 8-for-10 on field goal tries and 50-of-51 PATs.
"I'm in a great position," Banks said. "To have two Division I guys who can kick the ball 60 yards and have a little depth, length and distance .... I'm in a great position from that standpoint; I'm in a tough position in [deciding] who's going to be the best guy for the job. It's probably a lot like quarterback. If you name a guy right off the bat then the other guy might get discouraged."
"So we're not going to do that. We're going to continue to compete during fall camp. We've still got at least 15-18 practices before we get ready for South Carolina and we have to do the best job we can to evaluate who is the best for the job."
Lambo sat out the first week of training camp, recovering from a groin injury but said he should be 100 percent soon.
April, 9, 2014
Apr 9
2:30
PM ET
COLLEGE STATION, Texas -- Like many of
Texas A&M
's defensive players,
Jordan Mastrogiovanni
was thrown onto the field sooner than most anticipated.
He got his first career start in the Aggies' most anticipated game of 2013, the Sept. 14 clash against Alabama. He appeared in all 13 games last season and made another start in the Aggies' Chick-Fil-A Bowl game win over Duke.
[+] Enlarge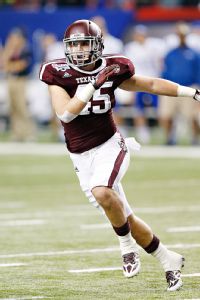 Joe Robbins/Getty ImagesThe Texas A&M coaches expect sophomore linebacker Jordan Mastrogiovanni to be a defensive leader in 2014.
Most incoming recruits relish the chance at early playing time, but for the ESPN 300 prospect out of Dallas Jesuit, the excitement was also met with a dose of reality.
"To be honest with you, it was overwhelming at times," Mastrogiovanni said. "To think that a year [before] I was playing in front of 2,000 people in a high school football game, that's just one of those things where you have to man up and take care of your responsibilities and do the best you can."
What was overwhelming about it? In a word, everything.
"Really, every aspect of the game," he said. "The players, the calls, just looking up in the stands and seeing 100,000 people, that's something not many people get to experience. As an 18-year-old kid looking up, it's something that not a lot of people get to experience."
In the bowl game against Duke, Mastrogiovanni started at middle linebacker in place of the suspended
Darian Claiborne
, who served as the starter for most of the season. Linebackers coach Mark Hagen recalls the difficult start the defense had across the board against the Blue Devils, as the Aggies surrendered 38 first-half points while a handful of glossy-eyed freshmen, Mastrogiovanni included, tried to figure things out.
"It was a disaster from the opening kickoff in the bowl game," Hagen said. "Nothing went right. I think like most of our guys they were questioning themselves in the locker room and it was just a matter of going out there and getting a stop and I think you saw the confidence start to come back a little bit. It was a playing time issue really as much as anything [for Mastrogiovanni], just not having a ton of [first-team] reps."
But as the Aggies regrouped in the locker room, Mastrogiovanni spoke up and the defense collected itself. The unit allowed only 10 points in the second half as the team completed its come-from-behind effort to steal a
52-48 win
.
"At halftime I went in and was pretty frustrated with my performance and the rest of the defense's," Mastrogiovanni said. "I tried to take over as the leader at that point and I said 'Turn the page. Don't even think about it.' That's what
Johnny [Manizel]
was saying too. I really think we went out there and bought in on what the coaches and players were preaching in the locker room. I think you can see on tape that we were a lot more physical and we trusted each other so it paid off."
The Aggies are hoping the instinct the 6-foot-3, 235-pound linebacker showed that night carries over into this season, because he figures to be Texas A&M's starting middle linebacker. Mastrogiovanni spent the spring working with the first team. The Aggies are looking for improved play -- and leadership.
"I think we lacked a lot of it last year," coach Kevin Sumlin said of the defensive leadership. "We need a guy who's going to step up and talk and make sure we know everything and that we play with some confidence. I think that whole year has given him some confidence and some credibility among his teammates. It's one thing for you to be confident, but what about the guys around you? Mastro has spoken up."
Spring football, which wrapped up for the Aggies on Saturday, was productive for Mastrogiovanni. He became much more comfortable in his role as the middle linebacker and showed the qualities the coaching staff seeks.
"I just think you see a totally different person out there," Hagen said. "Much more comfortable, he's taking charge, he's getting our guys lined up which is over half the battle on defense."
The coaches want him to continue to progress, but so far he has given them reason for optimism. The one thing Sumlin wants him to work on is, of all things, his voice, so his teammates can hear him.
"I give him a hard time because I tell him to put some bass in his voice," Sumlin said with a smile. "I keep forgetting he's a freshman. He has played a bunch of football here. 'Yell from the diaphragm, act like a middle linebacker, put some bass in your voice.'"
With Claiborne likely to move to the weakside linebacker position and the Aggies mulling over a number of options for strongside linebacker, Mastrogiovanni's play is key. Texas A&M is looking to improve a defense that was last in the SEC in most major defensive statistical categories and struggled mightily against the run. It also didn't deal with offensive wrinkles well, something that having an experienced middle linebacker with the leadership qualities coaches are looking for will help improve.
Mastrogiovanni doesn't want to see another season go by with the Aggies ranking in the bottom 30 nationally defensively, like they did in 2013.
"That's just unacceptable, especially for a program the caliber of Texas A&M," he said. "The fans deserve better and we need to push ourselves. That's not the product we want to put out on the field. We're driven, we're motivated, we just don't want to have another defensive season like that."
July, 9, 2013
7/09/13
2:15
PM ET
In order to make a stand in the SEC, you have to have a strong front seven. It starts with a stout defensive line, but don't forget about those cats behind that front line.
Linebackers need love, too:
1. Alabama:
For starters, "Linebacker U" will enter the 2013 season with three linebackers --
C.J. Mosley
,
Adrian Hubbard
and
Trey DePriest
-- who started 10 or more games last season. Then there's
Xzavier Dickson
, who started seven games at the rush-end "Jack" position. All four played in every game last year, making play after play. Mosley was considered one of the nation's best linebackers and could have opted for the NFL early. He'll get even more time with
Nico Johnson
gone. Hubbard is the team's top pass-rusher, DePriest has transformed into a top linebacker prospect in next year's NFL draft and Dickson is versatile enough to play linebacker and on the line. There is also a ton of young talent to watch, starting with sophomore
Denzel Devall
, who could really break out.
[+] Enlarge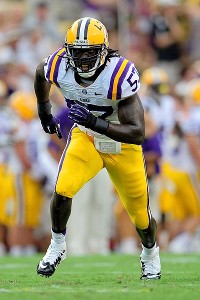 Stacy Revere/Getty ImagesLamin Barrow should replace some of the production the Tigers lost when Kevin Minter moved on to the NFL.
2. LSU:
Kevin Minter might be gone, but the Tigers still have some quality players roaming around the position.
Lamin Barrow
will anchor the group and is coming off a season in which he registered 104 tackles, including 52 solo stops. He's getting a ton of NFL love and will get help from very talented sophomore
Kwon Alexander
, who only played seven games, but would have seen plenty more action if hadn't suffered a broken ankle midseason. Alexander could be primed for a huge season and might be the team's best linebacker. Senior
Tahj Jones
only played in one game last year because of academic issues, but he'll have every chance to start outside. Sophomores
Deion Jones
,
Lamar Louis
and
Ronnie Feist
all saw good time last year and will be in the rotation along with incoming freshman
Kendell Beckwith
, who could immediately push for a starting spot.
3. Ole Miss:
The Rebels work in that 4-2-5 defense, but have a lot of talent at linebacker, starting with big-hitting senior captain
Mike Marry
, who has 22 career starts and finished last season with 78 tackles with 10.5 for loss. The pleasant surprise from this group last year was
Denzel Nkemdiche
, who was a second-team All-SEC member as a freshman after leading Ole Miss in tackles (82), tackles for loss (13) and forced fumbles (four). The thing that makes Nkemdiche so valuable is that he knows all of the linebacker positions and covers a ton of ground with his speed. Long-time Rebel
D.T. Shackelford
is back after two knee surgeries, but had a very good spring and should provide quality depth and excellent leadership. Then you have talented reserve
Serderius Bryant
, who could start at a lot of schools. Don't forget about the hybrid "Husky" position that will feature top recruit Antonio Conner.
4. Tennessee:
The Vols bring back the league's top tackler in
A.J. Johnson
and excellent pass-rusher
Curt Maggitt
, who had his 2012 season shortened because of injury. He should be back to full health this fall, but could move to defensive end. Johnson has a chance to play his way into the first round of next year's NFL draft. Senior
Dontavis Sapp
doesn't have a ton of experience, but was a star this spring and has the ability to play any of the linebacker spots. Four senior backups return and have combined to play in nearly 140 games. The only problem is that they've also combined for just one start. Senior
Brent Brewer
also moved from safety to linebacker to give the Vols a lot of speed on the outside.
5. Florida:
The Gators lost two valuable players in Jon Bostic and Jelani Jenkins, but they still have a ton of young talent to work with, starting with
Antonio Morrison
. He ran into legal trouble this summer, but he has a chance to be an All-SEC player after moving from outside to middle linebacker.
Dante Fowler Jr
. and
Ronald Powell
will rotate at the hybrid defensive end/linebacker "Buck" position, but Powell could see more time at strongside linebacker. If he's healthy after his two ACL injuries, he could be an elite pass-rusher. Hard-hitting and dependable
Michael Taylor
left spring as the starting weakside linebacker, while freshman
Daniel McMillian
had an outstanding spring at the Will position. Fellow freshman
Alex Anzalone
was a top recruit in the 2013 class and should vie for plenty of time, while vets
Darrin Kitchens
and
Neiron Ball
will push for starting spots.
6. Vanderbilt:
This was supposed to be a concern for the Commodores last year, but it ended up being a strength. Do-everything leader
Chase Garnham
is back, along with his 43 solo tackles, seven sacks and 12.5 tackles for loss. He's the heart of the defense. Hybrid linebacker/safety (Star)
Karl Butler
returns and should continue to put a lot of heat on opposing backfields. He registered 11.5 tackles for loss last season. Sophomore
Darreon Herring
has to replace the very reliable Archibald Barnes, but saw plenty of time last year as the Commodores' top reserve at linebacker. Sophomores
Larry Franklin
and
Jake Sealand
provide good depth after seeing significant time last year.
[+] Enlarge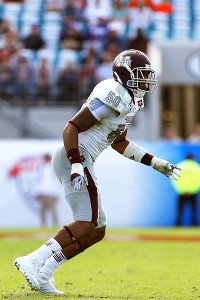 AP Photo/Don Juan MooreBenardrick McKinney was named to the Freshman All-SEC Team following last season.
7. Mississippi State:
Starters
Benardrick McKinney
(102 tackles) and
Deontae Skinner
(62 tackles) return, giving Mississippi State a very sound foundation to work with. McKinney was quietly one of the league's top linebackers last year and could be even better this fall. Veteran
Ferlando Bohanna
, who has tremendous speed, will provide good depth, and the staff is excited about the versatility junior
Matt Wells
has. Losing
Chris Hughes
this summer hurts, but the Bulldogs will be able to cover a lot of ground with this group of rangy, athletic linebackers.
8. Georgia:
Like every defensive position, the Bulldogs lost a lot at linebacker, but there is some promising young talent that should get better as the season goes on. Everything revolves around sophomore
Jordan Jenkins
, who could end up being an elite pass-rusher after learning under
Jarvis Jones
last season. Jenkins was second on the team in sacks last season with five and should be even more disruptive in Jones' old spot. Junior
Amarlo Herrera
started nine games and will be the captain of the unit inside. Junior
Ramik Wilson
had a very good spring and has found his spot inside, while sophomore
Josh Harvey-Clemons
will play some linebacker when he isn't at safety and has a chance to be a star. Sophomore
James DeLoach
also had a very good spring outside. Freshmen
Reggie Carter
and
Ryne Rankin
will also have ample opportunities for good playing time this fall.
9. Kentucky:
Having Alvin "Bud" Dupree moving to defensive end hurts, but the Wildcats still have two solid options returning in
Avery Williamson
and youngster
Khalid Henderson
, who has playmaker written all over him. Williamson enters his senior season with 194 career tackles. Finding someone to take the other linebacker spot is the goal of fall camp.
Miles Simpson
started 11 games and had 70 tackles last year, but has to be more consistent. Junior
Kory Brown
and sophomore
Josh Forrest
will compete for that spot too and might be more athletic, but they lack experience.
Malcolm McDuffen
still hasn't reached his potential and Demarius Rancifer has decided to transfer.
10. Texas A&M:
The Aggies lost starters Jonathan Stewart and Sean Porter and are now surrounded by youth. Veteran
Steven Jenkins
is back, but he missed spring practice due to offseason shoulder surgery. He had time to work with junior college transfer Tommy Sanders, which will help a lot this fall, as he vies for a starting spot outside. The Aggies will have to rely on youngsters at linebacker, but junior
Donnie Baggs
looks like he'll start at middle linebacker. But after that it's all about newcomers, including new linebackers coach Mark Hagen. Freshmen Reggie Chevis and Brett Wade both went through spring practice, which helps, but expect growing pains from this unit.
11. Missouri:
The Tigers are fortunate to have senior
Andrew Wilson
and his 23 career starts back, but there isn't a lot of experience beyond that. Wilson has also led the Tigers in tackles in back-to-back seasons (79 last year).
Donovan Bonner
, a senior, and
Kentrell Brothers
showed flashes this spring, but both have to be more consistent. The same goes for
Darvin Ruise
, who entered the spring as a starter and played primarily on special teams last year. Keep an eye on freshman
Michael Scherer
, who has the talent to be a stud. There is athleticism here, but tackling was a major issue with this unit last year.
12. Arkansas:
The Razorbacks return veterans
A.J. Turner
and
Otha Peters
, but the best overall player at this position might be junior college transfer Martrell Spaight. That could be both good and bad, but the fact of the matter is that Turner and Peters have to improve and get over their injuries from the spring if they want starting jobs this fall. Senior
Jarrett Lake
had a good spring and could be the leader here. Freshman Brooks Ellis could make an immediate impact too. Experience is a bigger issue than talent with this unit. Also, the staff could spend the preseason moving everyone around.
13. Auburn:
This unit really struggled last year with getting lined up right and making tackles. There should be improvement with Ellis Johnson taking over the defense, but players need to get better. Star hybrid
Justin Garrett
had a great spring and could be primed for a breakout year. He can play in the box and cover, so he'll really help this unit. The good news is that Johnson needs just two linebackers for his 4-2-5 scheme. But those players have to perform. Sophomore
Kris Frost
made strides this spring and
Jake Holland
is experienced, while
Cassanova McKinzy
and
JaViere Mitchell
should vie for the other linebacker spot.
14. South Carolina:
The Gamecocks lost their entire two-deep at linebacker and had to move tight end
Kelvin Rainey
to linebacker to help with depth. There are a lot of bodies, but the experience is really lacking. Sophomore
Kaiwan Lewis
made strides this spring at middle linebacker, while junior
Sharrod Golightly
left spring with the edge at the hybrid Spur position. Freshmen
T.J. Holloman
and
Jordan Diggs
will compete for time this spring, but, again, they have no experience. Sophomore
Cedrick Cooper
missed spring while recovering from knee surgery, but should start at weakside linebacker.