March, 11, 2014
Mar 11
6:45
PM ET
GAINESVILLE, Fla. -- Injuries hit hard and hit often last season, and as the Gators prepare to open spring practice next week, they'll still be feeling some lingering effects.
Florida coach Will Muschamp on Tuesday announced the Gators will open spring practice March 19 with
nine players out of action because of injury
, including three starters.
[+] Enlarge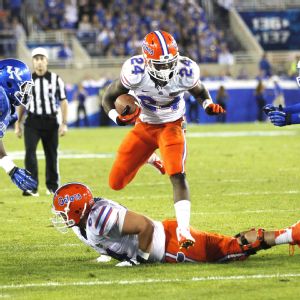 Mark Cornelison/Lexington Herald-Leader via Getty ImagesRunning back Matt Jones, who injured his knee last season, won't be cleared to play until after spring practice concludes.
Here's who is out or limited as well as the spring impact:
Fortunately for Florida, most of the injuries are at positions of depth. Muschamp said that so far this spring, it is nothing like last year, when he was forced to turn the annual Orange & Blue Debut game into a series of drills with a limited scrimmage.
"Last year I just didn't feel like it was fair with six offensive linemen healthy to put those guys through that," he said. "I want to have a spring game. ... I think it's important for those guys to get out in front of that crowd, the coaches off the field, and make them make calls and communicate and produce. There's no question. I want to have a spring game every year."
February, 3, 2014
Feb 3
10:00
AM ET
They call him Flipper, Flipper, faster than lightning,
No one you see, is smarter than he,
And we know Flipper, lives in a world full of wonder,
Flying there under, under the sea!
GAINESVILLE, Fla. -- It may be a 1960s TV show, but try getting the theme song for "Flipper" out of your head once it's stuck there. It's about as easy as getting Florida coach Will Muschamp to stop recruiting a prospect he wants.
In three years as chief recruiter for the Gators, Muschamp has clearly displayed a penchant for getting committed recruits to change their minds.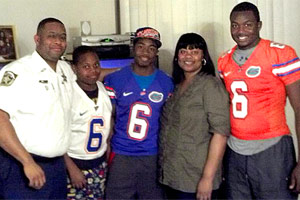 Courtesy Fowler FamilyDante Fowler, right, flipped from Florida State to Florida in 2012.
He's done it so often, some Florida fans call him Flipper.
The first big splash came in 2012 when defensive end
Dante Fowler Jr.
, a prized recruit in Florida State's No. 2-ranked class, made a dramatic switch to Florida on signing day after being committed to the Noles for more than a year.
Muschamp's persistence over that time period and insistence that Fowler would get on the field earlier with UF paid off.
"It was real difficult," Fowler said on signing day. "Being committed for a year and growing up a Florida State fan all my life -- I always hated Florida, and I always told myself I would never go to Florida, and now I'm about to be playing for them. It's kind of crazy."
That was just the start of the craziness.
Last year Muschamp upped the ante with six more flips, four just before they signed as early enrollees in January 2013. In fact, three of Florida's four linebackers in that class --
Matt Rolin
(from South Carolina),
Alex Anzalone
(Notre Dame) and
Jarrad Davis
(Auburn) -- flipped from other schools.
The key to flipping recruits, Muschamp said, is not a secret. It's a simple approach.
"You stay on guys," he said, "and try to make valid points you've made throughout the entire recruiting process all the way through."
He's done it again this year, getting three of his nine early enrollees to flip.
Each of the three -- cornerback
Jalen Tabor
(Arizona), athlete
Brandon Powell
(Miami) and offensive tackle
Kavaris Harkless
(Louisville) -- changed their minds as late as the first week of the spring semester.
None was more last minute than Harkless, who was on campus at Louisville the day before his first class when he changed his mind and flew back to Florida. Harkless was swayed by the departure of coach Charlie Strong, who left Louisville for Texas.
When the coaching change news broke that weekend, so did Harkless' commitment to Louisville.
One of Harkless' coaches at Jacksonville (Fla.) Trinity Christian, Gerard Ross, saw firsthand how UF coaches laid the foundation for Harkless' change of heart. Ross says it's a matter of the Gator coaches continuing to build relationships even after their targets have committed elsewhere.
"They do a good job of staying in contact with those guys that they really want who are committed to other places," he said. "That way if something ever changes that kid's mind, then that whole time they've been there with that kid. The [recruit] has something to fall back on."
It used to be taboo in recruiting to go after a committed prospect. Now, the taboo is a relic of a bygone era. It's open season on all commits until the ink has dried on the official letter of intent.
"These days in recruiting it's a little different than when I came out," said Ross, who played cornerback for FSU from 2002-05. "These days you almost can't blame the kids for trying to find a school pretty early and finding themselves a spot, because you can't oversign anymore. At the same time, the coaches almost have to stay on those kids who do commit early. There's a window when that kid might flip.
"Back in the day when a kid committed, that was pretty much it. That's where he was going. But nowadays, college football is becoming a business."
A business in which coaches move frequently for new jobs, often shaking up recruiting classes in the process.
It's something Florida has experienced on both sides -- from losing recruits when former coach Urban Meyer retired (twice) to cherry-picking players like Harkless, who found himself far from home and without a coach.
"That's recruiting, you know?" Harkless said from Louisville in early January, just before he left for Florida. "I still have respect for Coach Strong, because he has to go where it's best for his family. I'm just doing the same."
After announcing Harkless among his nine early enrollees in January, Muschamp talked about the increase in drama and decommitments on the recruiting trail. This rockier road, he said, is here to stay.
"The earlier and earlier recruiting goes, you're going to continue to see this. That's not stopping," Muschamp said. "I think the earlier it is, young men are making decisions before maybe they have the information or they're sure of what they want to do or how they're going to do it. I think you're going to continue to probably see this."
Translation: Beware the Flipper.
Like a song stuck in your head, Muschamp isn't going to stop anytime soon.
December, 6, 2013
12/06/13
9:30
AM ET
GAINESVILLE, Fla. -- Much like the little black lovebugs that swarm these parts twice a year only to splatter across windshields like a plague, the
Florida Gators
' injury bug in 2013 was a nuisance. Then it reached epic proportions. Here's a complete breakdown:
August
[+] Enlarge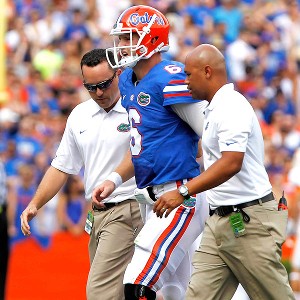 Kim Klement/USA TODAY SportsQuarterback Jeff Driskel's season ended in the third game, when he broke his leg vs. Tennessee.
Injuries:
Junior QB
Jeff Driskel
(appendectomy), sophomore RB
Matt Jones
(viral infection), senior WR
Andre Debose
(torn ACL), freshman LB
Matt Rolin
(torn ACL), junior OT
Chaz Green
(torn labrum)
Impact:
In hindsight, maybe we should have known something was a bit off when players started falling
before
preseason camp. The injury parade started with Driskel and Jones missing reps at a time when they were supposed to be two of the primary focal points in the UF offense. Days into camp, another offensive weapon was lost when Debose tore his ACL in a noncontact situation. "He just planted his foot and there was a tear," coach Will Muschamp said. Florida' O-line got its first big jolt later in camp when Green, the starting right tackle, was lost for the season. With 19 career starts, Green was expected to anchor the right side of the line. The OL already was without senior guard
Jon Halapio
, who missed all of camp with a partially torn pectoral muscle suffered in late July and missed the first two games of the season.
September
Injuries:
Freshman S
Nick Washington
(shoulder), Driskel (broken fibula), senior DT
Dominique Easley
(torn ACL)
Impact:
Coming off a shaky three-turnover performance in Week 2's loss at Miami, Driskel was hurt in the first quarter against Tennessee the following week. Because junior backup QB
Tyler Murphy
rallied the Gators and engineered wins in the next two games, it appeared Florida wouldn't be impaired by the transition from one mobile quarterback to another. Eventually, however, Murphy's limitations in the passing offense showed against tougher competition. The two biggest things Florida lost with Driskel were the read-option element of the offense and the ability to diagnose defenses and check out of bad plays. Losing your best quarterback can cripple any team's offensive season. Losing your best player overall? That hurts in many more ways. Easley's injury changed the course of Florida's season. On the field, the senior was Florida's most disruptive defender, an agitator an identity-maker. He provided the crucial push up the middle that many teams desire but few have. Off the field Easley was a vocal leader, a motivator and someone who could keep the team loose. "You don't replace Dominique Easley," Muschamp said later. "It's not just from a play-making standpoint, it's from a leadership standpoint. It's the heart of your team."
October
[+] Enlarge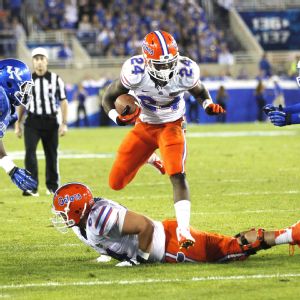 Mark Cornelison/Lexington Herald-Leader via Getty ImagesMatt Jones was Florida's leading rusher when he was lost for the season in the LSU game.
Injuries:
Jones (torn meniscus), Murphy (sprained shoulder), senior DT
Damien Jacobs
(concussion), junior LB
Ronald Powell
(ankle), senior LB
Darrin Kitchens
(shoulder), redshirt freshman LB
Jeremi Powell
(torn ACL), sophomore LT
D.J. Humphries
(sprained MCL)
Impact:
Florida's loss to LSU on Oct. 12 split the season in two. The Gators came into the game with a 4-1 record and ranked No. 17 in the nation. They left with the first of seven straight losses and two more injuries that would plague them the rest of the way. Jones, the starting tailback, saw just six plays against LSU. Florida lost its top blocker and biggest home-run threat at tailback and would have to break in a true freshman replacement. Murphy sprained the AC joint in his throwing shoulder against the Tigers and struggled with accuracy until his season ultimately ended a few weeks later. The following week in a crushing loss at Missouri, the Gators lost their eighth player for the season in special teams standout Jeremi Powell. But the month wasn't quite over, and UF lost Humphries, its starting left tackle, when he hurt his knee in practice. The offensive line was in disarray heading into the Georgia game.
November
Injuries:
Sophomore OT
Tyler Moore
(broken elbow), sophomore LB
Antonio Morrison
(torn meniscus), junior LB
Michael Taylor
(sprained MCL), freshman LB
Alex Anzalone
(shoulder), freshman DL
Joey Ivie
(heel), senior WR
Trey Burton
(shoulder)
Impact:
At this point in a season marred by injuries, it started to get ridiculous. Just when the offensive line had found itself against Georgia, Moore fell off his scooter when it slipped on a wet sidewalk and was lost for the rest of the year. Just before it faced Georgia Southern's dangerous triple-option offense, Muschamp announced that Morrison, the team's middle linebacker and top tackler, was out for the season. Casualties No. 9 and 10. To further drive home the point, Florida lost Morrison's replacement (Taylor) and then lost
his
replacement (Anzalone), as well as another linebacker (Kitchens) in the GSU game. At one point, the Gators turned to
David Campbell
, a senior walk-on who wasn't even on the game-day roster. Before the final game of the season, Florida suffered another scooter injury when Ivie sliced his heel and needed 25 stitches. The season ended, as you might imagine, with an injury ruining the Gators' game plan against Florida State. Burton was to run the wildcat for about 50 percent of the offensive plays and had early success with a 50-yard run. He hurt his shoulder and was knocked out of the game two plays later.
Conclusions
It would be hard for any offense to be effective without its top two QBs, starting tailback and three best offensive tackles. The running game that keyed an 11-win season in 2012 could not be relied upon in 2013. Similarly, the Gators' run defense fell apart by the end of the season. Florida's defense showed signs of being dominant with Easley, giving up just 55.3 yards a game on the ground, but then sprang leaks without their big man in the middle.
The upside? None of the injuries is believed to be career-threatening, and Florida developed some depth when it was forced to turn to younger players.
"There were a bunch of [important players] that didn't play for us," Muschamp said after the season's final game. "They were all on the sidelines in street clothes. We have good football players, and we have a good staff. We just got to get back healthy and continue to move forward. I'm not using excuses, it's real."
Real painful.
August, 16, 2013
8/16/13
9:30
AM ET
GAINESVILLE, Fla. -- Florida fans better get a good look at senior wide receiver
Solomon Patton
this season because guys like him are going to be hard to find around here from now on.
Small guys.
The 5-foot-9, 171-pound Patton doesn't really fit into coach Will Muschamp's philosophy that bigger is better. Not just on the line of scrimmage, either. Big receivers. Big defensive backs. Big linebackers.
[+] Enlarge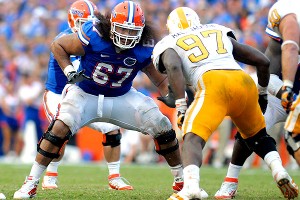 AP Photo/Phelan M. EbenhackGuard Jon Halapio, at 6 feet 3 and 321 pounds, meets Will Muschamp's size criteria to compete in the SEC.
Size does matter at Florida now. Muschamp believes it's the best way to have success in the Southeastern Conference.
"This is a big man's league," he said. "When you go pay to watch a boxing match, you don't go watch the featherweights fight. You go watch heavyweights fight. This is a heavyweight league.
"So we need have a big, physical team. You can still be really fast, but you better be big and physical if you want to win in this league right now."
Muschamp is in his third season and working on his fourth signing class, and he has certainly made the Gators a bigger, more physical team in that short period of time. To see the difference, look at UF's roster from 2009. The Gators had five starters or key contributors who were 5-9 or shorter: Jeff Demps, Chris Rainey, Ahmad Black, Markihe Anderson and Brandon James.
This year's team has only one starter that small: 5-9 safety
Cody Riggs
. Patton is a role player (he's the jet sweep guy) and the shortest player on scholarship is 5-7 freshman running back Adam Lane -- who weighs 222 pounds.
Muschamp's philosophy goes further than just the size of the players. He wants the bulk of his 85-man roster to be comprised of what he calls big-skill positions: offensive and defensive linemen, linebackers and tight ends. He wants 50. Right now he has 42 (see breakdown below).
Muschamp wants 15-17 offensive linemen, and the Gators are close to that number. They have five scholarship tight ends, too. The defensive line is where the problem is. The Gators are short on ends, especially speed rushers. There are eight scholarship defensive tackles, but only three have played in a game (
Dominique Easley
,
Leon Orr
and
Damien Jacobs
), and just two bucks (hybrid defensive end/linebacker).
It'll take at least a couple more signing classes for the Gators to be as stocked along the defensive line as Muschamp would like. Muschamp believes long-term success at Florida -- and therefore the SEC -- depends on beefing up those defensive numbers.
And not just to compete with Alabama and Nick Saban, either.
"When big guys run out of gas, they're done," Muschamp said. "We don't ever want our big guys up front to play more than six or eight snaps in a row and have the intensity you've got to play with to be successful in this league. So you can't ever have enough defensive linemen or pass rushers, especially the way the game's going.
"You look in our league at Missouri and Kentucky and Tennessee, a lot of schools are going to a little bit of a Big 12 model, like Texas A&M, where they're spreading the field, and you can't ever have enough guys that can play in space and rush the passer. The most exerting thing in football is rushing the passer. Those guys are battling against a 315-pound guy and trying to push the pocket, so you can't ever have enough of those guys."
Here's the breakdown of what Muschamp calls the big-skill players:
Offensive line
Ideal number:
15-17
Number on the roster:
14.
Tyler Moore
,
Quinteze Williams
, Rod Johnson, Octavius Jackson, Cameron Dillard,
Trip Thurman
,
Jon Halapio
,
D.J. Humphries
,
Jonotthan Harrison
,
Chaz Green
,
Max Garcia
,
Trenton Brown
,
Ian Silberman
,
Kyle Koehne
.
Comment:
The Gators will lose four players to graduation but have four offensive line commits for 2014, three of whom weigh more than 300 pounds. The line has gotten bigger, stronger and more physical since Muschamp called them soft at the end of his first season.
Defensive tackle
Ideal number:
8-10
Number on the roster:
8. Damien Jacobs,
Joey Ivie
, Leon Orr,
Darious Cummings
, Jay-nard Bostwick, Caleb Brantley, Antonio Riles, Dominique Easley.
Comment:
Not a lot of experience here, but the four freshmen (Ivie, Bostwick, Brantley and Riles) will gain valuable experience as part of the rotation this season.
Defensive ends
Ideal number:
6-8
Number on roster:
4.
Alex McCalister
,
Jonathan Bullard
, Jordan Sherit, Bryan Cox.
Comment:
Easley also can play end. This is perhaps the most flexible position, with several players having the ability to play inside on passing downs to get the best pass rushers on the field.
Bucks
Ideal number:
4-6
Number on roster:
2.
Dante Fowler
,
Ronald Powell
.
Comment:
This position also needs to be beefed up quickly, with Powell likely leaving after this year if he has a good season. Some flexibility here, too, because Cox and McCalister could spend time here.
Linebackers
Ideal number:
9-12
Number on roster:
9.
Michael Taylor
,
Matt Rolin
,
Jeremi Powell
, Jarrad Davis,
Neiron Ball
,
Darrin Kitchens
,
Daniel McMillian
,
Alex Anzalone
,
Antonio Morrison
.
Comment:
UF has one bona fide stud (Morrison) and a mix of veteran role players and freshmen. McMillian is a player to watch. He could become a starter by midseason. This is an important position group because it produces a lot of special teams players.
Tight ends
Ideal number:
3-5
Number on roster:
5.
Clay Burton
,
Tevin Westbrook
,
Kent Taylor
,
Colin Thompson
, Trevon Young.
Comment:
A lot of players, but little production so far. Burton, Westbrook and Thompson are mainly blockers, but there's optimism that Thompson can develop into someone who can work the middle of the field.
July, 31, 2013
7/31/13
4:00
PM ET
Schedule:
The Gators being practice on Friday with a split squad schedule. The first group will go at 6 a.m. ET, while the second group will go at 6 p.m. ET. Florida will hold open practice on Aug. 15, 17, 19 and 20. The first day in full pads will be Tuesday, Aug 6.
On the mend:
Quarterback
Jeff Driskel
is expected to miss two weeks after undergoing appendectomy surgery on Tuesday. Hybrid linebacker/defensive end
Ronald Powell
is returning from two ACL injuries that cost him his entire 2012 season. Linebacker
Matt Rolin
(knee) and
Trip Thurman
(shoulder) could be limited during fall practice. Linebacker
Alex Anzalone
should be healed from his spring shoulder injury.
Key battle:
Florida has to find consistent pass-catchers on offense. Junior wide receiver
Quinton Dunbar
stuck out as the top receiver, but there isn't much experience after him. Someone has to step up to be a consistent receiving threat for Driskel. True freshman
Demarcus Robinson
turned some heads this spring, but he has to get more familiar with the playbook.
Latroy Pittman
has to play with the same attitude he had last spring, too. The Gators will also work with four more true freshman receivers this fall. At tight end, the Gators are hoping
Kent Taylor
or
Clay Burton
develop into a real receiving threats, while
Colin Thompson
expands his role beyond being mostly a blocker.
Of note:
Last year, running back Mike Gillislee became Florida's first 1,000-yard rusher (1,152) since Ciatrick Fason in 2004. Florida has never had back-to-back years with 1,000-yard rushers in school history. Sophomore
Matt Jones
replaces Gillislee at running back this fall.
Predicted order of finish at media days:
Picked third in the SEC East at SEC media days.
They said it:
Driskel on what his wide receivers think about being looked down upon heading into the fall: "It's an insult. It really is. That's what they do -- they're football players -- and anytime people say that you're not good at what you do, you're going to be insulted. They've really taken it upon themselves to really improve this year and really prove everyone wrong."
March, 13, 2013
3/13/13
11:35
AM ET
Schedule:
The Gators open spring practice today at 4:30 p.m. ET and will conclude the spring with their annual Orange & Blue Debut on April 6 at 1 p.m. ET inside Ben Hill Griffin Stadium.
What's new:
Defensive coordinator Dan Quinn left to become the defensive coordinator for the Seattle Seahawks. Will Muschamp then promoted D.J. Durkin from linebackers/special teams coach to defensive coordinator. Brad Lawing was hired away from South Carolina to help coach Florida's defensive line and was given the title of assistant head coach. Interim wide receivers coach Bush Hamdan was replaced by former Kentucky head coach Joker Phillips.
On the mend:
Redshirt junior offensive lineman
Chaz Green
will miss all of spring after undergoing ankle surgery following Florida's bowl game. Redshirt junior defensive end/linebacker
Ronald Powell
will also miss the spring while he continues to rehab his ACL injury that he suffered last spring. Redshirt junior offensive lineman
Ian Silberman
is out for the spring, as he recovers from shoulder surgery that he had before the bowl game. Freshman linebacker Matt Rolin is also out, recovering from ACL surgery. Senior offensive lineman
Jon Halapio
(knee scope), senior wide receiver
Solomon Patton
(broken arm), redshirt junior linebacker
Neiron Ball
(ankle) and punter
Kyle Christy
(shoulder) will all be limited this spring.
On the move:
Junior cornerback
Loucheiz Purifoy
will start the first seven practices at the "Z" receiver spot. Redshirt freshman Quinteze Williams moved from defensive tackle to offensive tackle. Sophomore
Antonio Morrison
moved from Will to Mike linebacker, while redshirt junior linebacker
Michael Taylor
has moved from Mike to Will. Redshirt freshman
Rhaheim Ledbetter
moved from safety to fullback. Redshirt junior
Gideon Ajagbe
also moved from linebacker to fullback. Redshirt junior
Cody Riggs
has moved from cornerback to safety, where he's listed as a starter.
Question marks:
Heading into the spring, the biggest questions remain on offense, where the Gators were incredibly inconsistent last year. Workhorse running back
Mike Gillislee
is gone, and while the Gators should feature a stable of running backs this fall, throwing the ball has to improve or this offense will go in reverse. Quarterback
Jeff Driskel
says he's more confident and offensive coordinator Brent Pease expects to open things up more in the passing game, but the Gators also have to get better protection up front and develop some more reliable receivers and replace top target, tight end
Jordan Reed
. Florida's defense has a lot of experienced youngsters, but it won't be easy to replace the production that guys like
Sharrif Floyd
,
Matt Elam
and Jon Bostic had last year. Florida is also looking for someone to replace kicker
Caleb Sturgis
. Redshirt freshman
Austin Hardin
and senior
Brad Phillips
will compete for that spot.
New faces:
Rolin, running back Kelvin Taylor, linebackers Alex Anzalone and Daniel McMillian, defensive lineman Joey Ivie, and wide receiver Demarcus Robinson all enrolled early as true freshmen. Florida also welcomed Nebraska offensive lineman transfer
Tyler Moore
(sophomore) and junior college transfer Darius Cummings (DT). Offensive lineman Max Garica also transferred from Maryland and sat out last season.
Key battle:
Florida has to find a reliable receiving target at either tight end or receiver. The athletic
Kent Taylor
figures to be the favorite at tight end, but he'll have to compete with
Colin Thompson
,
Clay Burton
and
Tevin Westbrook
. At receiver, it's a free-for-all, and there isn't a ton of experience. Purifoy will certainly get his shot, but vets
Quinton Dunbar
and
Andre Debose
have to make significant strides. So does rising sophomore
Latroy Pittman
, who fell off last year after a successful spring. Sophomore
Raphael Andrades
will be back and forth between football and baseball, while Patton will be limited. Keep an eye on Robinson, who was the top receiver in the Gators' 2013 class and is a downfield threat and someone who can be elusive through the middle of the field.
Breaking out:
Florida needs to replace Gillislee, and sophomore
Matt Jones
has already had a solid offseason, according to coaches. He progressed as last season went on and has both speed and strength to work with. The plan is for him to be a 20-plus-carry player this fall. Morrison's role now expands, and after having a very solid freshman year, even more is expected from him now that he's at the Mike. If he improves his coverage ability, he could be a big-time player for the Gators. Also, keep an eye on junior safety
Jabari Gorman
. He covers a lot of ground and isn't afraid to play in the box.
Don't forget about:
Ball and Riggs have dealt with injuries in the past, but as they get healthy, Florida's coaches are excited about what they could do in 2013. Ball will play some Buck and provides Florida with another solid third-down pass-rusher and should help the Gators put more pressure on opposing backfields this fall. Riggs played in just two games last year before fracturing his foot, but he's a very physical defensive back. With his speed, moving to safety should provide him a chance to make more plays in Florida's secondary. He was also the starter at safety when Elam went to nickel last year.
December, 9, 2012
12/09/12
6:07
PM ET
By
GatorNation staff
| ESPN.com
Florida's top-ranked recruiting class picked up two additions over the weekend.
Derek Tyson writes

: The Gators continued their hot streak in recruiting by adding a commitment ESPN 150 linebacker
Matt Rolin
(Ashburn, Va./Briar Woods) on Sunday afternoon. Rolin was committed to South Carolina.
Tyson writes

: Massive offensive lineman
Trenton Brown
(Albany, Ga./Georgia Military College) verbally committed early Sunday. Brown, a former Georgia commit, chose Florida over Oklahoma and Florida State.
Read more about Florida in
GatorNation
.