December, 19, 2014
Dec 19
12:00
PM ET
BATON ROUGE, La. -- Fullback is a disappearing position in the NFL.
Connor Neighbors
understands this reality.
That's why LSU's senior fullback is less concerned about his positioning for the NFL draft than he is about finding a pro team that still uses players with his skillset in this era of wide-open offensive schemes.
[+] Enlarge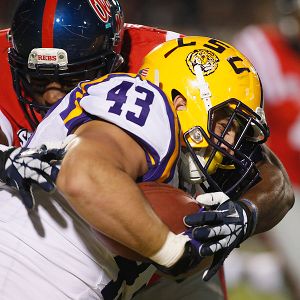 AP Photo/Rogelio V. SolisLSU's Connor Neighbors is hoping a trip to the Senior Bowl in his home state of Alabama can help match him with an NFL team in need of a fullback.
"I don't really care about the draft," Neighbors said. "If I get drafted, that's fine. I just want to have a chance to play on a team. And I'm a football player, too. I can play special teams. I can do all that stuff. So as long as I have a chance and I seize the opportunity and make a team, that's all I really care about."
His recently accepted invitation to participate in the Senior Bowl all-star game shows that scouts believe Neighbors has the makings of a pro fullback. But Neighbors is smart to hedge his bets on becoming an actual draft pick.
Since 2007, when a whopping nine fullbacks came off the board in the draft, the number of players drafted from Neighbors' position has dwindled. In each of the last three drafts, only three fullbacks have been selected. And in the last five years, a total of 16 fullbacks came off the board.
ESPN draft analyst Mel Kiper Jr. and NFLDraftScout.com both rate Neighbors as the No. 5 fullback prospect in the upcoming draft, which indicates that becoming a late-round pick or undrafted free agent might be Neighbors' most likely path to an NFL roster.
If he goes the undrafted free agent route, Neighbors will have to find a club that makes use of his position -- and he admits he has been paying attention to where he might be a good fit.
"Ever since I moved to the position, when I've watched football, I've seen that," Neighbors said. "I know that a lot of teams, they have a package for [fullbacks]. Not everyone, NFL teams, they don't really use it that often. ...
"Tennessee uses one. [Former LSU quarterback and current Titans rookie
Zach Mettenberger
is] trying to get me to go there. He's like, 'How awesome would it be?' if I was there. That would be tight," Neighbors continued. "I know Atlanta uses one. Green Bay, they use one -- and they give him the ball -- so that would be tight if I went there. I try not to worry about that stuff, though, because I can't determine the outcome except with my play."
His performances in the Senior Bowl practices can help. Scouts flock to observe the game-week practices each year in order to see many of the nation's top senior prospects go head to head. For a player with three career carries for 6 yards and 11 career receptions for 119 yards, this is a good chance for Neighbors to show them that he can handle the ball, as well as block and cover kicks.
"I heard it's a pretty intense week, so we'll see what happens," Neighbors said.
Neighbors has a first-hand source who can attest to that intensity. His dad, Wes, played in the Senior Bowl in 1987 after an All-SEC career at Alabama. His late grandfather Billy, a College Football Hall of Famer, was an All-American at Alabama and played in the game in 1962.
Since the Senior Bowl is played in Neighbors' home state of Alabama -- in Mobile -- friends and family won't have far to travel to see him become the third Neighbors to compete in the game. And Neighbors expects plenty of them to show up for his final college game.
"That's what my dad said," Neighbors said, "so I've got to play good so I don't embarrass anybody."
December, 12, 2014
Dec 12
8:00
AM ET
1. The postseason recognition keeps rolling in for Alabama's
Amari Cooper
and Missouri's
Shane Ray
. They were among five SEC players (along with Alabama's
Arie Kouandjio
and
J.K Scott
and Ole Miss'
Senquez Golson
) named to
USA Today's first-team All-America roster
on Thursday. Three more SEC players (LSU's
La'el Collins
, Alabama's
Landon Collins
and Ole Miss'
Robert Nkemdiche
) made the second team. Cooper and Ray have already won multiple All-SEC and conference offensive and defensive player of the year awards, respectively. On Saturday, Cooper will learn whether he won the biggest award in the sport, the Heisman Trophy. He's up against Oregon's
Marcus Mariota
and Wisconsin's
Melvin Gordon
. Cooper and Ray are both considered to rank among the NFL's top draft prospects, should they skip their final seasons of eligibility. Ray's big season
pushed him up draft boards
, and Alabama offensive coordinator Lane Kiffin recently said he
expects Cooper to enter the draft
, where he would likely be the first receiver selected.
2. Which side of the ball is the best fit for
Nick Marshall
? That was a question when he started his college career – Georgia used him at cornerback as a freshman before he eventually wound up at Auburn and became a star quarterback – and it's a question now. ESPN draft analyst Mel Kiper Jr. said on a conference call Thursday that
he views the super-athletic Marshall as a defensive back prospect
in the NFL. Marshall said earlier this year that he
wants to try to play quarterback in the pros
, but has said more recently that he's
open to changing positions
.
3. This was a tough year to determine the most deserving candidate for the SEC's coach of the year award, but Missouri's
Gary Pinkel was the pick among his peers
. He's certainly got a strong case, having led the Tigers to a 10-3 record and a second straight SEC East title. Ole Miss' Hugh Freeze and Mississippi State's Dan Mullen also made strong arguments this season.
The Associated Press and Athlon handed Mullen the SEC's top coaching honor
, for instance, and he's also a finalist for the
Maxwell Football Club's national coach of the year award
. Obviously Alabama's Nick Saban belongs in the conversation, as well, although he seems to be penalized somehow for winning big so consistently. Nonetheless,
Pinkel's not a bad choice
. It's tough to argue with the coaches themselves.
Around the SEC
" The Atlanta Journal-Constitution's Michael Carvell wrote that Alabama coach Saban urged Georgia commit Jonathan Ledbetter to
make a "business decision"
when deciding whether to sign with Alabama or UGA.
" Wisconsin's former coach and current athletic director Barry Alvarez
will serve as interim coach
when the Badgers face Auburn in the Outback Bowl.
" Nebraska's
Courtney Love
and
Greg Hart
are expected to
transfer to Kentucky
for the spring semester.
" Arkansas and Texas
traveled similar paths
in order to face each other in a bowl game.
Tweet of the day
With a number of underclassmen declaring for the 2015 draft, I thought I would post some stats from @TroyVincent23 pic.twitter.com/u3WAjuPwpz

— Bucky Brooks (@BuckyBrooks) December 11, 2014
December, 11, 2014
Dec 11
8:00
AM ET
1. The race to replace senior Bo Wallace as Ole Miss' quarterback just got a bit more interesting. ESPN JC50 prospect Chad Kelly
committed to the Rebels on Wednesday
, and the former Clemson backup will have two years to play two at Ole Miss. With Wallace, a three-year starter, leaving the team after the 2014 season, the Rebels had a huge question at quarterback for 2015. DeVante Kincade, Ryan Buchanan and Kendrick Doss are all freshmen with
limited game experience at best
. Kelly adds a veteran presence to the group, having played in five games at Clemson in 2013, and he
might become an immediate frontrunner

to claim the job once he arrives on campus.
2. It probably won't come as much of a surprise that three of the five FBS assistant coaches who make more than $1 million per year reside in the SEC: Alabama's Kirby Smart and LSU's Cam Cameron and John Chavis. This according to
USA Today's assistant coach salary database
that it published on Wednesday. Not surprisingly, the SEC also had three of the top four highest-paid coaching staffs (LSU, Alabama and Auburn) and six of the top 13 (adding Texas A&M, South Carolina and Georgia). Take a look. They also have a database for
head coaches
(eight SEC coaches are in the top 20, led by Alabama's Nick Saban) and a multiple-byline feature on assistants like Dennis Erickson and Greg Robinson
who now make a comfortable living
after once serving as head coaches.
3. The Jacobs Blocking Trophy -- which goes to the player selected by the SEC's coaches as the league's top blocker -- is one of the conference's oldest awards.
LSU's La'el Collins won the award
on Wednesday, joining a list of
dozens of winners
who wound up playing in the NFL. Collins could already be doing that if he wanted. It was an option after he earned All-SEC honors as a junior, but unlike many of his teammates in recent seasons, Collins opted to play his senior season at LSU. It seems to have been a wise decision.
Several publications
have covered
this territory already, but with college football's underclassmen preparing to make their announcements on whether they will make early jumps to the pros, Collins serves as a good reminder of how players who return can sometimes help their cause. Because of an outstanding senior season, Collins will almost certainly be a much wealthier man for having waited than he would have been had he entered the 2014 draft. ESPN's
Mel Kiper Jr.

and
Todd McShay

both include Collins among their top 27 overall prospects. That leap doesn't happen for every draft prospect who stays, but it's a nice story -- and it's a valuable lesson for players who are in similar positions this year.
Around the SEC
" More all-conference honors went out on Wednesday, with the SEC's coaches naming
their individual award winners
and Athlon Sports posting
its All-SEC team
.
" With defensive coordinator D.J. Durkin preparing to coach Florida's bowl game, the Gainesville Sun's Pat Dooley examines
how interim coaches have fared
in the past with the Gators.
" The Lexington Herald-Leader's Jennifer Smith explores whether Kentucky's six-game losing streak to end the season
will hurt the Wildcats
on the recruiting trail.
" Tennessee coach Butch Jones' new contract extension
increases his buyout to $4 million
should he choose to leave before March 2016.
Tweet of the day
Pleasant surprise seeing Coach Richt in the locker room after practice today. @footballuga... http://t.co/kZqTYXhg5f

— Thomas Davis (@TD58SDTM) December 10, 2014
November, 19, 2014
Nov 19
11:00
AM ET
BATON ROUGE, La. --
La'el Collins
could be cashing NFL paychecks right now, but LSU's senior left tackle said he does not regret returning for his senior season. He soon could have reason to feel good about becoming one of the rare Tigers to put off the pros when becoming an underclassman draft pick was a legitimate possibility.
LSU coaches Les Miles and Frank Wilson both predicted recently that Collins could become a first-round pick in the 2015 NFL draft. And multiple draft analysts seem to agree.
"I think he's a dominant player in a dominant league," Miles said. "I think he looks and can defend himself at the left tackle and left guard spot. Anytime you start looking at guys that can play left guard and tackle, that's pretty strong stuff.
"The point is is what guys need and how they fit. A guy that can play left tackle and left guard, or a guy that is certainly a left tackle or a left-side guy, it just really increases his worth."
One of Collins' stated goals in returning for another year was to prove that he could play left tackle in the pros. He'd shifted there from guard in 2013 and wanted to prove he could handle either spot in the NFL in order to maximize his earning potential.
Collins believes he has done that this fall, when he has been one of the most consistent performers on the team.
"I feel like I kind of established that I can play tackle on the next level, but hey, wherever a team wants to play me at, that's what I'm willing to do," Collins said. "So it doesn't even matter to me. But just the ability to be able to play inside and outside is always a great thing, and right to left side doesn't even matter to me.
"I just try to continue to get better where I'm at right now, though, and that's left tackle. I'm just going out and working hard and just trying to make sure I can get everything that I can out of playing this position."
Apparently Collins and his coaches are not alone in that opinion.
Had he jumped to the pros after his junior season, Collins seemed likely to be selected late in the first round or in the middle rounds of the draft. However, the most recent prospect rankings from NFLDraftScout.com, ESPN's Scouts Inc. and ESPN's Mel Kiper Jr. all include Collins among the top 20 players.
"I believe he's played tremendously, especially compared to last year," right tackle
Jerald Hawkins
said. "He just seemed to upgrade his game, especially being with Coach [Jeff] Grimes."
The newest rankings from Scouts Inc. and Todd McShay rank Collins as the No. 16 overall prospect and No. 3 offensive tackle in the upcoming draft class. Collins said he has already been invited to participate in two postseason all-star games, including the Senior Bowl, although he had not accepted an invitation as of last week.
"I just kind of take it one week at a time, especially now," Collins said. "I definitely know in the future I'm going to have to take on everything that's coming my way, but I'm just taking it and just trying to embrace my last couple of weeks that I have here and just enjoy it, enjoy it with my teammates."
His time at LSU is winding toward its conclusion. After last Saturday's loss at Arkansas, LSU is 7-4 and far out of the conversation for the SEC title Collins hoped to claim when he decided to play one more college season. He has two games left as a Tiger: the regular-season finale at Texas A&M on Thanksgiving night and what will be a mid-level bowl game.
That is far from what Collins envisioned, and yet he will be richer -- figuratively and financially -- for having spent one more season at LSU. Collins believes his time spent with first-year offensive line coach Grimes has benefited him, and he seems to treasure having played a full college career at his hometown college.
"I've been just overwhelmed with falling in love with this place. Ever since I got here, it was always just a great place for me," Collins said. "LSU has just been nothing but good for me. I love the program, I love my coaches, I've learned a lot this year.
"So by me learning so much this year, it really made me realize, 'Wow, I really wasn't ready to move onto the next level.' So that's why I never really can think about it."
July, 30, 2014
Jul 30
9:00
AM ET
As we get set to open fall camps around the SEC, we're counting down the
conference's Top 25 players
-- five per day all this week.
15. Laremy Tunsil, OT, Ole Miss
It's unusual for a true freshman offensive tackle to start in the SEC. And it's highly irregular for him to dominate. That is what Tunsil did for a good portion of last season, surrendering just one sack all fall while making nine starts. As if his second-team All-SEC designation in 2013 didn't make this clear, Tunsil is a special talent -- and his rise will only continue now that he has a full season under his belt.
14. A.J. Cann, OG, South Carolina
NFL draft expert Mel Kiper Jr. ranks Cann
second among senior offensive guard prospects to watch in next year's draft

[Insider], noting that Cann's pairing with left tackle
Corey Robinson
should give the Gamecocks one of the best left sides in college football. South Carolina hasn't produced many NFL-caliber offensive linemen in recent years, but this Gamecocks line will be an exception, and Cann's veteran presence will be one of the leading reasons for that change.
13. Benardrick McKinney, LB, Mississippi State
Speaking of Kiper's 2015 prospect rankings, he has the 6-foot-5, 245-pound McKinney
first among underclassman inside linebackers to watch this season

[Insider]. The redshirt junior ranks among the SEC's top breakout candidates after racking up 173 tackles and 11.5 tackles for a loss in his first two seasons. The Bulldogs are a popular dark-horse pick in the SEC West thanks in part to what could be a feisty defense with McKinney as one of its top playmakers.
12. Cody Prewitt, S, Ole Miss
After becoming the first Rebels safety in 40 years to be named a first-team All-American, Prewitt will accomplish something truly historic if he's able to go back-to-back. He clearly has the skill set to do it after leading the SEC and ranking seventh nationally with six interceptions in 2013. Prewitt possesses not only the ball skills that produced all those picks but also a hard-hitting style that makes him one of the SEC's top all-around defensive backs.
11. La'el Collins, OT, LSU

The versatile Collins returned for his senior season to prove himself as a left tackle -- he shifted there last season after starting every game at left guard as a sophomore -- and Tigers coach Les Miles predicted that he will do just that. Collins will combine with mammoth left guard
Vadal Alexander
to give LSU a dominant run-blocking combination on the left side -- an advantage that freshman
Leonard Fournette
and his backfield mates probably can't wait to exploit.
April, 24, 2014
Apr 24
12:00
PM ET
February, 20, 2014
Feb 20
11:45
AM ET
BATON ROUGE, La. – The NFL draft combine has begun, and LSU is well represented with 11 former Tigers on the list of invited players.
Here's a look at the Tigers who are scheduled to be in attendance and when their position groups will take the field for workouts in Indianapolis.
Saturday: Tight ends, offensive line, special teams
Trai Turner
will be the first Tiger to take the stage. The right guard surprised some by entering the draft after his redshirt sophomore season. This is his chance to prove that decision wasn't a mistake. If Turner shows up in good shape and excels in the workouts and positional drills, perhaps he can work his way up some teams' draft boards.
Sunday: Quarterbacks, running backs, wide receivers
This is the showcase day for LSU talent, with five former Tigers set to take the field for workouts. Quarterback
Zach Mettenberger
would have made it six, but he is still rehabilitating an ACL tear suffered in LSU's Nov. 29 win against Arkansas.
[+] Enlarge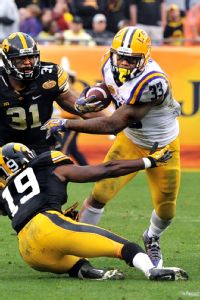 Al Messerschmidt/Getty ImagesAt the NFL combine, Jeremy Hill will try to prove any off-the-field issues are in the past.
Nonetheless, tailbacks
Jeremy Hill
and
Alfred Blue
, fullback
J.C. Copeland
and receivers
Jarvis Landry
and
Odell Beckham
are scheduled to participate in workouts on Sunday, so the NFL Network announcers should spend plenty of time talking Tigers.
Hill is one of the more intriguing running backs in the draft because of his physical abilities, but his off-the-field issues will probably come up, as well. Hill will be fine in the workouts. The most important part of his trip to Indy won't air on television. He must satisfy at least one team that his disciplinary issues are behind him and that he can be a reliable professional. Performing well in these job interviews is essential for a player with a checkered past.
Meanwhile, it wouldn't be much of a surprise to see Blue perform well in the drills and positional workouts and elevate his draft stock. He was overshadowed by Hill at LSU, but Blue has the tools to be an NFL player and he might just emerge on some radars if he's healthy and has an impressive afternoon.
Landry can help himself with a solid time in the 40-yard dash, should he choose to run in Indy. Dependable hands are his best asset, but he will wear the possession receiver label unless he surprises scouts by flashing some top-end speed. ESPN analyst Mel Kiper Jr. wrote this week that a strong combine workout might help Landry work his way into the first round. Conversely, Beckham could help his cause by catching the ball consistently and displaying some polished route-running skills. He's electric with the ball in his hands – and ESPN's Todd McShay is hyping him as one of the draft's fastest prospects – so his biggest hurdle is proving that he's more than a raw athlete.
Monday: Defensive linemen, linebackers
All three of LSU's Monday participants – defensive linemen
Ego Ferguson
and
Anthony Johnson
and linebacker
Lamin Barrow
– have something to prove to NFL scouts.
At 6-foot-1 and 230 pounds, Barrow is not the biggest guy in the world, so most teams likely view him as a situational linebacker and special-teams performer instead of an every-down player. He's athletic and has some intangibles that will probably help him interview well, but he needs to flash some physical tools during the workouts that might help him stand out a bit more.
On the other hand, Johnson and Ferguson should excel in the workouts. After all, Johnson's nickname is "Freak" and he possesses the raw athleticism to back up the hype. The problem for both players is that scouts question their motors. They look the part, but must convince teams that they can refine their games and become more consistent performers at the pro level than they were in college.
Tuesday: Defensive backs

Craig Loston
closes out LSU's long list of combine participants when he competes with the defensive backs on the final day of workouts. Loston projects as an inside-the-box safety who is best as a hitter and run stopper. He was a bit brittle in college, which might affect his draft stock, but Loston can probably help his cause in Indy by flashing some fluidity and ball skills during the defensive back drills. If teams determine he can play coverage the way he can run and hit, Loston will rise as a prospect.
October, 18, 2012
10/18/12
3:00
PM ET
By
ESPN.com staff
| ESPN.com

Mel Kiper Jr. and Todd McShay discuss how many SEC teams will be in the BCS title game, the possibility that Alabama could lose a game, and who should be on upset alert.
December, 9, 2011
12/09/11
4:30
PM ET
By
ESPN.com staff
| ESPN.com
ESPN NFL Draft Insider Mel Kiper Jr.
says the race for the Heisman Trophy is wide open. Plus,

Kiper explains where each Heisman candidate falls on his Big Board.
SEC SCOREBOARD
Saturday, 12/27
Saturday, 12/20
Monday, 12/22
Tuesday, 12/23
Wednesday, 12/24
Friday, 12/26
Monday, 12/29
Tuesday, 12/30
Wednesday, 12/31
Thursday, 1/1
Friday, 1/2
Saturday, 1/3
Sunday, 1/4
Monday, 1/12
Tweets from https://twitter.com/ESPNCFB/lists/sec