August, 29, 2012
8/29/12
3:00
PM ET
ATHENS, Ga. -- As crazy as it might seem,
Jarvis Jones
believes he can become a much more consistent performer this season.
[+] Enlarge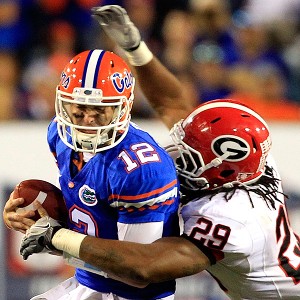 Sam Greenwood/Getty ImagesFocusing on the pass rush led Jarvis Jones to rack up 13.5 sacks in 2011.
Why, after being named a first-team All-American and leading the SEC with 13.5 sacks and 19.5 tackles for loss, might he believe that? Because last season was the first time in his career when his primary duty was to chase down quarterbacks.
Let that sink in for a moment. The most effective pass-rusher in the nation's top defensive conference was learning on the job last season, having never played a pass-rushing position at any point in his football career. So instead of leaving school early to become a likely NFL first-round pick, Jones returned to Georgia to become a more well-rounded player.
"I think what a lot of people didn't notice, this year was my first year being a pass-rusher, so I think a lot of everything that I did experience was my first time experiencing," Jones said. "So that's why I said I wanted to come back to school and work on everything, mature more and be a better pass-rusher and be consistent."
His offseason objective was to refine his technique and learn the small things outside linebackers typically learn at a younger age. Jones and defensive coordinator Todd Grantham knew that he needed to make those adjustments, because he won't sneak up on anybody this season. Opposing offenses will most certainly game plan specifically to neutralize Jones' pass-rushing skills.
May, 11, 2012
5/11/12
9:00
AM ET
A lot of votes were cast and it came down to the wire, but the fans have spoken and South Carolina has
won the poll battle of the defenses
.
With nearly 12,000 votes cast, South Carolina barely claimed first place with 24 percent of the vote. Alabama was second with 23 percent, while LSU grabbed 21 percent. Georgia got 13 percent of the vote while the category of "Other" received 19 percent.

South Carolina is a solid pick when you look at who returns. Defensive ends
Jadeveon Clowney
and
Devin Taylor
are back alongside tackle
Kelcy Quarles
. Clowney and Taylor combined for 20.5 tackles for loss and 14 sacks. Quarles really progressed as the season went on and provided a nice big, disruptive body against the run.
Veterans return at linebacker, with seniors
Shaq Wilson
and
Reginald Bowens
in the middle and
DeVonte Holloman
is back at the Spur, where he's at his best. Seniors
D.J. Swearinger
(safety) and
Akeem Auguste
(cornerback) are back in the secondary, as well.
Most of the questions for this defense lie in the secondary, with sophomores-to-be
Victor Hampton
(cornerback) and
Brison Williams
(safety) expected to start this fall. Williams collected a start against Florida last year, while Hampton did most of his damage on special teams. Expect offenses to key in on them early.
At this moment, I'd have to go with LSU. The Tigers return one of the best defensive lines in the country, with two potential first-rounders in ends
Barkevious Mingo
and
Sam Montgomery
. And LSU's staff is very excited about what
Bennie Logan
and
Anthony Johnson
can do at the tackle spots. This line should be the strength of this team and it will make it hard to run and throw on the Tigers. It'll take pressure off the linebackers, which lose two starters.
The secondary loses Morris Claiborne and Brandon Taylor, but the Honey Badger (
Tyrann Mathieu
) is back and so is
Eric Reid
, who might be the league's top safety. Keep an eye on
Tharold Simon
at cornerback. He should be a solid cover corner this fall.
Alabama is down a handful of starters from last year, but don't think that will send this unit into a tailspin. Defensive tackle
Jesse Williams
is an animal and linebackers
C.J. Mosley
,
Nico Johnson
and
Adrian Hubbard
aren't slouches by any means. Yes, the secondary is a little green, but corner
Dee Milliner
and
Robert Lester
should help provide some stability. JUCO standouts Deion Belue and Travell Dixon impressed this spring and youngsters
Vinnie Sunseri
and
Ha'Sean Clinton-Dix
look ready to be big contributors.
And with nine starters returning for Georgia, the Bulldogs should have another solid defensive squad this fall. There has to be some worry with four starters suspended for the beginning of the season, but at full strength, this defense will be a handful, especially with one of the best linebacking corps in the country that includes All-American
Jarvis Jones
, speedster
Alec Ogletree
and work horse
Michael Gilliard
. Once
Bacarri Rambo
,
Sanders Commings
,
Shawn Williams
and
Branden Smith
are all back and together, Georgia's secondary will be potent.
May, 10, 2012
5/10/12
11:30
AM ET
ATHENS, Ga. -- Complacency is always a concern when bringing back a top-rated team or unit. Players can't hide from the fact that they're good and everyone around them will make sure they know it and make sure they remember what they did.
Georgia defensive coordinator Todd Grantham doesn't want his defense, which ranked fifth nationally in 2011, to forget either. But it's
what
he doesn't want his players to forget that has this unit ready to pick up and surpass last year's success.
"You don't let guys forget where they came from," Grantham said. "Don't let guys forget what got them there and you build from there."
That's why Grantham is making sure he gets back to the basics with his players. We're talking hustling to the ball, right form and playing physical basics. Every year, his plan has always been to go right back to simple fundamentals.
[+] Enlarge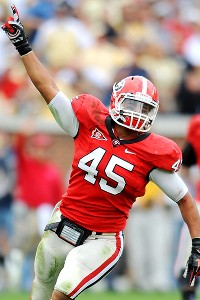 Radi Nabulsi/ESPN.comChristian Robinson says this defense has the makings of being one of the best ever at Georgia.
Losing those loses a defense.
"To me, you break it down into five phases and you go back every year and you start over," Grantham said.
Five phases:
Pre-spring workouts

Spring practice

Summer workouts

Fall camp

Regular season
Fundamentals 101 comes in right when spring ball starts. Proper footwork is harped on. Correct field placement is set up over and over. The right tackling technique is perfected … and then perfected again.
In order to combat complacency, the same motions run by All-American linebacker -- and sack master --
Jarvis Jones
are run by wide-eyed nervous freshmen. The goal is to have the older guys pick things up quickly and then assist the youngsters. Grantham wants his players to get better individually, but then focus on improving the team as a whole from the ground up.
That's why Grantham thinks his defense was much better in 2011. Fundamentals made that group even more comfortable in Grantham's 3-4 and helped it evolve as the season progressed. The Bulldogs allowed 277.2 yards per game (51 yards less than 2010), forced 32 turnovers and recorded 100 tackles for loss for minus-439 yards.
"Yeah, we knew our system better, but I thought we were a more mentally and physically tough team and we played defense the way you're supposed to play it -- physical and aggressive," Grantham said. "When you're all on the same page and speaking the same language, those things can happen."
This spring, players bought right into what Grantham preached. Rising senior linebacker
Christian Robinson
said no one seemed concerned about being content. He said players looked at what they
didn't
do last year as a spark for the spring. Players dwelled on the 35 points given up to Boise State, the 45 to South Carolina, the 42 to LSU and the 33 to Michigan State -- all losses.
Even when players felt good, Robinson said coaches directed them to video screens to bring them down a notch.
"We're not perfect, so when we go in our meeting rooms we watch the tape and there are always things to get better at," Robinson said.
And if film work doesn't help, coach Mark Richt can cut into the confidence when needed.
"You're really not a great defense until you play great and we haven't done that in 2012," he said. "We haven't had a chance to do that yet. There's an anticipation of having a chance to be pretty good if everybody keeps it together, stays healthy and does their part."
One humbling thought is that Georgia will be without four key starters suspended early for poor off-field behavior. The secondary takes the biggest hit with All-American safety
Bacarri Rambo
and cornerbacks
Branden Smith
and
Sanders Commings
out. Inside linebacker
Alec Ogletree
is also suspended.
Grantham and his players agree that while they're disappointed in the boneheaded decisions made, they aren't dwelling on the situation. Grantham used it as an opportunity to create better depth by inserting younger players. He's no stranger to changing lineups, as he had 11 different ones in 14 games in 2011.
He also received a boost when star wide receiver
Malcolm Mitchell
moved to corner. He should start the season on defense.
Richt hopes this turns into a situation like last year when linebackers
Michael Gilliard
and
Amarlo Herrera
stepped up when Robinson and Ogletree were injured. It also gives coaches a chance to cross train players more, something Grantham prides himself on. (Look at safety
Shawn Williams
playing linebacker last year).
Earlier this spring, Jones proclaimed that Georgia had the nation's best defense. Time will tell on Jones' statement, but after going through the spring motions, at least one of his teammates sees where Jones is coming from.
"We have an opportunity to do something special, as a defense and as a team," Robinson said. "If we go out and do what we know and what we've learned, we could be one of the best ever to play at Georgia."
February, 8, 2012
2/08/12
1:05
PM ET
We move to linebackers today in our postseason position rankings.
Defensive lines are very important in this league, but there are other guys in the box who have to be pretty reliable as well in this league. This league has done a pretty solid job of producing some top talent at this position as well.
You can see what are preseason linebacker rankings looked like
here
.
And here are our postseason rankings:
[+] Enlarge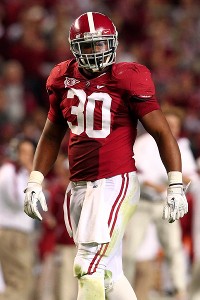 Marvin Gentry/US PresswireDont'a Hightower had career highs in tackles (79), sacks (3.0) and interceptions (1) this season.
1. Alabama:
This unit was at the top of our preseason rankings and didn't budge throughout the season. When you have two All-Americans in Courtney Upshaw, who was the defensive MVP in the Allstate BCS National Championship Game, and Dont'a Hightower it's pretty understandable to see why. Those two combined for 136 tackles, including 29 for loss. Nico Johnson was fourth on the team in tackles, while C.J. Mosley added 37 of his own. Alabama's defense was first nationally in total defense and first in rushing defense, allowing 74.2 yards per game.
2. Georgia:
Linebackers are essential to any 3-4 defense, and the Bulldogs' group did quite well in 2011. Georgia ended up with one of the nation's best linebackers in Jarvis Jones, who led the SEC with 19 tackles for loss and 13.5 sacks. He also had 49 quarterback hurries. Michael Gilliard was third on the team behind Jones with 65 tackles. While Alec Ogletree missed part of the first half of the season, the speedster still finished with 52 tackles, including 7.5 for loss. Cornelius Washington, Amarlo Herrera Christian Robinson combined to add 101 more tackles, as Georgia's defense ranked fifth nationally.
3. Arkansas:
Arkansas' defense had a lot of bend in it last season, but the linebackers found ways to make plays. Newcomer Alonzo Highsmith was third on the team with 80 tackles, led with 12.5 tackles for loss and had 4.5 sacks. The star continued to be Jerry Franklin, who led the team in tackles (101) for the fourth straight year. Then there was Jerico Nelson, who was all over the field as that hybrid linebacker/safety. He came away with 70 tackles, two sacks and two interceptions. Ross Rasner, who played outside with Nelson, added 53 more tackles and two sacks.
4. Florida:
The Gators' defense ranked eighth nationally in part because of the aggressive play of its front seven. Jon Bostic commanded the middle, leading the team with 94 tackles, including 10 for loss. Jelani Jenkins seemed to come more into his own outside, finishing third on the team in tackles. The big surprise was Lerentee McCray, who played both Sam linebacker and the hybrid Buck. He was one of Florida's most active linebackers and grabbed 7.5 tackles for loss. Ronald Powell started at the Buck, but saw most of his production from defensive end.
5. Vanderbilt:
The Commodores entered the season needing to replace three starting linebackers and ended the year with a very impressive linebacking corps. It was led by vet Chris Marve, who was 10th in the league in tackles. Archibald Barnes had a solid year at the Will, ranking fourth on the team in tackles and grabbing two interceptions. Chase Garnham and Al Owens manned the Sam position and combined for 72 tackles and 7.5 tackles for loss. Against conference foes, Vandy's rush defense ranked fourth in the league.
6. LSU:
The Tigers were in search of that dominant middle linebacker all season and might have found a budding star in Kevin Minter, really grew into the position by the end of the season and was fifth on the team in tackles. He started 11 games, but shared time with Karnell Hatcher, who finished with 24 tackles. Ryan Baker was LSU's best linebacker, was an outstanding leader and was fourth on the team with 64 tackles. Stefoin Francois was the starter at Sam, but he accumulated just 11 tackles, while backup Tahj Jones registered 27. Still, LSU owned the No. 2 national defense.
7. South Carolina:
The Gamecocks saw improvement from this group as the season went on. While the defensive line got a ton of credit, the linebackers did their part in securing the defense's No. 3 national ranking. Antonio Allen spent some time in the box at the Spur position and led South Carolina with 88 tackles and had 9.5 for loss. Rodney Paulk and Shaq Wilson, who returned from injury, rotated at the Mike and combined for 109 tackles. Will linebacker Reginald Bowens added 44 tackles.
8. Kentucky:
The Wildcats owned the SEC's top tackler in Danny Trevathan (143), who should have received more national attention. Trevathan was one of the most active defenders around at the Will. Winston Guy played the hybrid linebacker/safety and was third in the SEC with 120 tackles. Ronnie Sneed added 71 more tackles. Kentucky's defense was much more aggressive under new defensive coordinator Rick Minter and got more exotic looks from its linebackers.
9. Mississippi State:
Cameron Lawrence was a beast for the Bulldogs in 2011. He was second in the SEC with 123 tackles, and had 49 solo. Senior Brandon Wilson added 94 more tackles. Brandon Maye, who transferred from Clemson, was expected to make a bigger impact for the Bulldogs, but played behind Wilson and was 11th on the team in tackles. Sophomore Deontae Skinner added 69 tackles and Mississippi State ranked in the bottom half of the SEC in total defense.
10. Tennessee:
The Vols' top three tacklers were linebackers. The leader was senior Austin Johnson, who finished the season with 81 tackles, including 41 solo. Next were two true freshmen on the outside in A.J. Johnson (80) and Curt Maggitt (56). Both freshmen experienced up-and-down seasons, but were SEC All-Freshman selections. Herman Lathers, who was a projected started, missed 2011 with a fractured ankle, and after the big three, the Vols didn't get a ton out of their linebackers, as Dontavis Sapp was their next most productive linebacker with 20 tackles.
11. Auburn:
The Tigers' defense really struggled in 2011 and gave up more than 200 rushing yards a contest. Auburn had to basically start over at linebacker, but lone returning starter Daren Bates had a heck of a year, ranking fourth in the league with 104 tackles. He really tried to make sure he played all over the field last fall. After that, the play was up-and-down. Senior Eltoro Freeman took over in the middle halfway into the year and finished with 58 tackles, while Jake Holland and Jonathan Evans combined for 83 tackles.
12. Ole Miss:
The Rebels' defense had all sorts of problems defensively, including allowing 256.5 yards per game and 21 rushing touchdowns. The linebackers took a major hit with the absence of D.T. Shackelford, who missed the season with a knee injury. Mike Marry stepped up at the Mike and led Ole Miss with 81 tackles and five for loss. Freshman Serderius Bryant and junior Joel Kight combined for 122 tackles. Damien Jackson played the Spur and added 64 tackles, but Ole Miss' defense ranked dead last in the SEC.
December, 3, 2011
12/03/11
7:01
PM ET
ATLANTA -- Georgia linebacker Michael Gilliard won't be returning to Saturday's game.

Gilliard injured his right ankle in the first half and is down on Georgia's sideline using crutches.

Losing Gilliard is a big hit to the Bulldogs' defense. He's really been coming on this season and with LSU starting to run the ball better, the Bulldogs will miss his presence on defense from here on out.
December, 1, 2011
12/01/11
12:15
PM ET
Checking out the SEC with some Thursday links.
August, 11, 2011
8/11/11
10:45
AM ET
GEORGIA:
Georgia's football team trekked out to Sanford Stadium in full pads Wednesday morning for a two-hour scrimmage.

Most of the questions surrounding this team during the preseason revolve around the offensive line and running backs, but coach Mark Richt seemed to be pleased with how both units performed under the hot summer sun.
"I thought the running backs ran well," said Richt. "They have a physical edge to them, and it was good to get out there in the scrimmage and see that. I feel better about how we will be able to run the football after seeing our backs today and how the offensive line and tight ends blocked."
Running back Isaiah Crowell, the jewel of Richt's 2010 recruiting class, was one of the most productive players during the scrimmage, rushing for 84 yards and a touchdown on 13 carries. Behind him, junior
Richard Samuel
, who moved from linebacker back to running back during the offseason, carried the ball 11 times for 82 yards.
However, the defense still stood out to Richt.
"In the first half, the offense had very little success as we defended well," he said. "In the second half, we ran more situational plays, and the offense had more success, like in the red zone. However, the number one defense had a very good goal line stand at the end."
Sophomore linebacker Alec Ogletree, who moved from safety this spring, had a team-high eight tackles, while fellow linebackers Michael Gilliard and Amarlo Herrera both registered seven. Herrera also drew praise for his 65-yard fumble return for a touchdown.
Outside linebacker Jarvis Jones showed off his tremendous pass-rushing skills by recording a team-high three sacks to go along wit his six tackles.
You can check out more stats from the scrimmage on Georgia's
official website
and here are some notes from
The Athens Banner-Herald
and
The Atlanta Journal-Constitution
.
AUBURN:
The defending champs also completed a scrimmage out in the midday heat Wednesday. Auburn ran a 70-plus-play scrimmage inside Jordan-Hare Stadium, and coach Gene Chizik was pleased with some of the big plays made by the offense.

"We did some good things today on both sides of the football," Chizik said. "The offense was able to generate a few explosive plays and conversely, the defense was able to force some turnovers and do some good things."
There were no stats from Wednesday's scrimmage, but tight end
Philip Lutzenkirchen
said the offense had more points. Also, quarterbacks
Barrett Trotter
,
Clint Moseley
and Kiehl Frazier split reps just about evenly.
Moseley confirmed to the media that he threw a touchdown as well.
"Today was fast and it was physical and it was hot," Chizik said. "I thought they handled it well. Overall the effort was good. It will be our first good evaluation with good, live reps. This will be a good teaching tape."
Here is more info from Auburn's
official website
and here are some
notes
and more notes
here
.