July, 10, 2014
Jul 10
12:00
PM ET
Football season is getting closer and closer. Can you feel it? Wednesday's
announcement of players who will be attending SEC media days
-- which begins on Monday in Birmingham -- is just another sign of how close we really are to the start of college football. For more to whet the appetite, here are today's lunch links:
October, 15, 2013
10/15/13
8:00
PM ET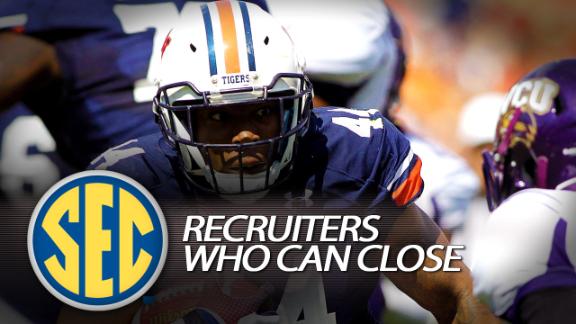 Editor's note: For a look at the national recruiter power rankings based only on Class of 2014 success,
click here
.
It's no secret that Southeastern Conference has been the top conference in the country as far as recruiting over the last several years. The league currently has six teams ranked in the top 11 of the team recruiting rankings. Here's a look at the top 10 recruiters around the ultra-competitive conference.
June, 19, 2013
6/19/13
1:00
PM ET
By
ESPN.com staff
| ESPN.com

Kentucky is known for being a force in basketball recruiting. But football? Jared Shanker and Kentucky commit Mike Edwards join Phil Murphy to take a look at what's behind the Wildcats' No. 11-ranked class, where they are recruiting the hardest and what it could mean for the Big Ten.
November, 16, 2009
11/16/09
2:52
PM ET
By
ESPN.com staff
| ESPN.com
Tennessee coach Lane Kiffin
made the only decision he could
Monday in dismissing receiver
Nu'Keese Richardson
and defensive back Mike Edwards from the team.
Kiffin is still waiting on more information before making a decision on safety Janzen Jackson, presumably to see if charges are dropped against the Vols' freshman starter. In the meantime, Jackson won't be a part of any team activities.
While Jackson's fate remains to be seen, it's clear that Kiffin hasn't completely given up on retaining him. In fact, there were talks among Tennessee officials last Thursday and extending into Friday morning that it may still be possible for Jackson to play in the Ole Miss game.
But none of the players ended up making the trip.
They were arrested last Thursday and charged with attempted armed robbery outside a convenience store near the Tennessee campus.
Jackson has already had multiple disciplinary issues, including a failed drug test, which was one of the factors leading to his suspension for the Memphis game two weeks ago.
At this point, Jackson's only chance of surviving revolves around having the felony charges reduced or dismissed. His attorney has maintained that Jackson is innocent of the charges.
According to the police report, he wasn't one of the two players who actually attempted to rob the two victims while they were sitting in their car at the convenience store. But he was there at the scene and in the car when the players were stopped by police.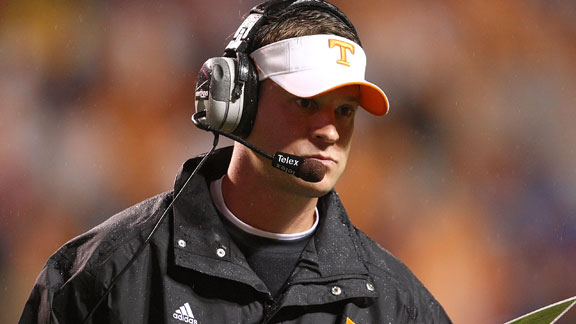 November, 13, 2009
11/13/09
2:59
PM ET
By
ESPN.com staff
| ESPN.com
Tennessee coach Lane Kiffin has declined to make any comment about the status of his three players arrested on attempted armed robbery charges early Thursday morning.
But with Kiffin staying mum, Tennessee athletic department officials confirmed Friday that none of the players facing charges -- safety Janzen Jackson, defensive back Mike Edwards and receiver
Nu'Keese Richardson
-- would make the trip and
play in Saturday's game against Ole Miss
.
Jackson's bond was reduced and he was released on his own recognizance Thursday afternoon. There was some hope among the Tennessee coaches that the charges might be dismissed against Jackson, paving the way for him to possibly play against the Rebels.
But those charges have yet to be dismissed, and the Knoxville Police Department is continuing to investigate the case, in part, to see if the degree of involvement in the attempted robbery was the same for all three of the players.
At this point, it sounds like Tennessee is braced to kick both Richardson and Edwards off the team, but is holding out hope that Jackson may make it if his charges are dismissed.
As for this weekend against the Rebels, Jackson's loss will sting the most. He had started in all but two games this season at free safety. With Jackson out, Tennessee will likely go with the combination of redshirt freshman Prentiss Waggner and true freshman Darren Myles Jr. at the free safety spot. They both played there last week when Jackson was suspended for the Memphis game.
Jackson not being available could also hurt the Vols' ability to play their nickel package when they go to extra defensive backs. Brent Vinson could see his role expand there.
November, 12, 2009
11/12/09
10:53
AM ET
By
ESPN.com staff
| ESPN.com
Two days before a key road trip to Ole Miss, Lane Kiffin faces the first real crisis of his Tennessee head coaching tenure.
Three of his players, all guys he recruited, were arrested early Thursday morning on
attempted armed robbery charges
after police said they attempted to rob some people sitting in a car outside a convenience store in Knoxville.
According to police, a powered pellet gun was found in the car the players were in after they were stopped by police near the dormitory on campus where the freshman players live at Tennessee.
Kiffin hasn't made any comment yet and probably won't until he gathers more facts about the case.
Janzen Jackson already has a couple of strikes against him, but if you read the police report, it sounds like he might not have been with the other two players when they actually went up to the car and tried to rob the victims.
Here's the other thing: Jackson is the best player among the three and one of the top freshmen in the SEC this season. So it will be interesting to see how that dynamic plays out. His failed drug test, one of the things that led to his suspension from the Memphis game last week, won't help him.
Either way, Tennessee needs to act swiftly and decisively.
There's also a little cruel irony here for the Vols.
Remember Kiffin jokingly saying two weeks ago that maybe the Vols had earned a little "street cred" after rapper Lil Wayne dropped a reference to Kiffin talking (bleep) in one of his recent songs?
Well, this is the kind of "street cred" no program wants and can be poison for recruiting.
August, 4, 2009
8/04/09
7:30
AM ET
By
ESPN.com staff
| ESPN.com
Posted by ESPN.com's Chris Low
Marlon Walls, a former linebacker who's grown into a defensive tackle, did not report with the rest of the Tennessee players Monday and won't be practicing until he makes it through the NCAA Clearinghouse process.
The Vols, who open practice Tuesday at 2:45 p.m. ET, were hoping that several freshmen could play key roles this fall. Walls was one of them, which makes his eligibility battle one that will be closely watched on Rocky Top.
The Olive Branch, Miss., product originally signed with Tennessee last year, but failed to qualify academically and attended Hargrave (Va.) Military Academy. He was a 220-pound linebacker in high school, but has bulked up to more than 280 pounds.
The Vols have no depth at tackle, making Walls even more of a priority.
In addition to Walls, freshman receiver James Green didn't report Monday. However, freshman cornerback Mike Edwards did report and plans to practice with the team, although he's still awaiting final word from the NCAA Clearinghouse.