February, 12, 2014
Feb 12
7:55
PM ET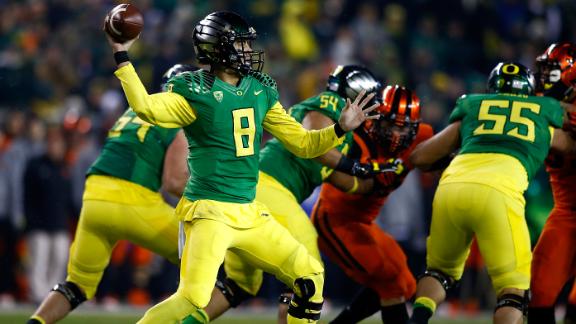 If the NCAA Football Rules Committee gets its way, college football teams no longer will be penalized 15 yards if one of its players really didn't target an opposing player.
But teams could actually be penalized for delay of game for – get this – playing too fast.
A few coaches of teams that utilize no-huddle, hurry-up offenses – which are becoming more and more common at the FBS level – immediately blasted the
proposed substitution rules change
, saying its only intention is to slow them down.
"It's a joke. It's ridiculous," said Arizona coach Rich Rodriguez. "And what's most ridiculous is did you see what the penalty is going to be called? Delay of game! How is that a delay of game? That's the ultimate rules committee decision. Make the game slower and call it delay of game."
[+] Enlarge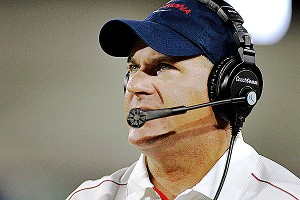 AP Photo/John MillerArizona coach Rich Rodriguez calls a proposal to penalize quick snaps with a delay-of-game penalty "ridiculous."
The NCAA committee recommended a rules change that will allow defensive units to substitute within the first 10 seconds of the 40-second play clock, excluding the final two minutes of each half. So in effect, offenses won't be allowed to snap the ball until the play clock reaches 29 seconds or less. If the offense snaps the ball before then, it would be penalized five yards for delay of game. Under current rules, defenses aren't guaranteed an opportunity to substitute unless the offense subs first.
"First off, [I] doubt it will pass," Washington State coach Mike Leach said. "Second, it's ridiculous. All this tinkering is ridiculous. I think it deteriorates the game. It's always been a game of creativity and strategy. So anytime someone doesn't want to go back to the drawing board or re-work their solutions to problems, then what they do is to beg for a rule. I think it's disgusting."
The rules changes proposed by the NCAA Football Rules Committee will be submitted to the NCAA Playing Rules Oversight Panel for discussion on March 6.
In an NCAA statement, the NCAA Football Rules Committee said "research indicated that teams with fast-paced, no-huddle offenses rarely snap the ball with 30 seconds or more on the play clock." The NCAA statement also said the proposed rules change also "aligns with a request from the Committee on Competitive Safeguards and Medical Aspects of Sports that sport rules committees review substitution rules in regards to player safety." In the NCAA's non-rules change years, proposals can only be made for safety reasons or for modifications that enhance the intent of a previous rule change, according to the NCAA statement.
Leach and Rodriguez aren't buying that slowing down hurry-up offenses would make players safer.
"Where's all the data that proves this is a player safety issue? I don't buy it," Rodriguez said. "What about making it so you can't blitz seven guys? That's a dangerous thing for a quarterback."
Ole Miss coach Hugh Freeze, whose team also runs an uptempo offense, wants to know if there is actual proof that uptempo offenses cause more injuries to players.
"Is there documented medical evidence that supports this rule change that tempo offenses are putting players at a higher degree of risk than others? If there is then show it to us," Freeze told ESPN.com Wednesday night. "Where is it? They're going to have to show us some evidence. If there's not any evidence, then they should table it.
"You can do it the last two minutes of the game. Isn't that when you should be most fatigued?"
Added Leach: "That's really insulting that they are hiding behind player safety just because somebody wants an advantage. That's crazy."
This past season, fast-paced, no-huddle offenses continued to operate faster and faster in college football. Baylor, which led FBS teams in scoring (52.4 points) and total offense (618.8 yards), averaged 82.6 offensive plays in 13 games. Texas Tech averaged a whopping 87.3 offensive plays under first-year coach Kliff Kingsbury, and Fresno State averaged 83.6 offensive plays.
But some coaches, including Alabama's Nick Saban and Arkansas' Bret Bielema, have criticized hurry-up offenses, arguing that they give offenses an unfair advantage and don't allow them to adequately substitute defensive players.
"

It's always been a game of creativity and strategy. So anytime someone doesn't want to go back to the drawing board or re-work their solutions to problems, then what they do is to beg for a rule. I think it's disgusting.

"

-- Washington State coach Mike Leach
"All you're trying to do is get lined up [on defense]," Saban told ESPN.com in September. "You can't play specialty third-down stuff. You can't hardly scheme anything. The most important thing is to get the call so the guys can get lined up, and it's got to be a simple call. The offense kind of knows what you're doing."
But Leach contends it's unfair to handcuff offenses because defenses can't keep up with the pace.
"My suggestion is rather than spending a bunch of time coming up with a bunch of really stupid rules, spend that time coaching harder," Leach said. "Worry about your own team and try to make your product better rather than trying to change the game so you don't have to do anything."
Freeze also believes that allowing defenses to rotate players in and out more frequently under this rule will put offensive linemen who are a part of uptempo offenses at more risk for injury because they will potentially face fresher defensive linemen every few snaps.
"If anything, you may be making it more dangerous for the offensive line because they're going to face 12 five-star defensive linemen from Alabama rotating every three plays," he said.
To Freeze, taking away the opportunity to snap the ball as fast as possible is taking away a major fundamental advantage that any offense can use against opposing defenses, which are allowed as much movement as possible before a play is even run.
"Since the start of football, defenses can line up wherever they want to," Freeze said. "They can move around as much as they want to before the snap. … They can do whatever they want to do, that's fine. I coach defense, too, that's great. The one thing that has always been offenses' deal is snapping the ball. That's the only thing we have."
The proposed change to the sport's new targeting rules seems like a no-brainer after a slew of controversial decisions during the 2013 season. Under current NCAA rules, which went into effect this past season, players penalized for targeting opposing players were ejected from the contest and their teams were penalized 15 yards. But officials were allowed to review the play and determine whether a targeting foul actually occurred. If officials determined the play wasn't targeting, the player's ejection was overturned but the 15-yard penalty was still enforced.
If the proposed rule change is approved, the ejection and the penalty won't be enforced. However, if a defender is penalized for a personal foul in conjunction with the overturned targeting foul, such as roughing the passer, a 15-yard penalty will still be enforced.
In games in which instant replay is not in use, the committee recommended an option to permit on-field officials to review targeting calls during halftime that were made during the first half. Officials then could reverse the targeting call and allow the player to compete in the second half.
ESPN.com's Ted Miller and Edward Aschoff contributed to this report.
August, 29, 2013
8/29/13
8:00
AM ET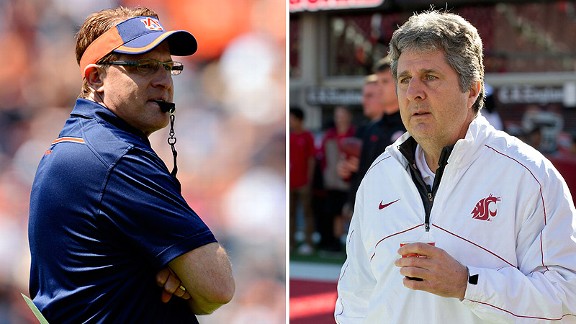 USA TODAY SportsFirst-year Auburn coach Gus Malzahn and second-year Washington State coach Mike Leach are two of the most renowned offensive innovators out of the spread.
AUBURN, Ala. -- It's no surprise that many experts are predicting a shootout between Auburn and Washington State on Saturday. The game features Gus Malzahn and Mike Leach, two of the more innovative offensive minds in college football.
"It's exciting," Auburn wide receiver
Quan Bray
said. "That's what we're looking forward to. Hopefully, it won't be a shootout. On our part it will be a shootout. We're trying to put up 70."
Bray's prediction of 70 points might be a bit of a stretch, but the game should feature plenty of points scored between Auburn's Malzahn and Washington State's Leach.
At first glance, the two teams might look very similar on offense. They both like to spread it out, and they both want to get it in the hands of their playmakers. However, each team runs a very different style out of their spread formation.
"We're a run the football to open up the pass with play-action, and I know they're a pass to open up the run," Malzahn said. "But they've been very successful doing what they do."
As for Auburn?
"A lot of misdirection," Leach said. "They try to spread the field. They like a dual-threat quarterback who can run a little bit for them. A lot of screens, a lot of fake screens. We spread it out to throw it, they spread it out to run it, but both of us can do either one."
The two coaches have never actually met. The closest thing Malzahn has ever seen to a Mike Leach-run offense came when he was co-offensive coordinator at Tulsa and the Golden Hurricane faced a pass-happy Houston squad.
The majority of Auburn's team has not faced an offense like Washington State either. It's quite a bit different than the typical SEC offense.
"I don't really feel like we have faced anybody who is pass-first," cornerback
Jonathon Mincy
said. "In the SEC, every week you have a team that has an outstanding running back. It's a great task at hand that we have, and we're ready for it. We're definitely going to play a lot more man, get in their face and interrupt their routes."
A year ago, Washington State finished just 3-9 in Leach's debut with the Cougars but ranked No. 9 in the country with 330 passing yards per game. In all, the WSU quarterbacks threw for close to 4,000 yards and 23 touchdowns.
"We're playing an opponent that I feel like is going to be much improved," Malzahn said. "They finished the year beating their rival Washington, which is a very big win. They've got the majority of their guys offensively and defensively back. That is definitely a concern.
"And then the fact it's the second year in their system. They've got a proven head coach who's won just about everywhere he's been, so we're expecting those guys to be much improved and a very good opponent for us in the first game."
The expectations are high for Auburn's offense as well, but the Tigers are having to break in a brand new starting quarterback. Junior college transfer
Nick Marshall
put up gaudy numbers last season at Garden City Community College, but he's never directed an SEC offense.
Malzahn plans to play it safe with his new quarterback, but that doesn't mean he wants to slow down the tempo.
"We never plan on starting out slowing things down because pace is one of our advantages," he said. "We're always going to do what gives our team the best chance of winning."
So will Saturday's clash between high-powered offenses turn into a shootout inside Jordan-Hare Stadium? Leach isn't so sure.
"It's tough to say," the Washington State coach said. "First games are always funny that way. First games seldom unfold the way you expect. Both have quality defensive coaches on each team, so I think they'll be well-coached and we'll just have to see what happens."
July, 25, 2013
7/25/13
12:00
PM ET
Linking our way around the SEC:
December, 12, 2012
12/12/12
7:32
PM ET
The King is coming home.
Kliff Kingsbury threw for 12,429 yards and 95 touchdowns at Texas Tech. A decade later,
he has officially become the Red Raiders' new head coach
at 33 years old with just five years as a collegiate assistant under his belt.
Texas Tech athletic director Kirby Hocutt didn't spend much time dwelling on any hurt feelings he may have felt when Tommy Tuberville skipped town for Cincinnati just a day after looking Hocutt in the eye and telling him he was committed to the Red Raiders.
Tuberville was never embraced in Lubbock, Texas, the way the Pirate of the Plains -- Mike Leach -- was during his decade-long run. His quick exit to a lesser job proved he never embraced Lubbock, either.
This time around, that won't be a problem. Minutes after news broke, the fan base's No. 1 choice was clear. Bring Kingsbury back home.
Clemson offensive coordinator Chad Morris emerged as another leading candidate, but Wednesday, Hocutt made his choice clear.
The fans will surely approve, and if they haven't already started celebrating in the streets, they're not far off. Even the college-aged Tech fans would remember Kingsbury's efforts on the field. Now, can he prove himself on the sidelines?
Make no mistake, hiring Kingsbury is a risk. Hiring Morris would have been a risk, too.
[+] Enlarge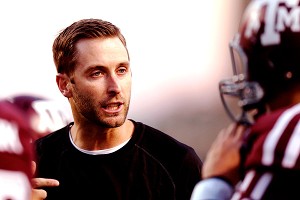 Thomas Campbell/USA TODAY SportsKliff Kingsbury, a star quarterback at Texas Tech a decade ago, is returning to coach the Red Raiders.
Rolling the dice with Kingsbury is the right move for Hocutt. Both Morris and Kingsbury might be The Next Big Thing in coaching. Both might bust. Neither has run a program from top to bottom in college.
But Hocutt needed to fire up his fan base after three unremarkable years under Tuberville, a man who never got the slack from fans that Leach would have gotten. Kingsbury will get those breaks. He'll get their patience.
If Hocutt swings and misses on Kingsbury, not a soul in Lubbock will blame him. If he'd swung and missed on Morris, while Kingsbury flourished elsewhere? That would've been an unforgivable mistake that very well could have cost him his job.
And if Hocutt swings and connects with the next star in Kingsbury? Well, all he'll have done is reignite what was one of the most promising programs in the Big 12 before Leach's exit. Perhaps he has discovered Mike Gundy 2.0, one of the game's best coaches who sees this job as his final destination when others might not feel the same way.
Kingsbury will be one of the game's youngest coaches, and this was an opportunity few other major programs would have afforded him. Hocutt handed the keys to his program to one of the game's most promising coaches, and it's an easy sell. If his history in Lubbock isn't enough, his résumé under Kevin Sumlin makes it clear why his services were so coveted.
Case Keenum was one of the most productive quarterbacks in NCAA history, and less than a week ago, Kingsbury's new quarterback,
Johnny Manziel
, became the first-ever freshman to win the Heisman Trophy.
Oh, and that Super Bowl ring from 2004 as a reserve player (coincidentally with Kansas coach Charlie Weis as the OC and the Patriots' Bill Belichick at the helm) won't hurt to bring into high school kids' living rooms, either.
Hocutt's loyalty to his fan base and former legends in the program will be rewarded. The fans will support Kingsbury even if the team struggles as he learns how to be a head coach. If Kingsbury wins, the likelihood he leaves is lessened significantly compared to any number of other coaches Hocutt could have hired, especially Morris.
Kingsbury is the new man in charge thanks to a gutsy, but supported move from Hocutt. If he didn't do it now, he might never have gotten another chance.
January, 12, 2012
1/12/12
7:37
PM ET
It's been a revolving door on Tennessee's coaching staff ever since the season ended, and head coach Derek Dooley moved quickly to fill his latest opening.

The Vols announced on Thursday that Sam Pittman had been hired to coach the offensive line after Harry Hiestand bolted for the Notre Dame offensive line job.

Pittman was at North Carolina for the past five seasons and part of Butch Davis' original staff there in 2007. Just prior to the 2011 season, Pittman was promoted to associate head coach, replacing John Blake, who resigned one game into the 2010 season after being linked to NCAA allegations that triggered an investigation of the Tar Heels' football program. Pittman was named as one of the country's top 25 recruiters by ESPN.com in 2011. He was at Northern Illinois before joining Davis at North Carolina.

The Vols have seen five different assistant coaches to leave since the end of their 5-7 season. One of those, receivers coach Charlie Baggett, was not retained. Defensive coordinator Justin Wilcox and linebackers coach Peter Sirmon left for the same jobs at Washington, while special teams coordinator/tight ends coach Eric Russell left to join Mike Leach's staff at Washington State.

Dooley is targeting Alabama linebackers coach Sal Sunseri and Navy defensive coordinator Buddy Green to replace Wilcox. Dooley has talked with both Sunseri and Green in the last two days. Dooley has offered the special teams coordinator's job, meanwhile, to San Diego Chargers assistant Rich Bisaccia, who just finished his first season as the Chargers' special teams coordinator. Bisaccia was previously the associate head coach and special teams coordinator for the Tampa Bay Buccaneers.

Dooley had already hired Jay Graham to coach the Vols' running backs. Graham, a former star running back at Tennessee, had been at South Carolina the past three seasons.
November, 20, 2008
11/20/08
2:30
PM ET
Posted by ESPN.com's Chris Low
Florida coach Urban Meyer chuckled earlier this week when told that Texas Tech coach Mike Leach had a proposal for a 64-team playoff in college football.
"Mike is one of my great friends," Meyer said. "He's probably the only football coach with the cognitive ability to put one together. The head-football coach at Florida certainly can't."
Meyer's biggest beef with the current BCS system is that it's a "bunch of conferences with a bunch of separate agendas."
In particular, Meyer doesn't like the fact that some conferences have a championship game and some don't. The SEC, ACC and Big 12 all play conference championship games. The Big Ten, Pac-10 and Big East don't.
"Put restrictions on it and make every conference do what every other conference does," Meyer said.
November, 12, 2008
11/12/08
1:04
PM ET
Posted by ESPN.com's Chris Low
Some of the other views, opinions and musings about the SEC:
November, 6, 2008
11/06/08
8:03
PM ET
Posted by ESPN.com's Chris Low
Just three days after announcing that Phillip Fulmer wouldn't return next season, Tennessee officials are already on the trail for the Vols' next head coach.
A source with knowledge of the search told ESPN.com that among the candidates on Tennessee's preliminary list are Minnesota coach Tim Brewster, Cincinnati coach Brian Kelly, former Oakland Raiders coach Lane Kiffin and Texas Tech coach Mike Leach. Contact has already been made or will soon be made with representatives of all four coaches.
Tennessee athletic director Mike Hamilton confirmed Thursday that the Vols' initial list had already been forwarded to Chuck Neinas, who's been hired to lead the search and will make the initial contact with coaches through their representatives.
Hamilton said he would neither confirm nor deny any specific candidates. Neinas, who runs Neinas Sports Service, has been involved in several high-profile searches over the years, including Urban Meyer to Florida, Mack Brown to Texas and Butch Davis to North Carolina.
Texas defensive coordinator Will Muschamp is another name that has been connected with the Tennessee job. Hamilton said someone with head coaching experience makes it easier to document that person's success and record, but that it wasn't a requirement.
"There are a lot of guys who have come in as a coordinator and had great success -- Mark Richt, Bob Stoops and Phillip Fulmer, to name a few," Hamilton said. "It's about hiring the right guy for your place."
Some of the other names that could end up on the Vols' list include Michigan State coach Mark Dantonio, TCU coach Gary Patterson, Air Force coach Troy Calhoun and Illinois offensive coordinator Mike Locksley. Others will emerge as well as the coaching dominoes start to fall around the country.
Whoever replaces Fulmer will be only the fifth head coach the Vols have had in football in the last 45 years.
Hamilton, who hit a home run with the hiring of basketball coach Bruce Pearl, said he's looking for somebody who can recruit nationally and be a salesman for both the university and the football program.
He acknowledged that it would be difficult to hire an NFL coach with the way coaches' contracts are structured in the NFL and the fact that their seasons run so long.
"It makes it harder to hire an NFL assistant or head coach back into the college level," Hamilton said. "I don't think it precludes it, but it's certainly another hurdle you have to get through."
Hamilton also made it clear that he's not interested in getting a raise for anybody or being used for leverage.
"We'll be competitive and pay what we have to to get the right guy for us," Hamilton said.