October, 25, 2013
10/25/13
11:45
AM ET
COLLEGE STATION, Texas — The words "youth" and "inexperience" are frequently used to describe the Texas A&M defense this season.
The struggles are significant. The Aggies rank near the bottom of the FBS in most defensive statistical categories. According to ESPN Stats & Information, the five teams that have allowed more yards per game than the Aggies -- New Mexico State, Idaho, California, Nevada and Indiana -- have a combined record of 8-27.
Texas A&M is fortunate enough to have a 5-2 record (2-2 in the SEC). It certainly helps to have one of the nation's most high-powered offenses and a reigning Heisman Trophy winner at quarterback (
Johnny Manziel
).
For defensive coordinator Mark Snyder and his staff, it has been a challenge from the start of the season. Suspensions, injuries and ineffectiveness are all to blame.
The Aggies currently have 11 freshmen in their defensive two-deep depth chart. Two true freshmen (defensive tackle
Isaiah Golden
and linebacker
Darian Claiborne
) are starting. The four defensive line first-team spots include Golden and two sophomores. At linebacker, a former receiver who moved to linebacker this offseason (
Nate Askew
) is the starter at strongside linebacker. Of the seven linebackers on the Aggies' two-deep, only one (
Steven Jenkins
) started a full season at the position before this year.
Head coach Kevin Sumlin's first signing class that was completely under his watch had 32 members, 18 of whom were on defense. Of those 18, a dozen have already played this season.
But how did the Aggies get to this point, playing this many freshmen and newcomers? There are some juniors and seniors on the field, but there aren't nearly as many as there were a year ago when the Aggies went 11-2 in their debut season in the SEC.
In 2012, the Aggies were fortunate to have the benefit of some good leaders on defense and others who were productive. At linebacker, Sean Porter and Jonathan Stewart both provided leadership and production. Along the defensive line, Spencer Nealy made the move from defensive end to defensive tackle effectively despite not having the ideal size for the position. Steven Terrell was a steady and heady player at free safety. All four of those players were seniors and part of the 2009 recruiting class. So was Dustin Harris, who didn't always start but played plenty at cornerback and was the team's primary punt returner.
One defensive player still remains from that 2009 class: defensive tackle
Kirby Ennis
, who started last season and this year but suffered a season-ending knee injury on Sept. 28 against Arkansas. But last year's A&M starting defense was more than half made up of what turned out to be a solid recruiting class on the defensive side of the ball.
So to understand why A&M is in the position it is now, take a look at the recruiting classes on defense since then:
In 2010, the Aggies signed seven defensive players and two more that were offensive players but eventually moved to defense. Defensive end Damontre Moore turned out to be a star, but declared for early entry into the 2013 NFL draft with a year of eligibility remaining. For a team that's lacking in its pass rush (only three FBS teams have fewer sacks than Texas A&M's seven this season) a guy like that could help. Of the remainders in that class, three are starting: Toney Hurd Jr. at nickel back, Gavin Stansbury at defensive end and Askew, who was recruited and spent his first three years at receiver, at strongside linebacker. Two others (defensive tackle Ivan Robinson and quarterback Clay Honeycutt, who's now a reserve safety) are playing but not starting. Nehemiah Hicks was considered to be either a defensive end or tight end and became a tight end. The other two players in the defensive class are no longer on the team.
The 2011 class -- the final class signed by former head coach Mike Sherman -- brought 13 defensive players. Deshazor Everett, a cornerback with ability to play safety, is currently the defense's best player. Safeties Howard Matthews and Floyd Raven and linebacker Steven Jenkins also emerged as starters out of that group. One of the big fish landed late in that class, defensive end Brandon Alexander, has rarely played. He's now getting some playing time at tight end. Linebacker Donnie Baggs entered this season as the starting middle linebacker but is now a reserve. Tyrell Taylor is rotating at defensive end. The rest of the group hasn't made any impact at all. Five players in that group are no longer with the program.
The 2012 class, the first one Sumlin signed after essentially two months on the job, had some holdovers that committed to the program under Sherman. It is a mixed bag. Four of those players are starting as either true sophomores (Julien Obioha at defensive end, Alonzo Williams at defensive tackle and De'Vante Harris at cornerback) or in one case, a senior (cornerback Tramain Jacobs, who was a junior college transfer). Defensive end Tyrone Taylor, brother of Tyrell, gets some playing time at defensive end. Edward Pope, who was a receiver/defensive back, is playing receiver for the Aggies. A car accident took away one member from that class -- defensive tackle Polo Manukainiu, who died in a crash in July and is being honored by the team every week this season. A spinal injury took away another member, linebacker Michael Richardson, who played as a freshman. He had successful surgery and was fortunate to not suffer any major physical issues, but is no longer playing football. Defensive back Kenneth Marshall, though on the team, was not part of the 105-man roster during preseason training camp. Linebacker Jordan Richmond transferred to Navarro College in the offseason and one player in the class, defensive tackle Edmund Ray, never made it to campus because of qualifying issues.
January, 4, 2013
1/04/13
11:46
PM ET
ARLINGTON, Texas -- Another Cotton Bowl, another bad loss for the Big 12. Excluding current SEC member Missouri's win back in 2008, the Big 12 has lost the Cotton Bowl to an SEC opponent in eight consecutive seasons. Johnny Football put on a show after a month away and showed zero signs of rust and a zillion signs of being an endless source of frustration for Oklahoma's defense.
The Big 12 finished 4-5 in its nine bowl games, and the SEC improved to 4-3 in its bowl games. Let's take a look at some instant analysis for Texas A&M's
41-13
blowout win over the Sooners.


It was over when:
Facing a fourth-and-5 late in the third quarter, Manziel hit
Ryan Swope
over the middle on a short slant. Swope shed a tackler and raced 33 yards to put the Aggies up, 34-13. That capped a run of three Oklahoma three-and-outs to begin the second half and spelled doom for the Sooners.
Game ball goes to:
Johnny Manziel
. I mean, who else? He broke the Cotton Bowl record for total yards with 516 and accounted for four touchdowns. It could have even been five, too, if not for
Malcome Kennedy
's bobbling a pass in the end zone that was eventually intercepted by Oklahoma's
Javon Harris
.
Stat of the game:
Oklahoma averaged 4.8 yards per play. Texas A&M averaged 9.6 yards per play. It was really that simple in this one. Johnny Football made the Aggies dangerous on what seemed like every snap. Oklahoma's offense played well in the first half, but it rarely looked easy, and Texas A&M prevented the Sooners from breaking big plays. It also clamped down in the red zone.
Unsung hero of the game:
Texas A&M's offensive line. Get a good, long look at
Luke Joeckel
and
Jake Matthews
serving as bookends on this line. They might be gone soon, cashing big-time checks as NFL first-round picks. Mike Sherman had well-chronicled struggles, but the offensive line guru left some big beef for Manziel and the Aggies offense to operate behind. It showed tonight. Oklahoma rarely blitzed, for fear of Manziel running loose in the second level, but he had all day to throw and little pressure on most snaps.
What Texas A&M learned:
Heisman jinx, December distractions, coaching changes, whatever. It all seemed pretty irrelevant in this game. Johnny Football looked like his usual self, if not better. He broke loose for 47 rushing yards on Texas A&M's opening drive and didn't slow down from there. Kliff Kingsbury checked out as Texas A&M's offensive coordinator, but Clarence McKinney had a solid performance in his debut as play-caller. Manziel insisted he wasn't distracted and that the whirlwind of awards and television appearances after winning the Heisman hadn't changed him. His performance validated those claims.
What Oklahoma learned:
Just like Kansas State and Notre Dame, the Sooners were incapable of beating the elite teams in college football this year. A 10-3 season isn't bad, but it's not good enough at Oklahoma. The Sooners might not have even been happy going 1-2 in those losses, but 0-3 will leave a very bitter taste in their mouths thinking back on a season that was very average by the Sooners' sky-high standards. Any notion that it had a formula for stopping or even slowing down the Johnny Football train went out the window. He had his way with the Sooner defense, which tackled poorly, too.
November, 12, 2012
11/12/12
4:30
PM ET
Texas A&M, by letter of the law, owed the Big 12 about $27 million when it packed its bags and went to play with its new friends in the swamp and down on the bayou in the SEC.
Thanks to less than bulletproof Big 12 bylaws
, it lost only $12.41 million in exit fees, a little less than half of what the league hoped it would owe.
The other $14 million plus isn't coming any time soon, but the debt may have seemed as though it was paid in full in Manhattan and across Big 12 country after Saturday. The Aggies knocked off No. 1 Alabama to put the SEC's string of six consecutive national titles in peril. The conference probably will require two total losses down the stretch from Oregon, Notre Dame or new No. 1 Kansas State to give the championship streak a chance to reach seven seasons.
Are the Aggies Big 12 secret agents sent to destroy the SEC from the inside out? Maybe. They're doing a bang-up job to this point, you've got to give them that.
Humor aside, the gut reaction might be to claim Big 12 superiority. Texas A&M, seventh-place finishers in the Big 12 a year ago, have morphed into a top-10 team in the SEC, owning an 8-2 record and a road win over the team many thought was invincible earlier in the season.
Not so fast, my friends.
These are not your father's Aggies. Second-half leads lost against LSU and Florida offer faint remnants of last year's team, but this is a whole different squad and I can guarantee you they'd finish a whole lot higher than seventh in the Big 12 this season. They probably would have finished between second and fourth at season's end.
They've got a new coaching staff with a whole new attitude and a confidence unlike anything the old staff had. Kevin Sumlin and offensive coordinator Kliff Kingsbury believe in this team, and that's not always what you sensed with the talented, but fatally flawed, Aggies squad from a year ago. Add in a solid defensive coordinator in Mark Snyder and cover the whole thing in an attractive aura of "cool," and you've got the new Aggies.
Oh, and there's that Johnny Football guy running around making crazy plays.
"No moment is too big for him," Sumlin said of redshirt freshman quarterback
Johnny Manziel
, who injected himself into the Heisman conversation.
Last year, no moment was too big for Ryan Tannehill to toss an interception, including a crucial turnover in the Aggies' heartbreaking loss to Texas. Tannehill tied for the league lead with 15 picks a year ago.
Texas A&M's win Saturday against The SEC-est Defense Of Them All was a win for spread offenses everywhere, a notch in the win column for the Big 12's endless "offense versus defense" debate with the SEC.
The Big 12's reputation as a whole shouldn't get a boost with the Aggies' win, but it will get a boost in the BCS race. For Kansas State, that's all it needed.
October, 1, 2011
10/01/11
6:13
PM ET
ARLINGTON, Texas -- R.C. Slocum coached Texas A&M to its first and what now looks like it will be its only Big 12 title in 1998.
Dallas Cowboys owner Jerry Jones was a co-captain of Arkansas' only national title team back in 1964. Before Saturday's game, the two shared a moment on the Texas A&M sideline.
"How 'bout those Aggies comin' to the SEC?" Jones asked. His school made the move from the Texas-based Southwest Conference to the SEC in 1991.
"Oh, man," Slocum said with a grin of anticipation as the two shook hands.
Oh man, indeed.
If Slocum had known what he was about to watch, that grin would have been a groan.
Last week, Texas A&M blew a 17-point halftime lead in a loss to Oklahoma State. A day later, it celebrated its move to the SEC.
This week? Try 18 to Arkansas, which roared back to take its first lead with 1:41 left and beat the Aggies, 42-38.
Broderick Green
's 244-pound frame barreled over the goal line, and the Arkansas contingent exploded as the Aggies in attendance began wondering what the traffic on Interstate 30 would look like on the way back home.
Not the best first impression for the Texas A&M Aggies, who didn't quite fill their half of Cowboys Stadium as Hog fans showed up in force.
[+] Enlarge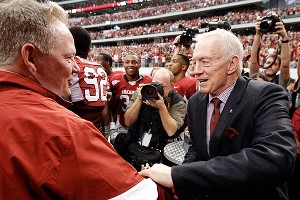 AP Photo/Brandon WadeJerry Jones congratulates Arkansas coach Bobby Petrino after the Razorbacks beat Texas A&M.
By game's end, Jones was back on his alma mater's sideline, handing over the trophy for the Southwest Classic (a game he helped create) to Bobby Petrino's Hogs.
"It's a travesty that we didn't win this football game," Texas A&M coach Mike Sherman said.
The Razorbacks won this game where good SEC teams win games: at the line of scrimmage.
Texas A&M sacked Arkansas quarterback
Tyler Wilson
four times and harassed him on countless other occasions, assuring he wakes up Sunday morning as sore as he's been all season. Arkansas' struggling running game continued to do so, rushing for just 71 yards on 30 carries.
The Aggies, meanwhile, protected quarterback
Ryan Tannehill
well and ran for 376 yards on 54 carries, an average of seven yards a carry on Arkansas' defense, which played without its two best defensive linemen: Tenarius Wright and Jake Bequette.
Texas A&M, though, lost this game where the rest of college football loses games: on the scoreboard.
"The stats don't matter," Tannehill said. "The only things that matter are the W or L and we didn't get it covered in the second half."
For a day, Texas A&M looked on the field exactly what it is off the field: an odd hybrid of an SEC and Big 12 defense. For all of Texas A&M's strength up front, it lost the game the way Big 12 teams have lost games for the majority of the league's 15-year history.
Wilson racked up a school-record 510 yards passing, shattering Ryan Mallett's record of 409 yards against SEC doormat Vanderbilt.
Texas A&M's defense has now gone 15 quarters without forcing a turnover, with apologies to
Justin Blackmon
's gifted touchback at Kyle Field last week.
"This defense is structured -- we take some risks defensively," Sherman said of his defense, which ran defensive backs at Wilson from various angles throughout Saturday's loss. "There's some gain when you create turnovers, and we've not been able to do that now for three weeks. That is certainly an obvious concern."
Also of concern for the Aggies was Sherman's unwillingness to try to convert a fourth-and-2 at Arkansas' 39-yard line, nursing a 35-20 lead, and a fourth-and-1 on Texas A&M's 49-yard line with a 35-27 lead.
The Aggies punted both times -- first for 19 yards to the Arkansas 25 and second for 37 yards down to Arkansas' 14 -- and the Hogs scored touchdowns after both kicks.
"If I felt like our defense was playing a little bit better, I probably would have gone for it. I felt like I just couldn't give them a shortened field," Sherman said. "If we were had been playing better defense--if this had been last year -- probably would have."
Said Tannehill: "That's the head coach's call. That's what he gets paid the big bucks for. Whatever he calls, we're going to go with it. ... We trust coach and you've just got to go with the call."
The game ended, and despite holding a huge lead early, Texas A&M was serenaded with an "S-E-C" chant at Cowboys Stadium for a fourth time in three seasons, dropping to 0-4 on the field in Arlington.
"It's emotionally tough," Tannehill said.
Maybe soon, the Aggies will be the chanters and not the chant's target. But for now, another painful loss.
For two consecutive weeks, Texas A&M has known well what it feels like to lose a game it should have won.
For at least another few months at the end of a 16-year and seven-game drought, the Aggies are left wondering how it feels to beat an SEC team.
January, 8, 2011
1/08/11
1:57
AM ET
ARLINGTON, Texas -- LSU knew what it wanted to do, or needed to do, rather.
Texas A&M finished its season as the Big 12's best rush defense, reclaiming the "Wrecking Crew" nickname in the process.
"We had to mix it up," said Tigers offensive coordinator Gary Crowton. "We felt like if we could loosen them up with some big passes, we'd be able to run the football."
Few figured the Tigers would have the kind of success they did doing both, but they did. Quarterback
Jordan Jefferson
had thrown four touchdown passes in 12 games entering Friday's Cotton Bowl, including just two in his past 11 games.
[+] Enlarge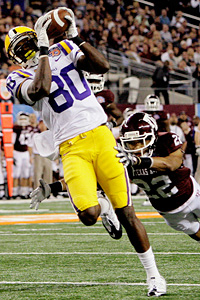 AP Photo/Tony GutierrezLSU softened the Texas A&M defense with long passes to Terrence Toliver, who finished with a three touchdown catches. The Tigers then ran for 288 yards.
He threw three on Friday, and two were longer than 40 yards, softening up the Aggies defense exactly as planned to help beat Texas A&M
41-24
in the AT&T Cotton Bowl Classic in front of 83,514 fans at Cowboys Stadium.
"I thought he threw the ball about as good as I've seen him throw on tape," Texas A&M coach Mike Sherman said. "He was decisive, aggressive and accurate."
With Jefferson keeping the Aggies honest, LSU rolled over the Wrecking Crew for 288 rushing yards. Running backs
Stevan Ridley
and
Spencer Ware
both topped 100 yards, and Jefferson made a handful of plays with his legs, extending drives on third down on plenty of occasions and finishing with 67 yards on 12 carries.
"For our run game, I thought we were doing a really good job of dominating the line of scrimmage," Crowton said.
Early on, the Aggies were up 10-0, but with one torque of a knee they were down a leader. Senior linebacker Michael Hodges suffered a sprained ACL in the first quarter, and Texas A&M's leading tackler never returned.
"He is the heart and soul of our defense in many ways," Sherman said. "At the same time, you can't use that as a reason why we didn't perform the way we should have been capable of performing. ... One guy gets hurt, another guy has to step in and make the play."
His replacement, Kyle Mangan, managed just four tackles, the same amount Hodges had already accumulated in the first quarter.
"I think Kyle, put in the situation he was in, he played well," defensive end Lucas Patterson said. "You can't replace a player like Hodges."
With Jefferson having one of his best games of the year, and the Aggies patching together a run defense that often looked out of character, there was little expectation after Texas A&M's 10-0 lead had evaporated that chants of "Wrecking Crew" would make an encore in Cowboys Stadium.
Early on, it might have. Jefferson's first deep pass -- and the Tigers first attempt to soften the defense -- was interecepted with one hand by Coryell Judie. But Jefferson's first of three connections in the end zone with senior receiver
Terrence Toliver
assured an end to the Aggies' six-game winning streak.
"I came back with the next deep ball call when we got in the right situation," Crowton said. "Jordan stood in there, took a big hit, but got the touchdown. I knew we'd be alright from that point on because we were going to run the ball. We pound it in there."
The Aggies had no answer for the majority of the night. Gaps went unfilled and runners sliced through wide lanes. The Tigers ran the ball 55 times, and averaged 5.2 yards per carry.
"Our offensive line came to play," LSU coach Les Miles said. "Our offensive line said this is a challenge they wanted. I think they played to that challenge."
December, 6, 2010
12/06/10
12:05
AM ET
LSU Tigers (10-2) vs. Texas A&M Aggies (9-3)
Jan. 7, 8 p.m. ET (FOX)

LSU take by SEC blogger Chris Low:
For a team that went 10-2 in the regular season with both losses coming to top 10 opponents, LSU took its share of grief this season.
Part of that was another near disaster at the end of the game, this time against Tennessee. The Vols bailed Les Miles and the Tigers out by having 13 defenders on the field, though.
It looked like the clock had expired before LSU could push across that last touchdown. The Tigers got another shot thanks to the penalty on the Vols … and survived.
LSU's defense was excellent for most of the season and carried a far heavier burden than it should have. That's because the Tigers tried to do it without a passing game for the first two months of the season.
Jordan Jefferson
and
Jarrett Lee
split time for a while, but it's been mostly Jefferson at the end of the season.
About the time the Tigers found a passing game and beat Alabama 24-21 in their best win of the season on Nov. 6, their defense started to fade a bit.
The Tigers had trouble getting off the field defensively in both of their last two games against Ole Miss and Arkansas. They barely squeezed by Ole Miss, but were beaten by the Hogs in Little Rock -- costing the Tigers a BCS bowl.
---

Texas A&M take by Big 12 blogger David Ubben:
There weren't many who picked the Aggies to be here back in October. Texas A&M sat at 3-3 and 0-2 in Big 12 play, fresh off a three-touchdown home loss to Missouri. Forget the Cotton Bowl, the Aggies would have been thankful for any bowl at that point.
And yet, here they are, snug in the Big 12's No. 2 bowl spot. They have a six-game winning streak to thank, one that included wins over two top 10 teams. That streak was keyed off by making a switch from Big 12 Offensive Player of the Year
Jerrod Johnson
at quarterback to
Ryan Tannehill
, who also happened to be one of Johnson's top receivers. He's not the only reason. Running back
Cyrus Gray
bulldozed his way onto the media's All-Big 12 team with his dominance down the season's stretch after top running back
Christine Michael
's season ended with a broken leg. The Aggies defense is one of the league's most improved units, too. Mike Sherman got what he expected with new coordinator Tim DeRuyter, and now, the Aggies are in the Cotton Bowl for the first time since 2004.
Expect the Aggies fans to head three hours west to Dallas in droves, eager to support their red-hot team.