November, 22, 2013
Nov 22
3:30
PM ET
By
Mackenzie Kraemer, ESPN Stats & Info
| ESPN.com
After missing the last four games with a shoulder injury,
James Franklin
returns to
Missouri's
starting lineup this Saturday at
Ole Miss
(7:45 ET on ESPN). While
Maty Mauk
was very effective in his place, Franklin's ability to keep the offense in manageable down-and-distances could be vital in keeping Missouri on the path to the SEC championship game.
Keeping Missouri on schedule

Franklin has been very good on early downs, posting an 82 Total QBR on first and second downs, best among qualified SEC quarterbacks.
In six games this season, Franklin completed 69 percent of his passes on first and second down, tending to throw shorter passes that kept Missouri's offense out of third-and-long situations.
Without Franklin, Missouri faced more difficult third downs. Despite playing in 15 percent more plays, Franklin had just 13 dropbacks on third downs needing eight yards or more. Mauk had 21 dropbacks in those situations.
In Missouri's only loss against
South Carolina
, the Tigers faced an average third-down distance of 9.1 yards, a season high.
On pass plays (including sacks), Ole Miss allows opponents to convert 45 percent of third downs of seven yards or fewer, fourth-worst in the SEC. On third downs of eight yards or more, opponents convert just 16 percent of third downs on dropbacks, second-best in the SEC.
Struggling under pressure
Franklin has struggled to deal with pressure on third-and-long situations. When needing at least six yards, he has more sacks (seven) than first downs (six).
Overall on third down, he has been sacked eight times in 40 dropbacks. His 20 percent sack rate is third-worst among qualified FBS quarterbacks.
He has not converted on third down all season when under duress. In 13 dropbacks when hurried or knocked down, he has completed one pass while being sacked eight times. He is the only quarterback in the SEC not to convert a single first down in such situations (minimum 10 dropbacks).
In two SEC games while Franklin was healthy, he was sacked on six of 10 dropbacks when pressured, including three of four times on third down.
When Franklin has not been under duress, he has converted 48 percent of his third-down dropbacks into first downs, tied for third-best in the conference.
First real test
Ole Miss will be Franklin's first real test of the season. In Franklin's previous starts he faced one FCS team (Murray State) and five FBS teams that had an average
defensive FPI rank
of 78.
In Mauk's four starts, he faced teams with an average defensive FPI rank of 44.
October, 14, 2013
Oct 14
5:00
AM ET
1. The last unbeaten team in the SEC East is Missouri, and who saw that coming? As much as I have made of head coach Gary Pinkel revamping his team's practice and training methods, I missed another big reason for the Tigers' success. In its 41-26 victory at No. 7 Georgia, Missouri started 11 seniors, eight of them fifth-years. That's how Auburn won the BCS in 2010. It's a simple plan for success. The hard part is signing the right guys, developing them, keeping them healthy and contributing, and not losing them to the NFL.
2. Think about the most recent round of realignment. In most cases, conferences took teams that, based on history, would struggle to compete against their new opponents. Utah and Colorado in the Pac-12? Missouri and Texas A&M in the SEC? But look at what has happened. Utah just beat No. 5 Stanford. Missouri and Texas A&M have played better in the SEC than they did in the Big 12. No, it's not because the Big 12 is tougher. Those programs, infused with new income and a new incentive to compete, have stepped up their games. Sue me -- even Colorado is better.
3. We pointed out last week that as well as Oregon quarterback
Marcus Mariota
has played, he hasn't played with a game on the line, because the No. 2 Ducks have been too dominant. Through five games, Mariota hadn't even thrown a pass in the fourth quarter. At No. 16 Washington on Saturday, Oregon began the fourth quarter with a 31-24 lead. From that point on, Mariota went 5-for-6 for 75 yards and a touchdown, and rushed five times for 33 yards and a score. Oregon won, 45-24. He has been the best player in college football over the first half of the season.
October, 8, 2013
Oct 8
5:00
AM ET
1. No. 7 Georgia lost two receivers and a tailback to knee injuries Saturday, which is something to which the Dawgs' next opponent, Missouri, can relate. The Tigers had so many injuries during last season's 5-7 SEC debut that head coach Gary Pinkel revamped his entire practice and training regimen, eliminating two-a-days and reducing contact drills. Missouri is 5-0, ranked No. 25 and its starters have a missed a total of three games because of injury.

2. Here's what I noticed about the 13 names reported to be on the College Football Playoff Selection Committee. Three people have won a national championship (Pat Haden as a player, Tom Osborne as a coach and Barry Alvarez as an assistant). There are more former quarterbacks (four) than former head coaches (three, and Ty Willingham is on both lists). If Stanford comes up for discussion, Willingham and Condoleezza Rice would have to leave the room, but what would West Virginia athletic director Oliver Luck do?

3. No. 11 UCLA should move to 5-0 this week by defeating a Cal team that is 0-4 against FBS opponents. That would set up not only a showdown the following week at No. 4 Stanford but it would put the Bruins on the cusp of returning to the top 10 for the first time in eight seasons. Since the glory days under Bob Toledo, when the Bruins appeared in the top 10 in four of five years from 1997-2001, UCLA has appeared in the top 10 for a total of three weeks. A long drought appears to have ended in Westwood.

May, 28, 2013
May 28
11:00
AM ET
LSU coach Les Miles doesn't have a problem playing eight SEC opponents every season.
Miles also realizes the Tigers could play nine SEC games in the very near future.
Miles just doesn't think it's fair that LSU has to play Florida every season, while other teams in the SEC West don't.
[+] Enlarge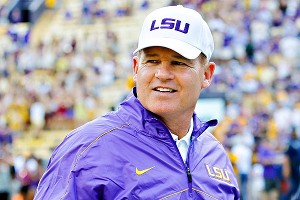 Derick E. Hingle/US PresswireUnder the current SEC scheduling format, Les Miles and LSU play Florida every season.
As SEC presidents, athletics directors and coaches convene this week for the league's annual spring meetings in Destin, Fla., long-term scheduling has become the hot-button issue.
The league is expected to vote whether to change its current 6-1-1 format, in which teams play each opponent from their respective division, along with one rotating foe and one permanent opponent from the opposite division. SEC officials could vote this week to add a ninth conference game or at least eliminate permanent crossover opponents.
The SEC adopted its current scheduling format to ensure that longstanding rivalries like Alabama-Tennessee and Georgia-Auburn would survive expansion.
By drawing the Gators as a permanent crossover opponent, Miles believes the Tigers drew the short end of the stick.
Miles won't complain about the scheduling format publicly, but he knows LSU is at a disadvantage.
And Miles is probably right.
"When they give us our schedule, I'm looking forward to having a great competition," Miles said.
Since 2000, LSU has played Florida and Georgia -- two of the SEC East's best programs -- a total of 17 times. Auburn is the only SEC West team which has faced those teams more often, playing them 19 times. Arkansas, Mississippi State and Ole Miss have faced them a total of 10 times each, while Alabama has played them only eight times.
While it's not fair that LSU has faced the Bulldogs and Gators nearly twice as often as Alabama has played them since 2000, Miles' argument might fall on deaf ears. Auburn and Georgia aren't going to surrender the longtime series -- the Deep South's Oldest Rivalry has been played 116 times since 1892. Likewise, Alabama and Tennessee have played 95 times since 1901, a game so revered it's named for its traditional place on the calendar, the Third Saturday in October.
And Ole Miss would probably rather play Vanderbilt every season instead of Florida, Georgia or South Carolina, and Mississippi State isn't going pass up a chance to play Kentucky every year.
"There's never going to be a fair way," said Texas A&M coach Kevin Sumlin, whose Aggies drew Missouri as a permanent crossover opponent. "If you look back seven or eight years ago, you would have said the SEC East was the strongest division. You can't say what's fair, because things change in this league. You can't look at tradition. Ten years ago, you might have wanted to play South Carolina. Now you don't want anything to do with them. You don't know what Tennessee is going to do with a new coach. I know Butch Jones is going to do a great job."
Florida-LSU has become one of the league's most anticipated games every season. They've been two of the league's most dominant teams over the past decade. They've combined to appear in seven SEC championship games since 2003, and they've combined to play in nine BCS bowl games, including five BCS national championship games. In their past 10 meetings, LSU and Florida were both ranked in the top 25 of the coaches' poll nine times. Conversely, Alabama and Tennessee were both ranked only once in their past 10 meetings.
The loser of the Florida-LSU regular-season game has paid dearly over the past 10 seasons. LSU's 23-10 loss at Florida in 2006 knocked the Tigers out of the SEC championship game (the Gators defeated Arkansas 38-28 and then blasted Ohio State 41-14 to win the BCS title). Last year, LSU's 14-6 loss at Florida probably cost it a spot in the AT&T Cotton Bowl, if not another trip to a BCS bowl game.
Florida's losses to LSU in 2002, '05 and '07 kept them out of the SEC championship game and potentially BCS bowl games.
November, 24, 2012
11/24/12
11:24
PM ET
COLLEGE STATION, Texas -- Texas A&M put the finishing touches on a double-digit win season and
Johnny Manziel
made his final case for the Heisman Trophy as the Aggies coasted by Missouri
59-29
Saturday at Kyle Field.


The win makes Texas A&M 10-2 on the season (6-2 SEC), marking the first time since 1998 that the Aggies have finished a season with at least 10 wins. Let's take a look at the notable happenings from the night:
It was over when:
The clock hit triple zeroes at halftime. The Aggies started fast and didn't look back, jumping out to a 42-0 lead at the 3:33 mark in the second quarter. Missouri scored once before the half and added 22 points in the second half, but it was all for naught as A&M's lead was already insurmountable.
Game ball goes to:
Manziel. He was his usual productive self on Saturday, completing 32-of-44 passes for 372 yards and three touchdowns with one interception while running 12 times for 67 yards and two touchdowns. He became the SEC's single-season total yardage record-holder, eclipsing Cam Newton's mark of 4,327 (Manziel finished with 4,600 for the season, breaking Newton's mark in two fewer games).
Key stat: 12-of-16.
The Aggies' third-down conversion rate. All season, Texas A&M has called third down the "money down", and the Aggies have earned their money in that area on both sides of the ball. They converted their first 12 attempts on offense Saturday, which was a big reason why they took their commanding lead. They converted 75 percent of their third downs and were pretty good defending them on defense too (5-of-14, 35.7 percent).
Unsung hero of the game:
Spencer Nealy
. All season long, the senior defensive tackle has done dirty work for the Aggies, taking on double teams after switching positions from defensive end prior to the season. He shined in that role, and Saturday was the best example of that, when he was disruptive to Missouri quarterback
Corbin Berkstresser
and the Tigers' offensive backfield. Nealy finished with seven tackles, two tackles for loss, a quarterback hurry and a pass breakup.
Best call:
A&M head coach Kevin Sumlin applied a nice touch late in the game, allowing Manziel to come in for a play so that he could leave the field and get an ovation from the 87,222 in attendance. Manziel gave the "Gig 'em" thumbs up to the crowd as he exited. It was a nice moment and a fitting end to what has been a memorable season for the redshirt freshman quarterback and the Aggies.
What it means:
The Aggies' first SEC regular season is in the books and it's safe to say that they've arrived. With 10 wins, they exceeded expectations and they have a legitimate Heisman Trophy candidate (front runner even?) in Manziel. Texas A&M will go to a quality bowl game, likely either the Capital One Bowl, Cotton Bowl or possibly a BCS bowl, depending on how things shake out in the season's final weekend.
For Missouri, it means the Tigers will not go bowling, as they finish 5-7 (2-6 in the SEC). There were high expectations coming into the season and it's a disappointing end for the Tigers, who were without starting quarterback
James Franklin
on Saturday because of a concussion suffered last week.
November, 10, 2012
11/10/12
5:14
PM ET
Missouri 51, Tennessee 48 (4 OT):
Redshirt freshman kicker
Andrew Baggett
connected on a 35-yard field goal, lifting the Tigers to a thrilling four-overtime road victory at Neyland Stadium.
Missouri needed a near-miracle just to get the game to overtime, trailing 28-21 in the final minute of regulation. The Tigers converted two fourth downs, including a 25-yard touchdown pass from
James Franklin
to
Dorial Green-Beckham
on 4th-and-12 to tie the game at 28-28 with 47 seconds left.
Boos rained down from the fans at Neyland when the Volunteers decided to run out the clock and go to overtime.
The teams exchanged touchdowns in the first two overtimes, and Missouri receiver
Marcus Lucas
made another impressive catch, an 18-yard reception reminiscent of Green-Beckham's regulation haul, to send it to a third overtime tied at 42.
The teams exchanged touchdowns and failed two-point conversion attempts in the third overtime, then Tennessee coach Derek Dooley made an interesting decision in the fourth overtime, electing to go for it on fourth-and-3 at the Missouri 18. Quarterback
Tyler Bray
's pass to
Zach Rogers
fell incomplete and the Vols paid for it when the Tigers capitalized with Baggett's game-winning kick.
The loss keeps Tennessee (4-6, 0-6 SEC) winless in conference play while the Tigers (5-5, 2-5) picked up their second SEC win.
Franklin's day was a good one, as he went 19-of-32 for 226 yards with four touchdowns and an interception. He also picked up 43 yards on the ground, and senior running back
Kendial Lawrence
rolled to a 153-yard, two-touchdown day on 21 carries, which included a 77-yard third-quarter touchdown run.
Tennessee was awful in the penalty department, committing 11 for 80 yards.
South Carolina 38, Arkansas 20:
Connor Shaw
and the Gamecocks receivers found plenty of room downfield en route to the resounding victory against the Razorbacks at Williams-Brice Stadium.
Shaw, the Gamecocks' junior quarterback, was 14-of-22 passing for 272 yards and two touchdowns. He was able to hit on big plays down the field early and often -- the first coming on a 29-yard pass to a wide-open freshman tight end
Jerell Adams
.
The Razorbacks moved the ball well themselves in the first half, getting inside the Gamecocks' 10 on three straight drives, but only yielded 10 points from those three trips. The first ended in a lost fumble by
Dennis Johnson
, the second resulted in a 6-yard touchdown pass from
Tyler Wilson
to
Keon Hatcher,
and the third stalled before becoming a short
Zach Hocker
field goal.
Shaw continued his downfield assault before the half, hitting a wide open
Bruce Ellington
for a 42-yard touchdown at the 1:30 mark, giving South Carolina a 21-10 lead going into halftime.
The defense got in on the act in the third quarter when
D.J. Swearinger
stepped in front of a Wilson pass and returned it 69 yards for a score and a 31-10 lead.
The Gamecocks put ample pressure on Wilson, sacking him four times and picking up four hurries as well. Wilson was productive when he did have time (26-of-41, 277 yards) but threw two interceptions with his two touchdowns.
South Carolina was able to keep the chains moving fairly well, converting 7-of-13 attempts on third down. That's an area where Arkansas struggled mightily (3-of-17). The turnover battle went in the Gamecocks' favor also, 3-1, with the only South Carolina turnover coming with Shaw taking a shot in the end zone holding a 38-13 lead in the fourth.
September, 22, 2012
9/22/12
5:03
PM ET
There's no nice way to say it: that was a boring slate of early games for the SEC in Week 4.
SEC fans had only a pair of shutouts -- Ole Miss' 39-0 win against Tulane and Florida's 38-0 pasting of Kentucky -- to entertain them for the first three hours of the day. No. 7 South Carolina is carrying the banner for the league right now, as the Gamecocks' game against Missouri is the only mid-afternoon kickoff today. And No. 1 Alabama has an overmatched Florida Atlantic in the early evening.
Other than that, it looks like we'll be cramming our SEC action into the prime-time windows this week.
What's coming tonight:
No. 2 LSU at Auburn, 7 p.m. ET, ESPN:
LSU won this matchup in a 45-10 walk last year in Baton Rouge. Auburn's lopsided loss to No. 23 Mississippi State, along with its overtime escape last weekend against Louisiana-Monroe, indicate that might be the case again in 2012. Auburn has a few factors in its favor, though. The game is in Jordan-Hare Stadium, where Auburn is 5-1 in its past six meetings with LSU. It's also the first road start for untested LSU quarterback
Zach Mettenberger
.
Rutgers at Arkansas, 7 p.m. ET, ESPNU:
Whatever hope remains for Arkansas' season hinges on the Hogs' ability to get a win tonight. The Razorbacks have back-to-back road games at Texas A&M and Auburn following this nonconference tilt, and a 1-3 start would be less than ideal for their SEC prospects. Rutgers is off to a surprising 3-0 start, highlighted by a conference road win at South Florida.
South Carolina State at Texas A&M, 7 p.m. ET, ESPN Gameplan:
The Aggies get one more nonconference tuneup before the SEC slate begins anew next week. Assuming A&M makes easy work of the Bulldogs, this might be the last time the Aggie starters get a break this season. The postponement of the Louisiana Tech game by Hurricane Isaac means no bye week this season.
South Alabama at No. 23 Mississippi State, 7 p.m. ET, ESPN Gameplan:
The Bulldogs fought off a serious upset bid from Sun Belt heavyweight Troy last weekend -- the result of a possible letdown after the big win against Auburn. The schedule sets up nicely for a 7-0 start, so Mississippi State fans would undoubtedly love to see the Bulldogs flex some muscles against an overmatched opponent.
Akron at Tennessee, 7:30 p.m. ET, ESPN Gameplan:
The Volunteers could use a confidence boost after last weekend's second half collapse against Florida. They'll need it, too. When Tennessee is done with the Zips, it faces four top-25 teams in a row -- three of them on the road.
Vanderbilt at No. 5 Georgia, 7:45 ET, ESPN2:
Everyone is sure to keep an eye on this one because of the altercation between Georgia defensive coordinator and Vanderbilt coach James Franklin at the end of last year's Georgia win. That might steal some headlines, but the real story is that Vandy hasn't been an easy out for the Bulldogs recently. The Commodores defeated the Bulldogs in 2006, and they've come as close as three in 2007, 10 in 2008 and five last fall. Of course, tonight's game is in Athens, Ga., and the last time the Bulldogs hosted Vanderbilt they won 43-0.
December, 15, 2011
12/15/11
3:30
PM ET
Some exit fees and a time frame on leaving the Big 12 apparently aren't going to stop Missouri from joining the SEC in 2012.
In a
St. Louis Post-Dispatch
story, Missouri Chancellor Brady Deaton said that Missouri is very firm on its plan to join the SEC next year, despite the Big 12's concerns about whether West Virginia can replace Missouri in time.
"We're going to the SEC (next year) regardless," Deaton said.
Deaton also said that he gained assurance from the Big 12 commissioner and the chairman of the board that such a move was "OK."
The SEC plans to announces its 2012 football schedule next week and Missouri is expected to be on it.
Deaton also talked about the steps Missouri took to applying for membership into the SEC. There were moments where representatives from the school thought they could help save the Big 12, but even after the Pac-12 expansion that involved four Big 12 teams, most notably Texas and Oklahoma, fell through, Deaton said Missouri became too worried about the future of the Big 12.
"It was clear that every move we were making was a struggle, and an uncertain one, that was sowing potential seeds of dissension from school to school," Deaton said. "It was sort of like you were sitting there saying, 'OK, who's going to be the next one to say they're going here, there or elsewhere because of one of these little glitches that are occurring in the discussion process?'"
October, 28, 2011
10/28/11
2:45
PM ET
Ah, the way-too-early Halloween trick strikes again.
This time, it dealt with the SEC and Missouri, who is currently exploring other conference options outside of the Big 12.
Thursday brought us a news release on the SEC's website that announced Missouri as the 14th member of the conference. However, SEC officials said Friday that
the release was a mistake
and that there are currently no talks between the SEC and Missouri.
SEC spokesman Charles Bloom said in an email to ESPN.com: "Web vendor made mistake. No agreement between SEC and Missouri."
According to The SEC site's operator, XOS Digital Sports Network, a "draft article" was made just in case Missouri did join the league in the near future and "a website user was able to obtain it through the use of a new advanced search technology."
SEC commissioner Mike Slive said Thursday at the SEC's basketball media day that league officials are working on
scheduling for both a 13- and 14-school league
just in case the SEC expands further.
However, Slive didn't say if Missouri was involved in the scheduling talks and that there was no news to report about possibile expansion.
This feels like the worst kept secret in college sports these days.
Despite what the commissioner is saying, there is strong speculation Missouri will leave the Big 12 and join the SEC.
But if that website gaffe didn't light talk about Missouri joining the SEC on fire, Friday's new release announcing
West Virgina's addition to the Big 12
starting in 2012 should have.
In the release, the Big 12 said: "beginning with the 2012-13 season it is expected that the Big 12 Conference will be comprised of 10 Universities -- Baylor, Iowa State, Kansas, Kansas State, Oklahoma, Oklahoma State, TCU, Texas, Texas Tech and West Virginia."
No sign of Missouri in there ...
September, 21, 2011
9/21/11
10:12
AM ET
Could it be that Texas A&M is the only team the SEC adds, at least for now?
The
SEC is denying reports
that the SEC has decided to add Missouri as the 14th team and move Auburn to the Eastern Division.
Here's what the SEC's official statement said, which was released by associate commissioner Charles Bloom:
"The Southeastern Conference has not agreed formally or informally to accept any institution other than Texas A&M, and there have not been conference discussions regarding changes in divisional alignments."
Obviously, this is an extremely fluid situation, and what happens with Texas is going to drive the remainder of any movement we see in terms of conference realignment.
The SEC has said it has a contingency plan to play next season with 13 teams, although that wouldn't be ideal.
There have been reports that the SEC rejected West Virginia, and it makes sense that Missouri would probably want to remain in the Big 12 if it survives.
Officials at Auburn have said they wouldn't oppose a move to the Eastern Division. Alabama and Auburn could still play every year in that format and also could potentially meet in the SEC championship game. However, such a move would mean rivalries like Alabama-Tennessee and Auburn-LSU would no longer be played every year.
February, 10, 2009
2/10/09
12:52
PM ET
Posted by ESPN.com's Chris Low
LSU coach Les Miles shook up his defensive staff following last season, and the result was former Tennessee defensive coordinator John Chavis coming in to run the Tigers' defense.
This latest turnover was the kind Miles didn't want to see. He's losing one of his best recruiters to Missouri. Josh Henson, who's been with Miles since their Oklahoma State days, has taken a job on the Missouri staff as co-offensive line coach.
Henson was easily one of the best recruiters in the SEC and had been LSU's recruiting coordinator and tight ends coach the past four years. LSU's 2009 signing class was ranked No. 1 in the country by ESPN's Scouts Inc., and Henson rates up there with Larry Porter and D.J. McCarthy among the staff members most responsible for putting that class together.
Clearly, he's not the kind of guy you want to lose off your staff, particularly for what appears to be a lateral move. Keep in mind that Miles threw some significant money at Ed Orgeron back in December and appeared close to getting him before Orgeron elected to join the Tennessee staff.
Henson is no stranger to the Big 12, as he spent 10 years as a player and coach at Oklahoma State before going to LSU with Miles.