June, 30, 2011
6/30/11
10:36
AM ET
By
ESPN.com staff
| ESPN.com
We're starting to see the normal attrition across the league, players leaving on their own accord or being asked to leave.
If you toss in a few of the injured players who aren't expected to play next season, you could put together a pretty decent team of those SEC players who have either moved on or won't be on the field this fall for various reasons.
Here's a sampling:
OFFENSE
Nathan Stanley, QB, Ole Miss
Washaun Ealey, RB, Georgia
Broderick Green, RB, Arkansas (injured)
Mike Blakely, RB, Florida
Eric Smith, H-back, Auburn
Shaun Kitchens, WR, Auburn
Trinton Sturdivant, OL, Georgia (injured)
Brent Benedict, OL, Georgia
A.J. Harmon, OL, Georgia
Seth Oxner, OL, Arkansas
Alex Smith, TE, Kentucky
DEFENSE
Chris Martin, DE, Florida
Kerry Murphy, NG, Alabama (injured)
Montori Hughes, DT, Tennessee
D.T. Shackelford, LB, Ole Miss (injured)
Clarence Jackson, LB, Ole Miss
Janoris Jenkins, CB, Florida
B.J. Scott, CB, Alabama
Mike McNeil, S, Auburn
Robby Green, S, Alabama
June, 9, 2011
6/09/11
11:59
AM ET
By
ESPN.com staff
| ESPN.com
Banking on junior college players to come in right away and provide a quick fix in college football is a lot like playing the lottery.

Sometimes you hit it big. But more times than not, you don't.

With the news Thursday that Tennessee coach Derek Dooley had booted junior defensive tackle Montori Hughes from the team, Maurice Couch joins John Jenkins at Georgia as two of the most important junior college additions in the SEC this season.

They both just happen to be interior defensive linemen, as if that's any coincidence.

The Bulldogs are counting on Jenkins to step right in at noseguard and be a dominant presence in their 3-4 defense.

The Vols need any help they can get in the middle of their defensive line, and if Couch isn't what they think he is, they're going to struggle to stop anybody from running the football this season.

While the 6-foot-4, 327-pound Hughes didn't exactly conjure up memories of Reggie White (except for his size), he was at least a big, athletic body who had showed flashes when he wasn't suspended for academic reasons or getting into trouble off the field. The writing had been on the wall for some time that Hughes wasn't going to make it, meaning Couch was already a key piece to the Vols' defensive puzzle.

Not only are the Vols thin in numbers at defensive tackle, but they're also undersized, which makes the 6-2, 305-pound Couch even more valuable.

Tennessee would be ecstatic if Couch could come in and have the kind of impact another junior college tackle did earlier this decade. The late Jesse Mahelona came to Tennessee from Orange Coast College in California and earned All-America honors from The Sporting News in 2004. Mahelona had 18.5 tackles for loss that season and was one of the driving forces in the Vols reaching the SEC championship game.

Nobody's expecting Couch to come in and be an All-American his first season, but the Vols desperately need him to come in and be an impact player and solidify the middle of that defensive line.

The linebacker corps is already going to be inexperienced, particularly with the injury to Herman Lathers. True freshmen Curt Maggitt, Christian Harris and A.J. Johnson will all figure prominently into the rotation.

That's a lot of new faces in the front seven, but nobody in that group will be more important for the Vols this season than Couch.
March, 29, 2011
3/29/11
1:07
PM ET
By
ESPN.com staff
| ESPN.com
A look at what's shaking in the SEC:
March, 22, 2011
3/22/11
7:22
PM ET
By
ESPN.com staff
| ESPN.com
Schedule:
The Vols opened spring practice on Tuesday afternoon and will hold their Orange & White spring game on April 16.

What's new:
Peter Sirmon, who played in the NFL for the Tennessee Titans, was promoted to linebackers coach, replacing Chuck Smith. Lance Thompson moved over from linebackers coach to defensive line coach.
On the mend:
Safety Janzen Jackson is not in school this semester and will not go through spring practice. Defensive end Ben Martin (Achilles), linebacker Herman Lathers (shoulder) and offensive lineman Marques Pair (knee) will miss the spring or be severely limited while recovering from surgeries. Quarterback
Nash Nance
(foot) will also be limited.
On the move:
Sophomore Daniel Hood has moved from offensive tackle to defensive tackle.
Key battle:
The Vols lost two senior specialists, so they need to sort out the place-kicking, punting and kickoff duties. Sophomore Michael Palardy will battle for all three, and redshirt freshman Matt Darr will be in the hunt for the punting and kickoff chores.
New faces:
Six freshmen enrolled early and are going through spring ball -- defensive back Justin Coleman, offensive lineman Mack Crowder, receiver Vincent Dallas, tight end Brendan Downs, offensive guard Marcus Jackson and quarterback Justin Worley. The Vols signed three junior college defenders they hope will be able to help right away -- defensive tackle Maurice Couch and defensive backs Izauea Lanier and Byron Moore -- but they don't arrive on campus until this summer.
Breaking out:
Justin Hunter
was the Tennessee freshman receiver everybody was talking about last season with his seven touchdown catches. Don't be surprised if Da'Rick Rogers steals some of that spotlight next fall. The 6-foot-3, 211-pound sophomore could pass for an NFL receiver physically. He has all the tools to be a great one in this league. If he improves his consistency, look out.
Don't forget about:
One of the most damaging blows for the Vols last season was losing defensive tackle Marlon Walls for the entire season with an Achilles tendon injury. There was no depth to speak of in the middle of that defensive line, and Walls was being counted on to be a starter. He's back this spring and figures to be a key part of that defensive line in the fall. There are no guarantees with junior Montori Hughes, who was suspended for the first two practices for violating team rules, which makes Walls' return all the more valuable for the Vols.
All eyes on:
Sophomore quarterback
Tyler Bray
says he's bigger, stronger and faster. He demonstrated in those last five games a year ago as a true freshman that he has a big-time arm and isn't afraid to put the ball in tight spots. The next step is proving that he can effectively lead this football team.
November, 22, 2010
11/22/10
5:45
PM ET
By
ESPN.com staff
| ESPN.com
Both Kentucky and Tennessee will be without defensive tackles in their game this Saturday in Knoxville.

Kentucky's Mark Crawford, who has started most of this season, has been suspended for the remainder of the season for what coach Joker Phillips said was a violation of team rules.

Tennessee coach Derek Dooley announced Monday that sophomore Montori Hughes was suspended for this game for violating the Vols' academic policy. Hughes was expected to be one of Tennessee's top defenders this season, but has suffered through a disappointing season and hasn't been much of a factor down the stretch. Still, the Vols are extremely thin at defensive tackle and can't afford to lose anybody at this point.

With Crawford out, that means freshman Donte Rumph will see his snaps increase at tackle for the Wildcats. Senior Ricky Lumpkin has been slowed by a knee injury and will practice on a limited basis this week, but Phillip expects him to be available for the game.
July, 14, 2010
7/14/10
12:08
AM ET
By
ESPN.com staff
| ESPN.com
A Knoxville man is saying he was beaten by a group of Tennessee players early last Friday morning in a bar-clearing brawl that has already led to one dismissal and two suspensions of Vols players.
Gary Russell, 20, said the only two players he could positively identify were defensive tackle Montori Hughes and receiver
Denarius Moore
. Russell said six or seven players jumped on him and were kicking and beating him while he lay on the floor after he bumped into Hughes. Russell said Hughes started the fight by pushing him and then punching him in his chest following the inadvertent bump. At that point, Russell said he swung back to defend himself, triggering the brawl that eventually spilled outside and left an off-duty police officer unconscious.
The 6-foot-4, 312-pound Hughes claims he was attacked by Russell from behind, and the Tennessee players in separate meetings have told coach Derek Dooley that's what happened. The police are still investigating and say more charges could be coming. Hughes has yet to be questioned by police or charged with anything, although he hired a lawyer last weekend.
Here's the
latest on the situation
.
June, 1, 2010
6/01/10
10:00
AM ET
By
ESPN.com staff
| ESPN.com
Here's a look at the players on each team in the SEC that I would select as the most irreplaceable going into the 2010 season:
Alabama: Safety Mark Barron.
He's the Crimson Tide's lone experienced guy back in the secondary and one of the best safeties in the SEC. He also worked a bunch this spring at Alabama's all-important star/nickel position in the defense. If something were to happen to Barron, Alabama might have to rely on a true freshman, possibly Jarrick Williams or Nick Perry. Robby Green's NCAA-mandated suspension was a major hit in terms of the Tide's depth at safety.
[+] Enlarge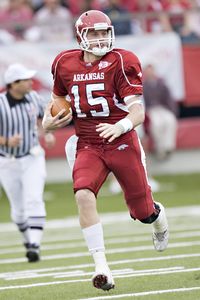 Wesley Hitt/Getty ImagesArkansas' Ryan Mallett is a franchise quarterback for the Razorbacks.
Arkansas: Quarterback Ryan Mallett.
Even though Mallett's backup, sophomore
Tyler Wilson
, has worked extensively with the first unit, he's not Mallett, whose big-play potential on every play changes the way defenses attack the Hogs. Moreover, Mallett's a franchise type of quarterback, and those guys are never easily replaced.
Auburn: Offensive tackle Lee Ziemba.
The Tigers were hopeful that freshman signee Shon Coleman would be able to come in and sort of serve as Ziemba's apprentice this first season at left tackle. Sadly, Coleman is battling lymphoma. Right now, it's difficult to pinpoint anybody on Auburn's roster who would be able to come in and competently handle defensive ends in this league.
Florida: Quarterback John Brantley.
He's the purest passer Urban Meyer has had at Florida and looked terrific this spring throwing the football. He still has to prove himself against SEC defenses, but the Gators are confident in what he'll be able to do. Behind Brantley is true freshman Trey Burton, who had a 76-yard run in the spring game and may be used to run some of the "Tim Tebow" package next fall in short-yardage and goal-line situations.
Georgia: Quarterback Aaron Murray.
Your first inkling is to go with junior receiver
A.J. Green
, who just might be the best receiver in the country. But the more you study the Bulldogs' quarterback situation, it has to be Murray. Granted, he hasn't taken a snap in a college game, but he's at least gone through two spring practices at Georgia. If Murray goes down, the Bulldogs' options are junior
Logan Gray
(who wants to move to receiver) and true freshman Hutson Mason, who just finished up high school.
Kentucky: Receiver Randall Cobb.
What doesn't Cobb do for the Wildcats? He's their most effective offensive threat whether he lines up at receiver or at quarterback in the Wildcat formation. He also returns kickoffs and punts. Kentucky is optimistic that senior
Chris Matthews
could also be a go-to guy at receiver now that he's in his second year in the program after coming over from junior college last season. But Cobb's versatility makes him one of the most irreplaceable players in the conference.
[+] Enlarge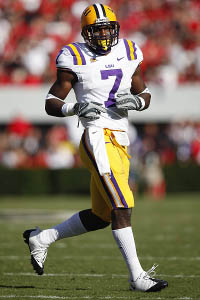 Joe Robbins/Getty ImagesLSU's Patrick Peterson is a shut down corner in one of the SEC's best secondaries.
LSU: Cornerback Patrick Peterson.
On any level of football, lockdown cornerbacks come at a premium. Not only is Peterson a lockdown corner, but he's an exceptional tackler, a budding leader and the kind of player who rubs off on everybody else around him with his unyielding confidence. The LSU coaches love the potential of
Morris Claiborne
on the other side. But if Claiborne all of a sudden has to become the "man" at corner, that changes things for the Tigers in what should be the best secondary in the SEC. Ron Brooks would be one of the candidates to replace Peterson, or the Tigers could also move converted safety Jai Eugene back to cornerback.
Mississippi State: Defensive end Pernell McPhee.
The Bulldogs think they have the talent, size and athleticism in the defensive line to give opposing offenses fits next season. The guy who makes it all happen up front is McPhee, who's powerful enough to play inside, but has the burst to play outside. He returns as one of the top defensive linemen in the SEC and is one of those difference-makers on defense you simply can't take out of your lineup and not expect to have a steep drop-off. Junior Sean Ferguson or possibly redshirt freshman Johnathan McKenzie would be in line to replace McPhee.
Ole Miss: Defensive end Kentrell Lockett.
The Rebels have more defensive tackles than they know what to do with. They're as deep in the interior positions on the defense line as any team in the country. But Lockett is the lone wolf at end when you look at everybody that departed last season. The Rebels were encouraged by what they saw out of junior college newcomer Wayne Dorsey at the other end in the spring, but Lockett's experience and ability to rush the passer will be one of the keys to Ole Miss' defense. The Rebels are a lot less imposing in their front seven without him.
South Carolina: Cornerback Stephon Gilmore.
It sounds like Gilmore's duties may expand in 2010. Steve Spurrier is talking about using him a couple of series every game at quarterback in the Wildcat formation. He also returns punts and is South Carolina's top cornerback. Gilmore was one of the top freshmen in college football last season. Even though he's only a sophomore, he's the heart and soul of that secondary and will be even better his second tour through the SEC. Junior C.C. Whitlock would be first in line to replace Gilmore and is plenty talented. Whitlock just needs to prove that he's going to be more dependable -- both on and off the field.
Tennessee: Defensive tackle Montori Hughes.
Nowhere on Tennessee's roster is the depth more precariously thin than at defensive tackle. Hughes and Marlon Walls are pretty much it, and they were both pushed into action last season as true freshmen. They're bona fide SEC tackles, too, and make for a solid tandem. They just don't have anybody behind them who's played many (or any) meaningful snaps in this league. There's depth at defensive end, and Rae Sykes may be one of those guys who can also play inside. But if something happens to the 6-4, 317-pound Hughes, the Vols will be extremely vulnerable in the middle of their defensive line.
Vanderbilt: Middle linebacker Chris Marve.
He's first SEC player since former Vanderbilt great Jamie Winborn to post 100-plus tackles in both his freshman and sophomore seasons. Marve has also shown incredible toughness, playing through injuries and pain, and will be the heartbeat of that Vanderbilt defense in 2010 in more ways than one. There's also not much experience around him at linebacker. Marve will be the one getting everybody lined up. And when there's a play to be made, he's the one who's usually making it. Redshirt freshman Blake Southerland would get a shot in the middle if something happened to Marve. The Commodores could also potentially move Tristan Strong or DeAndre Jones into the middle, although Strong is one of the favorites to step in for Patrick Benoist at weakside linebacker.
March, 31, 2010
3/31/10
10:47
AM ET
By
ESPN.com staff
| ESPN.com
In need of defensive tackle help, Tennessee has added a late addition to its 2010 signing class.

Defensive tackle Greg Clark of Warner Robins, Ga., became the Vols' 26th signee Tuesday. He was being recruited by such schools as Auburn, Ole Miss, Southern Miss and Tennessee earlier this year, but had yet to qualify academically. He never received a firm offer and was planning on going to Valdosta State.

However, Clark was able to improve his score on the ACT after taking it again, and Tennessee offered this week. The Vols desperately need help in the middle of their defensive line.

Their only other tackle signee in this class was John Brown of Northeast Mississippi Community College, and Brown is still working toward qualifying.

On the Vols' current roster, returning sophomores Montori Hughes and Marlon Walls are the only two players who have any real SEC experience at tackle, although the Vols have moved some guys around to try and build some depth.
August, 6, 2009
8/06/09
11:03
AM ET
By
ESPN.com staff
| ESPN.com
Posted by ESPN.com's Chris Low
One of the unsung leaders on Tennessee's defense is fifth-year senior tackle Wes Brown.
He's been an inspiration with the way he's fought through throbbing pain in both knees. Not only did he slide inside to tackle this season from end for the good of the team, but he's been a shining example of what staying the course is all about.
Brown is hurting, and that's obvious. It was all he could do to finish Wednesday's practice, but he did.
"It's been a struggle, but my team deserves it," said Brown, who's had two surgeries on his knees in the past eight months. "This is my last year, so I want to get out there and have a good last year. It's going to be tough. I know there's going to be days when I'm going to be more sore than others, but I'm not done yet.
"I'm going to keep playing until the good Lord tells me I can't. I'm taking it day by day."
The reality is that the Vols will have to be pretty selective with Brown if they want to have him for the whole season. He's simply not going to be able to take the pounding day after day and play after play for the next four months.
Tennessee coach Lane Kiffin likened him to a 12-year NFL veteran and acknowledged that's the way they would probably treat him.
"We've really got to make sure we're getting the right stuff out of him and not overworking him," Kiffin said.
The Vols are already thin at tackle. If you take Brown out of the equation, it really gets scary.
This is a huge preseason camp for 6-foot-4, 312-pound redshirt freshman Montori Hughes, who was one of the stars of the spring. And more than ever, Tennessee needs incoming freshman Marlon Walls to get eligible.
July, 21, 2009
7/21/09
3:00
PM ET
By
ESPN.com staff
| ESPN.com
Posted by ESPN.com's Chris Low
At the offensive skill positions and in the secondary, the Vols could have several true freshmen playing key roles.

Bryce Brown, RB: Rated as one of the top running back prospects in the country, Brown looks like the complete package on tape. He's a powerful runner inside and has great breakaway speed on the perimeter. He's also impressed everybody on campus this summer with his work ethic and maturity. Senior Montario Hardesty will be the starter, but look for Brown to add some sizzle to the Vols' running game this season. First-year coach Lane Kiffin has promised to get his young talent on the field, and Brown may be the most talented of the bunch.
Nu'Keese Richardson, WR: Even before the Vols lost senior Austin Rogers for the season and junior Denarius Moore for several games, there were questions at receiver. Richardson will get a chance right away to show that he's the kind of game-breaking threat Tennessee lacked last season at receiver. He's not very big, but has great moves and is at his best after the catch. Like Brown, he won't have to wait long to get on the field, and Kiffin is committed to finding ways to get him the ball.
Montori Hughes, DT: It won't be entirely new for the 6-foot-4, 312-pound Hughes, who's a redshirt freshman and had the benefit of spring practice. He was one of the most pleasant surprises of the spring and provided the kind of muscle in the middle of the defensive line that will be critical for the Vols this fall. Seniors Dan Williams and Wes Brown are the projected starters at tackle, but Hughes will be a big part of the rotation and has the strength, agility and size to be a special player.
May, 20, 2009
5/20/09
2:00
PM ET
By
ESPN.com staff
| ESPN.com
Posted by ESPN.com's Chris Low
We're counting down the 30 best players in the SEC. We've taken a look at 10 players who may well emerge as stars in this league. Now, let's examine five players who came out of nowhere this spring to become major factors heading into the fall.
1. Ron Brooks, S, LSU -- A quarterback and receiver in high school, Brooks made his name as a special teams player last season as a redshirt freshman. He made another move this spring, from cornerback to safety, and was an instant hit. Every time you turned around, he was intercepting a pass or making a big play. With Harry Coleman sliding over some to outside linebacker, look for Brooks to play a major role in what should be a deep, talented LSU secondary in 2009.
2. Montori Hughes, DT, Tennessee -- A little-known recruit coming out of high school, the 6-4, 312-pound Hughes exploded this spring on the practice field after spending last year at prep school. He was dominant enough that Tennessee coach Lane Kiffin evoked an Albert Haynesworth comparison after one scrimmage. Hughes is incredibly quick for a guy his size and gives the Vols that big, physical presence inside on the defensive line. He should be a nice complement to Dan Williams and Wes Brown this fall.
3. Carlton Thomas, RB, Georgia -- All eyes were on Caleb King coming into the spring, especially with Richard Samuel recovering from wrist surgery. King was supposed to be the heir apparent to Knowshon Moreno and still may be. But the most impressive running back for the Bulldogs this spring was the 5-7, 178-pound Thomas. He has great moves, is tough as nails and is one of those guys who's impossible to get a good hit on in space. The Georgia coaches think he can be a Thomas Brown-type of player.
4. Robby Green, S, Alabama -- One of the most important jobs for Alabama this spring defensively was finding somebody to replace Rashad Johnson, who did so many things for the Crimson Tide defense a year ago. The guy who emerged was at one time thought to be too small to play cornerback in this league, let alone safety. Green, who was about 170 pounds when he arrived at Alabama, played almost exclusively on special teams last season. But his smarts, hustle and ability to hit a lot bigger than he weighs made him one of the surprises of the spring for the Crimson Tide.
5. Justin Albert, RB, Auburn -- He came to Auburn as a walk-on after blowing out his knee during his senior year of high school and spent last season on the scout team. Scholarship or no scholarship, Albert was one of those guys this spring that his teammates kept talking about in glowing terms. He's hungry, talented and willing to do whatever he can to contribute. He showed a knack for making the big plays in scrimmages and should fit in nicely to Gus Malzahn's new spread offense.