December, 17, 2013
12/17/13
7:00
AM ET
ATHENS, Ga. -- For football fans seeking tailgating or restaurant advice at a given road destination, visiting coaches and players are among the worst sources of information.
During the regular season, their road-trip schedule is extremely regimented -- and it leaves no time whatsoever for sightseeing. Visiting fans might be partying at the Grove in Oxford on game day or along Broadway in Nashville on Friday night, but the visiting players and coaches are locked away at the team hotel finalizing their game plans right up until time to bus to the stadium.
[+] Enlarge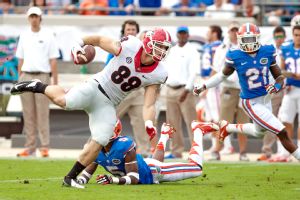 Rob Foldy/USA TODAY SportsA veteran of four Florida-Georgia games, Arthur Lynch gets one more trip to Jacksonville.
That's why bowl games are particularly fun for the team and staff -- and why the upcoming trip to Jacksonville, Fla., for the Jan. 1 TaxSlayer.com Gator Bowl holds some intrigue for Georgia's players. They'll get a chance to actually experience for the first time one of the places most closely associated with Georgia football.
"You will get a chance to get out and see the city," defensive end
Ray Drew
said. "I think that's why a lot of people look forward to the bowl game each year, just because it's a little more laid back rather than just flying in, going to the hotel, going to the game and flying back out. So you get a chance to relax a little bit more and just have fun. I think that's what bowl games are about. Of course it's a business trip, but you get to enjoy the city, as well."
Drew is among a handful of Georgia players who have attended the annual Georgia-Florida game in Jacksonville as a fan. He watched the Bulldogs lose in overtime as a high school senior, months before signing in February 2011 to join the Georgia program that fall.
Otherwise, the majority of the Bulldogs -- with the obvious exception of players like Jacksonville natives John and
Nathan Theus
-- know only bus ride over the city's Hart Bridge, when the throngs of fans and tailgate tents and the massive party outside of EverBank Field first come into view, when they think of Jacksonville.
Sure, they've heard about the elbow-to-elbow crowds at the Jacksonville Landing and know all about the massive fraternity and sorority parties that weekend on the beaches at St. Simons Island. They usually don't get to enjoy the social aspect of the game, however, until their careers are over.
So while a BCS bowl would have been a preferable destination, getting to enjoy Jacksonville is one consolation for the Bulldogs.
"It's tough when you're limited to the bowl games when you don't reach your goals originally, you want to be optimistic and look for the best in every situation," said senior tight end
Arthur Lynch
, who also attended the 2010 Georgia-Florida game as a fan while redshirting that season. "For me, it was like, 'If we get to go to Jacksonville or we get to go to the [Georgia] Dome, we've played in both those places before and it kind of gave me extra incentive to want to be at that specific bowl -- not necessarily who we're playing or what bowl it was, but the idea of the location."
Although few of the players have been out and about in the city, Jacksonville will certainly have a home-town feel for the Bulldogs. Situated close to the Georgia-Florida border, the city boasts a sizable UGA alumni base that should turn out for the Bulldogs' first Gator Bowl appearance since 1989.
"It's definitely a city where there's a lot of Georgia fans there, there's a Georgia fan base there and a lot of alums that are connected to the city. So I have no problem wanting to go see the city for a week," Lynch said. "Bowl trips are fun no matter what. They make it so it's enjoyable and to see the other side of Jacksonville I think will be pretty cool."
For Drew, a junior who will be playing in a third-consecutive Florida-based bowl, he already knows where he wants to play around this time next season when he's wrapping up his college career.
"I'd say Dallas, Texas," Drew said, although he meant nearby Arlington, which will host the inaugural College Football Championship Game next season. "That's where the national will be next year, so yeah, I'm going with that."
October, 9, 2013
10/09/13
7:00
AM ET
ATHENS, Ga. -- One of the prevailing images from last Saturday's win against Tennessee was Georgia's players dogpiling on top of
Marshall Morgan
to celebrate his game-winning 42-yard field goal in overtime.
It capped a day where the sophomore claimed the SEC's special teams player of the week award for the second straight week after booting the longest field goal in Neyland Stadium history, a 56-yarder in the first quarter, and the game-winner in OT. But it wasn't much fun to be in Morgan's position at the time.
[+] Enlarge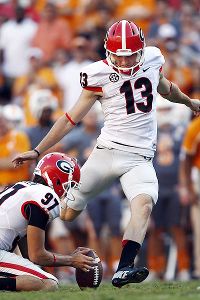 AP Photo/Wade PayneGeorgia kicker Marshall Morgan kicked a 56-yard field goal against Tennessee, the longest on the road in school history.
"I was trying to get them off me," said Morgan, whose Bulldogs (4-1, 3-0 SEC) host Missouri (5-0, 1-0) on Saturday. "That's a lot of weight. I've got asthma."
Otherwise, the Bulldogs' special-teams effort was memorable for the wrong reasons, continuing what has been a season-long trend.
Collin Barber
had a punt blocked for a touchdown -- the second time that has happened this season -- and
Blake Sailors
received a five-yard penalty for defensive delay of game after Georgia forced a third-quarter punt, giving Tennessee a fourth-and-1 that prompted the Volunteers to instead go for a first down.
Vols running back
Rajion Neal
then broke a 43-yard run that set up his game-tying touchdown run when Georgia's defense could have been off the field if not for the rarely-seen penalty.
"If you make a movement that it looks like you're trying to get somebody to jump offsides, if they jump offsides, it's on the defense. It's on us in that case," Georgia coach Mark Richt said. "I've never really seen that happen before and it was pretty crucial, obviously. We had a great stop and they were in a position to punt. I think it was a fourth-and-1 or less and they get the long run. A lot of bad plays happened after that point, and we learned a lesson. Can't do it."
Quayvon Hicks
-- one of three protectors in Georgia's punt shield lineup along with
Arthur Lynch
and
Josh Dawson
-- said there was a miscommunication on the play and accepted blame for the Tennessee block.
"I put that all on me," Hicks said. "I would say it was a miscommunication, but it was something that could have been prevented. It will be something that we're really working on, especially me as a player, to make sure that it doesn't happen in the future."
Hicks could have saved the day if he had blocked
Jalen Reeves-Maybin
before he darted through to deflect Barber's punt, but front-line blocker
Leonard Floyd
also barely got a hand on Reeves-Maybin.
Their collective whiff allowed the Tennessee rusher to break through, and Lynch said the decibel level in Neyland Stadium played a direct role in the miscommunication.
"It's so much easier going out and practicing and doing it, even if it's full-speed practice because you kind of have that communication barrier and it really was a lot louder than I think a lot of people thought," Lynch said. "
Lucas Redd
looked at me and was like, 'I had to read your lips.' That was one of the things that you just can't have those types of setbacks. I think we've cleaned it up."
A skeptic might point out that Georgia has vowed to clean up its special-teams errors several times recently, only to see another mistake lead to an opponent touchdown. Asked what he thinks the team needs to do to remedy those miscues, Hicks was direct in his response.
"It's really not what we think, it's what we're going to do," Hicks said. "Thinking, that's a part of football that really doesn't matter. I think Coach can only do so much. I know we're a very close team, so we're going to do what we have to do this week to make sure that not only in the Missouri game, but here on out, that that doesn't happen anymore. It's just something that could have been prevented. It could have cost us the game."
That seems to be the message that Richt is imparting to his club, as well. Georgia's errors in the kicking game are simply a quality-control issue, where a lack of attention to detail has allowed opponents to steal easy points.
A shaky snap might have cost Georgia the game in its lone loss. The Bulldogs are fortunate that their ensuing mistakes weren't so costly, but they know their luck will likely run out if they don't fix the problems -- and keep them fixed.
"Us as coaches, we've got to do a better job of simulating what's going to happen in the game and coaching and teaching properly where these guys can be more dependable," Richt said. "So it's a two-way street. Coaches gotta coach better, for sure, and the players have got to take on their responsibilities and take care of business.
"That's the way it is in life, so we're learning the hard way, and just by the grace of God the two times we had blocked punts, we still won the game. But the margin for error is just getting slimmer and slimmer."
September, 23, 2013
9/23/13
10:00
AM ET
ATHENS, Ga. --
Arthur Lynch
refused to let snapper
Nathan Theus
remain the only scapegoat after North Texas blocked a Georgia punt for a touchdown, the fourth huge special teams error by the Bulldogs in three games.
Although Theus' snap was high -- an error that led Georgia's coaching staff to replace him with
Trent Frix
later in the game -- senior punt protector Lynch said he misdiagnosed what the Mean Green's rushers were preparing to do and shifted the Bulldogs' coverage.
"That was my fault," Lynch said. "I should have shifted the protection to the left. The snap and the punter had nothing to do with that. If I would have just gotten the protection corrected … I'll put that on me. We'll correct that.
"It's unfortunate, I knew what was going on and I should have called timeout so we could have shifted it. And that's inexcusable, especially for the fact that I've been doing it for three years."
No. 9 Georgia (2-1) thoroughly dominated Saturday's game statistically, but two special teams touchdowns by North Texas -- the Mean Green also returned a kickoff for a 99-yard score -- helped make it 21-all early in the third quarter.
It continued a string of early mishaps in the kicking game -- Theus' high snap late in the third quarter against Clemson prevented the Bulldogs from attempting a potential game-tying 20-yard field goal, plus punter
Collin Barber
dropped a snap in the second quarter against South Carolina, setting up a short touchdown drive – that form an alarming trend.
[+] Enlarge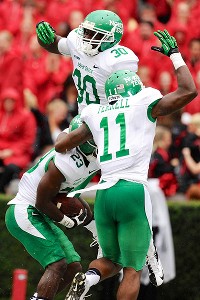 Dale Zanine/USA TODAY SportsNorth Texas players celebrate after a blocked punt resulted in a touchdown against Georgia.
"We've probably had 100 special teams plays by now, but you just hate that the bad ones have been really bad," Georgia coach Mark Richt said.
The timing of those errors might be useful for Georgia's coaches, however, considering the opponent preparing to visit on Saturday. Traditionally dangerous on special teams, players from No. 6 LSU (4-0) are no doubt excited over the possibility of making a game-changing play off a return or fake kick against the Bulldogs.
That's a convenient reminder where Richt's coaching staff can reinforce the importance of special teams in this week's practices.
"It's OK to be on high alert this week, so maybe it will help us," Richt said.
The older players on Georgia's roster probably don't need the reminder on how LSU's return teams can shift the course of a game. The last time these teams played, in the 2011 SEC championship game, LSU punt returner Tyrann "Honey Badger" Mathieu helped swing a game that Georgia controlled early with a 62-yard touchdown return and helped turn it into a rout with a 47-yard runback later in the game.
Mathieu is now in the NFL, but the Tigers' current return specialist,
Odell Beckham
Jr., is nearly as explosive.
"Unfortunately for us, we've seen what their return teams can do: The Honey Badger," Lynch said.
Auburn didn't give Beckham many opportunities to break a long return on Saturday night. He was able to return just one kickoff and one punt thanks to Auburn's deep and high kicks, neutralizing an explosive player who returned a missed UAB field goal 109 yards for a touchdown earlier this season.
There were still a couple of big special teams plays on Saturday, however -- one that helped LSU and one that hurt. Auburn punter
Steven Clark
dropped a snap and dove on the ball for a 16-yard loss at his own 10 early in the game, setting up an LSU touchdown on the next play that helped the Tigers go up 14-0.
Leading 28-7 in the third quarter, LSU coach Les Miles elected to fake a field goal at Auburn's 14.
Seth Fruge
ran 8 yards on the fake, but was stopped short of a first down. Auburn then drove 94 yards for a touchdown that made it a more competitive game, although LSU still won 35-21.
That aggressiveness is part of the reason the Bulldogs know they can't afford to keep making sloppy errors in the kicking game.
"We've just had a couple of off calls. I'm not worried about it," said Barber, who averaged 49.8 yards per punt against North Texas. "I trust my protection, pride team. We're going to be the best. There's no doubt in my mind that we can't fix it and get it better by LSU."
That could mean using different personnel on the coverage units, Richt said, beyond simply using Frix as the punt snapper -- although he said it's likely that change will remain in place this week.
"Your center can't afford to be spraying one a game. You can't afford it," Richt said. "It's got to be on the money. It's got to be where it's supposed to be when it's supposed to be there."
The coaches will make those decisions this week after reviewing what went wrong -- as well as what went right -- against the Mean Green. And Richt made the point on his Sunday teleconference that there has been more right than wrong.
"We'd been really covering kicks extremely well all year long and then you get one like that [touchdown]," he said. "You might think it's broken, but it's really not broken. We've just got to go back to doing what we've been doing all year long and that's placing the ball where we want it and getting guys down there covering it, being in the right spots and making the play when they get there."
The Bulldogs would do themselves an enormous favor if they get back to doing that on Saturday. Beckham is one of the nation's most dangerous all-purpose performers and he will absolutely exploit any crack in Georgia's kick coverage schemes.
Cleaning up those mistakes was one of the first objectives when the Bulldogs began preparing for LSU on Sunday afternoon.
"Trust me, we know what kind of guys they've got," Lynch said. "… Special teams will be a deciding factor in this game, I think."
September, 1, 2013
9/01/13
3:20
AM ET
CLEMSON, S.C. -- Although it's easy to point to a botched field goal try as the difference in No. 5 Georgia's 38-35 loss to No. 8 Clemson on Saturday, the Bulldogs know there was more to it than that.
"I thought we did some good things and we did some things to get you beat," said Georgia coach Mark Richt, whose team has no time to lick its wounds with a game against No. 6 South Carolina on tap next Saturday. "We'll find out how good we are next week."
There were penalties from the Bulldogs on Saturday. One of the nation's most-penalized teams over the last several years, Georgia had nine for 84 lost yards against Clemson -- including two costly infractions in the fourth quarter that short-circuited the Bulldogs' comeback attempt.
There were two turnovers by quarterback
Aaron Murray
-- a fumble and an interception -- in the second quarter that took the wind out of the Georgia offense's sails after accounting for 218 yards and two touchdowns in the first quarter alone.
And there was a simple lack of execution at some crucial junctures that altered a game the Bulldogs certainly could have won.
"We did a lot of good things tonight, but there were a lot of things that we didn't do so well -- some first-game mistakes and they ended up costing us there in the game," said Georgia offensive coordinator Mike Bobo, whose team accumulated 545 yards of total offense, but surrendered four sacks and two turnovers. "But I just told the guys we ran out of time there at the end and it hurts, but we've got to look at the tape, we've got to correct and we've got to get better."
The sequence that led to the botched field goal was particularly costly. Georgia earned first-and-goal at the Clemson 5 after a 35-yard completion to
Chris Conley
late in the third quarter. The Bulldogs then ran three straight running plays -- a 2-yard run by
Keith Marshall
, a 1-yard run by
Todd Gurley
and a third-down dive for no gain by
Quayvon Hicks
-- before settling for a 20-yard field goal try by
Patrick Beless
that would have tied the score at 31-all.
One problem: On his first field goal snap of the season, new snapper
Nathan Theus
shot the ball high to holder
Adam Erickson
, who was unable to corral the snap and was forced to fall on it for a 6-yard loss.
That was an enormous letdown after Georgia had battled its way back into the game and failed to gain the equalizer.
"Momentum is a big thing and that was huge momentum for us, a big boost for our guys," Clemson coach Dabo Swinney said. "That turned out to be one of the deciding plays of the game, obviously."
As were the plays that immediately preceded it, since they could have given Georgia its first lead since Hicks' 1-yard touchdown run early in the second quarter.
"We had to get points in the red zone coming in and we wanted touchdowns and we weren't able to do it right there," Bobo said. "We ran the ball down there and I wanted to keep running it and I've got to look at the tape. We just didn't execute what we had called and unfortunately we didn't get the three points. That happens. We still had a chance to win after that, so we had our opportunities and just penalties killed us there on the next couple of drives."
Even after the field goal mistake, Georgia's defense forced a Clemson three-and-out, with a punt giving Georgia possession at its 43 early in the fourth quarter. The Bulldgos were quickly flagged for a devastating 15-yard penalty for chop blocking, however, and ended up punting.
Clemson scored on the next drive to go up 38-28 midway through the quarter, making a holding penalty that nullified a 14-yard Gurley run on the Dawgs' ensuing drive even more costly, as another Georgia punt there nearly put the game out of reach.
The Bulldogs drove for a quick touchdown late in the fourth quarter, but when they failed to recover an onside kick and had already used all of their timeouts, Clemson was able to run out the clock and walk away victorious.
"We killed ourselves with penalties tonight," Murray said. "It's tough to convert third-and-long. Penalties are a big reason why we lost tonight."
With the loss, Georgia finds itself in a fairly familiar position, which might have been why there seemed to be little panic within the Bulldog contingent during postgame interviews.
The Bulldogs dropped their first two games of 2011, including their SEC opener against South Carolina, and finished the regular season with a 10-game winning streak. They took a 35-7 pounding last season at South Carolina and once again won out.
Both times they earned a spot in the SEC championship game by claiming the Eastern Division title. And next Saturday will still play a major role in whether they can return to Atlanta for a third straight season, regardless of what happened against Clemson.
"I don't see anybody in there ready to jump off a bridge or anything," Richt said. "I think they all know that happens in football if you play a really good football team and you get beat. And if you do, then you move on and you continue to play well and you get better and you make corrections. We're still learning a lot about this team."
August, 23, 2012
8/23/12
6:44
PM ET
By
DawgNation staff
| ESPN.com
David Ching writes:
Aaron Murray is the SEC's most experienced QB, but big wins have eluded him and he's focusing on fixing the small things, hoping they will lead to bigger rewards.
Ching

: Practice notes. After Wednesday afternoon's scrimmage, Mark Richt didn't exactly declare Ken Malcome Georgia's starting tailback, but the veteran Bulldog was glad to know his coach presumed he would get the nod.
Ching

: The Bulldogs' regulars versus the scout team played one half of a scrimmage in Stanford Stadium and Mark Richt spotted "Buffalo" a 35-0 lead before "Georgia" rallied back to send the game to overtime.
Kipp Adams writes

: What does such a large and nearly full Class of 2013 mean for the top Georgia targets still out there? That question and more in this week's DawgNation recruiting mailbag.
Ching
Around the hedges in 80 Days

: Regardless of whether he cracks the lineup this fall, long snapper Nathan Theus knows he has an excellent chance to become the full-time snapper for the next three seasons once the senior ahead of him exhausts his eligibility.
May, 18, 2012
5/18/12
12:34
PM ET
By
ESPN.com staff
| ESPN.com
David Ching writes

: Recruiting is always a boon for Georgia's perpetual appearance in the preseason top 25, and this year is no different.
Radi Nabulsi writes:
After an exhaustive search over several months, Georgia hires longtime Peach State coach/AD Darly Jones as its new director of on-campus recruiting.
Kipp Adams writes

: UGA signee John Theus pens his own "Dawg Blawg," and discusses his excitement for joining the Bulldogs amid a bittersweet last semester of high school.
Recruiting

: Georgia's early interest in DE Davin Bellamy has helped attract offers from more than 25 schools.