October, 25, 2013
Oct 25
11:45
AM ET
COLLEGE STATION, Texas — The words "youth" and "inexperience" are frequently used to describe the Texas A&M defense this season.
The struggles are significant. The Aggies rank near the bottom of the FBS in most defensive statistical categories. According to ESPN Stats & Information, the five teams that have allowed more yards per game than the Aggies -- New Mexico State, Idaho, California, Nevada and Indiana -- have a combined record of 8-27.
Texas A&M is fortunate enough to have a 5-2 record (2-2 in the SEC). It certainly helps to have one of the nation's most high-powered offenses and a reigning Heisman Trophy winner at quarterback (
Johnny Manziel
).
For defensive coordinator Mark Snyder and his staff, it has been a challenge from the start of the season. Suspensions, injuries and ineffectiveness are all to blame.
The Aggies currently have 11 freshmen in their defensive two-deep depth chart. Two true freshmen (defensive tackle
Isaiah Golden
and linebacker
Darian Claiborne
) are starting. The four defensive line first-team spots include Golden and two sophomores. At linebacker, a former receiver who moved to linebacker this offseason (
Nate Askew
) is the starter at strongside linebacker. Of the seven linebackers on the Aggies' two-deep, only one (
Steven Jenkins
) started a full season at the position before this year.
Head coach Kevin Sumlin's first signing class that was completely under his watch had 32 members, 18 of whom were on defense. Of those 18, a dozen have already played this season.
But how did the Aggies get to this point, playing this many freshmen and newcomers? There are some juniors and seniors on the field, but there aren't nearly as many as there were a year ago when the Aggies went 11-2 in their debut season in the SEC.
In 2012, the Aggies were fortunate to have the benefit of some good leaders on defense and others who were productive. At linebacker, Sean Porter and Jonathan Stewart both provided leadership and production. Along the defensive line, Spencer Nealy made the move from defensive end to defensive tackle effectively despite not having the ideal size for the position. Steven Terrell was a steady and heady player at free safety. All four of those players were seniors and part of the 2009 recruiting class. So was Dustin Harris, who didn't always start but played plenty at cornerback and was the team's primary punt returner.
One defensive player still remains from that 2009 class: defensive tackle
Kirby Ennis
, who started last season and this year but suffered a season-ending knee injury on Sept. 28 against Arkansas. But last year's A&M starting defense was more than half made up of what turned out to be a solid recruiting class on the defensive side of the ball.
So to understand why A&M is in the position it is now, take a look at the recruiting classes on defense since then:
In 2010, the Aggies signed seven defensive players and two more that were offensive players but eventually moved to defense. Defensive end Damontre Moore turned out to be a star, but declared for early entry into the 2013 NFL draft with a year of eligibility remaining. For a team that's lacking in its pass rush (only three FBS teams have fewer sacks than Texas A&M's seven this season) a guy like that could help. Of the remainders in that class, three are starting: Toney Hurd Jr. at nickel back, Gavin Stansbury at defensive end and Askew, who was recruited and spent his first three years at receiver, at strongside linebacker. Two others (defensive tackle Ivan Robinson and quarterback Clay Honeycutt, who's now a reserve safety) are playing but not starting. Nehemiah Hicks was considered to be either a defensive end or tight end and became a tight end. The other two players in the defensive class are no longer on the team.
The 2011 class -- the final class signed by former head coach Mike Sherman -- brought 13 defensive players. Deshazor Everett, a cornerback with ability to play safety, is currently the defense's best player. Safeties Howard Matthews and Floyd Raven and linebacker Steven Jenkins also emerged as starters out of that group. One of the big fish landed late in that class, defensive end Brandon Alexander, has rarely played. He's now getting some playing time at tight end. Linebacker Donnie Baggs entered this season as the starting middle linebacker but is now a reserve. Tyrell Taylor is rotating at defensive end. The rest of the group hasn't made any impact at all. Five players in that group are no longer with the program.
The 2012 class, the first one Sumlin signed after essentially two months on the job, had some holdovers that committed to the program under Sherman. It is a mixed bag. Four of those players are starting as either true sophomores (Julien Obioha at defensive end, Alonzo Williams at defensive tackle and De'Vante Harris at cornerback) or in one case, a senior (cornerback Tramain Jacobs, who was a junior college transfer). Defensive end Tyrone Taylor, brother of Tyrell, gets some playing time at defensive end. Edward Pope, who was a receiver/defensive back, is playing receiver for the Aggies. A car accident took away one member from that class -- defensive tackle Polo Manukainiu, who died in a crash in July and is being honored by the team every week this season. A spinal injury took away another member, linebacker Michael Richardson, who played as a freshman. He had successful surgery and was fortunate to not suffer any major physical issues, but is no longer playing football. Defensive back Kenneth Marshall, though on the team, was not part of the 105-man roster during preseason training camp. Linebacker Jordan Richmond transferred to Navarro College in the offseason and one player in the class, defensive tackle Edmund Ray, never made it to campus because of qualifying issues.
August, 26, 2013
Aug 26
3:00
PM ET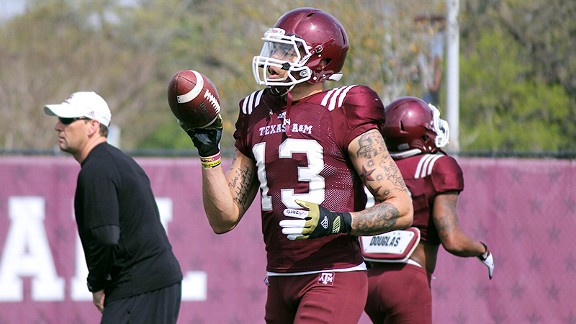 Sam Khan Jr./ESPNAs a redshirt freshman in 2012, Mike Evans led Texas A&M with 82 catches and 1,105 receiving yards.
COLLEGE STATION, Texas — Just like the quarterback for whom he became a favorite target,
Mike Evans
was a relative unknown outside of Aggieland at this time a year ago.
A redshirt freshman without much organized football under his belt -- he played just a year of varsity football at Ball High in Galveston, Texas -- Evans became much more well known to the college football world as
Johnny Manziel
's favorite target in 2012.
This spring, Texas A&M quarterbacks coach Jake Spavital used a unique term to describe what Evans -- who led the Aggies with 82 receptions and 1,105 receiving yards in 2012 -- became to the Heisman Trophy-winning quarterback.
"I call him his 'Panic guy,' " Spavital said. "When you're in a panic, you turn and you find Mike Evans and throw it at him. And he did a lot of that last year."
The 6-foot-5, 230-pound Evans won't surprise anybody this season, as opponents are now well aware of what he can do. Whether it was making a clutch catch to help the Aggies pull out a comeback win at Ole Miss, using his physicality to stiff-arm his way past smaller defensive backs or simply becoming a consistent option for Manziel, the sophomore receiver is looking to build off a strong first season.
And yes, he can get better, according to his coaches. That's not an ideal thought for opposing secondaries.
"Probably the biggest thing for himself [that he can improve] is route running," receivers coach David Beaty said. "Just the art of route running and understanding how to control that big ole body and play with bent knees, his posture being a little bit lower, really being able to use that tool, playing lower and creating more explosiveness."
Beaty would like to see Evans improve near the goal line as well.
"With his 6-5 frame, we need more production from him down by the red zone," Beaty said. "He should be a human red-zone highlight film himself. We need him to step up and do that, along with the rest of the guys -- it's not just going to be Mike. But we've got to be able to throw it up to that big sucker and have him come down with it."
Aside from Evans, there are openings for three starters at receiver because of graduation.
The heir apparent to Ryan Swope, who was the team's second-leading receiver last year and leader in touchdown receptions, is junior
Malcome Kennedy
.
Perhaps best known for making the touchdown catch that gave the Aggies their final points in a 29-21 upset win at No. 1 Alabama, Kennedy is the new starter at Swope's old 'Y' receiver position, which is essentially the slot receiver to the right side of the offensive formation. Kennedy's goals are clear.
"Being a playmaker," he said. "I made a few plays last year, but people only saw a few of them: the Alabama play and a few plays against Missouri. I'm ready to be a go-to guy. The position that I play, the 'Y' for Texas A&M, that's the go-to man."
Senior
Derel Walker
, who had an impressive spring game, has been working as the first-team outside receiver opposite Evans during preseason training camp and could be the starter there. Beaty called Walker the "brightest surprise" of his group since spring. At the other slot position opposite Kennedy, sophomore
Sabian Holmes
has received much of the first-team work in camp after playing part time last season as a true freshman.
And the six freshmen who were part of the Aggies' top-10 recruiting class that signed in February are making their presence felt as well. One in particular that has caught the eye of almost everyone during camp is former Sealy (Texas) High School standout
Ricky Seals-Jones
.
If there's anyone on the Aggies roster that could compare to Evans in body type it's Seals-Jones, whom Evans called "bigger" than him earlier this month. At 6-5 and now 240 pounds, Seals-Jones was an ESPN 300 selection who was ranked as the No. 8 receiver in the country coming out of high school.
"The guy's all muscle," strength and conditioning coach Larry Jackson said. "This guy is 18 years old and he looks like a grown man. Chest, abs, everywhere there are muscles. I just have to make sure for 70, 80, 90 snaps that he can keep rolling."
Head coach Kevin Sumlin said that Seals-Jones, who has practiced a lot as the 'Y' with the second team, will get plenty of playing time.
"He's got real ability," Sumlin said. "He's very athletic, but he's got to learn the nuances of the position. He's seeing a lot of different blitzes; we're throwing things at him. I think with Malcome in there right now, it's giving us some flexibility that he doesn't have to start right away. We can kind of bring him along, which is good with him. But he's definitely going to have a role in our three and four-wide and maybe even some two-wide package, but he's got real talent and he's working on it.
"He's big and he's fast and he's got real good hands."
LaQuvionte Gonzalez
, a quick, versatile weapon out of Cedar Hill, Texas, who was also an ESPN 300 recruit, figures to have a role. So does four-star signee
Ja'Quay Williams
out of Georgia. And the Aggies figure to use more tight ends in their attack this season with the return of senior
Nehemiah Hicks
and the addition of 6-foot-7, 270-pound
Cameron Clear
out of Arizona Western College.
If training camp is any indication, Manziel will have plenty of quality targets in addition to Evans this fall.
April, 15, 2013
Apr 15
4:00
PM ET
COLLEGE STATION, Texas -- Texas A&M wrapped up spring football on Saturday with the annual Maroon and White game. After 15 practices, there's plenty to take away, but here's five things we learned during the Aggies' spring:
To continue reading this article you must be an Insider
August, 7, 2012
8/07/12
3:04
PM ET
By
ESPN.com staff
| ESPN.com
GigEmNation has more coverage of the Aggies:
Sam Khan Jr. writes
: The quarterback position might be in question at Texas A&M, but whoever gets the job will play behind a solid and experienced offensive line that will lead the offense.
Tight end impact
? Tight ends have not been a big part of Kevin Sumlin's offenses. He hasn't always been able to recruit the type of athletes he can get at Texas A&M, either. Where the position goes in the future starts with Nehemiah Hicks and Michael Lamothe.
August, 7, 2012
8/07/12
1:00
PM ET
COLLEGE STATION, Texas -- One development worth watching this fall will be the role of the tight end in Texas A&M's offense.
With two players, junior
Nehemiah Hicks
and senior
Michael Lamothe
battling for time on the field, there are a pair of options that bring good size to the table. But how will they fit into an offense that is predicated on getting the ball to playmakers, preferably those with receiver speed?
Texas A&M coach Kevin Sumlin is curious to see how that plays out, particularly with the 6-foot-4, 238-pound Hicks who was injured during spring practice.
"We want to see what he can do athletically, whether he's physically able to handle a 250-260 pound (defensive) end ... how fast he is and what kind of target he is inside or outside, we'll see," Sumlin said. "If we can find a guy like that, it makes our jobs a whole lot easier because you never have to take a guy like that off the field.
"That's why those guys are hard to find and hard to recruit and they get paid a lot of money at the next level. So there's not a whole lot of them walking around. So I'm anxious to see what he can and if he can help us, it'll be a real bonus for it."
[+] Enlarge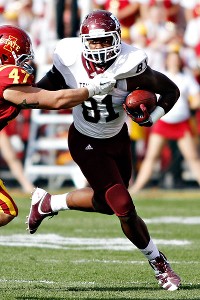 Matt Ryerson/US PresswireNehemiah Hicks started seven games last season and caught 12 passes.
Players of traditional tight end size weren't often seen when Sumlin was at Houston, though there was one extensively used in Sumlin's first year, when 6-foot-3, 235-pound Mark Hafner led the Cougars in catches (86) and touchdowns (11) while recording a team second-best 907 receiving yards in 2008.
In Sumlin's final three years at Houston, no tight end recorded more than two receptions in a season, though the small handful that were on the roster were used in part-tim situations. In 2011, the Cougars even used an offensive lineman to line up at tight end on short yardage running plays.
At Texas A&M, there are options with the kind of size desired for a tight end. But Sumlin said the Aggies won't simply put a tight end on the field just for the sake of doing it.
"It's no secret we've used two tight end sets in the past, whether they were on the line or in the backfield or whatever they've been to create some problems for the defense," Sumlin said. "So if we can get two guys that can play, then we'll play them. It doesn't make sense to put him in just to say he's in the game. If he can't block anybody or if he can't get open, it doesn't do us any good. If we have two effective guys, we'll use both of them."
The position took a bit of a hit in terms of depth when junior tight end
Hutson Prioleau
decided to leave the team, though Lamothe and Hicks are listed at No. 1 and 2 on the depth chart, respectively, entering fall camp. Last season, Lamothe proved versatile by lining up both at fullback and tight end, catching 14 passes for 109 yards. Hicks caught 12 passes for 106 yards and shared starting duties with Lamothe and Prioleau, starting seven games and playing in 12.
"Both are very talented guys that have played a lot here," offensive coordinator Kliff Kingsbury said. "So we're excited how we can fit them into the offense and find ways to use them. But they're doing a great job for us right now."
Kingsbury said he's looking for someone who is versatile in what they do within the offense.
"They've got to be able to do more than just put their hand on the ground or stand up," Kingsbury said. "You want a good mix of both, so we'll see if they can fit in to what we're doing."
July, 11, 2012
7/11/12
5:05
PM ET
Now that we've ranked the top 10 wide receivers, it's time to check out the top tight ends.
Past rankings
Here are our top 10 SEC tight ends:
[+] Enlarge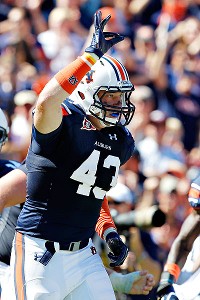 Butch Dill/Getty ImagesPhilip Lutzenkirchen will be Auburn's go-to guy for game-winning scores this season.
1. Chris Gragg, Sr., Arkansas:
Gragg is a big, fast target who can cause mismatches for defenders. He has great hands and with the loss of three NFL wide receivers he'll be one of
Tyler Wilson
's top targets this fall. Expect him to improve on his 41 catches and 518 yards from last year.
2. Philip Lutzenkirchen, Sr., Auburn:
He only caught 24 passes last year, but seven of those catches went for touchdowns. He's a big-time threat in the red zone and is a solid blocker as well. The addition of fullback
Jay Prosch
will give Lutzenkirchen a chance to be even more active in the receiving game.
3. Jordan Reed, Jr., Florida:
There's no doubt that Reed is extremely athletic, but he can lose focus at times on the field. Still, when he's on the ball, he can make plenty of plays. He's the Gators' top returning receiving target and with two young quarterbacks throwing this year, Reed has the chance to rack up receptions as a close-to-the-line safety net.
4. Mychal Rivera, Sr., Tennessee:
Rivera is a very reliable and consistent weapon for the Vols. Even with
Justin Hunter
coming back and Cordarrelle Patterson jumping into the receiving mix, Rivera might not see his production drop too much if
Tyler Bray
can stay health. This team will throw it around as much as possible.
5. Michael Williams, Sr., Alabama:
Williams only caught 17 passes last year, but there were a couple more proven players around him. This time around, his experience will be valued more by quarterback
AJ McCarron
. He's a solid player and can be a beast on the field, so the coaches are expecting to get a lot more out of him this fall.
6. Malcolm Johnson, So., Mississippi State:
He was once a receiver, but has now found a home at tight end. He averaged 18.7 yards on his 11 catches last year and scored three touchdowns. The Bulldogs have a lot of receiving options, but Johnson should have plenty of chances to improve on last year's production.
7. Justice Cunningham, Sr., South Carolina:
He'll continue to have
Rory Anderson
playing on the other side of him, but Cunningham's a bigger, more experienced target in the Gamecocks' passing game and will likely get more looks this fall with Alshon Jeffery gone. He's a solid blocker and will even line up as a fullback in two-back sets.
8. Chase Clement, Sr., LSU:
He's on the John Mackey watch list, but has just nine career catches, with seven coming last season as a backup. Clement will be used to block often, which is needed with a team that runs the ball as much as LSU does. And with an offense that's expected to be more pass-friendly, Clement could see the ball thrown his way more often.
9. Nehemiah Hicks, Jr., Texas A&M:
The Aggies have three tight ends they can use in their offense, but Hicks might be the most gifted of the bunch. He started seven games last year and is coming off of shoulder surgery, but if he's healthy he'll be a nice looking target for whichever quarterback takes the field for A&M this fall.
10. Jamal Mosley, Sr., Ole Miss:
While he only caught 12 passes last year, Mosley is expected to be used more often in Ole Miss' new spread offense. He's another one of those more athletic tight ends and should help the Rebels with their depth issues in the passing game.
July, 11, 2012
7/11/12
2:00
PM ET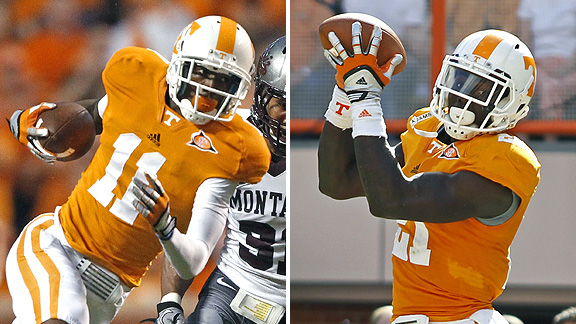 AP Photo/Wade PayneJustin Hunter (11) and Da'Rick Rogers (21) are considered to be the best receiving duo in the SEC.
Our SEC position rankings continue with a look at schools' wide receiver and tight end groups.
Past rankings:
On to the league's wide receiver/tight end groups:
1. Tennessee:
The Vols are equipped with two of the top wideouts in the league with
Da'Rick Rogers
, who was second in the SEC in receiving last year, and
Justin Hunter
, who might be the SEC's top deep threat. It sounds like Hunter will be 100 percent this fall after his ACL injury last year. Junior college transfer Cordarrelle Patterson is big, fast and possesses the big-play gene. The speedy
Zach Rogers
is back and is so is talented tight end
Mychal Rivera
.
2. Arkansas:
Cobi Hamilton
is now Arkansas' primary receiver, and he might be the league's most complete wideout. He can make the big-play and elude defenders along the way. While
Marquel Wade
's status is still unclear, if he does return, he'll be a major lift for this offense because of his playmaking ability in the slot.
Julian Horton
and
Javontee Herndon
have always impressed coaches in practice and now will get their chances to in games. Tight end
Chris Gragg
should be even more involved and is the league's top tight end.
3. Georgia:
While
Malcolm Mitchell
could go back and forth between receiver and corner, when he's at receiver he's Georgia's top offensive threat and was one of the league's best as a rookie. There are vets behind him, starting with reliable senior
Tavarres King
, who had a very good spring, senior
Marlon Brown
, who seemed to take a big step in his game this spring. Sophomores
Michael Bennett
and
Chris Conley
combined for 48 catches for 608 yards and seven touchdowns last year. Unproven tight ends
Arthur Lynch
and
Jay Rome
will replace Orson Charles and Aron White.
4. Texas A&M:
This isn't the fastest group out there, but there are some pretty reliable weapons, starting with star
Ryan Swope
, who could have left for the NFL after catching 89 passes for 1,207 yards and 11 touchdowns last year.
Uzoma Nwachukwu
was third on the team with 50 catches for 639 yards and three tight ends --
Nehemiah Hicks
,
Michael Lamothe
and
Hutson Prioleau
-- return. Keep an eye on junior
Nate Askew
, who could be a downfield threat this fall.
5. LSU:
Odell Beckham
Jr. was one of the top rookies last year and could be even better in Year 2. He'll be joined by potential deep threat and big-play target
Jarvis Landry
, who developed some good chemistry with quarterback
Zach Mettenberger
this spring.
Russell Shepard
is talented, but he's been wildly inconsistent. Keep an eye on junior
James Wright
and incoming frosh
Avery Johnson
, who is the younger brother of Patrick Peterson. Also, tight end
Chase Clement
is on the John Mackey watch list.
[+] Enlarge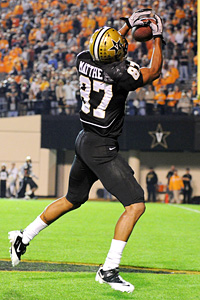 Don McPeak/US PresswireWide receiver Jordan Matthews is one player the Commodores will be counting on this fall.
6. Vanderbilt:
This group surprised last year and returns most of its components, starting with
Jordan Matthews
, who was fourth in the SEC in receiving last year. Sophomore
Chris Boyd
was solid last year, hauling in 31 catches and eight touchdowns.
Jonathan Krause
is very good in space and should see his role increase this fall after a solid spring. The coaches are excited about former QB
Josh Grady
moving to receiver. Replacing tight end Brandon Barden won't be easy.
7. Alabama:
There is more speed out wide in Tuscaloosa, but there's a lot more youth. The Tide could turn to freshmen Chris Black, Amari Cooper and Eddie Williams to help develop a more downfield passing game. More will be expected from veterans
Kenny Bell
and
Kevin Norwood
, while sophomore
DeAndrew White
possesses a ton of speed. Still no word on
Duron Carter
. Tight end
Michael Williams
was solid last year, but will be used even more this fall.
8. Mississippi State:
There is a lot of experience here, but this group has still underperformed at times, especially senior
Chad Bumphis
, who has yet to live up to all the hype that followed him from high school. Seniors
Chris Smith
and
Arceto Clark
combined for 65 catches last year, while the staff is very excited about the big-play potential redshirt freshman
Joe Morrow
possesses. Tight end
Malcolm Johnson
serves as a very reliable tight end target, as well.
9. Missouri:
The Tigers lost two starting receivers and stud tight end Michael Egnew, but three of the top five pass catchers are back, including inside threat
T.J. Moe
, who led Mizzou in receiving last year. Big things are expected from
Marcus Lucas
, who can stretch the field with his speed and physicality, and the coaches think
L'Damian Washington
can also be a downfield threat. Also, Dorial Green-Beckham, last year's top recruit, should make an immediate impact.
Eric Waters
is replacing Egnew, but has just two career catches and suffered a knee injury this spring.
10. Auburn:
Emory Blake
is one of the league's top downfield threats and has been one of Auburn's most consistent offensive weapons. So has tight end
Philip Lutzenkirchen
, who should be more of a passing threat with the addition of transfer fullback
Jay Prosch
. There is a lot of depth, but it's unproven.
Trovon Reed
was supposed to be a star, but had a lackluster second year. Seniors
Travante Stallworth
and
DeAngelo Benton
have 15 and 14 career catches, respectively.
Quan Bray
has shown potential and could have a bigger role this season and keep an eye on freshman Ricardo Louis.
11. Florida:
The Gators have struggled here since 2009 and still lack proven playmakers.
Andre Debose
is probably the best bet to be one, but he's been very inconsistent.
Quinton Dunbar
has the speed to be an outside threat, but caught just 14 passes last year. And the coaches are still waiting for senior
Frankie Hammond
Jr. to turn things up. True freshman Latroy Pittman had a great spring and the coaches are excited about his potential. Tight end
Jordan Reed
is one of the most athletic players in the league and will be a bigger target with two young quarterbacks throwing the ball.
12. South Carolina:
Now that Alshon Jeffery is gone, the Gamecocks have questions and inexperience here. The fast, athletic
Ace Sanders
is the only returning pass catcher with at least 20 catches from last year (29). The hope is
Bruce Ellington
will be more of a factor this fall. Tight ends
Justice Cunningham
and
Rory Anderson
combined for 26 catches and four touchdowns.
Damiere Byrd
has blazing speed, but caught just one pass last year.
DeAngelo Smith
had a solid spring, and the coaches hope he can be a downfield threat. A lot will be expected from incoming freshman Shaq Roland.
13. Ole Miss:
Sophomore
Donte Moncrief
is a budding star in this league and thinks he'll be even better in Hugh Freeze's spread offense.
Ja-Mes Logan
caught 20 passes last year, but had a very good spring. But Nickolas Brassell was an academic casualty and
Randall Mackey
had to move over from quarterback. The coaches are looking for consistency from
Terrell Grant
and
Vince Sanders
, who are both pretty unproven. Tight end
Jamal Mosley
is expected to do more in the spread and averaged 13.8 yards per catch last year.
14. Kentucky:
Joker Phillips' goal this spring was to find more playmakers and he thinks he did with sophomore
Demarco Robinson
, who had five receptions last year, and redshirt freshman
Daryl Collins
. The hope is that they'll take some pressure off of
La'Rod King
, who is really the only proven receiving threat on the team. Tight ends
Ronnie Shields
and
Tyler Robinson
did well this spring, but combined for just 10 catches last year.
SEC SCOREBOARD
Saturday, 12/21
Monday, 12/23
Tuesday, 12/24
Thursday, 12/26
Friday, 12/27
Saturday, 12/28
Monday, 12/30
Tuesday, 12/31
Wednesday, 1/1
Thursday, 1/2
Friday, 1/3
Saturday, 1/4
Sunday, 1/5
Monday, 1/6
Tweets from @ESPNCFB/sec