March, 14, 2012
3/14/12
2:45
PM ET
Schedule:
Florida opens spring practice Wednesday afternoon and concludes on April 7 with the Orange & Blue Debut, presented by Sunniland, at 1 p.m. ET in Ben Hill Griffin Stadium. In conjunction with Florida Football's Annual Coaches Clinic, practice will open to the public twice -- March 16 and March 17.
What's new:
Florida welcomes in new offensive coordinator Brent Pease, who left Boise State, as its new offensive coordinator after Charlie Weis left to become the head coach at Kansas. Florida also hired former Utah offensive line coach Tim Davis to replace Frank Verducci, while Jeff Dillman replaces Mickey Marrotti as the Gators' strength and conditioning coach.

On the mend:
Florida will be down a few players this spring. Defensive tackle
Dominique Easley
is out while he recovers from an ACL injury he suffered at the end of the regular season. Cornerback
Jeremy Brown
is out with a knee injury that kept him out all of the 2011 season. Offensive linemen
Ian Silberman
,
Tommy Jordan
,
Kyle Koehne
and
Cole Gilliam
, along with linebacker
Lerentee McCray
and defensive end
Kedric Johnson
, are all out with shoulder injuries. Cornerback
Marcus Roberson
(neck) was cleared for non-contact drills. Linebacker Neiron Ball, who was diagnosed with arteriovenous malformation after a blood vessel burst in his head before the 2011 season, has been cleared to resume physical activity, but not for practice.
On the move:
Redshirt senior
Omarius Hines
is moving from wide receiver to cross train at running back and tight end. Hines has always been some sort of a hybrid player, recording 41 career receptions for 559 yards and two touchdowns and carrying the ball 13 times for 164 rushing yards and two more scores.
Nick Alajajian
is moving from offensive tackle to defensive tackle to provide depth with Easley out.
Questions:
The major question on the minds of fans in Gainesville is what will happen at the quarterback spot. Now that
John Brantley
is gone, Florida will be working with rising sophomores
Jacoby Brissett
,
Jeff Driskel
and
Tyler Murphy
this spring. One of those three will be Florida's starter this fall, and after what people saw last year from Brissett and Driskel, there's a bit of an uneasy feeling in Gainesville. Florida is also looking to replace running backs
Chris Rainey
and
Jeff Demps
. Senior-to-be
Mike Gillislee
enters the spring No. 1 on the depth chart, with
Mack Brown
behind him. Gillislee has played some in the past, while Brown has barely seen the field as a running back. Wide receiver and the offense line also have their own issues. Florida returns four starters up front, but this group struggled significantly last season. Keep an eye on early enrollees D.J. Humphries and Jessamen Dunker. Florida has a handful of receivers, but none are proven and none return with more than 16 catches from last season.
Key battle:
If Florida's offense wants to take any steps forward, the Gators have to figure out their quarterback situation. Brissett enters spring with the most experience of the trio, but people around Florida believe he and Driskel are pretty even when it comes to physical ability. The difference right now seems to be that Brissett has more of an edge to him and more confidence. And he did pass Driskel on the depth chart last year. Murphy is pretty athletic, but in his two years on campus he has yet to take a collegiate snap, so he is clearly behind the other two. Pease is a quarterbacks coach, so one of his biggest jobs will be improving the play of all three of these players. One needs to step up and separate himself as both a player and a leader heading into summer workouts.
Don't forget about:
Safety
Matt Elam
might be Florida's best defensive player and he's talented enough to put himself in the conversation as one of the top defensive backs in the SEC. In his first year as a starter at strong safety, Elam was second on the team with 78 tackles and was first with 11 tackles for loss. He also had two sacks, broke up seven passes and recorded two interceptions. Elam plays both the run and the deep ball well. He's turning into a true leader of Florida's defense and is primed for a real breakout season in 2012.
Breaking out:
Tight end
Jordan Reed
was supposed to be one of Florida's top offensive weapons last season, but injuries and poor offensive execution hurt him in 2011. Now that he's healthy and he has young quarterbacks lining up, Reed could get a lot of attention this spring. Don't expect these quarterbacks to go deep much, so they'll have to rely on Reed underneath. Gillislee has shown flashes here and there, but has yet to put everything together. One moment he's running over players, the next he's yanked for poor blocking. Now, he enters spring as
the guy
at running back and with a bulk of the reps coming his way, Gillislee should be able to do a little more this time around.
All eyes on:
Pease has a lot to do in such a short amount of time this spring. He'll be adding a few of his own wrinkles to Florida's offense, but don't expect him to change too much of the offensive terminology. Making things easy will be crucial as he attempts to fix Florida's offensive issues, starting with the quarterback position. The good news is that younger players tend to take to coaching a little better than vets. This is a chance for some reinvention on offense for the Gators, but it will start with Pease's coaching. Weis seemed to struggle a lot last season with communicating his messages to Florida's offensive players. Pease can't have that issue this spring. Everything has to clear and concise for Florida's offense.
April, 4, 2011
4/04/11
1:00
PM ET
For Will Muschamp, this spring has been about using every shred of his time wisely, especially with his offense.
With Florida's spring game just days away, the new guy in charge has watched as a pro-style offense has been installed, replacing the spread brought in by former coach Urban Meyer.
Fortunately for Muschamp, taking most of the offensive construction responsibility is former Kansas City Chiefs offensive coordinator and Notre Dame head coach Charlie Weis. Weis has the task of rebuilding a unit that suffered in 2010, ranking 10th in the SEC in yards per game (350.8) and eighth in scoring offense (29.8).
With only 15 practices, efficiency has been the key.
[+] Enlarge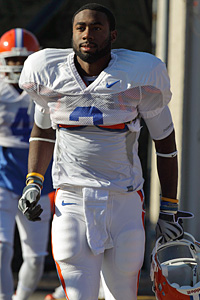 AP Photo/Chris O'MearaChris Rainey has been forced to carry a heavier workload this spring.
"We've been very careful with what we've asked our players to do," Muschamp said. "That's something as a staff that we've been very conscious of. Not spoon feeding them, but making sure we're putting them in the right situations where they can be successful on both sides of the ball and evolve a little bit to what we want to be."
There's a whirlwind of information swirling around Florida's practice fields, meaning Muschamp and his staff have had to ease players in. They want to play to their players' strengths and find out who can adjust quickly and who's left spinning.
Muschamp has run his team through a slew of situational drills, such as working in the red zone and near the goal line, and third down and end-of-game situations.
Florida converted just 37.6 percent of its third downs last fall and was last in the conference in red zone efficiency, scoring on 41 of 58 chances (70.7 percent).
It's been less than a month, but players are starting to feel more comfortable. Other than new terminology and route designs,
Frankie Hammond Jr.
said the offense isn't that different. Even with more tight end sets, there is still motion and the blocking scheme is similar.
"Everybody can benefit from this offense," Hammond said. "They're throwing it deep, throwing it short."
And the guy doing the throwing is excited, too. Struggling in the spread, quarterback
John Brantley
has found a home in Weis' offense. He's under center more and running isn't a requirement.
Brantley said he and his teammates are more in sync, which is a pleasant change.
"It's coming along good," he said. "We're moving up the ladder. That's what we want to see out of the team right now."
However, recent nagging injuries have slowed the process. Running backs
Mack Brown
(broken fibula) and
Mike Gillislee
(stress fracture) are out. With
Jeff Demps
participating in outdoor track season, Florida is left with
Chris Rainey
as its only scholarship running back for the spring game.
Backup center Nick Alajajian suffered a knee injury that will require three months of recovery, and starting right tackle Xavier Nixon sprained his ankle, but could return this week.
"We're working about seven [offensive linemen], and that's total bodies," Muschamp said. "That's all we've got. Injuries are part of the game. There's nobody feeling sorry for the Gators right now, I can tell you that.
"Injuries are part of it. You have to have other guys step up. One man's misfortune is another man's opportunity. You build depth on your football team through these times and you find out a lot more about your football team in these situations."
With limited offensive numbers, Muschamp said Saturday's Orange and Blue Game will have an offense that scores for the Orange and one that scores for the Blue.
The past week has been a chore with the injury list, but Muschamp is happy with the headway made by his team and he's confident he'll see good results this weekend.
"I've been pleased with the progress," he said. "I look forward to getting out in front of the Gator Nation and in our stadium. Our guys really take a lot of pride when they run out there and play and we appreciate the support we have."