November, 19, 2013
Nov 19
11:30
AM ET
COLLEGE STATION, Texas -- When it comes to the presence schools have in their respective home states, few are stronger than LSU in the state of Louisiana.
The Tigers' success, conference affiliation and game day atmosphere are just a few of the unique advantages for natives of the Pelican State.
[+] Enlarge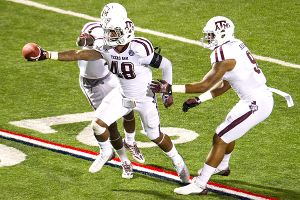 Michael Chang/Getty ImagesTexas A&M freshman Darian Claiborne (48) took over the middle linebacker job before the fourth game of the season.
Port Allen (Louisiana) High School head coach Guy Blanchard vividly remembers the emotions of one of his players,
Darian Claiborne
, when LSU took a tough loss early in 2012.
"When Darian was in January of his junior year (of high school) and LSU lost the national championship game to Alabama, you would have thought his best friend died the next day at school," Blanchard said. "He was a big LSU fan. You can't grow up in Southeast Louisiana and not have some kind of attachment or an eye on the prize, however you want to say it, [to LSU]."
Claiborne, a true freshman, is now the starting middle linebacker for No. 12 Texas A&M, which heads to Death Valley on Saturday to play No. 22 LSU. But Port Allen is fewer than seven miles from the LSU campus, so it's understandable how he could have envisioned a future with the Bayou Bengals.
But Texas A&M's staff developed a strong relationship with Claiborne, a three-star prospect. Furthermore, the Aggies made a strong impression and made it clear they wanted him while LSU didn't officially extend an offer. The Aggies' diligence paid off because Claiborne has played a key part on the A&M defense.
In recent years, Texas A&M has had success recruiting the state of Louisiana. Texas is and will continue to be the home base for Texas A&M recruiting for good reason -- it's fertile recruiting ground that most colleges attempt to pick from, because of the vast number of players and caliber of talent the state produces. But Louisiana is also known for producing high-caliber recruits as well and head coach Kevin Sumlin has made sure to make "The Boot" part of his recruiting footprint.
Currently, the Aggies have nine players that are from Louisiana on the roster and all of them are on the Aggies' two deep. Some of them have been recruited by the current staff, others are holdovers from the previous staff, but all of them currently contribute on the field.
All nine are defensive players and five of them are regular starters: Claiborne, defensive back
Deshazor Everett
, defensive ends
Julien Obioha
, safety Floyd Raven and defensive end
Gavin Stansbury
. The others have played key roles: true freshman cornerback
Noel Ellis
has seen significant time in recent weeks and is the Aggies' future at the nickel cornerback position. Cornerback
Tramain Jacobs
started six games this season while the Aggies' dealt with injuries in the secondary and has been a reliable rotation player among the cornerbacks. True freshman linebacker
Shaan Washington
has found his way onto the field in a special teams capacity but also saw time at linebacker early in the year and defensive tackle
Ivan Robinson
has been a part of the rotation at his position when healthy.
[+] Enlarge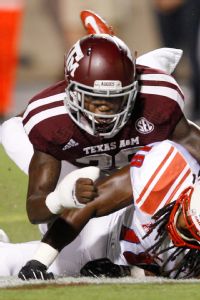 AP Photo/Bob LeveyDeshazor Everett, another Louisiana native, was recruited my Mike Sherman's staff but has been the Aggies' most reliable defensive back.
There's no doubt the Aggies have received bang for their buck with the "Louisianimals," the term former Texas A&M center Patrick Lewis coined for his fellow Louisiana products last season. Claiborne and Everett have been arguably the Aggies' best defensive players this season. Everett has done whatever the Texas A&M coaches have asked, whether it's playing safety while Raven was injured or going back to his traditional position of cornerback, while playing with a broken thumb early in the year. Claiborne got the starting job at middle linebacker -- which is not his traditional position -- before the fourth game of the season and hasn't let go of it.
Stansbury has emerged as a playmaker while Obioha and Raven have each been a steady presence at their respective positions.
Even when he was at Houston, where the Cougars put their primary focus on their own city, Sumlin's staff would travel across the border to recruit talent out of Louisiana. But in the SEC it's a different story, because the caliber of player Texas A&M is searching for is often the same that LSU is trying to keep in state.
With the Tigers being
the
signature program in Louisiana, it makes it all the more difficult to pull a kid out of the state when LSU wants him.
The Aggies are experiencing that in their early SEC years. In this recruiting cycle, the Aggies are going after some of Louisiana's finest, like ESPN 300 athlete
Speedy Noil
and ESPN 300 defensive end
Gerald Willis III
. The Aggies are also trying to make inroads with the top 2015 prospects from the state, like receiver
Tyron Johnson
.
All have LSU offers and the battle for Noil and Willis III has been hotly contested and will be until signing day approaches.
But the Aggies have found success in recruiting prospects from the state that might have been overlooked or not as heavily pursued. If those players continue to play like Claiborne, the in-state powerhouse will start taking notice.
"Yeah, we've run across them at times," said LSU coach Les Miles of seeing A&M recruiting in Louisiana. "We recognize some of the [players] that they have there, and we wish them the very best. It's an opportunity to play in this league, and we're for that."
November, 1, 2013
Nov 1
8:00
PM ET
A light load with this week's mailbag and it's Texas A&M-specific. Thanks to those that did send in questions.
Oliver Howard (@ManfreAg95): Why is Mike Evans not top 5 Heisman consideration?
[+] Enlarge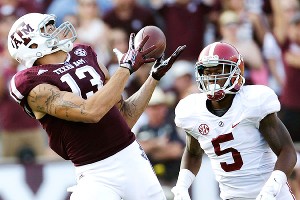 AP Photo/David J. PhillipMike Evans has been dominant at times this season, but receivers rarely garner Heisman buzz.
Sam Khan Jr.:
Mainly because it appears the public sentiment traditionally falls toward a quarterback or running back. The last time a non-quarterback or non-running back won the trophy was in 1997, when Michigan cornerback Charles Woodson took home the hardware. Historically, the players who touch the ball most frequently, which are quarterbacks and running backs, seem to be the ones getting most of the votes. Whether that's right or just is up for debate; personally, I don't like it. But I don't have a Heisman vote.
To your point, I agree that Evans has been one of the nation's best players, regardless of position. Alabama, the No. 1 team in the country, had to try three different defenders to cover him, and he still finished that day with 279 receiving yards, including a 95-yard touchdown catch-and-run. Against a ranked Auburn team, Evans put up 289 yards and four touchdowns and again was unstoppable. When the stage is big and the lights bright, Evans has delivered for Texas A&M.
Head coach Kevin Sumlin even went out of his way to mention that he feels the sophomore receiver deserves to be in the Heisman discussion. "I'm also puzzled, why people aren't talking about Mike Evans in the Heisman race, to be honest with you," Sumlin said. "I think he's as good a player as there is in the country." He's second in the country in receiving yards (1,101), third in receiving touchdowns (11) and leads the SEC in both categories. Hat tip to SEC blogger Edward Aschoff, who argued back in September after the Alabama game that Evans should be in the discussion.
Delvin Bennett (@DelvinJokes): Where do you think Mike Evans will be next year?
Sam Khan Jr:
He hasn't said whether he's considering making the jump to the NFL after this season (because he's a redshirt sophomore, he's eligible to declare for early entry into the NFL draft), but I won't be surprised if he does. If he gets talked about as a potential first-round pick (and considering his size, speed and pure ability, I don't see why he wouldn't be), I think he'll seriously consider making the jump. What will be worth watching is whether Texas A&M quarterback
Johnny Manziel
's decision affects what Evans chooses to do. I doubt that it will, but you never know.
Josh Lee (@JoshLee_ar): How much do young players actually improve between 19 and 21? Re: A&M defense.
Sam Khan Jr.:
It all depends on the individual, because different guys have different work ethic, mental toughness, physical ability, etc. Basically, will the Texas A&M defense -- which has been porous almost all season, save a couple games -- be better in a few years as the 11 freshmen currently on the two-deep grow into juniors and seniors? I think so.
Some might progress faster than others but I think when you see a guy like true freshman middle linebacker
Darian Claiborne
, who has been starting since the fourth game, or defensive end
Daeshon Hall
, who is getting more playing time as of late, or cornerback
Noel Ellis
, who played a lot against Vanderbilt, those guys look like potential stars once they mature as players.
Plus, Texas A&M continues to recruit heavily on the defensive side of the ball, and the Aggies are landing elite talent: Of their last four verbal commitments, which all came in October, three were on the defensive line and were in the ESPN 300 of their respective classes. If this group can grow together and the scheme and coaching staff stays intact, I think they could be significantly improved in a couple years.
October, 26, 2013
Oct 26
6:27
PM ET
COLLEGE STATION, Texas -- Just like it has been all season, the attention going into Saturday was on Texas A&M quarterback
Johnny Manziel
.
Was he going to play, or would he sit? How was his shoulder? As he often has this year, Johnny provided a lot of drama.
But the real story from the Aggies' 56-24 win over Vanderbilt at Kyle Field was the performance of the A&M defense. A unit that came into the game ranked 118th in total defense, and was in the bottom 20 nationally in most major defensive statistical categories, put together what was easily one of its best performances of the season.
[+] Enlarge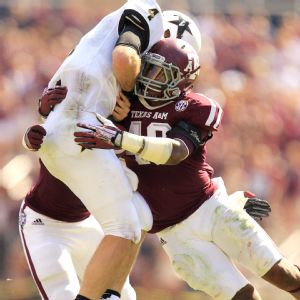 Thomas Campbell/USA TODAY SportsTexas A&M turned Darian Claiborne and its pass rush loose, which resulted in seven sacks against Vanderbilt.
Sure, Vanderbilt was playing with a backup quarterback (freshman
Patton Robinette
made his first start in place of injured
Austyn Carta-Samuels
), but honestly, that mattered little. This is an A&M defense that struggles to stop virtually everybody. The Aggies allowed 306 rushing yards to Rice. They allowed 240 to FCS opponent Sam Houston State.
After taking a gut punch from Auburn last week to the tune of 45 points and 615 yards (379 rushing), any positive sign is acceptable at this point.
"We need an example to show us how we should play, and now we have an example," sophomore defensive end
Julien Obioha
said. "We can always go back to the Vandy tape. This type of production we expect from the defense, and this is the standard that we expect from our defense. So, it was good to have a game like this."
There was an energy there that didn't seem to exist consistently in recent weeks for the Aggies' D.
Howard Matthews
(14 tackles, one interception return for a touchdown) played probably his best game of the season. The pass rush was relentless, led by
Gavin Stansbury
's two sacks, and the 12 tackles for loss. The unit matched its season total for sacks with seven against the Commodores and held an opponent to under 100 yards rushing for just the second time this season. It finally looked like the unit defensive coordinator Mark Snyder envisioned he'd have coming into the season.
"I dialed it up," Snyder said of what generated the consistent pass rush. "We pressured a lot more than we have pressured because we finally could. We felt like we finally got to the point where all the pieces were in place. We had practiced together, and I felt comfortable calling some pressures because everybody knew where they were supposed to be."
Much of that came from a few noteworthy personnel moves. True freshman cornerback
Noel Ellis
got plenty of time in place of
Toney Hurd Jr.
at nickel cornerback. Junior linebacker
Donnie Baggs
, who hasn't started since Sept. 14 against Alabama, got the starting nod at strongside linebacker. True freshman defensive end
Daeshon Hall
didn't start but saw heavy playing time rotating with starting ends Stansbury and Obioha. Starting defensive tackle
Alonzo Williams
missed the game with a foot injury, and junior
Ivan Robinson
replaced him.
The Commodores' best weapon -- receiver
Jordan Matthews
-- had a solid day (eight catches, 92 yards), but his longest reception was 21 yards. The biggest play came from
Jonathan Krause
on a 44-yard reception in the first half. Matthews, to his credit, became the SEC's career receiving yards leader with 3,172.
If the Aggies can build on this performance, the outlook for the rest of the season is bright.
Although the defense showed well, most eyes were on Manziel in the early going. For a guy with an injured throwing shoulder, it sure didn't seem to affect him. He completed his first 10 passes and led the Aggies to four consecutive touchdown drives to start the game.
Coach Kevin Sumlin was tight-lipped about Manziel's status all week leading up to the game, calling the Heisman Trophy winner "hopeful." He never budged from that statement but said Saturday that he wasn't playing coy and that Manziel was truly a game-time decision as he tried to recover from the shoulder injury he suffered last week.
Manziel began throwing Wednesday and participated in 11-on-11 drills Friday and even woke up Saturday with soreness. But he said there was no keeping him off the field.
"In my mind, I was always going to play," Manziel said. "It would take a lot to keep me off the field and away from these guys. They count on me, and they expect me to be there."
He completed 25 of 35 passes for 305 yards and four touchdowns with one interception. He ran much less than he usually does because it wasn't in the game plan, mostly to protect him from further injury.
Although Manziel was able to make every throw necessary to put the Aggies' offense in the right position, he got plenty of support from the running game as the Aggies combined for 189 yards, led by
Trey Williams
' 65 and
Brandon Williams
' 61.
It was far from a clean win. The Aggies committed five turnovers and allowed the game to get closer than it had to in the first half. But it's something they can build off of as they approach the homestretch.
"It's been a little frustrating as of late with some games a little closer than we wanted," Manziel said. "We felt we've played pretty good all around, but we just need to continue to get better. That's the thing. We're not where we were last year in every aspect of our game, but we have a coaching staff that won't quit until we're where we need to be."
September, 4, 2013
Sep 4
10:00
AM ET
COLLEGE STATION, Texas -- Silence isn't a word typically synonymous with a stadium hosting more than 86,000 rabid fans, particularly at Kyle Field, where Texas A&M is known to hold a tremendous home-field advantage.
But silence is a key word in describing some of the growing pains the Aggies had to go through in their season-opening win against Rice on Saturday, as they played 16 true freshmen, 11 of which were defensive players.
A&M coach Kevin Sumlin illustrated that point thusly:
"We had a couple situations where a couple guys actually froze up out there and wouldn't even open their mouths and couldn't get lined up," Sumlin said after Saturday's 52-31 victory. "The D-line said they couldn't hear and then one of them admitted to me "Coach, I just didn't say anything. I was just standing there.'"
Not exactly what a coach is looking to hear from defensive players, particularly when facing a no-huddle offense. Communication, especially in those situations, is key for a defense.
[+] Enlarge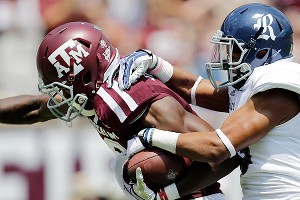 AP Photo/Eric GayFreshman wide receiver Ricky Seals-Jones made an impact in his college debut, hauling in a 71-yard touchdown pass.
But that was the position the Aggies were put in, missing eight players to start the game, six on defense -- including five defensive players who were listed as starters on the week's depth chart -- because of suspensions. There were true freshmen playing in every defensive position group, plus some at receiver. That doesn't include a handful of redshirt freshmen and junior college players who were making their debuts as well.
The Aggies coaches did what they could to prepare their newcomers, but some lessons are only learned the hard way.
"It's like anything else," Sumlin said. "As a coach, you try to prepare guys for all situations, but until the live bullets are flying, you don't know. It'll get better as it goes on, but I think the experience that we gained from today will help us down the road, a bunch. Particularly [in the front seven] because that's where most of the guys are gone."
The struggles were clear. As the defense tried to find its footing, Rice showed the ability to move the ball with ease. The Owls finished the game with 509 total offensive yards, including 306 rushing. The last time they gave up that many offensive yards was in their marathon battle against Louisiana Tech last October (615) and they haven't allowed that many rushing yards since a 66-28 drubbing at the hands of Oklahoma on Nov. 8, 2008.
True freshman played on the defensive line (
Jay Arnold
,
Isaiah Golden
,
Daeshon Hall
and
Hardreck Walker
), at linebacker (
Darian Claiborne
,
Jordan Mastrogiovanni
,
Shaan Washington
) and defensive back (
Noel Ellis
,
Tavares Garner
,
Alex Sezer Jr
. and
Jonathan Wiggins
).
"There's no way to duplicate the tempo and the emotion [of a game]," Sumlin said on Tuesday. "You know what you're doing, but the pressure to perform in that environment can be very, very difficult on a young guy, and that's what experience is all about."
Offensively, the Aggies were much better off. Even though
Matt Joeckel
made his first career start at quarterback, he's a junior who has spent more than a year practicing in the offense and he had at least seen some game time. Center
Mike Matthews
, who received high praise from Sumlin on Tuesday, also played in games and traveled with the team last season.
The true freshmen who saw the field for the first time on offense were all receivers:
Ricky Seals-Jones
,
Jeremy Tabuyo
,
LaQuvionte Gonzalez
and
Ja'Quay Williams
. But because there were more experienced players surrounding them on Saturday, not to mention Heisman Trophy winner
Johnny Manziel
entered the game in the third quarter, the transition was smoother for the Aggies' offense.
In total, 21 newcomers saw the field for Texas A&M on Saturday, many in significant roles. Plenty will log significant time this Saturday against Sam Houston State, as four players received two-game suspensions and won't be back until Sept. 14 against Alabama. With a signing class of 31 players in February, there was no question the Aggies were going to need some of the newcomers to contribute. By being forced to play so many in the first game, Sumlin feels like it could be a positive later in the season.
"[It's] a real, real learning experience," Sumlin said. "I think for those guys, that's going to pay dividends for us down the road."
SEC SCOREBOARD
Saturday, 12/21
Monday, 12/23
Tuesday, 12/24
Thursday, 12/26
Friday, 12/27
Saturday, 12/28
Monday, 12/30
Tuesday, 12/31
Wednesday, 1/1
Thursday, 1/2
Friday, 1/3
Saturday, 1/4
Sunday, 1/5
Monday, 1/6
Tweets from @ESPNCFB/sec