July, 29, 2014
Jul 29
9:30
AM ET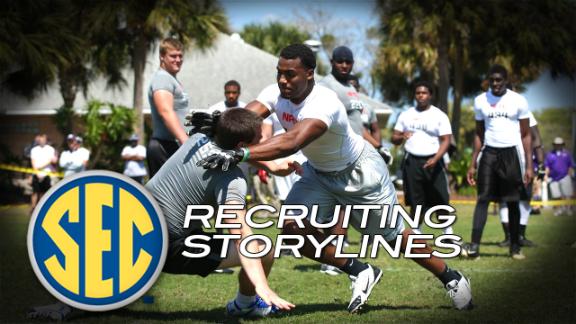 The SEC has 77 committed prospects in the
updated ESPN 300 rankings
. The league continues to dominate on the recruiting front and there are no signs of the momentum slowing down. Here's a closer look at five things to know in the SEC from the new recruiting rankings.
October, 1, 2013
10/01/13
12:00
PM ET
TUSCALOOSA, Ala. -- It's safe to assume that
Eddie Jackson
understands the opportunity ahead of him at Alabama. He can't say as much publicly because of the school's policy prohibiting freshmen from speaking to the media. But given all he's already gone through, it would be a wonder if he didn't look back on his road to Tuscaloosa and comprehend the enormous turnaround it took for him to get there.
It's a wonder he's wearing Alabama's signature crimson helmet in the first place. The fact that he's starting at cornerback for the defending national champions is something even more implausible considering where he was at this time last year.
Jackson needed a change of scenery before any of the chips fell into place. He likely learned the value of a fresh start from his brother, Demar Dorsey, a former blue-chip defensive back prospect who signed a letter of intent to play for Michigan in 2010 but never made it to Ann Arbor. Dorsey's past included poor grades and three felony charges that robbed him of the opportunity to play at a BCS-level football program. He failed to meet Michigan's standard for admission, announced he would transfer to Louisville, failed to make it there because of more issues and eventually landed at Grand Rapids Community College. Dorsey was supposed to transfer to Hawaii in 2012, but he never reached the Big Island and today is not listed on Hawaii's roster.
[+] Enlarge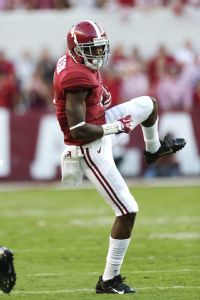 AP Photo/Dave MartinEddie Jackson was a virtual unknown in recruiting at this point last year. Now he's a key piece on defense for the No. 1 team in the country.
Wayne Blair knew of Dorsey's story when Jackson walked into his office at Boyd Anderson High in Lauderdale Lakes, Fla., looking to transfer after becoming academically ineligible at his previous school. Blair saw Dorsey's "pitfalls" up close at nearby University School, where he was an assistant in 2009. He took a chance on Jackson, who was then a junior with serious eligibility issues. His grades were "way below normal standards," said Blair, who helped get Jackson eligible just in time for spring football.
Blair's investment and Jackson's hard work paid off instantly.
"He played free safety for us at the time," Blair said of the spring game against University School, a national powerhouse. "He had an interception, he returned one for a touchdown and then had another interception. And I realized then that I had something really, really special on my hands."
Jackson, though, had no college offers at the start of his senior season. Blair worked the phones, calling contacts at all the major conferences looking for someone to take a flier on his wide receiver/defensive back, a tall kid with enormous raw potential. Blair said he told them, "I got a guy that if I can get him NCAA eligible, you might want to go ahead and put your vested interest into him." Of course, no one took him seriously.
What Jackson did on the football field as a senior caught their attention, though, making him an increasingly rare sight in college recruiting: a late-blossoming prospect.
"Every game he either did something extraordinary offensively or completely excellent defensively or on special teams," Blair said. "And the buzz started growing as we had ourselves a good year. We went into the playoffs and he went off."
Jackson's grandmother passed away early in Boyd Anderson's postseason run. Blair said that's when "he went from good to great within a two-week span."
Blair had to chuckle when he retold his "folklore of Eddie Jackson" by telephone this week. He remembered how Florida State offered Jackson as a wide receiver, LSU wanted him as a defensive back and Miami looked at him as a wide receiver. Alabama had him strictly as a cornerback, though, drawn to his raw athleticism and 6-foot-1 frame.
"We thought Eddie was a good player," Alabama coach Nick Saban said Monday. "There were some academic questions and some of those things. We're always looking for longer corners, guys that have got a little bit more size. We had
Maurice [Smith]
, who had committed to us. We were still looking for somebody else and we found Eddie. We'd known about Eddie, but we weren't sure we were going to be able to recruit him. As soon as we found out that he would be qualified and all that, we really jumped on him."
Being able to work closely with Saban, who coaches cornerbacks one-on-one at Alabama, was part of what swayed Jackson to sign with the Tide. The other factor was timing. With last season's top corner for Alabama, Dee Milliner, likely to enter the NFL draft and not much behind him in terms of depth, Jackson and Blair saw an opportunity to play right away.
"I knew he'd probably be jumping into the starting lineup; I just didn't know when," Blair said. "I was thinking by Week 6. Low and behold, here we are."
Blair's prediction was off by two weeks. Jackson accomplished the improbable, learning enough of Alabama's complicated defensive scheme by Week 4 that he was inserted into the starting lineup against Colorado State.
A week later he proved that his first start wasn't a fluke opportunity against a cupcake opponent, starting again against No. 21 Ole Miss. On Saturday, Jackson was fourth on the team in tackles, had two pass breakups and a key interception against the Rebels, prompting senior cornerback
Deion Belue
after the game to say, "We finally found a piece to our secondary so that we all can come together."
"He fit in perfectly," said safety
Vinnie Sunseri
. "Having
Jarrick [Williams]
and Deion [Belue] back was a huge part of it, too, but Eddie in there, and him getting comfortable and getting that one pick, kind of gave him that confidence booster that he needed. He played unbelievable. I was so proud of him."
Jackson's first-half interception was a defining moment. The rookie corner whiffed on
Donte Moncrief
, Ole Miss' veteran wideout, on the previous play, allowing a 36-yard gain and a first down. Coach Hugh Freeze then reached into his bag of tricks, calling for a backward pass to
Laquon Treadwell
, who looked toward Jackson's side of the field for a pass. But Jackson didn't bite on the fake, stuck to his assignment and secured the ball for the takeaway.
"He did everything perfect," Sunseri said. "He jammed the guy off the line, stayed, stepped in the divider, and he threw one right to him and he got the pick. It was a great momentum swing for us."
Saban, who covets long, aggressive corners such as Jackson, was pleased. He and his staff had been searching for an answer at the position after
John Fulton
and
Cyrus Jones
were torched by Texas A&M and
Mike Evans
, and in Jackson it appears they've found someone to work with. He's still just a freshman, but he's already done more in one game than all but Belue, Alabama's top on-ball defender.
"He played well," Saban said of Jackson. "Made a couple of mistakes, but I thought that most of those were because of communication, which is one of the things that we emphasize, where he wasn't sure about what the call was. But when it came to just his technique and what he was supposed to do and the way he competed in the game, I thought he did a really good job."
Blair, who talks to Jackson regularly, said it's now "his position to lose."
"Before it's all said and done, he could end up being the prototype defensive back like that guy over at Seattle, Richard Sherman," he said. "You have a tall, smart kid with good range, good hips. He can end up being the prototype Coach Saban has been looking for."
Reading into Blair's comments, it's clear he thinks that development could happen quickly. And why shouldn't it? It might seem improbable, but everything about Jackson's journey, going from academically ineligible with no college offers to a top prospect signing a letter of intent with Alabama, has been just that.
Jackson turned it around in a hurry in high school. What's to say he can't take the next step in just as timely a fashion? He's certainly showed he's no stranger to making the most of an opportunity.
August, 21, 2013
8/21/13
12:00
PM ET
Starters are being named, injuries are being assessed and coaches are seeking consistency. Yup, the season is drawing closer. Take a look around the SEC and see.
August, 20, 2013
8/20/13
2:45
PM ET
In the SEC, it's all about recruiting and player development. It's the big reason why the league has won seven straight BCS championships and produced more NFL players than any other conference. The two go hand-in-hand.
The Senior Bowl, which
released its 2014 Watch List
on Tuesday, further illustrated that fact, selecting nearly 20 percent (72) of its 400 candidates from the SEC. The ACC twas nearly lapped with 48 selections, followed by the Big 10 (46) and the Pac-12 (38).
And the team with the most players should come as no surprise as defending-champion Alabama had 10 make the list, including quarterback AJ McCarron and All-American linebacker C.J. Mosley. Florida, Mississippi State and Missouri tied for the second-most players taken from the SEC with six apiece.
Alabama:
WR Kenny Bell, CB Deion Belue, CB John Fulton, P Cody Mandell, QB AJ McCarron, LB C.J. Mosley, WR Kevin Norwood, RG Anthony Steen, S Nick Perry.
Arkansas:
WR Jevontee Herndon, DT Brian Jones, DE Chris Smith, C Travis Swanson, DT Robert Thomas.
Auburn:
P Steven Clark, DC Chris Davis, DE Nosa Eguae, DE Dee Ford, FB Jay Prosch, DT Jeffrey Whitaker
Florida:
WR Andre Debose, DE Dominique Easley, OG Jon Halapio, C Jonatthan Harrison, WR Soloman Patton, DC Jaylen Watkins.
Georgia:
OG Chris Burnett, OG Kernarious Gates, TE Arthur Lynch, QB Aaron Murray, OB Garrison Smith.
Kentucky:
IB Avery Williamson
LSU:
IB Lamin Barrow, RB Alfred Blue, FB JC Copeland, FS Craig Loston, QB Zach Mettenberger
Mississippi State:
DE Denico Autry, OG Gabe Jackson, RB LeDarious Perkins, QB Tyler Russell, OB Deontae Skinner, FS Nickoe Whitley
Missouri:
OT Justin Britt, QB James Franklin, DC EJ Gaines, WR Marcus Lucas, WR L'Damian Washington, IB Andrew Wilson
Ole Miss:
PT Tyler Campbell, IB Mike Marry, DC Charles Sawyer, RB Jeff Scott, IB DT Shackleford
South Carolina:
DC Jimmy Legree, QB Connor Shaw, DE Chaz Sutton
Tennessee:
OT Ju'Wuan James, DT Daniel McCuller, RB Rajon Neal, DE Jacques Smith, C James Stone
Texas A&M:
LB Steven Jenkins, RB Ben Malena, OT Jake Matthews
Vanderbilt:
IB Chase Garnham, DC Andre Hal, OT Wesley Johnson, FS Kenny Ladler, WR Jordan Matthews
September, 22, 2012
9/22/12
3:35
PM ET
Saturday's early kickoff between Ole Miss and Tulane started with the classiest of gestures, as the Rebels sported a black helmet sticker in honor of injured Tulane safety
Devon Walker
.


What transpired next wasn't so nice, however. The Rebels cruised to a
39-0
shutout of the Green Wave behind a 26-point first quarter of play. Ole Miss reached the end zone on scoring drives of three, four and three plays in the opening 15 minutes, with help coming from a fumbled snap on a Tulane punt and an interception thrown by Green Wave quarterback
Devin Powell
.
The Rebels boast the No. 2 rushing offense in the SEC behind LSU, and they followed up on that success Saturday in the Superdome. Ole Miss rushed for 302 total yards and three touchdowns, paced by diminutive tailback
Jeff Scott
, who rushed for 67 on 14 carries with two touchdowns.
The Green Wave defense performed admirably in its first game back after Walker's terrifying spinal injury. Tulane held the Rebels scoreless in the second quarter and forced five fumbles, recovering three. But the Green Wave offense couldn't muster much against the Ole Miss pass rush. Tulane had managed just 52 total yards by halftime and finished with 191 for the afternoon -- many of those coming against backups.
The loss didn't mar a touching tribute to Walker during the game's pregame ceremonies, however. The Green Wave coaching staff wore Devon Walker t-shirts in honor of their injured senior, who fractured his spine in the loss to Tulsa two weeks ago. Tulane cornerback
Alex Lauricella
presented his fallen teammate's jersey to the crowd before kickoff, and the empty jersey was displayed prominently on the sideline during the game. The team also replaced the Tulane logo on the left side of its helmet with a decal reading "18," which is Walker's number.
The win boosts the Rebels' record to 3-1 -- already an improvement from last fall's dismal 2-10 campaign. It's the program's best record after four games since 2009, when the Rebels won the Cotton Bowl. But we'll see how that stacks up next week when the Ole Miss travels to face No. 1 Alabama in the SEC opener.
August, 16, 2008
8/16/08
4:59
PM ET
By
ESPN.com staff
| ESPN.com
Posted by ESPN.com's Chris Low
| | |
| --- | --- |
| | |
| | Douglas Jones/Icon SMI |
| | After 10 years at the helm at Arkansas, Houston Nutt decided to begin anew with Ole Miss. |
OXFORD, Miss. -- To say Houston Nutt looks happy these days is quite the understatement. Always bubbling over with enthusiasm and can-do exuberance, Nutt is starting over at Ole Miss this year after a bitter divorce from the school he thought he'd never leave. Things got so nasty last year at Arkansas that fans were filing open records requests for Nutt's cell phone records, as well as e-mails that had been forwarded to people by Nutt's wife, Diana. Arkansas' administration made an attempt to keep Nutt following last season and offered him an extension. But after 10 years, he'd had enough of Arkansas and the Arkansas fans had apparently had enough of him. The rest is history. He walked away and landed at Ole Miss a few days later. Here's Part 1 of my Q&A with Nutt, who still brings it the way a Southern Baptist preacher does on Sunday mornings. Check back later for Part 2, where Nutt shares some of his feelings about the whole Arkansas situation:
One of your best players, defensive end Greg Hardy, had surgery earlier this week to repair a stress fracture in his foot. What's the latest on when he might be back?
Houston Nutt: I think we caught it in time where it was more of a hairline stress fracture, so we're thinking that by our first conference game [Vanderbilt on Sept. 20] he'll be ready. He'd snapped the other one in the 11th grade and was running great and practicing great the first five days. Then the first day in pads, he couldn't put weight on it. It was sore, and the doctor put his hand in there and it was really painful. They did the X-ray and there was a little bit of a stress fracture. They went ahead and put the screw in it. We're hoping four, five, six weeks at the most.
What's the latest on defensive tackle Ted Laurent's knee injury?
HN: Hopefully, by the second game, he'll be ready to go.
With all the newness on offense -- new system, new coordinator in Kent Austin and new quarterback in Jevan Snead -- how has everything progressed?
HN: We've gotten a lot better. Thank goodness Jevan Snead is here. I think he's improved. Kent's really taken him to another level. But, again, [Snead] hasn't played in a long time, under the pressure, the blitzing and all that staff. We've done a lot of good against good, first team against first team. Maybe we haven't done as much tackling, as far as taking people to the ground, but we're trying to match the speed of the game and get his mind going again. Boy, he's got a strong arm, though, and has been doing great.
What's your greatest challenge with this program?
HN: It's very simple, the mind of an 18, 19, 20-year-old that hasn't had much success. When you look at the last four years, not one young man in that meeting room raised his hand and said, "I've experienced a bowl game." And then last year, not one guy can say, "I won an SEC game." That's a very big hurdle.
What is coaching at Ole Miss like compared to how you viewed the program from afar the last 10 years?
HN: I've always had an awesome respect for Mississippi from the other sideline, all the great players and the tradition looking back. Once you get here, it's unique. It's a heck of a little town, and these people are hungry for football. They're starving for a winner. You feel that, and that motivates you. The location is awesome for recruiting. I'm familiar with the coaches and have recruited all the other states around Mississippi.
If you're going to win at Ole Miss, other than this state, where else do you have to go to get players?
HN: It's vital for us that you get a few out of Louisiana, a few out of Alabama and Georgia, too. We'll go into Florida some and then from Little Rock I-40 east all the way through West Memphis and Memphis, we're going to get two a year.
What have been your impressions of freshman tailback Enrique Davis?
HN: He's had a really good camp. The grind of it has hit him a little bit and the speed of the game. But, boy, they just fall off of him. There were a couple of scrimmages where you were, "Wow." He has a very strong lower body.
You've coached a bunch of good running backs. Two weeks into camp, has Davis demonstrated some of the qualities that all the great ones have?
HN: No doubt about it. He doesn't look like a freshman. His body is very mature. Now he's got to bring the mental part of it to the practice field.
How much has this league evolved over the last 10 years, and do you think we'll see many more unbeaten league champions?
HN: If we do, it will be every so often. You might have a run like Auburn [in 2004] and Tennessee [in 1998], but I think it's going to be one out of every five years or one out of 10 years, something like that.