September, 24, 2013
9/24/13
1:00
PM ET
TUSCALOOSA, Ala. -- The
Colorado State Rams
came into Bryant-Denny Stadium on Saturday as a physical underdog. The CSU defensive line wasn't just out-starred on the football field, as recruiting services would suggest, there were outweighed and outmanned as well, lighter than the Alabama offensive line by an average of 30 pounds.
The Rams were allowing 162 rushing yards per game, slightly below the middle of the NCAA pack.
And still, the same scrappy CSU defense stacked the box, pushing and pulling and knifing through the line of scrimmage to hold Alabama's historically vaunted running game to a meager 66 yards on 21 rushing attempts, the lowest output by the top-ranked Crimson Tide since 2010. It was only a season ago that UA averaged 227.5 yards rushing per game, seemingly running at will, regardless of how many bodies were taken down from the secondary to help.
[+] Enlarge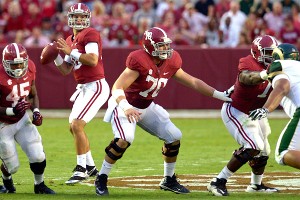 John David Mercer/USA TODAY SportsThe 2013 Alabama offensive line is better in pass protection than it is in the running game.
That identity -- the will to dominate the line of scrimmage -- has been missing in Tuscaloosa, at least as it relates to the running game. Alabama, after five consecutive years finishing in the top five of the SEC in rushing yards, is now dead last in the conference in rushing.
"I mean, we're a new team,"
AJ McCarron
, Alabama's leader under center, said Monday. "I think people need to realize that. You're not going to be the best at running every year. Some years you're going to be better throwing the ball than you are running -- and vice versa."
While Alabama is still running more than it passes -- 96 rushing attempts to 80 passing attempts, so far -- the identity of the offense has indeed changed. The offensive line, with its three new starters, isn't getting the drive up front to allow for a dominant running game. The yardage disparity between run and pass -- 396 to 716 -- is utterly unfamiliar to Nick Saban, who has built a championship-winning program on the foundation of a solid running game and a strong defense.
It's not for a lack of talent, as Saban and players have explained time and time again. Instead, it's a mixture of poor communication and a lack of chemistry. Last season, all five starters on the offensive line played all 14 games together. The continuity was obvious. Alabama averaged 4.1 yards before contact on designed rushes and led the SEC with just 16 percent of rushes going for 0 or negative yards in 2012. But this season the room to run hasn't been there. Against Virginia Tech, Alabama generated just 1.1 yards before contact and through three games, the Tide is averaging 28.1 percent of rushes to result in 0 or negative yards, ranking 105th out of 123 FBS teams.
The same issues that have led to McCarron being sacked six times, Saban said, have led to a meager running game.
"It's the same thing," he said. "Not necessarily the plays that we call, because as fans everybody thinks you called bad plays because they didn't work. But why didn't they work? I think that's the most important thing.
"We had a few missed assignments but more than that we probably had a lack of technique. If we're running a play and the guard is supposed to help the center block the nose or the two guy or whatever and he doesn't do it, and the guy gets in the backfield and hits us in the backfield, that's just a lack of technique. Then you see the same play run again and you make 9 yards on the play when it was done correctly."
Said center
Ryan Kelly
: "Obviously, teams know what Alabama is going to do. We're going to run the ball, we're going to pass the ball. That's what a lot of teams like to do, load the box up. At some point you can't let them dictate what we're going to do."
McCarron, who said the offensive line is "doing great," also recognizes that this year's group is different. Asking them to be last year's offensive line, a historically dominant line, would be unreasonable. Three All-Americans don't walk out the door without some sense of cause and effect.
So why should the offense continue to beat its head against the wall trying to run the football? Doing that against a team like No. 21 Ole Miss (3-0) this Saturday could end in defeat. The Rebels, though thin in terms of depth, are bigger and stronger and more talented up front on defense than CSU could ever hope to be.
Ole Miss is, after all, allowing only 3.09 yards per rush this season, third in the SEC behind Florida and Arkansas. The Rebels are much more susceptible to the pass, giving up an average of 218.3 yards per game.
Maybe instead of expecting gaping holes and big gains in the running game, Alabama should simply go with what works and put the ball in the air. Though it might be unfamiliar to the program's ground-and-pound roots, it is working. Alabama is undefeated and scoring points hasn't been much of problem.
"We're going to play to our strengths," McCarron said. "If we've got to throw the ball, we'll throw it. If we've got to run it, we've got to run it. As long as we win."
November, 17, 2012
11/17/12
10:10
PM ET
By
GeauxTigerNation staff
| ESPN.com
BATON ROUGE, La. -- Remember the old days when LSU used to smother teams with defense while trying to get by with a pedestrian offense?
That's so three weeks ago.
Since its bye week, LSU seems to have re-invented itself, never more than in the Tigers' 41-35 win over Ole Miss Saturday night.
With the defense giving up a season-high 463 yards -- the fourth straight game the Tigers have allowed at least 331 yards after not allowing 300 yards in any of the first seven games -- LSU's offense came to the rescue.
The Tigers put up 427 yards of their own -- 282 passing by quarterback
Zach Mettenberger
-- and the Tigers drove 64 yards for the winning touchdown on Jeremy Hill's 1-yard, tie-breaking touchdown run with 15 seconds left.
Read the rest of the story
here
.
November, 15, 2012
11/15/12
3:32
PM ET
By
ESPN.com staff
| ESPN.com
Gary Laney writes

: LSU will say its goodbyes to its 14-man senior class in their last home game Saturday against Ole Miss. At most positions, the Tigers have replacements ready to step up and star.
Laney

: 5 storylines -- Ole Miss at LSU
November, 3, 2012
11/03/12
9:54
PM ET
By
DawgNation staff
| ESPN.com
ATHENS, Ga. -- The final score does not fully tell the tale, but those who watched Georgia start slowly before pulling away for a
37-10 win
against Ole Miss on Saturday -- following sluggish offensive starts in the Bulldogs' previous three games -- can detect a trend.
If the sixth-ranked Bulldogs (8-1, 6-1 SEC) can't find a way to start games with more efficiency, they realize it very well might come back to bite them at some point.
"Playing better teams, playing Alabama or playing whoever else, I don't really think we can start off that slow," said Georgia cornerback
Damian Swann
, who recovered two fumbles against Ole Miss. "We need to start off first snap in order to give ourselves a chance to win."
Click
here
to read the entire DawgNation story.
October, 30, 2012
10/30/12
12:29
PM ET
By
DawgNation staff
| ESPN.com
David Ching writes:
Fresh off the momentum-shifting win over No. 2 UF this past weekend, Georgia team leader Jarvis Jones reminded his fellow Bulldogs – and Mark Richt echoed his words – that such a huge victory will ultimately be worthless if they don't win out.
Radi Nabulsi writes

: ESPN Watch List linebacker Raekwon McMillan announces his top five, and the talented prospect from Georgia has a certain former Florida coach's team in his No. 1 spot. With:
Video
Ching

: Ole Miss scouting report