January, 2, 2013
1/02/13
1:21
AM ET
By
ESPN.com staff
| ESPN.com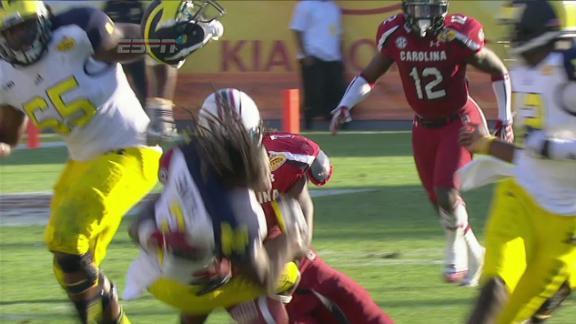 Jadeveon Clowney
's critical hit on
Vincent Smith
to force a fumble was a critical turning point in South Carolina's win over Michigan in the Outback Bowl.
January, 1, 2013
1/01/13
8:10
PM ET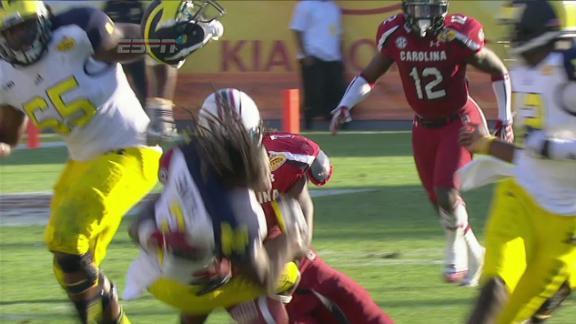 TAMPA, Fla. -- The clock read 8:22.
Michigan led 22-21.
Jadeveon Clowney
, frustrated for most of Tuesday afternoon, saw the minutes winding down in the fourth quarter of the Outback Bowl. He needed to reassure his teammates. Perhaps even himself.
"Guys," he said, "I'm going to show up. I'm coming. Just hang in there, we're going to win this game. I'm going to make a big play."
South Carolina had just lost a replay review on a blown first-down call following a Michigan fake punt. Michigan had momentum. South Carolina had a chapped coach and incredulous players. Steve Spurrier later recalled his conversation with a referee on the field:
Spurrier: "You know the ball did not touch the first-down marker?"
Referee: "I know it didn't."
Spurrier: "Well, why'd you give it to him?"
Referee: "I don't know."
[+] Enlarge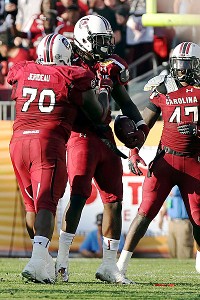 Kim Klement-USA TODAY SportsJadeveon Clowney's forced fumble and recovery changed the momentum in the Outback Bowl.
Michigan had a fresh set of downs at its 41, hoping to add to its lead.
Devin Gardner
snapped the ball. The big play -- the big hit -- came almost instantaneously, showing once again why Clowney is the most unstoppable defensive force in college football.
Clowney barreled through the line untouched and smacked
Vincent Smith
so viciously, both Smith's helmet and the ball went flying.
"It sounded like a car wreck," South Carolina defensive tackle
J.T. Surratt
said.
"I heard it," receiver
Bruce Ellington
said. "And I jumped when I heard it."
Incredible play, incredible athleticism.
"He's got that one little slip move and they get nothing but air when they go at him," Spurrier said.
That would have been enough to qualify as one of the biggest plays of his career. And yet, he had more in him.
With one more move, Clowney picked the loose ball up with one hand, got up and tried to score.
"It's just unbelievable the stuff he can do," said South Carolina quarterback
Dylan Thompson
, who watched from the sideline. "Just like a switch he can turn on and say, 'All right, I'm going to take over,' and he does it."
South Carolina teammates have seen plays like this before, and yet, they have no explanation. "I was like man, this guy -- it's crazy the things he can do," Ellington said.
But what they had was a momentum shift, a play to begin a host of plays that would lead South Carolina to a
come-from-behind 33-28 victory
. And once again, the SEC dealt another blow to the Big Ten, a conference that needed wins Tuesday more than any other.
Northwestern got its historic bowl win. And for a time, Michigan and Nebraska gave the Big Ten hope they could take down the mightiest conference in the land, do the unthinkable and actually win on a gorgeous Florida afternoon.
While the Wolverines had South Carolina on the ropes, the Huskers had Georgia in their sights 90 miles east in Orlando. Then, in a matter of minutes ... gone. Georgia cruised. Michigan met Clowney.
That big hit set off a wild fourth quarter that ended up seeing three lead changes, and vintage Spurrier. On the play after the big hit, Spurrier called for a deep passing play -- one of the areas the Gamecocks excelled in all afternoon.
Connor Shaw
threw a 31-yard touchdown pass to game MVP
Ace Sanders
, and South Carolina went ahead 27-22.
Michigan then drove 64 yards, refusing to have Clowney get in their heads. Gardner delivered a beautiful 17-yard touchdown pass to
Jeremy Gallon
and the Wolverines went back ahead 28-27.
South Carolina took over with 3:29 left. Shaw started the drive, but went out with a foot injury. Thompson finished it, throwing a 32-yard touchdown pass to Ellington with 11 seconds remaining, delivering the victory. Spurrier has rotated quarterbacks in his past, and said he would do the same headed into this game.
But the way Shaw and Thompson worked so effectively, so seamlessly on that final drive, spoke to the maturity of both the players and this team. Other South Carolina teams may have folded up shop in the fourth quarter.
Not this one.
Not with Clowney on the field.
"It gave us a lot of momentum," Ellington said. "Our defense got a little mad, a little uptight and they made a couple of plays for us to get the ball back."
For his part, Clowney said he has delivered big hits like that before. He recalled his hit on
Aaron Murray
against Georgia last year. Thompson recalled a hit Clowney made while he still played in high school. Clowney said of the hit on Smith, "Everybody else said it looked worse."
Call the play payback for the refs' mistake. Or payback for a hit to the groin Smith delivered earlier in the game, sending Clowney to the sideline. "He laughed about it," Clowney recalled. "I said, 'I'm going to get you later on.'"
When he did, Smith lay on the turf.
"He didn't say nothing," Clowney recalled. "He just froze up, laid there. I was laughing."
Laughing?
"Yeah I was laughing, that's what I do," he said. "Hey it's a game, competition."
A game the best player on the field single-handedly changed with a big hit that will live on as long as he plays.
January, 1, 2013
1/01/13
10:00
AM ET
We're taking a look at South Carolina's X factor against Michigan in today's Outback Bowl:
X FACTOR
Kelcy Quarles, So., DT:
Sure,
Denard Robinson
isn't set to start at quarterback for the Wolverines, but
Devin Gardner
knows how to make a play or two. And Robinson should get some time at quarterback -- along with other positions. That means putting pressure on Michigan's backfield is going to be a big deal for the Gamecocks' defense. Defensive end
Jadeveon Clowney
will be expected to lead South Carolina's pass rush, but he's going to need some of the pressure taken off of him. He'll be battling All-American tackle
Taylor Lewan
, who should even give Clowney fits at times today. So, Quarles, who has been nicked up here and there this season will have to provide some extra pressure up the middle in order to help out Clowney on the edge.
Devin Taylor
should help on the other side of Clowney, but the Gamecocks want to get some nice push through the center of the line from Quarles in order to shake up the pass and the run, as the Wolverines are rushing for 187.3 yards per game. He tallied seven tackles for loss and 2.5 sacks and if he can become a nuisance in the middle, it will free Clowney from potential double teams. Dealing with Lewan will be enough for Clowney, so he doesn't need to worry about another big body coming his way. Getting pressure on that explosive backfield will be key for this defense. Michigan didn't exactly flourish the last time it faced pressure from an opposing SEC defense.
January, 1, 2013
1/01/13
8:30
AM ET
Here's a look at three keys for South Carolina in Tuesday's matchup with Michigan in the Outback Bowl:


1. Consistent quarterback play:
It sounds like South Carolina coach Steve Spurrier will give both of his quarterbacks a chance to play.
Connor Shaw
will start and is as healthy as he's been after playing through injuries to his shoulder and foot this season. Shaw missed the finale against Clemson with a foot injury, and
Dylan Thompson
stepped in and passed for 310 yards and three touchdowns in the 27-17 win over the Tigers. Spurrier said he isn't sure how this game will play out, and it might be that the Gamecocks go with the hot hand. However it shakes out, they need to take care of the ball and make plays when they're there. Thompson is more of a pocket passer, while Shaw is a guy who can move around and extend the play.
2. Contain Michigan's quarterbacks:
Devin Gardner
has played the bulk of the snaps at quarterback in Michigan's past four games, and he's given the Wolverines more pop in the passing game and more big plays down the field. Pressuring Gardner and not allowing him to get into any kind of rhythm will be critical for the Gamecocks, who are tied for fifth nationally with 40 sacks in 12 games. It's not just Gardner the Gamecocks will have to deal with. Senior
Denard Robinson
is still one of the most dynamic rushing threats in the country among quarterbacks. He's averaging nearly 117 rushing yards per game, and the Gamecocks would like to limit his opportunities.
3. Establishing the run:
South Carolina played the final three games without star tailback
Marcus Lattimore
, who suffered torn ligaments in his knee for the second straight season. The Gamecocks are averaging just 3.6 yards per carry, which is last in the SEC. They need to get the running game going against Michigan so they're not faced with a lot of third-and-long situations. Senior
Kenny Miles
and freshman
Mike Davis
will share the tailback duties in this game, and Shaw will also factor into South Carolina's running game. The Gamecocks don't need to run for 200 yards to win this game, but they need to be able to run it enough to keep Michigan honest on defense.
December, 2, 2012
12/02/12
9:16
PM ET
South Carolina Gamecocks (10-2) vs. Michigan Wolverines (8-4)
Jan. 1, 1 p.m. ET, Tampa, Fla. (ESPN)

South Carolina take from SEC blogger Chris Low
: All you really need to know about South Carolina's program right now is that the Gamecocks are one win over Michigan in the Outback Bowl away from having their second straight 11-win season. Until last year, they'd never won 11 games in a season in their history.
Steve Spurrier has the Gamecocks rocking along, and they were close to making it back to the SEC championship game this season for the second time in the past three years. They had a brutal three-game stretch against Georgia, LSU and Florida and wound up losing to both the Tigers and Gators on the road after routing the Bulldogs by four touchdowns at home. Still, the Gamecocks head into the postseason on a four-game winning streak and capped the regular season with a 27-17 win over Clemson, which was South Carolina's fourth straight in the series. It's the first time since 1951-54 that the Gamecocks have won four in a row over their bitter in-state rivals.
They boast one of the most explosive defensive players in the country in sophomore defensive end
Jadeveon Clowney
, who leads the SEC with 13 sacks. Good luck in trying to block him one-on-one. South Carolina is ranked 12th nationally in total defense and 13th in scoring defense. The Gamecocks held opponents to 20 or fewer points in nine of their 12 games this season. For the second straight year, they were forced to finish the season without star tailback
Marcus Lattimore
, who suffered yet another serious knee injury. South Carolina beat Clemson with backup quarterback
Dylan Thompson
throwing for 310 yards and three touchdowns. But starter
Connor Shaw
, who missed the Clemson game with a foot injury, should be back for the bowl.
---
Michigan take from WolverineNation's Michael Rothstein:
The biggest question for Michigan in its bowl game is where senior
Denard Robinson
will line up.

Will he be at quarterback? Running back? Slot receiver? Kick returner? All of these are possible in the finale for one of college football's most exciting players. Robinson also has a shot at breaking former West Virginia quarterback Pat White's FBS quarterback rushing record of 4,480 yards. Robinson has 4,395 career yards.
The success or failure of Michigan's team, though, lies not with Robinson but with its defense. The Wolverines have one of the best linebacking units in the Big Ten, led by redshirt sophomore
Jake Ryan
, who is the team leader in tackles (84), tackles for loss (14.5), forced fumbles (four), quarterback hurries (two) and is tied with
Craig Roh
for the team lead in sacks (four).
Michigan's pass defense, ranked highly this season, is not quite as good as the numbers indicate. The Wolverines are ranked in the 30s in pass-efficiency defense, and have been adept in not allowing big plays this season.
When Michigan has the ball, it will look to a combination of Robinson and junior quarterback
Devin Gardner
. Gardner has been the quarterback the past four games and has helped in a renaissance with senior receiver
Roy Roundtree
, who has 378 yards in his past four games.
It will still all come down to Michigan's quarterback play and defense, though, which has been the theme for the Wolverines the past three seasons.
SEC SCOREBOARD
Saturday, 12/20
Monday, 12/22
Tuesday, 12/23
Wednesday, 12/24
Friday, 12/26
Saturday, 12/27
Monday, 12/29
Tuesday, 12/30
Wednesday, 12/31
Thursday, 1/1
Friday, 1/2
Saturday, 1/3
Sunday, 1/4
Monday, 1/12
Tweets from https://twitter.com/ESPNCFB/lists/sec